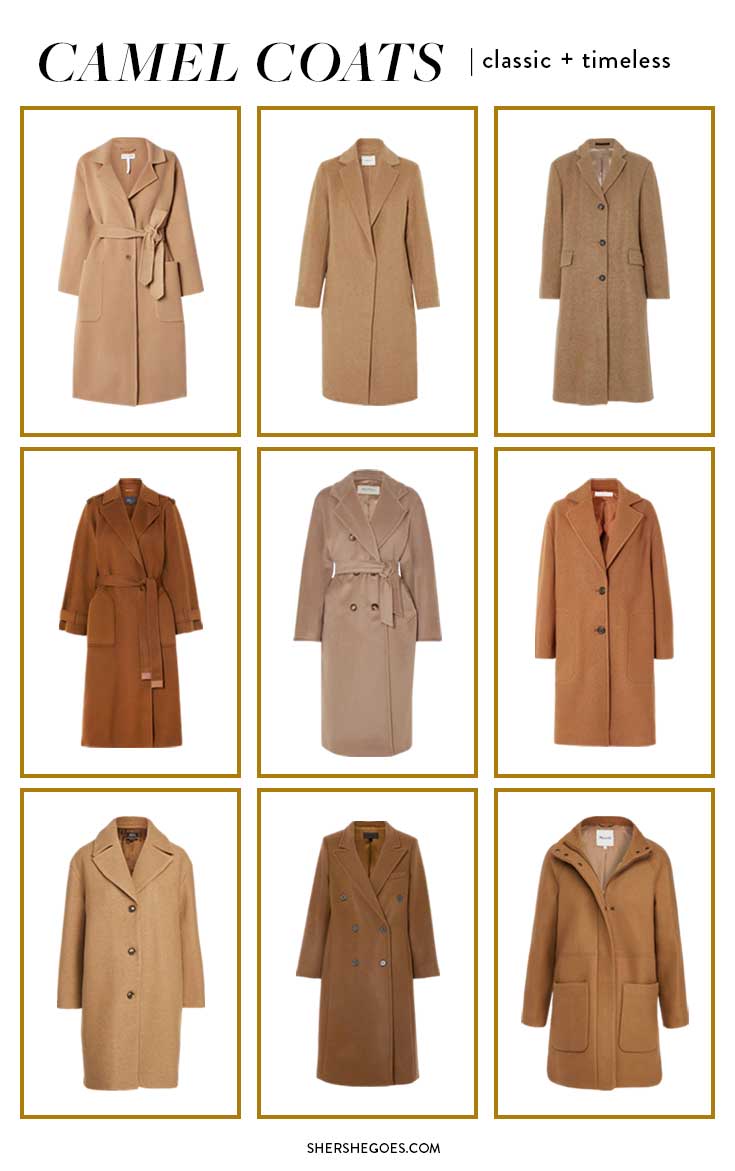 The Best Camel Coat (2021)
Hump Daaay!
When people first learn about the camel coat, their first question is always something like "The thing with the humps?? THAT is what these coats are made out of?"
Well, not exactly.
First, the vast majority of authentic camel coats you or I might run into today are not made from the part of the camel we can actually see.
The camel's exterior hair, or guard hair, is considered highly protective but generally considered too coarse for fabrics.
Sometimes guard hair is blended with another fabric such as wool to create a composite more suitable for clothing, but most of the time the camel's inner hair, or undercoat is what's used in clothing.
Shorter, finer, and plusher than guard hair, the undercoat strikes the ideal balance between sufficiently insulating and extremely smooth to the touch.
Whether you're a camel hair aficionado or have simply come to appreciate the camel coat's timeless look, keep reading for our 6 favorite camel coat looks this winter!
ADVERTISEMENT
Keep reading, or pin this article to save it for later ⇟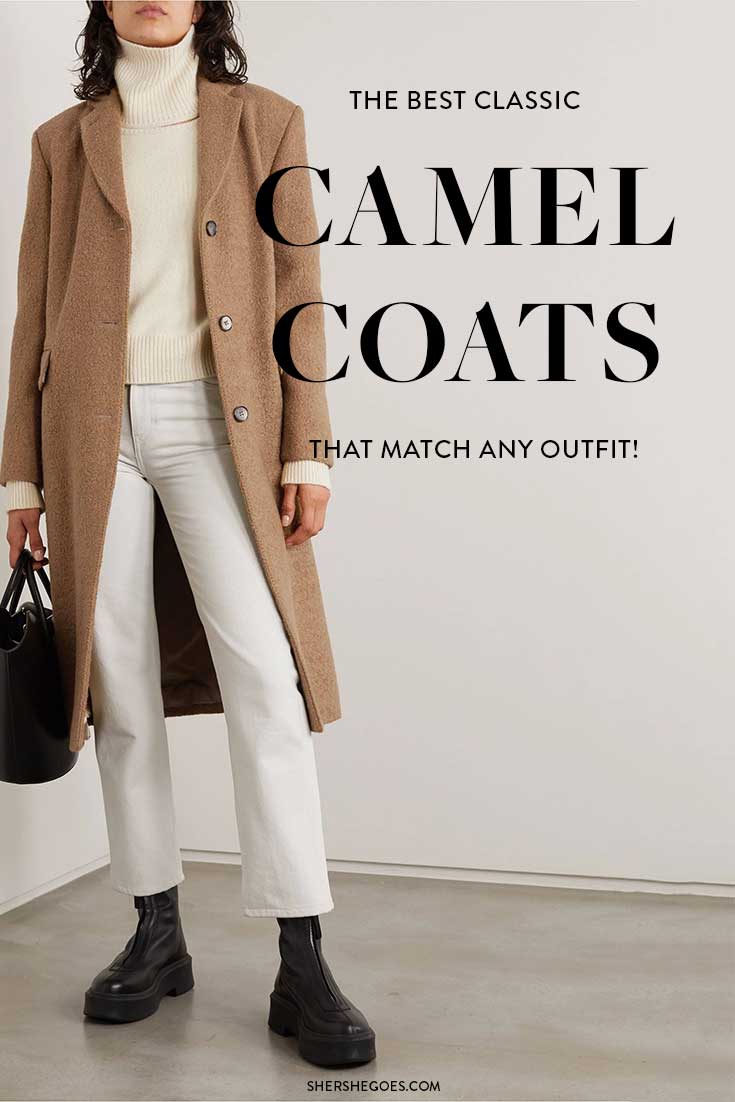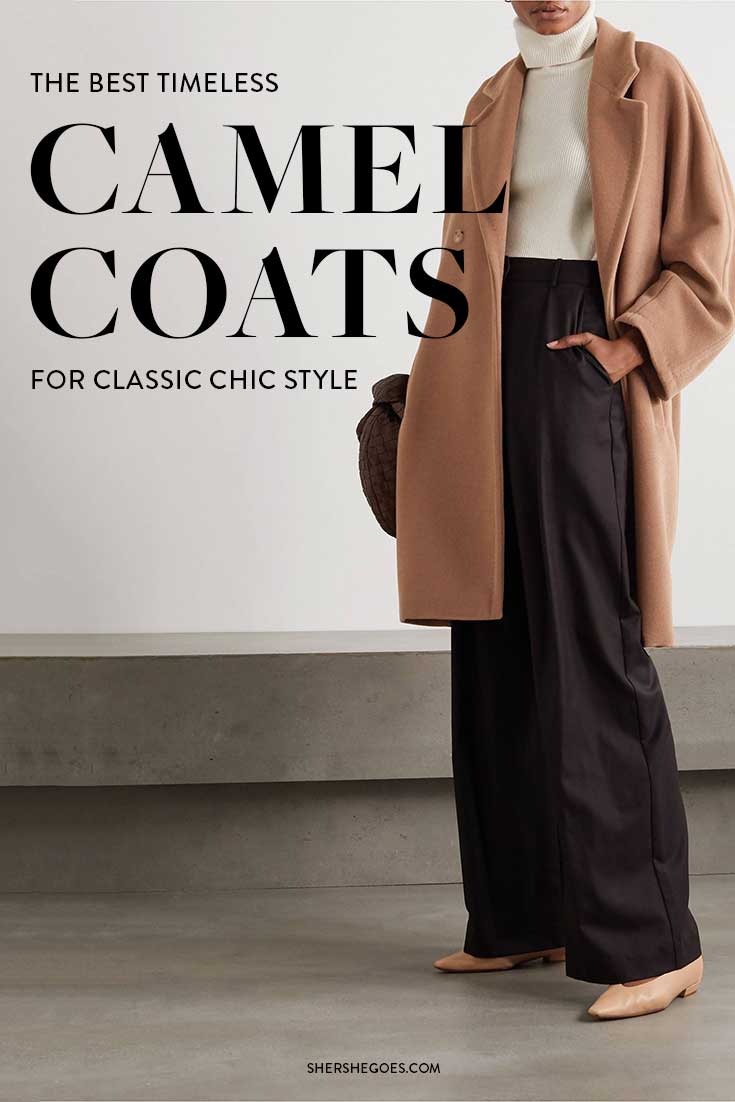 Best Camel Coat Options for Women (2021)
From all the different cuts, lengths, and styles the camel coat has to offer, we've got our absolute favorite looks outlined below!
Best Camel Coat Styles
ADVERTISEMENT
---
---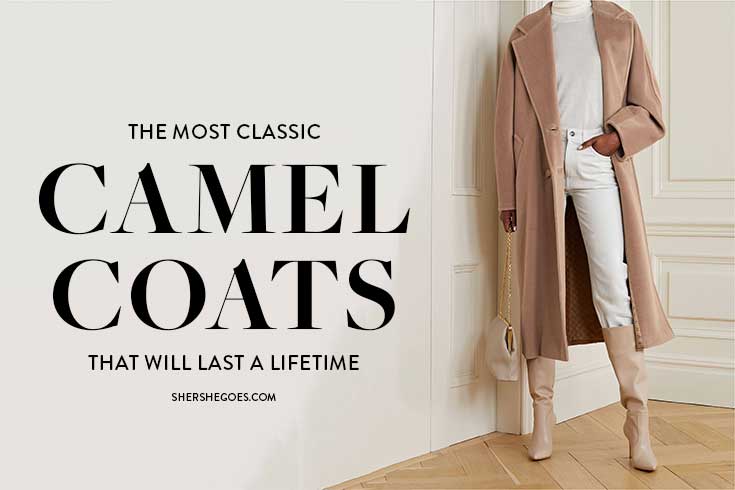 The Best Camel Hair Coat for Women
Best Camel Wrap Coat: Ralph Lauren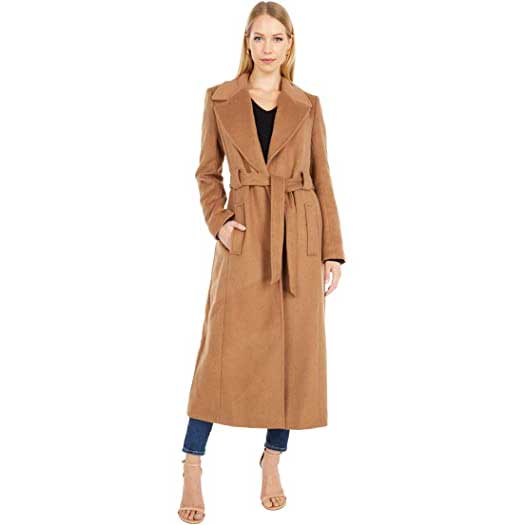 Ralph Lauren has perfectly incorporated the subtle functionality and effortless style that are camel coat trademarks with this maxi wrap coat.
The welted pockets and self-tie waist belt make this camel coat more functional than one giant shawl (which unfortunately is how I could describe many long women's coats).
Plus, the straight hemline, vented back, and notched lapels all provide an impressive amount of shape for such a large piece so not only will you stay warm, you'll look stylish!
ADVERTISEMENT
---
---
Best Wool Camel Coat: Everlane
Once an automatic sign of bygone fashion eras, double-breasted suits and coats are making something of a renaissance lately in women's fashion.
I love how Everlane has interpreted the modern camel coat with this piece. Knowing the double-breasted accent is bold enough, the rest of the coat contains simple yet complementary cuts, features, and accents.
Everlane has also reimagined this classic with modern sensibilities, and this camel coat is made entirely from recycled wool and recycled nylon!
ADVERTISEMENT
---
---
Best Collarless Camel Coat: Vince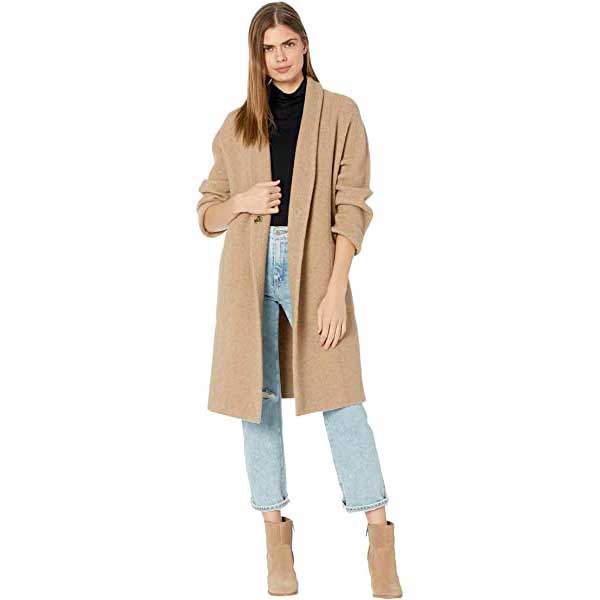 While the camel coat is a timeless staple among the best winter coats for women, the reality is that most camel coats automatically exude a formal look, which can limit the outfit possibilities for those seeking more casual flair.
That's exactly why I love this camel coat from Vince, which automatically signals effortless elegance through the coat's collarless design and oversized long-sleeves that look adorable when rolled up!
Made with a buttery soft blend of merino wool, alpaca, and other fabrics, this offering from Vince is one of the softest camel coats on the market today!
ADVERTISEMENT
---
---
Best Long Camel Coat: Kate Spade
If you thought Kate Spade only knew how to perfect handbags or leather goods, this camel coat will make you think again!
The standing collar, front button closure, and self-tie belt are a few fashion accents I think work great with the camel coat, but the Kate Spade camel coat is a "cut" above the rest.
Thanks to its long cut (the coat falls just a few inches above the ankle) and heavy wool-polyester blend this is the perfect wool camel coat for weathering those bone-chilling winter nights out!
ADVERTISEMENT
---
---
Best Camel Pea Coat: Sam Edelman
Sam Edelman turns the traditionally long and baggy camel coat on its head with this pea coat inspired version of the beige classic.
If you like the fabric and color of traditional camel coats but could do without their typical length or austere aesthetic, this Sam Edelman coat provides a refreshing twist with its shorter style.
The exaggerated accents and faux-tortoise shell hardware all add nice touches too!.
ADVERTISEMENT
---
---
Best Camel Teddy Coat: Blank NYC
Perhaps equal parts camel coat and Snuggie, this faux sherpa coat from Blank NYC provides extreme comfort while evoking the traditional camel coat's timeless elegance.
While the wide collar, full-button frontal, and self-tie waist are all quintessential elements of the classic camel coat, the secret sauce of the Blank NYC coat is the polyester fabric that mimics the camel coat's look and color while providing the buttery soft and plush touch of a pillow!
If you're looking for a camel sherpa style coat or fleece teddy, you'll love this option!
ADVERTISEMENT
---
---
Shop Camel Coat Looks
---

ADVERTISEMENT
---
---
Read More in my favorite Comfy Shoe series:
Most Comfortable Shoes
The Most Comfortable Flats EVER
The Most Comfortable Sandals for Summer
The Most Comfortable Boots for Winter
The Most Comfortable Heels (you can actually walk in)
Best Sneakers
The Best White Sneakers that Go with EVERYTHING
Cute Casual Sneakers to Wear Anywhere
Best Boots
The Best Chelsea Boots to Wear All Year Round
The Best Lace Up Boots for Military Inspired Chic
The Best Over the Knee Boots that Make a Statement!
The Best Shearling Boots to Stay Cozy this Winter
The Best Black Combat Boots That Go with Everything
Cozy At Home Shoes
The Best Mules for Easy Slip on Style
The Best Loafers to Look Polished but Stay Comfy
Shoe Reviews
The Best Travel Shoes in Every Style - Sneakers, Slip Ons, Flats & Sandals
Everlane Flats - These 5 Pairs are Extra Comfortable
OluKai Shoes: Sneaker & Sandal Review
Where to Get Stuart Weitzman Boots on Sale
Designer Inspired
The Best Cap Toe Ballet Flats to Get the Chanel Look, for Less
Classic Chanel Inspired Slingbacks (Two Toned)
The Best Chanel Inspired Espadrilles to Rock All Summer
The Best Manolo Blahnik Lookalikes
The Best Over the Knee Boots that Rival Stuart Weitzman Lowlands!
Follow me @Sher She Goes on