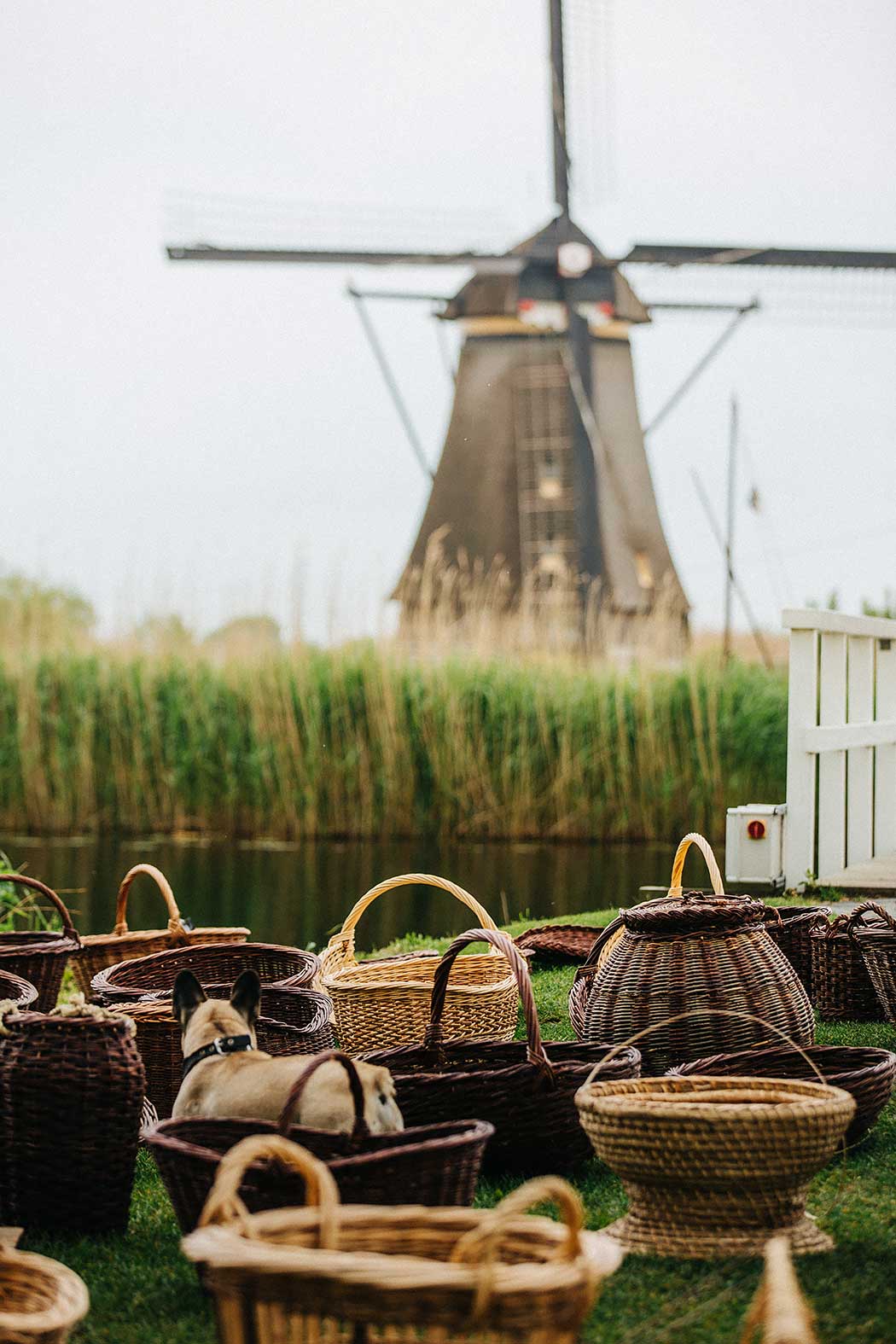 5 Iconic Day Trips from Amsterdam
The last stop on our Viking River Cruise was Amsterdam. From past trips, I've also seen the International Court of Justice at the Hague and learned what goes into making dutch cheeses. Since I've been to the city a couple times before, I was looking for some other great day trip options to explore in the Netherlands.
I saw so many picturesque photos of dutch windmills turning in the foggy marshes that I knew my top priority was seeing the windmills at Kinderdijk!
Today I'm sharing what our Kinderdijk day trip was like as well as other popular day trip ideas that are a short trip from Amsterdam.
---
---
5 Best Amsterdam Day Trips
There are quite a few popular day trip options within easy access of Amsterdam's central station and all of the below can be visited in a convenient day trip!
| | | | |
| --- | --- | --- | --- |
| No | Top Things to Do | Day Trip from Amsterdam | Distance |
| 1 | see dutch windmills | Kinderdijk | ~75 minutes driving |
| 2 | explore World War II history and modern dutch food | Rotterdam | ~1 hour driving |
| 3 | eat dutch cheese | Gouda | ~1 hour driving |
| 4 | see dutch tulips in Keukenhof Gardens | Lisse | ~45 minutes driving |
| 5 | learn about Dutch politics and government | The Hague | ~1 hour driving |
---
---
1. Dutch Windmills at Kinderdijk
Windmills in Amsterdam don't exist so you'll have to head out into the suburbs! The most famous Dutch town to spot the windmills is Kinderdijk.
Much of the Netherlands is under sea level so without windmills to pump out water, the country would be flooded. The windmills of Kinderdijk were built in the 18th century and today, are a UNESCO World Heritage site.
Kinderdijk is a must see if you want that classic postcard image of dutch windmills!
Book transportation from Amsterdam to Kinderdijk here.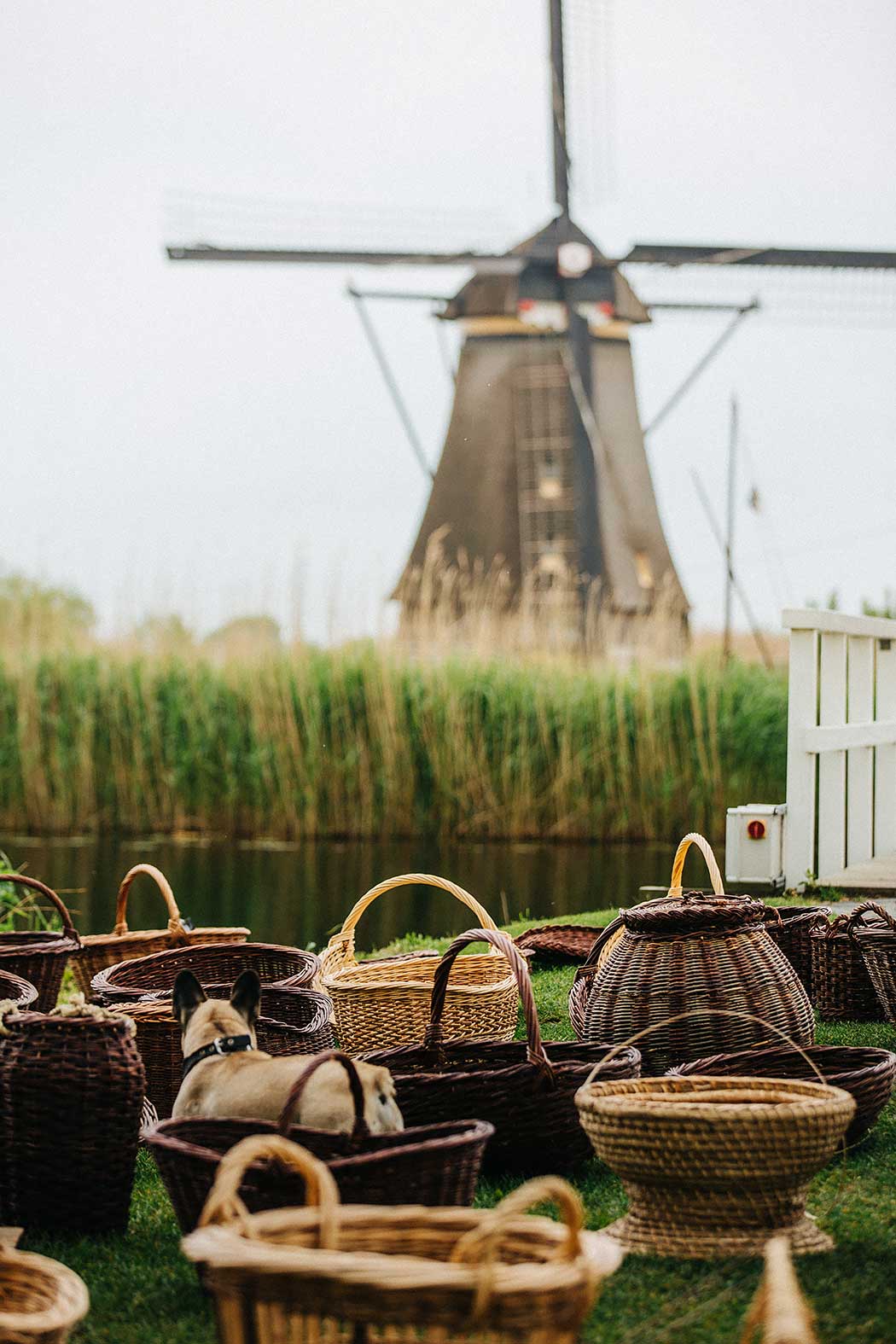 ---
---
How Do Dutch Windmills Work
There are about 19 remaining today along the canal, viewable either on foot or by boat. Viking provided us with an excellent a guided tour and we had an in-depth look into the history of dutch windmills and also learned how the windmills work. Did you know that dutch windmills are made from 19 different types of wood? The main mast is made from one solid, tall piece of oak!
Another interesting fact: when the windmill is not in use, the position of the sails are used to signal different messages. For example, tilting them in a certain way means joy or celebration (perhaps for a birthday) while a different tilt signals mourning.
Afterwards, we visited the interior of the dutch windmill, which was quite interesting. There are lots of stairs and winding bunk bed rooms that are worth a look. Our guide mentioned that some windmill keepers had up to 17 children in those tiny homes!
Here's how to do a Kinderdijk Day Trip from Amsterdam:
From Amsterdam Central Station, board a train to either Rotterdam Central or Utrecht Central. From Rotterdam, take the metro to Rotterdam-Zuid and catch the 154 bus to Kinderdijk. From Utrecht, you can take the 154 bus directly. Or, save yourself the headache with this affordable transportation package.
Alternatively, some of the most famous windmills in Holland, like the Zaanse Schans Windmills can be visited on this excellent guided tour from Amsterdam.
---
---
2. World War II History at Rotterdam
On your way back from Kinderdijk, explore Rotterdam. During World War II, the city was completely flattened from bomb raids and so the city is modern and entirely rebuilt.
Rotterdam today is a vibrant urban city – make sure to check out the harbor and grab a bite at the Markthal. It's a large indoor market where the ceiling is painted with various foods. You can feast with your eyes and your taste buds!
Book transportation from Amsterdam to Rotterdam here.
---
---
3. Dutch Cheese at Gouda
Every Thursday morning, Gouda's City Hall holds a cheese market. After all, don't you want to try authentic Gouda cheese in its namesake city?
Also – I realized that I've actually been saying 'gouda' wrong the entire time… it's not pronounced goo-da in Dutch but more like gow-da. They say dutch is one of the most difficult languages to learn and I can see why!
Book transportation from Amsterdam to Gouda here, which includes a visit to a wooden shoe factory and windmill!
---
---
4. Dutch Tulip Fields at Lisse
From mid-March through May, the Lisse fields bloom with tulips! We visited the city's most famous botanical garden, the Keukenhof gardens, a couple years ago and the rows and rows of color are a uniquely Dutch experience.
There are over 7 million tulips, daffodils and hyacinth flowers within the park so a great way to see all the various fields is by bike. You can download a bulb field cycling map and lose yourself in the rainbow colored countryside. The Keukenhof tulip gardens are quite popular so I do recommend booking a tour to skip the lines or booking a bike in advance.
Here's how to see the Dutch tulips from Amsterdam:
From Amsterdam Central Station, board a train to Hoofddorp then transfer to another train in the direction of Den Haag Centraal. Get off at Sassenheim.
Or save yourself the headache and book this affordable guided tour.
---
---
5. Politics & History at The Hague
The Hague is the center of the Dutch royalty and government, where many famous museums and international political centers are located. Don't miss a visit to the International Court of Justice and Peace Palace.
It's far from boring – there are priceless artifacts dedicated from various international world leaders and hallmark judicial rulings which were officiated here. A great way to see all the sights is on foot.
Top things to do in the Hague:
Art lovers will want to check out the Mauritshuis which houses Vermeer's Girl with the Pearl Earring
Explore the dutch pottery tour and try a painting workshop
Foodies can taste dutch beers, cheeses and famous eats on a food walking tour
Nature and outdoor enthusiasts can visit Scheveningen Beach to touch the North Sea.
Book transportation from Amsterdam to Hague here.
More Fun Day Trips from Amsterdam
---
Which is your favorite day trip idea?
Amsterdam Vacation Checklist
Follow Sher She Goes on