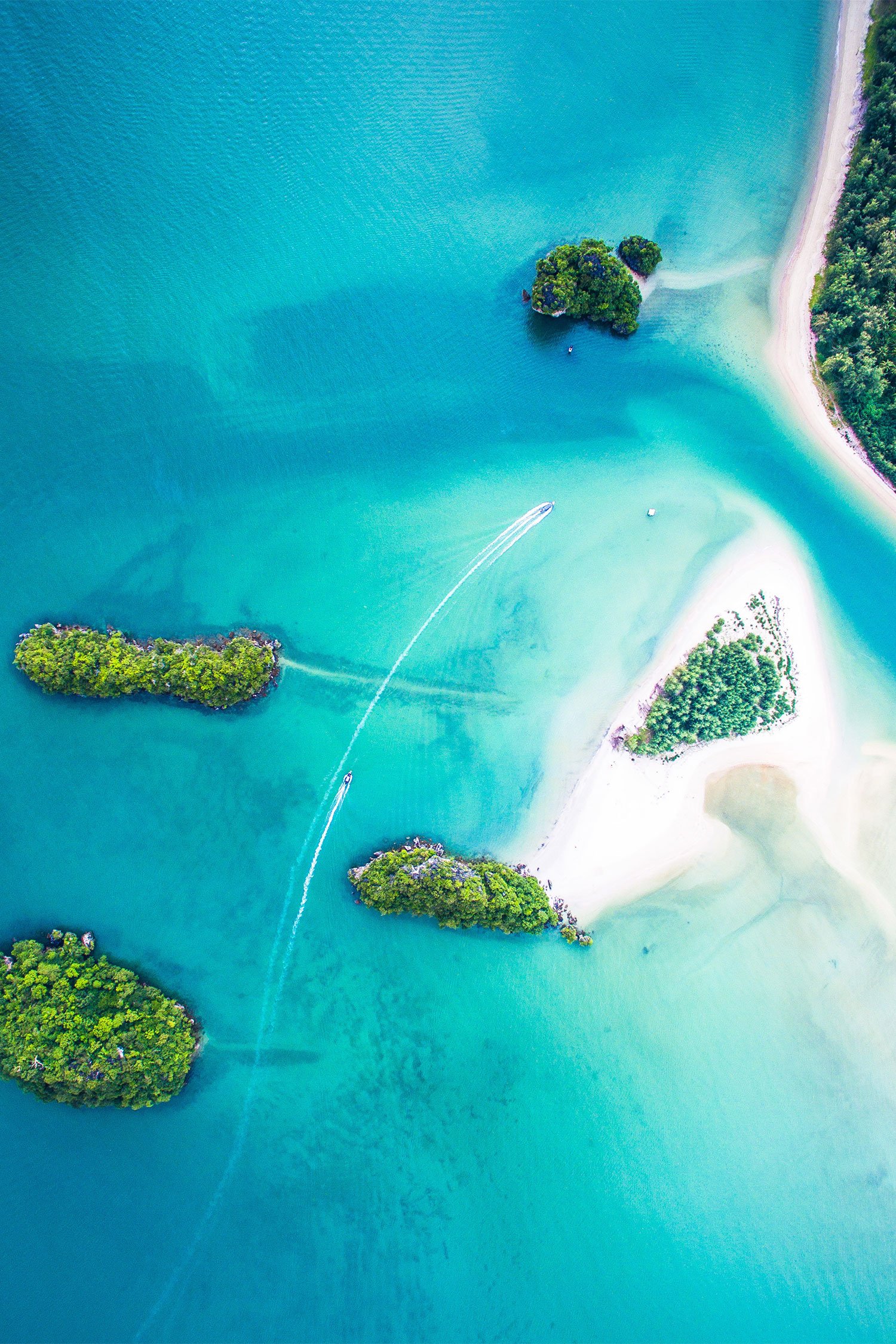 2 Weeks in Thailand
We just got back from spending 2 weeks in Thailand and had the best time exploring both the mainland and the Gulf islands. We've been searching (in vain) for the same delectable frozen pineapple smoothies, thai iced coffee and chicken & cashews ever since!
Thailand has such a different vibe from the States and we spent quite a while travelling around so I thought it'd be fun to do a recap of each city we visited to help you plan a visit.
ADVERTISEMENT
Thailand Cities
In our opinion?
The best Thailand itinerary needs to include a mix of the main cities (Bangkok, Chiang Mai), the islands (Ko Samui, Ko Tao, etc) and some historical ruins (Ayutthaya, Sukhothai)!
If you're planning a visit to Thailand and want to know the best places to visit in the country, hopefully our 2 week Thailand itinerary will help! And of course, if you have less time, just modify it based on what interests you.
Below I've included our daily route covering 14 days across Thailand's cities and beaches.
Bangkok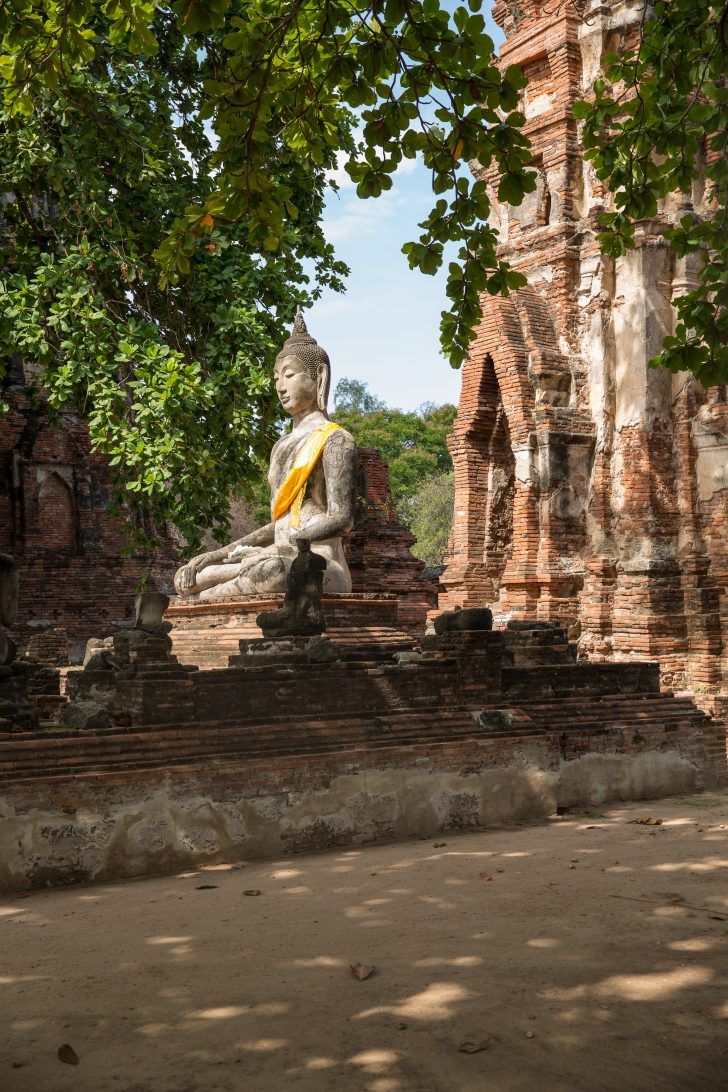 Ayutthaya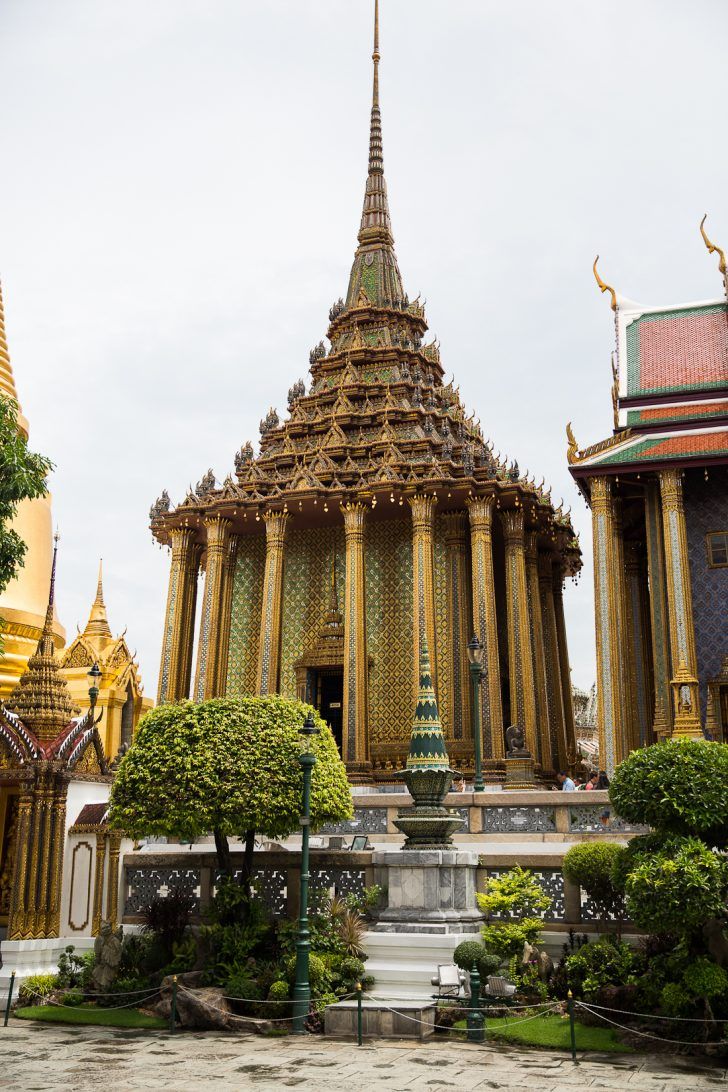 Sukhothai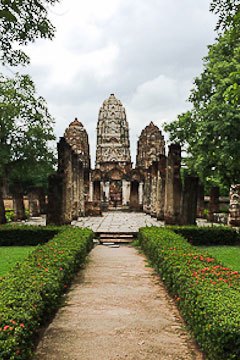 Chiang Mai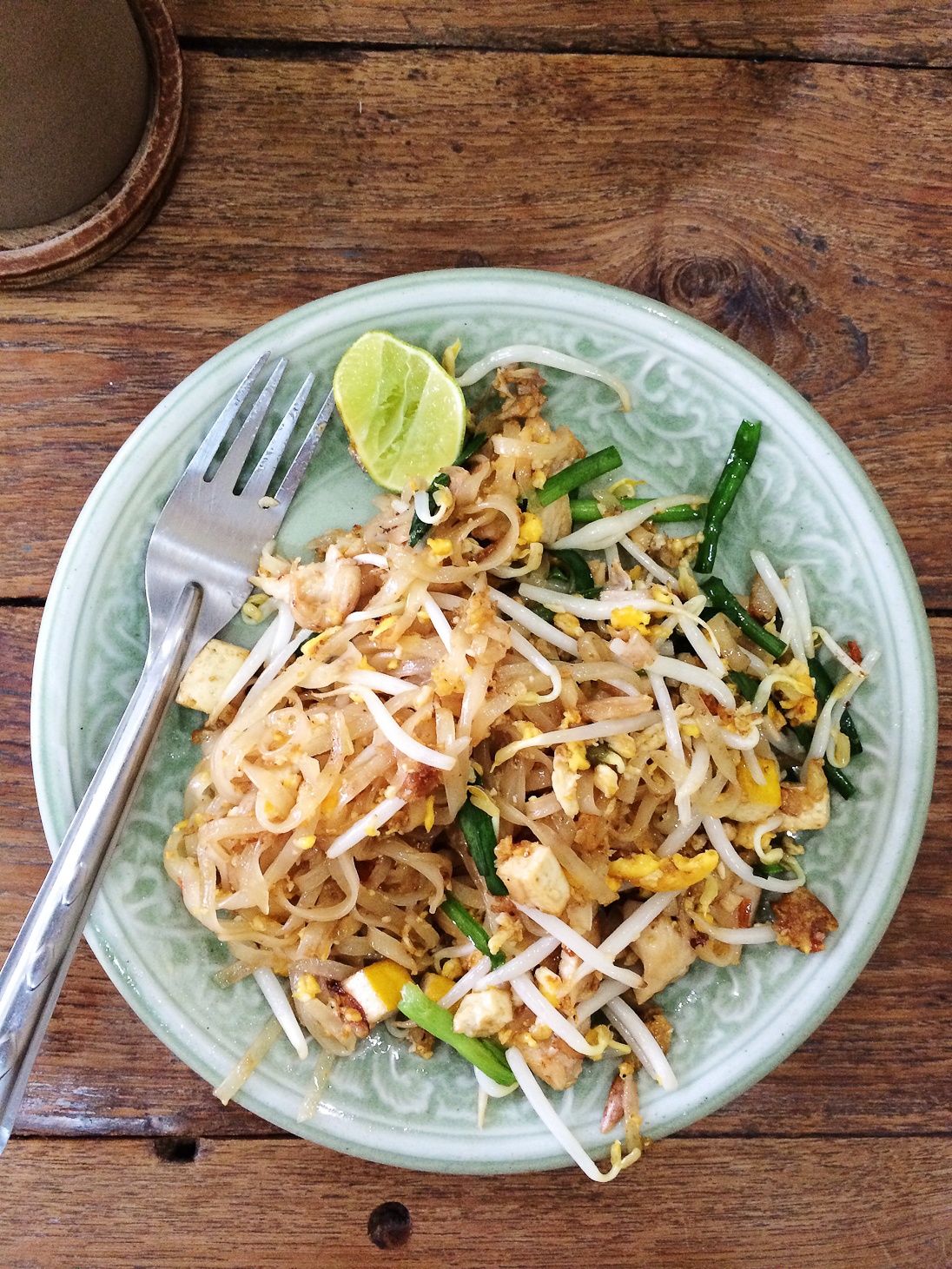 Koh Samui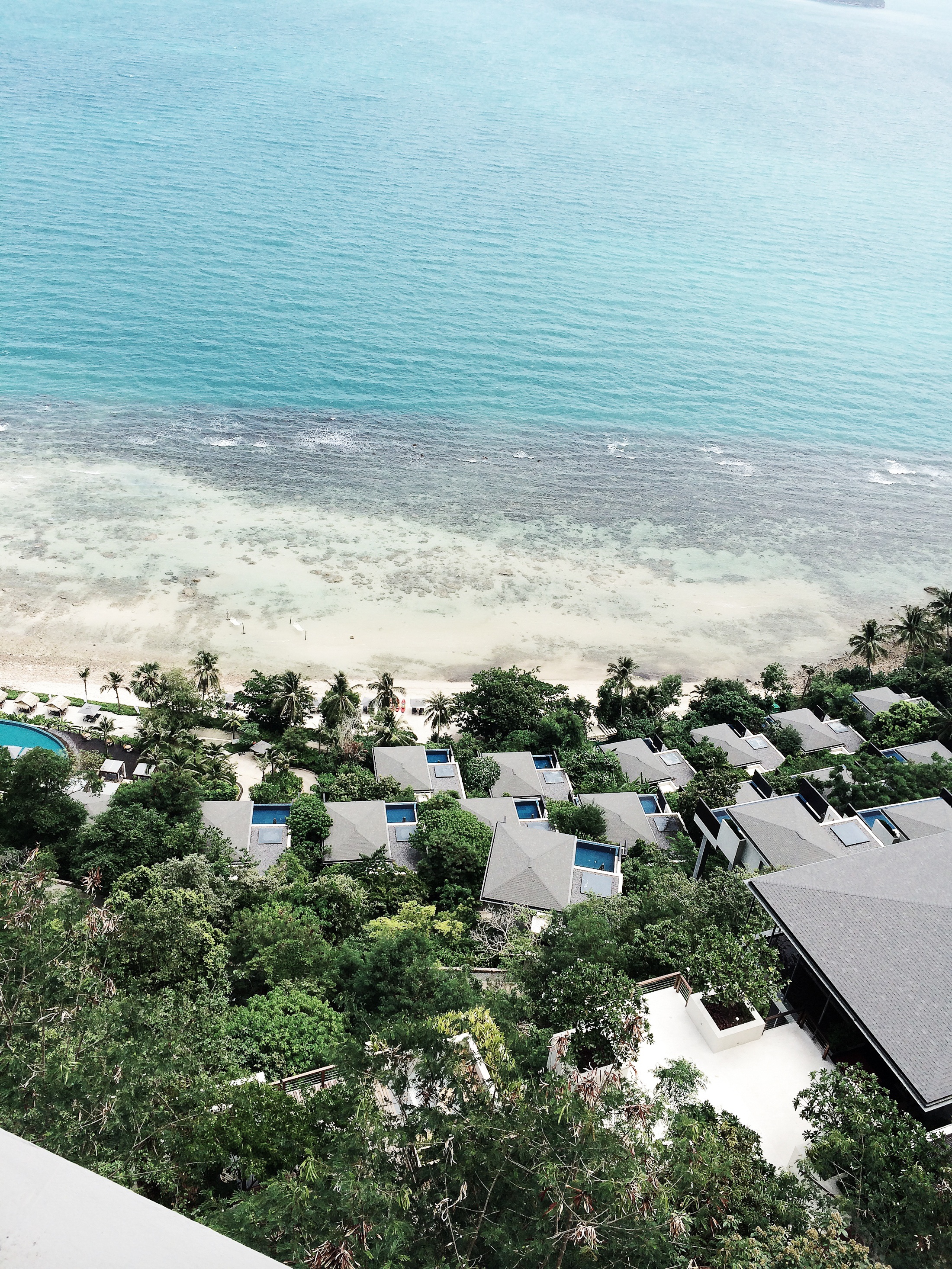 Ko Tao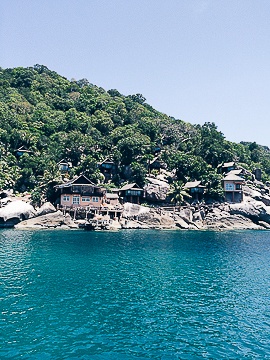 ADVERTISEMENT
---
---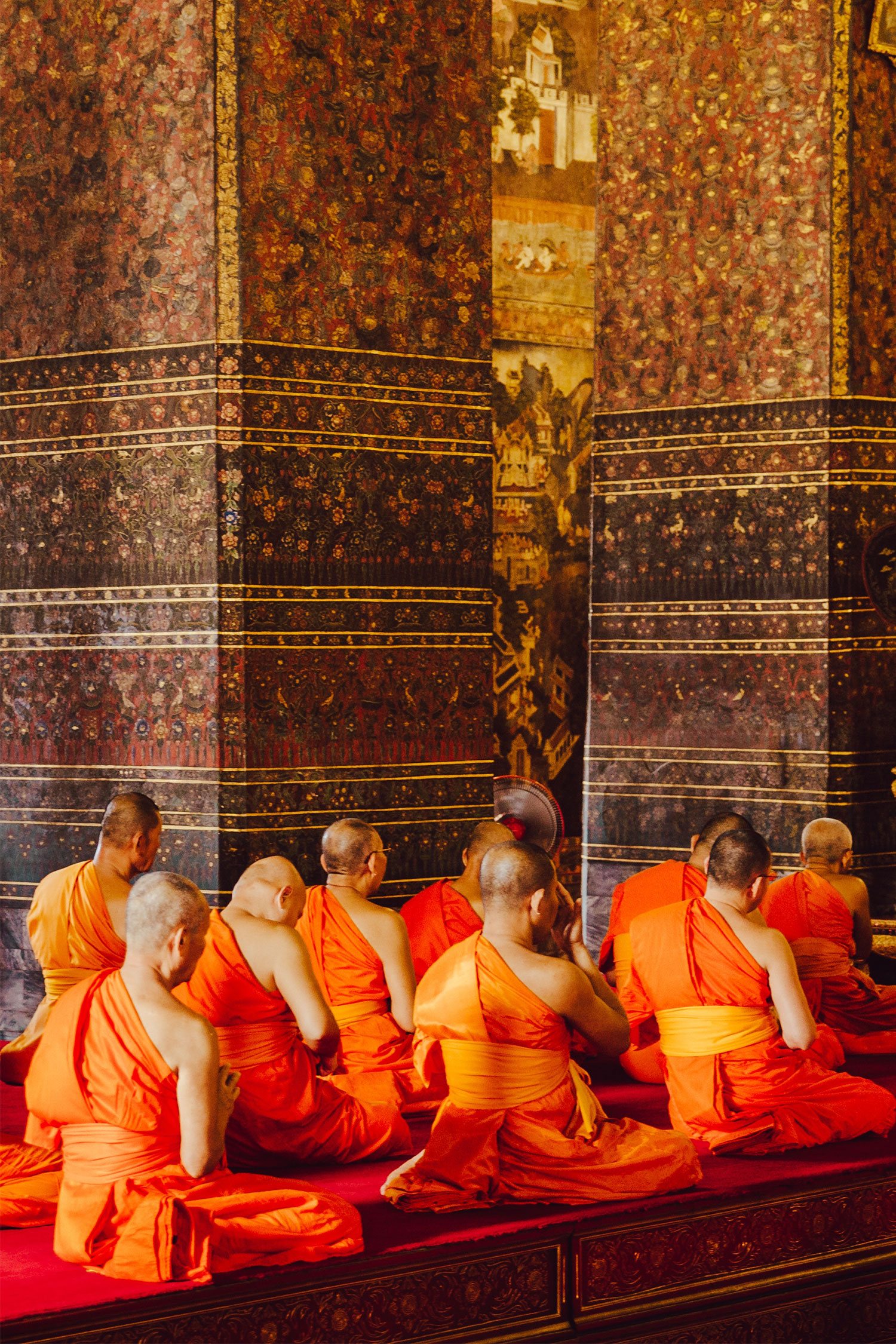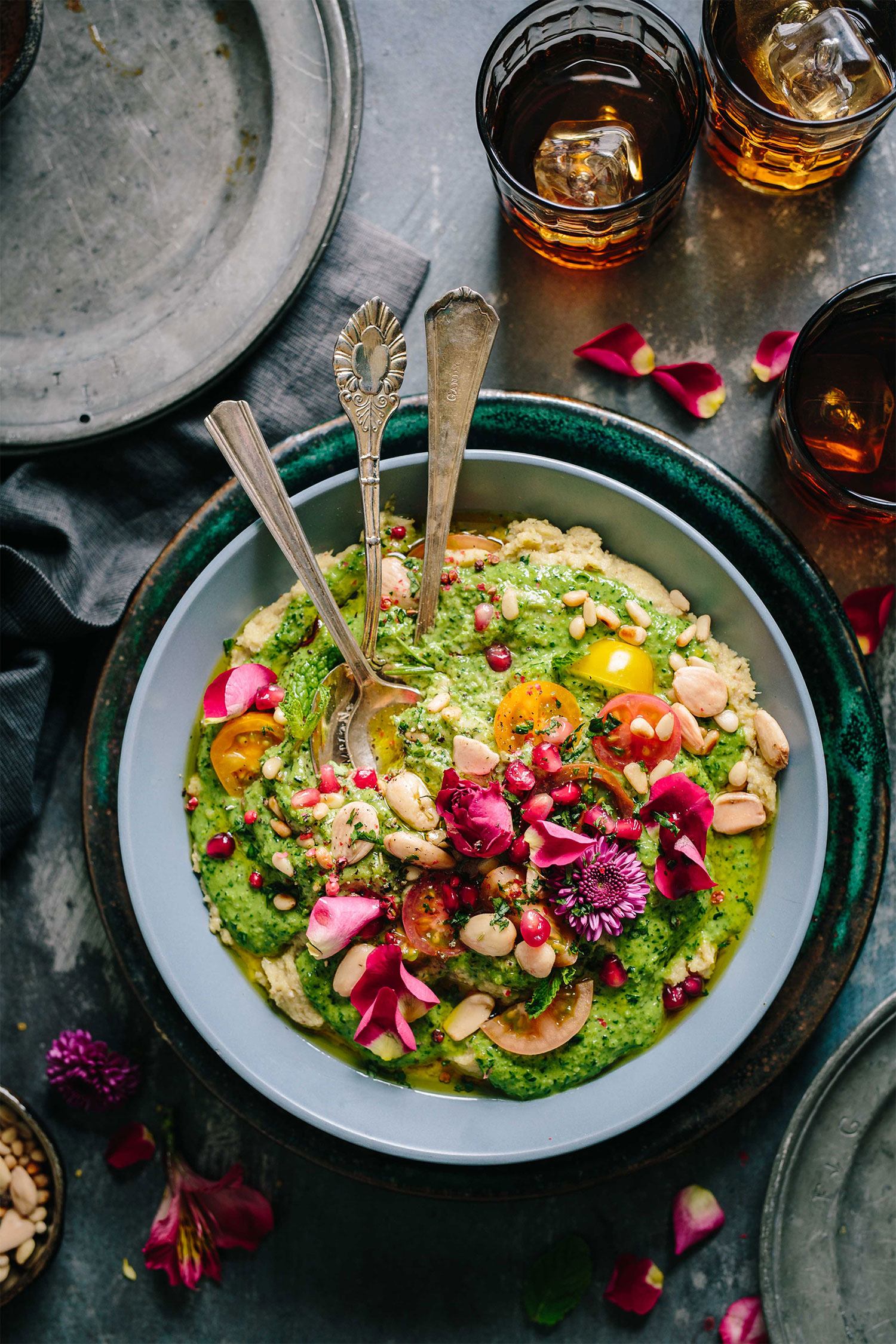 Thailand Itinerary
Here are my recommended priorities to experience both Thailand's cities and islands for a unique blend of culture, temples, sun and sand.
If you have time, I highly recommend getting certified on Koh Tao for PADI scuba diving!
If you don't want to get dive certified, I would cut the time in Koh Tao to just 2 days and spend more time in Chiang Mai. Chiang Mai is a fun, vibrant city (with a reputation as one of the top "digital nomad" destinations in the world so be prepared for lots of expats and young millennials). I regret only have a day and half there!
ADVERTISEMENT
---
---
2 Week Thailand Itinerary
We spent two weeks in Thailand in order to see both the cities and beaches. Plus, it's a long flight from New York so we wanted to squeeze in as much as we could!
If you'd like to plan your own trip to Thailand, I highly recommend the Lonely Planet Thailand guidebook (under $20 on Amazon or free with Kindle Unlimited ), which contains detailed ferry advice, sight suggestions and maps of the ruins which I found very helpful when trip planning.
Below is a day by day itinerary, covering what to see, what to eat and where to go. Whether you have 7 days, 10 days or 14 days in Thailand, I hope it helps! For any other questions, please feel free to ask it in the comments below.
ADVERTISEMENT
---
---
Days 1 & 2: Bangkok
Thailand's capital is a fast paced Asian metropolis and in a way, almost like every other large city. You'll find great rooftop bars, delicious thai cuisine and beautiful historic temples showcasing the country's past alongside businessmen in air conditioned malls and buddhist monks.
Most are conveniently located in Ko Ratanakosin, Thonburi and Dusit, all of which border the Banglamphu hotel district. Make sure to pack a scarf and long pants for covering up. Despite the humid, sticky 90 degree plus summers, you won't be allowed to enter the temples or palace without covering your shoulders and knees.
For foodies, make sure to explore Bangkok's night markets, street stalls and floating markets for great cheap Thai food! This night food tour takes you to the best stalls.
ADVERTISEMENT
---
---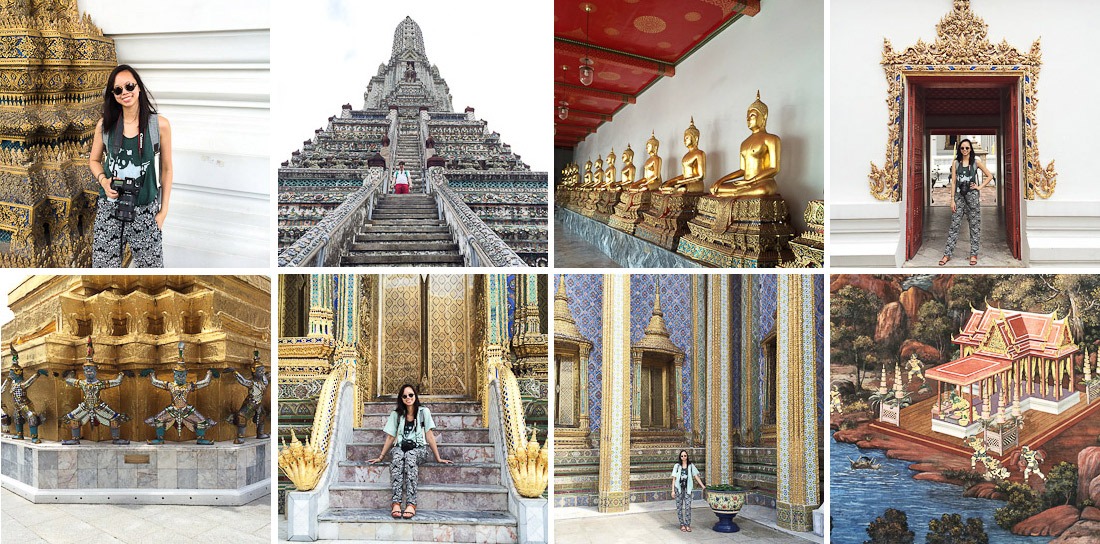 These are some instagram snapshots of my time in Bangkok. Read more about my favorites sights Wat Pho, the Grand Palace and Wat Arun here.
Best Things to Do in Bangkok
Hopping on and off

the Chao Phraya Express to glide along the city's main river and sightsee
Exploring the streets of old Bangkok, including Ko Ratanakosin, on foot
Toasting the stars and twinkling skyscraper lights on rooftop bars like Moon Bar at Vertigo and Sirocco Sky Bar
Burning baht at one of the world's largest markets, the Chatuchak Weekend Market
Pretending to be a houseguest at the city's most beautiful former residence, Jim Thompson's house
Where to Stay in Bangkok
We recommend 2 full days in Bangkok, to completely explore it's beautiful Buddhist temples and the historic Royal Palace. Bangkok is home to some of the most impressive wats (temples) and palaces in the country!
1 | Courtyard Marriott Bangkok – This hotel is located in Siam Square and quite comfortable.
Compare room rates on Booking.com or Hotels.com or Read reviews on Tripadvisor
2 | Conrad Bangkok – For our last night in Bangkok, we decided to splurge and stayed at the Conrad Bangkok near the business district, which was a real treat! For more pictures and reviews, check out my post here.
Compare room rates on Booking.com or Hotels.com or Read reviews on Tripadvisor
ADVERTISEMENT
---
---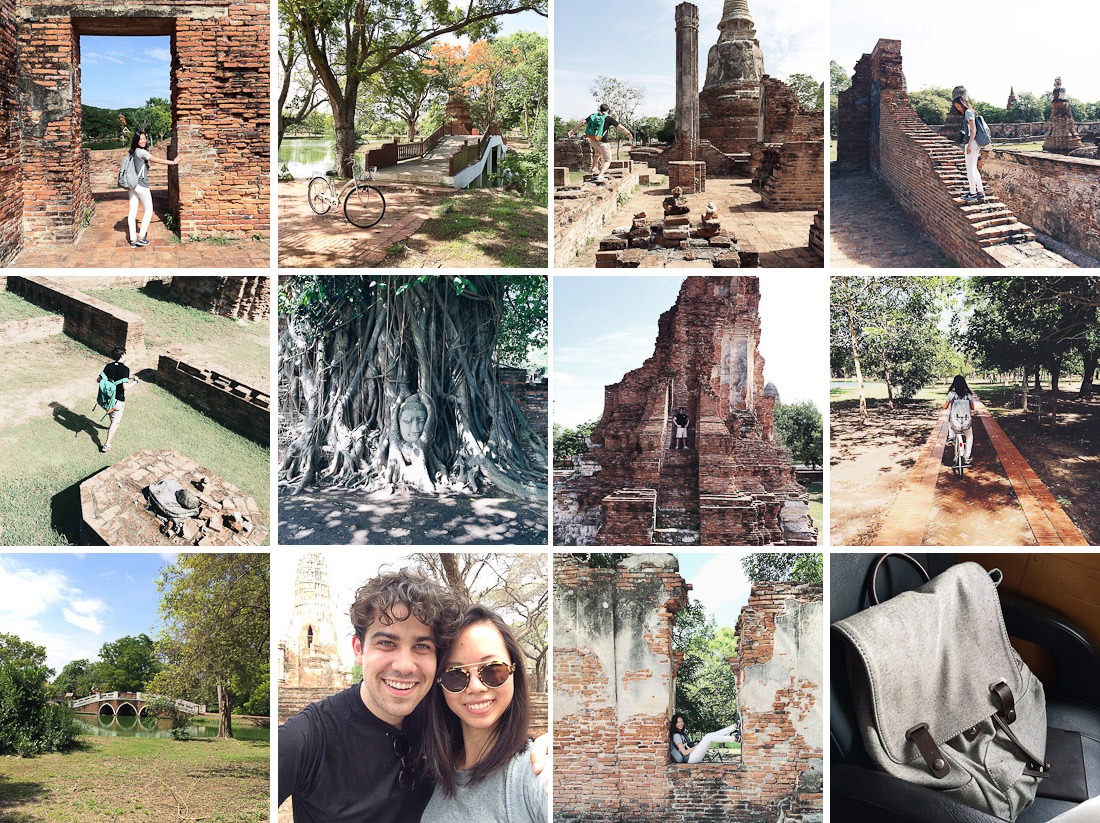 Day 3: Ayutthaya
Next, we took a train headed north to check out the ruins of Siam's ancient capital.
Ayutthaya contains a collection of time and war worn temples and is designated a UNESCO World Heritage Site. Essentially more Buddhas but in a open air context. It's surreal how close Thailand lets you get to it's ancient artifacts – literally, on top of them!
Ayutthaya historical park is a must see stop on the cultural trail and is an easy day trip from Bangkok. Many of the great monuments have been destroyed or stolen, but the city remains historically important and the key ruins can be visited in a day.
We bought a one way 3rd class seat train ticket from Hualamphong station. There's no air conditioning but the train windows are open, seating is comfortable and passes are incredibly affordable at 15 baht per person.
When you get to Ayutthaya's train station you can stash your luggage in the left luggage office on the platform if you're also making a one way trip like we did. Then take a short ferry to the island, boats run every few minutes. At the platform where you get off, there's a great ice cold fruit smoothie shop to cool you down!
I wouldn't recommend seeing the park on foot, as it's quite a large set of grounds. On a bike, you can see the entirety in about 2-3 hours and explore the rest of the new town as well. Rent a bike from the 2nd restaurant on the right when leaving the train station – it's cheaper than the first and the lady will provide you with a map.
For more pictures and must see individual temples, read my post on Ayutthaya here.
*Long pants/skirts and shirts with sleeves are required to visit the temples.
ADVERTISEMENT
---
---
Best Things to Do in Ayutthaya
tour the park on bike
take a sunset boat tour to view the temples from the water
in the southeast corner of the old city, wat suwan dararam is a beautiful and peaceful temple, particularly interesting for its brilliant and historical murals.
try Ayutthaya's muslim dessert roti, roh-dee sai mai
Where to Stay in Ayutthaya
Hotel Pailyn Phitsanulok – We wanted to visit both of Thailand's historical ruins, Ayutthaya and Sukhothai. To do so, we left Bangkok early, did a day trip to Ayutthaya and then hopped on a train to overnight in Phitsanulok, the nearest city to Sukhothai Historical Park.
Compare room rates on Booking.com or Hotels.com or Read reviews on Tripadvisor
Fun Day Tours in Ayutthaya
ADVERTISEMENT
---
---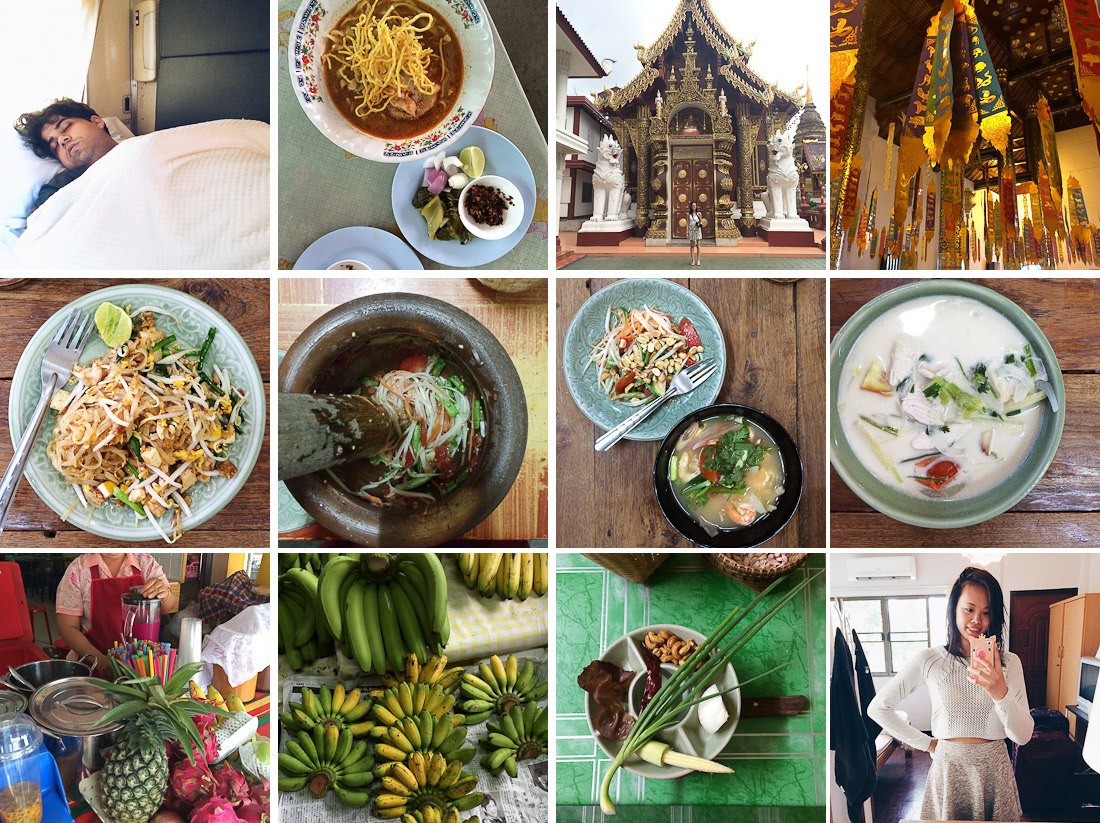 Days 4 & 5: Chiang Mai
Finally, we arrived at our northernmost destination in Chiang Mai. Nestled in the foothills of northern Thailand, Chiang Mai is a city of artisans and craftspeople, of university professors and students creating a beautiful quirky sanctuary.
This is also definitely Euro-backpacker central. On our overnight train ride, I woke up early to loud chants of "Chiang Mai Chiang High" haha.
This was my favorite city in Thailand and I loved the abundance of quirky coffee shops here. Anyone who knows me knows that I NEED coffee to survive and if you're in Thailand, Thai iced coffee is a MUST try. I still haven't puzzled out exactly what makes them so good. At first I thought it was the substitution of condensed milk instead of regular milk but I don't think that's all there is to it..
We also took a Thai cooking class and had a lot of fun recreating classic southeast asian dishes! We only had time for 24 hours in Chiang Mai but I would love to come back and stay longer to do the city justice. If you're not planning to head south to the islands, check out Chiang Rai which is even further up north.
ADVERTISEMENT
---
---
Best Things to do in Chiang Mai
Chiang Mai adds lots of spice for the aspiring chef! Take a cooking class and learn about regional cooking ingredients (you can read about my experience and which school I chose in more depth here)
Or, if you just prefer to eat your way through Northern Thai delicacies, head over to Grandmother's Khao Soi pronto for the best crunchy curry noodles you'll ever have
Chiang Mai is Thailand's base for outdoor activities in the cool, lush northern mountains. Consider a trek to a minority tribal village, a visit to an elephant sanctuary or zipline courses through the forest
This is also the home of the Tiger Sanctuary but any place that drugs animals isn't much of a sanctuary. I would really encourage people to visit an Elephant Park instead, like this one.
Check out the Night Bazaar for some of Thailand's gorgeous handicrafts
Chiang Mai's temples showcase Lanna art and preserve folkways and ethnic culture. Nearby Chiang Rai is an easy day trip from Chiang Mai and the architecture is even more incredible.
Th Nimmanhaemin road and its offshoots are an incredible hive of energy bursting with bistros, trendy bars and boutiques
Where to Stay in Chiang Mai: Sibsan Resort & Spa Maeteang
This hotel is a gorgeous stay slightly outside the city near the Elephant sanctuary. It's a village set in the rice paddies and hills and given that it's thailand, still very affordable!
Compare room rates on Booking.com or Hotels.com or Read reviews on Tripadvisor
Fun Tours in Chiang Mai
ADVERTISEMENT
---
---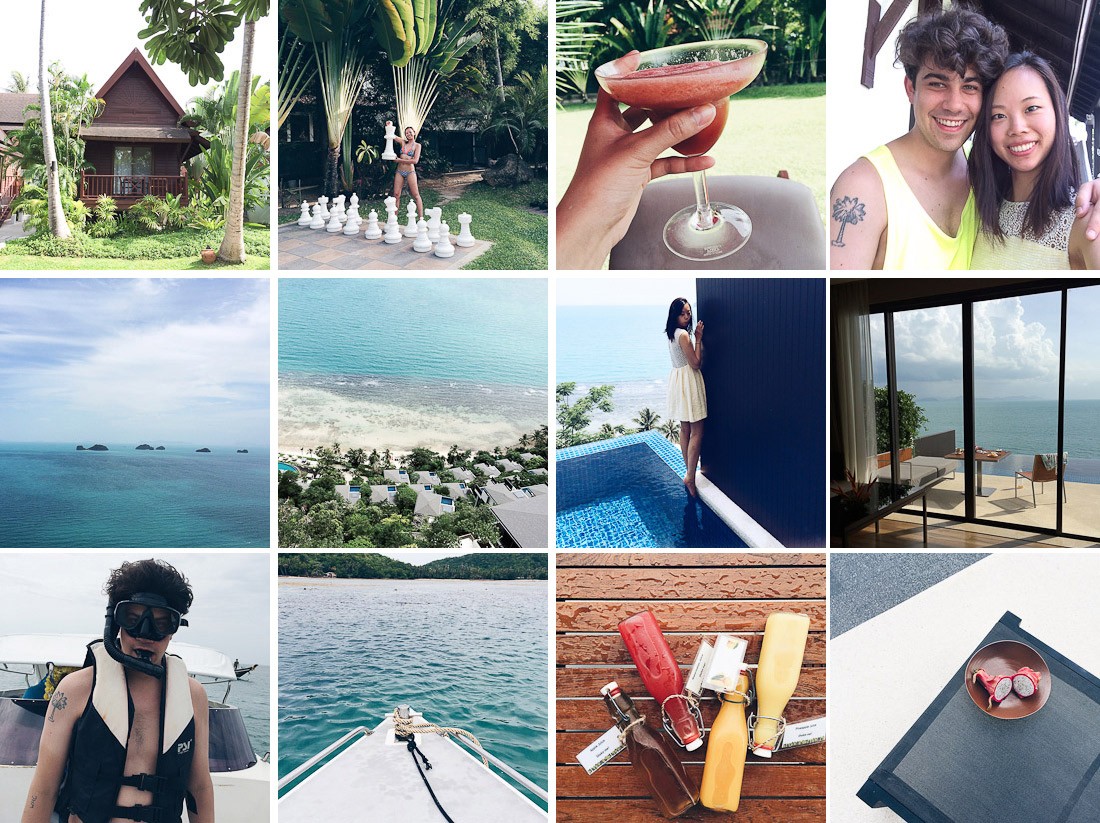 Days 6 – 9: Koh Samui
This beautiful island is the paradise to unwind. We spent two days in Chaweng, the largest of Samui's beaches with a vibrant nightlife scene.
Then we changed hotels to the ultra luxurious Conrad Koh Samui on the more private southwest tip of the island and settled it for an utterly relaxing couple of days.
The Conrad is a perfect choice if you'd like to be completely closeted away – we spent two nights of bliss in our private hilltop villa with our own infinity pool and magnificent sunset views without seeing any other visitors.
Sometimes there's nothing more that you want than a complete "do nothing" vacation and Samui is the perfect place to relax and recuperate.
For more photos, you can read my Conrad Ko Samui hotel review.
ADVERTISEMENT
---
---
Where to Stay in Ko Samui
We split our time in Samui by staying in 2 hotels, to experience the island's different neighborhoods. Both hotels were great, but provided different experiences!
1 | Conrad Ko Samui – This completely secluded property on the south west coast has private villas, set into the cliffs. Each villa has everything you could want – including your own infinity pool overlooking the ocean. It was total bliss after the hot sticky sun at Ayutthaya and Sukhothai.
Check rates on Booking.com or Hotels.com or Read reviews on Tripadvisor
2 | Baan Chaweng Beach Resort – If you're looking for more of a nightlife scene, stay in Chaweng (near the airport) which has a more vibrant scene and regular hotel properties. This resort had a couple huge swimming pools, beachfront access and lots of games. The frozen cocktails were tasty and cheap!
Check rates on Booking.com or Hotels.com or Read reviews on Tripadvisor
Fun Activities in Ko Samui
ADVERTISEMENT
---
---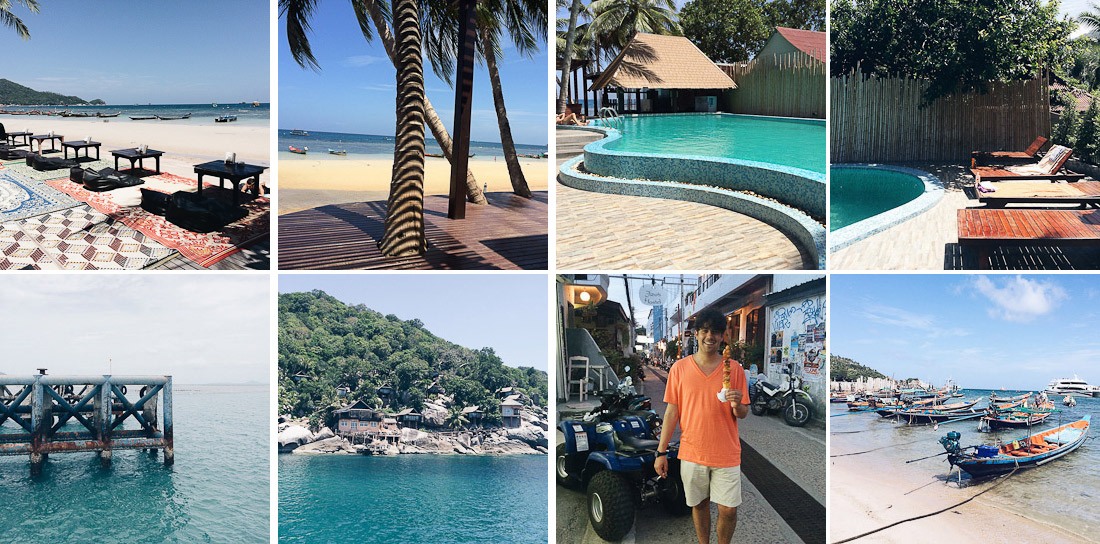 Days 10-13: Ko Tao
From Koh Samui, we boarded the catamaran to Ko Tao. Ko Tao is the smallest island in the Samui – Ngan – Tao trio but it makes up for it with a vibrant expat population, a laid back atmosphere and world class diving.
This is THE spot to learn how to scuba dive.
We spent 4 days on the island to get our open water certification and every minute was worth it. Don't expect the luxury of Samui – I always had sand somewhere and never really felt clean after a shower but man, the diving is incredible. It's amazing to learn in crystal blue water and see exotic fish on your very first dive!
The island of Ko Tao also has great, low key bars – we spent many nights playing pool and watching the world cup. I'd say Ko Tao has a bit of bohemian meets paradise kind of vibe – it's a twisted maze of cute boutiques, clothing shops, coffee shops and restaurants serving simple delicious inexpensive Thai food.
If I could go back to any island immediately, I would come back to Ko Tao. I really, really loved it here.
ADVERTISEMENT
---
---
Where to stay in Ko Tao
Simple Life Resort – We stayed in a basic beach hut as part of the accommodation provided with the PADI scuba certification. It's bare bones but really, the focus on Ko Tao is not on lodging but all about diving. It's like a backpacker's campground meets the Great Barrier Reef.
If you're staying for longer than 4 days or not interested in diving, I'd recommend something a bit more luxurious. Don't expect Ko Samui glam though!
Book rooms: Booking.com, Hotels.com
Check prices: TripAdvisor
Fun Tours in Ko Tao
ADVERTISEMENT
---
---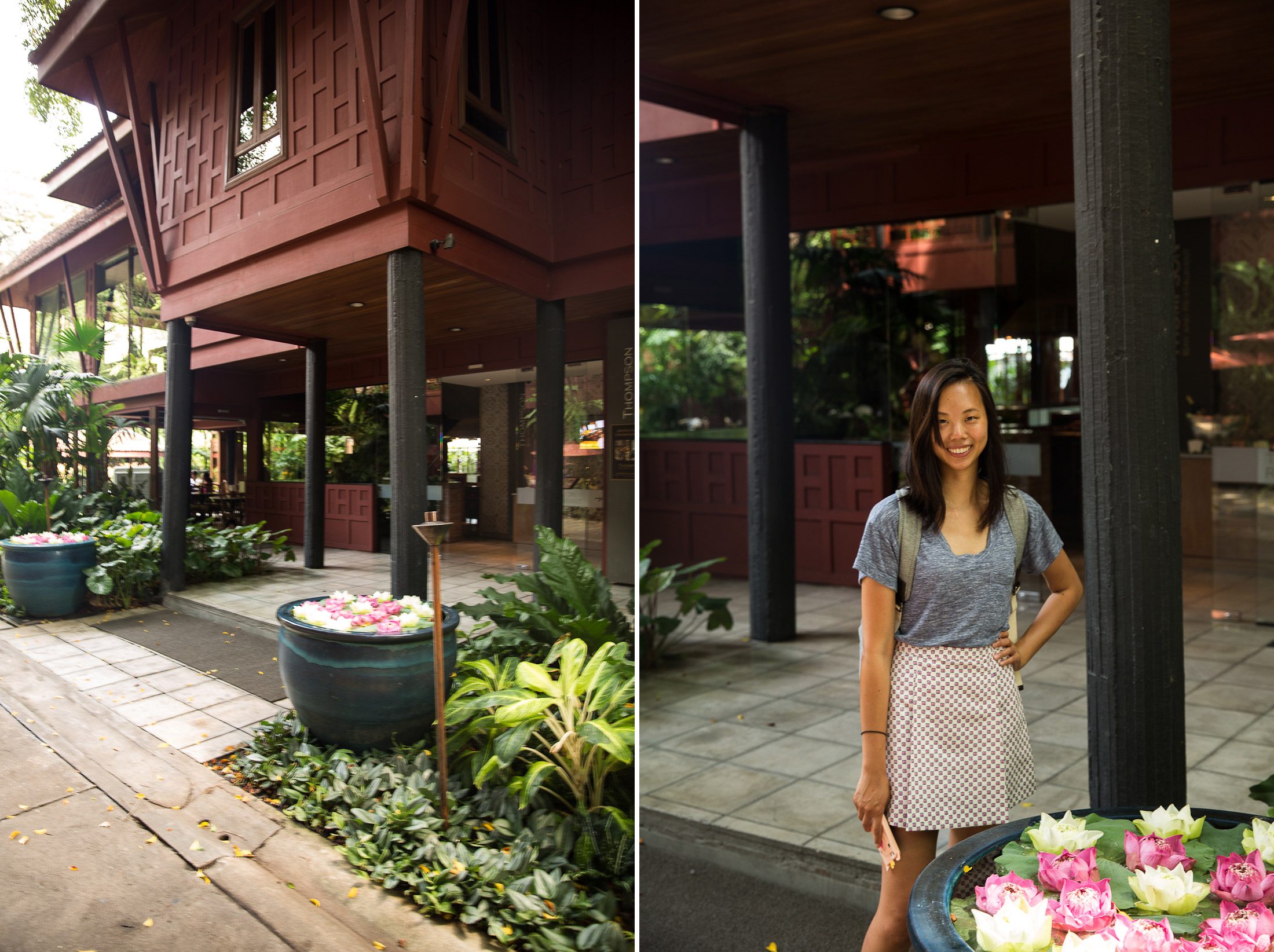 Day 14: Bangkok
On our last day in Bangkok, we took the opportunity to rest, do some last minute shopping and explore Jim Thompson's House.
At this point, we were all wat-ted out and had a lot of fun pretending to be a house guest at the city's most beautiful former residence.
Jim Thompson was a former CIA operative who helped develop Thailand's silk trade and mysteriously went missing in the jungles of Myanmar. Conspiracy theories abound but his house is crazy beautiful with Balinese antiques, it's own moat entrance and tons of koi ponds.
Fun Tours in Bangkok
ADVERTISEMENT
---
---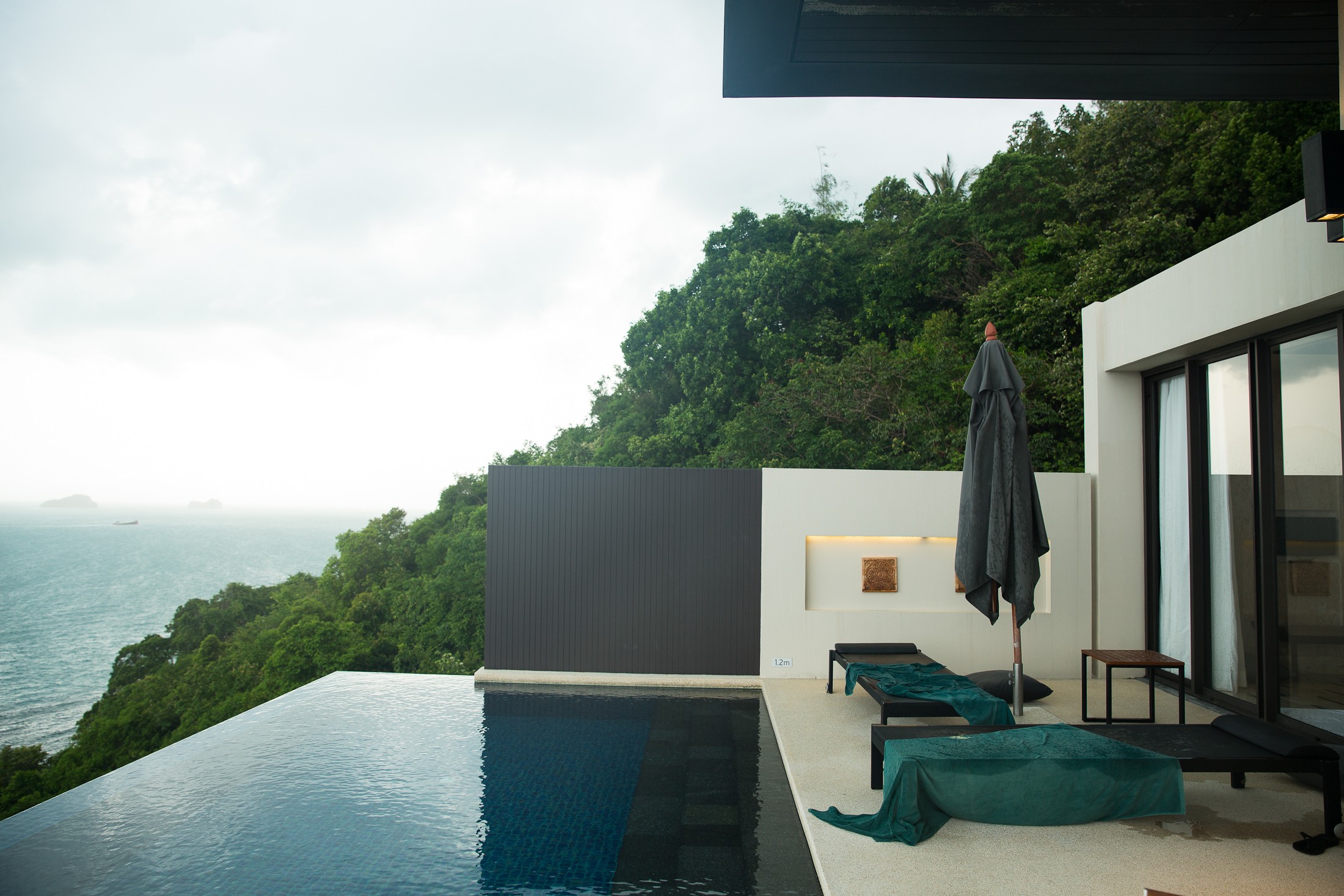 How Much to Budget for Thailand
I also got many questions on how much a trip to Thailand costs.
I don't remember the exact amount unfortunately, but the flights were by far the most expensive (coming from New York).. something like $1,700? I'm sure you could find a better deal by booking in advance – check here for flight deals.
Scuba diving on Ko Tao was part of our trip itinerary and may or may not be something you're interested in. We chose to get PADI certified on Ko Tao as it's one of the least expensive places to get your dive certification and has top notch dive school instruction.
It was roughly $400 per person for the PADI certification, which included 3 or 4 nights of (very) basic accommodation.
Meals could be very inexpensive if you ate at roadside, authentic Thai places (under $10 for two people) or more expensive if you ate at established restaurants or inside hotels (maybe $25+ for two people).
We did a mixture of all and thought the street vendors had the best food to be honest!
ADVERTISEMENT
---
---
Transportation in Thailand
Save money by booking Thai trains online before you go.
Taxis within Bangkok and Chiang Mai are very affordable but just make sure you negotiate and set the price before getting in. If the driver hears your destination is a fancier hotel, be prepared to pay more or haggle harder.
Koh Samui is the one place with very expensive taxis as it's a large island and run collectively. Try hiring Mr. Samui's private cars – we did that and found it to be more comfortable and cheaper than hailing a taxi off the street.
Songthaews and tuk tuks for each destination vary, but we referenced our Lonely Planet book for estimated fares.
The LP guide was quite handy and I definitely recommend picking up a copy (under $20 on Amazon). There was detailed ferry advice, sight suggestions and maps of the ruins which was all invaluable for planning.
ADVERTISEMENT
---
---
And that's a wrap! Our 2 week trip to Thailand in a nutshell. Have you been? Let me know your recommendations if so!
Visiting Thailand – Travel Checklist
The most expensive part of the trip to Thailand are flights. Check for flight deals in advance in order to save. For hotel bookings, we relied on Booking.com.
Be sure to visit Thailand with travel insurance. Whether you get injured and need to be hospitalized, or your phone gets stolen, travel insurance will help when you need it most. Get a quote for your trip here.
You Might Also Enjoy:
Thailand Vacation Planning Articles
Choosing the Best Thai Islands Andaman or Gulf Coast
How to Plan the Perfect 2 Weeks in Thailand
Sights & Hotels We Loved
Conspiracy Theories & Thai Mansions at Jim Thompson's House
Classic Bangkok Sights: Wat Pho & Temple of Dawn
Deciding Between 2 Ancient Ruins Sukhothai or Ayutthaya
Checking In: Our Luxurious Private Villa Conrad Koh Samui
Luxury for Less: Staying at the Conrad Bangkok
The Best Thai Food
Chiang Mai Things to Do: Learning to Cook Authentic Thai Food
Here's Where to Find The Best Curry Noodles in Chiang Mai
Follow me @Sher She Goes on