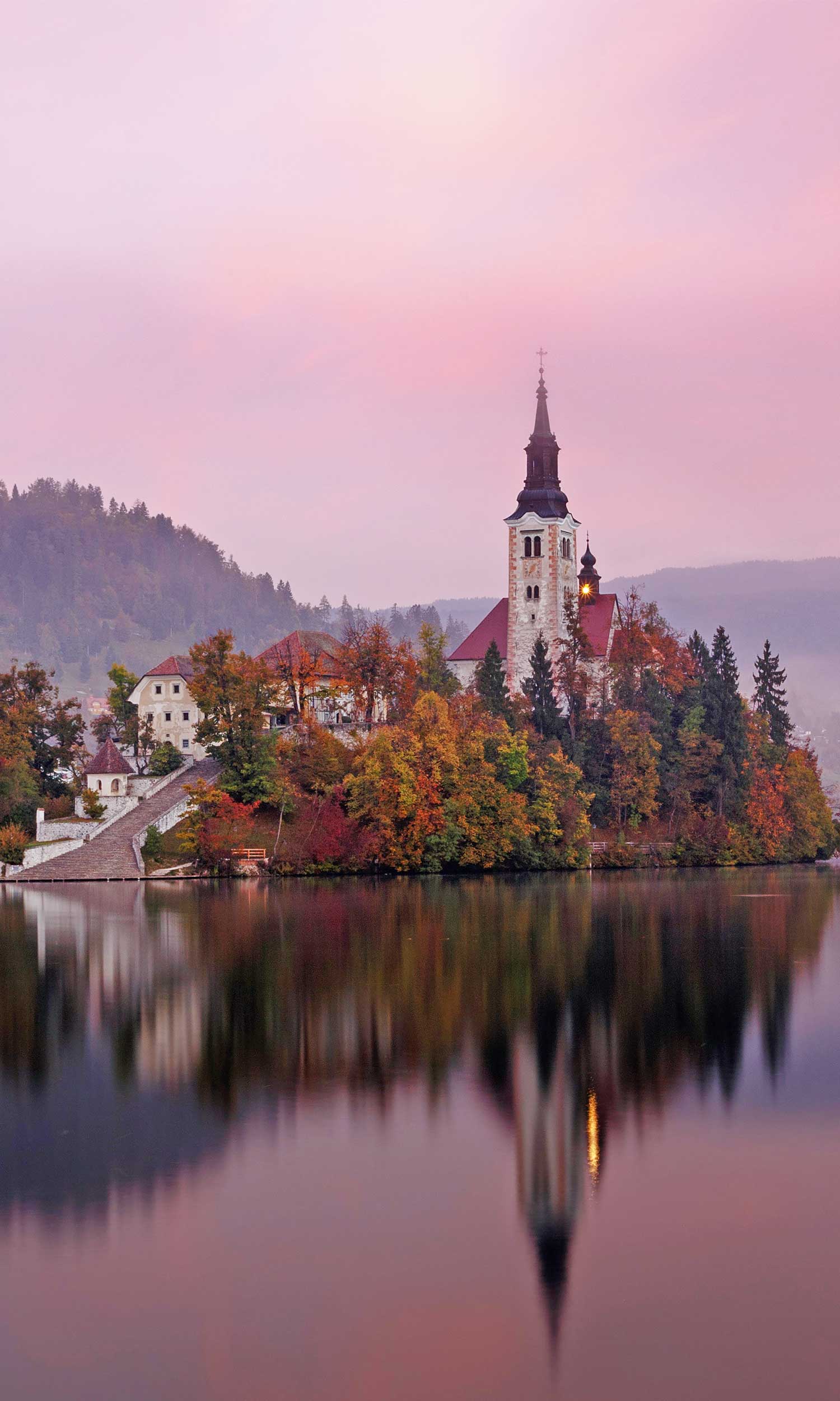 Slovenia in A Weekend
Slovenia might not be the first country on your list when you think about a vacation to Europe. It wasn't for me at the time I visited, in 2012, since I hadn't heard of anyone going there! But, if you're traveling to Croatia or Italy, Slovenia makes an excellent addition.
Today I wanted to share a quick Slovenia itinerary that is doable in 3 or 4 days. It's the perfect short trip for anyway wanting a condensed but fun long weekend in Slovenia!
---
---
Cities in Slovenia You Must Visit
---
Postojna
Ljubljana
Bled
The country is beautiful, relaxing and cooling due to its position in the alps. I visited in the summer after a visiting Croatia and whew, was the weather a relief from the hot sun at Dubrovnik! Slovenians are also quite a friendly and warm people. What really surprised me is how incredibly fluent they are in English.
Typically, Europeans are quite used to American tourists and can obviously speak English but Slovenians are fluent. A friendly waitress in Ljubljana, Slovenia's capital, told me it's because they love American tv shows and in Slovenia programming isn't dubbed. I always knew watching tv was one of the best ways to learn a new language and left the trip reminding myself to study up on my French and Chinese…
Anyway, back to visiting Slovenia.
While most people won't have the time for an extended stay in Slovenia, I highly recommend a 3 to 4 day trip or long weekend getaway. After visiting Croatia's Plitvice Lakes, we drove northward to Slovenia and then continued on to Venice.
---
---
Slovenia Itinerary
Day 1: The Postojna Caves
I came from Croatia's Adriatic coastline and journeyed north into Slovenia. My first pit stop was the karst caves at Postojna, Slovenia's biggest underground attraction and the largest underground caves in Europe.
Postojna has a seemingly endless network of passages, galleries and chambers all featuring various crystals – from chandeliers to spaghetti formations, paper thin sheets to massive, thick columned stalagmites.
I chose to take the underground, specially designed cave train with electric lighting to fully see the geological caves. You can also walk it, but the underground system is far, far bigger than what the entrance would leave you to believe.
For more photos of the cave stalagmites, check out my complete post on the Postojna Caves here. After the day trip, I headed onward to Ljubljana and Lake Bled.
Overnight, drive to Ljubljana, the capital, and check in.
---
---
Day 2-3: Ljubljana
Slovenia's capital is known for its university population and green spaces. The winding Ljubljanica River flows throughout the city's heart and as car traffic is restricted to the city center, pedestrians and cyclists roam freely throughout the city. I love being able to walk around without the fear of being run over and Ljubljana has such a great vibe, especially in the summer months, when cafes set up terrace seating all along the river.
I was also pleasantly surprised by how beautiful Ljubljana was. A lot of the city's architecture has pastel hues and there are lots of open air fruit markets with flowers, cured meats and treats for sale, beautiful scroll worked bridges and large public parks for reading.
Things to do in Ljubljana:
Spend a leisurely afternoon at a café, try some delectable pastries and people watch over the open squares
Take the funicular up to Ljubljana Castle for an impressive view over the city
Explore the Old Town, check out some of the city's excellent museums and galleries and stroll or cycle through Park Tivoli
A large, active student population lends the city an active night life. Don't forget to check out the bars and clubs!
You can also skip the caves and fly into Ljubljana directly – check the latest flight prices here. However, there are no regularly scheduled passenger flights within Slovenia so your best bet is to rent a car, use the bus system or take a train.
Postojna is about 1 hour south and served by daily buses while Bled is another hour north with hourly bus service. You can pay as your board, just be aware that long distance trips on Fridays or before public holidays and school breaks can be risky.
All of the big international car rental companies have offices in Ljubljana. While you can rent locally on the spot, you'll get a much better deal renting in advance on the company website.
Where to Stay in Ljubljana:
Radisson Blu Plaza Hotel Ljubljana – This new, affordable hotel has clean, well stocked rooms and is conveniently located in the city's shopping area, a short bus ride from downtown Ljubljana.
Check rates:
Booking.com
|
Hotels.com
Read reviews:
TripAdvisor
---
---
Days 4-5: Lake Bled
Lake Bled was my favorite part of Slovenia and it's no wonder that it's the country's most iconic tourist draw. Alpine peaks in the backdrop, a crystal clear blue lake, a tiny island and an impossibly cute church with a fairytale past – it doesn't get any more dramatic than this!
Things to do in Bled, Slovenia:
The walk around the lake is approx. 6km and takes about 1.5 – 2 hours walking leisurely. It's a great exercise to do, offers multiple vantage points of the island and tons of photo opportunities.
If you prefer, a family friendly tourist train wraps around the lake making daily 45 trips and takes about 45 minutes. Or you can splurge on a romantic horse drawn carriage ride around the lake and up to the castle.
From June – August, the lake is warmed by mild thermal springs and you can go swimming, rent boats or just cool off on the banks and relax!
Bled Castle: this medieval fortress is a real delight, as its perched high on top of a steep cliff 100m above the lake. There are towers, ramparts, moats and a large terrace granting magnificent views. Don't miss!
Bled Island: a tiny tear shaped island in the middle of the lake, reachable only by row boat or gondola. Make sure you check out the church and walk up on the south side of the staircase – you'll know it by the crazy number of steps!
Church of the Assumption: a beautiful baroque church with a mysterious folk lore past. Check out more photos and learn about the story in my post here
Provost's House Museum: there's also a small museum on the island displaying traditional costumes and some history of the area
Where to Stay in Bled: There are plenty of restaurants surrounding Lake Bled so it makes for a great home base.
Overnight: Hotel Jelovica Bled – this historic hotel has the best view of the island with views direct from your hotel bed. I stayed for two nights on Lake Bled, hiking and walking the trails around the lake, rowing on the lake and seeing the church and castle.
Check rates:
Booking.com
|
Hotels.com
Read reviews:
TripAdvisor
---
---
Fun Day Tours in Slovenia
---
Did I miss your favorite city in Slovenia? Let me know in the comments below!
Visiting Slovenia – Travel Checklist
The most expensive part of the trip to Slovenia are flights. Check for flight deals in advance in order to save. For hotel bookings, we relied on Booking.com.
For more help with planning your vacation to Slovenia, we relied heavily on Rick Steve's Croatia & Slovenia Travel guide. The local advice for admissions, times, maps and pricing was pretty invaluable. If you plan to kayak or swim – I recommend bringing along a GoPro to take some fun photos!
Finally, make sure to visit Slovenia with travel insurance. Whether you get injured and need to be hospitalized, or your phone gets stolen, travel insurance will help when you need it most. Get a quote for your trip here.
You Might Also Enjoy:
Slovenia Vacation Planning Articles
6 Fun, Fairy-tale Things to Do in Slovenia
Essentials of Slovenia Itinerary: Highlights from 4 Days
Slovenia Points of Attraction
Stalagmites & Stalactites in Slovenia's Postojna Caves
Rowing Up to Fairy Tale Bled Island
24 Hours in Slovenia's Capital of Ljubljana
The History Behind Bled Castle
An Unforgettable Lunch in Ljubljana
Follow Sher She Goes on