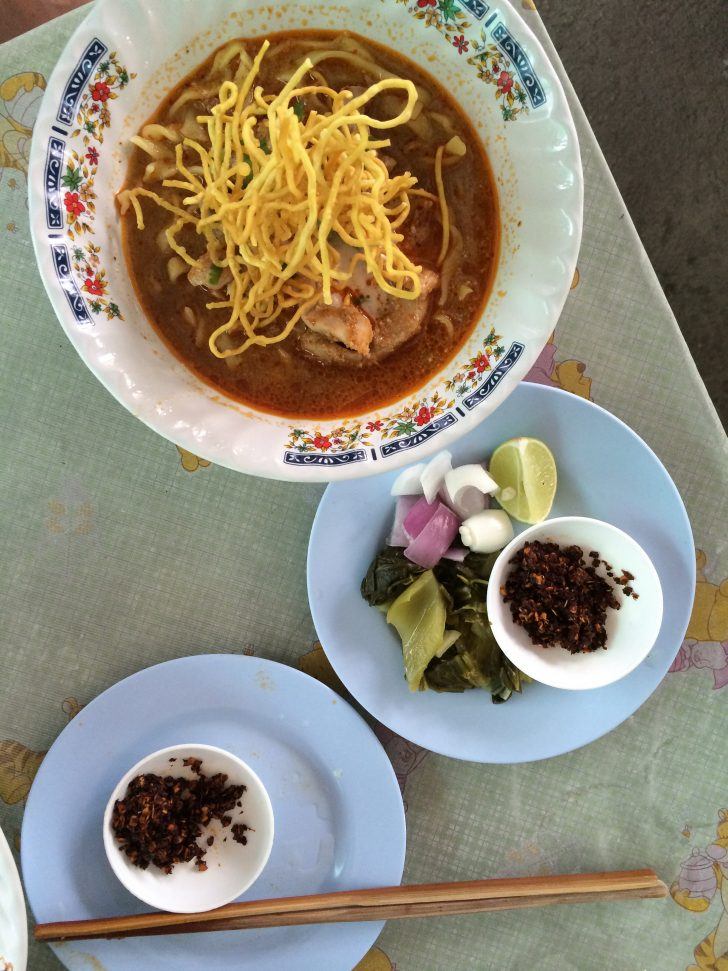 Khao Soi Khun Yai – the Best Khao Soi in Chiang Mai
MHm khao soi. Roadside meals were some of the best and most authentic meals we had in Thailand and this local, Chiang Mai variety was no exception. The local variety features crispy curry noodles in an extra spicy and rich broth. THE spot to go to for the best khao soi in Chiang Mai is Khao Soi Khun Yai (meaning grandma's khao soi), a roadside noodle shop run by a friendly grandmother in a nondescript section of the Old Town.
Khao soi is a northern Thai dish of crispy fried noodles mixed with flat wheat noodles in a savory curry broth. Northern Thailand cuisine is different than what you'll find in Bangkok, as the region is influenced by its Burmese neighbors and the muslim Chinese Yunnanese / Kuomintang population who immigrated to the area. Khao Soi is said to be a south chinese variation and there are a million restaurants and tiny stalls that sell this hearty dish.
At Grandmother's Khao Soi, you choose your protein (beef, chicken, pork) and receive a bowl of curry noodles along with lime, chilis and home-pickled cauliflower and cabbage. There's a seating area to gulp down your food and coolers of ice cold water to counterbalance the spicyness. She manages to make a really rich and intense broth, which is probably the key to her khao soi recipe being so good!
Despite it being a hot day, grandmother's khao soi went down perfectly and we ended up getting second rounds. Afterwards, we wandered the lanna temples of the old district and stopped in a number of cute coffee shops. Chiang Mai is like the brooklyn hispter equivalent in Thailand and is jam packed with quirky and cute cafes. The best part is that they serve ice coffee with condensed milk which makes for the most delicious combination of roasted dark espresso beans and a creamy sweet flavor. I wish I could replicate the taste now that I'm back home in NYC but I never manage to get the ratio of coffee / condensed milk exactly right.
Khao Soi Khun Yai (ข้าวซอยคุณยาย)
Hours: 10am – 2pm Mon – Sat
Location: between the temples of Wat Monthian and Wat Kuan Kama (entrance is on the inner side of the North moat)
30 – 35 Baht / bowl
Google map coordinates: Si Phum (18. 795541, 98. 983281) | Mueang, Chiang Mai
If you're in Chiang Mai and want to try some of the best Northern Thai food in the Old City, hit up Grandmother's Khao Soi (Khao Soi Khun Yai). For more to do in North Thailand, check out an ethical elephant park or read this guide.