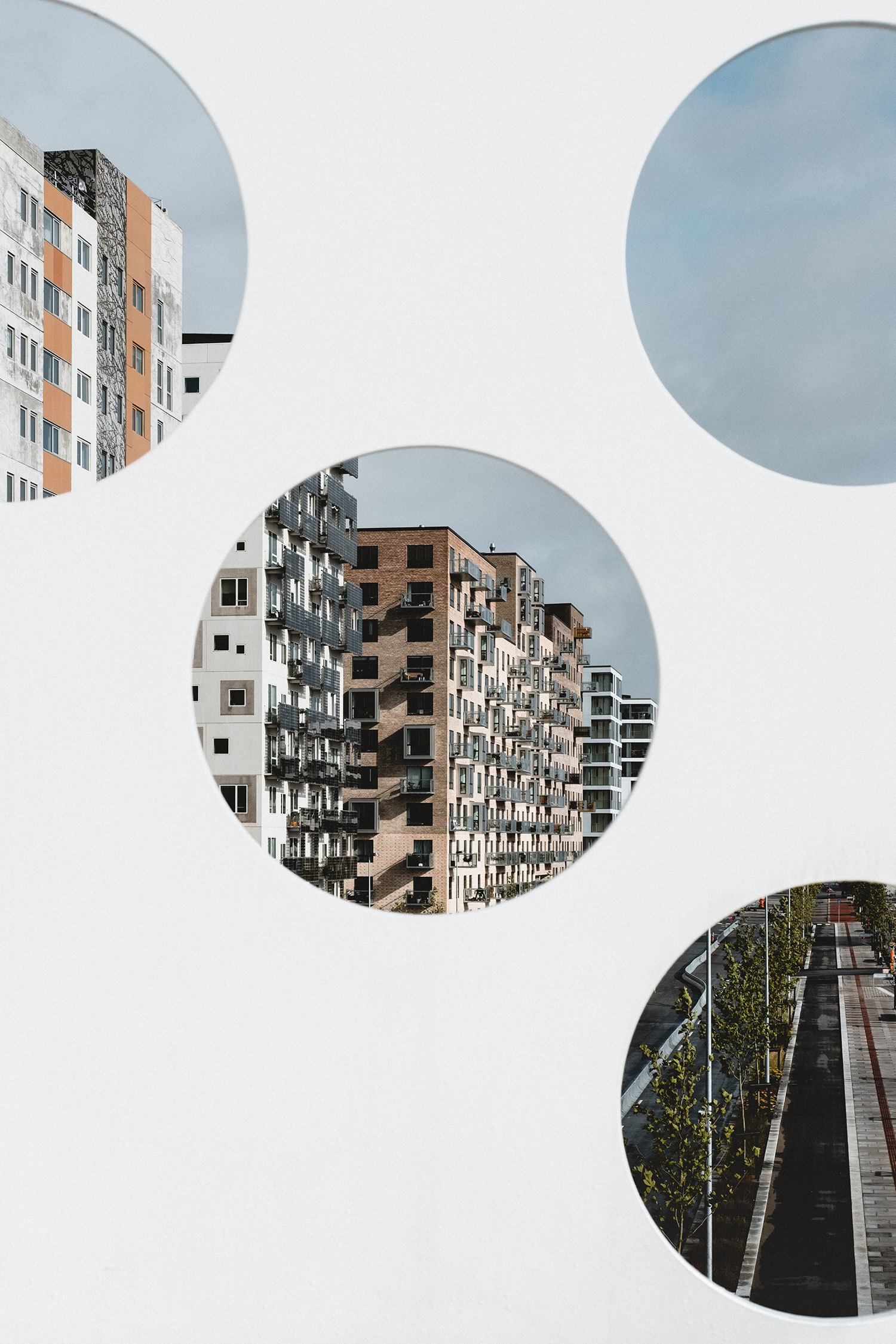 Denmark Landscapes
Denmark is small, about three times smaller than New York, but the country has more jaw-dropping beauty than anywhere else.
You'll find dune plantations and long sandy beaches in western Jutland but rolling hills and orchards on central Funen. Then of course, there's big city life in Copenhagen on Denmark's largest island, Zealand. In short, Denmark's landscape is nothing short of breathtaking variety.
As you all know, I fell in love with Denmark on just our short trip to Copenhagen that I've always wanted to go back. My fellow travel blogger Line is originally from Denmark and knows all the ins and outs of Denmark – from its small towns to its most beautiful cities.
Today she's sharing some of the most beautiful places to visit in Denmark!
---
---
Denmark's Natural Beauty
What should you see in Denmark? The list is long!
Denmark is the 3rd oldest monarchy in Europe, which means you can explore castles and look at crown jewels until you faint. If you like fairy tales, Odense, Denmark's 3rd largest city is the place to go. Here you can explore H.C. Andersen's childhood home and read his paper clippings and manuscripts at the H.C. Andersen Museum.
Then of course, Copenhagen has the famous Little Mermaid statue (and yes, she is little) as well as the amusement park Tivoli, while the city of Bornholm has architecturally magnificent round medieval churches.
All that stuff is man-made though and we Danes believe the real beauty lies in nature. That's why this list of things to see in Denmark is all about nature sights.
---
---
The Best Places to Visit in Denmark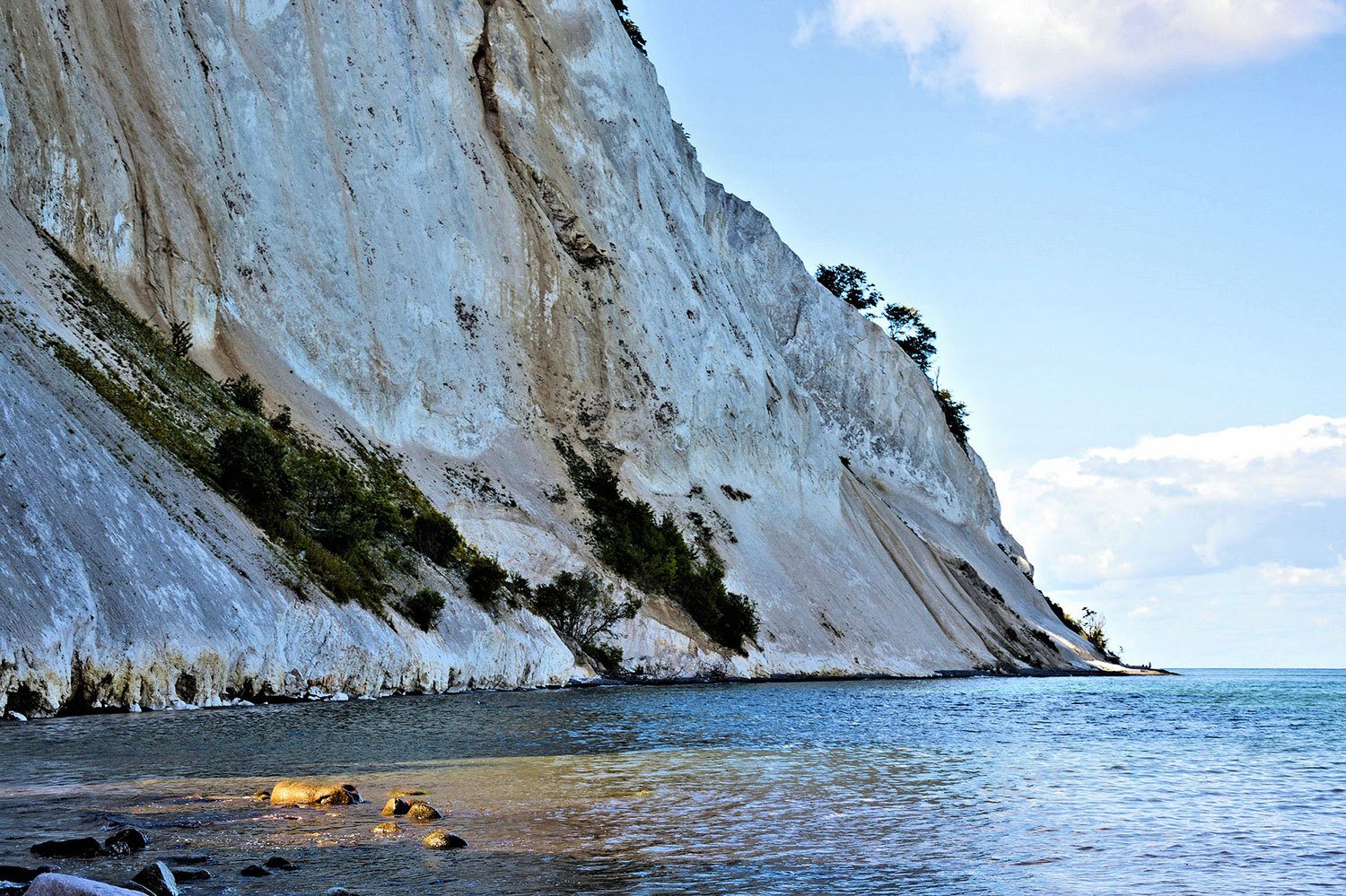 1. Møns Klint
Møns Klint is an area with enormous chalk cliffs located on Møn. It is a UNESCO biosphere reserve, covers 173 square miles and is like no other place in Denmark.
Denmark is flat as a pancake, but at Møns Klint you actually get to see things a bit from above as Møns Klint rises 419 feet above the sea. The view from Møns Klint is spectacular, and if you want to know something about the geology of the area – or Denmark in general, you can visit Geocenter Møns Klint. And bring your kids, there are a lot of children-friendly activities at the geocenter.
Oh, and you find the longest staircase in Denmark on Møns Klint. There are 496 steps from the beach to the top of the chalk cliffs.
Getting here: Directions
Price: It is free to take a walk on Møns Klint
---
---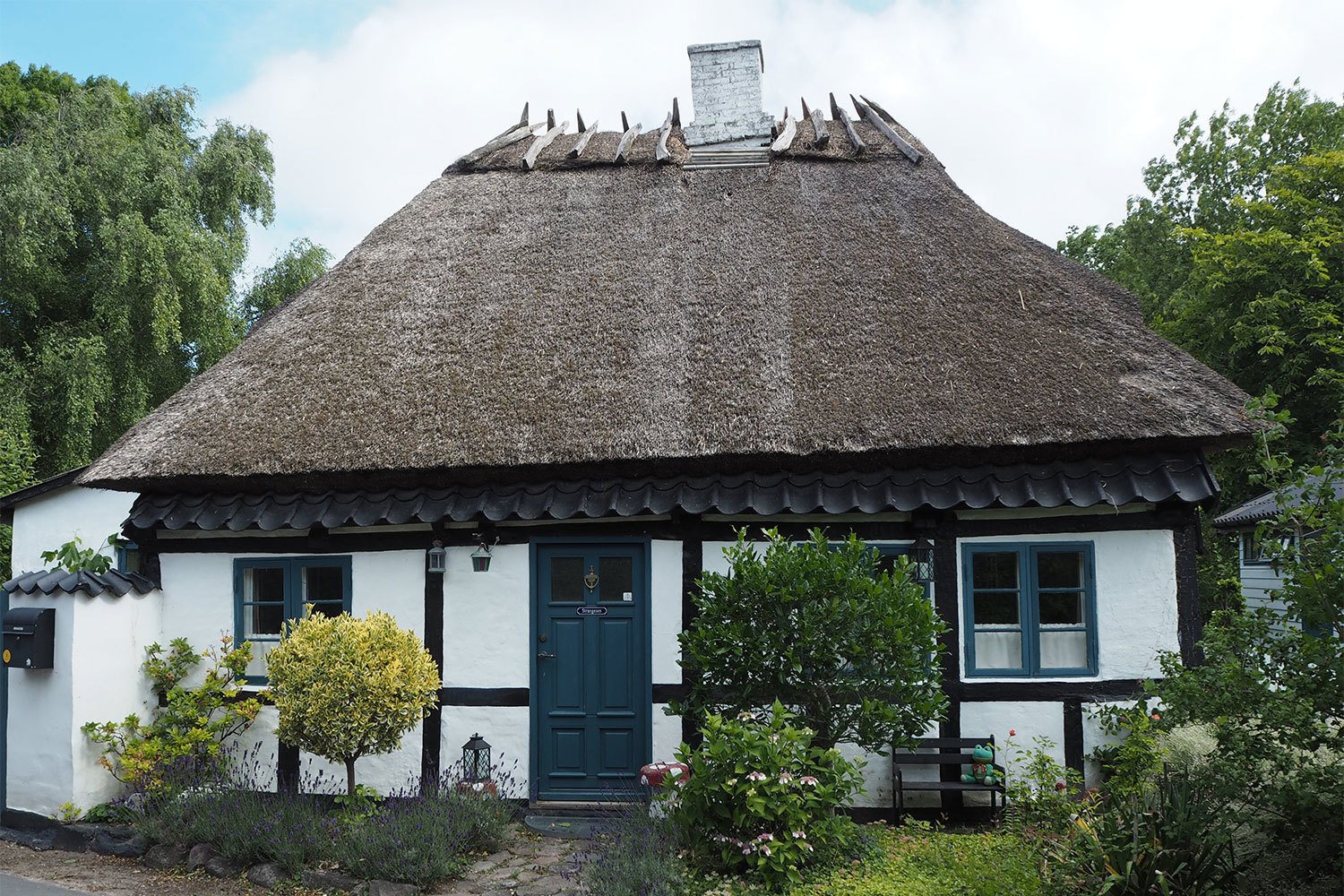 2. Strynø
Strynø is one of the best hidden gems in Denmark. Being a very small island located in the South Funen Archipelago, not a lot of people are aware of its existence. Or maybe they just do not want to visit the island as there is literally nothing to do on it.
About 200 people live on the island, and life is lived at a very slow pace. But that's what we enjoy most about Strynø. It is so quiet, oh, so quiet, and most of the houses look like they belong in another much more romantic century.
Getting Here: Catch a ferry from Rudkøbing, Langeland, to Strynø. You can expect to set foot on Strynø after half an hour.
Price: Adults 12 dollars, children 6 dollars.
If you want to bring a car, it will cost you much more. But you do not really need a car on Strynø. You can rent bikes at the harbor.
---
---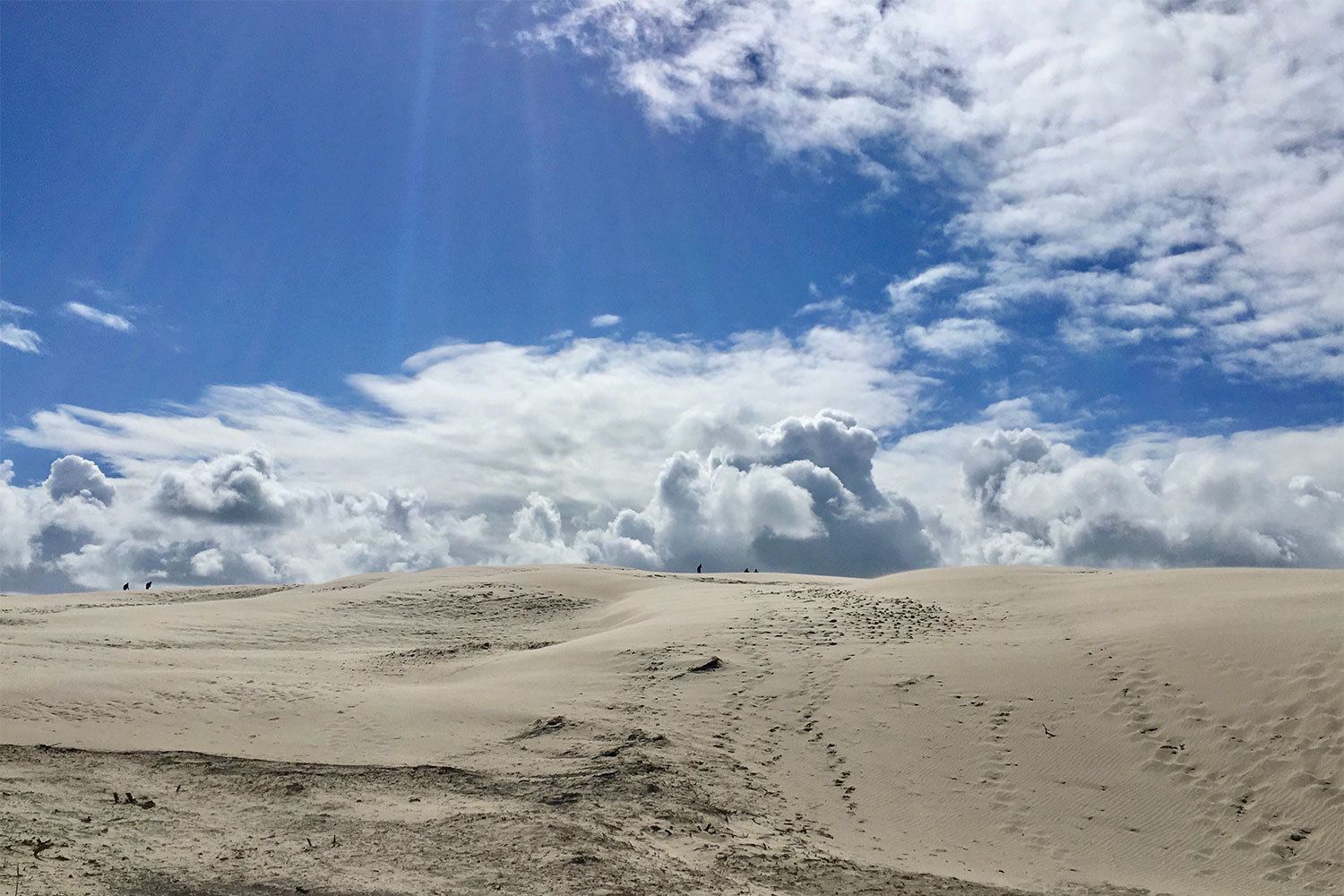 3. Råbjerg Mile
Råbejerg Mile, a huge wandering sand dune, usually makes people go "really, in Denmark?". The sand dune gives you the impression of being in a desert, but really you are just in the northern part of Jutland.
Råbjerg Mile covers an area of 0,4 square miles, contains 4 million sand and reaches some 131 feet above sea level. Every year it travels 49 feet towards Kattegat. If you climb Råbjerg Mile be sure to drive the extra few miles north to see the sand buried church Sct. Laurentius. The congregation tried to fight the sand and dug their way into church for a while, but in 1795 the sand won and the church was closed. Today you can only see the tower of the church.
Getting here: Råbjerg Mile, 9990 Skagen. You can go by car, bus or bike.
Price: Free
---
---
4. Grenen
Grenen (or the branch in English) is the northernmost point of Jutland, and it is an absolute must if you are in the area. At Grenen, the two seas Skagerak and Kattegat meet, and you can stand on the beach and watch the waves crash against each other. If you are lucky, you will meet a seal, but Grenen is pretty crowded, so you really do have to be lucky.
If you go to Grenen you should take a stroll on the wide sandy beaches, that the Danes (and Germans) love so much. If it is warm, you can jump in the water, but be careful as the currents can be very strong. The city of Skagen is definitely also worth a visit.
Price: Free if you walk to Grenen, but you can also take a sand-bus at a very low price
---
---
5. Nyhavn
Okay, so Nyhavn does not really have anything to do with nature, but it is still one of the most beautiful places to visit in Denmark, so I decided to put it on the list. Nyhavn is a very old harbor in Copenhagen, and it used to be a place where sailors went to find a girl, get drunk and fight.
Today it is a very colorful place with a lot of cafés and restaurants. In the summertime, Nyhavn is buzzing with life. Tourists come to see the harbor and eat at the restaurants, and the locals and students gather to enjoy the sun and a cold beer while dangling their feet from the harbor.
Getting here: Nyhavn 1-71, 1051 København K
Price: You decide. It is free to take a walk, but maybe you want something to eat.
Read more:
The Best Things to Do in Copenhagen
---
---
How to get around:
Denmark is very well connected by public transportation, and you will not have any trouble reaching any of the sights on this list. It might take a little time to get there, but then again – how long can it really take when you are in a country the size of a stamp compared to the USA.
DSB runs the trains in Denmark, and they are mostly on time. You should always buy a ticket as you will get checked.
Currency
The currency in Denmark is "Kroner" (DKK). It should be said, that it is very expensive to travel and live in Denmark. Most, if not all, credit cards are accepted in all stores.
---
There you have it! Just a few of Denmark's most beautiful places. You could visit them all in a week, but why hurry? Denmark has so much to offer.
Planning a Trip to Denmark – Travel Checklist
Flights | Many European airlines will offer flights to Denmark with a stopover. Flights from New York weren't cheap, but booking in advance helps. Check for flight deals here.
Travel Tips | We spent a week in Copenhagen and as it was our first time visiting Denmark, we wanted to see the sights. Purchasing the 5-day Copenhagen Card saved us quite a bit on admission prices but do check their list of included attractions here to make sure that it's worth it for your visit.
Accommodation | Lastly, we decided to switch hotels to explore Copenhagen's different neighborhoods. The city is quite large so it was nice to base ourselves in different districts! Hotels get quite expensive (well, Copenhagen as a whole is wallet shattering) so check hotel availability and book in advance. Check here for great deals on accommodation.
Or, give Airbnb a go. There are some beautiful Danish apartments available for rent!
Insurance | Our bags were left behind for 3 days due to an airport-wide tech issue in Amsterdam. We knew when we pulled up to the airport that something was wrong because the lines were complete chaos and everyone stood still at the baggage drop off. Once they told us to put our bags through baggage drop, we did it and I immediately had a bad feeling about it – wish we had went carry on only!
Luckily, we had travel insurance which reimbursed us for out of pocket expenses. Whether your luggage is lost, your phone gets stolen, or you get injured and need to be hospitalized, travel insurance will help when you need it most. Get a quote for your trip here.
You Might Also Enjoy:
Copenhagen Vacation Planning Articles
A First Timer's Guide to Visiting Copenhagen
When Is the Best Time to Visit Copenhagen?
A Neighborhood Guide to Where to Stay in Copenhagen
25 Incredible Things to Do in Copenhagen Before You Die
Denmark for First Timers: A 3 Day Copenhagen Itinerary
Copenhagen Sights, Activities & Tours We Especially Enjoyed:
Will a Copenhagen Card Save You Money? We Weigh the Pros & Cons
5 Fairy Tale Copenhagen Castles That Will Make Your Jaw Drop
21 Copenhagen Museums that Show the Unique Beauty of Denmark
Denmark Restaurant & Hotel Reviews
Danish Food Guide: 30 of the Best Restaurants in Copenhagen
A Michelin Star Dinner in Copenhagen: Marchal at D'Angleterre
Ibsens Hotel Review: Is This the Best Hotel in Copenhagen?
Follow Sher She Goes on