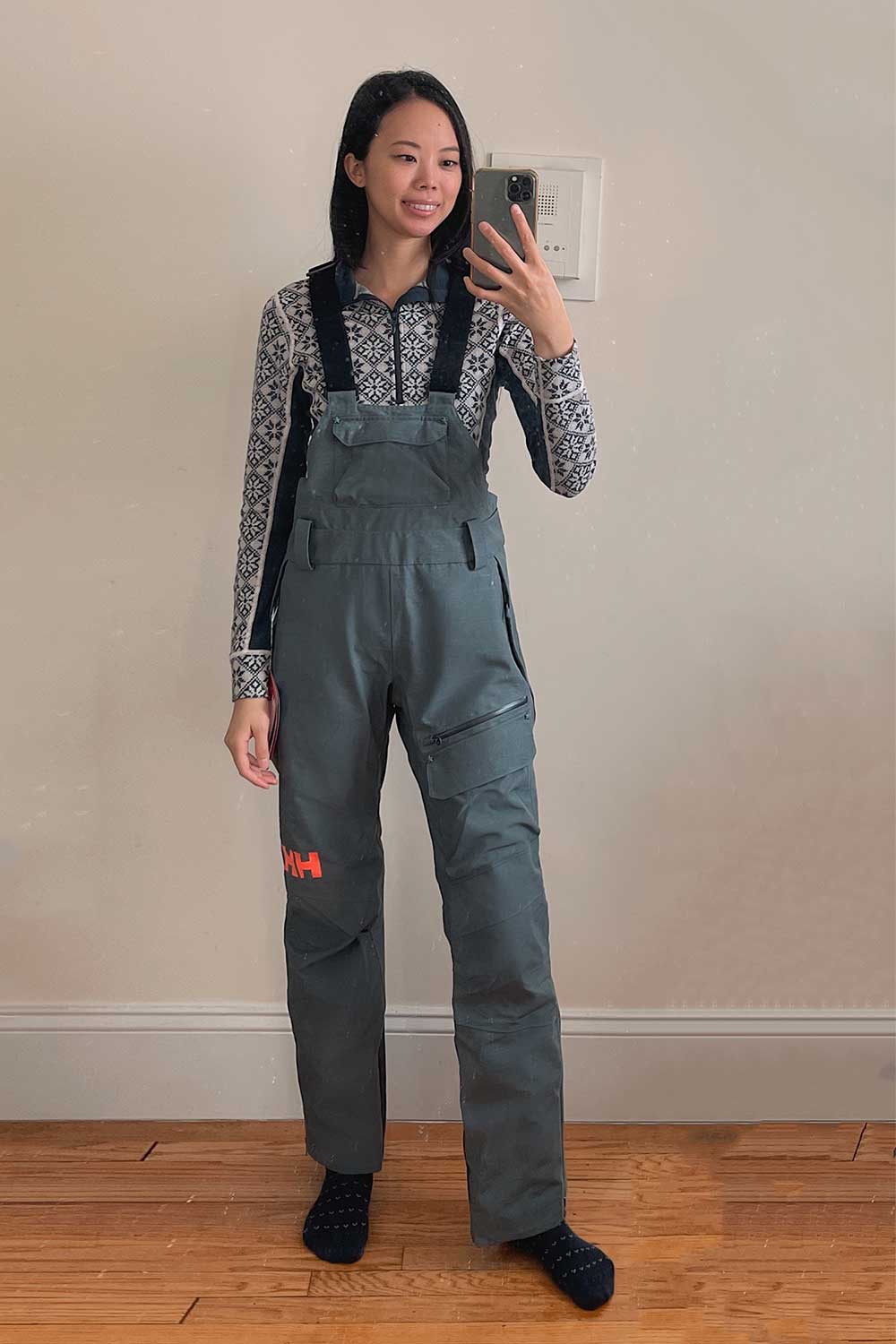 Helly Hansen Ski Pants
I've been obsessed with skiing lately so after going on a couple ski trips, I decided it was time to invest in proper ski clothes.
My main priority?
Finding cute, functional snow pants and bibs.
Ski gear seems to be geared towards men and like hiking clothes, most of it is really ill fitting… and pricey!
And there's nothing I dislike more than spending a small fortune to look and feel frumpy.
So I set out to try ski and snowboard clothes from all sorts of brands in search of the perfect pair.
I tried everything from affordable brands, to ski specific brands and even designer ski fashion companies. Did a cute reasonably priced ski pants exist? Do designer ski pants hold up to actual skiing?
I'm doing quick reviews and first impressions of every ski pant and bib that I try. All the reviews are here if you want to search by brand.
Today's review is of the Helly Hansen Powderqueen bib.
Keep reading, or pin this article to save it for later ⇟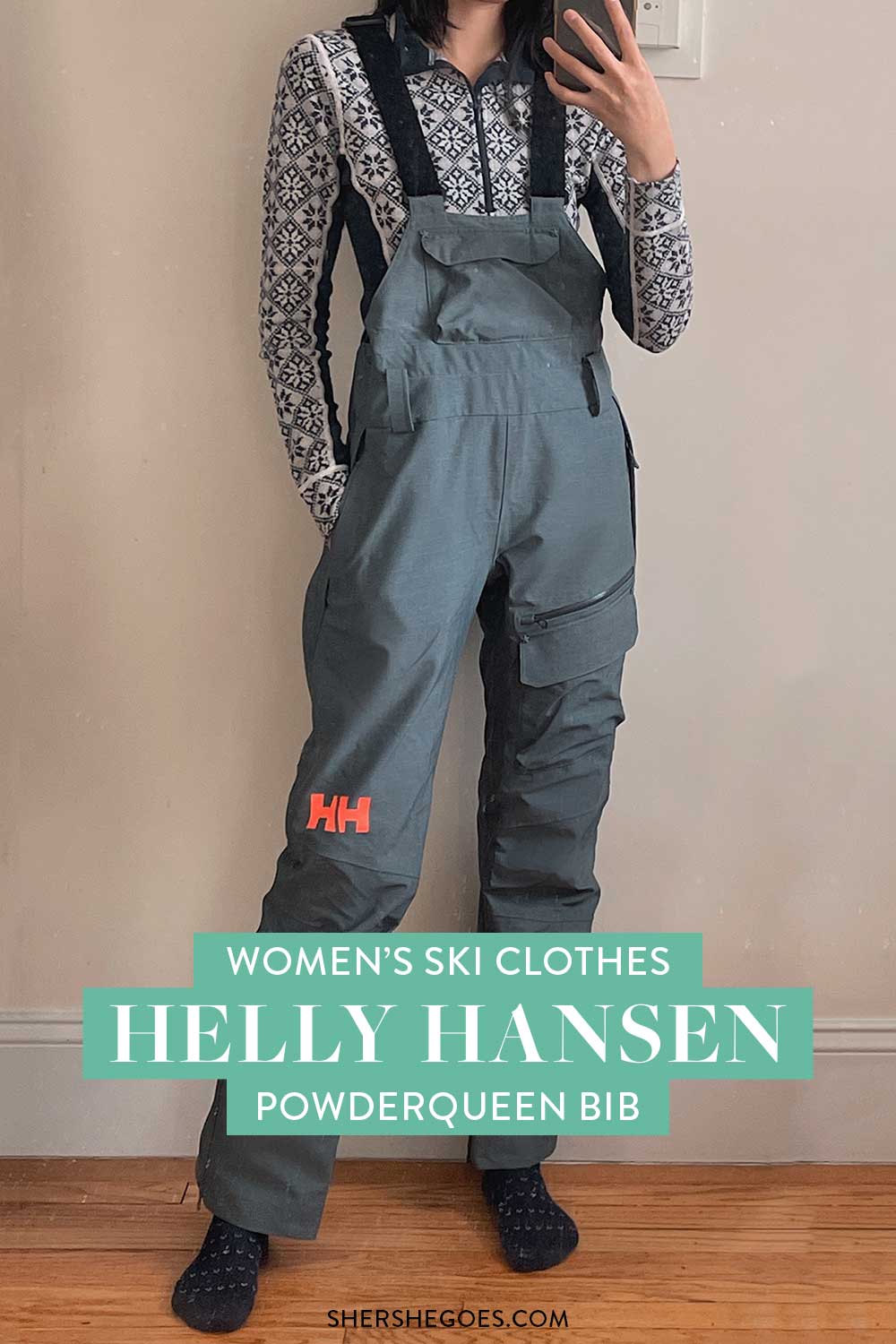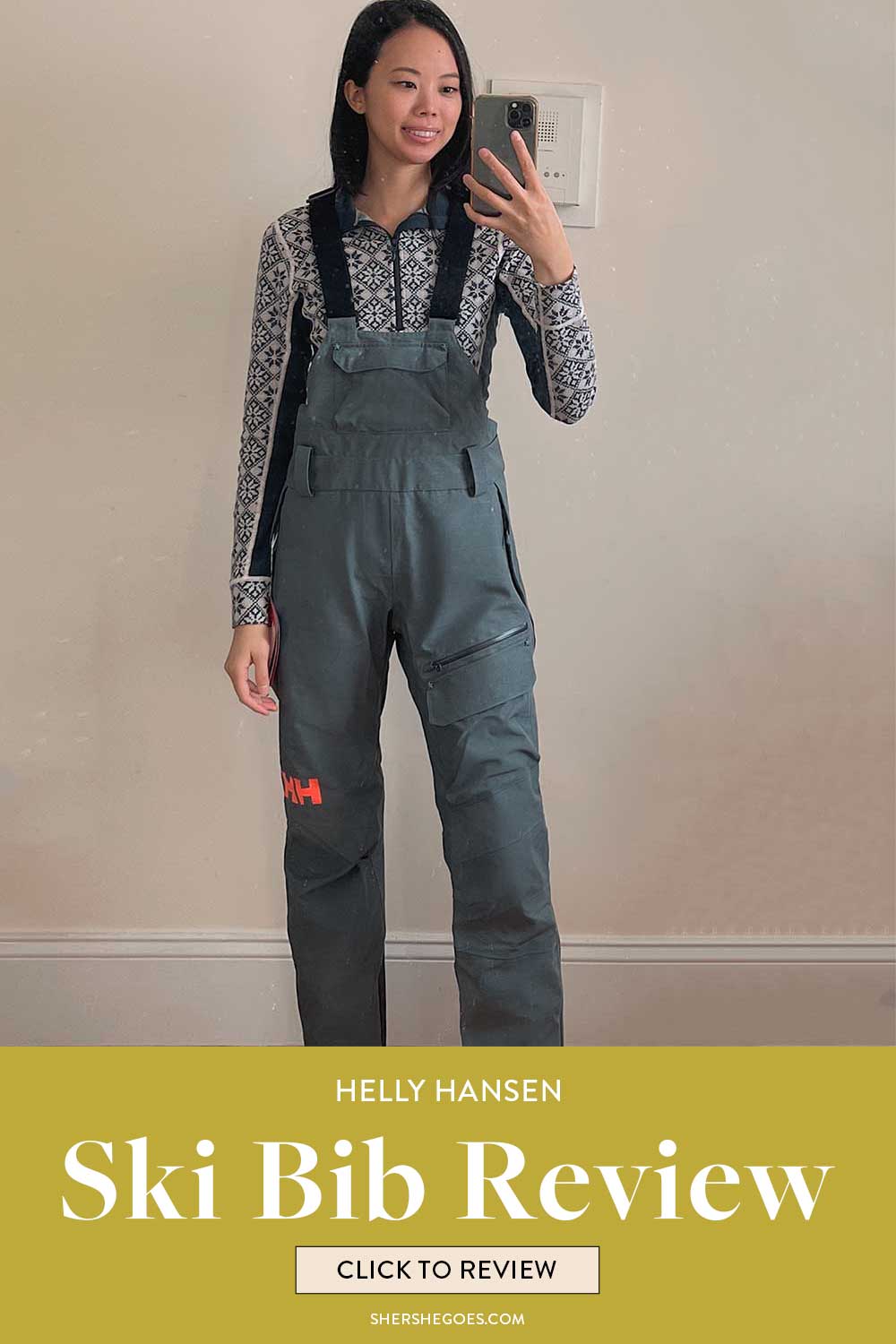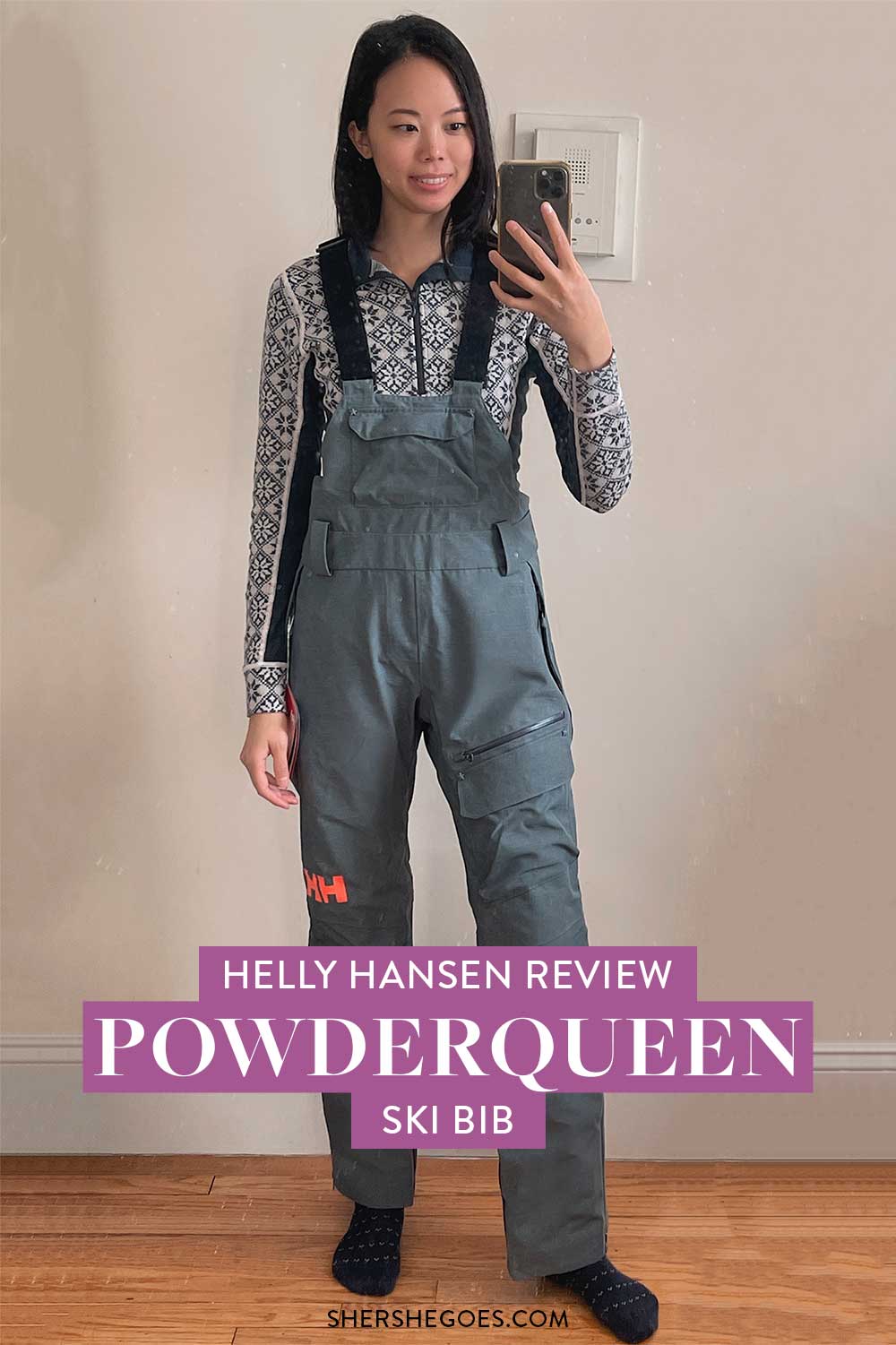 ADVERTISEMENT
---
---
Helly Hansen Ski
Helly Hansen is kind of an under-the-radar brand.
They're worn by professionals, especially die hard skiers and sailors, but not quite as common with everyday people.
The brand was originally founded in Norway in 1877, by sea captain Helly Juell Hansen. He wanted a better way to stay protected from the harsh weather in Norway, and founded his own company to produce waterproof jackets, pants and tarps by soaking coarse linen in linseed oil.
Chances are, if you've gone skiing in the United States, you've seen Helly Hansen gear!
Most of the ski instructors and mountain professionals wear Helly Hansen jackets and pants. Their sailing gear is also pretty iconic – tons of sailing associations and regattas use their outerwear.
If you're a die hard skier or snowboarder who wants to be outdoors in all weather conditions, Helly Hansen is a great brand to check out.
Their gear is highly breathable and waterproof and designed to meet the most demanding conditions outdoors.
ADVERTISEMENT
---
---
Helly Hansen Ski Bib
I picked up a bib from Helly Hansen, since personally I love ski jumpsuits.
The Powderqueen is one of their newest bib options, so I had really high hopes for it! There's also a matching Powderqueen ski jacket if you want a full matching look.
Here's what I thought of the Powderqueen ski bib.
ADVERTISEMENT
---
---
Helly Hansen Powderqueen Bib Review
Fit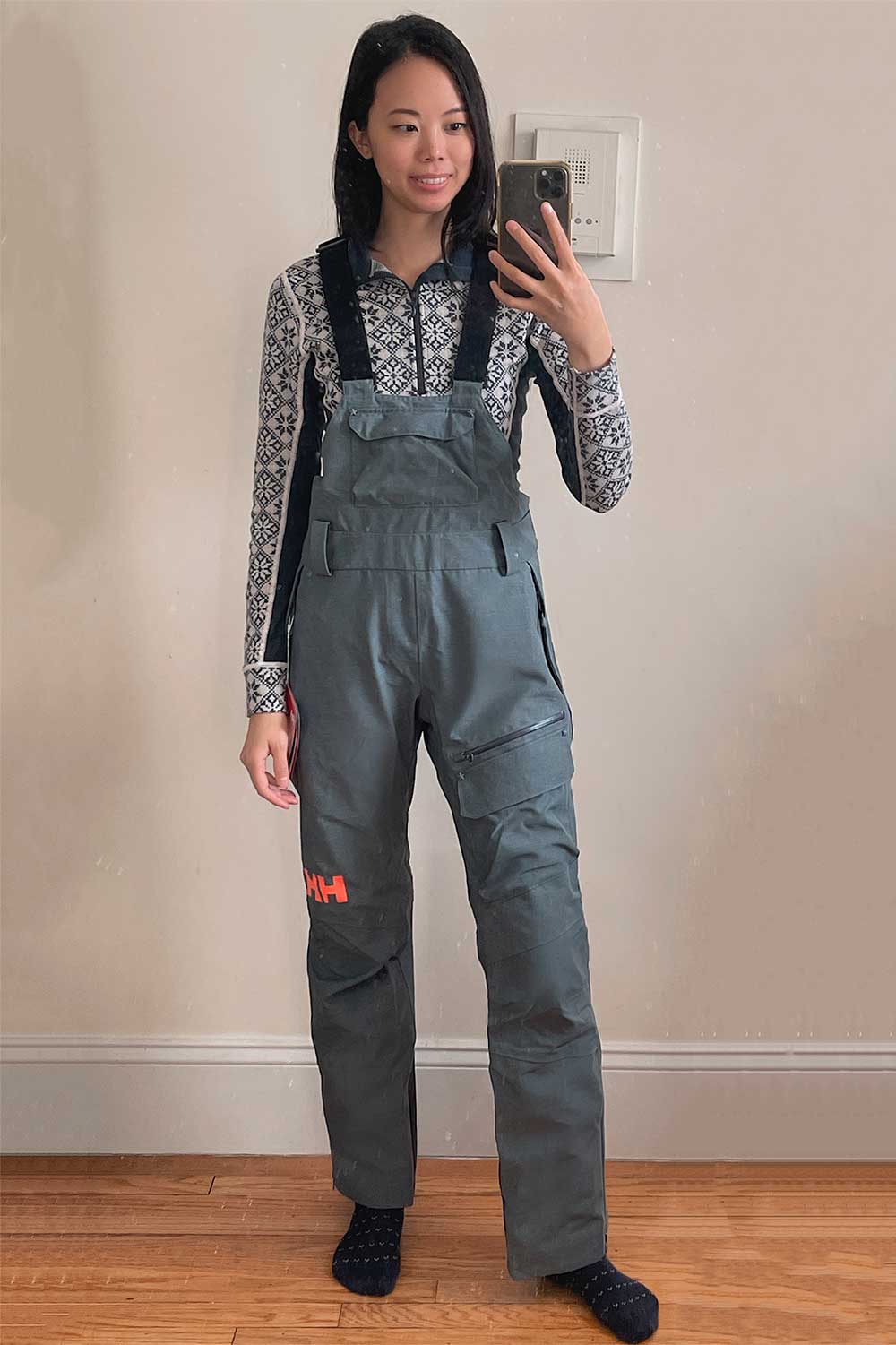 The Helly Hansen bib is made from 2 layers of durable, waterproof HELLY TECH fabric.
It's a relaxed style bib, meant to fit loosely over your base layers. I liked that it was roomy enough to wear several layers underneath, but didn't feel sloppy.
What's unique is the bib is built in with a RECCO rescue system, so radar can detect your precise location if you get lost off piste.
I liked the casual style of the bib and how lightweight and comfortable it felt on, even with a light fleece lining.
ADVERTISEMENT
---
---
Straps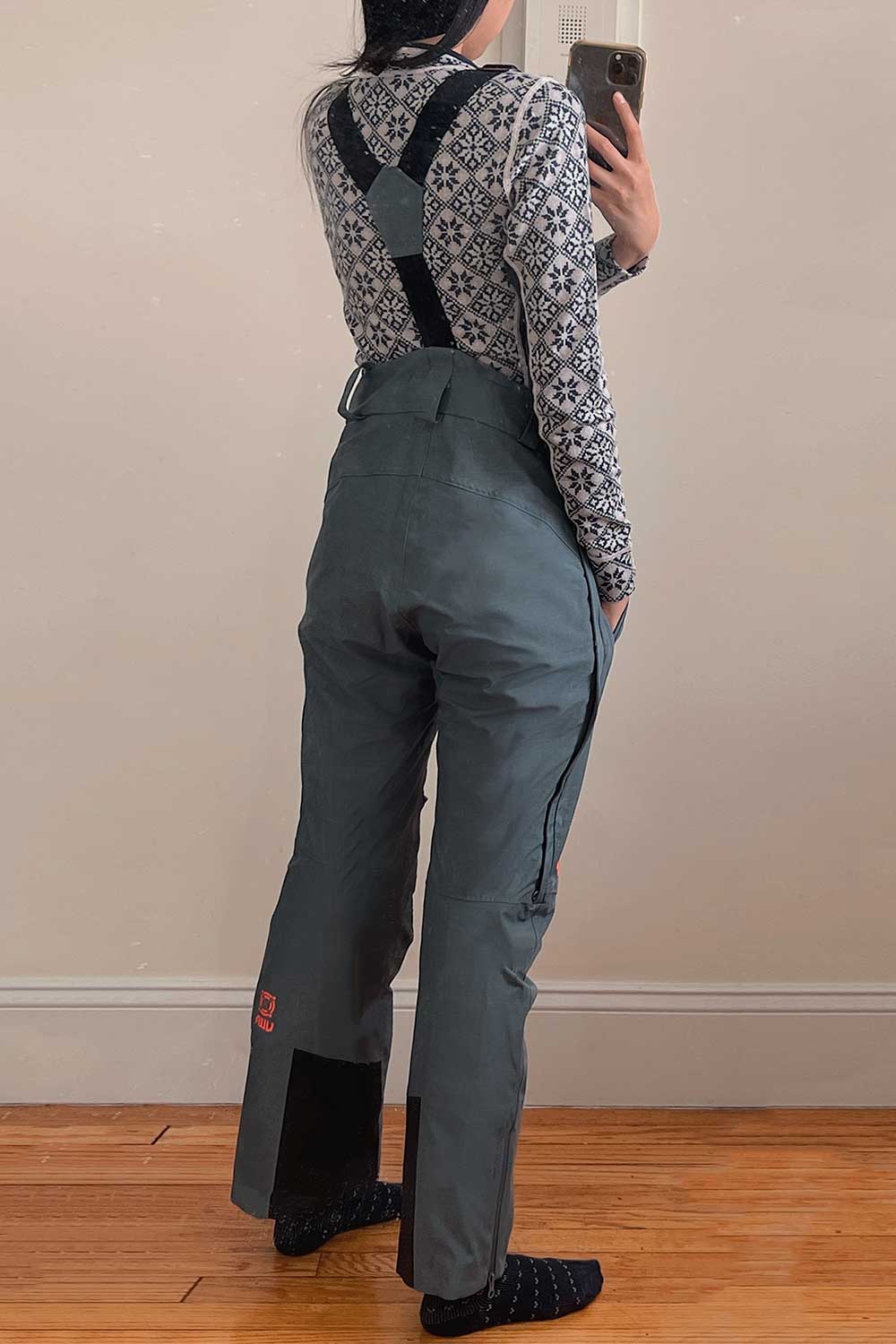 All bibs are made slightly differently.
The Powderqueen is designed like pants-with-suspenders, with the front bib rising only mid-way on your chest. In the back, the bib forms a Y strap.
The straps are fully adjustable, but overall I thought the bib ran slightly large.
Once I shortened the straps to fit my torso, there was a bit of pulling in the back. The Y strap looked like it was hiking up the pants from behind and gave me kind of a dumpy-looking saggy butt.
Not too flattering unfortunately, but maybe the bib would fit better if you were taller.
ADVERTISEMENT
---
---
Pockets
Or, perhaps I should have sized down. I tried on the Helly Hansen in an xs for reference, and unfortunately their sizes are relatively limited (from XS to XL).
I did love the color though – the Powderqueen is available in 3 colors and I opted for the Trooper, a cool toned green.
Helly Hansen's ski bib has all the details and features a skier could want.
There's a Velcro chest pocket right in front, two hand warmer pockets on the thighs, plus a zippered pocket on the right leg. You also get an extra roomy, deep cargo pocket on the right thigh.
What's more, you have 2 pockets behind on the butt!
At $300, I think the Helly Hansen bib is reasonably priced. It's mid-tier, but has so much functionality, a high waterproof and breathability rating and cool relaxed style.
ADVERTISEMENT
---
---
Legs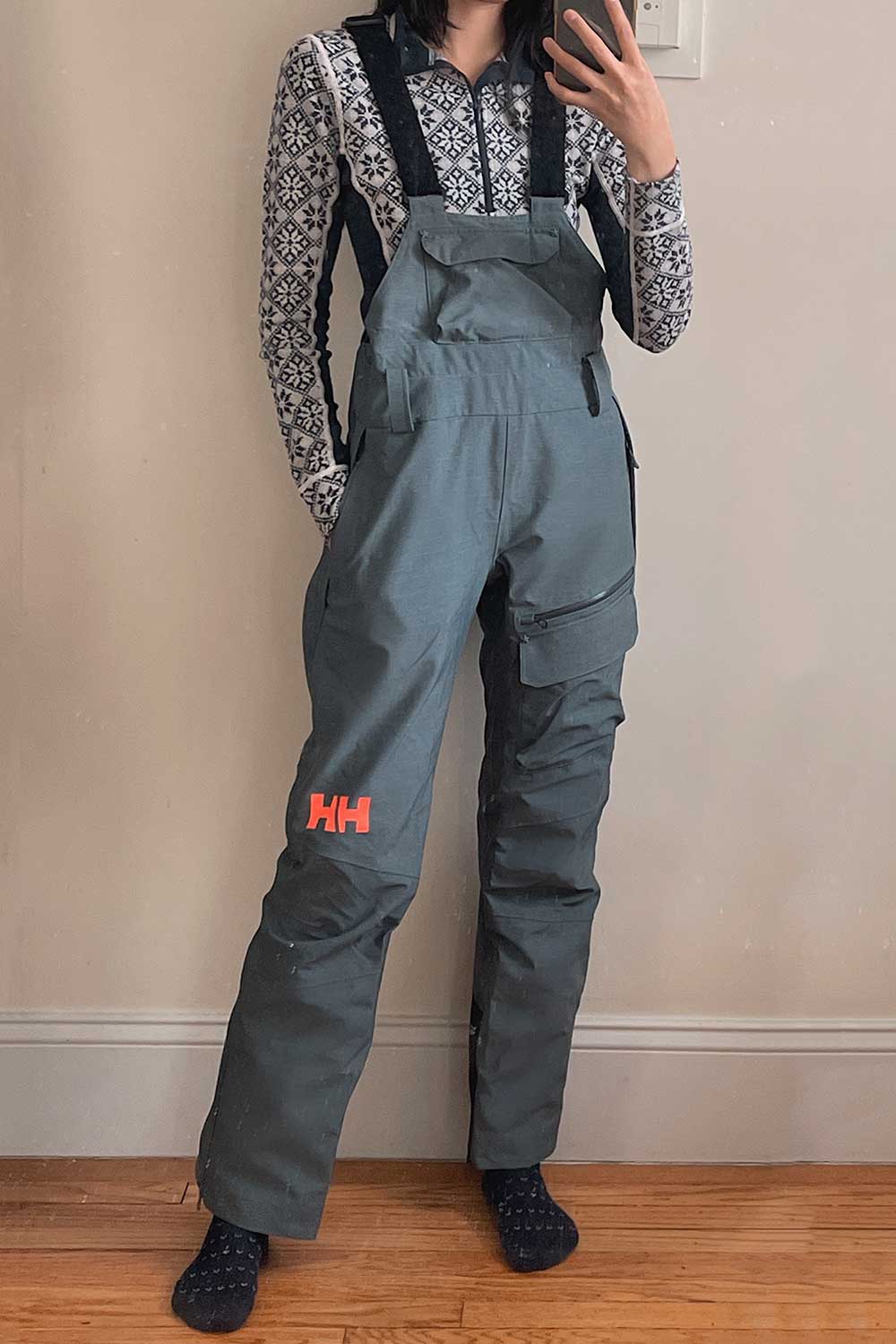 I was really impressed by the fabric and design features of the bib and think it would be great for skiing or snowboarding through deep powder.
The legs are a straight leg style and very relaxed, so you can easily pull the bib over your thermal leggings.
You also would have no problem fitting a mid-layer under this bib in addition to base layers, which I think gives it added versatility.
Each inside leg has mesh vents to release excess heat, and the knees have extra reinforcements for durability.
Finally, the legs have zippers to expand the pants over your boots and snow gaiters to block out wetness and prevent snagging on boot buckles.
ADVERTISEMENT
---
---
Shop Women's Ski Pants
---

ADVERTISEMENT
---
---
Ski Wear Haul
SKI CLOTHING TRY-ON HAUL: do cute ski pants exist ?? | women's ski pants + bibs review
ADVERTISEMENT
---
---
ARE DESIGNER SKI PANTS WORTH $$$? | luxury ski pant try-on (bogner, cordova, holden, helly hansen)
I posted a couple try-on hauls of all the ski wear brands that I've tried. You can check them out on my Youtube channel here.
I also did a livestream on Amazon Live chatting all about dressing for the cold.
I talk about winter fashion essentials, ski gear and cute (but affordable) ski clothes that you can shop on Amazon!
Watch a recap of the video here. Make sure to follow my Amazon shop page to join future livestreams!
ADVERTISEMENT
---
---
Ski Wear Haul
I posted a couple try-on hauls of all the ski wear brands that I've tried. You can check them out on my Youtube channel here.
ADVERTISEMENT
---
---
ADVERTISEMENT
---
---
ADVERTISEMENT
---
---
Read More: in our ski style series:
Ski Trip Packing Essentials
What to Wear Skiing: Packing List Must Have's
The Best Ski Pants for Women (Stylish & Functional)
I Found the CUTEST Women's Ski Pants (Video)
Are Designer Ski Pants Worth It? (Try-On Haul)
The Best Ski Sweaters for Apres-Ski 
Planning the Perfect Ski Trip
What to Know Before Skiing in Vermont for the First Time
Ski Trip Recaps + Mountain Guides
Lake Tahoe, California: Heavenly, Kirkwood & Northstar
Montana: Big Sky
Vermont: Stowe
Catskills, New York: Belleayre Mountain
Quebec, Canada: Mont Tremblant
+ More Ski Vlogs on Youtube
Follow me @Sher She Goes on