Kaieteur Falls
On our second to last day in Guyana, we flew back from the Amazon basin to Georgetown. This was the day we were most looking forward to, as we took a short trip to Kaieteur waterfall in the afternoon!
Kaieteur Falls is Guyana's #1 tourist attraction, but due to its location and the expense of getting there, only 6,000 people visit per year.
Can you imagine if only 6,000 people visited Niagara Falls or Victoria Falls? You would practically have the entire majestic waterfall to yourself!
Well, that's exactly what our visit to Kaieteur was like.
In today's post we're sharing photos of this jaw dropping natural wonder, tips on how to visit and ways to make the most of your visit.
Keep reading or save this article for later ⇟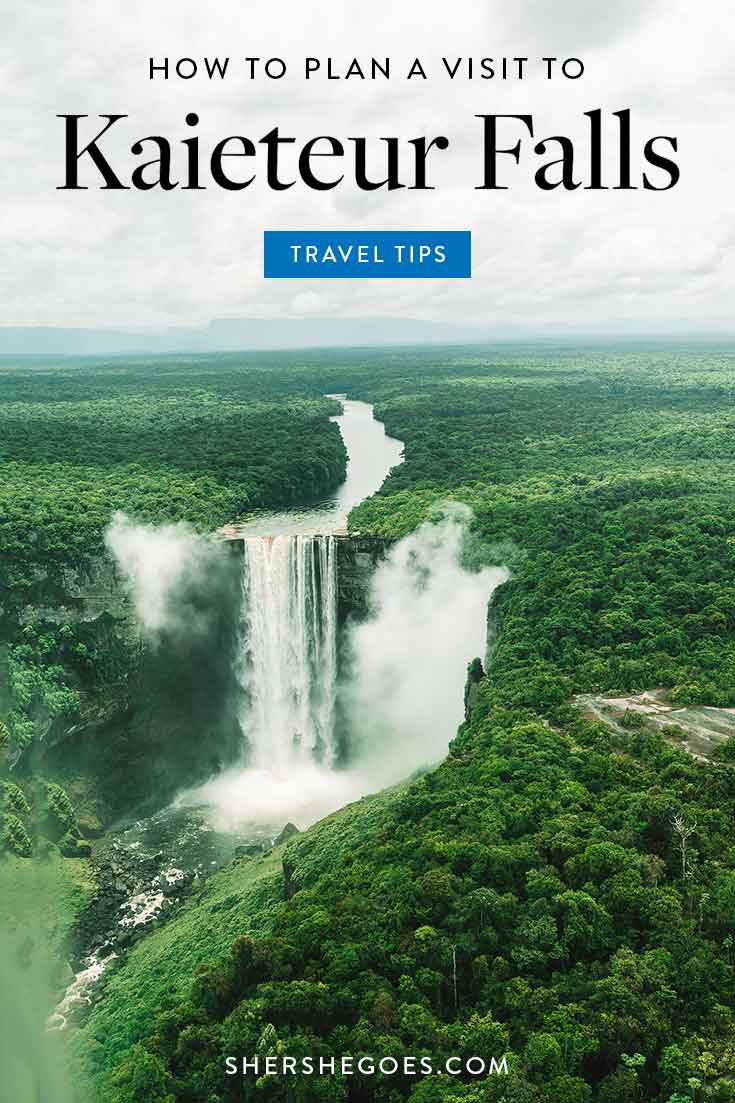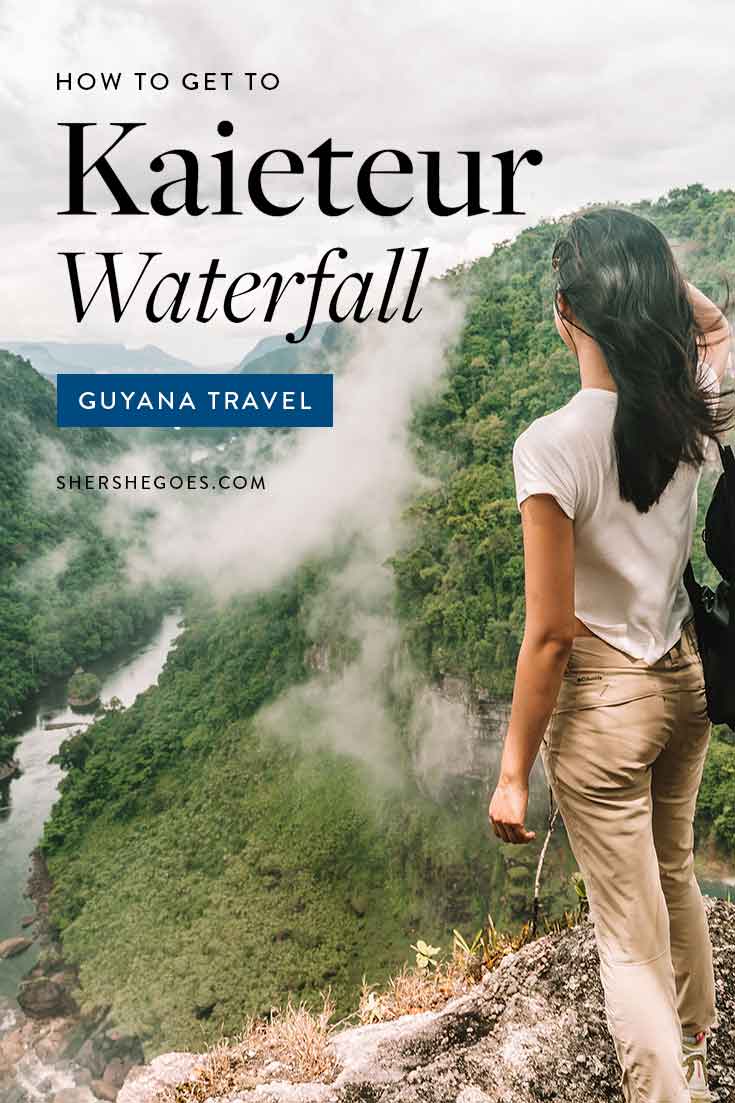 ADVERTISEMENT
The Guiana Shield
Kaieteur National Park is located in the heart of the Guiana Shield, in a rocky mountain region called the Pakarima. Here, the sandstone is roughly 2 billion years old, making it the earth's oldest surface!
Kaieteur falls was created as the Roraima foundation plunges 741 feet (225 meters) below to the lowland gorge. That plunge gives Kaieteur the distinction of being the world's largest free falling fall in the world!
Because Kaieteur is located on a mountain formation, there are only two ways to get there.
Climb, or fly..
ADVERTISEMENT
---
---
Overlanding It
This route is for the hard-core adventurers.
Getting to Kaieteur via land is a grueling 5 days. The trip starts via bus from Georgetown for roughly 8 hours (depending on road conditions) until you reach the mining township of Mahdia.
Then, it's 3 days of trekking and camping until you reach the base of Kaieteur mountain. After that, climb climb climb until you reach the top of the mountain.
You might say this is the more rewarding route. In fact, a team of boy scouts scaled Kaieteur and camped overnight near the edge – one of the viewpoints is currently named after them. If you love wildlife and camping, this route will allow you to experience different streams, ecosystems and views on the way up.
You can also stay overnight at Kaieteur Guesthouse, but this isn't a well publicized lodge and pretty basic, so you need a bit of creative planning to work out the logistics. Or, tour operators focused on wilderness exploring can organize some camping for you!
ADVERTISEMENT
---
---
Flying from Annai to Kaieteur Falls
The more popular way is to fly to Kaieteur.
This is the route we took and not only was it convenient, but it allows us to get some stunning aerial views of the rainforest and the waterfall!
We were staying at Rock View Lodge in Annai. The eco lodge luckily has an "airport" right behind the lodge. It's funny because all the interior flights are operated by small charter aircraft so an open grassy field can serve as their landing strip!
We all ran out onto the field, along with the local school children, to watch the plane land. There's nothing like getting on a tiny aircraft to frazzle your nerves! While it's a tight fit inside, every second of the flight is breathtaking.
From Annai, the flight took just about 90 minutes, passing mountains, thick trees and swerving rivers (I found out later these were the Demerara and Essequibo Rivers). When we reached Kaieteur Falls, the pilot circled it twice so that each side of the plane could have an aerial view of the waterfall. It was unlike anything I'd ever seen!
When we went to Victoria Falls in Zimbabwe, we hopped over to Zambia just to do the microlight flight and this felt very similar. It's a must to see the waterfalls from the air!
Sher's Tip: A little tip for you is that heading back to Georgetown, the right hand side of the plane will get the last view of the falls :)
ADVERTISEMENT
---
---
How to Book
There aren't regularly scheduled flights to Kaieteur, so as a tourist, you'll need to charter an aircraft.
All the planes are tiny (usually Cessnas) which seat about 12 people, so in most cases the charter flights will only make the journey if all 12 seats are booked. In some cases, we've heard of trips being cancelled or rebooked if the plane isn't full.
To book, you can go directly to one of the charter airlines to purchase a ticket (via a travel agency in Georgetown) and expect to pay around $120-220 per person. Or, you can book a day trip to Kaieteur Falls with a tour operator. They'll charge anywhere from $300-500 per person and may include some extras like a stop at Orinduik Falls, a packed lunch, etc.
Pretty much every day trip to Kaieteur Falls will operate in the same way, as the national park has 1 airstrip and limits each flight to 2 hours on the ground inside the park.
ADVERTISEMENT
---
---
A Day Trip to Kaieteur Falls
Each charter flight receives a strict 2 hour window to explore the national park. It sounds like not enough time, but was just enough for us (although we could have stayed longer soaking in the view!)
The real beauty is that typically it's just the passengers on your charter flight who explore the waterfall in one group. So, forget hoards of selfie stick wielding tourists – you get to soak in the magnificence of Kaiteur with just a small party of 12!
Most tour operators will include lunch with the day trip. For our group, we opted to see the falls first and then ended back at the welcome center to eat (or would have eaten on the flight ride back). We wanted to soak in every second at Kaieteur!
Here's what a sample schedule looks like for a day trip to Kaieteur Falls from Georgetown:
Kaieteur Falls Itinerary
| | |
| --- | --- |
| 11:30 AM | Check-in at Ogle |
| 1:00 PM | Depart for Kaieteur Falls |
| 2:00 PM | Arrive at Kaieteur Falls |
| 4:00 PM | Depart Kaieteur Falls |
| 5:00 PM | Arrive at Ogle |
ADVERTISEMENT
---
---
Kaieteur National Park
In 1929, the British who had colonized Guyana, recognized that the area was breathtaking.
The British Colonial Administration took the groundbreaking decision to mark 45 square miles surrounding the falls as a National Park – this was one of the first conservation acts in Latin America and the Caribbean and remarkably forward thinking for the time.
Today Kaieteur National Park consists of 224 square miles (580 square kilometers) of protected land and is Guyana's only national park.
Once we landed, we deplaned right in front of the welcome center and took the chance to scan the exhibits and use the bathrooms.
ADVERTISEMENT
---
---
The Patamonia Amerindians
Here we also met our knowledgeable local guide. She was one of the Patamonia Amerindians who live in the area and knew the entire history of the rocks, flora and fauna.
She described the 3 viewpoints we'd be seeing that day and along the 20 minute walk or so, pointed out some interesting plants native to the region:
Sundew: a natural insecticide plant, this bush eats mosquitoes!
Giant Tongue Bromiliad: a huge wide leafed plant that can grow to 8 or 9 feet tall and part of the pineapple family
Coula: in the jungle, this hardy rubber plant can hold 2x its body weight!
Capadulla: a water vine to save you if you're dehydrated in the jungle. The male plant is also used as a natural viagra!
We visited Kaieteur Falls in late September, well after the rainy season. While part of the walkway was uncovered and hot as usual, part of the visit is through dense forest. We've heard that depending on the time of year you go, paths may be flooded with water.
Our visit was entirely dry and thankfully mosquito free, but you may want to check if the grounds will be wet in which case pack some rain boots and a rain jacket!
Read more:
All the Gear We Packed to Survive the Jungle
ADVERTISEMENT
---
---
The Name Kaieteur
Officially, English explorer C. Barrington Brown 'discovered' Kaieteur Falls in 1870, but the Patamona people had been living here long before his visit (and probably showed him the way). In the local dialiect, the Patamona name for the falls is Kayik Tuwuk (Old Man's Falls)
Legend has it that the waterfall was named after a Patamona chief named Kai sought to save his people from the warrior Carib tribe by sacrificing himself to the Great Spirit Makonaima.
We had the opportunity to meet a couple different Amerindian tribes on our visit to Guyana and heard of stories of how warlike and vengeful the Caribs were. Originally it was the raiding Caribs who drove many tribes into the dense rainforest interior.
The most popular legend is that Kai paddled a canoe over the falls to sacrifice himself. His people saved, they named the waterfall after him (teur means 'falls' in their local dialect). But an alternative story is that a family pushed one of their members over…
ADVERTISEMENT
---
---
Wildlife at the Falls
Kaieteur National Park isn't just home to the waterfalls. It's also the perfect place to spot some exotic wildlife! We got extremely lucky and found not one but four cock of the rock birds sitting pretty in the forest, as if they wanted us to take their photo.
Other birds you can find inside Kaieteur include the White Collared and Scissor Tailed Swift, recognizable by their fluttering fast flight and narrow wings. If you stay overnight at the falls, a great time to spot them is at dawn as they skim around the waterfall looking for insects!
Meanwhile at the base of the falls, Giant Tank Bromeliad plants shelter the Golden Frog, a rare and colorful tree frog species currently on the endangered species watch list.
Also watch where you step! Scientists recently discovered a new species at Kaieteur: a blue tarantula – eek.
ADVERTISEMENT
---
---
Lookout Points
Finally, we reached the first of 3 lookout points. Generally the path starts with the farthest viewing point and gets closer. Still, we could hear Kaieteur Falls long before we actually saw it!
There are 5 official viewpoints, but the last two are closed to tourists as they are too close to the waterfall.
Johnson's View
Boy Scout View
Rainbow View
Break View
Lookout View
In peak season, over 30,000 gallons of water fall each second to create that spectacular misty mass at the base of the falls. The 741 foot gorge makes Kaieteur one of the world's largest and most powerful single-drop waterfall – in fact, it's over 5x the height of Niagara Falls!
ADVERTISEMENT
---
---
There's just nothing like seeing Kaieteur Falls with your own eyes. The sheer magnitude of the waterfall, the vibrant local flora and fauna and the lack of handrails make the visit feel completely undiscovered and natural.
We couldn't believe it was just the 12 of us with the entire waterfall to ourselves. Nothing about the site has been manufactured for tourists, even the stone pathways are natural, so it felt a bit like we were discoverers stumbling upon it for the very first time. Such a treat!
ADVERTISEMENT
---
---
Is Kaieteur Falls on your bucket list?
Visiting Guyana – Trip Planning Checklist
Flight Deals | Caribbean Airlines offers nonstop flights from New York and Miami to Georgetown. You can set a fare alert here to be notified of discounts.
Getting Around | Book a driver for Georgetown or a tour to handle transportation in the Amazon basin. Most arrangements must be set up in advance, for minimum parties of 4, due to the high cost of gas and overland vehicles as well as the limited internet communication in the jungle.
Accommodation | In Guyana's interior, accommodation is remote and consists of comfortable but simple eco-lodges run by local communities. Many do not have internet access, so it's best to book a tour package that will handle transportation, activities and accommodation for you. Or, you can call to make reservations online. In Georgetown, there are plenty of boutique and international hotels to choose from. 
Insurance | Lastly, be sure to visit Guyana with travel insurance. Hospitals and medical assistance are scarce in the jungle interior and yellow fever vaccinations are strongly recommended. Whether you get injured and need to be hospitalized, or your phone gets stolen, travel insurance will help when you need it most. Get a quote for your trip here.
You Might Also Enjoy:
Guyana Vacation Planning Articles
Quick Guide to Guyana
What to Pack for the Amazon Jungle Clothes + Recommended Gear
2 Weeks in the Guiana Shield: Our Guyana Itinerary
Explore All the Best Things to Do in Guyana
Visiting Georgetown: What to See & Do in Guyana's Capital!
Guyana's Interior: The Amazon Basin
Day Trip to Kaieteur, the World's Longest Free Falling Waterfall
Day Tour: Learning How to Fish for Piranha in the Amazon
Guyanese Food: What to Expect, Where to Eat & More!
Guyanese Culture & It's Amerindians
Photos of Guyana from our trip!
Follow me @Sher She Goes on