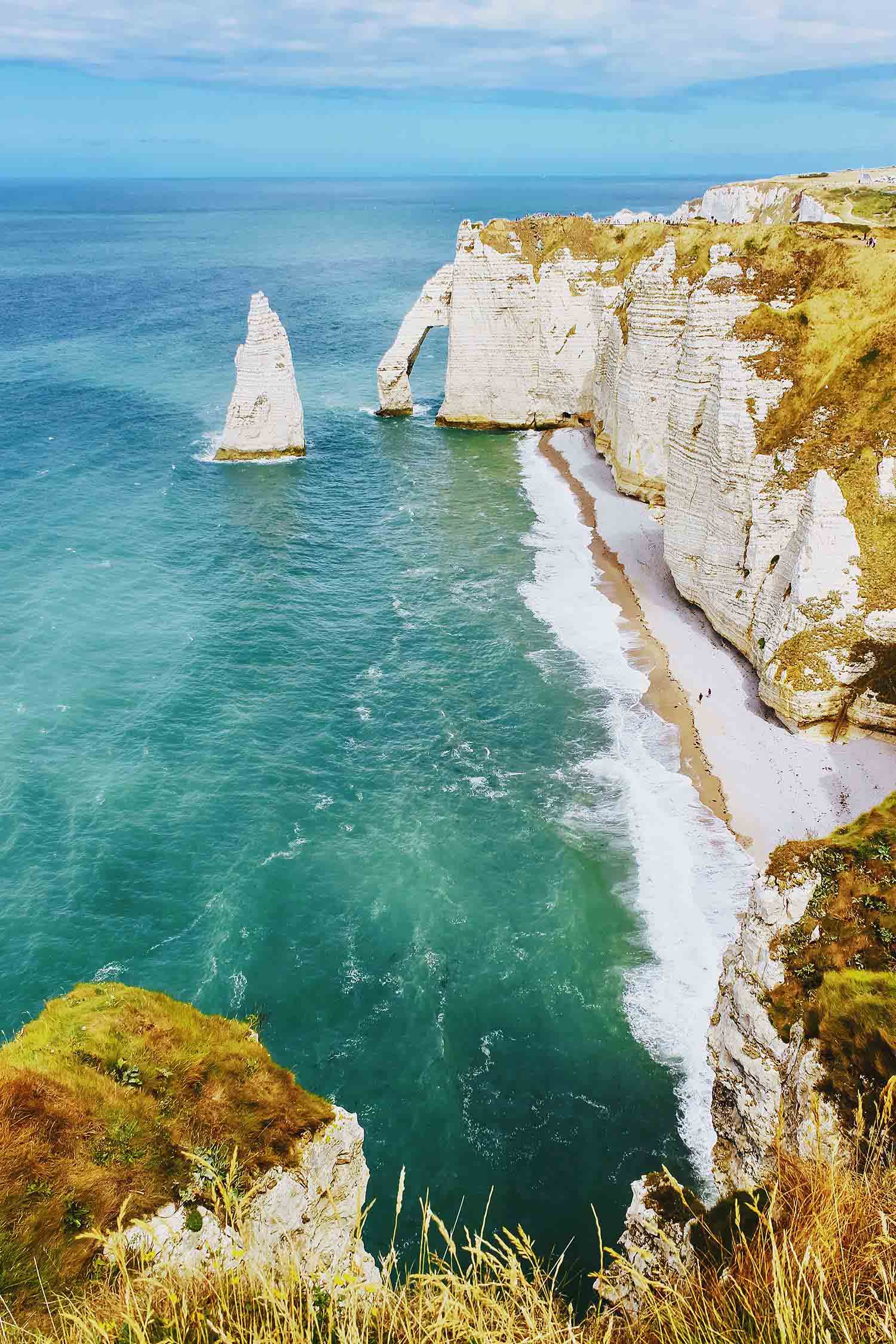 Paris to Normandy
With the 75th anniversary of D Day approaching, it's a momentous time to visit the World War II memorial sites in Normandy.
Here's a practical guide about how to get from Paris to Normandy!
Quickly jump to:
ADVERTISEMENT
Or save this article to read later by pinning it ⇟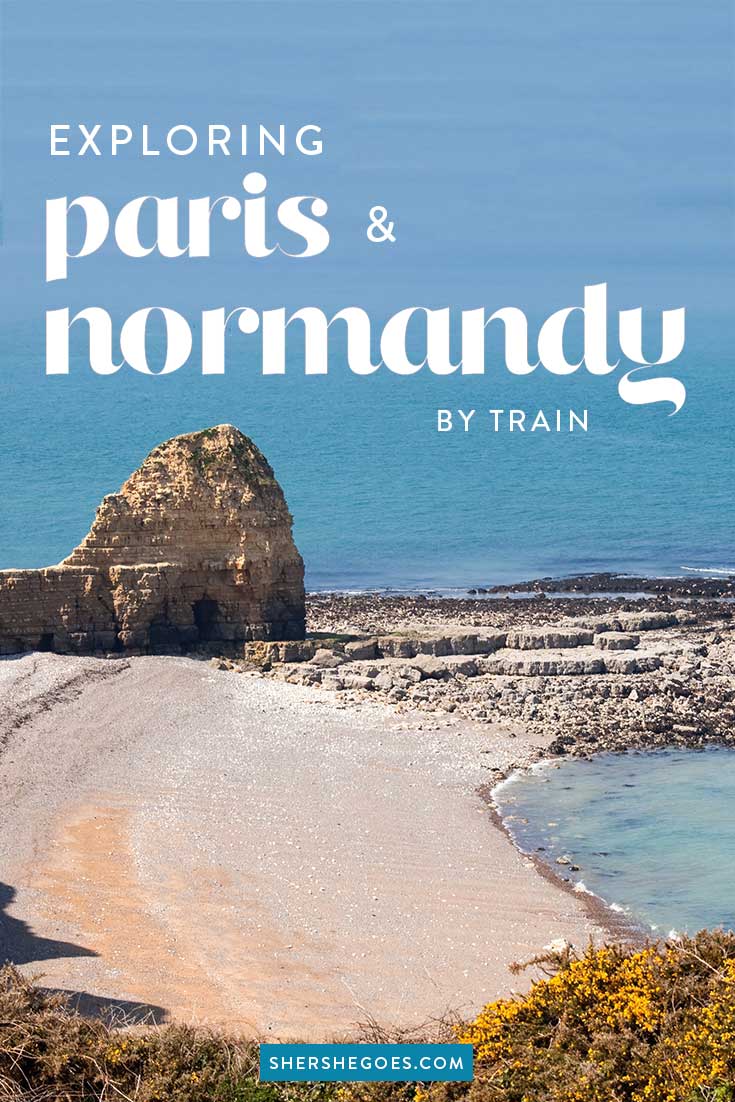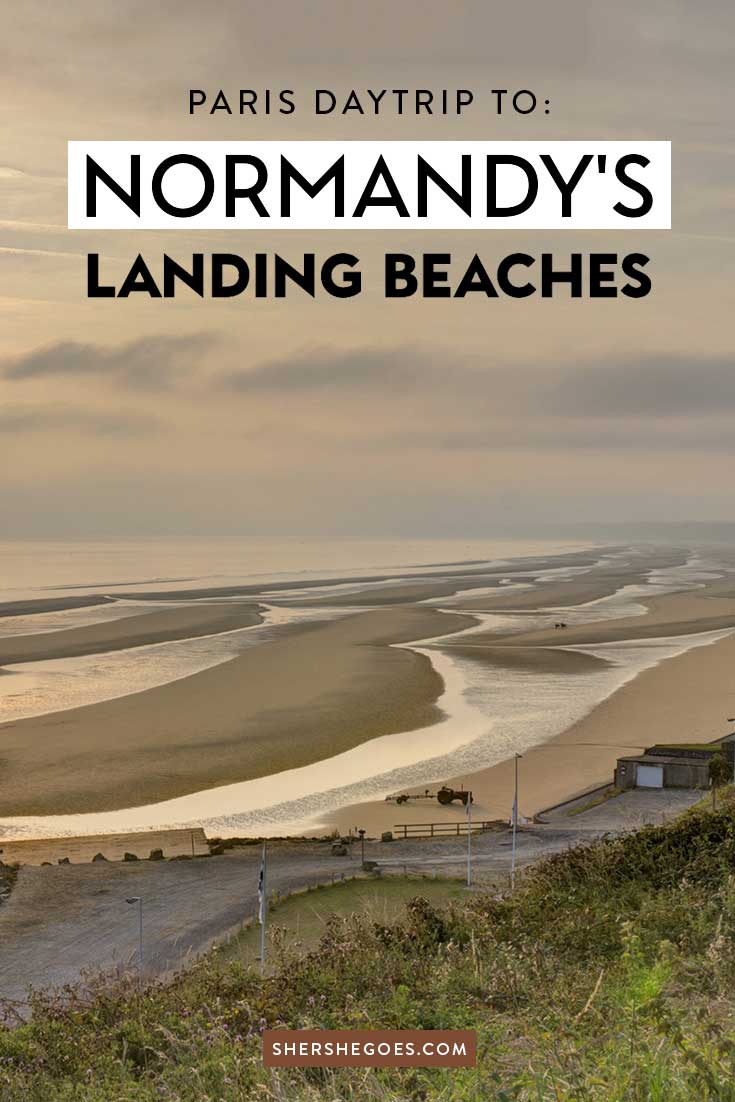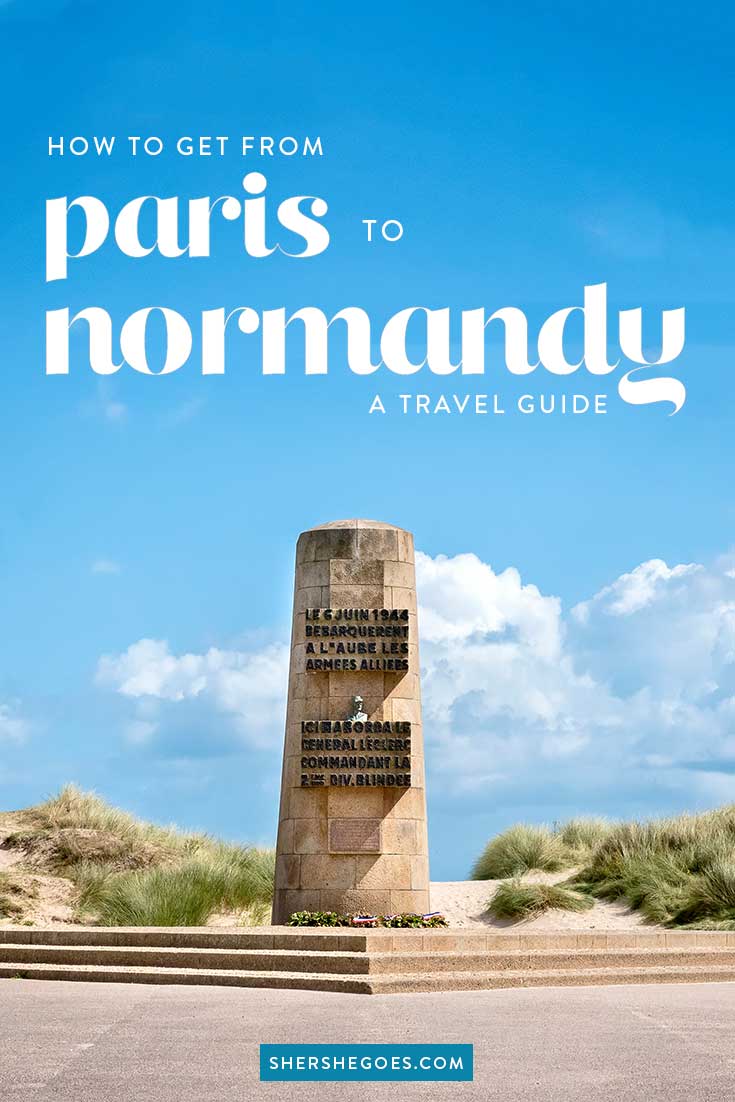 Where is Normandy
Normandy is one of the 18 regions of France and located in the north.
Its beautiful coastline is most famous for the church of Mont Saint Michel, a medieval monastery perched on an island off the shore, and the World War II beachheads where the Allies launched their offensive attack on five beaches for D Day.
There is lots of significant history in Normandy, due to its close proximity to England.
ADVERTISEMENT
---
---
A Brief History of Normandy
Norman lords led by William, the Duke of Normandy, and later named William the Conqueror, crossed the English Channel to successfully capture the throne of England.
A few centuries later, Normandy wavered back and forth between English and French control during the Hundred Years War. Plantagenet King of England and Crusader Richard the Lionheart is buried in Rouen, the regional capital of modern-day Normandy.
Whether you like history, small towns or great cuisine, there is so much to explore in Normandy!
Read more:
The Best Towns in Normandy You Should Visit
ADVERTISEMENT
---
---
How Far is Normandy from Paris
Normandy lies roughly 200 km (approx 125 miles) west of Paris.
Some quaint towns, like Giverny, can be easily explored on a leisurely day trip from Paris. Others, like Mont Saint Michel and the World War II memorials along the far northwest coast, are better explored by staying overnight.
Visiting Normandy for D Day
Since most Americans head to Normandy to see the D Day beaches, I'll go into depth about how best to visit them below.
ADVERTISEMENT
---
---
Day Trip from Paris to D Day Beaches
It's possible to see the d-day landing beaches in a day trip from Paris, but fair warning – it will be a brutally long day.
For context, the Normandy beaches are spread out across 50 miles, from east to west, in an area far from Paris with lots to see. You'll likely have just enough time to see a couple of the main sites briefly.
With that being said, if all you have is a day, one day is better than nothing!
ADVERTISEMENT
---
---
How to Day Trip from Paris to Normandy
1. First take the train from Paris into Bayeux or Caen.
These are the two historic cities nearest to the Normandy beaches. Both are easily accessible by train from Paris but the one way train ride takes roughly 2.5 hours.
I cover how to take the train in more depth, below.
2. Next, I would definitely hire a local guide or pre-book a D Day tour
By booking ahead, the guide will meet you at the train station in Normandy and care of all the logistics to getting around Normandy. Normandy is the countryside, so it's pretty difficult to get around without a car.
Local guides are really fantastic – as they are typically always led by locals who can provide a full historical context of the memorials, ensuring that you can see and do as much as possible.
Most group tours start early in the morning and end around 6pm, so then you can take the evening train back to Paris and arrive in time for a late dinner, around 9pm.
But, honestly, this will be a rushed day.
It's even better if you have the time to stay overnight in Bayeux or Caen for a night or two, as there is much more to Normandy than just the 5 landing beaches.
ADVERTISEMENT
---
---
Tips for Visiting the Normandy Beaches
Most guided tours to the D Day sights will start early in the morning, around 9 – 9:30am, so you will need an early train from Paris to Bayeux, or better, arrive in Bayeux the night before.
If you want the freedom to explore on your own, there is a Hertz car rental in Bayeux, at the Total gas station outside the city. In Caen, there are a ton of rental car offices to choose from.
Browse car rental rates for your dates here.
Normandy D Day Tours
For the D Day sights in particular, I don't recommend trying to use public transportation as it will waste a lot of time trying to get around.
The most memorable part of our visit was the history, background and depth which our guide provided.
Here are some popular D Day tours
ADVERTISEMENT
---
---
Bayeux vs Caen
The two closest towns to the Normandy beaches are Bayeux and Caen.
The two cities are roughly 20 miles apart, or about 30 minutes driving distance. If you have a couple of days to spend in Normandy, definitely visit both!
They are each relatively central to the D Day sights – it simply depends on how you want to explore Normandy. Let me explain..
ADVERTISEMENT
---
---
Bayeux
PROS:
Bayeux is a charming French town, with a really quaint 'small town' feel. It has under 15,000 inhabitants and is small enough to walk around on foot. The riverfront area is very picturesque and the historic center is a very pretty area with cute shops and great restaurants.
Medieval Bayeux is most famous for its cathedral (just as stunning as Paris' Notre Dame) and the historic Bayeux Tapestry (showing the Norman conquest of England). Woven by the wife of William the Conqueror, the Bayeux Tapestry is one of the oldest in the world that remains intact and has its own dedicated museum.
During World War II, it was in Bayeux that Charles de Gaulle made his famous speech proclaiming France's allegiance to the Allies. There is a Battle of Normandy WWII museum to visit and the German Gun Batteries at Longues sur Mer. Bayeux was virtually untouched during the Battle of Normandy.
ADVERTISEMENT
---
---
CONS:
But, Bayeux is a bit more touristy and expensive. The town quiets down early, around 5pm. Bayeux also has fewer direct trains from Paris so you will often have to change in Caen, and there is just 1 car rental agency in town, outside the train station.
If you plan to pick up a rental car and drive around Normandy, I wouldn't recommend taking the train from Paris to Bayeux. But, if you plan to take a guided D-Day tour, most tours will originate from Bayeux so riding the train here makes sense.
Best for: D Day Tours
Where to Stay in Bayeux: Hotel Lion D'Or
This historic inn is cozy, modern and perfect for those wanting to stay in quaint Bayeux to see the D Day beaches. It's within walking distance to tons of shops and restaurants and also very affordable.
Book rooms: Hotels.com, Booking.com
Check rates: TripAdvisor
ADVERTISEMENT
---
---
Caen
PROS:
Caen feels quite vibrant and modern, with great options for dining, hotels and nightlife. It has lots of direct train connections to Paris and also lots of car rental options. This city is a great base for those wanting to road trip Normandy.
Caen boasts one of the best World War II museums in France, the Caen Memorial Museum, which is just 15 minutes from the D Day beaches. Also worth exploring is the castle of William the Conqueror and medieval fortifications.
Caen is a convenient base for exploring many of Normandy's coastal towns like Dieppe, Honfleur, etc. The city is a central hub for both train and bus connections.
ADVERTISEMENT
---
---
CONS:
Most people who visit think Caen is 'ugly' in comparison to Bayeux. But, there's a lot of interesting background history here..
Caen played a key role in WWII during the Battle for Caen, a fierce fight which lasted for 2 months in the summer of 1944. Some consider the city to have been martyred during Operation Overlord, as the Allies were forced to bomb the city and countryside extensively.
After the war, the city was slowly rebuilt in dreary concrete. Caen today is a large industrial city, with over 100,000 inhabitants.
Best for: Visitors who plan to see more of Normandy
Where to Stay in Caen: Hotel Le Dauphin
Hotel Le Dauphin has a terrific location near the Chateau de Caen, in the historic city center. Beds are comfy, the on site restaurant is pretty good, and there's also tons of nearby restaurants and shops to explore.
Book rooms: Booking.com
Check rates: TripAdvisor
ADVERTISEMENT
---
---
How to Get to Normandy from Paris
From Paris, you have 3 main options:
Seine River Cruise
I've been to Normandy many times, but most recently we opted to go via cruise. It was SO much more convenient to have all the transportation taken care of and the guides we had were excellent. You can read more about our Seine River cruise experience here.
Read more:
Sailing from Paris to Normandy: Our River Cruise Experience
ADVERTISEMENT
---
---
Renting a Car
France's A13 highway (the first motorway in the country) runs from Paris to Rouen. You can reach almost all of Normandy's most famous places with the motorway.
Check car rental rates for your dates here.
Driving from Paris to Normandy by Car
| | | |
| --- | --- | --- |
| From | To | Driving Time |
| Paris | Giverny | ~1 hour |
| Paris | Rouen | ~1.5 hours |
| Paris | Dieppe | ~2 hours |
| Paris | Deauville | ~2 hours |
| Paris | Honfleur | ~2 hours |
| Paris | Caen | ~2.5 hours |
| Paris | Cabourg | ~2.5 hours |
| Paris | Bayeux | ~3 hours |
ADVERTISEMENT
---
---
Taking the Train from Paris to Normandy
It's also very doable to take the train from Paris.
In France, the national rail system is called SNCF and trains will leave from either of two Paris stations: Gare Saint-Lazare and Gare Montparnasse / Vaugirard.
Normandy is a region, so you need to pick an arrival town for your train ticket. Here is a list of the train options for some of the most popular places in Normandy.
ADVERTISEMENT
---
---
Paris to Normandy by Train
| | | |
| --- | --- | --- |
| From | To | Average Time |
| Paris | Vernon / Giverny | ~45 min |
| Paris | Evreux | ~1 hour |
| Paris | Rouen | ~1.25 hours |
| Paris | Caen | ~1.75 hours |
| Paris | Alençon | ~1.75 hours |
| Paris | Bayeux | ~2 hours |
| Paris | Le Havre | ~2 hours |
| Paris | Rennes | ~2 hours |
| Paris | Dipee | ~2.25 hours |
| Paris | Eu | ~2.75 hours |
| Paris | Cherbourg | ~3 hours |
| Paris | Granville | ~3 hours |
Note: The times are just for reference. Actual duration will depend on the train you take, as there are often multiple options with both slow trains and faster direct trains.
For visiting the D Day sites, the closet train station is either Bayeux or Caen. For visiting Mont Saint Michel, the closest train station is in Rennes.
ADVERTISEMENT
---
---
Train Schedules
SNCF typically releases its train schedules 90 days prior to departure, at which point you can book your tickets.
For peak season (July to August), SNCF will sometimes open the train schedules earlier. If you are seeing that a route 'doesn't exist', you're likely just browsing too early.
Book as soon as you have settled on your dates – it can save you nearly half price as fares will rise with time. There are a couple different ticket options. The cheapest fare is non refundable. If you aren't set on your dates or want some piece of mind, purchase the flexible tickets which can be exchanged or refunded.
How to Buy French Train Tickets Online
Ah, French bureaucracy.
The French railway website has different subsidiary websites for countries around the world. If you speak French, are using a computer located in France and have a French credit card, you can buy online directly very easily.
Here's what to do if you're located outside France.
ADVERTISEMENT
---
---
Where to Buy French Train Tickets
Don't buy from sncf.com if you are in the US, as the website will automatically re-direct you to a US subsidiary that is known to sell only higher priced fares for the US market, and does not allow you to choose your seat class.
Instead, use Omio, which syncs up to SNCF's ticket system and sells French train tickets for a much more wallet friendly price.
Read more:
Buy Train Tickets on Omio
ADVERTISEMENT
---
---
Final Train Travel Tips
If you are printing your tickets in France at the train station, make sure to bring the credit card you used to purchase the tickets.
If your credit card has a chip, you can use the ticket machine. If it does not have a chip, you will need to go to the ticket window.
These printed tickets should be validated before boarding. Look for the yellow machines at the entrance to each platform that say 'Compostez votre billet'. Failure to do so can result in a fine.
If your tickets are the print at home kind, don't worry about validating them. It's not needed.
ADVERTISEMENT
---
---
There are so many great reasons to visit Normandy. What's your main reason?
Visiting Normandy – Travel Checklist
We took a red eye to Paris from JFK, then sailed on the Seine to Rouen on a river cruise. You can check for flight deals here and set an alert for your dates.
It's also easy to take the train from Paris to cities throughout Normandy. Check my post here for more logistical information on taking the train in France and how not to buy tickets.
In Normandy, there's so much to see over a large area that I'd recommend basing yourself in a city for a couple nights to take day trips, then moving to another city. For the D Day beaches, Bayeux and Caen are both popular bases. Check here for deals on Normandy hotels.
Lastly, be sure to visit Paris with travel insurance. Whether you get injured and need to be hospitalized, your phone gets stolen, or a flight delay leaves you with nothing but the clothes on your back, travel insurance will help when you need it most.
During our recent trip, riots in Paris shut down the city center and forced a closure of all the main sights (the Louvre, Versailles, etc). Get a quote for your trip here.
You Might Also Enjoy:
Normandy Vacation Planning
How to Get from Paris to Normandy
Cruising on the Seine River from Paris to Rouen
The Most Beautiful Places in Normandy
21 of the Best Things to Do in Normandy
Normandy Towns
Quick Guide to Rouen, Normandy's Capital
Paris to Normandy Day Trips: Vernon & Auvers-sur-Oise
Visiting Giverny & Monet's House
WWII Memorials
How to See Normandy Beach & D-Day Sites
Visiting the Normandy Cemetery in Remembrance of D-Day
Follow me @Sher She Goes on