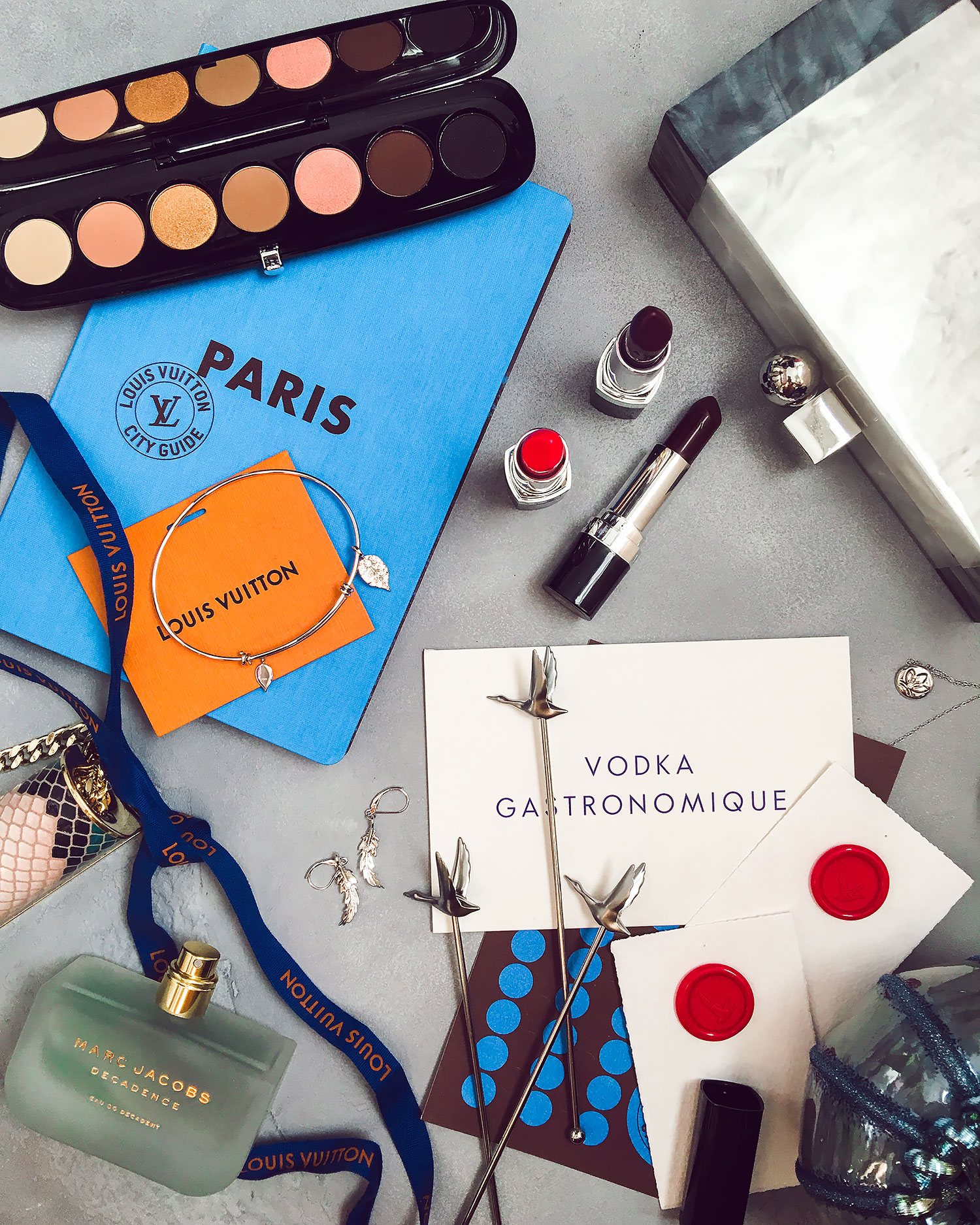 Life in New York City: November 2017
I'm back with another monthly recap post! I spent all of November in New York, which was amazing, so I have lots of fashion, skincare and general 'favorites' to share in today's post.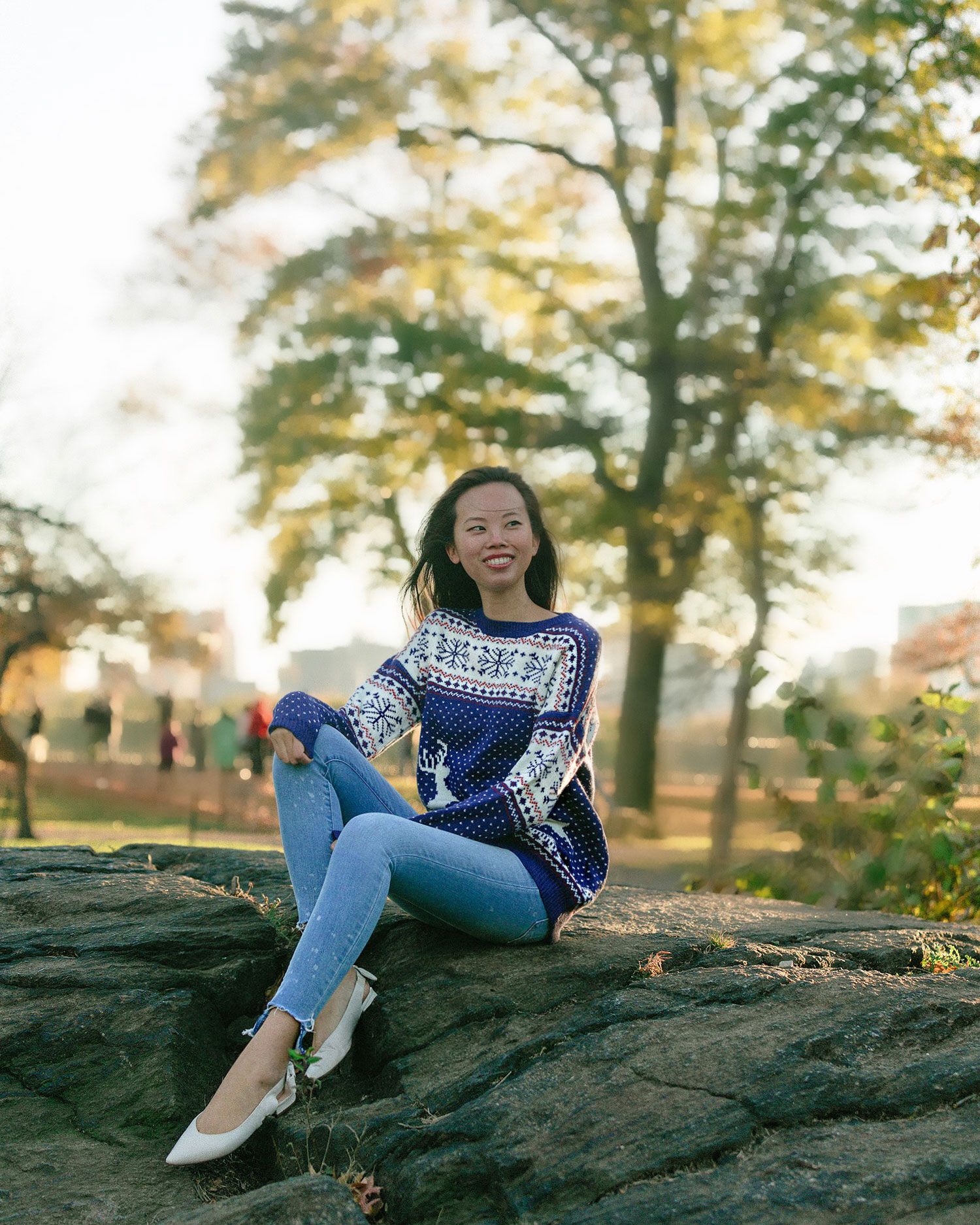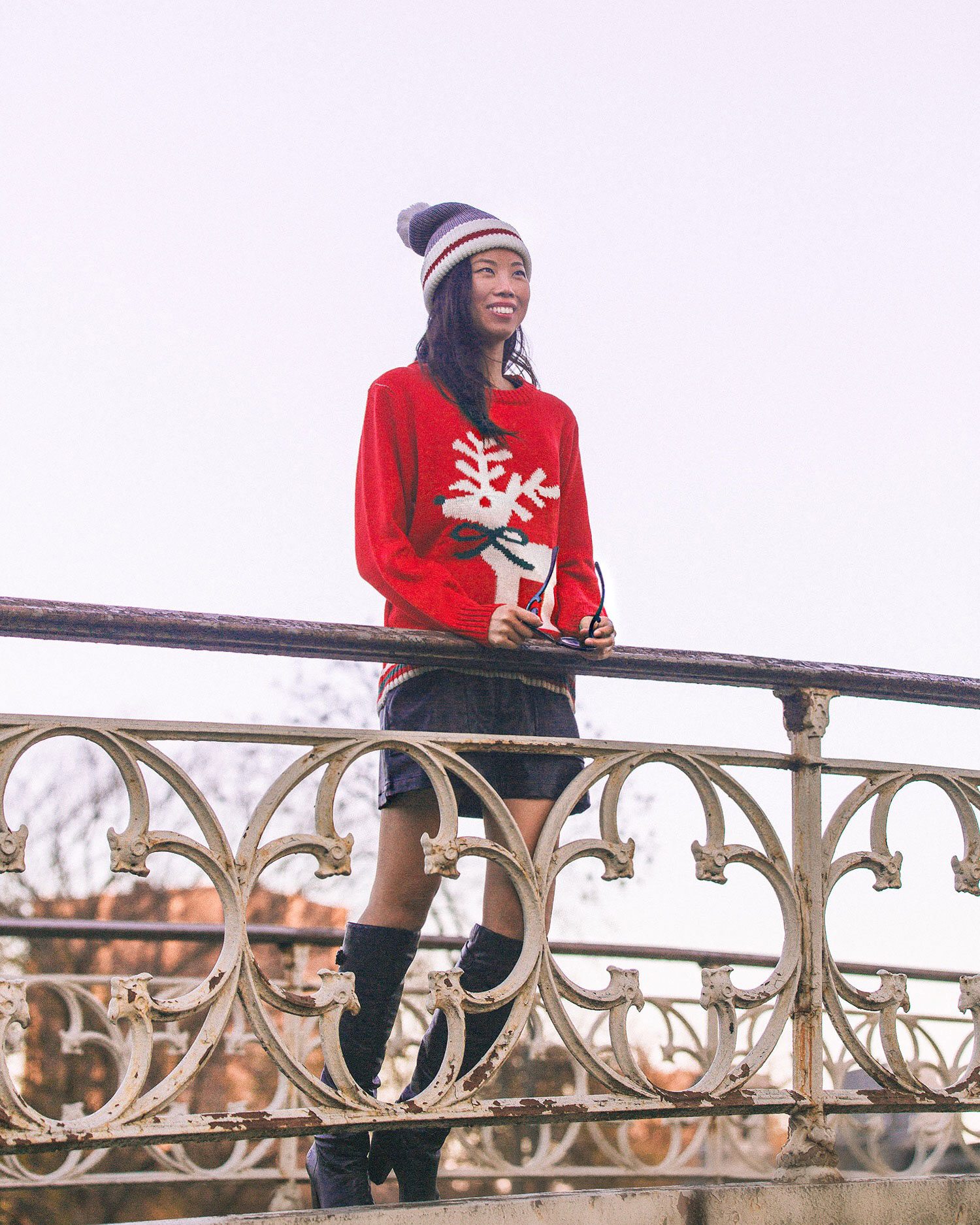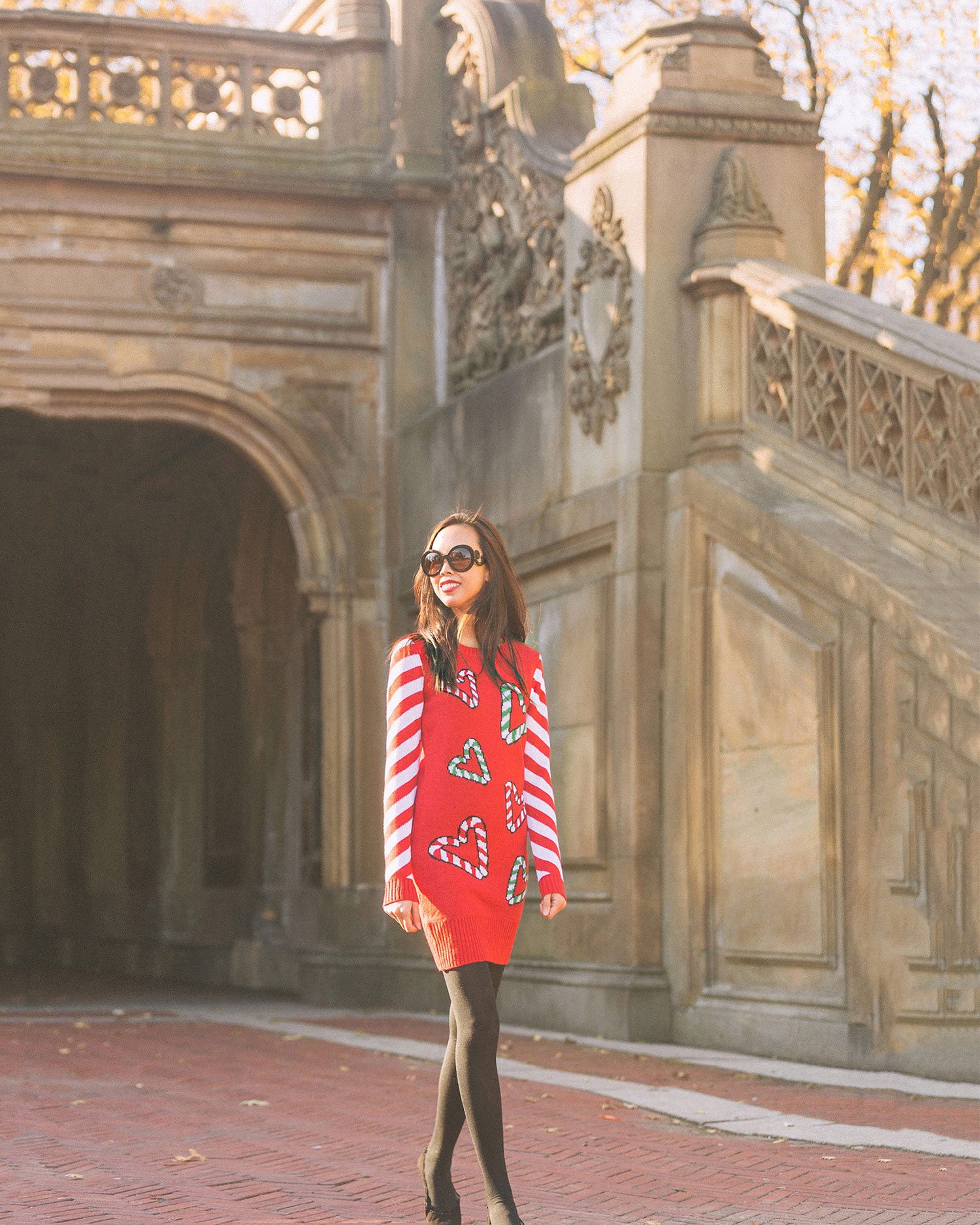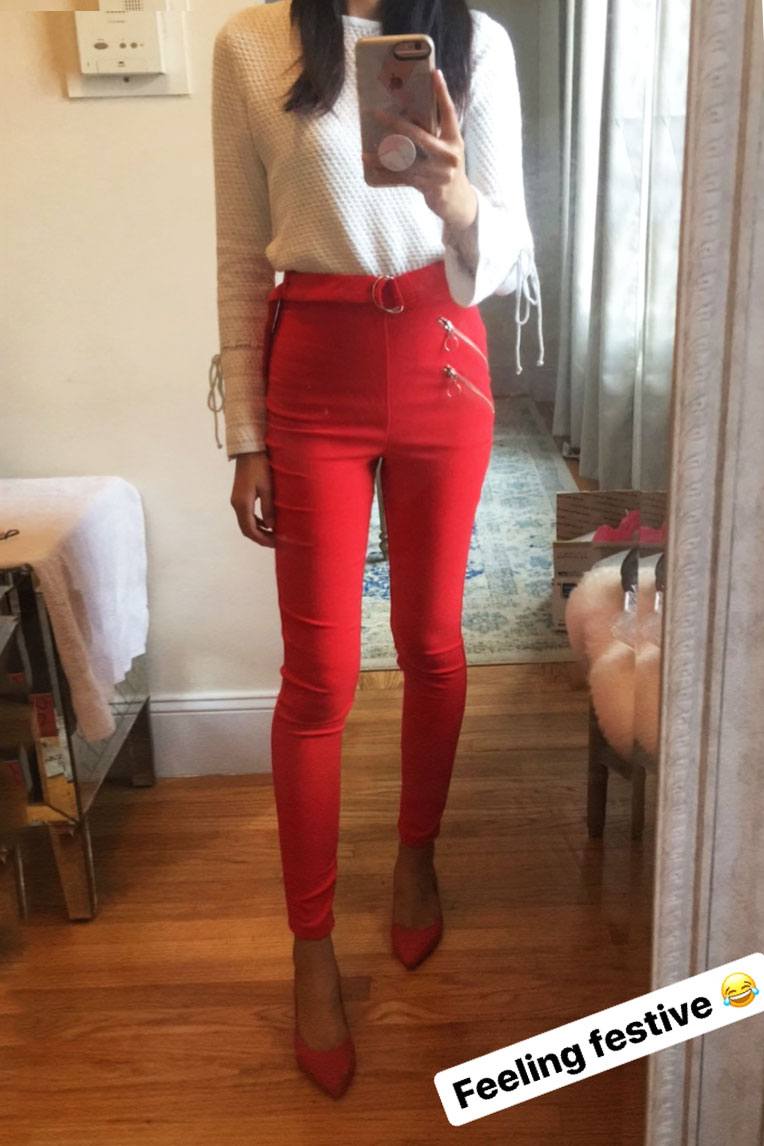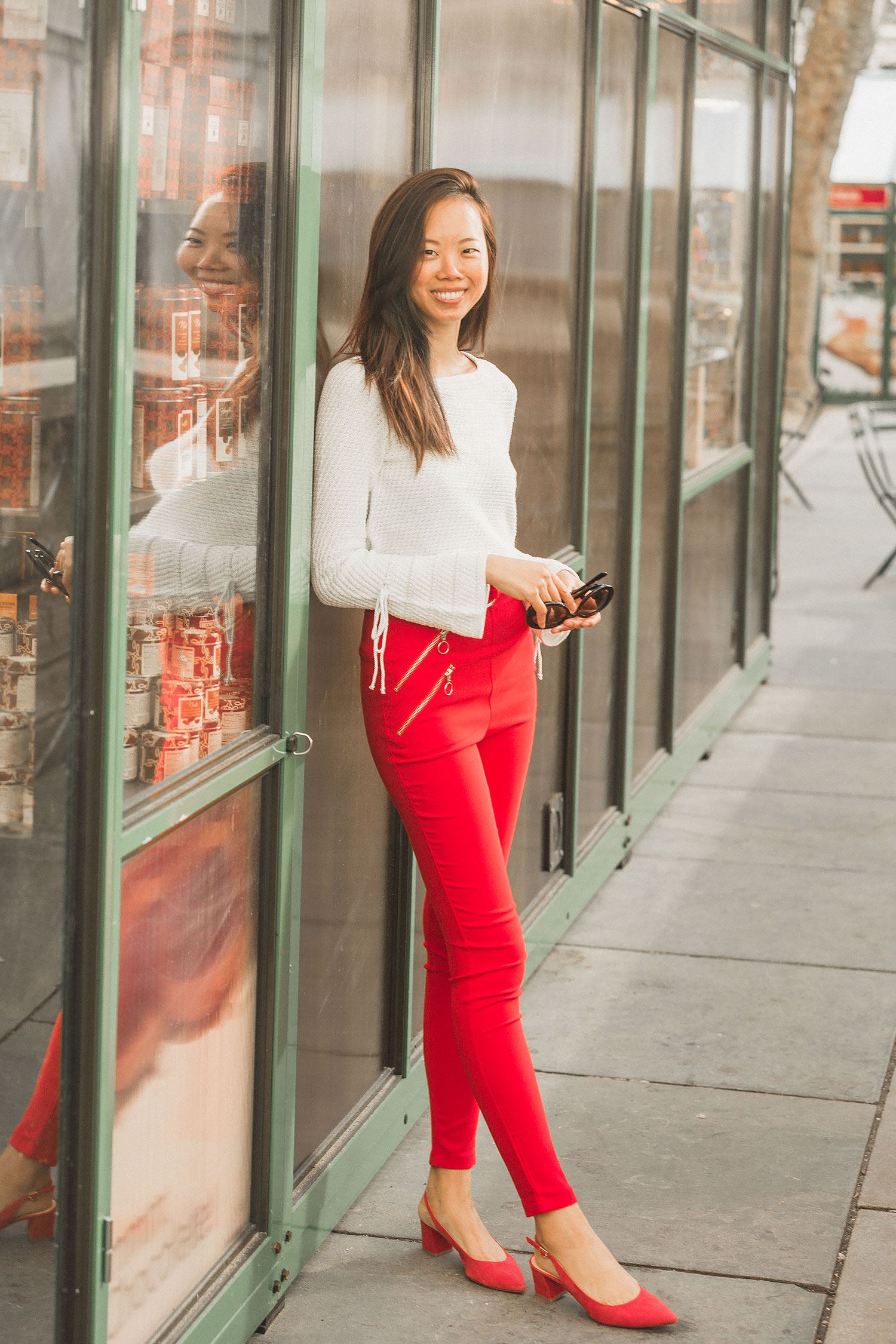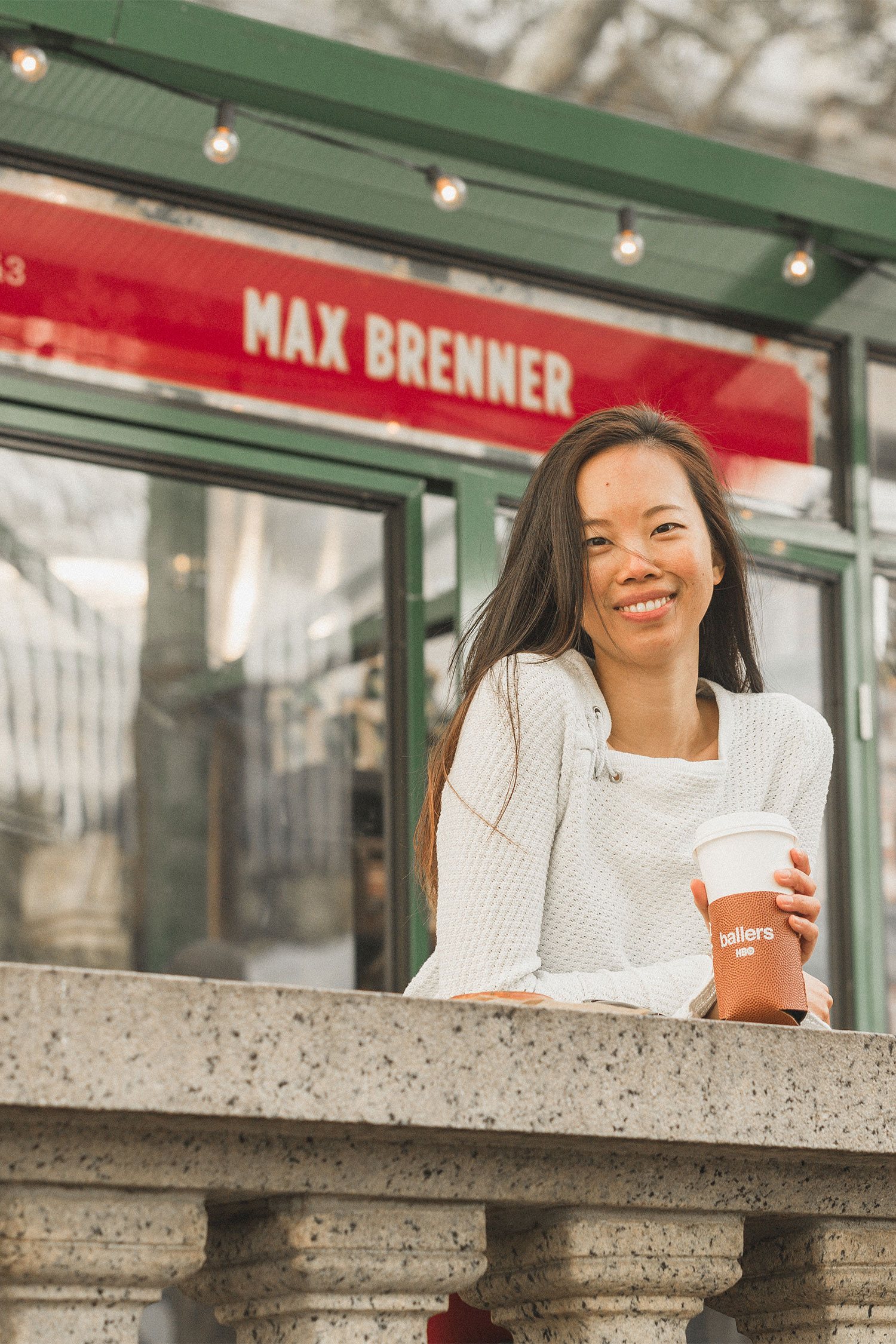 Wearing: Blue Knit Sweater, Red Reindeer Sweater, Striped Hearts Dress, White Sweater, Red Pants
November Fashion Favorites
Boots | I'm obsessed with these thigh high boots (more looks with them here and here). They've got a round reinforced toe and a chunky 3 inch heel with this metal detail. My pet peeve with over the knee boots is that they are constantly falling down but this thigh high pair is made from a synthetic fabric so not only are they comfortable on bare skin but they stay up!!!

Here is the exact pair I'm wearing but it also comes in a suede fabric, other colors and an ankle boot version. In general, Marc Fisher has loads of styles and I always want everything. They do great affordable versions of designer shoes as well as trendier styles.
Party Dresses | I've also really been into Revolve again. They make fantastic legging pants and all of their party dresses are perfect for holiday parties. Just not so great on my wallet.
All things Christmas | I love getting really festive for the holidays and had the opportunity to work on a super fun project all about ugly Christmas sweaters. If you'd like to see all 12 holiday sweater outfits, you can check out the full post here.
Now normally if I were going to an ugly Christmas sweater party, I would just buy 1 sweater, probably the cheapest, least ugly holiday sweater… but the perks about working on the project with Amazon was that I could really try a whole range of styles and price points.
I ended up picking some funny, some cute and some pop culture ones. Does anyone else remember when Drake christmas sweaters were all the rage? I even tried some juniors Christmas sweaters and some mens Christmas sweaters too – I ended up loving the slightly oversized fit on the mens' sweaters best!
The 2 photos below were my favorite of the bunch:
First, a mens' sweater with little 8 bit Santas all over in a repeating pattern. From far away it looks relatively normal and then up close, it gets super festive! It also comes with matching 8 bit Santa jogger pants which I think is just adorable to wear as a pajama set. Now if only they'd make these in Womens…
My other favorite sweater is this adorable Christmas cardigan with snowmen on interchanging red and green panels. It's made so well you could even wear it inside out, and has holiday plaid elbow patches and panels of velvet. I kept feeling myself while wearing it!
Also after trying so. many. sweaters. I realized you do get what you pay for. The $30+ sweaters were much better made and much more comfortable to wear. In any case, all the sweaters on amazon come with free shipping and free returns. Here are a couple other ones I really liked: this mens reindeer sweater, these matching reindeer ugly christmas pants and this t-rex ugly christmas sweater.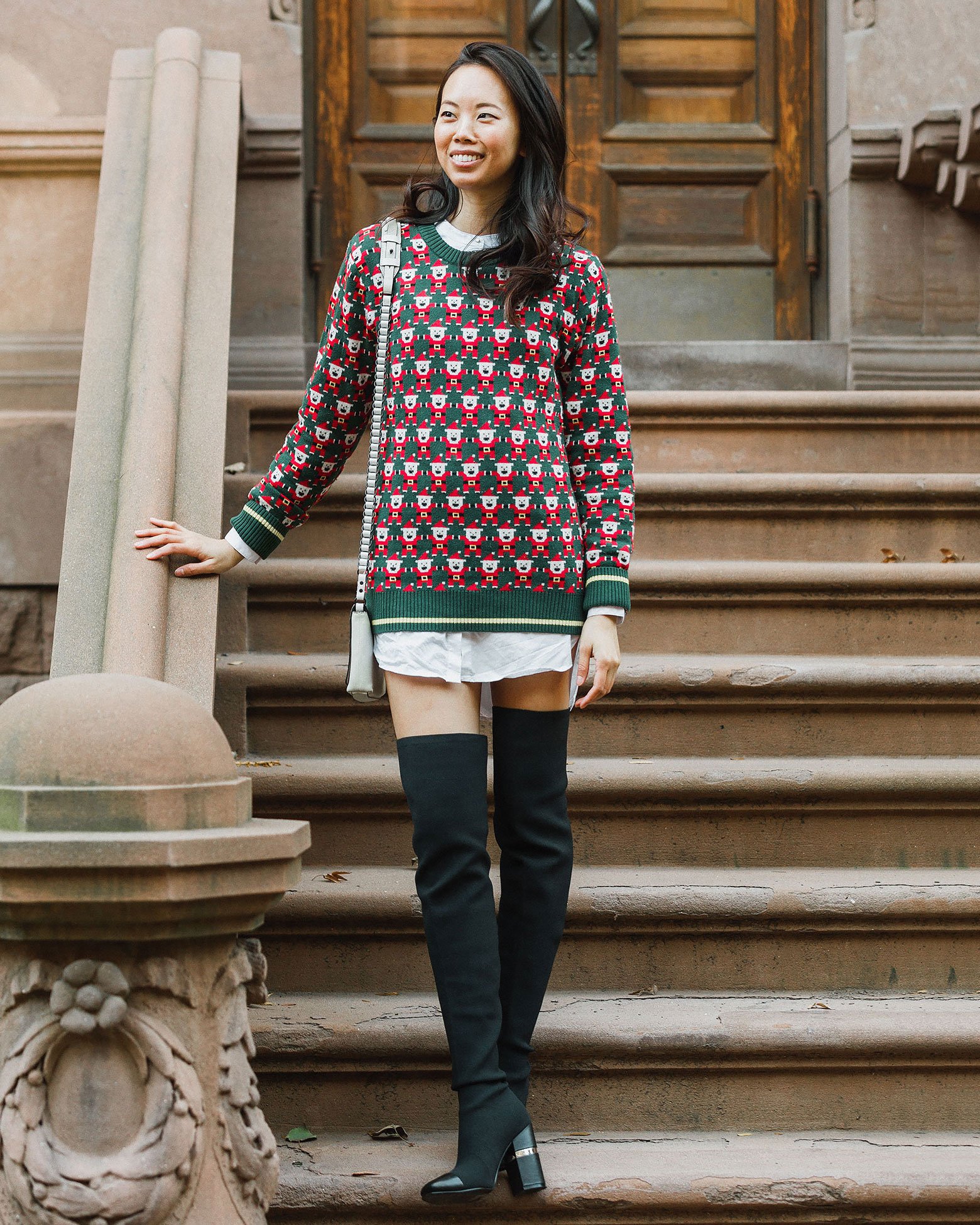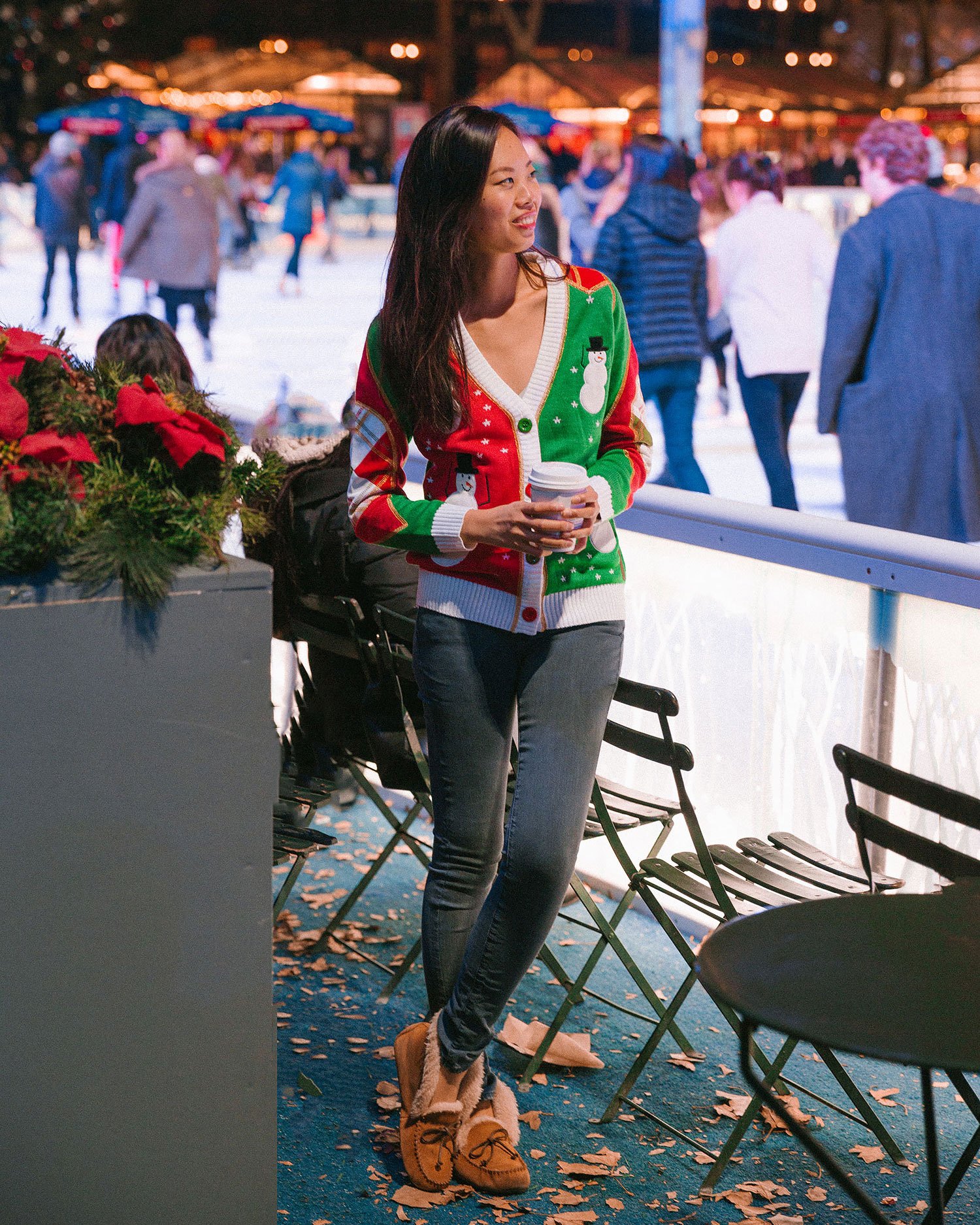 Wearing: Santa Sweater, White Button Down Shirt Dress, Thigh High Boots, White Stingray Bag, Snowmen Christmas Cardigan, Cozy Slippers
---
---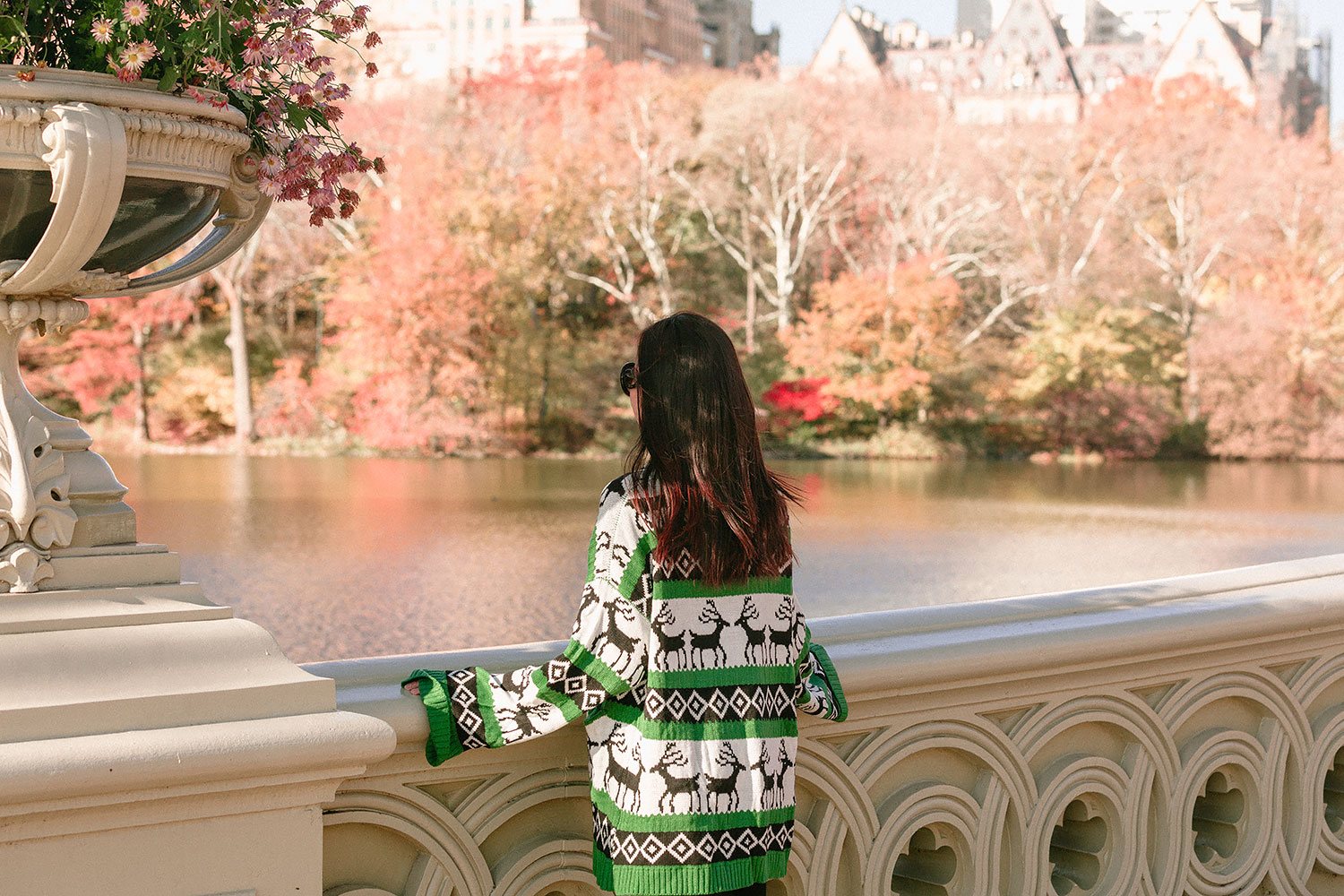 Holidays in New York City
Speaking of the holidays, New York City is in full on Christmas mode. We went to the Bryant Park holiday markets a couple times and down to Rockefeller Center as well. Each year the markets and decorations seem to get bigger!
I actually wrote a fun article about all the can't miss, ridiculously festive things to do in New York for Travelocity. There's a couple on the list I haven't been to myself in years so hopefully we can take some down time in December to eat at Rolfs and journey out to Dyker Heights.
You can read the full list here!
Fall foliage seemed to hit NYC pretty late this year so I also managed to get some pretty photos of the park in orange, yellow and reds.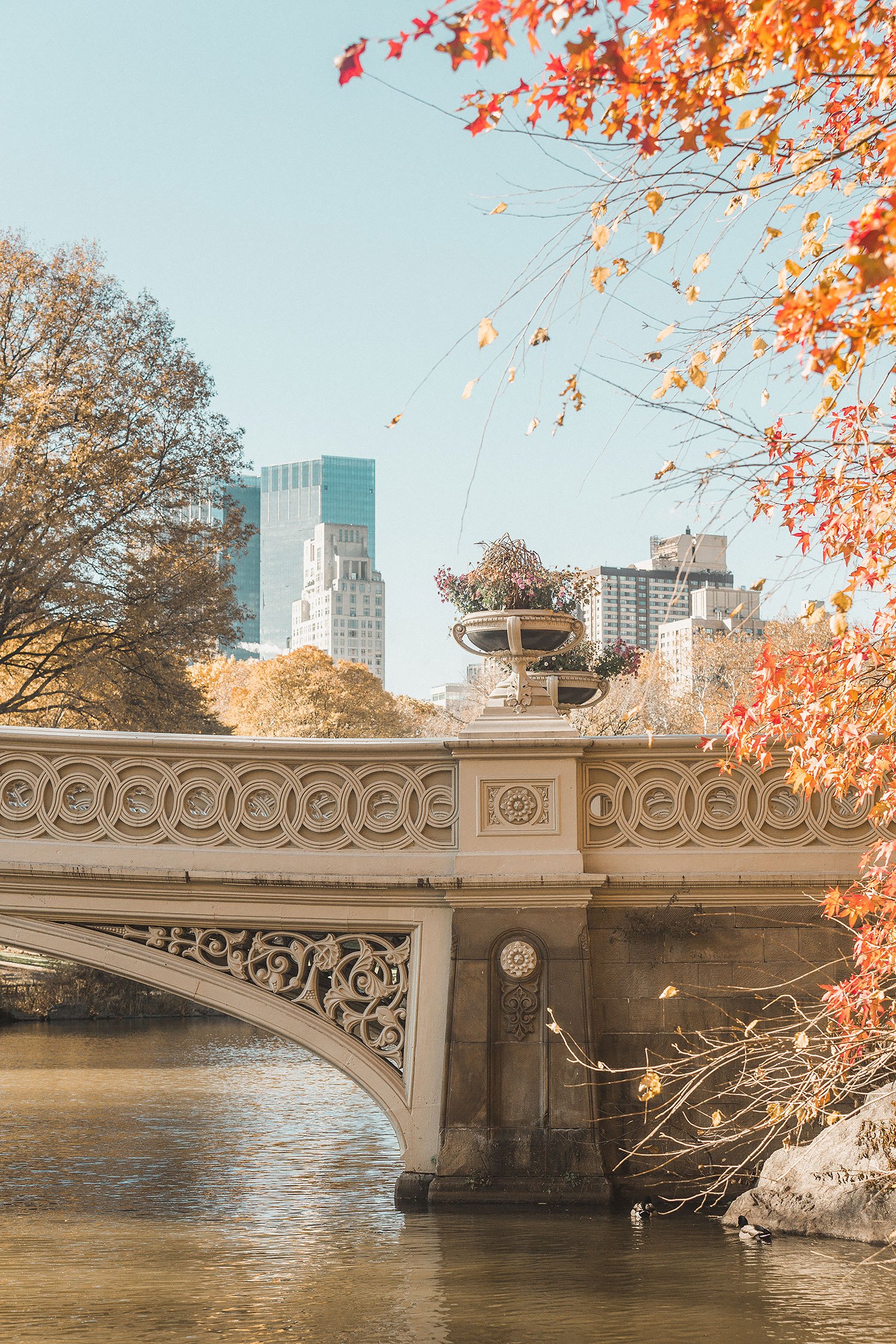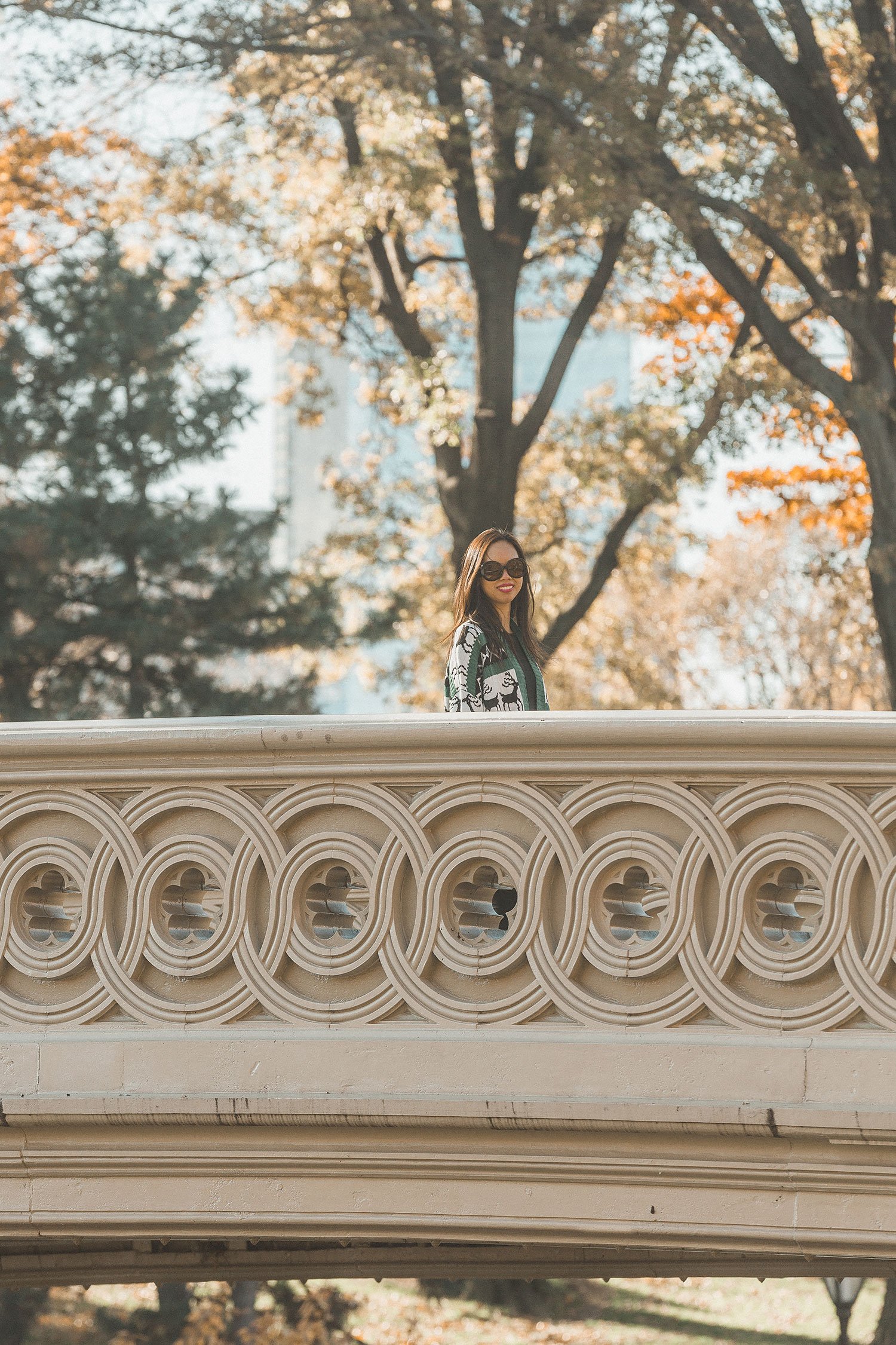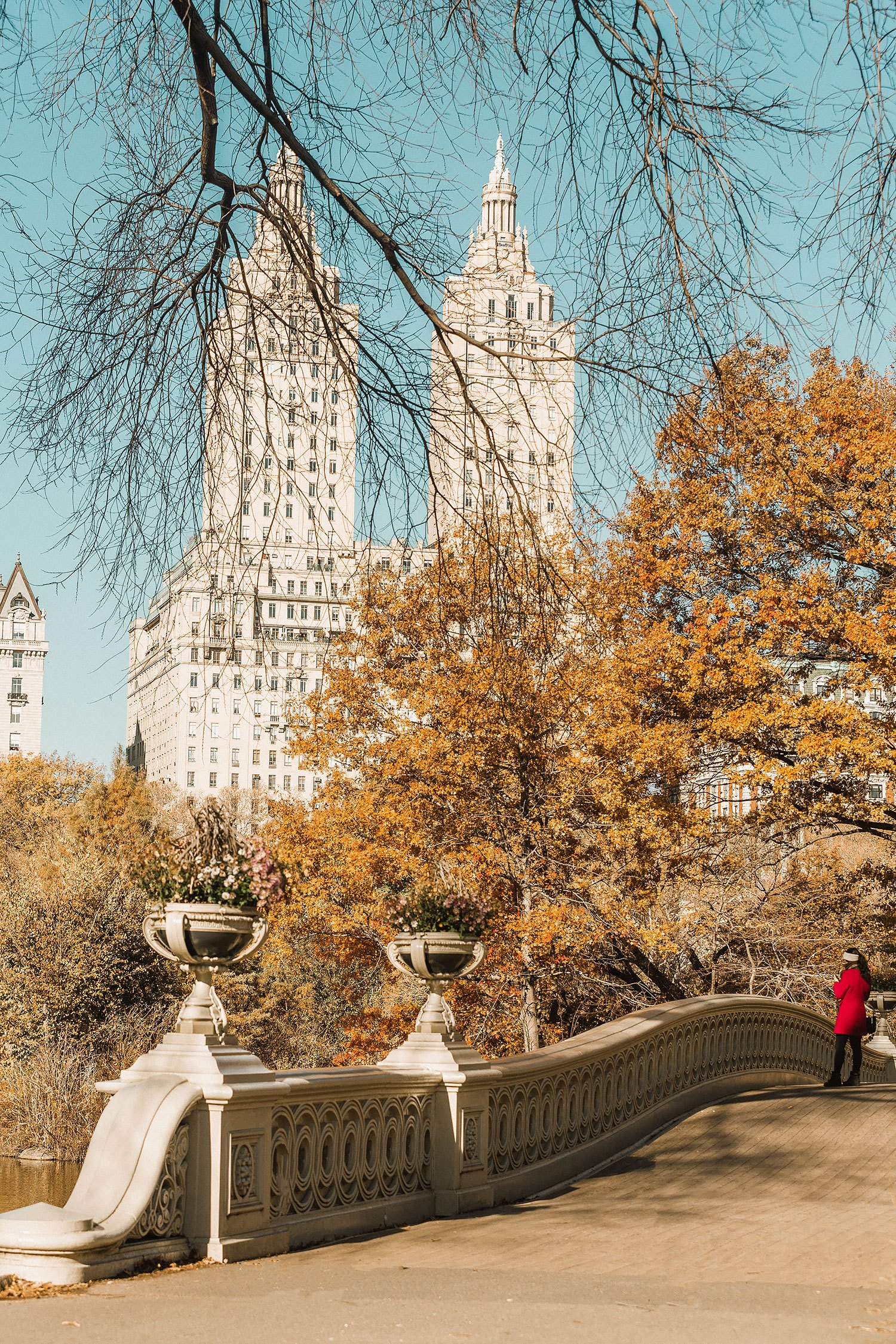 ---
---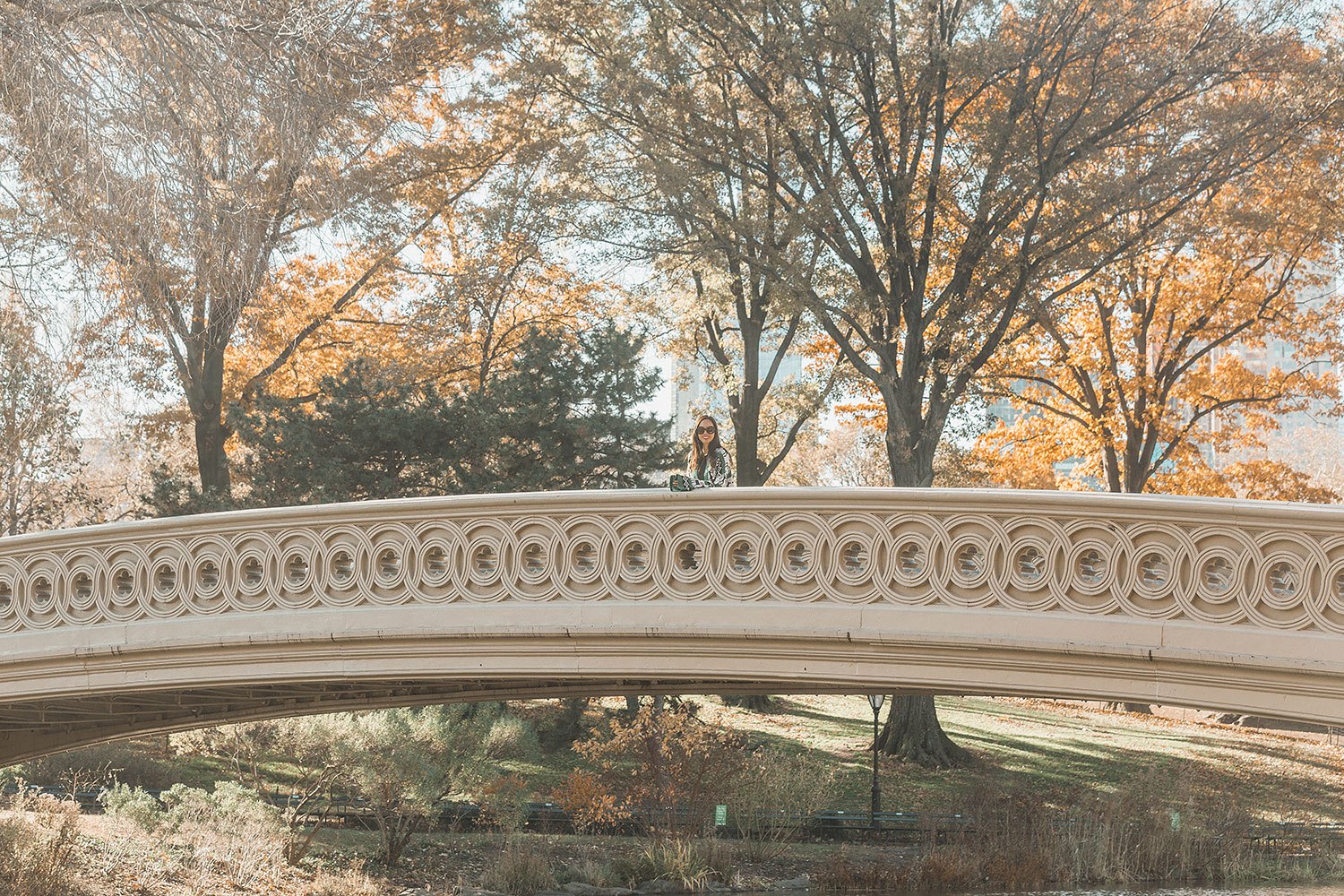 Books & Music Favorites
I'm not really a music person, but I like to work to either country music or classical. My favorite of the month is Bach in G Minor, recomposed by Luo Yi – just type that in to youtube. On a side note, I have no idea what recomposed means.
I took a bit of a break from books after a particularly heavy month of reading in September / October but did re-read a couple old favorites like Sophie Kinsella's Remember Me and Can You Keep a Secret? I really recommend both but especially the second, which is so funny. It's a about a girl who blabs all her secrets to the guy sitting next to her on the plane, after she thinks she's going to die when turbulence takes a turn for the worse. The next day, she realizes he's the new head of the company.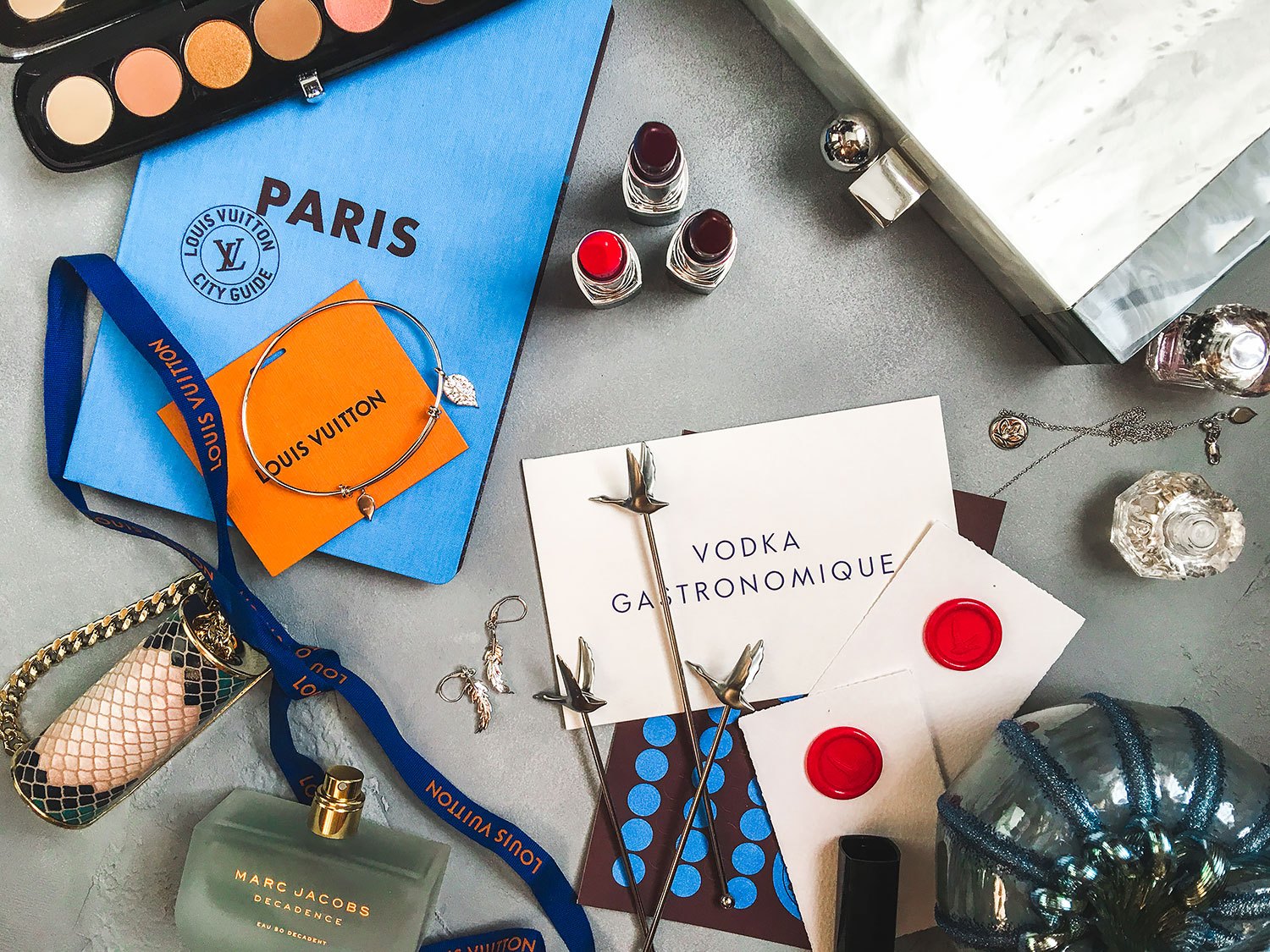 ---
---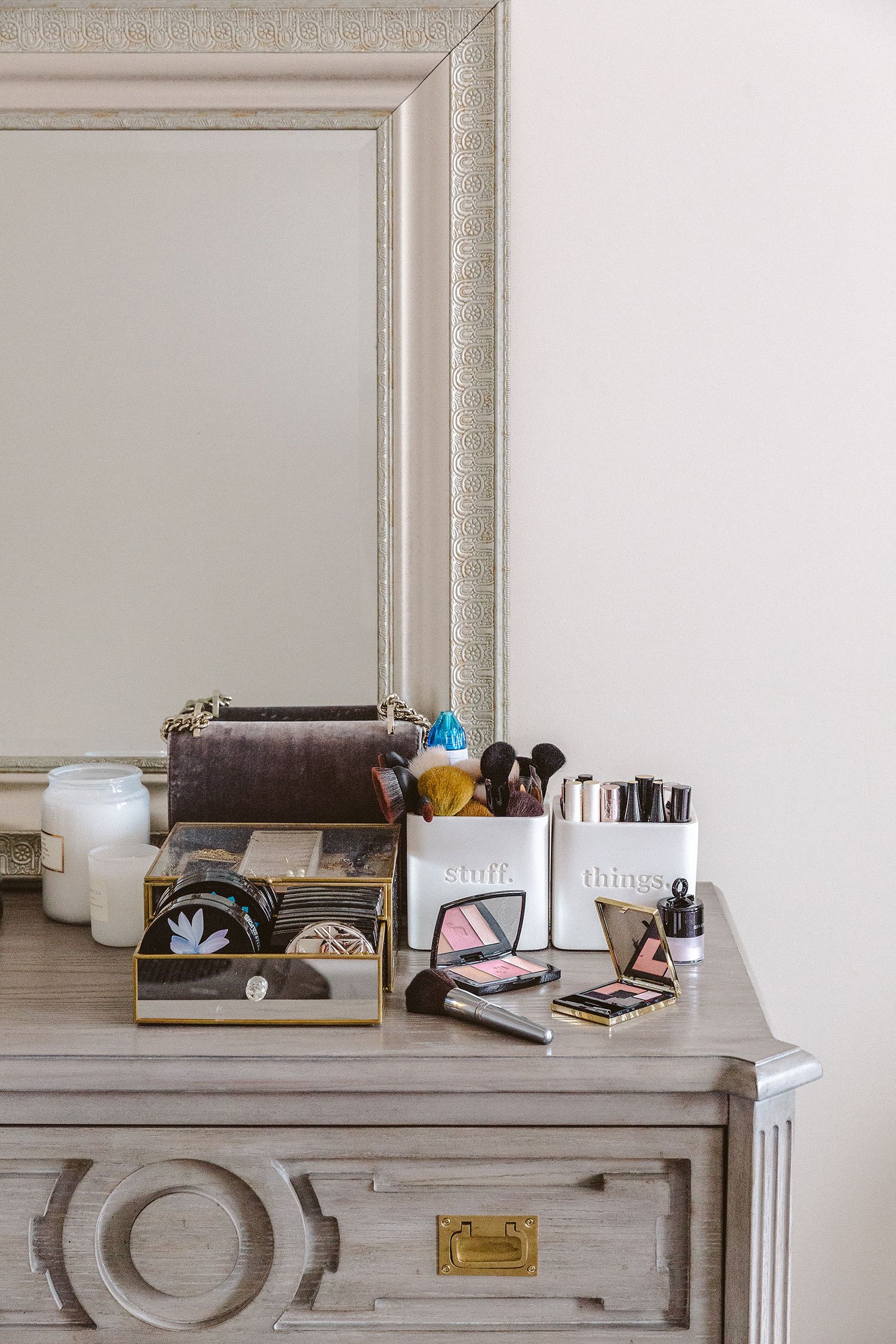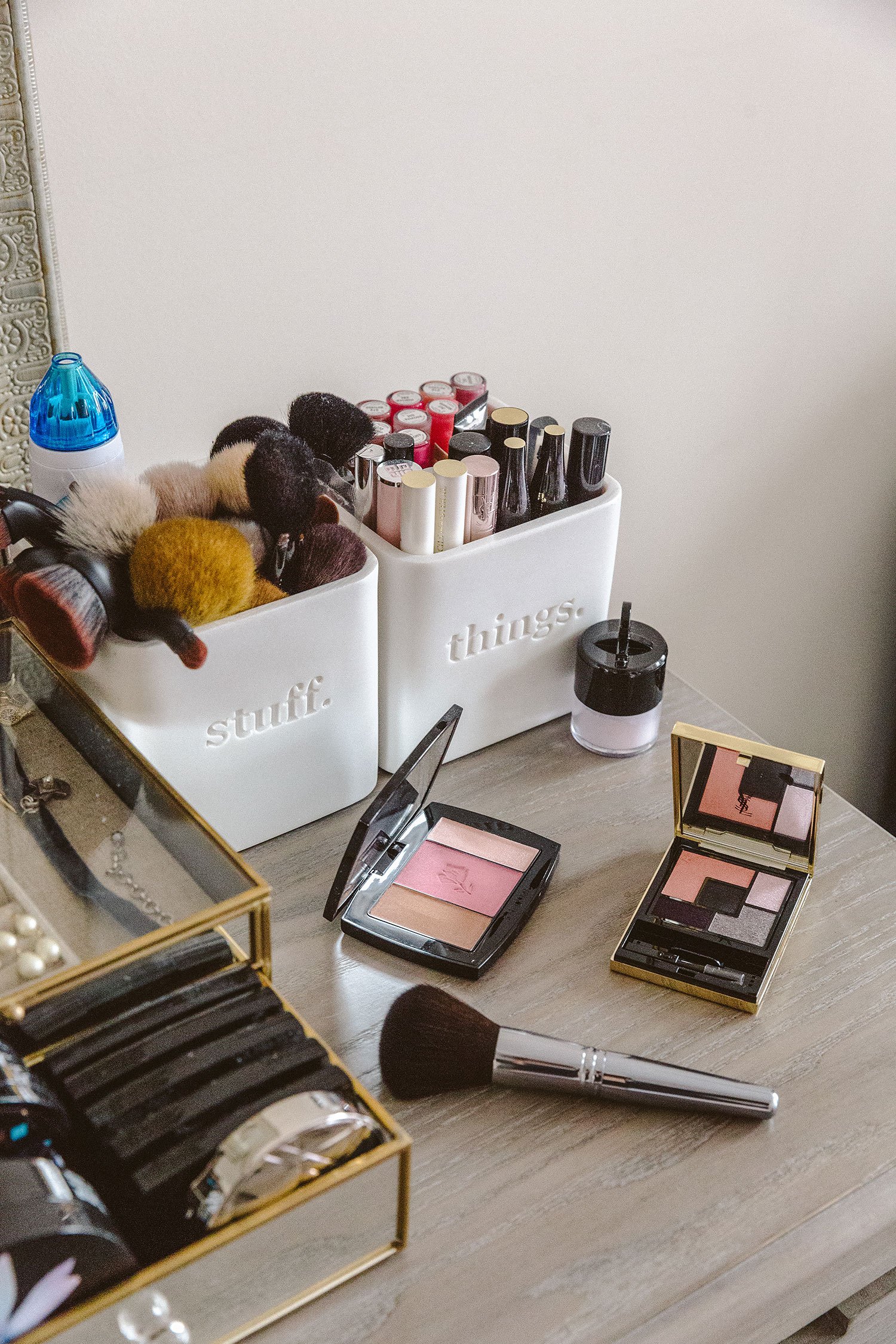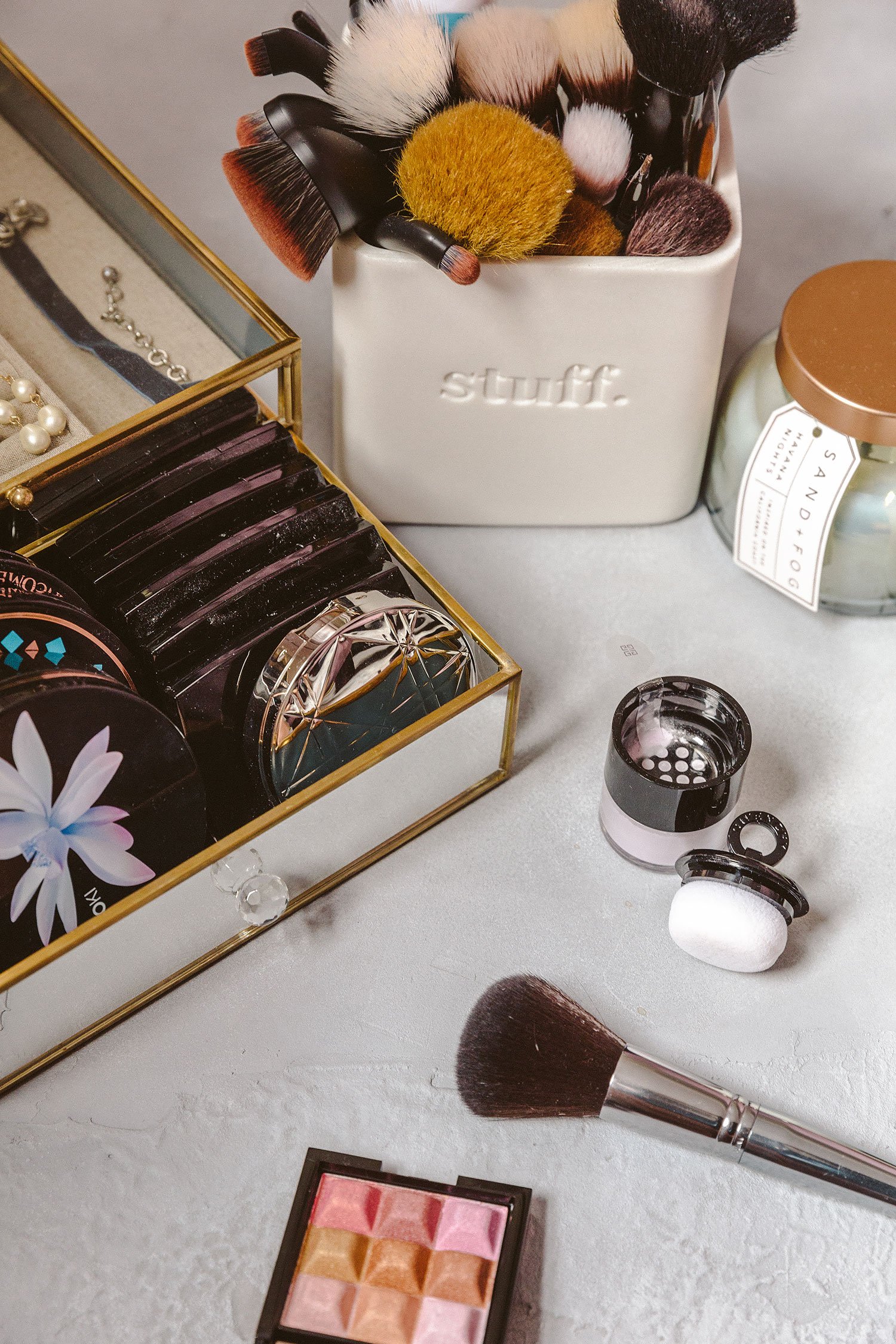 New in Beauty & Favorites
My skin has been wrecked from all the travel so I went overboard on the skincare this month. Here's some of what I tried and picked up, in no particular order:
Clarisonic | I started using my Clarisonic consistently again. It's always been good to me and had been left uncharged for a while when I misplaced the battery charger. Now that I've been using it again, I see a fair bit of difference. Skincare applies much better and my face looks brighter and less dull! I still have these tiny little bumps all over my face though so I decided it was time to also add retinol products back into the mix.
PMD | I also started incorporating at-home microdermabrasion with the PMD device. How it works: the personal microderm uses spinning discs and a vacuum suction to brighten, smooth and even skin tone and texture. It's meant to reduce fine lines and wrinkles, blemishes and enlarged pores through exfoliation for softer, younger skin.
I've started to see lots of sun spots appear on my face, especially around my nose, cheekbones and forehead. They start off light but darken over time so I really wanted something to combat them!
First you do have to watch a video for proper instructions; this isn't a take-out-of-the-box and go product. The device took some practice to use and I realized that you should quickly move it over sections of your face without pressing down too hard. I started off using the sensitive head attachment and wow! Immediately after the first use my skin looked smooth and airbrushed. It also felt like it prepped my skin to better absorb my skincare products afterward.
This is a great product for people who want beautiful skin without the expense of spa microdermabrasion treatments. You can also use it on your body, it's not just for the face!
Thank you to PMD for sponsoring this section of the post.
Pour Moi Beauty | So with all the travel leaving my skin dull, dehydrated and extra pimple-y, I knew I needed to take steps to fix it but I just assumed retinol was the answer. My skin loves acids and AHAs/ BHAs essentially help to deep clean by exfoliatiating the outer layers to reveal the new skin underneath. I still really like Sunday Riley but the price is prohibitive for most people and I always am curious about new things.
Then I met the founder of a skincare company called Pour Moi and was really intrigued by her outlook on skincare. She believes climate is an important factor in skin hydration and that our skincare should adequately adapt to the amount of moisture in the air. Her skincare line is meant for the girl on the go and offers just 3 basic steps: hydrating balancer (essentially toner), serum and day cream/night cream. What makes it different is that you choose a day cream depending on your climate so I went with the temperate one (for NYC). She lives in LA and uses the desert climate day cream. If you travel frequently between different climates, they also sell bundled sets.
I was so intrigued, especially after she showed me her hands. One hand religiously uses her Pour Moi products while the other showed typical signs of aging, like sun spots, slight discoloration, age spots – normal things that are starting to show up on my face (argh!). I was so floored that I started using Pour Moi that night. After spending all summer in the sun and forgetting to wear sunscreen half the time (I know, I really should know better) I've had so many pesky sun spots start to appear.
So far it's been about 2 weeks and I really like it. The balancer is best used with a cotton pad and unlike other toners, the packaging has a handy push down top. Then I use the black diamond serum (meant for drier skin types) which uses black diamond powder to really cut through and penetrate the outer dermis.
Finally, I use the Temperate day cream and Night cream. I really love the texture of the night cream – when I wake up the next day my skin is still plump (which never happens). The products incorporate a bit of retinol (another huge selling point for me) and are quite affordable (about $30-40 each). The serum is a bit more, as serums always are. You can check out the full line here.
Artis Brushes | I've heard about Artis brushes for forever and finally am about to try them! I picked up their holiday set which also comes with a brush cleaning pad and cleaning spray. Anytime a brand is a little pricier, I like to opt for the holiday set because you get to try the best selling products, usually at a discount. I've heard the trick to using Artis brushes and achieving a flawless finish is to not lift the brush from your skin when you rub in the product – will let you know how it goes!
Dr. Jart Cicapair | The brand kindly sent me their new Cicapair line, which is aimed at combating redness. I have a whole ton of redness so I was so excited to try these. The collection is inspired by the legend of Asian Tigers who healed their battle wounds. Funny enough, the packaging both looks and smells like Tiger Balm but hm.. I have to be honest, it's not for me!
The Tiger Grass Color Correcting Treatment is a hefty 50ml jar of product, meant to cover blemishes and color correct. Its quite a thick paste and hard to blend, so I had a noticeable greenish white cast to my face when I applied it. It has nearly 800 reviews on Sephora of people who love it, so I may have to give it another go.
I like the Tiger Grass Re.Pair Serum a lot more. It's quite soothing to put on and I love the serum's thick, clear texture. Because it comes in a dropper type bottle, I was expecting a oil type formula but it's not heavy at all. The serum is really light, non sticky and does wonders for hydration. I'm not so sure it defeats redness so I'm still testing it.
Finally, the Tiger Grass Nightly Repair Mask. I really like the packaging – there are over 30 individual packets of night masks and I like how each packet is quite small so they'd be perfect for travel. Traditional sheet masks are surprisingly heavy and bulky to bring along!
On the flip side, each packet is pretty tall so you kind of have to dig in your finger to really get out all the product. The cream is clear, thick and really tacky – almost glue like – and you're meant to leave it on overnight. I think it's really soothing but again, I don't know that I saw all that much improvement in my redness. I'm going through the reviews on Sephora as I write this and it seems like people who love it use all 3 products in the line together, repeatedly. I may have to give up Pour Moi for a couple days and try these out religiously. Stay tuned!
Ok that was a lot! Hope you had a great November and bring on the holidays!!
Follow Sher She Goes on