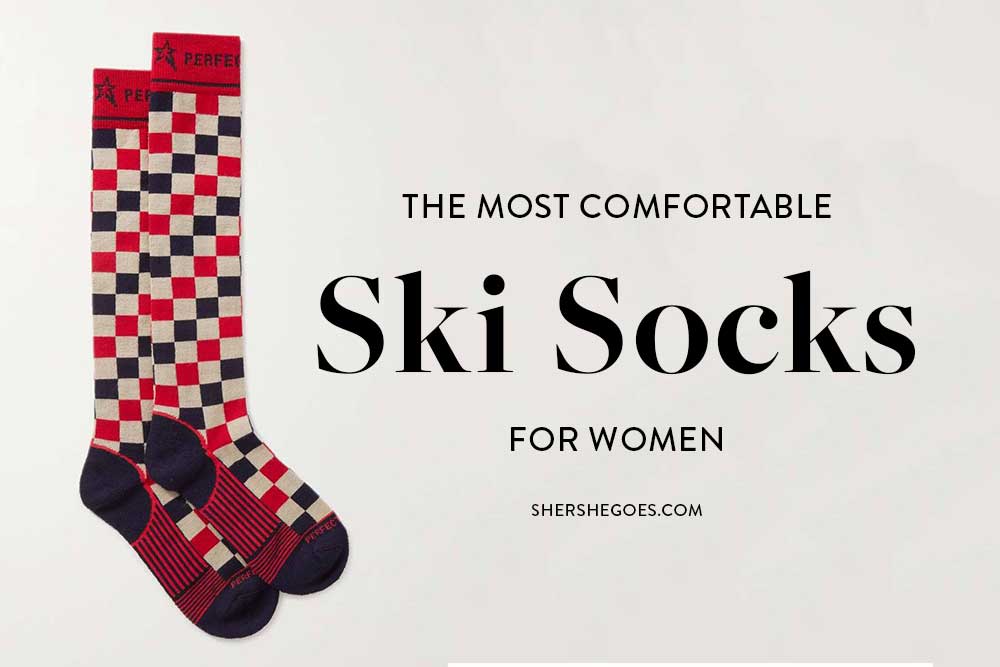 Best Ski Socks
Keep reading, or pin this article to save it for later ⇟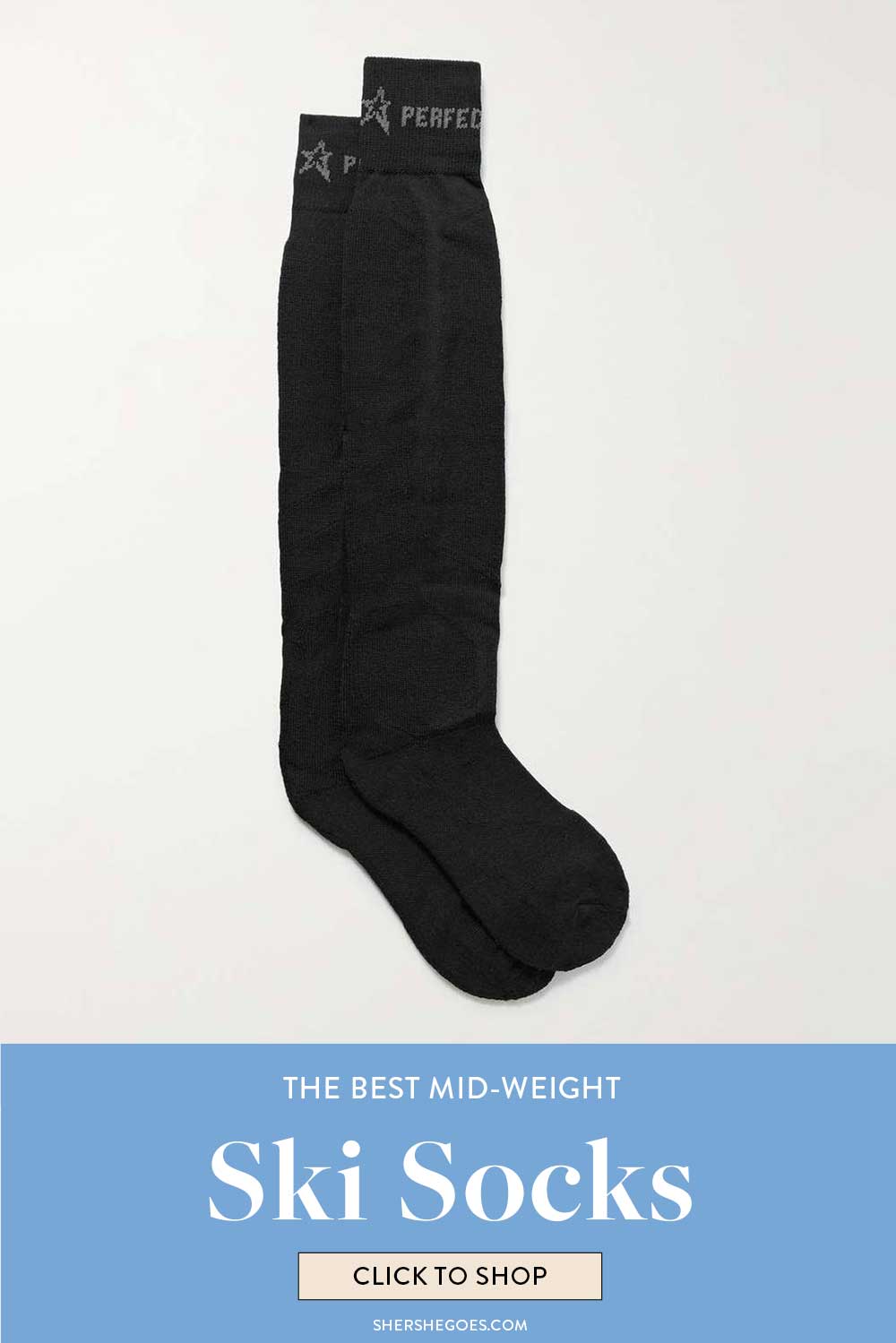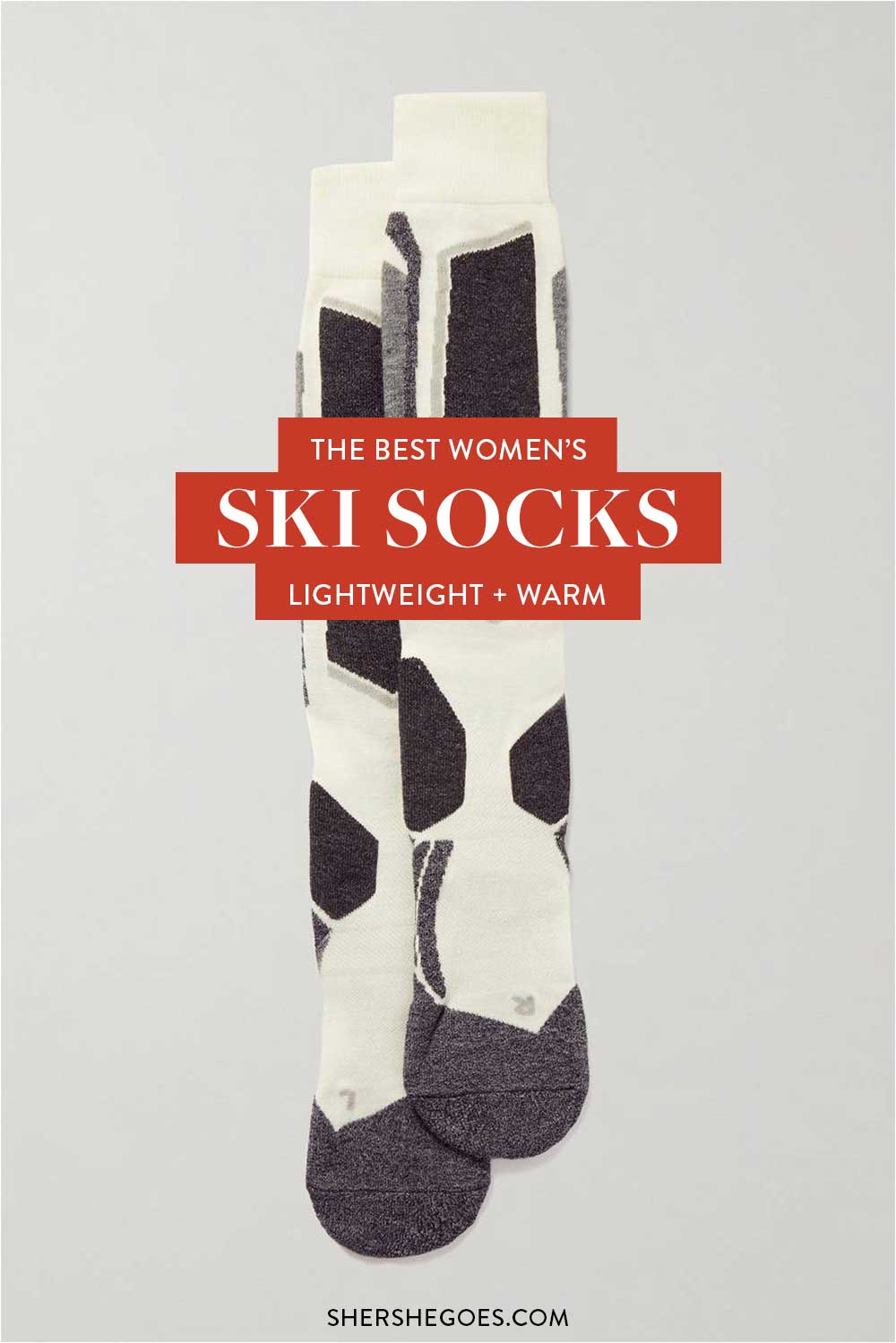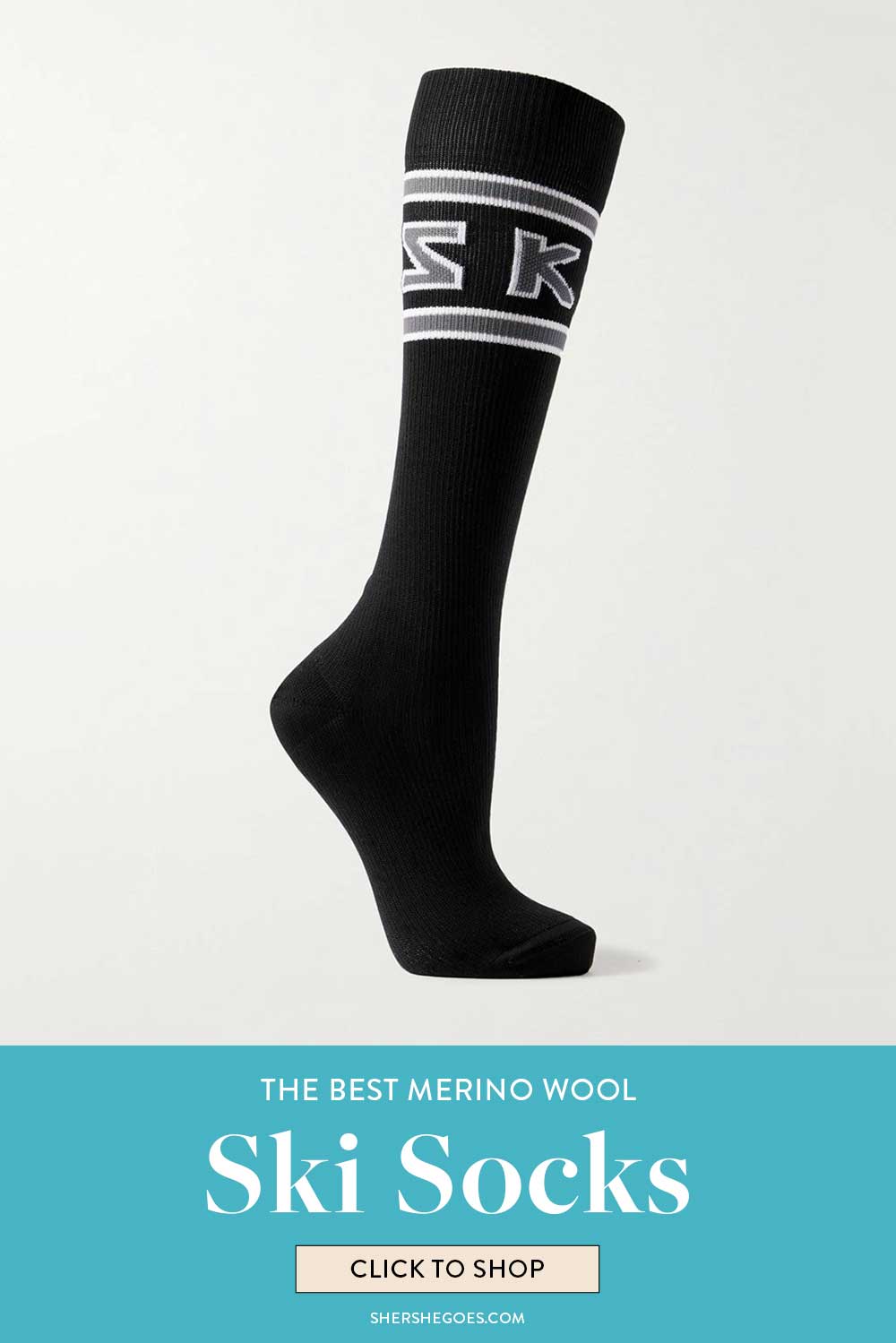 ADVERTISEMENT
---
---
Ski Socks
As anyone whose skied all day knows, good base layers are crucial – and socks are part of it!
A good pair of ski socks can make or break your day on the slopes. When your feet get cold and soggy, your ski day is over.
So, make sure to buy the right kind of ski socks.
Ideally, you want a pair of light or mid-weight ski socks that come up high on the calf and offer cushioning and support, while still being breathable.
Ski socks help keep your feet warm and wick away sweat and moisture. They typically also have extra padding in the shin and parts of the foot to protect against the hard plastic ski boot.
But you can also wear ski socks on cold winter hikes, when snow shoeing or even snowboarding!
ADVERTISEMENT
---
---
Best Ski Socks (2022)
Cold feet can make your ski day miserable.
Look for high performance socks made from wool or synthetic materials that wick away sweat and moisture. As you ski, your feet will naturally warm up and start to sweat. Ski socks help regulate your body by drawing away moisture and keeping your feet dry.
So, don't make the mistake of layering up top and wearing a giant puffer jacket just to sport regular cotton street socks!
Another common mistake is to layer your socks, or to wear super thick socks.
Doubling up your socks can actually have the opposite effect. When your feet are constricted and don't have room to circulate pockets of warm air, they'll actually get colder.
Heavy socks will take up too much room in ski boots and bunch, creating chafing.
So instead light or mid weight ski socks are much more breathable and have select areas with extra cushioning in just the places that you need it.
ADVERTISEMENT
---
---
Best Merino Wool Ski Socks: Smartwool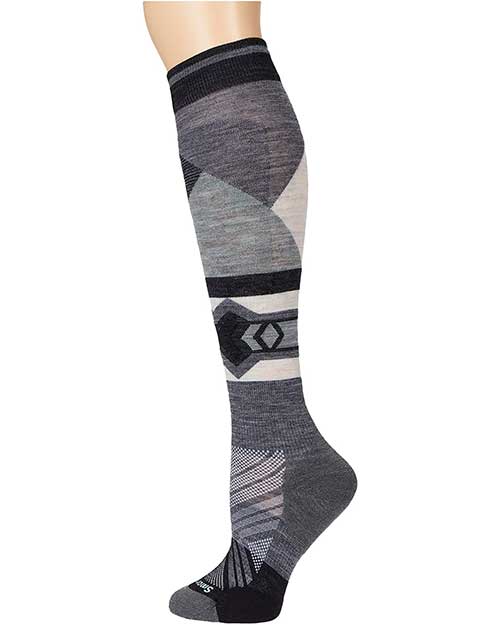 Smartwool makes the best all around ski socks for both men and women, thanks to their high performance technology.
These over the calf socks are made from 60% merino wool and have light cushioning along the shin and sole.
They offer a great mix between fit and comfort. And, they have several mesh ventilation zones to ensure that your feet can breathe!
ADVERTISEMENT
---
---
Most Breathable Ski Socks: Icebreaker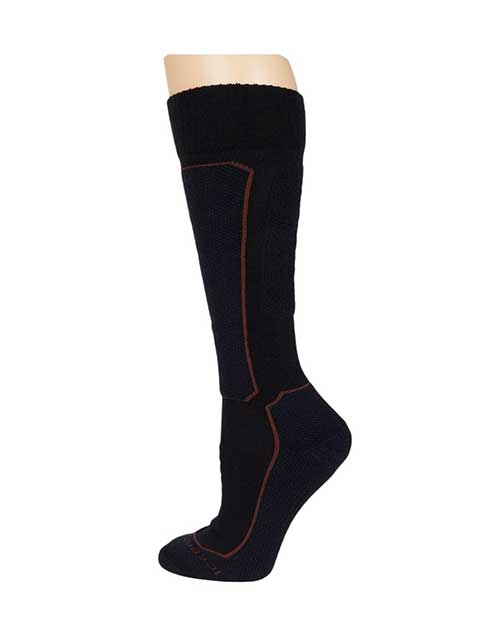 ADVERTISEMENT
---
---
Best Lightweight Ski Socks: Darn Tough
Some skiers prefer to have as much feeling in their boots as possible, to better control their skies.
So if that's you, look for an ultra lightweight ski sock, like this option from Darn Tough.
These feature a seamless design made from merino wool. They sit high over the calf and have a next-to-skin breathable feel that doesn't slip or bunch up.
Plus, it has just enough padding for extra cushioning!
ADVERTISEMENT
---
---
Best Medium Weight Ski Socks: Columbia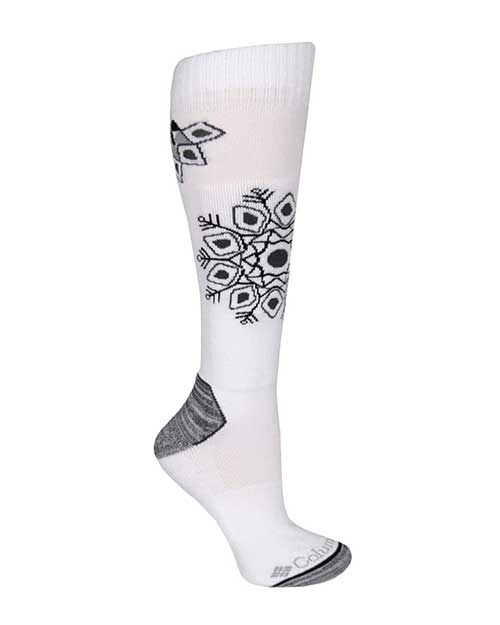 Columbia's mid-weight ski sock has a bit more cushioning in the shin and foot – great for beginner to intermediate skiers.
These high performance ski socks are made from synthetic thermolite to keep your feet warm, but still able to breathe.
ADVERTISEMENT
---
---
Warmest Ski Socks: Thorlos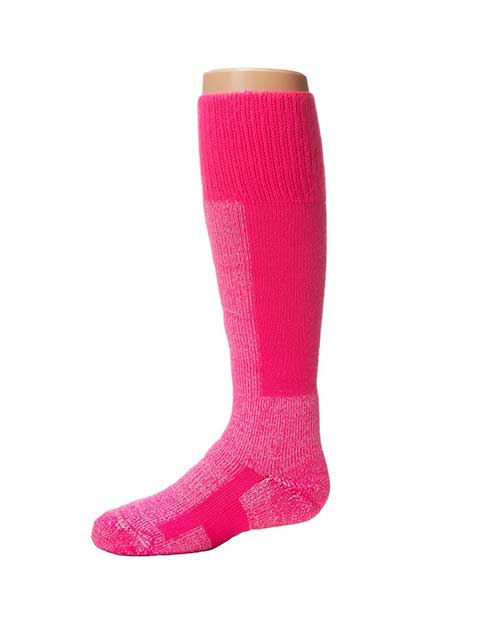 When you first start out skiing, it can take a while to get used to uncomfortable ski boots.
Or, you might suffer from poor circulation and feel like your feet are always cold.
So, try a pair of ski socks like these from Thorlos.
They have tons of warmth and extra thick cushioning at the ball and heel. Plus, their high performance fabric delivers maximum wicking power so that your feet stay warm, but dry!
ADVERTISEMENT
---
---
Most Sustainable Ski Socks: Eurosock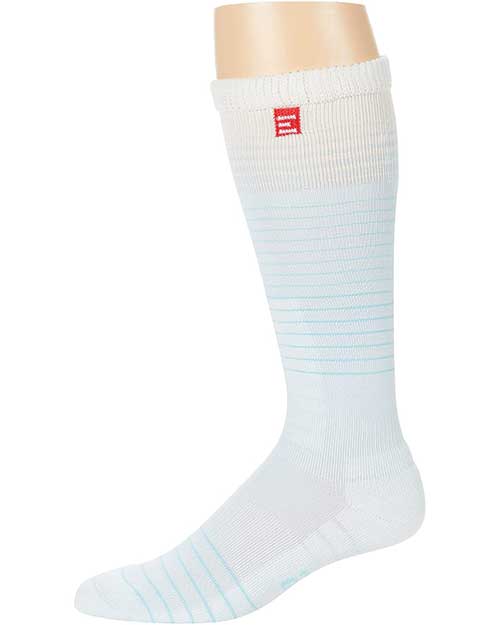 Eurosock makes one of the few sustainable options on the market.
Their Eco ski socks are produced from 100% recycled water bottles and hit just below the knee. There's cushioning in the heel and toes, and the fabric is an ultra lightweight and super soft recycled polyester.
ADVERTISEMENT
---
---
Shop Ski Socks
---

ADVERTISEMENT
---
---
Ski Wear Haul
I posted a couple try-on hauls of all the ski wear brands that I've tried. You can check them out on my Youtube channel here.
ADVERTISEMENT
---
---
ADVERTISEMENT
---
---
ADVERTISEMENT
---
---
Read More: in our ski style series:
Ski Trip Packing Essentials
What to Wear Skiing: Packing List Must Have's
The Best Ski Pants for Women (Stylish & Functional)
I Found the CUTEST Women's Ski Pants (Video)
Are Designer Ski Pants Worth It? (Try-On Haul)
The Best Ski Sweaters for Apres-Ski 
Planning the Perfect Ski Trip
What to Know Before Skiing in Vermont for the First Time
Ski Trip Recaps + Mountain Guides
Lake Tahoe, California: Heavenly, Kirkwood & Northstar
Montana: Big Sky
Vermont: Stowe
Catskills, New York: Belleayre Mountain
Quebec, Canada: Mont Tremblant
+ More Ski Vlogs on Youtube
Follow me @Sher She Goes on