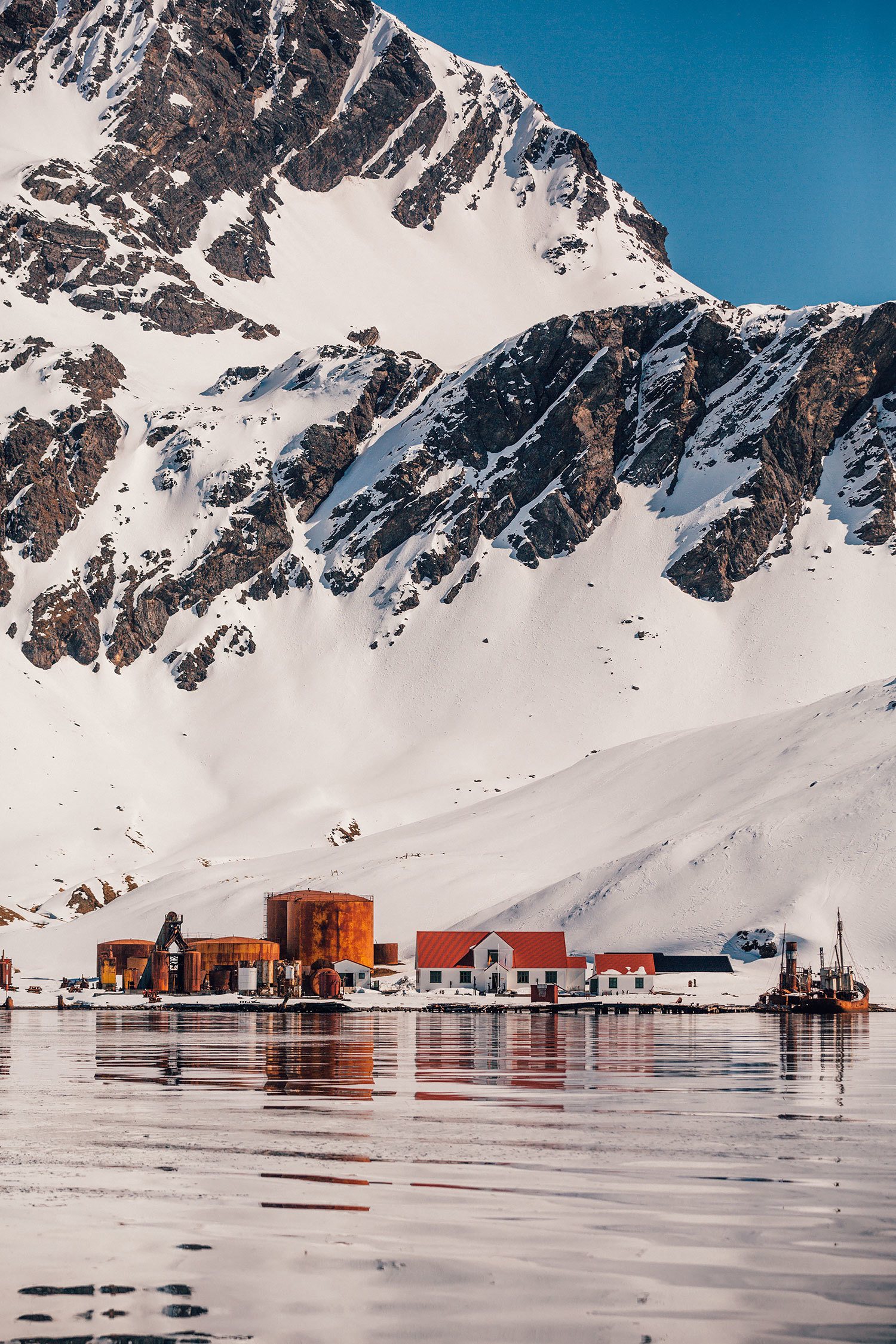 Exploring Grytviken
Of all the landings we explored in South Georgia, Grytviken was our favorite.
This eerie, hauntingly beautiful town was once South Georgia's main whaling station. At it's peak, up to 500 men lived here each summer catching whales and distilling their carcasses down to blubber and oil. Up to 25 whales, each 60 to 70 feet long, could be processed in just a day!
But today, only penguins and seals call Grytviken home.
Similar to a ghost town, Grytviken station is hauntingly beautiful. Inquisitive penguins, bright blue skies and rusting remains create a stark beauty that make Gyrtivken one of the most memorable and alluring landings of our time in South Georgia.
In today's post, we're sharing what it's like to visit Grytviken and a brief look at the rise and fall of this remote sub Antarctic whaling station.

Or save this article to read later by pinning it ⇟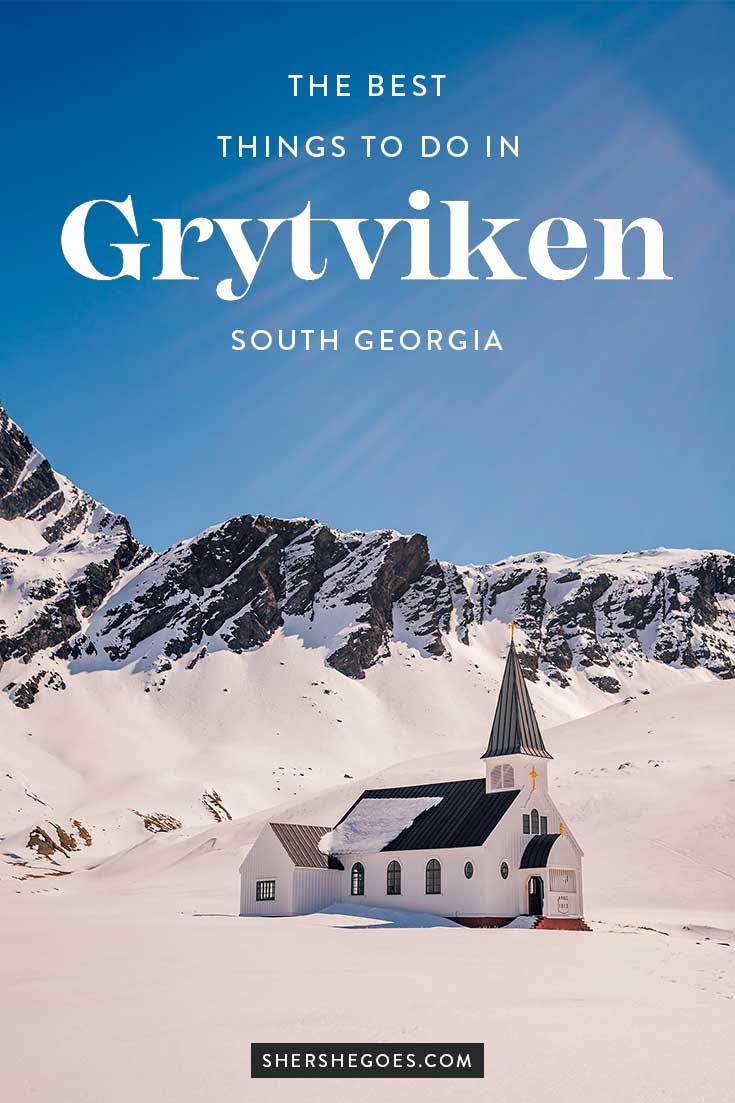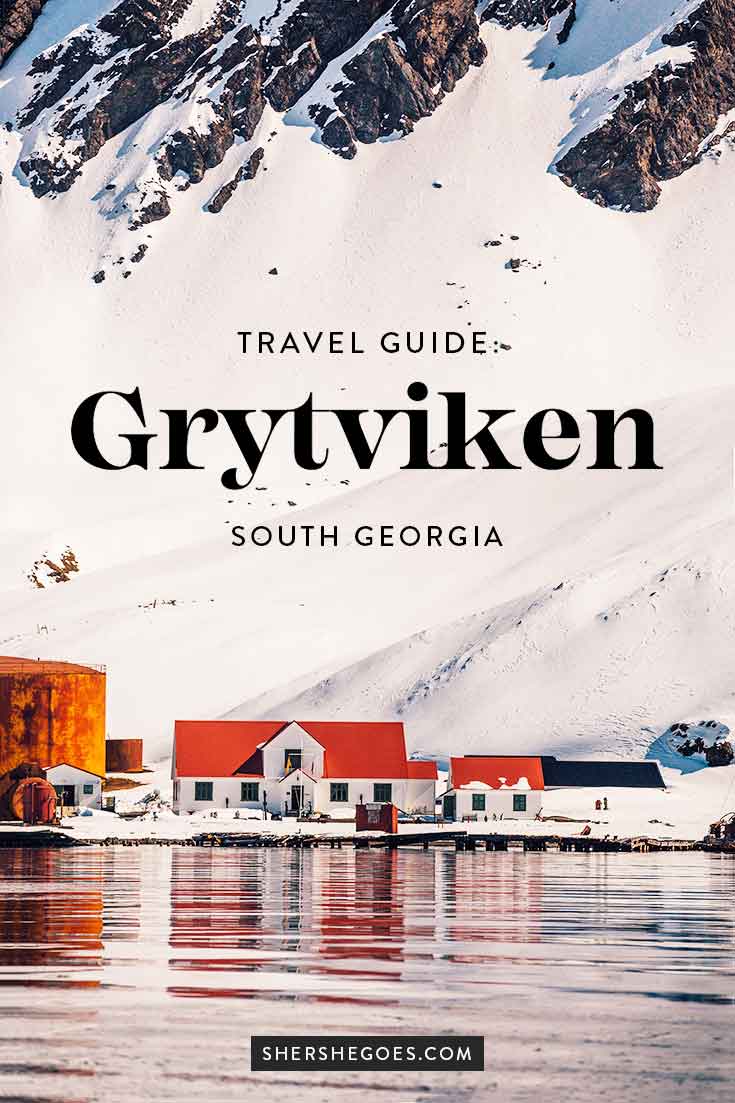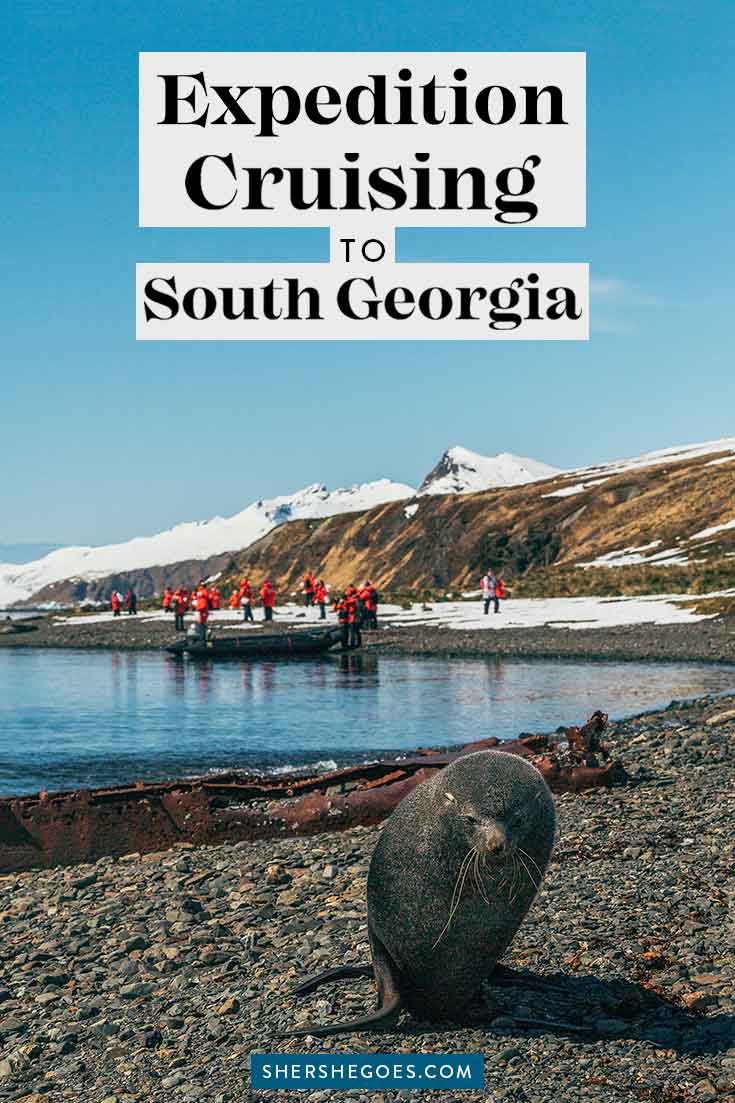 Grytviken, South Georgia
Just 8,000 visitors visit South Georgia each year. Only a few expedition and small ship cruises even make the journey to Grytviken, as South Georgia is so remote.
Combining Antarctica with the Falklands and South Georgia can be both expensive and time consuming – it's nearly a 21 day journey to make the triangular loop. The route is typically offered just a few times at the beginning and end of the Antarctic cruising season. There's no airport on the glacier studded island, so the only accessible route is through a slow sail in rough seas.
Additionally, only small ships distinguished as Category 1 ships by the International Association of Antarctica Tour Operators (IAATO) are allowed to make the best landings (more on that below).
We know we're lucky to be one of the smattering of travelers to reach South Georgia.
ADVERTISEMENT
---
---
Founded by Norwegians
In the early 1900s, whaling had already eliminated the stocks of whales in the northern hemisphere. Europe desperately wanted more whales to feed their need for oil so enterprising sailors looked towards the Southern Ocean.
Here, southern whales were still abundant.
In November 1904, Norwegian sea captain Carl Anton Larson chose the site due to its prime location near fresh water, accessible flat ground and well-sheltered harbor.
Operations began the next month and were an immediate success. Larson's crew barely had to leave Cumberland Bay to capture blue, humpback, fin and right whales. In the first season alone, 195 whales were taken, from which 5,000 barrels of oil were extracted.
ADVERTISEMENT
---
---
Whaling was Big Business
Whales were ruthlessly hunted for whale oil and nearly every part of the animal (blubber, meat, bone) was rendered down to extract oil.
Vats of oil were then shipped off to manufacturers who repackaged the fuel source into lamp fuel, margarine and even beauty products. Leftover whale scraps became fertilizer and animal food. In some instances, frozen whale meat was even produced for human consumption!
ADVERTISEMENT
---
---
Grytviken's People
In its prime, nearly 500 seasonal workers came to Grytviken each year during the southern summer months, from October to March. They were nearly all men from Britain and Norway, lured by the work and riches that whaling had to offer.
A young man could work just 15 months in South Georgia and return with enough money to buy a house, start a business, buy a fishing boat, you name it. It was rare to find a job in the 1900s that made that kind of money.
But life on Grytviken was harsh. The men worked up to 12 hours a day, 7 days a week and had just basic communal huts to live in, with bathrooms located outside the main cabin. Can you imagine having to go outside in the freezing Antarctic weather to use the restroom?!
South Georgia has an annual average temperature of 35 degrees Fahrenheit (1.7 degrees Celsius) and strong winds.
ADVERTISEMENT
---
---
The Whaling Station
Originally, sailors had to venture into the deep ocean to capture whales. Once the whale had been killed, it would be inflated with compressed air and towed back to Grytviken station.
On site, workers would begin the bloody work of dissection, using razor shop flensing knives to streep the blubber from the carcus. Fat would be fed into the cookery, while meat and bones were separated to be sawed down and pressure cooked.
The whale oil was then further refined and pumped into tanks for storage, until shipped back north.
Most of the work was manual, and workers were spiked boots to prevent themselves from slipping and falling on the bloody ground.
ADVERTISEMENT
---
---
Life on Grytviken
Over time, Grytviken transformed from an inhospitable coastal settlement into a lively community. There was a church and post office, both of which you can visit today, as well as a movie theater, grocery store and general store.
Can you guess what items were most in demand?
Tobacco and cologne!
When we found out perfume was popular, I assumed it was because the men took few showers and wanted it to disguise the smell of all the grisly whale processing. It turns out that's not the case at all.
Workers wouldn't bother to spray it on themselves… they would drink it.
The station master at Grytviken believed banning alcohol would improve worker productivity so the men were desperate for anything they could get their hands on that had alcohol. It was also common for the men to make home made moonshine with potato scraps.
ADVERTISEMENT
---
---
Grytviken Church
One of the few buildings that remain intact is the church and station master's house, so we popped into both for a look.
Grytviken's beautiful Neo-Gothic church was first built in Norway and then erected in Gyrtviken. It's one of the most southern churches in the world and its stark white, simple architecture was beautiful against Grytviken's snowy mountains.
Originally, a pastor arrived to South Georgia in 1912 to take his post. However, he despaired of the men's so-called debauchery lifestyles and abruptly left South Georgia altogether in 1914. Apparently the men occasionally used the church for their get-togethers and athletic sports teams after that!
ADVERTISEMENT
---
---
The Beginning of the End
Originally, the whaling industry began with humpback whales, as they swim closest to the shore and are relatively slow swimmers. Once harpoon guns were created in Norway, whalers could catch even the fastest whales far out in the ocean depths.
Blue whales, at 90 feet long, could yield up to 120 barrels of oil and were highly prized in the early 1900s. In 1912, Grytviken managed to harpoon the largest whale ever recorded: a giant 112 foot blue whale weighing over 100 tons.
By 1931, over 29,000 blue whales had been killed in one season, nearly decimating the global population. Whalers moved on to other species, like the small Fin whales. Once these populations had been captured and thinned out by the 1960s, Sei whales were hunted, followed by Minke whales in the 80s.
As whale stocks depleted, alternative sources for oil were discovered, like petroleum and vegetable oil. Gyrtviken closed down in December 1966, after just 62 short years. Nearly 1.6 million whales were killed in the Southern Ocean and Grytviken alone killed nearly 175,000 whales, producing 9 million barrels of oil.
ADVERTISEMENT
---
---
Visiting Grytviken
Today, the rusting remains of its whale processing plants remain. The whaling station was extensively cleaned to remove it of hazardous materials and so visitors can freely walk in and around the exposed machinery.
The Government of South Georgia and the South Sandwich Islands overseas tourism for this British Overseas Territory. Approximately 50 cruise ships a year are allowed to land.
Any ship that wants to visit needs to be a member of the IAATO, testifying that they adhere to strict conservation rules under the Antarctic Treaty and pledge to minimize environmental impact to wildlife in the area.
On our first day, we attend a biosecurity inspection and then a South Georgia tourism member came on board to conduct a thorough check of each passenger as we disembarked.
Any spec of foreign dirt is furiously scrubbed away to prevent the introduction of invasive species. South Georgia knows first hand the damage that an unintended visitor can leave! During the whaling days, stowaway rats on board whaling ships came to South Georgia and quickly overran the island, as they found no natural predator. The rat population quickly decimated local bird life, especially the South Georgia Pipit.
ADVERTISEMENT
---
---
Ernest Shackleton's Grave
Our zodiacs land on the southwestern side of the settlement, close to the cemetery where many whalers are buried.
Famous Anglo-Irish explorer Ernest Shackleton is also buried here on South Georgia, as his widow chose the island for his final resting place. We pay homage to Shackleton and find a small group of king penguins silently paying their respects right outside the fence.
Then we slowly walk along the beach to the center of town, nimbly moving out of the way of fierce Elephant Seals in the throws of mating season.
Today, all of the whale processing plants can still be found on Grytviken. It seems it was too costly to dismantle and send the equipment back north, so the facilities are left to slowly rust and decay with time.
ADVERTISEMENT
---
---
Grytviken Museum
In the center of town, we make our way to the station manager's house. Today, it's been repurposed as the South Georgia Museum, focused on the island's history, discovery and exploration.
There are some great exhibits on Shackleton's expeditions and even a replica of the James Caird sail boat which he sailed in across open seas to reach South Georgia.
If you love history, you'll also find tons of information on the early days of sealing and whaling in the 18th and 19th centuries and how whaling techniques modernized by the 20th century. There are even sections dedicated to the 1982 Falklands War and British military presence, which lasted on the territories until 2001.
ADVERTISEMENT
---
---
How to Get to Grytviken
Grytviken is the southernmost city in the world and quite remote.
There are no airports on South Georgia so the only way to get there is by sailing. We sailed with Poseidon Expeditions from Puerto Madryn, Argentina to the Falkland Islands and South Georgia, returning via Ushuaia, Argentina.
If you're considering an Antarctica Cruise, we highly recommend adding the Falklands and South Georgia Island to your itinerary! In many ways, these territories were even more impressive and dramatic than the 7th continent.
ADVERTISEMENT
---
---
Antarctica Vlog: Watch a day at sea on board the Sea Spirit!
Antarctica Cruise: What You NEED to Know! | Vlog
ADVERTISEMENT
---
---
Hope you enjoyed a look at Grytviken!
Visiting the Falkland Islands – Trip Planning Checklist
We explored both the Falklands and South Georgia on a cruise with Poseidon Expeditions. Expedition cruising is unique – landings depend on wind and wave levels so every trip is different! On our voyage, we had the opportunity to land at beautiful, remote sites on both East and West Falkland and see penguins, seals and bird life up close.
If you're interested in booking an Antarctic cruise, Poseidon is offering our readers up to a 15% off discount on select voyages. Email us for more info!
Getting Around | The Falklands is a remote place. Since we explored via cruise, our transportation and accommodation were taken care of in style. If exploring on your own, you can book helicopter service or airfare on the national carrier FIGAS.
Insurance | You don't want to risk injury in one of the most remote places of the world! Airlifts to a hospital from the Antarctic can cost a fortune, so it is mandatory to purchase travel insurance of least $200,000 for expedition cruising. Luckily, we didn't have any incidents but better to be safe than sorry! Get a quote for your trip here.
You Might Also Enjoy:
Antarctica Vacation Planning
Antarctica VLOG: A Day at Sea on Board an Expedition Cruise!
Falkland Islands
9 Beautiful Places to Visit in the Remote Falkland Islands
The Best Things to See & Do in Port Stanley
5 Penguins You'll Discover in the Falklands!
South Georgia & the South Sandwich Islands
A Visit to South Georgia: Ice, Isolation & Incredible Wildlife
Visiting the Abandoned Town of Grytviken
Follow me @Sher She Goes on