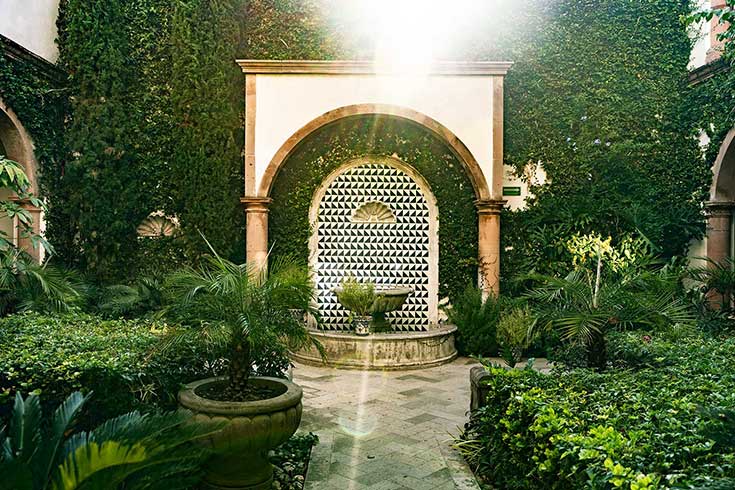 San Miguel de Allende
The longer the pandemic continues, the more I think about where I live and if my time in New York City has run its course.
Judging by the empty city streets and skyrocketing suburban real estate prices.. I'm not the only one!
While I don't have any plans to move just yet, if I did (and if I moved abroad), the small quaint town of San Miguel would be a top contender. The city lies about 3.5 hours north of Mexico City and it's an absolute magnet for American retirees.
ADVERTISEMENT
---
---
On paper, you might scratch your head.
San Miguel de Allende is smack in the middle of central Mexico.
It's a little tough to get to (without a major airport) and it doesn't boast any azure blue waters or soft sandy beaches that most Mexican hot spots (Tulum, Sayulita, Cabo, Playa del Carmen, etc) are synonymous with.
But nearly 20% of the residents are expats.
Lots of Americans choose to retire in San Miguel, drawn to the city's vibrant art scene, charming streets and year round gorgeous weather. In turn, they've created a lively mix of Mexican and international restaurants, bars and hotels.
So here's a look at just what makes San Miguel so special!
Keep reading, or pin this article to save it for later ⇟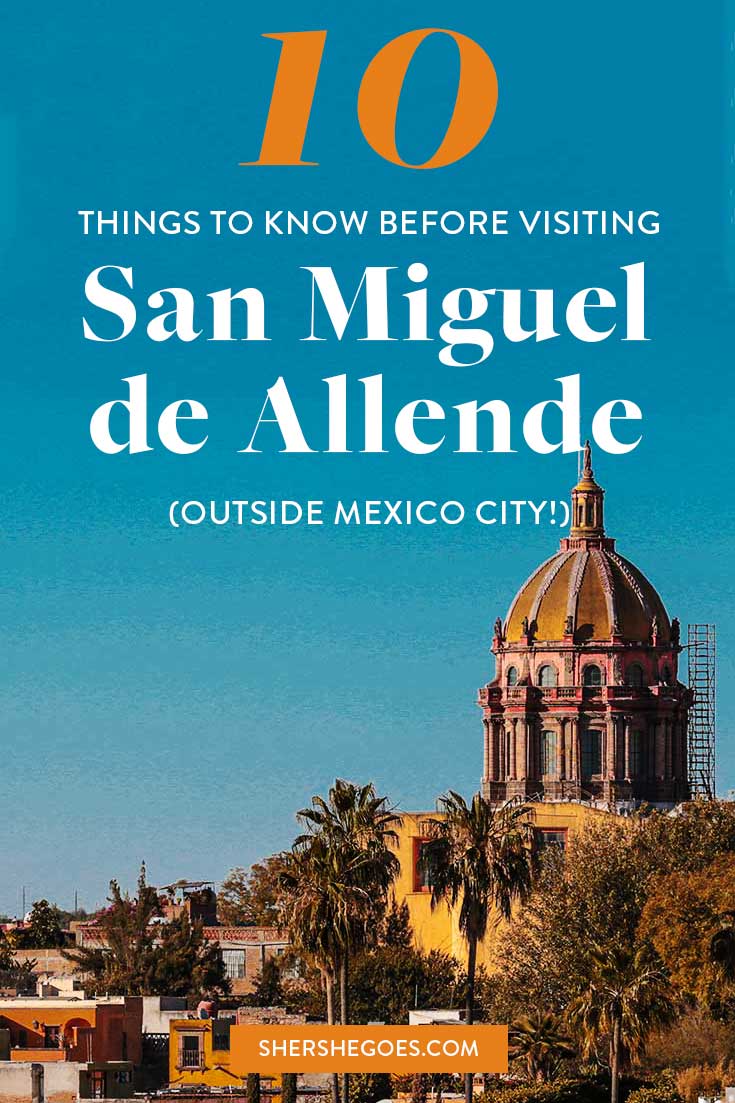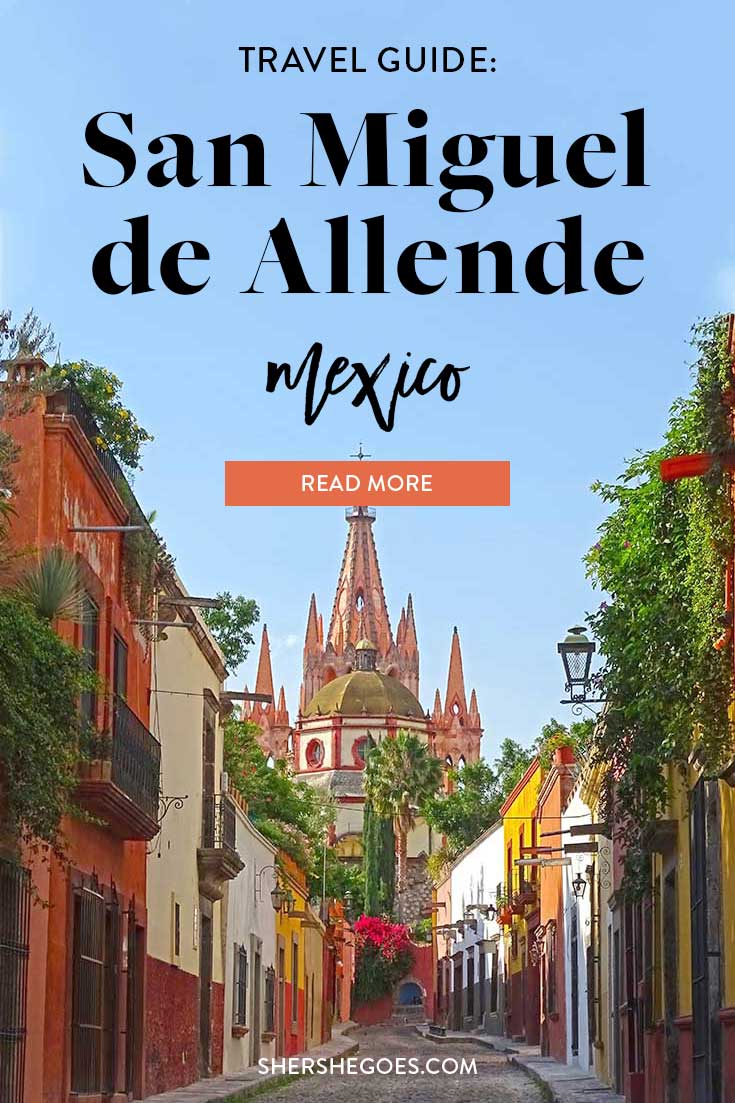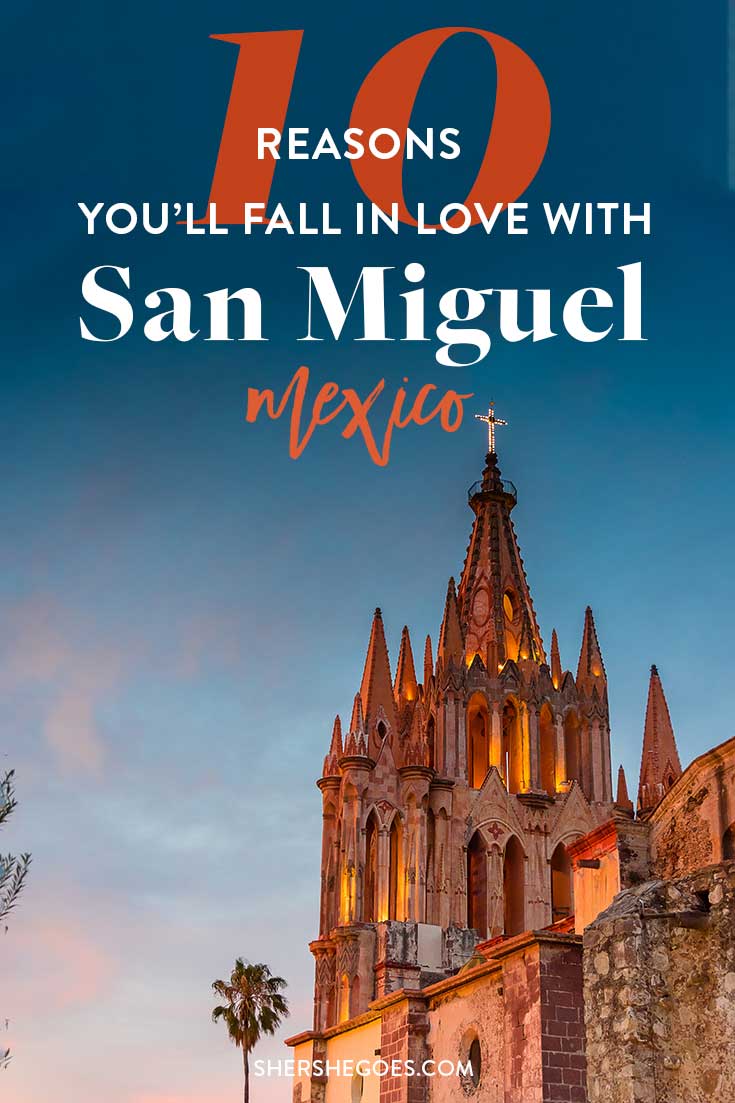 We stayed at the Belmond Casa de Sierra Nevada.
The hotel has 6 beautiful colonial mansions throughout the city and no matter where you stay, each room is individually decorated and in a great location.
Staying here was like finding an enchanted hideaway inside the bustling city. There were lush gardens, a relaxing pool, and lots of beautifully terraced courtyards to discover.
Check rates: Booking.com, Hotels.com | Read reviews on TripAdvisor
ADVERTISEMENT
---
---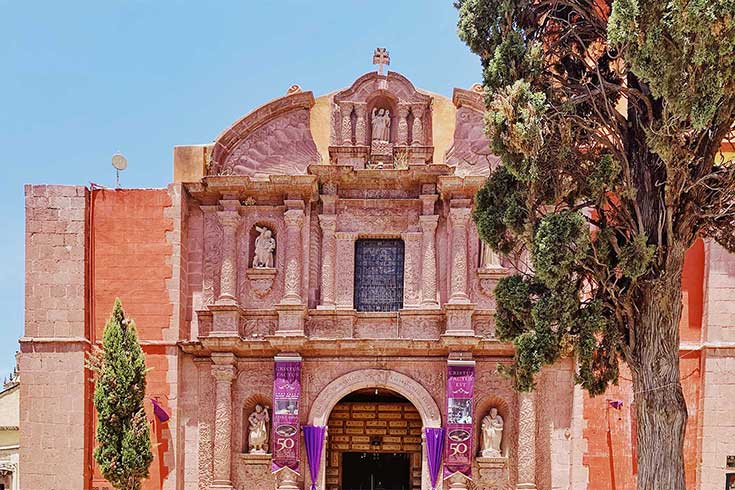 San Miguel de Allende, Mexico
Who knows? After seeing these San Miguel highlights, you might permanently re-locate too!
1. It's a UNESCO World Heritage Site (which means lots of charm)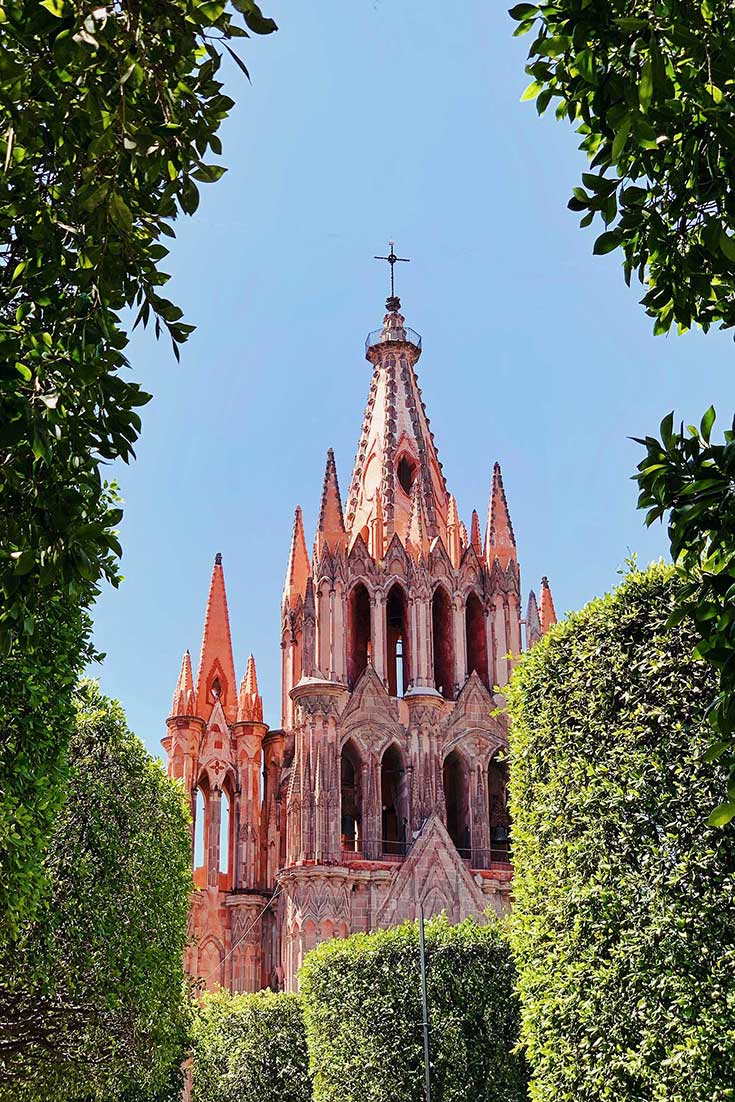 San Miguel was first settled in 1542 during Spanish rule, and grew wealthy as a silver mining town.
After a series of bloody wars, from the Mexican War of Independence to the Mexican Revolution, and the depletion of the mines, San Miguel fell into disrepair and was nearly abandoned.
Thankfully much of the baroque architecture and neoclassical colonial architecture has been well preserved. The landmark of the town is the pink church, Parroquia de San Miguel Archangel, which dominates the skyline and anchors the historic city center.
Does this Gothic church remind you of any others?
If you guessed Gaudi's Sagrada Familia in Barcelona, you'd be right!
Local legend says that architect Zeferino Gutierrez used postcards of European cathedrals as inspiration for San Miguel Archangel.
Many of the streets surrounding the San Miguel church are still intact and date back to the 17th and 18th centuries. It's for this charming area that UNESCO designated the town a World Heritage site in 2008.
ADVERTISEMENT
---
---
2. The People Watching (& Churros!) Are Excellent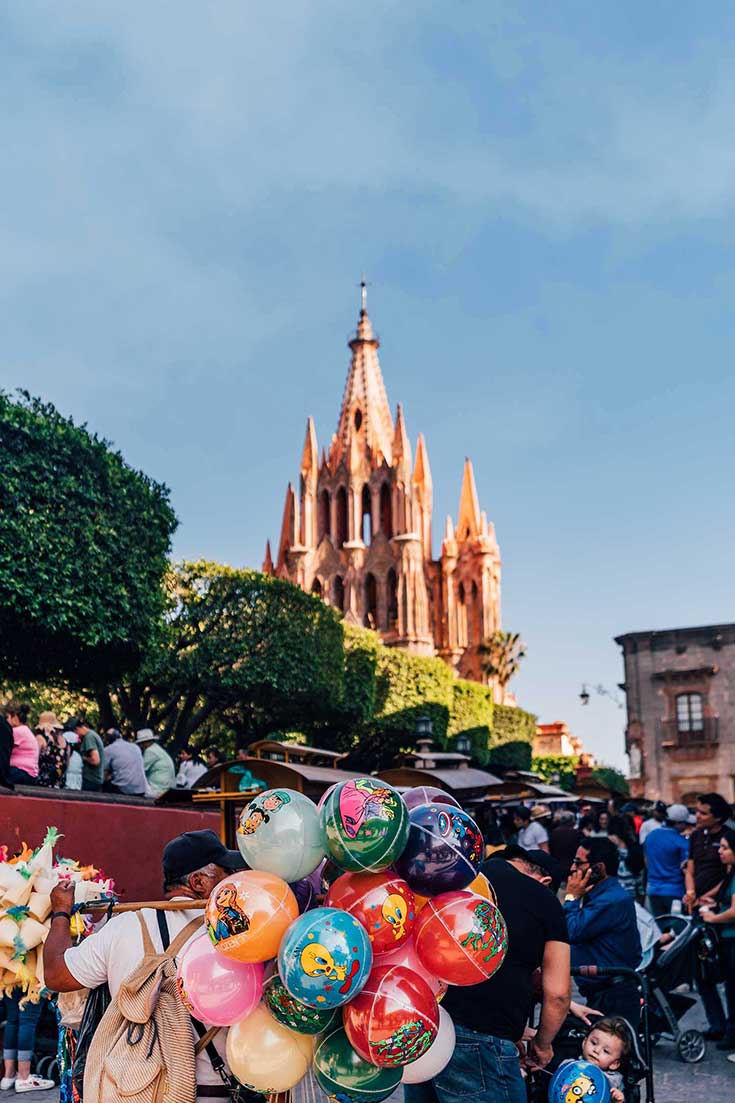 Step inside the church to pay your respects and then sit outside in the bustling plaza for some people watching!
The plaza outside San Miguel Archangel, El Jardin, is the heart of the city. Lining the pretty square are tons of cafes and restaurants where you can enjoy the fresh air and people watch, with a cup of café con leche!
There's usually always vendors selling snacks or souvenirs throughout the day and if you walk just a couple streets away, you'll find my favorite churro spot in town, San Augustin.
(Search Chocolates y Churros San Agustín in google maps)
ADVERTISEMENT
---
---
3. The Entire City Is Walkable!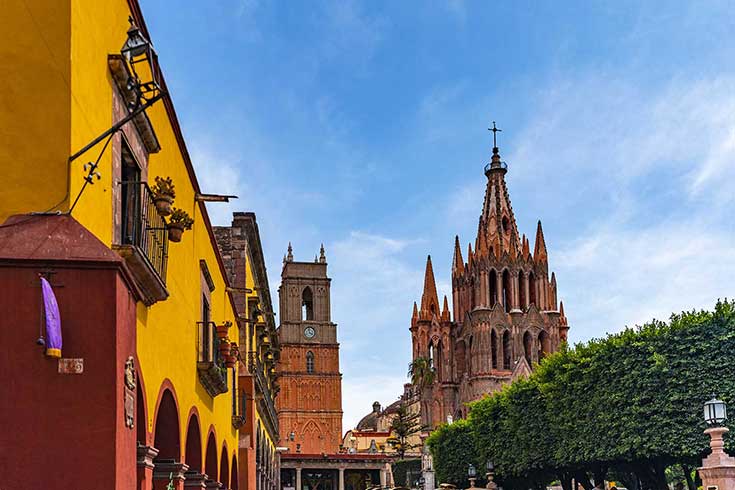 I love quaint compact towns.
San Miguel's historic center comprises just 24 blocks. The mix of wide streets, narrow lanes and alleyways is full of bumpy cobblestones, but entirely walk-able.
Just make sure to pack some sturdy comfortable shoes!
There are trolleys if you want a relief, but I highly recommend walking all over San Miguel. That way you'll see the colorful stucco houses, gorgeous courtyards and unique doors!
ADVERTISEMENT
---
---
4. San Miguel LOVES it's Festivals & Weddings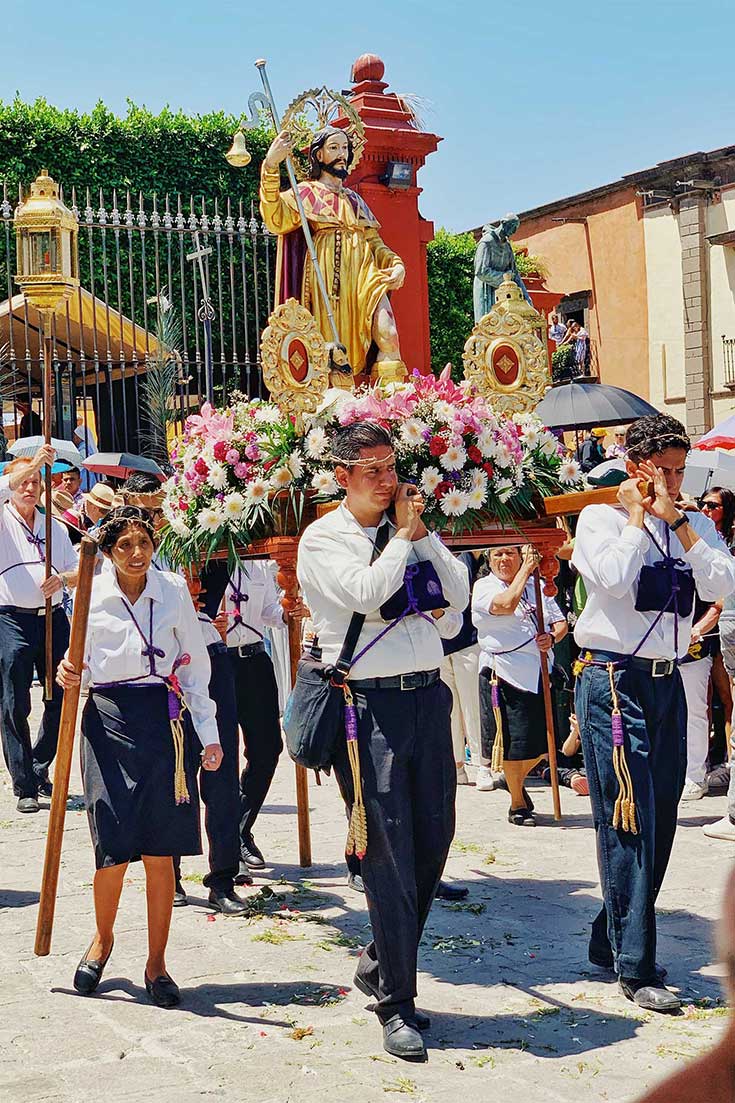 San Miguel, with its pastel buildings and hilly streets, evokes quite the romantic atmosphere.
So it's no wonder the city is a popular destination for weddings, anniversaries and celebrations of all kinds! Don't be surprised if on your visit, you stumble on a wedding donkey covered in flowers or a happy bride and groom.
One unique local tradition is the lively callejoneada, a procession of sorts. The happy couple is led by giant paper mache puppets, called mojigangas, with a mariachi band to create a lively parade.
There are lots of wedding planners and wedding venues throughout the city, and we heard that the city's nearby vineyards and wellness spas offer plenty for guests to do throughout a wedding weekend.
San Miguel also celebrates a number of festivals throughout the year. We visited in April over Easter and were lucky enough to experience Semana Santa, or Holy Week.
In the courtyard of the Parroquia, a re-enactment of the trial and sentencing of Christ was on display.
Roman soldiers, led by Pontius Pilate, proclaim Christ guilty and then a procession begins around the town square.
ADVERTISEMENT
---
---
5. San Miguel is a Shopper's Paradise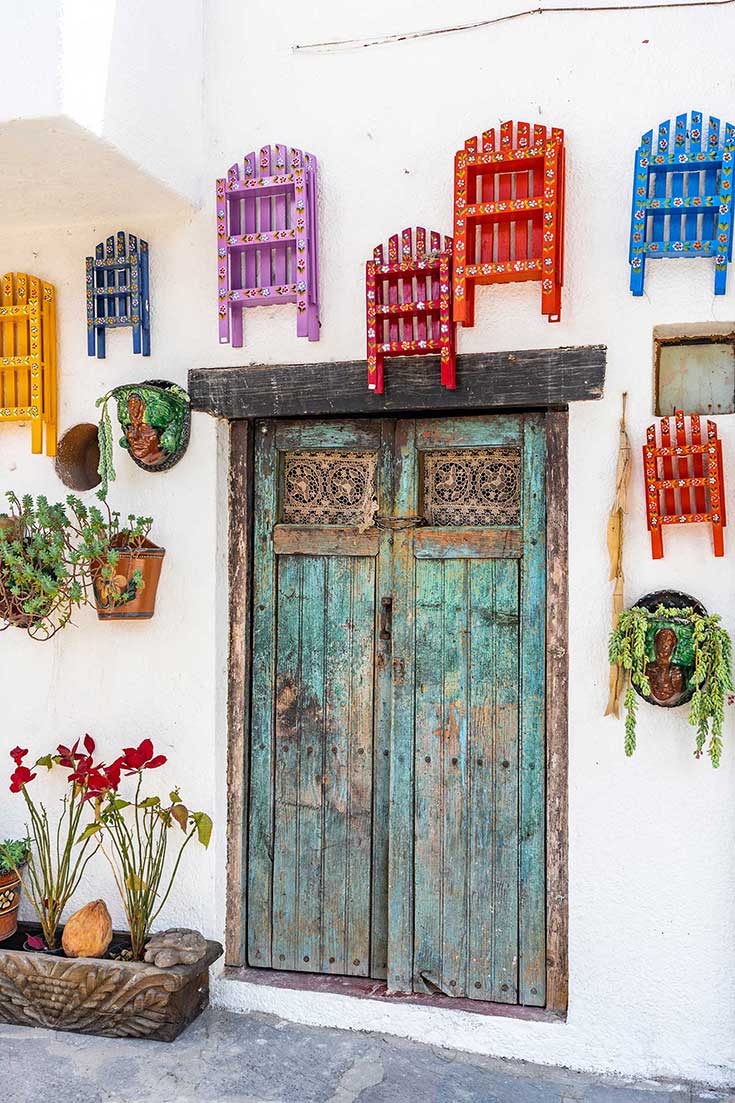 San Miguel first attracted international attention in the 1930s.
A young Chicago painter named Stirling Dickinson stumbled across the town on a long trip through Mexico and was immediately enamored with the city's charm.
Dickinson went on to establish the Bellas Artes, a fine art school, and thanks to the GI Bill, hundreds of young American World War II veterans came to San Miguel to study art.
(You can still enroll in classes today – the state run institution offers affordable classes in everything from art to dance and music)
As a result, today San Miguel is considered the 'Florence' of Mexico, with a vibrant art scene of paintings, crafts and jewelry.
In town, you can find Ignacio Ramírez market, with a mix of produce and flowers, and the Mercado de Artesanías art market, with all sorts of handmade decor and local jewelry.
I also recommend heading outside San Miguel to Fabrica la Aurora to see the extent of San Miguel's art scene.
Located in a former textile mill, the industrial zone is filled with shops of all kinds selling everything from traditional paintings to sculpture, modern art and large furniture. You can easily stay there for hours!
After all that shopping, I'm sure you'll work up quite the appetite.
And luckily…
ADVERTISEMENT
---
---
6. San Miguel is Also a Foodie Haven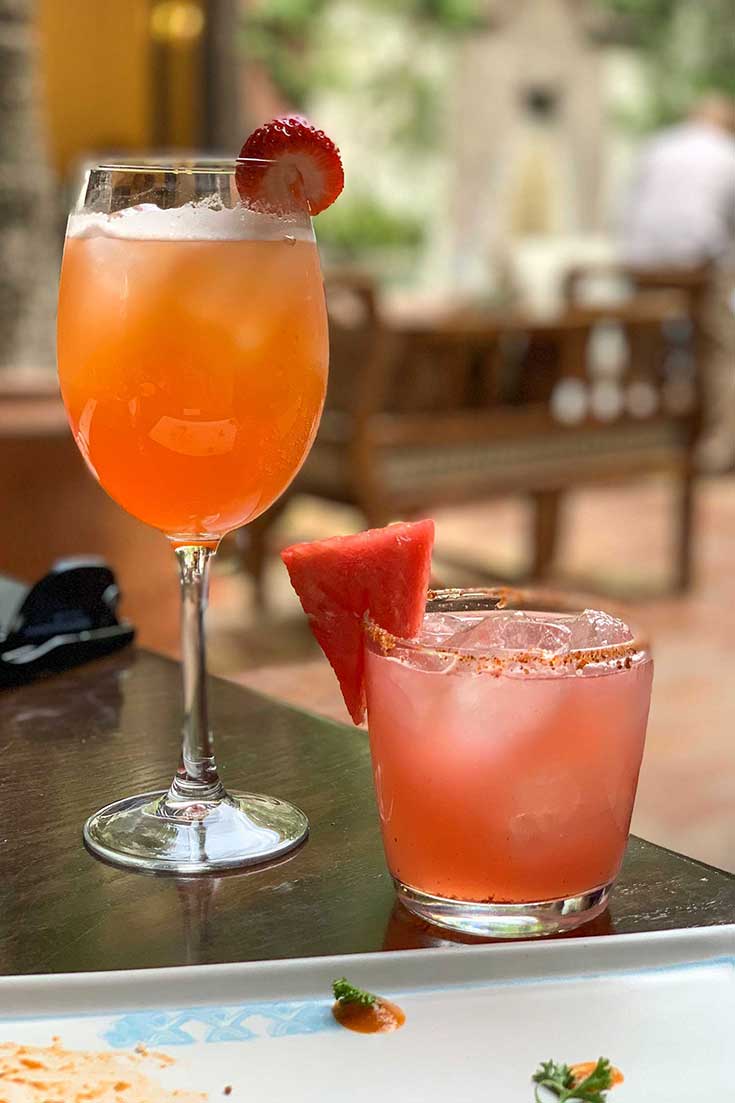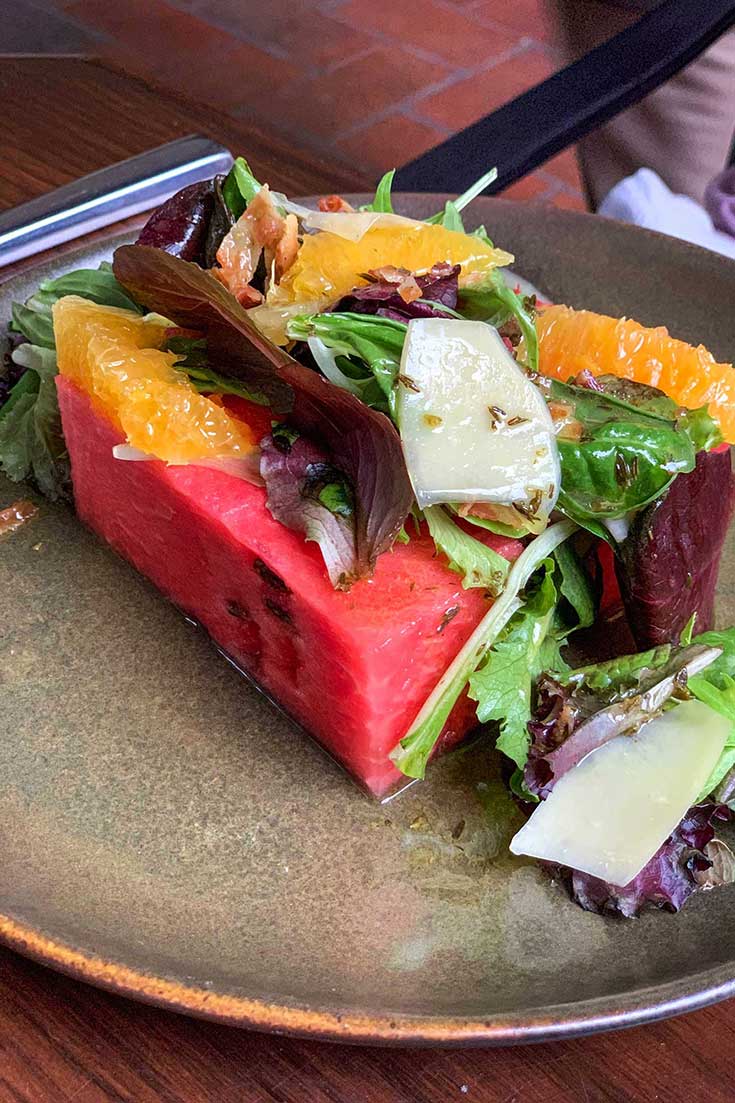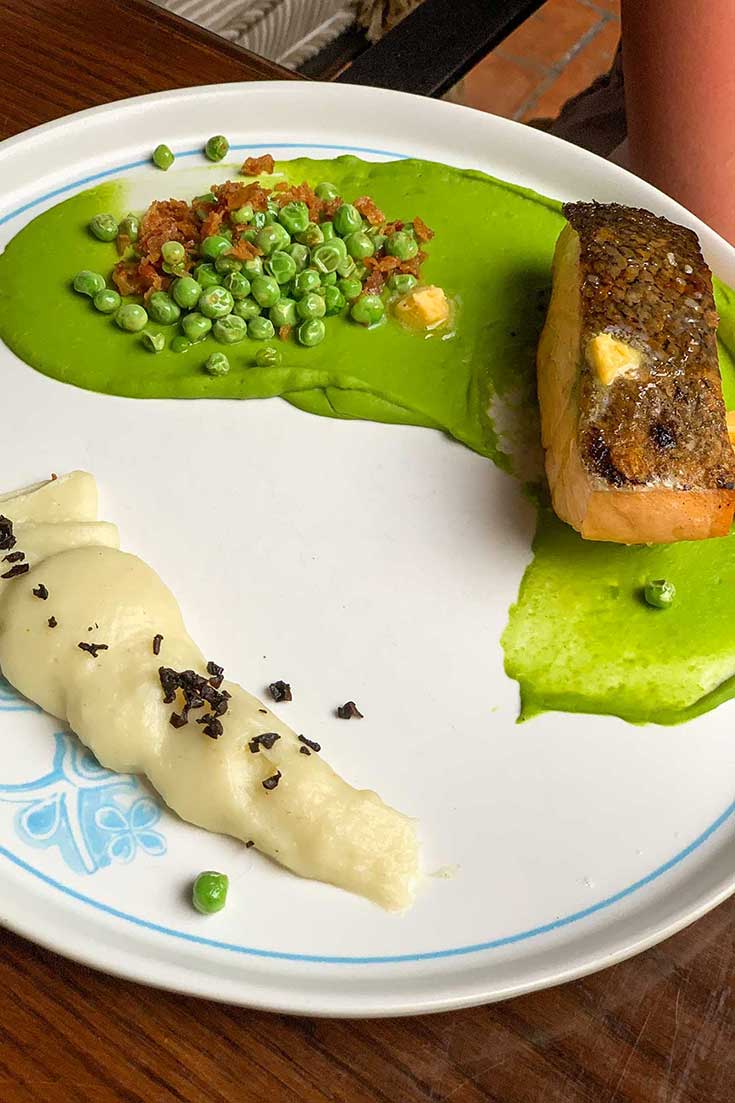 Mexico City might be the foodie hot spot, but San Miguel isn't far behind!
The town's mix of international residents lends the city a melting pot of flavors. You can find incredible Mexican food, fusion food halls and fine dining haute cuisine all within this compact city.
Some of San Miguel's best restaurants include:
Jacinto 1930
Dôce 18
Nomada
ADVERTISEMENT
---
---
7. And Boasts Some Excellent Tequila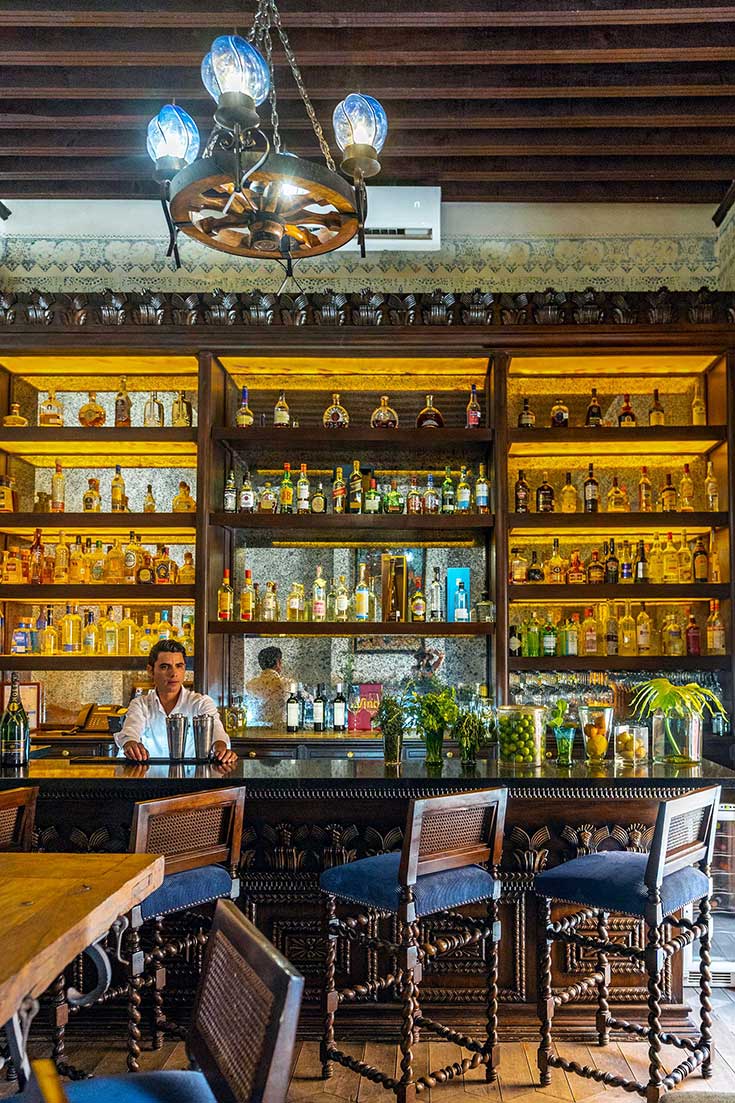 San Miguel has some fantastic nightlife and the order of choice at any Mexican bar has to be: tequila!
Our drink of choice throughout our trip were palomas, a fruity refreshing drink combining tequila, grapefruit and soda.
To try the best tequila, head to Casa Dragones for tastings of their small batch tequila on the rocks.
For live music, head to Mama Mía's for Mexican folk music.
ADVERTISEMENT
---
---
8. Don't Miss the Dramatic Sunsets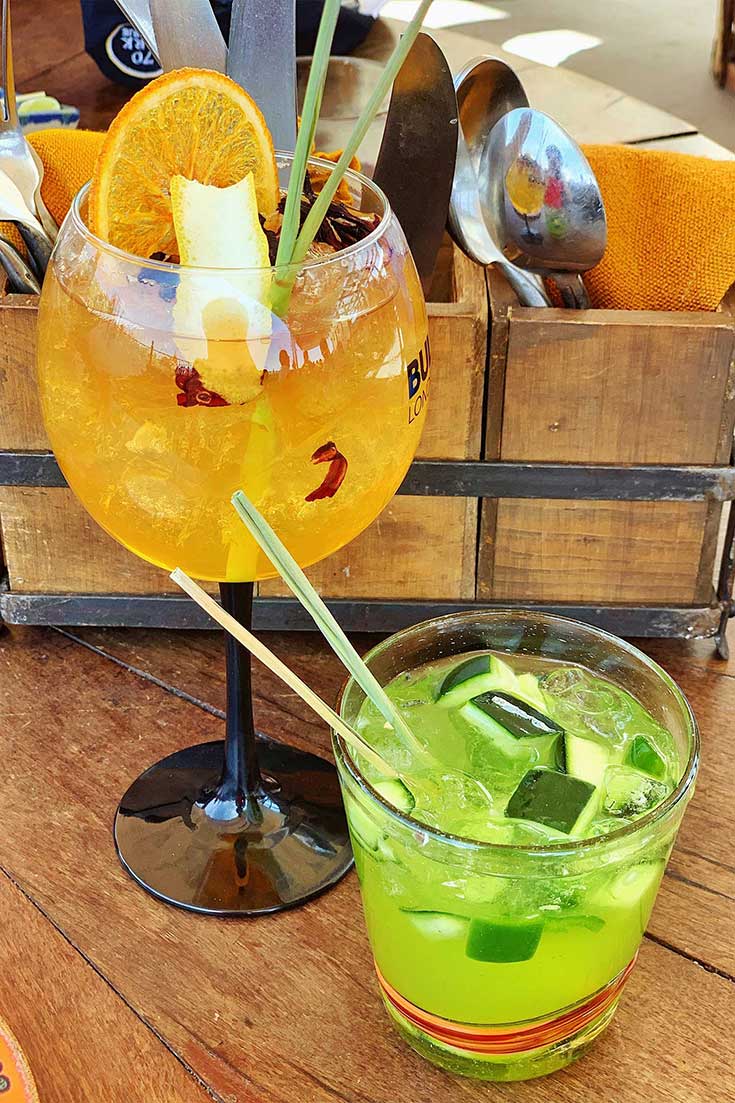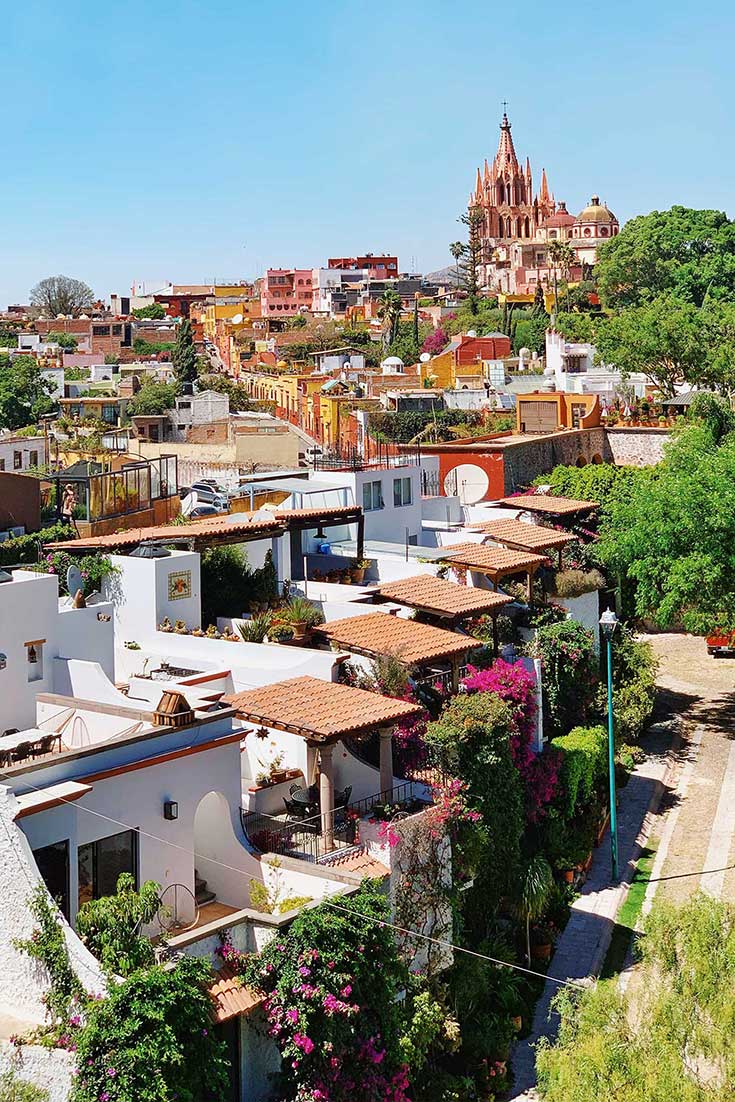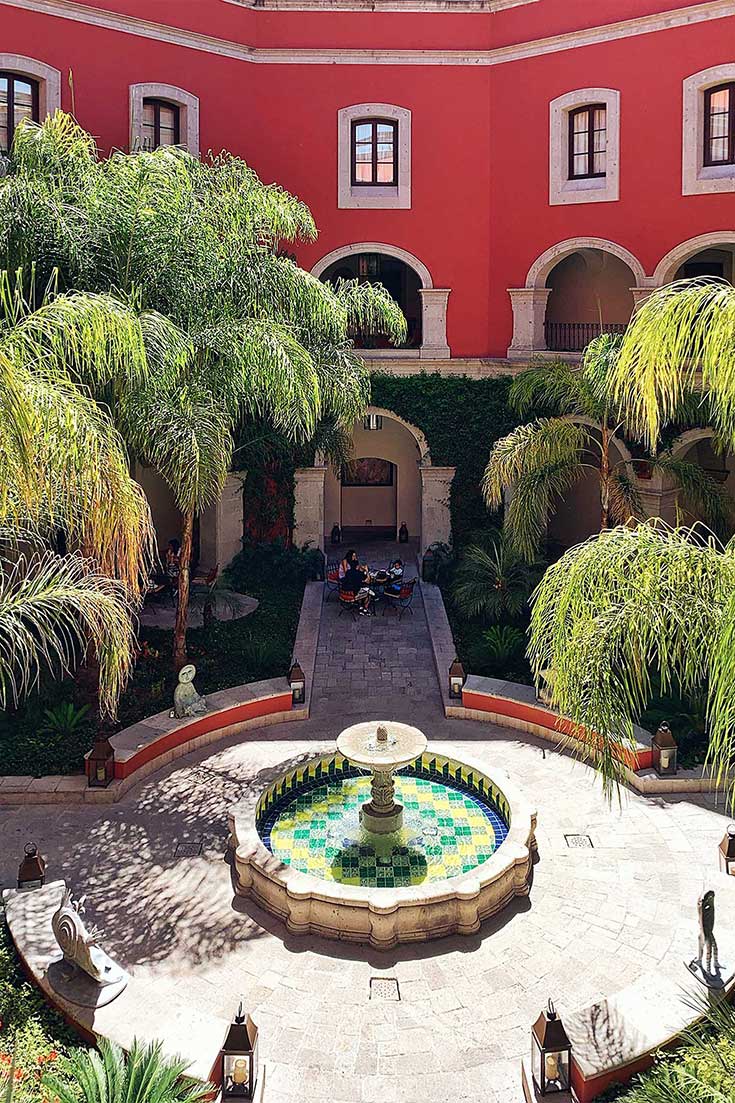 Another thing we love about San Miguel?
The abundance of rooftop bars!
Many of the city's restaurants and hotels offer food and drink on the rooftops, so that you can enjoy stunning views of the city year round (San Miguel has eternally spring like weather).
We went to the Rosewood Hotel rooftop, to check out Luna Tapas Bar, one of the popular hot spots in town. The drinks were cold, the tapas were tasty and the view of the parrocchia?
Unbeatable!
ADVERTISEMENT
---
---
9. …From San Miguel's Famous Rooftop Bars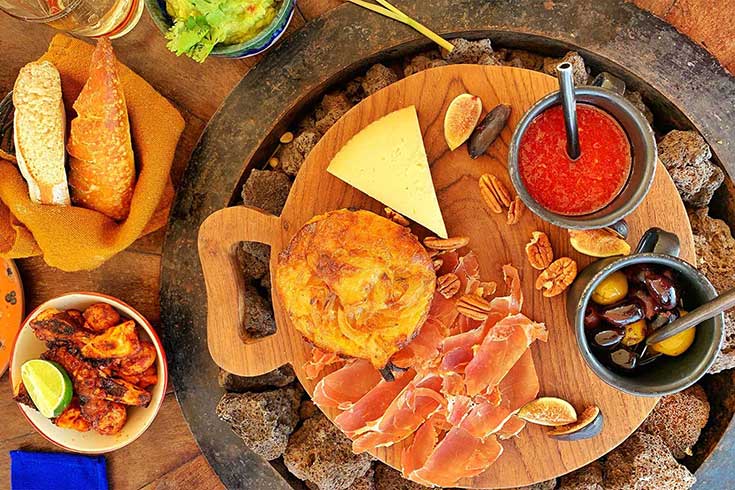 Sunsets, tequila and tacos?
What more can you wish for on vacation!
ADVERTISEMENT
---
---
10. San Miguel's Hotels are Sublime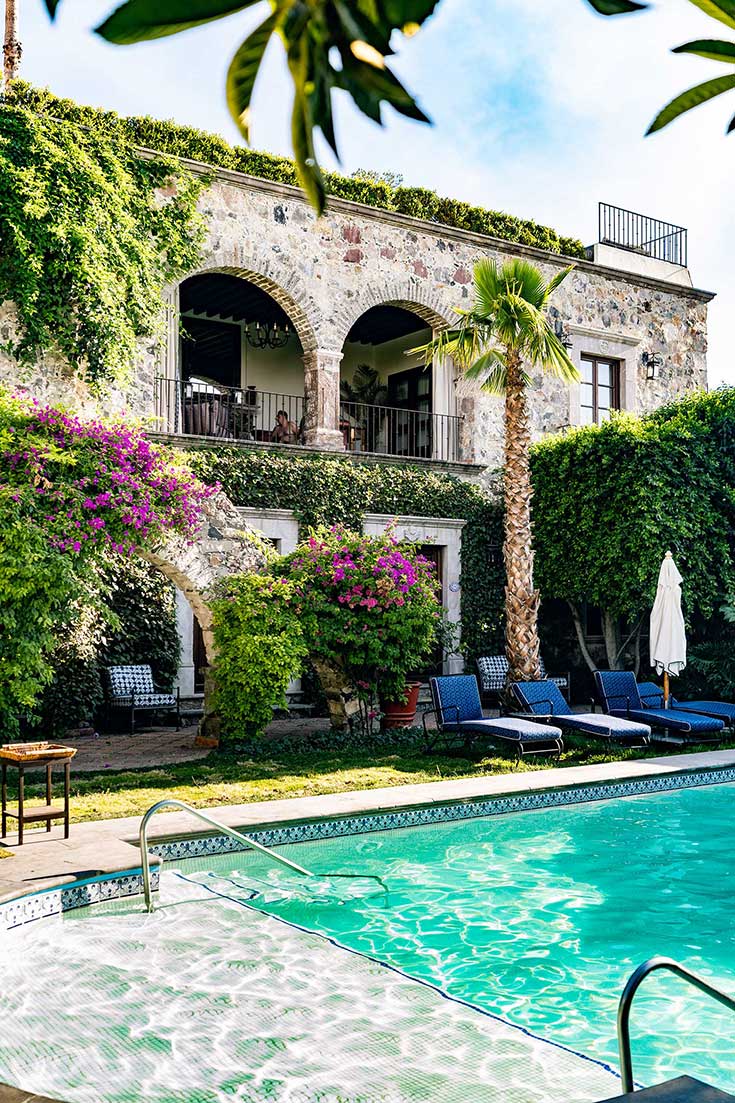 And finally, San Miguel has a host of beautiful hotels to relax in after a long day.
Most of the luxury hotels in San Miguel are built into ancient 17th century buildings behind thick stone walls.
The second you step off the street and walk past the tall wooden doors, you find yourself in private, serene courtyards with lush gardens and tinkling water fountains.
Some popular hotels in San Miguel de Allende include:
ADVERTISEMENT
---
---
For the perfect balance of old world charm and first world amenities, you HAVE to check out San Miguel.
With its year round temperate climate, vibrant art scene and affordable cost of living, San Miguel de Allende strikes a unique balance between rich Mexican culture and international flair.
Don't forget to add this charming town to your travel bucket list!
Visiting Mexico – Travel Checklist
San Miguel de Allende does not have its own international airport. If you're visiting central Mexico for the first time, it's often convenient to combine San Miguel with a visit to Mexico City.
From New York City, we flew into Mexico City (MDMX) for a week, then hired a driver to take us ~4 hours north to San Miguel. Check here for flight deals.
Finally, make sure to visit Mexico with travel insurance. Whether you get injured and need to be hospitalized, your phone gets stolen, or a flight delay leaves you with nothing but the clothes on your back, travel insurance will help when you need it most. Get a quote for your trip here.
You Might Also Enjoy:
Mexico Vacation Planning Articles
The Essential Mexico Packing Guide
Quintana Roo, Mexico
Travel Guide: Everything to Know Before Visiting Tulum and Cancun
All the Best Food to Eat in Tulum
Where to Stay in Playa del Carmen for the Best Vacation
Cabo & Puerto Vallarta
The Essential Puerto Vallarta Travel Guide
Everything You Should Do in Cabo San Lucas
Follow me @Sher She Goes on