Rouen, France
On our leisurely river cruise down the Seine, our final port of call was Rouen. We found the city modern yet medieval, with a colorful Old Town center and gorgeous Gothic architecture.
This is a town where the past remains intertwined with the present. Once the largest and richest city in medieval Europe, Rouen was the seat of the Dukes of Normandy, whose rulers governed not only the French province of Normandy but England as well!
With many religious buildings throughout town, quaint cobblestone streets and delicious cuisine, there's lots to explore in Rouen.
Here's a quick travel guide to Rouen, France!
Quickly jump to:
Or save this article to read later by pinning it ⇟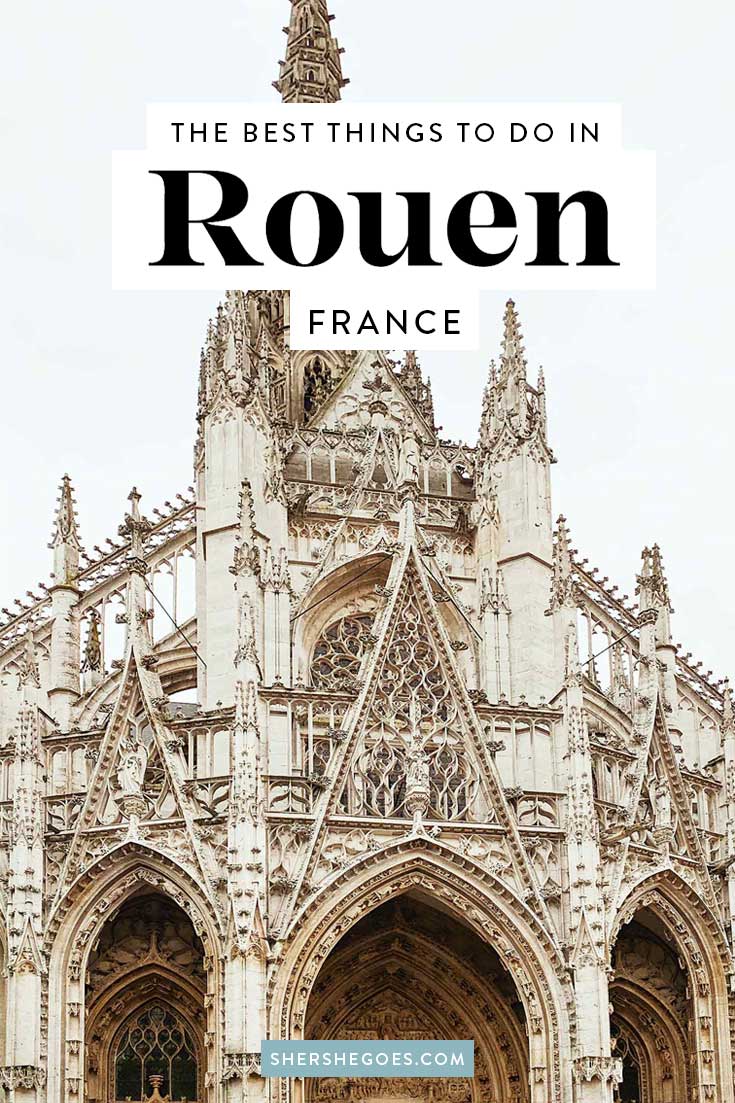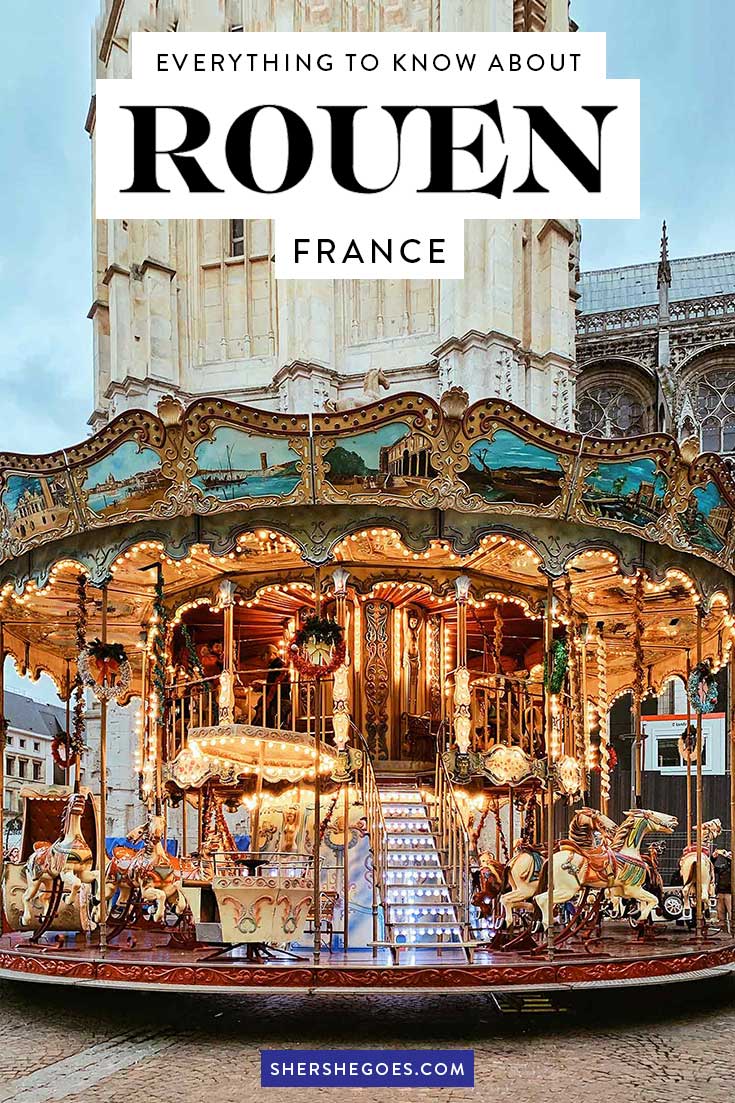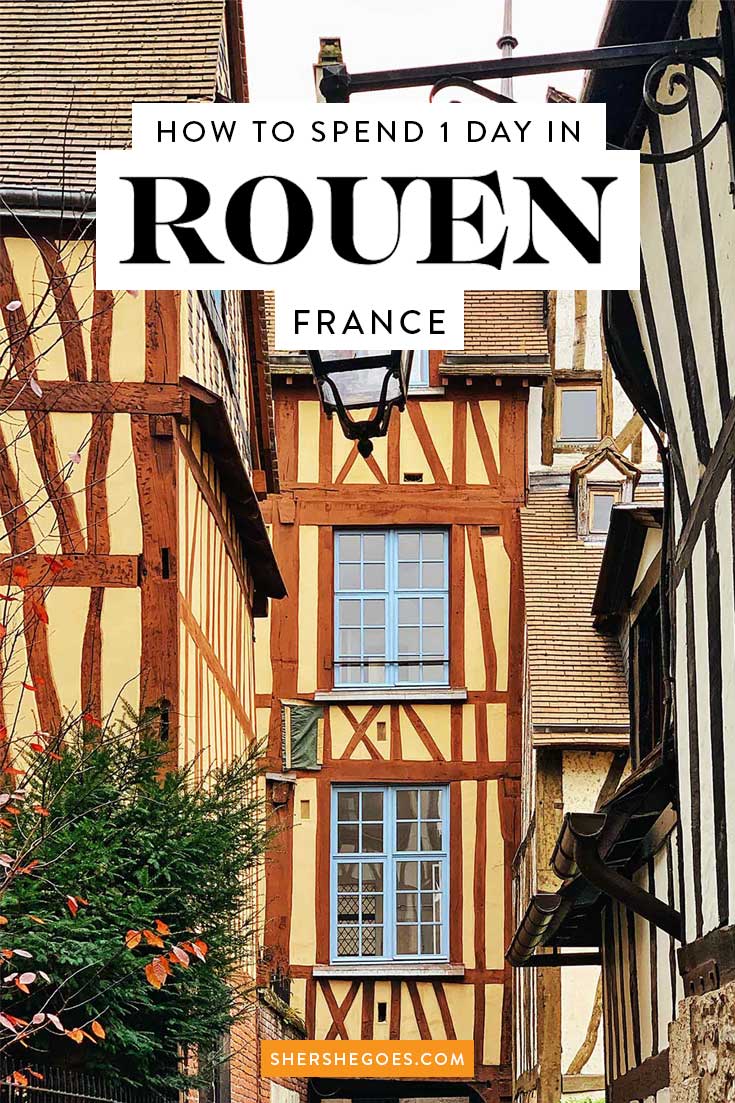 ADVERTISEMENT
A Brief History
Rouen had quite the turbulent history. Originally settled by Vikings, the city developed into the capital of Normandy by the 10th century and quickly grew to become the largest and richest city in medieval Europe, thanks to its prime location on the Seine riverbanks.
Its rulers, the Dukes of Normandy, were such fierce knights that in 1066, William the Duke of Normandy crossed the English Channel and became William the King of England, setting up an Anglo-French dynasty that ruled both Normandy and England.
Despite their glamorous English throne, William remained fond of their beginnings in Rouen and often held court in the city. His famous descendant Richard the Lionheart spent most of his time off on crusade yet chose to be buried in Rouen.
Most famously, Rouen was heavily fought over in the Hundred Years War and captured by the English. Here, its English occupiers tried French heroine Joan of Arc for a heretic and burned her at the stake in 1431, right in the city center.
Two hundred years later, Rouen was nearly destroyed by Allied bombing raids in World War II. Today, the city blends its rich past with modern comforts.
Read more:
A Quick Guide to Normandy
ADVERTISEMENT
---
---
Getting In
Rouen is easy to get to within France. The city lies ~81 miles north west of Paris (130 kilometers) and can be reached by train, flight or cruise.
Paris to Rouen by Train
Trains run to Rouen several times a day with the fastest ride taking just an hour and a half. Check train schedules and book tickets here.
Paris to Rouen by Flight
Regional flights fly from both Orly and Charles de Gaulle airports. Check fares and set flight alerts here.
Paris to Rouen by Ship
Or, take a leisurely cruise on the Seine river. Many river cruises have a Paris to Normandy itinerary that start in the City of Light and sail for a week northwest along the Seine. Read more about our cruise experience here.
Read more:
How to Travel from Paris to Normandy
ADVERTISEMENT
---
---
Where to Stay in Rouen
We recommend at least 1 night in Rouen.
The city's beautiful Old Town has lots of character, cobblestone streets and colorful half-timbered houses. Because its ancient Medieval quarter, you'll mostly find charming boutique hotels.
Most retain the charming timbered exterior but have refreshingly modern interiors. Don't expect huge rooms, since space is limited, but you'll find lots of cozy, comfortable options.
Read more:
The Prettiest Small Towns in Normandy
Here are some of our favorite hotels in Rouen:
1 | Hotel de Bourgtheroulde – This luxurious hotel looks more like a royal palace than a hotel! With beautiful Gothic architecture on the outside and contemporary design on the inside, this striking Rouen hotel is one of the finest in the city. Rooms are spacious and the courtyard terrace is a fabulous place for a drink!
Book rooms: Hotels.com, Booking.com | Check prices: TripAdvisor
2 | Hotel le Cardinal – With a prime location facing Rouen's Cathedral, all 15 rooms in this boutique hotel face beautiful Notre Dame. Rooms are cozy and private, as the hotel lies on a pedestrian cobblestone street.
Book rooms: Booking.com | Check prices: TripAdvisor
3 | Ibis Rouen– On a budget? This Rouen hotel offers comfort on the eastern outskirts of Rouen. It's just a 10 minute walk to the historic town center and right opposite the Seine riverbank, so you can easily have a scenic walk after dinner or check out Panorama XXL.
Book rooms: Hotels.com, Booking.com | Check prices: TripAdvisor
ADVERTISEMENT
---
---
Best Things to Do in Rouen
Victor Hugo nicknamed Rouen the "city of a hundred spires" and it's easy to see why, after just a couple steps in the Old Town. With beautiful medieval architecture and too many cathedrals to count, Rouen is one of Normandy's most beautiful cities.
If you have just a couple days in town, here are some of the top sights to check out:
1. Marvel at Cathedrale Notre-Dame de Rouen
It seems like every city in Europe has a famous church, and Rouen is no exception.
We were taking a walking tour of Rouen, weaving between cute half-timbered shops and twisted alleys, when suddenly cast iron spires peaked through the sky.
The Cathedral of Rouen is a Gothic masterpiece. Built on the foundations of a 4th century basilica, the cathedral rises 151 meters tall, making it the highest in France!
When it was finally completed in the late 1870s, it was the tallest building in the world – although quickly surpassed by the cathedral of Cologne, completed just four years later.
Inside, many of Normandy's most famous are buried, including Richard the Lionheart and early Norman rulers Rollo and William I. It's the cathedral's facade though, that have made it famous.
Claude Monet painted some 30 portraits of Rouen's cathedral, in varying times of day, light and weather. His Rouen Cathedral series is among some of his most famous work.
If you visit Rouen in Christmas time, holiday shops and a children's merry go round set up shop right outside.
Book
a Walking Tour of Rouen
ADVERTISEMENT
---
---
2. Snap a Photo of Rue du Gros-Horloge
Rouen's second most famous landmark?
The Gros Horloge astronomical clock. Mounted into an archway on an otherwise normal pedestrian street, the 14th century clock is a gilded masterpiece.
The giant clock face is meant to represent the sun, with gold rays on a blue sky background. Don't linger too long in the middle of the street though!
The Gothic belfry and Renaissance arcade where the clock is set is on one of Rouen's main shopping streets. From McDonalds to high fashion, the shopping arcade is bustling with people!
ADVERTISEMENT
---
---
3. Retrace the History of Joan of Arc
On the western end of Rue du Gros-Horloge lies a more gruesome landmark.
Here, in May 1431, Joan of Arc was tried in Rouen's Episcopal Palace, found guilty of being a heretic, and burnt alive in the town square.
Curious why the French heroine was killed? Walk into the History Museum to learn more about the legend. Don't worry, this isn't a boring static museum. Inside a dynamic multimedia series brings her story to life with a captivating light and sound show. You can buy tickets online here to skip waiting in line.
Continue on to the Joan of Arc Tower, the prison dungeon where she was locked up during her trial. Then, on the very spot where she was killed, you'll find her statue and a modern looking church.
The Église Sainte-Jeanne-d'Arc de Rouen is a unique building in Rouen's Old Square, with brilliant stained glass windows, built right on her funeral pyre.
Rouen is also part of a greater pilgrimage experience in Normandy. If you're interested, the Abbey Trail starts from the Church of Saint-Ouen in Rouen to the Abbey of Saint-Pierre in Jumièges.
Buy
Jeanne d'Arc Museum tickets
ADVERTISEMENT
---
---
4. Stroll through Vieux Rouen
If you only have a short time in Rouen, simply walk around.
The city's medieval center is incredibly pretty, as it's full of colorful half-timbered buildings. Tightly packed together on winding streets (and charmingly crooked), these timber framed homes are found predominantly in north west France and Rouen has over 2,000 of them!
My favorite part of walking around Rouen was seeing how the half-timbered homes have been repurposed. Some are now pastry shops, others are boutique stores. Even McDonalds has claimed a cute pistachio timbered building for its own!
The oldest homes date back to the 1200s. Walk through Rue Étoupée, Rue Saint-Amand, Rue Damiette and Rue Abbé-de-l'Épée, four of the oldest streets in town, for a look. Take a tour with a local to learn all the history and quaint streets.
Here's a tip: the older they are, the more crooked they lean!
After you've exhausted yourself taking photos, people watch in Old Market Square. This is the busiest section of Vieux Rouen with tons of restaurants, sidewalk seating and charming cafes.
While it's charming and family friendly today, in the Middle Ages this is where prisoners were executed in gruesome public displays. Jeanne d'Arc was famously burned alive in May 1431.
ADVERTISEMENT
---
---
5. Tour the Palais de Justice
As you walk around Old Rouen, you'll spot another gorgeous Gothic building. This is the Palais de Justice, a working court house. Public tours are available every Tuesday as well as the last Friday of each month.
Originally set in the Jewish quarter, the sandy colored intricate building was built in 1499 to house the Exchequer and later turned into Normandy's Parliament.
The decorative spires, gargoyles and balustrade all make it a beautiful example of Gothic architecture, and help explain why Rouen is frequently nicknamed the 'city of a hundred spires'.
ADVERTISEMENT
---
---
6. Explore the Seine Riverbank
When I was a student, I took the train from Paris into Normandy. Most recently, I sailed into the city by way of a river cruise along the Seine!
Rouen is much like Paris in that the Seine river meanders into the city, splitting into a right and left bank.
It's only been in recent years that attention has been put into Rouen's location on the riverbank! The quais along the Seine have been prettily rebuilt into gardens, parks, bars, restaurants and nightclubs. Have a picnic along the waterfront, play a round of Pétanque in the court or stop by Panorama XXL for a bit of culture.
If you're visiting Rouen in June, you're in luck. Each year Rouen hosts a famous Armada Festival, with 50+ tall ships, military boats and submarines from all over the world sailing into town. Expect 10 days of parades, fireworks and fun (on the level of Fleet Week in NYC). Plus, the celebration is free and open to everyone!
Read more
Cruising on the Seine from Paris to Normandy
7. Visit the Musée des Beaux Arts
Rouen and the Seine Valley inspired many of the Impressionist painters, with its picturesque villages, green hills and distinctive architecture.
At the Museum of Fine Arts, you can find some of the best Impressionist art work in all of France. From Caravaggio to van Dyck, Sisley, Renoir, Degas, Monet, Pissaro – all are represented.
In addition to art work, the Rouen Fine Arts museum contains sculptures, drawings and decorative objects. It turns out that during the French Revolution, wealthy homes and churches were raided for their precious items, which were eventually placed here in Rouen's fine arts musuem.
Rouen has a couple other famous museums for the culturally inclined:
Musée Le Secq des Tournelles: former church with wrought iron work
Musée de Rouen: antiquities and natural history musuem
Musée de la Céramique: ceramics and pottery museum
ADVERTISEMENT
---
---
8. See Panorama XXL
The Seine waterfront has undergone a revitalization in recent years and its hallmark attraction is Panorama XXL.
Essentially a 360 degree panoramic panting, the cultural scene was designed by German artist Yadegar Asisi, who brought an ancient art to an ancient city. Every few months, the exhibition is entirely updated.
Past exhibits included an exposition of Rome, the Amazon and Gothic Rouen in the time of Joan of Arc. You can buy tickets online here to save time waiting in line.
The panorama is stunningly realistic and you'll be amazed by all of its intricate detail. Check it out!
Buy
Panorama XXL tickets
9. Relax at Jardin des Plants
If you're visiting Rouen with kids from April through November, head to the Plant garden for a fun day in the sun. Here, plants are grown from five different continents in various gardens, plots and greenhouses.
Don't miss the pretty rhododendrons in spring, roses in summer or tropical species in winter.
ADVERTISEMENT
---
---
10. Try Norman Cuisine
The local cuisine is one of the best parts about visiting Normandy.
Apples reign supreme here, with every type of apple by product under the sun: apple pie, apple tarts, apple brandy (calvados), candied applies (sucre de pomme), apple infused chocolates (cent-clochers)
Normandy is also famous for its cheese! Make sure to try camembert, pont-l'évêque and livarot while you're in the region.
11. Day Trip to the Countryside
Normandy has some truly beautiful countryside and Rouen makes a great base for nearby day trips. Whether you want to take a scenic coastal drive, sample as many cheeses as possible, or see the D-Day landing beaches, there's lots to do if you have a couple nights to spend in Rouen.
Here are some popular day trips:
Take a tour of historic WWII monuments and the famous Normandy landing beaches. This private tour includes an expert local guide and flexibility to see the sights you're most interested in. On our Normandy beach tour, we visited Arromanches, Omaha Beach and the American Cemetery.
Check availability and rates here.
This all day tour combines a guided visit of Rouen's Old Town with day trips to Caen, Bayeux and the Château de Falaise, 3 of greater Rouen's most famous sights. Caen is famous for William the Conqueror's castle while Bayeux holds the incredible Bayeux Tapestry, a medieval tapestry showcasing William the Conqueror's successful ascension to the English throne.
Check availability and rates here.
Parc Naturel Régional des Boucles de la Seine Normande
Rouen lies at the border of one of Normandy's green parks. If you have a car, drive along the GR2 trail following the path of the Seine through this gorgeous green park. Cute towns along the way include the tiny village of Saint-Pierre-de-Manneville and Saint-Martin-de-Boscherville. If you have extra time, you could drive all the way to the Abbey of Jumièges!
ADVERTISEMENT
---
---
Visiting Normandy – Travel Checklist
We took a red eye to Paris from JFK, then sailed on the Seine to Rouen on a river cruise. You can check for flight deals here and set an alert for your dates.
It's also easy to take the train from Paris to cities throughout Normandy. Check my post here for more logistical information on taking the train in France and how not to buy tickets.
In Normandy, there's so much to see over a large area that I'd recommend basing yourself in a city for a couple nights to take day trips, then moving to another city. For the D Day beaches, Bayeux and Caen are both popular bases. Check here for deals on Normandy hotels.
Lastly, be sure to visit Paris with travel insurance. Whether you get injured and need to be hospitalized, your phone gets stolen, or a flight delay leaves you with nothing but the clothes on your back, travel insurance will help when you need it most.
During our recent trip, riots in Paris shut down the city center and forced a closure of all the main sights (the Louvre, Versailles, etc). Get a quote for your trip here.
You Might Also Enjoy:
Normandy Vacation Planning
How to Get from Paris to Normandy
Cruising on the Seine River from Paris to Rouen
The Most Beautiful Places in Normandy
21 of the Best Things to Do in Normandy
Normandy Towns
Quick Guide to Rouen, Normandy's Capital
Paris to Normandy Day Trips: Vernon & Auvers-sur-Oise
Visiting Giverny & Monet's House
WWII Memorials
How to See Normandy Beach & D-Day Sites
Visiting the Normandy Cemetery in Remembrance of D-Day
Follow me @Sher She Goes on