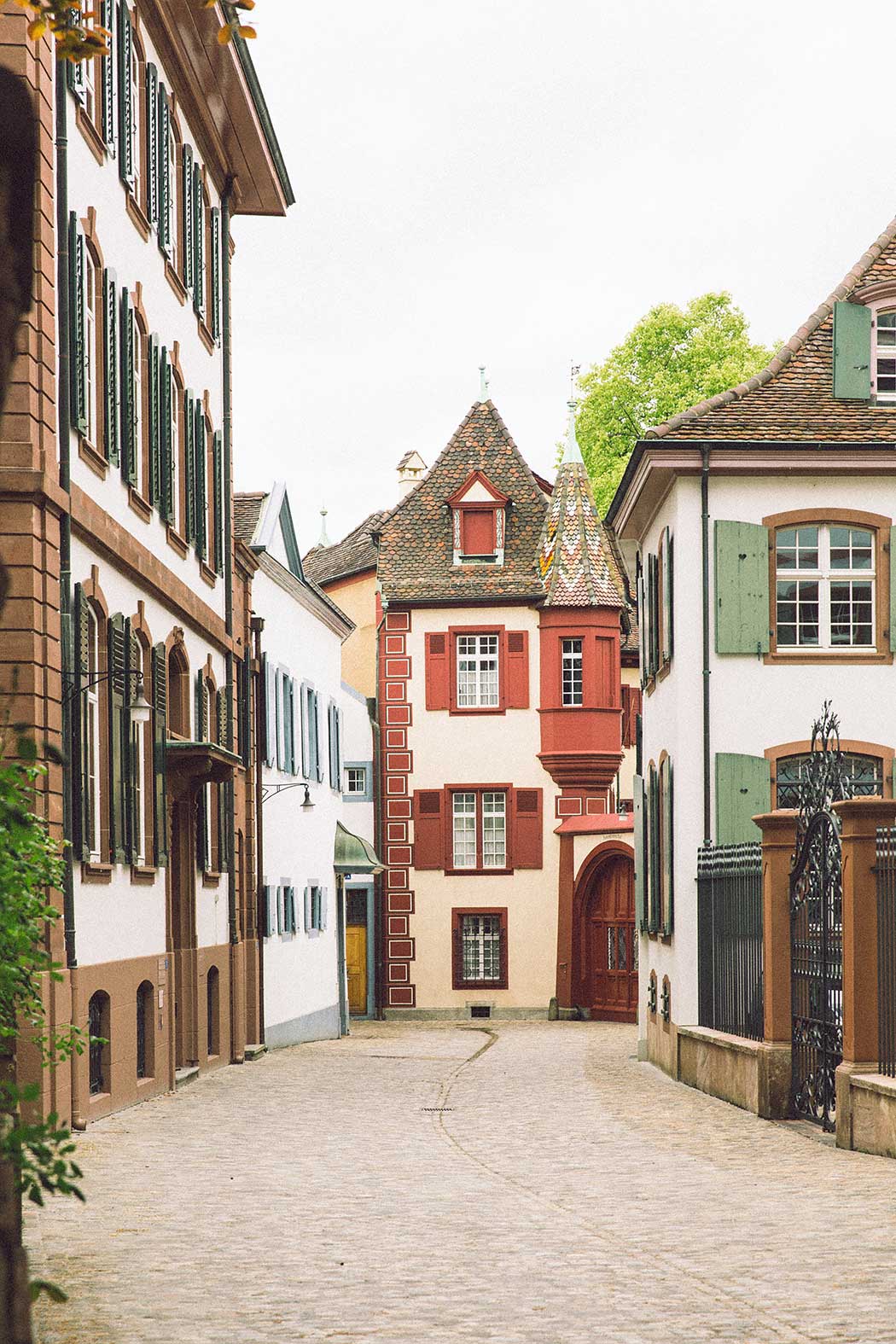 What to Do in Basel Switzerland
An Afternoon in this Underrated Swiss City!
We visited Basel with one day prior to the start of our Viking River Cruise. I have to admit, I didn't know too much about Basel Switzerland before arriving – other than its claim to fame as the home of Art Basel. I came with little to no expectations but it turns out Basel has quite a cute medieval town center!
We cruised on the Rhine Getaway itinerary which started in Basel and ended in Amsterdam. After arriving at the airport dusty and tired, we originally planned to just grab lunch on board and relax for the rest of the day, despite arriving into Switzerland at 9 am. Luckily, our Viking cruise ship was docked right on the Rhine River, only about a 15 minute drive into the Old Town, and Viking offered an unexpected, complimentary walking tour to stretch our legs and see a bit of the city. That was certainly a nice start to the trip!
On our guided tour, we explored the pastel colored old town, snapped endless photos of the quaint medieval buildings, visited the church, saw the Rhine River views from above and learned a bit about Basel's history. Our quick day trip gave us just the highlights of this charming city and so I've compiled this travel guide to the best of Basel in one day. If you're staying overnight, check out my guide to the best hotels in Basel.
Read on for the best things to do, points of interest, itinerary advice and recommendations on well-located hotels for Basel Switzerland!
---
---
Getting In
Basel Airport is actually split in two. The Basel-Mulhouse airport technically lies in France but is connected to Switzerland via land corridor. Check flight deals and set price alerts on Skyscanner.
Where to Stay
Here are some of Basel, Switzerland's top hotels:
1 | Hotel Euler – this cheap hotel, well for Swiss standards, is located near the train station and dates from Basel's history in the 1870's. Rooms have been recently renovated.
Read TripAdvisor reviews | Compare room rates: Expedia | Priceline | Agoda | Hotels.com | Booking.com
2 | Marriott Basel Switzerland – A modern and spacious hotel with a great on-site restaurant, perfect for business travelers. The Courtyard Marriott in Basel has a large on-site swimming pool and spa for travelers looking to fully relax. It's located outside the city but offers a free public transportation pass.
Read TripAdvisor reviews | Compare room rates: Priceline | Agoda | Hotels.com | Booking.com
Read the complete Basel accommodation guide here.
---
---
Basel Switzerland Points of Interest and One Day Itinerary
The Rhine splits Basel into two sections. Travelers will likely focus on Greater Basel on the southwestern section of the riverbank, home to the commercial, cultural and historic sections of town. You can see most of the city on foot or via tram.
What to do in Basel:
Art fanatics will love Basel. This city is home to over 30 museums and two major festivals in spring and summer. There's Baselworld, a world fair for watches, and Art Basel, for art as the name suggests.
Head to the Marktplatz, a medieval historic center that dates back to the 1500s. On weekends it turns into an open air farmer's market and on our particular visit the town was hosting a marathon race.
Spot the colorful, bright red Rathaus or Basel's Town Hall. The colorful painted facade dominates the main square
See Basel Munster, or the city's Gothic Romanesque cathedral.
Museum hop: There's the Jean Tinguely Museum, an architectural masterpiece of glass and metal sculptures and Fondation Beyeler, a modern building housing varous art collections and special exhibitions. Most famous? The Kuntsmuseum, housing both old masters and modern art.
Take a sail down the Rhine River on a European river cruise
---
---

One Day Basel Itinerary
There are quite a few things to do in Basel that will keep you occupied for the day! Here's a sample one day itinerary covering Basel's top attractions and sights.
Morning: Check in to your hotel and freshen up.
Then head to the Old Town within Greater Basel for a walking tour. Start at the Markplatz with the red Town Hall, pick up fresh fruit at the farmer's market or grab a pastry and coffee to start the day.
Walk under the grand Spalentor tower, one of Basel's three remaining Medieval gates.
Continue on foot until you arrive at Basel's Munster or famous cathedral. Step inside for a look, climb the tower for a great view of the city and then when you're done, head on around to the left behind the church for a fantastic view of the Rhine River and Lesser Basel riverbank.
Afternoon: Basel sits at the intersection of three countries: Switzerland, Germany and France. You can actually see the point where these three countries converge right on the wharf!
You can't leave Basel without exploring at least one of its art museums. Grab a ticket to the most famous, the Kuntsmuseum, which houses both old world masterpieces and art so modern the paint is still drying. Don't leave without seeing Picasso's paintings – the Kuntsmuseum has a whole room dedicated to him.
Relax and enjoy the sunshine at either Basel's Botanical Garden or the Basel Zoo, which has a section dedicated to Namibia's Etosha National Park.
Evening: Basel has a famous symphony orchestra, music theatre and playhouse. Why not settle in for a cultural evening? Afterwards, have dinner at Zum Goldenen Fass (the Golden Barrel), a popular restaurant known for excellent contemporary cooking.
Basel's Christmas Markets
If you're in Switzerland in late November or December, you absolutely must take advantage of the charming Christmas markets! They're open-air market stalls perfect for shoppings, seeing small demonstrations and eating & drinking. For more info on the markets in town, including lots of photos, check out this guide to Basel's Christmas Markets.
Follow Sher She Goes on
Bloglovin | Facebook | Twitter | Pinterest | Instagram
---