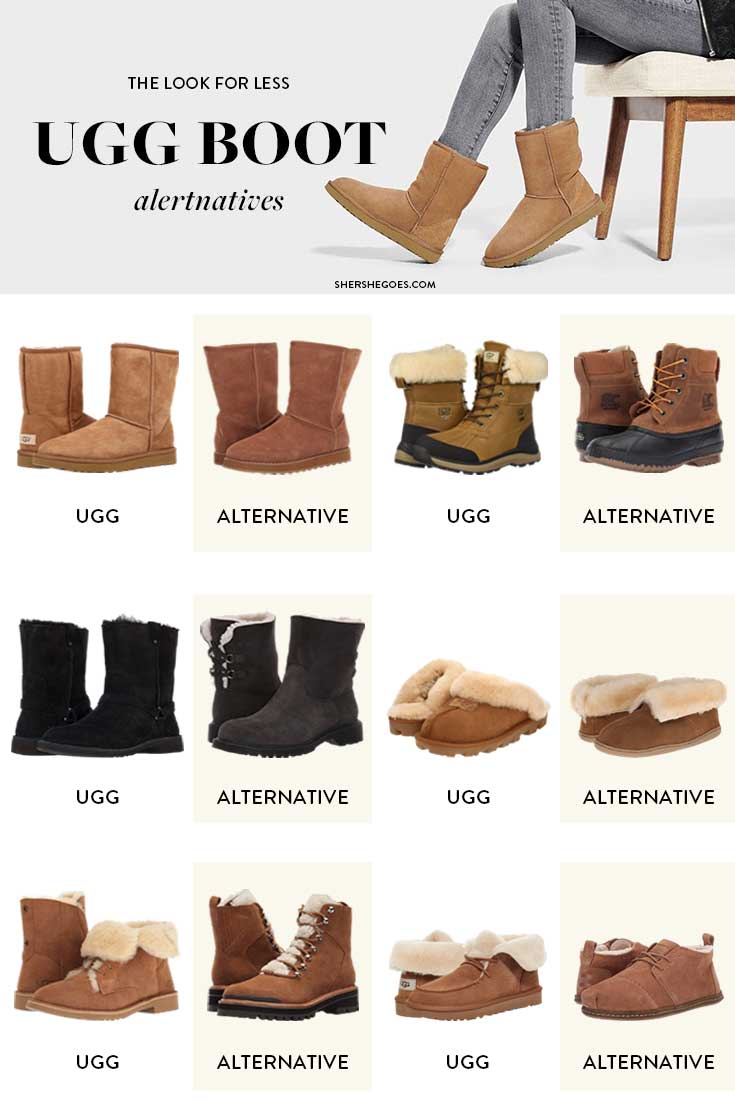 Best UGG Lookalike Shoes (2021)
Some shoe brands have such an unmistakable look that you don't even need branding to spot them from a mile away.
Any Birkenstock, Tory Burch, or Chanel shoe is immediately recognizable thanks to the brand's consistent and timeless look.
Lately, I would put UGG in that category, too. Having recently expanded from its classic short boot lineup to chukkas, waterproof boots, and even bathrobes, UGG is quickly becoming an instantly recognizable footwear titan.
That doesn't mean you can't get UGG style without breaking the bank, though.
Keep reading for our favorite UGG lookalike shoes below!
ADVERTISEMENT
Keep reading, or pin this article to save it for later ⇟
ADVERTISEMENT
---
---
The Best UGG Lookalike Shoes!
There are a couple brands in particular that focus on the right blend of inspiration and unique style. Below, we've chosen our favorite UGG lookalike shoes to rock this season!
UGG Lookalike Shoes for Women
ADVERTISEMENT
---
---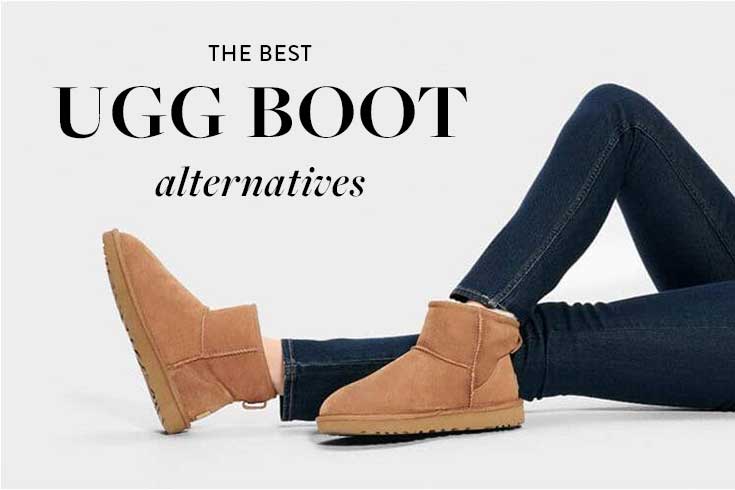 The Best UGG Lookalikes!
UGG Classic Short Lookalike
UGG Boot vs. Look for Less
The Classic Short is the quintessential UGG boot, so it's only fitting that this lookalike comes from Skechers, a quintessential casual footwear brand.
Can you even tell which is which?!
Featuring the exact same seam pattern as the UGG boots along with comfortable suede and 3M water resistance, the Skechers boots will have all your friends saying "Hey, nice UGGs!".
ADVERTISEMENT
---
---
UGG Diara Chukka Boot Lookalike
UGG Chukka Boots vs. Look for Less
Toms says these lace-up chukka boots are inspired by the Rose Avenue murals in Venice, California, but let's be real.
They are definitely inspired by the super popular UGG Chukka boot.
Featuring suede fabric, natural canvas, faux shearling, and the Toms commitment to donating shoes to needy children, these UGG lookalike boots are a can't-miss!
ADVERTISEMENT
---
---
UGG Coquette Slipper Lookalike
UGG Slipper vs Alternative
For me, UGG really started making moves when they launched the Coquette, a ridiculously soft and comfortable slip-on shoe.
While the UGG inspired Minnetonka slippers feature some slight differences (definitely more of a pull-on than slip-on slipper), the affordable option is so cute and similar, who cares?
The Minntonka slip on shoes feature a ridiculously plush sheepskin lining along with a durable rubber outsole that's perfect for quick outdoor errands!
ADVERTISEMENT
---
---
UGG Aveline Waterproof Boot Lookalike
UGG Waterproof Boots vs. Alternative
The original Aveline waterproof boot is known for striking that balance between fashionable and strong winter performance.
This UGG lookalike from La Canadienne perfectly straddles that fine line, featuring a cushioned footbed and waterproof suede for performance alongside a super chic lace-up back and shearling lining.
La Canadienne is known for their high quality waterproof shoes so this might just be one instance where the lookalike outshines the original!
ADVERTISEMENT
---
---
UGG Adirondack Waterproof Boot Lookalike: Sorel
UGG Winter Boots vs. Alternative
These UGG lookalike boots from Sorel are basically the Inception of winter boot save vs. splurge options, in that the Sorel boots are UGG-inspired, and the UGG boots are clearly inspired by the classic L.L. Bean boots.
Either way, these Sorel boots are designed specifically for the heavy rain and snow.
Coming with a waterproof nubuck upper, seam-sealed waterproof rubber outsole, and 200 grams of insulation, these boots will protect you in the coldest and wettest of conditions!
I swear by Sorels ever since wearing their snow boots throughout my trip to Norway – they're so incredibly warm and the soles have great traction!
ADVERTISEMENT
---
---
UGG Quincy Shearling Boot Lookalike: Marc Fisher
UGG Shearling Boot vs. Look for Less
UGG pioneered sheepskin lined winter shoes, but these days shearling boots (with the decoration on the outside) are en vogue!
So thankfully there are tons of classic winter boot options featuring shearling, leather and laces. Of all the options, these Marc Fisher are the most luxurious!
Featuring suede calfskin leather, plush shearling, and a reinforced rubber round toe, the Marc Fisher hiking boots are the cutest UGG lookalike boots I've found that can still withstand the beating of a harsh winter!
ADVERTISEMENT
---
---
Shop Ugg Like Shoes
---
ADVERTISEMENT
---
---
Read More of the best Designer Inspired Finds
Amazon Fashion
The Best Designer Lookalikes on Amazon: Handbags, Jewelry, Shoes & Accessories
Chanel Inspired
6 Classic Handbags Inspired by Chanel
The Best Cap Toe Ballet Flats to Get the Chanel Look, for Less
Classic Chanel Inspired Slingbacks (Two Toned)
The Best Chanel Inspired Espadrilles to Rock All Summer
Manolo Blahnik Inspired
The Best Manolo Blahnik Lookalikes
Stuart Weitzman Inspired
The Best Over the Knee Boots that Rival Stuart Weitzman Lowlands!
Where to Get Stuart Weitzman Boots ON SALE
Follow me @Sher She Goes on