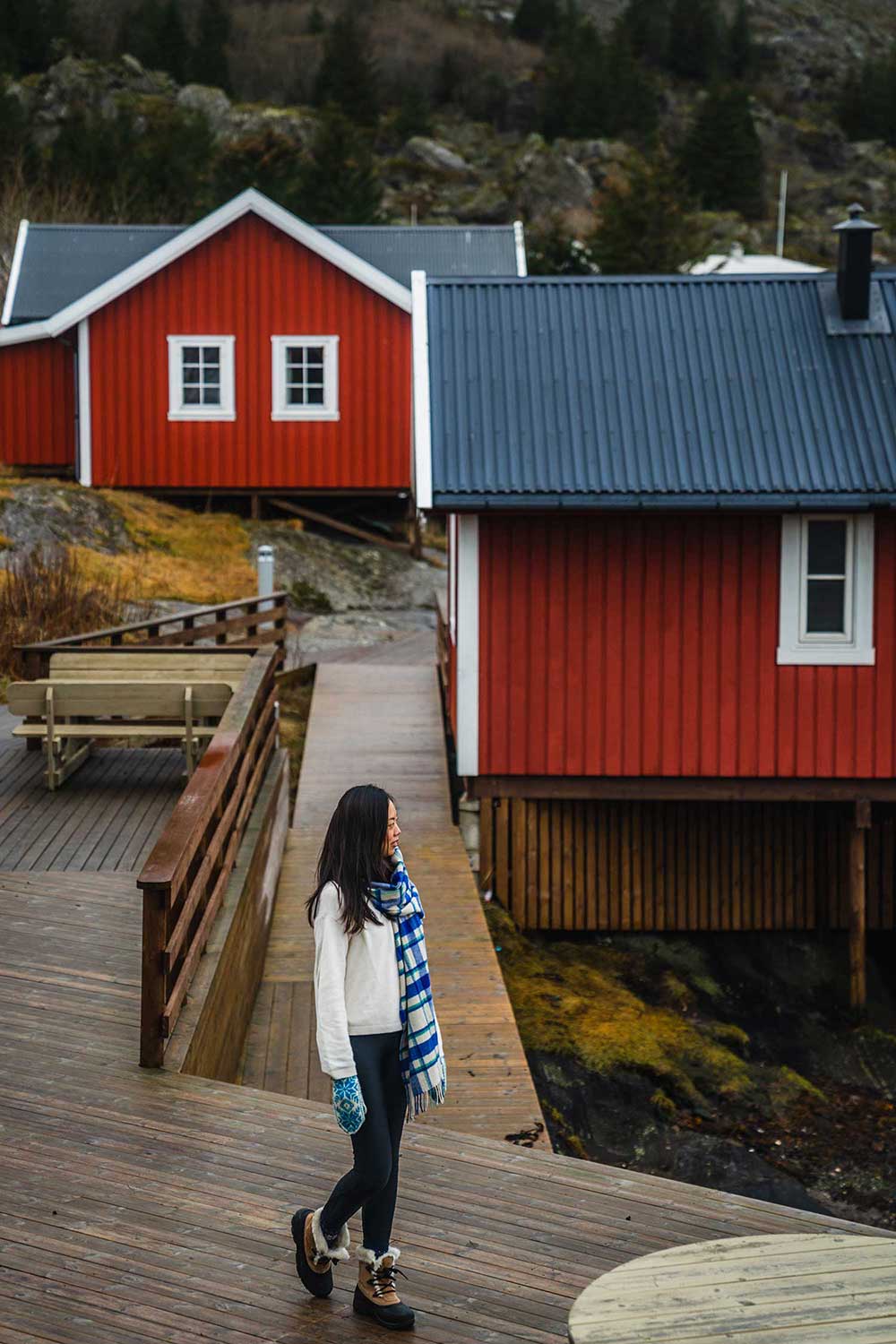 Norway Packing List
Norwegians have a saying, "There is no bad weather, only bad clothing".
Usually this advice was given when heavy winds were rattling the windows, snow was falling for hours on end or a wet downpour was half blowing us away.
I wanted to groan every time, yet somehow ended up trudging up a mountain or going for a long walk every day of our trip, haha.
I can still remember one bad weather day in particular. We had finished a tour of a small town in Helgeland and retreated into a coffee shop to relax over some brown waffles with cheese.
A couple friendly locals started talking to us and mentioned they had spent the morning – lashing rain, chilling winds and all – cross country skiing.
I knew then and there I couldn't hold a candle to Norwegians!
ADVERTISEMENT
---
---
Jokes aside, Norway is dotted with scenic landscapes and the best way to enjoy it all is to spend time outdoors. If you're visiting in winter, packing proper clothing is key!
So today's post is for all my fellow last minute packers – what to wear in Norway, camera equipment if you think you'll see the Northern lights and even some things you can leave at home.
Keep reading below or quickly jump to:
Save this article for later ⇟
ADVERTISEMENT
---
---
How Cold is Norway in Winter?
They say that Norway in winter isn't nearly as cold as Sweden or Finland, thanks to warm currents from the Atlantic coast.
But honestly, I was pretty cold and needed all the layers. The good thing about layering is if you're warm blooded, you can easily adjust for your own body temperature.
Winter in Norway is also a pretty long season.
Depending on where in the country you're headed, winter temperatures can arrive as early as late October and last until April. We visited in mid-January and while the temperatures weren't bad (about 20-30 degrees Fahrenheit), we did receive lots of rain and snow.
Since the weather can change at any minute and you never know quite what you're going to get, layering is essential. The key to surviving is to think of three main sections:
Base Layer
Mid Layer
Outer Layer
ADVERTISEMENT
---
---
Base Layer
A base layer closest to your skin makes a world of difference.
You'll want both a long sleeve top and some long underwear, ideally made from merino wool like this one.
I have a couple wintery sets from this Norwegian brand that I really like. They're soft, cozy and I also wear them when skiing because they keep you really warm.
For something affordable, try Uniqlo's heat tech tops. I also like Everlane's bodysuits because they double as cute tops.
ADVERTISEMENT
---
---
Mid Layer
Next, you'll want to add 1-2 insulating layers.
For me, I usually wore a medium weight wool sweater and a fleece jacket over it.
Again, sweaters with a high wool content are best. Look for at least 40% wool but ideally as close to 100% wool as possible for maximum warmth. Don't worry – your base layer will help prevent any itchiness!
For high quality wool sweaters that will last you years, I recommend Everlane and Talbots. They both make 100% wool, cashmere and alpaca sweaters that are super soft and high quality – and warm.
If you want a traditional Scandinavian style, I also like Dale of Norway! They make really gorgeous cozy holiday + winter patterns but are also slightly pricier.
ADVERTISEMENT
---
---
Outer Layer
For the outermost layer, you'll want something both waterproof and insulating.
If you have a thick parka for extreme conditions (I brought my Canada Goose) that's perfect. If you live somewhere warm, you can pick up an inexpensive waterproof ski jacket on Amazon (I like this one) that also works well and is budget friendly.
Above all, the key is to LAYER.
You can adjust your body heat by removing or adding layers throughout the day so you're always prepared.
If you're constantly popping in and out of the cold (say, you go for a hike, then indoors for a coffee to warm up), you'll find you're a lot more adaptable to temperature fluctuations if you have layers to take on and off.
ADVERTISEMENT
---
---
What to Pack for Norway
In general, Norway seemed to be a pretty casual place.
Norwegians love wool and make some of the most beautiful wool sweaters I've ever seen. Even going out to eat, we saw locals wearing practical, heavy duty clothing that could stand up to all sorts of weather conditions.
So, stay warm, comfortable and dry on your trip to Norway by packing these must-have clothes and accessories:
ADVERTISEMENT
---
---
I also have some from Talbots. They make really timeless, classic clothes that you can wear to work and the weekends. I was really impressed by how soft their cashmere is!
I looked all over the usual high street stores (Zara, H&M, Mango, etc) and unfortunately knitwear from these stores is thinner, with virtually no wool content. Most of it is polyester or nylon – stay away from synthetics as they won't insulate you at all.
Norwegian sweaters are very popular as well – these are typically 100% wool and have a thick, heavy weight to them. I love the traditional Nordic patterns too! They're a little harder to find in the US, but you can buy second-hand on Ebay.
Buy New:
Dale of Norway
,
Devold
and
Kari Traa
Buy Vintage:
Dale of Norway
,
Devold
and
Kari Traa
ADVERTISEMENT
---
---
ADVERTISEMENT
---
---
ADVERTISEMENT
---
---
ADVERTISEMENT
---
---
It's ok to have a little wiggle room as you actually want air to circulate in between your toes, to create pockets of warmth. If your shoes are too tight and air can't flow, you'll actually get cold feet faster!
Living in New York City, I never really need snow boots so I didn't want to spend too much on them and I also was hoping to find a cute pair, ha. If you're buying snow boots for the first time, pack some bandaids just in case!
Or, you can buy crampons to slip over hiking shoes and winter boots for extra grip and traction.
My friend used these on our trip, for extra stability. Norway doesn't really salt the roads so it's common to walk on thick, icy streets. Amazon has affordable stabilizers (also called yaktrax, spikes or traction cleats).
Note: most stores and hotels in Norway ask you to take these off indoors so a good pair of snow boots is still necessary!
ADVERTISEMENT
---
---
Like wool sweaters, socks with 100% wool are kind of hard to find. Patagonia and Backcountry have a good selection online and in general, mens winter socks tend to be better made and have more wool content.
Or, I've also heard good things about heat tech socks. You can find some on Amazon here.
ADVERTISEMENT
---
---
ADVERTISEMENT
---
---
Tip: Keep the pant legs over your boots (not tucked in) so that rain or waves run off the pants instead of into your socks.
It's also handy to pack an extra pair of socks on the days you do any excursions. You can also bag up your feet in plastic bags to help them dry quicker.
ADVERTISEMENT
---
---
ADVERTISEMENT
---
---
ADVERTISEMENT
---
---
ADVERTISEMENT
---
---
ADVERTISEMENT
---
---
ADVERTISEMENT
---
---
Accessories
15. Swimsuit
Pack a swimsuit, just in case your hotel has a sauna!
16. Lonely Planet Norway
Of all the guidebooks, I found Lonely Planet to have the most comprehensive guide to Norway. Pack one if you're planing on doing a road trip and want the latest information on small towns, transportation and lodging.
Buy a guide to Lonely Planet Norway on Amazon here.
ADVERTISEMENT
---
---
ADVERTISEMENT
---
---
ADVERTISEMENT
---
---
ADVERTISEMENT
---
---
ADVERTISEMENT
---
---
ADVERTISEMENT
---
---
ADVERTISEMENT
---
---
ADVERTISEMENT
---
---
ADVERTISEMENT
---
---
Camera Gear
Photographing the Northern Lights
We were pretty excited to visit Norway and packed a heavy amount of camera equipment.
\I recommend packing both a standard 24-70mm lens and a 16-35mm wide angle lens, so you can get a variety of landscape shots.
In cold weather, batteries tend to die faster so extra batteries and a power bank don't hurt.
I also tried out the DJI Osmo Pocket, a tiny gimbal, on the trip and it was fantastic at getting buttery smooth footage during our road trip and excursions. Or a GoPro would come in handy too! You can see our complete gear list here.
For shooting the Northern Lights, you'll definitely need a tripod with a remote control in order to capture the lights dancing with a long exposure.
ADVERTISEMENT
---
---
Norwegian Sweaters & Souvenirs
Popular Norwegian clothing brands include Dale of Norway, Devold and Kari Traa.
While you can buy Norwegian clothes in the country as a souvenir, prices will be really high. I recommend buying second hand sweaters on Ebay before your trip, so that you get a good deal.
And let's face it, they don't make clothes like they used to! Vintage Norwegian sweaters are higher quality than what you can often find nowadays. In particular, I love the themed sweaters they used to make for the Olympics!
Buy New:
Dale of Norway
,
Devold
and
Kari Traa
Buy Vintage:
Dale of Norway
,
Devold
and
Kari Traa
Shop Norwegian Clothing
---
ADVERTISEMENT
---
---
What You Don't Need
Norway has its own currency, the krona. But, you don't really need to exchange any currency or bring cash with you.
Norway is almost entirely a cashless society and we used our credit cards to pay for everything – transportation, gas, food, etc. We were visiting a church and saw a sign that tithes could even be paid online!
If you can, call your bank ahead of time to let them know you'll be abroad. Make sure you have a credit card with a chip and ideally a PIN number (most American banks can give you one for Europe nowadays).
Happy packing! Where in Norway are you headed to and what are you most excited about?
ADVERTISEMENT
---
---
You Might Also Enjoy:
Norway Vacation Planning Articles
Driving in Norway: Everything You Should Know
What to Pack for Norway in Winter
City Guides
Trondheim Travel Guide
Activity & Hotel Reviews
Britannia Trondheim: A Northern Palace
Follow me @Sher She Goes on