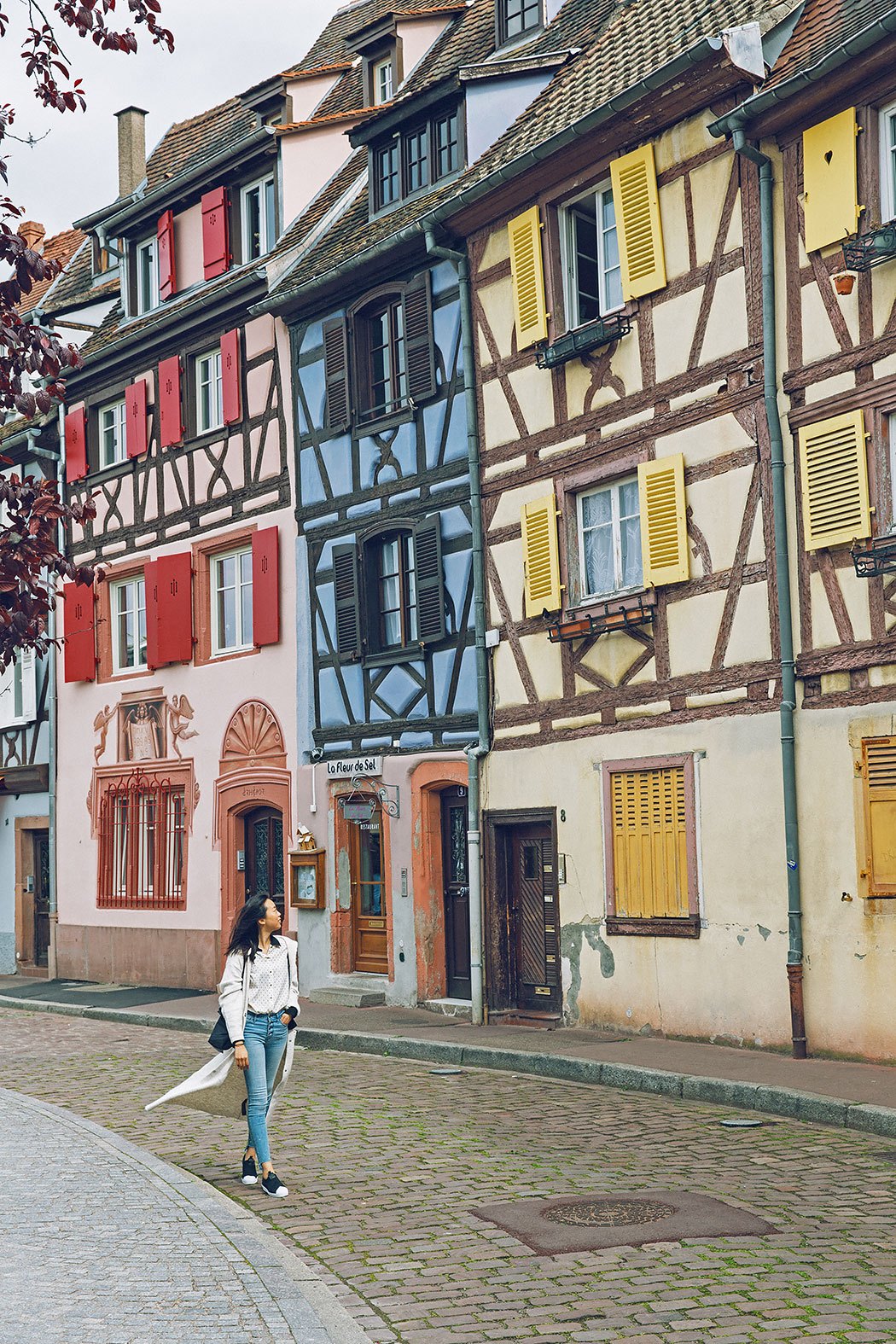 Colmar, France
Out of all the stops on my Viking Rhine Getaway Cruise, I was most looking forward to our day trip to Colmar, France. Colmar is a small town located in France's Alsace region, on the northeastern border near Germany and Switzerland.
This adorable small French town looks like a preserved medieval village, with traditional half-timbered houses, an abundance of overflowing flower pots and uneven cobblestone streets. If you're looking to explore the Alsace region, you have to start with fairy-tale Colmar!
Keep reading for my Colmar travel guide, featuring lots of photos and some essential travel tips!
---
---
Colmar's History
History buffs might recognize the name Alsace Lorraine as the disputed region which switched hands between Germany and France repeatedly and partly contributed to World Wars I and II. Here's a quick summary of what we learned about Colmar on our guided city tour:
French Nationalism
French and German nationalism led each side to lay claim to the territories of Alsace and Lorraine. On the French side, France believed it ought to extend its territory to the country's natural boundaries'. In the northeast, the Rhine River forms a natural divider between it and Germany and France was keen to lay claim to the territories on the western riverbank. As a result, Alsace was first conquered by Louis XIV in the 17th century with Lorraine subsequently annexed by Louis XV in the 18th century.
German Nationalism
Meanwhile, many of the local inhabitants still spoke various German dialects and identified as German. After Napoleon's rise to power and French occupation of certain areas of Germany, a German nationalist movement sought to re-take all German-speaking populations of the former Holy Roman Empire to form a consolidated nation state.
World Wars I and II
During World War I, France entered the fray with a major goal to retake Alsace-Lorraine while Hitler took full control of back in World War II. Today, the regions are part of France but the local people switch between German and French with ease.
---
---
The Best Things to Do in Colmar
1. Walk Little Venice
This is the spot in Colmar that everyone wants to see. It's the guidebook photo and even more picturesque in person, if that's possible!
Little Venice is a series of different colored houses on a tiny canal – make sure to grab a view from the bridge at Quai de la Poissonerie (the fishmonger's district) and also via boat!
2. Visit the Unterlinden Museum
This history museum houses nearly 7,000 artifacts and cultural monuments of Alsatian history in a gorgeous Dominican convent dating back from the 13th century.
Walk through the Romanesque and Gothic archways to find rich sculptures and paintings. The museum highlight is the Issenheim altarpiece, a colorful moving German painting depicting biblical scenes.
3. Snap a Photo of the Pfister House
This unique building caught my eye before I even knew what it was! Built it 1537 for a local businessman, the medieval building stands out from the rest in this small French village due to its octagonal turret and wood gallery. It's currently named after the family who restored it and lived there in the late 19th century.
---
---
4. See St. Martin's Church
This gothic-style church was built in 1365 but due to fire and damage, has been restored many times. During touch up work, foundations dating as far back to the year 1000 were found.
5. Go Vintage & Antique Shopping
There are lots of antique shops to browse if you're into that sort of thing! Overall, we saw lots of people strolling around the streets but Colmar never felt overly crowded.
Fun Tours In and Around Colmar
If you have more time, explore more of the Alsatian countryside!
Near Colmar are many other beautiful small towns in France, including half-timbered, picturesque Eguisheim and fortified town Riquewihr. There's also the medieval castle of Haut Koenigsbourg! You can view more tour options and rates here.
---
---
Fun Facts About Colmar
Little Hearts
Hearts on the doors meant that the woman inside is either getting married or available! What a cute medieval version of Tinder
A Colorful Rainbow
The color each house is painted in once signified the family's occupation. For example, blue for fisherman, yellow for bakers, green for farmers, white or tan for tanners. Apparently even farther back houses were painted just white or red to signify one's faith.
Capital of Alsatian Wine
While in Colmar, make sure to try local gastronomic specialties and pair them with typical Alsatian wines on a full or half day wine tour. For example: Kougelhopf with a glass of Muscat, foie gras with Pinot gris. Also make sure to try Tarte Flambé (or Flammkuchen as it's called in German). Colmar also has a number of Michelin starred restaurants to try!
---
---
Where to Stay in Colmar
Colmar can be done in a day trip or an overnight stay. It's one of those charming small towns in France where you enjoy the atmosphere and the picture postcard moments on every corner. For a day trip, budget at least 3 hours, but if you love food and wine I would budget an overnight stay if possible!
La Maison des Tetes
We recommend this classy hotel in the Old Town if you're staying in Colmar overnight. Rooms have been recently renovated yet retain that gorgeous wooden-beam decor. Free wifi, clean beds!
Check rates on Booking.com | Hotels.com | Read reviews on TripAdvisor
Other well recommended hotels in Colmar:
2 | Hotel Le Colombier – This hotel boasts huge, modern rooms with king size beds. Great walking distance to local restaurants and everything in the Old Town.
Check rates on Booking.com | Hotels.com | Read reviews on TripAdvisor
3 | James Boutique Hotel – This cute luxury hotel in Colmar is located right on the edge of the Old Town and within a 10 minute walk of Little Venice. Gorgeous, new decoration and recently renovated rooms make for a great stay!
Check rates on Booking.com | Hotels.com | Read reviews on TripAdvisor
---
---
How to Visit Colmar
The easiest way to get in Colmar is by train. It's approximately a 2.5 hour ride from Paris on the high speed train if you grab a direct, or you can change at Strasbourg and see that city as well. Strasbourg is very similar and like a larger, big-city version of Colmar.
Once in Colmar, this small town is best explored on foot! You can also take the the little green train for a circular ride around the Old Town, which makes for a fun experience.
---
We really loved Colmar! Is it on your European bucket list?
Visiting France – Travel Checklist
You Might Also Enjoy:
Paris Vacation Planning Articles
3 Day Paris Itinerary: A Mini Guide
Popular Paris Sights: Musee d'Orsay & d'Orsay Clock, Notre Dame & Rooftop Gargoyles
Don't Miss: Rodin Museum, Arc de Triomphe, Eglise Sainte Chapele & The Louvre
Paris Off the Beaten Path
Musee Jacquemart Andre and The Paris Pantheon
Where to Eat in Paris
Delicious Desserts in Paris
Lunch at Paul & a Romantic Dinner at Potager du Pere Thierry
Follow Sher She Goes on