Heidelberg, Germany
In late May, I took a Viking River Cruise along the Rhine River and absolutely loved the experience. Each day, we stopped in a small quaint European town and I've written about many of the stops already – artsy Basel, medieval Colmar, quaint Dutch windmills and pretty German castles on the Rhine.
Heidelberg is often called one of the most romantic towns in Germany. It's colorful alleyways, vibrant university population and prime location on the river all contribute to it's charm. Most first time visitors will make it a point to tour the Old Town below and venture up to Heidelberg Castle.
In this post, I've summarized all the top things to do in Heidelberg with just a day!
---
---
The Best Things to Do in Heidelberg
Heidelberg is located in southwest Germany, on the Neckar River. It's well-known for Heidelberg University, an esteemed and stately 14th century institution that dominates local town life. Due to it's scenic position on the river, pastel buildings and castle ruins, the city is frequently heralded as one of the most romantic cities in Germany.
1. Explore Heidelberg Alstadt (Old Town)
Start off your visit to Heidelberg in the Hauptstrasse, or main street, in the Altstadt (Old Town). The main street is the world's longest continuous shopping street and you'll find tons of chain stores, boutiques, restaurants, galleries and cafes along this stretch. Parallel to the large shopping street is the river! If you're visiting during November and December, you have to check out Heidelberg's Christmas markets!
Don't miss a visit to the Rathaus, or Town Hall; the Marktplatz to spot the Hercules fountain where petty criminals were chained during medieval times; or the University Prison, where unruly students were locked on campus. In later years, it became something of a party center ha!
2. Walk the River Neckar & Alte Brucke
Strolling along the river is a really pleasant way to see some of city's side streets. While the main shopping street is one of Heidelberg's most famous point of attraction, I personally found the small alleyways much more interesting to explore! The old bridge is worth a walk to explore the striped medieval gate. Don't forget to check out the monkey statue by the bridge entrance! Legend has it that he's holding a mirror and if you touch it, he'll bring you riches. Whereas if you touch the monkey's fingers, you'll return to the city.
3. Take the Philosopher's Walk, or Philosophenweg
This pathway on the north side of the Neckar river runs along Saints Mountain and got it's name due to the university philosophers who once pondered life's meaning along this road. Today, university students enjoy sunshine by having a picnic on this stretch! First timer's visiting Heidelberg will want to cross the bridge to Philosopher's Walk for it's excellent views of Old Town.
Heidelberg actually enjoys a much warmer climate than the rest of Germany and you can spot some exotic Japanese plants on this scenic hill.
---
---
4. Tour Heidelberg Castle
We woke up early to visit Schloss Heidelberg, which sits high above Heidelberg Old Town. You can either walk 15 minutes uphill or take the mountain cable car from Königstuhl, the king's seat. A visit to Heidelberg Castle provides some incredible views over the town and is where I took lots of these photos!
Otherwise, I thought calling it a 'castle' was a bit of a stretch, as it's just ruins today. I had heard so much about romantic German castles (and saw some on the Rhine) that I was expected a fairytale like Eltz. Heidelberg Castle would make a great trip for history buffs!
We took a guided tour of the castle grounds, which included a visit to the Heidelberg castle wine barrel (the world's largest!) and the museum of pharmacy, which explores the history of apothecaries.
Read more:
Sailing on the Middle Rhine to Spot German Castles
5. People Watch at the Kornmarkt
This is a small square in Heidelberg Old Town where you can people watch on one of the many benches and enjoy the animated student vibe of the city.
6. Take the Kids to Heidelberg Zoo
Families traveling to Heidelberg with kids will want to visit this fun zoo, with has over 250 species of animals. Next door near the University you can also find Heidelberg's Botanical Garden and Sculpture Park.
---
---
Where to Stay in Heidelberg
Personally, I think you could comfortably see the highlights of Heidelberg in a comprehensive day trip. If you want to linger, here are some of the best Heidelberg hotels that come highly recommended:
1 | Hotel Villa Marstall – this quaint hotel is well located in the center of Old Town right on the river. It's location makes it one of the best hotels in Heidelberg, next to the famous bridge and a short walk from the tram to Heidelberg Castle. Meanwhile, sound-proof windows, comfortable rooms and friendly staff contribute to a pleasant stay.
Check rates on Expedia.com | Hotels.com | Read reviews on TripAdvisor
2 | Heidelberg Suites Hotel – this neoclassical hotel is also right on the Nektar river, with extremely spacious rooms. Suites are furnished in modern, contemporary styles and have balconies looking out over the Old Town! This is one of our top picks for where to stay in Heidelberg.
Check rates on Expedia.com | Hotels.com | Read reviews on TripAdvisor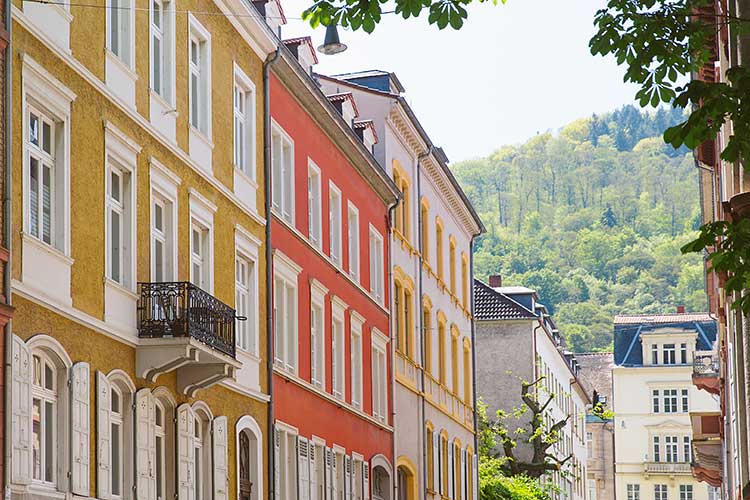 ---
---
The Heidelberg Card
Below are some of the best things to do in Heidelberg, as recommended by all the popular guidebooks and local tour guides. If you plan to see all of Heidelberg's main attractions, consider purchasing the Heidelberg Card which includes free bus & tram transportation, access to the Castle courtyard tour, wine cellar and pharmacy museum, and discounts at local restaurants & shops.
Fun Tours in Heidelberg
And that's my quick guide to Heidelberg's highlights. I have to admit, the day we visited I remember being more than a little underwhelmed with the town itself – especially it's long shopping main street.
Perhaps it was because I had seen so many gorgeous photos of Heidelberg and read too many articles about it in advance. I've also heard Heidelberg is magical in the wintertime, when German Christmas markets appear!
It was only until I wandered down the side streets and found myself unexpectedly in the university cafeteria courtyard that I began to understand why Heidelberg is so often glorified. I'll leave it up to you to make your own opinion!
---
Have you ever visited a place and been slightly underwhelmed? Do you prefer to do lots of research before you travel or leave it to chance to be surpised?
Visiting Germany – Travel Checklist
Compare German flight prices and set flight alerts here
Check accommodation availability and pricing on Booking.com
Grab the Heidelberg Card and visit the castle on a guided private tour.
Get travel insurance for your trip – get an immediate online quote here
Follow Sher She Goes on