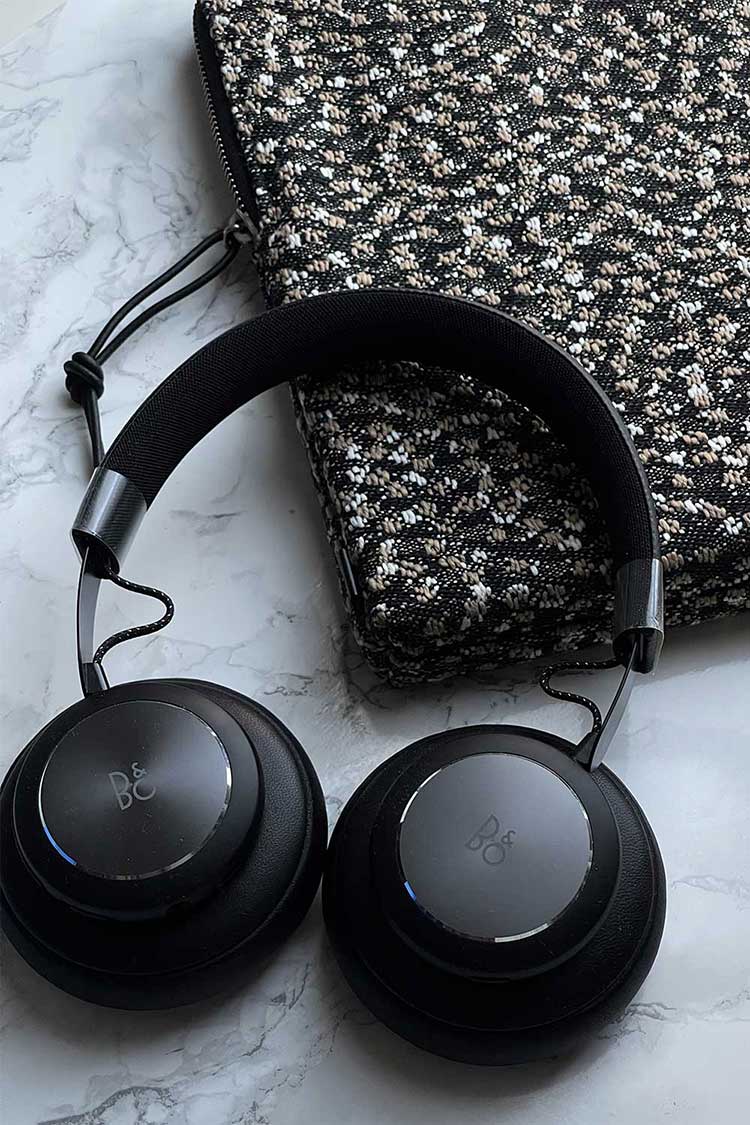 Best Travel Headphones
ADVERTISEMENT
---
---
Noise Cancelling Headphones
Let's face it – as much as travel is exciting and fun, there are stressful parts too.
Getting there (whether it be via flight, train, or bus) can be a nightmare – crying babies, screaming toddlers and loud side conversations all within a hand's reach are uncomfortable – if you can hear them.
With the right pair of noise cancelling headphones, you'll have a completely different travel experience!
Even pilots wear headphones as they fly.
Did you know that aircraft cabins can reach 105 decibels when taking off or landing? Even at cruising, the interior is a ear buzzing 85 decibels.
Save your ears (and your sanity) by packing the right pair of travel headphones.
We've rounded up the best compact, durable and wireless travel headphones.
Keep reading, or pin this article to save it for later ⇟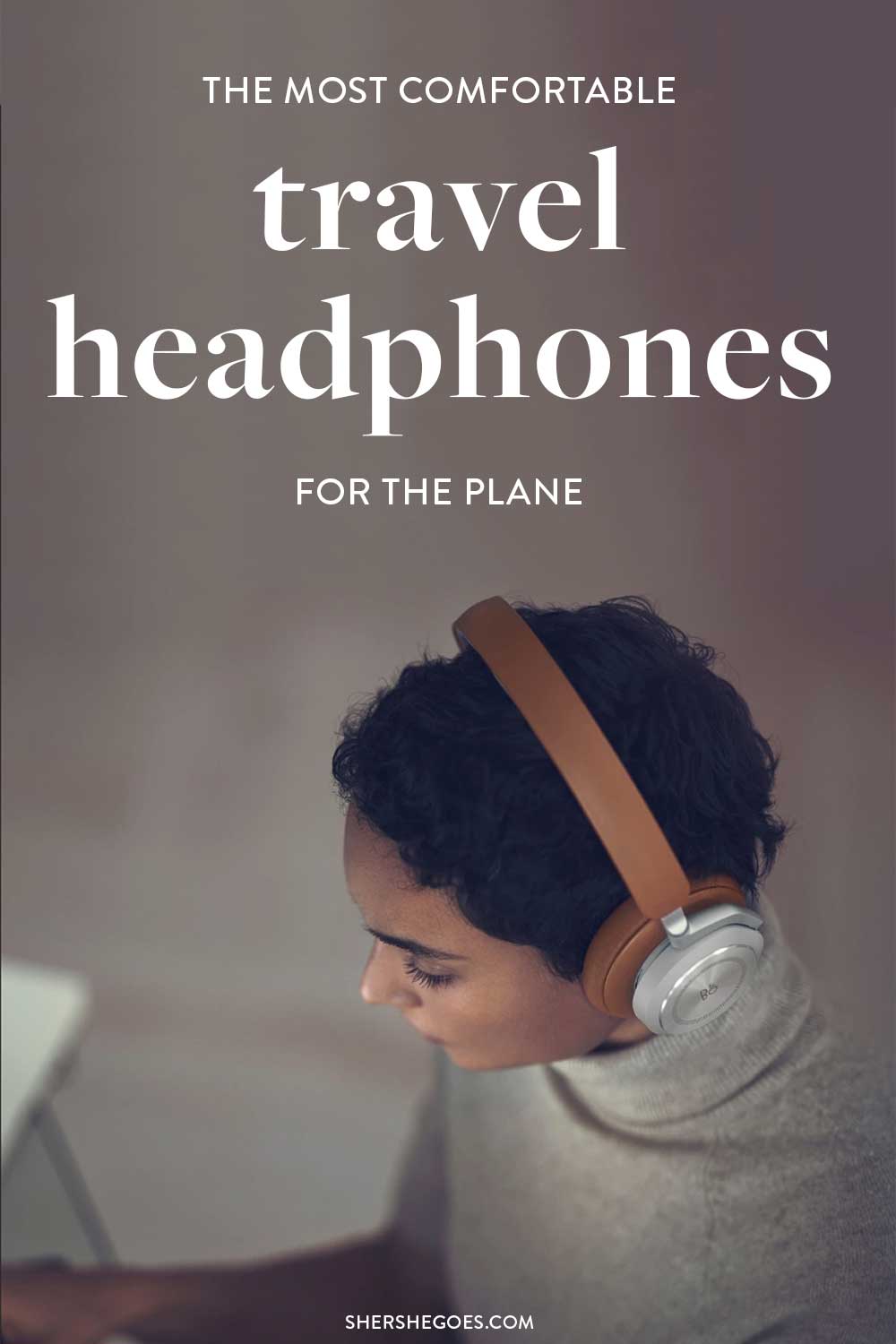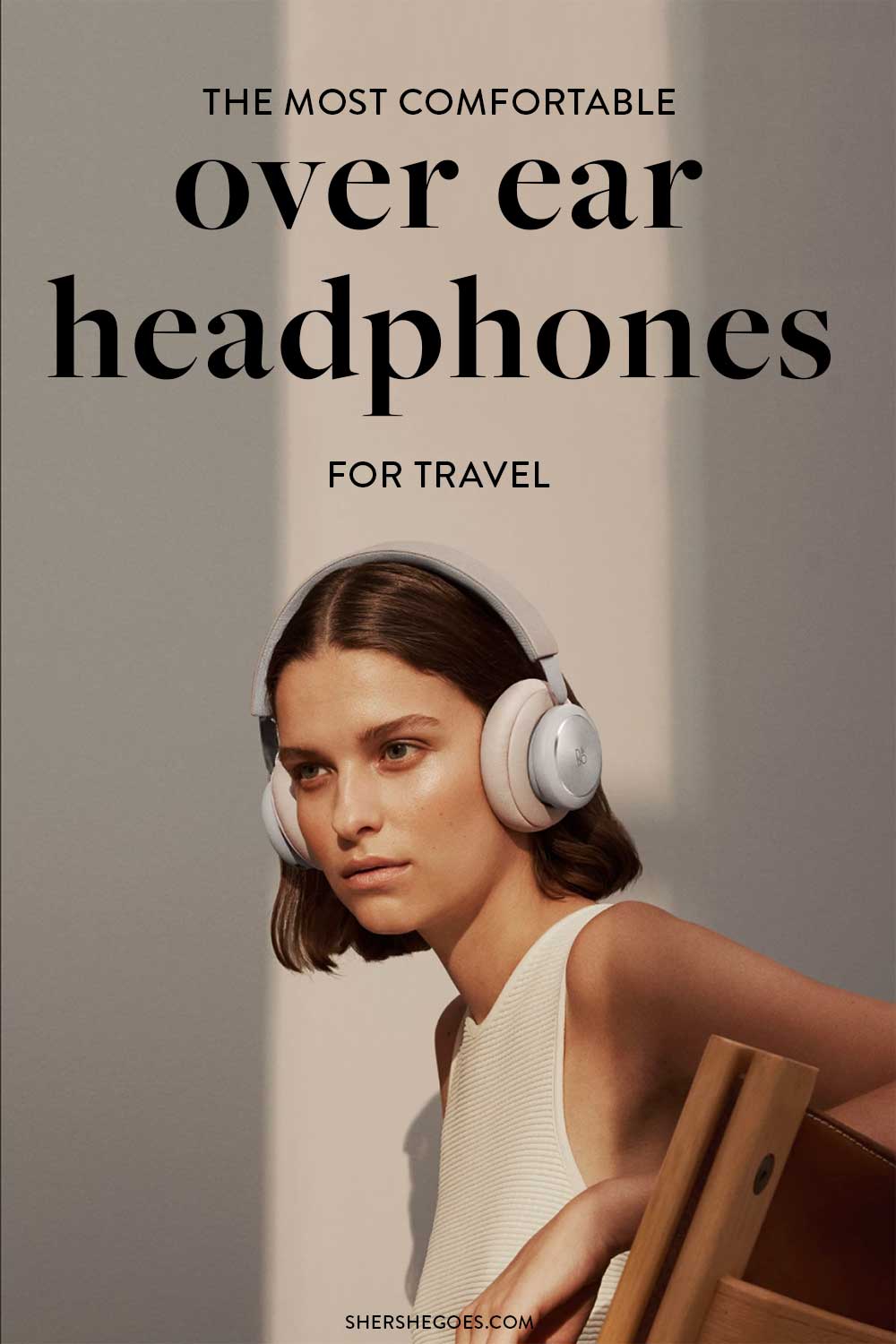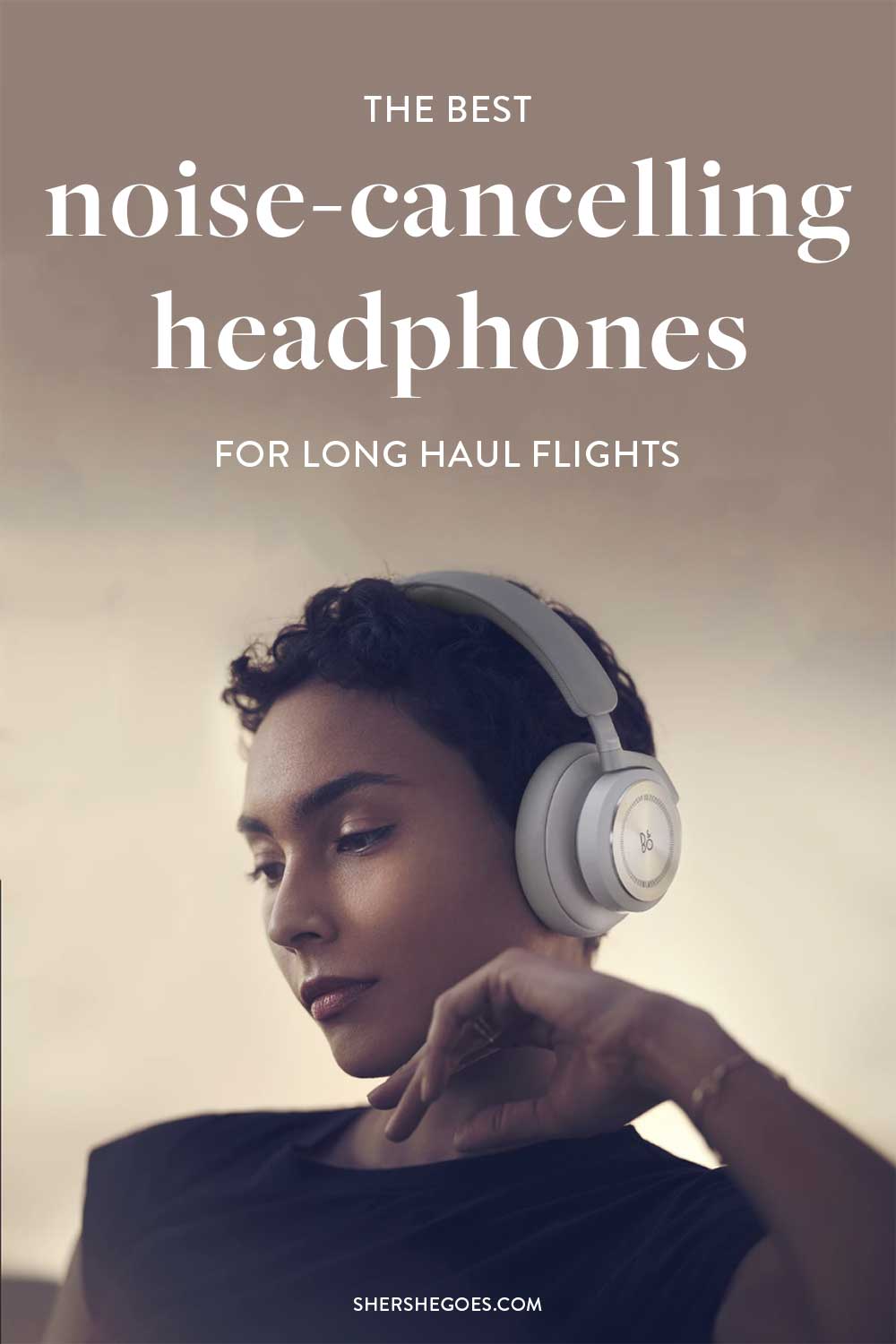 ADVERTISEMENT
---
---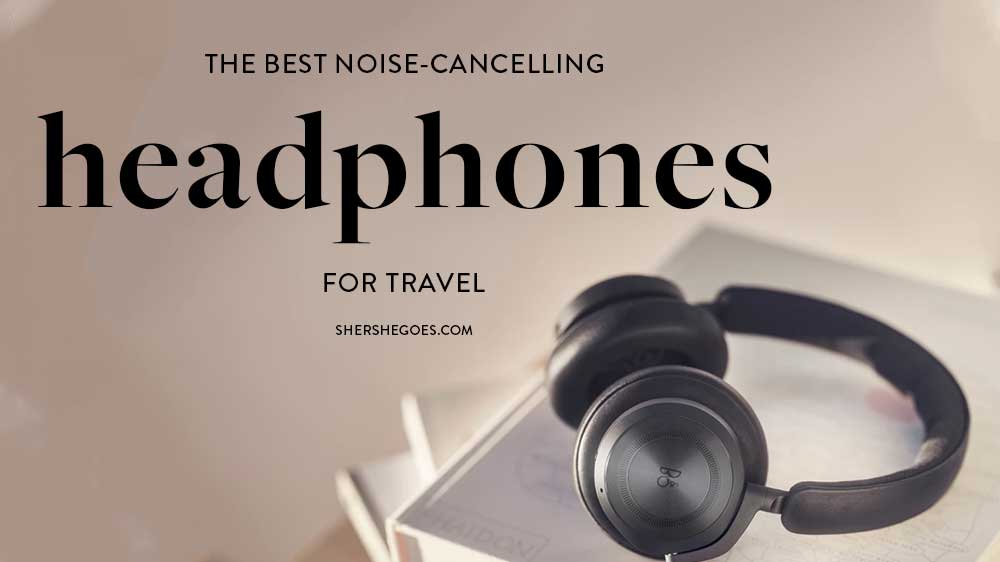 Best Travel Headphones (2023)
Best All Around Noise Cancelling Headphones: Sony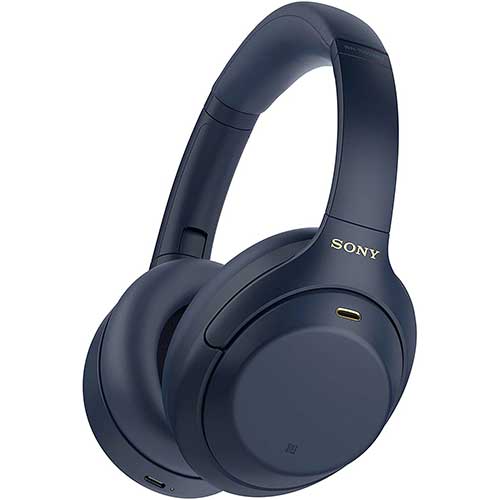 Sony's wireless headphones are a fantastic all-around choice when it comes to long-lasting battery life, crisp clear audio and price.
These offer nearly 40 hours of battery life and a quick touch system on the ear pads so you can easily control volume, skip songs or make calls.
They're comfortable, with 10% larger ear pads than the previous Sony wireless model, and the active noise cancelling feature does a fantastic job at blocking out background noises.
And if you love booming bass, these add extra thumbs and rumbles to your favorite tracks! (If you prefer differently, you can switch to Sony's available presets in their app to customize your listening experience!)
They do come with a carrying case but don't fold down quite as compactly as some other options on our list.
ADVERTISEMENT
---
---
Most Comfortable Travel Headphones: Bose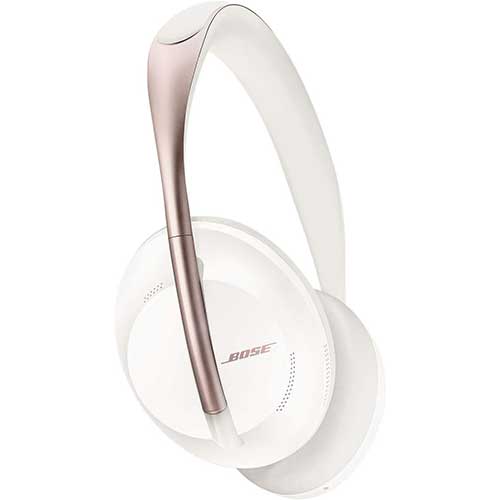 Bose offered the gold standard of noise-cancelling headphones for a long time.
They used to be the headphones that you'd get offered in first or business class. But no need to overpay on tickets – you can easily grab your own pair of Bose noise-cancelling headphones and re-create a first class experience in economy :)
These offer crisp, clear sound with a deep full bass. They're compatible with every Apple, Android adn Windows device so you can wirelessly sync up and go.
Plus, the ear cups offer intuitive touch control so you don't need to constantly reach for your phone to adjust settings. These are designed to offer up to 20 hours of comfortable listening and the sleek design is a bonus!
ADVERTISEMENT
---
---
Most Stylish Travel Headphones: Bang & Olufsen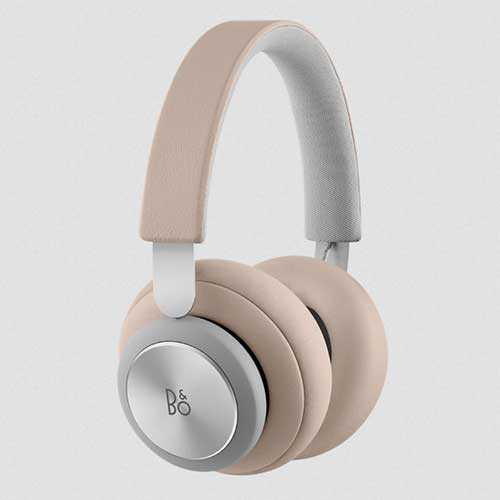 Let's face it – most noise cancelling headphones look chunky and dad-like.
I wanted a pair of excellent quality headphones, but I didn't really want the clunky look. So when I discovered Bang & Olufsen, I was immediately hooked!
The Danish brand makes clean, minimalist and luxurious headphones that don't sacrifice on quality or style.
I have these over-ear headphones in black and absolutely love them.
The wireless headphones include adaptive active noise cancellation and have a 19 hour battery life.
The over ear cushions are extremely soft and padded, crafted from cowhide leather wrapped over aluminum. I've worn these all day to watch movies, walk around the city, edit videos and they're so comfortable!
I also picked up a travel case so I could easily take these on flights without scratching or damaging them.
ADVERTISEMENT
---
---
Best Luxury Travel Headphones: Master & Dynamic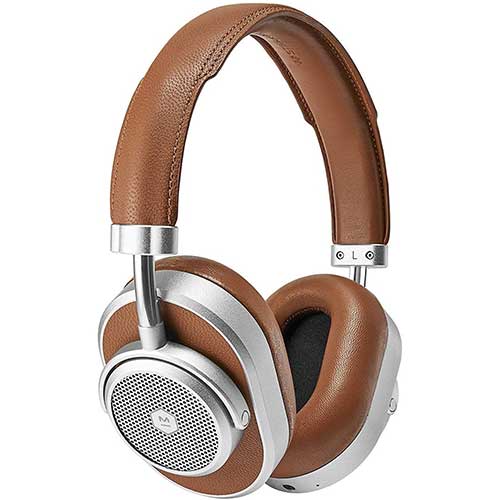 Master & Dynamic makes luxurious noise-cancelling headphones.
They offer a bluetooth range that's 3x the industry average, at 65 feet, and they have up to 24 hours of battery life.
These headphones offer 2 modes of noise cancellation so you can filter out unwanted external noise to your own sensitivity. The lambskin-wrapped ear pads are quite comfortable, and the wireless headphones perfectly balance between the bass, midst and highs for crisp audio.
Best of all, they offer dual microphones so you can make phone calls or speak to your voice assistant without glancing at your phone!
ADVERTISEMENT
---
---
Best Noise Cancelling Earbuds: Apple Airpods Pro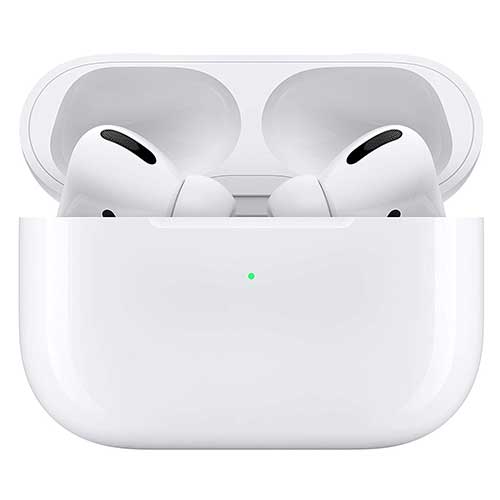 I use my Apple Airpods almost ever day.
The Pro version offers active noise cancellation, which is really handy on the subway during rush hour. They're not quite as noise cancelling as over-ear headphones, but they're sleek and compact.
Sometimes space is a premium when traveling, so these are a fantastic space saving option.
Another common concern with in-ear buds is the comfort level. The Airpod Pro includes 3 sizes of silicone tips so you can customize the fit to your ears.
On their own, the Airpods last for ~5 hours, but with the included charging case you can recharge them in about an hour!
If you're looking for an all-around great pair of wireless earbuds, these are a great option.
ADVERTISEMENT
---
---
Best Headphones for Airplane Travel under $100: Anker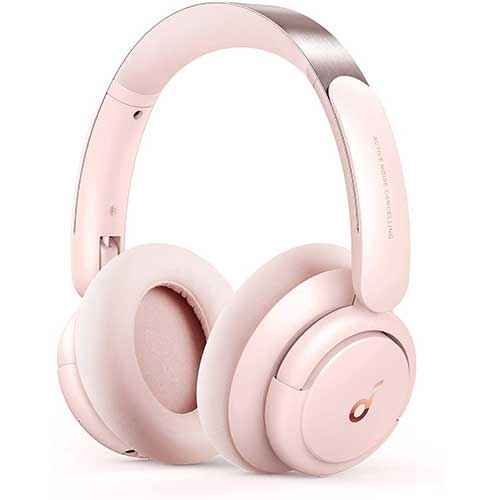 I know, I know – it's crazy how expensive noise cancelling headphones cost!
If you prioritize travel over electronics, don't worry – there's affordable travel headphones under $100.
Check out these Soundcore by Anker over-ear headphones that offer great sound without the high price tag. They offer 40 hours of battery life, dual microphones and 3 modes of noise cancellation.
They also easily fold flat for compact storage!
ADVERTISEMENT
---
---
Shop Noise Cancelling Headphones for Travel
---
ADVERTISEMENT
---
---
Read More   in my travel packing checklist series:
Best Travel Luggage
The Best Carry on Luggage for 2021
The Best Packing Cubes for a Perfectly Organized Bag
The Best Lightweight Luggage for Overpackers
The Best Hard Luggage Sets for Stylish Travelers
The Best Underseat Luggage for Minimalists
The Best Carry On Bags for Men - Rugged + Durable!
Business Travel
The Essential Business Packing List
The Best Business Travel Luggage
The Best Laptop Cases for Working Women
The Best Laptop Bags for Men
Packing Hacks
The Best Travel Wallets for All Your Vacation Essentials
The Best Jewelry Cases Never Untangle a Necklace Again!
The Best Toiletry Bags to Clean Up Quick
Travel Packing Lists
The Best Travel Jackets for All Types of Weather
The Best Duffel Bags for Your Next Weekend Trip
The Best Travel Backpacks to Hold Everything You Need
Follow me @Sher She Goes on