Hollywood Sign
If there's one symbol of Los Angeles, it'd probably be the Hollywood sign.
So no shame in wanting a photo with it!
Here are all the best places in LA that will have you perfectly lined up for an Insta worthy shot of the famous white letters.
ADVERTISEMENT
I wore this bodysuit, some comfy straight leg jeans and white sneakers for our day around the Hollywood Hills.
White sneakers are such a closet staple – they match any outfit and these Margaux ones in particular are super comfortable, so they're great for a full day of sightseeing on your feet.
I'm also a big fan of bodysuits.
I love feeling sucked in haha and this tank version is a great layering piece. But the jeans though… I could have done without. I should have packed shorts because to be honest, I was sweating under the hot California sun!
Who knew Los Angeles would be so hot even in winter? I suppose I should have packed better, but it was tricky packing for 4 seasons in just a carry on!
Shop this look and more winter favorites on Zappos here.
ADVERTISEMENT
---
---
History of the Hollywood Sign
Funny enough, the sign wasn't always a symbol of the city.
Originally, the letters were put up by a real estate developer.
Los Angeles Times publisher Harry Chandler wanted to market his newest upscale neighborhood, Hollywoodland, and thought giant white letters on top of Mount Lee would shout louder than any regular billboard.
He spent $21,000 to construct the sign, intending for it to stand for just 18 months. Well, that was the cost in 1923.
That's roughly $340,000 in today's (2021) dollars!
ADVERTISEMENT
---
---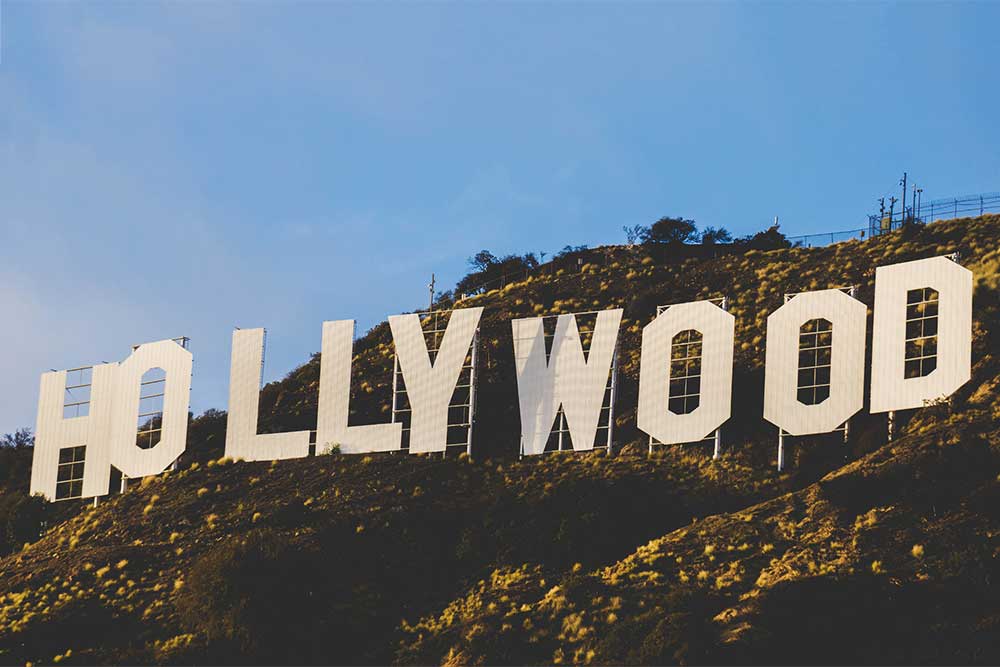 Hollywood Land
At the time, the sign spelled out 'HOLLYWOODLAND' to promote the housing development and flashed in segments: "HOLLY," "WOOD" and "LAND" lit up individually and then the full sign as a whole.
As Los Angeles grew into the Golden Age of Hollywood, the city recognized its value and decided to start maintaining the sign by 1949.
They dropped the last 4 letters though, in order to reflect the neighborhood of Hollywood as a whole and not just the housing development, and charged the City of Los Angeles Parks Department to maintain it.
The agency didn't have an easy job!
At one point, an arsonist torched it. On another incident the 'O' tumbled down the hill. On several occasions, pranksters rearranged the letters – changing it to 'HOLLYWEED' to advocate for looser marijuana laws and later to 'HOLYWOOD' right before Pope John Paul II visited California.
By the late 1970s, the sign had fallen into complete disrepair from vandalism, weather damage and natural wear and tear.
But here's where it gets interesting!
ADVERTISEMENT
---
---
Hugh Hefner & the Hollywood Sign
Hugh Hefner publicly campaigned to restore the landmark.
I suppose he saw it as a way to gain publicity for Playboy. He gathered together singers, actors, celebrities and the Hollywood elite at the Playboy Mansion for a lavish fundraiser to 'save' the Hollywood sign.
Individual letters were auctioned off, at over $27,700 a pop!
Rock star Alice Cooper sponsored an 'O' in honor of Groucho Marx. Hugh Hefner contributed to the 'Y' and Warner Bros. Records saved the third 'O'. In total, over $250,000 was raised to restore the sign.
ADVERTISEMENT
---
---
Hollywood Sign Pictures
Today, the 45 foot sign is in its best condition ever, just waiting to be the background star of your Instagram shot.
You can spot the Hollywood letters from all over Los Angeles just by driving around. It's visible from many places throughout the city, shining like a white beacon from in between palm trees and grey buildings, so even if you only have 1 day in town you can get a great pic!
But if you want a truly iconic photo of the Hollywood letters, you'll have to do a bit of strategic driving or walking.
From hiking trails to helicopter rides (and more convenient routes in between), here are all the best ways to view the Hollywood sign.
Read more:
The Best Itinerary to Make the Most of 1 Day in Los Angeles
ADVERTISEMENT
---
---
Best Hollywood Sign Photo Spots
The Hollywood hills area is quite residential so many of these places are in regular neighborhoods. Just remember to be respectful of the locals!
Also, the letters themselves are sectioned off and tightly monitored. No use trying to get too close!
1. Aerial View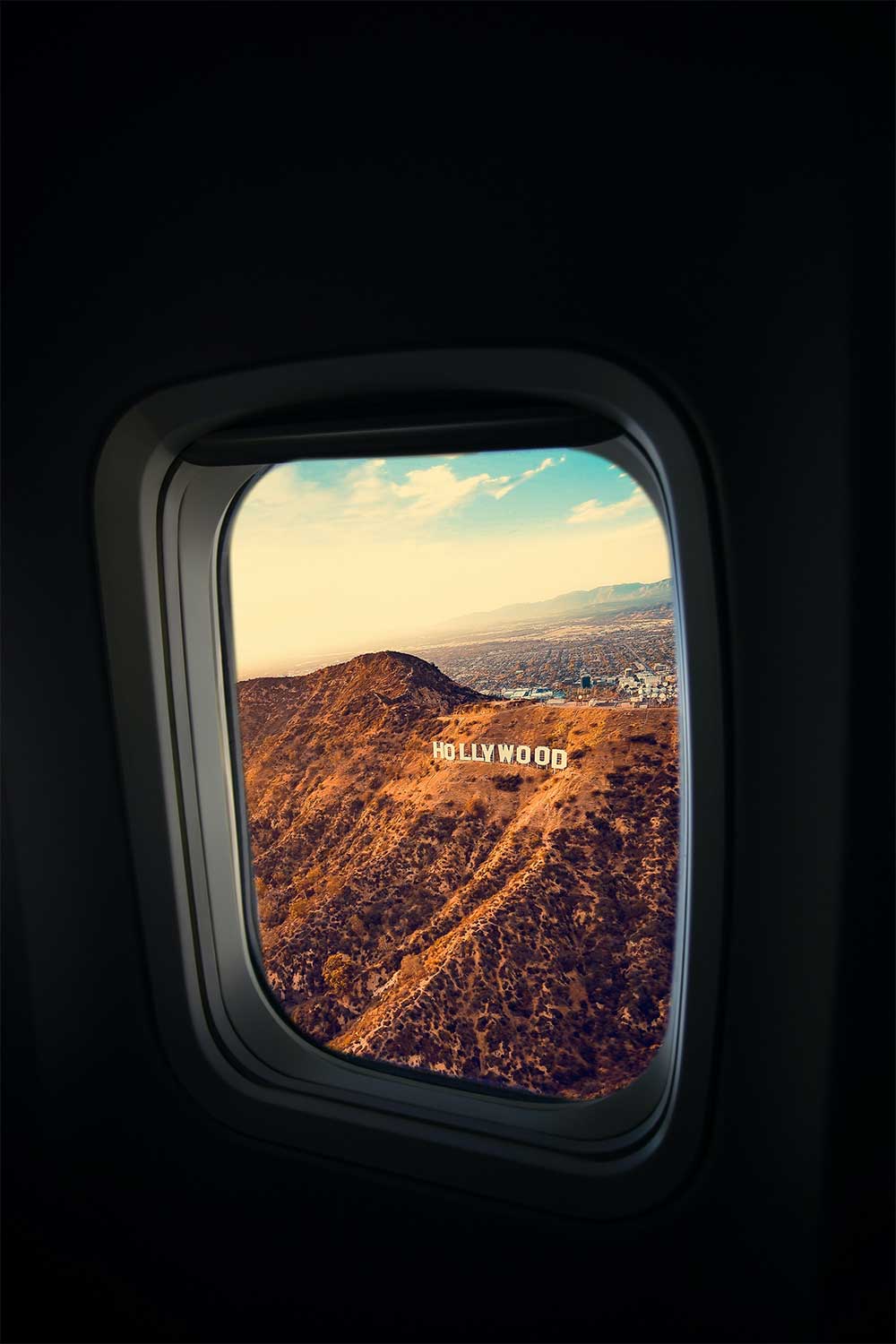 The coolest way to see the Hollywood sign?
From the air on a helicopter tour!
Take a flight to the stars for a sightseeing trip of Los Angeles from above. You get to soar above Tinsel town with a bird's eye view of the city's most famous landmarks, like the iconic white Hollywood letters as well as the mansions of Beverly Hills.
There's lots of helicopter options to choose from:
You'll also get to see other LA landmarks like the skyscrapers of Downtown LA, Sunset boulevard and aerial views of the Pacific Ocean!
ADVERTISEMENT
---
---
2. Griffith Observatory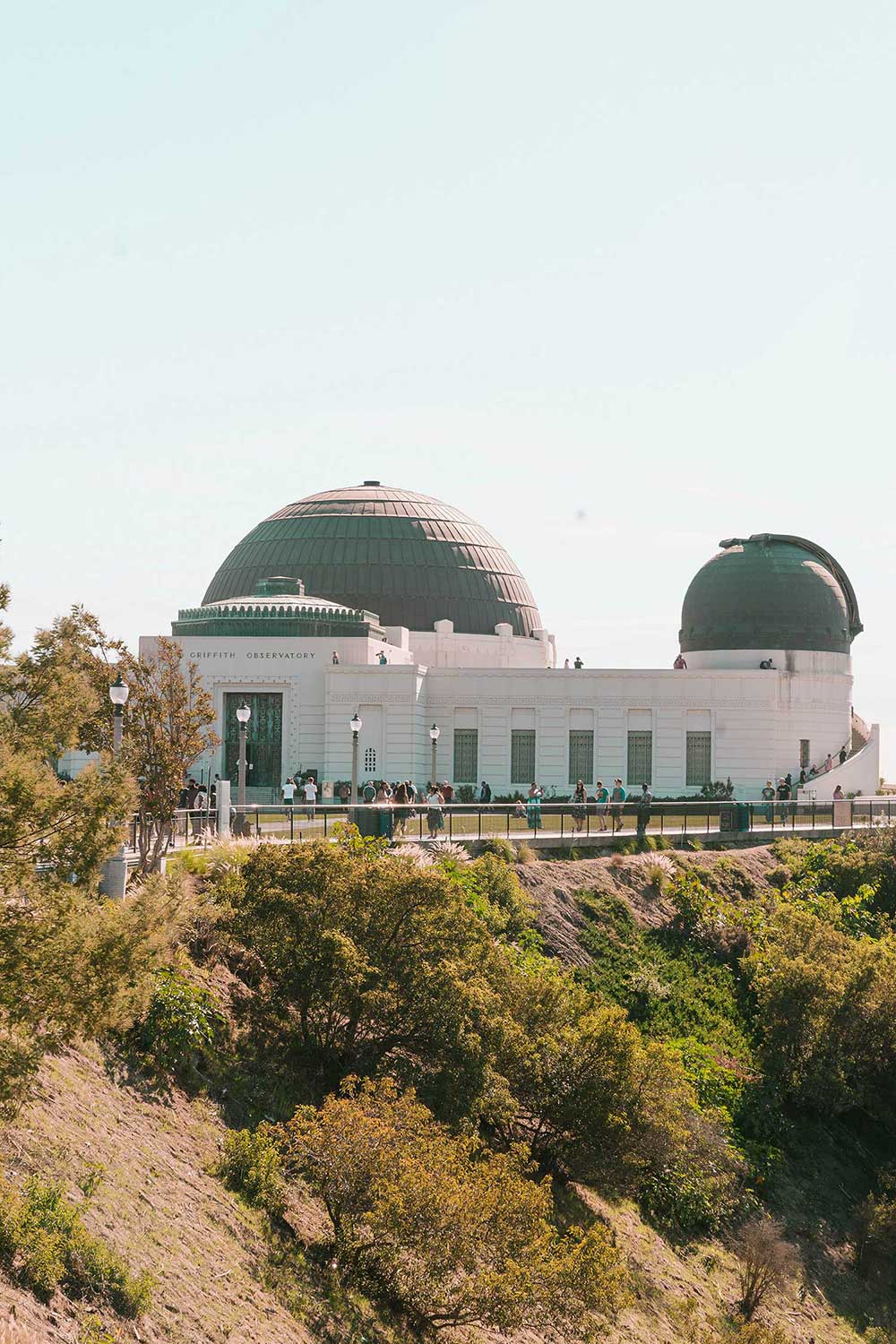 Griffith Park is one of the best places to see the Hollywood Sign.
In 2010, Hugh Hefner made the final $900k donation so that the city was able to meet its fundraising goals and save the area around the Hollywood Sign from developers.
The 138 acre land was turned into Griffith Park. Today, you can either hike up, take public transportation or simply drive up to the parking lot!
Personally, I recommend driving – especially on a hot afternoon day. There's clear views of the city and the Hollywood sign from the right hand side of the parking lot. The letters will be at quite a distance but there's lots of telescopes if you want a zoomed in view.
While you're here, pop into the Observatory to check out the planetarium!
P.S. Did you know Griffith Park is 5x the size of Central Park?
ADVERTISEMENT
---
---
3. Griffith Park Hiking Trails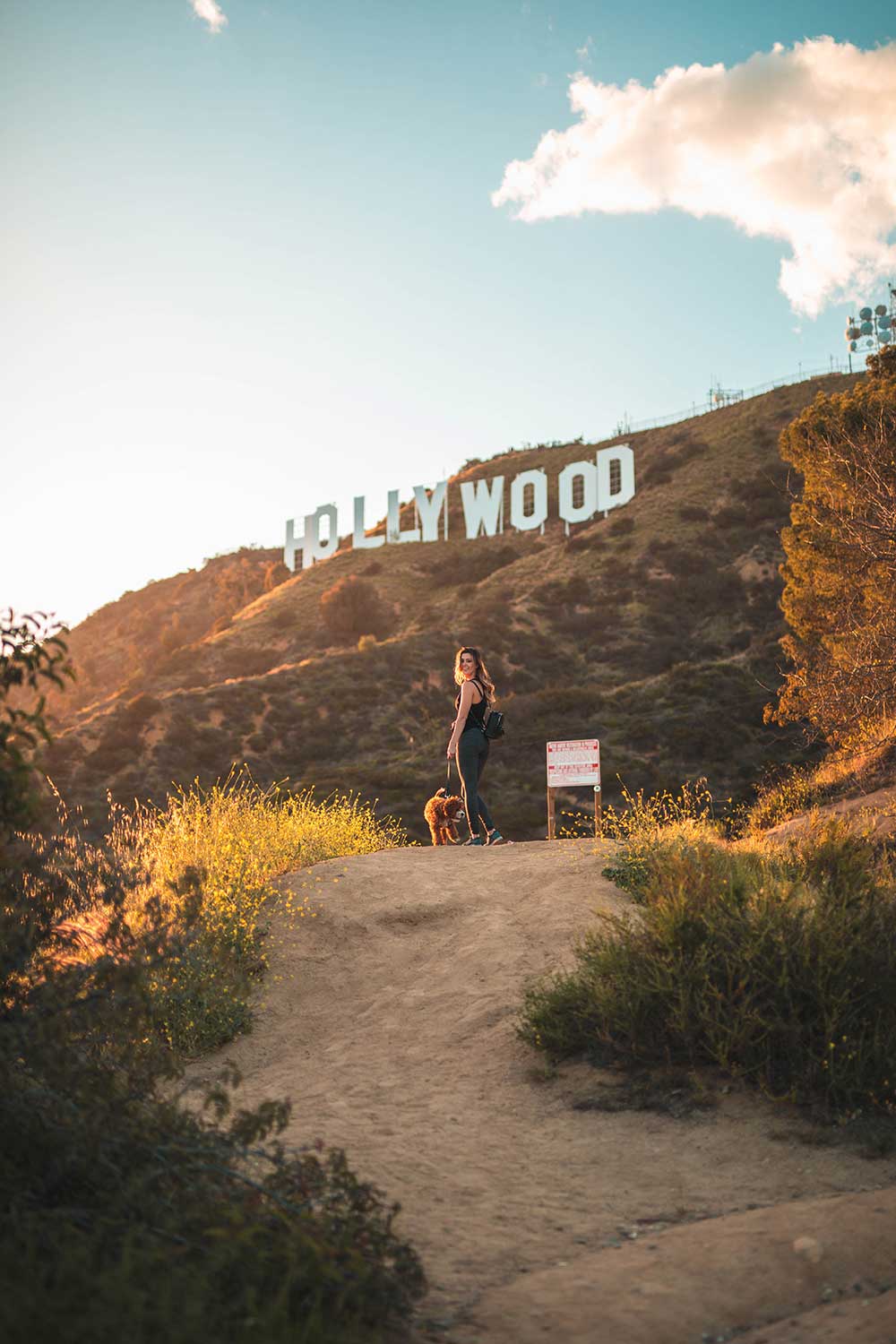 If you love hiking, park your car at Griffith Park and then tackle any of the hiking trails up to Mt. Hollywood.
It's probably one of the most rewarding ways to get a great photo of the Hollywood sign.
From the back corner of the Observatory parking lot, you have several hiking options. They're all pretty challenging (as they head straight uphill)
The shortest 3 mile option is the least crowded but also the steepest
Make sure to apply sunscreen, wear comfortable sneakers and bring an insulated water bottle to stay hydrated!
Also watch out for rattlesnakes!
ADVERTISEMENT
---
---
4. Lake
Hollywood Park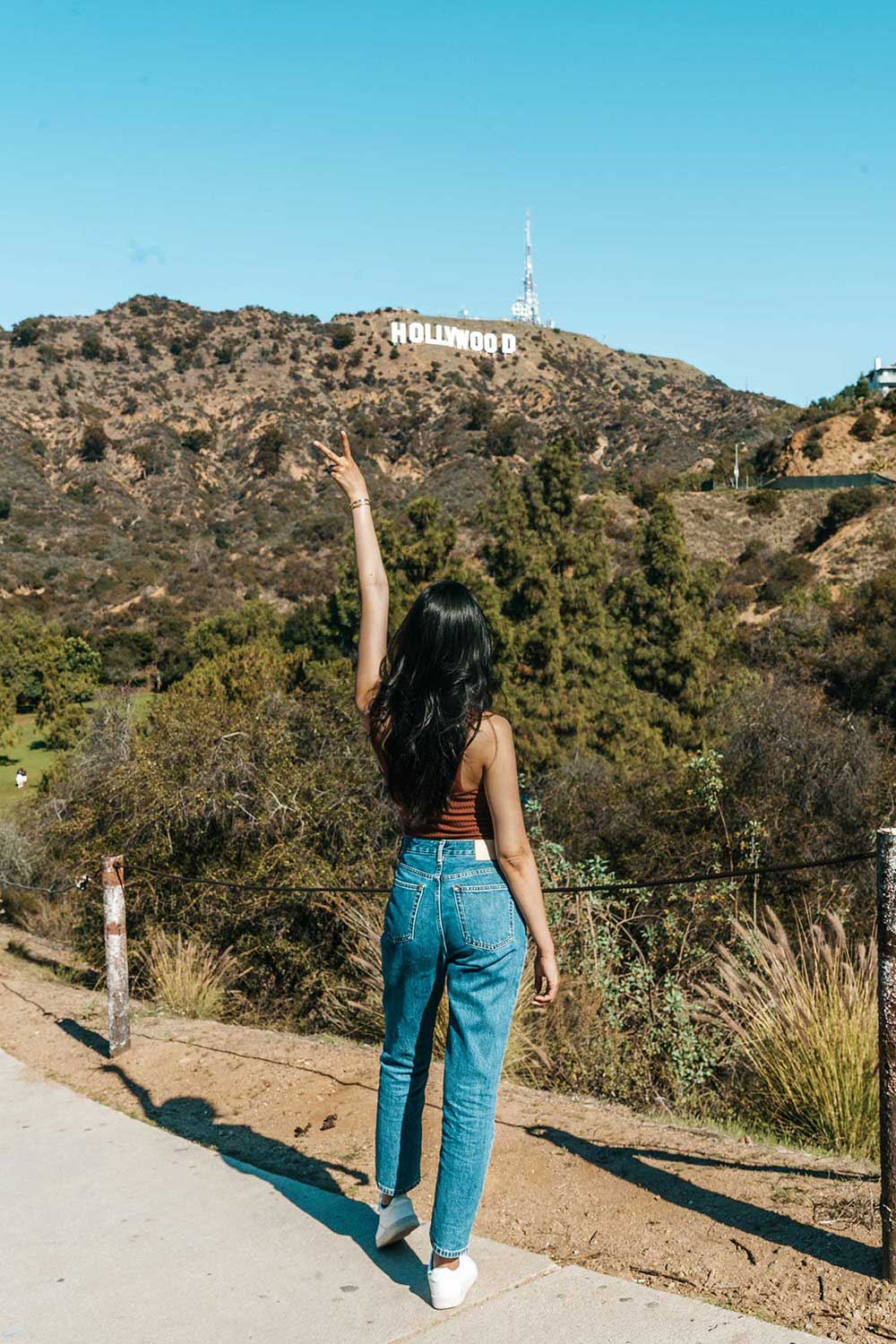 One of the best Hollywood Sign view points is at Lake Hollywood Park.
It's a clear, open grassy space with perfect views of the mountains and white letters. After you visit Griffith Observatory, drive for roughly 30 minutes down the hill and around the mountain bend.
You'll wind through the twisty residential road on Mulholland Drive, one of the most scenic roads that runs along the Los Angeles hills.
There's street parking along Canyon Lake Drive and you can step out and get a picture perfect shot right from the sidewalk!
Or, to get a little closer to the sign, walk up Mulholland Highway until it turns to dirt. Then at Deronda Gate you can hike the 1 mile path to the top of Mt. Lee, which will place you behind the sign!
ADVERTISEMENT
---
---
5. Hollywood Reservoir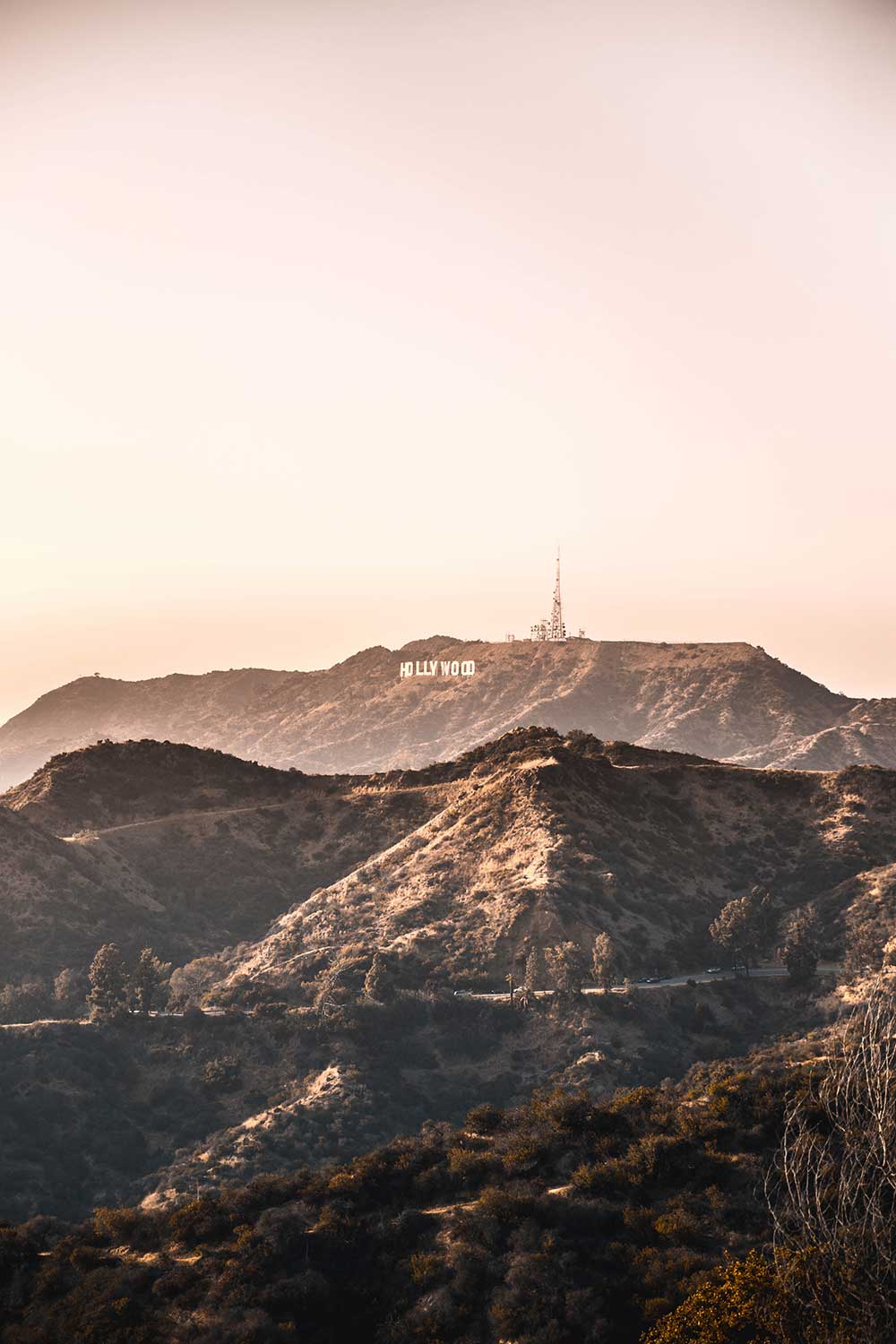 Another great photo spot of the Hollywood sign is nearby, at Hollywood Reservoir.
The artificial lake is a local favorite, thanks to its quiet trails and serene lake. Drive to the Mulholland Dam to get your shot!
ADVERTISEMENT
---
---
6. Barnsdall Art Park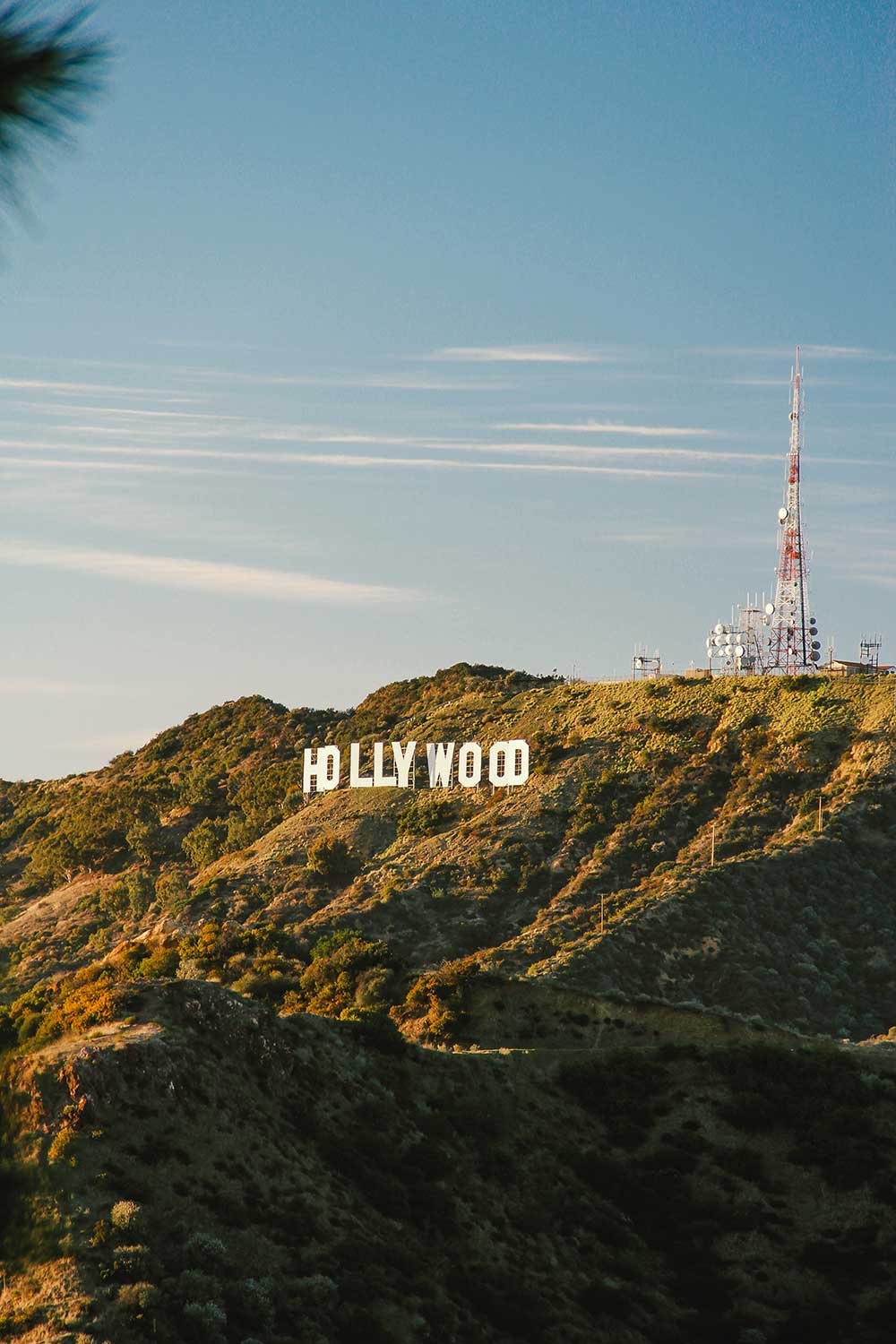 Another spot near Griffith Observatory, Barnsdall Art Park is at the intersection of Hollywood Boulevard and Vermont Avenue.
The 11 acre park is elevated on top of Olive Hill, so it has beautiful wide open views of the Hollywood Sign and Los Angeles city!
While you're here, soak in some art.
The land was given to the city in 1927 to be used as a cultural art center. And today, you can find Hollyhock House (a Frank Lloyd Wright designed architectural masterpiece), the Barnsdall Art Center, Barnsdall Gallery Theater and Los Angeles Municipal Art Gallery.
We visited Los Angeles in late fall, but I've heard Barnsdall is great to check out in the summer, when they have seasonal programming on weekends!
The cultural center offers Friday night wine tastings on the Hollyhock lawn, Saturday outdoor movie nights and Sunday art workshops!
ADVERTISEMENT
---
---
7. Wonder View Trail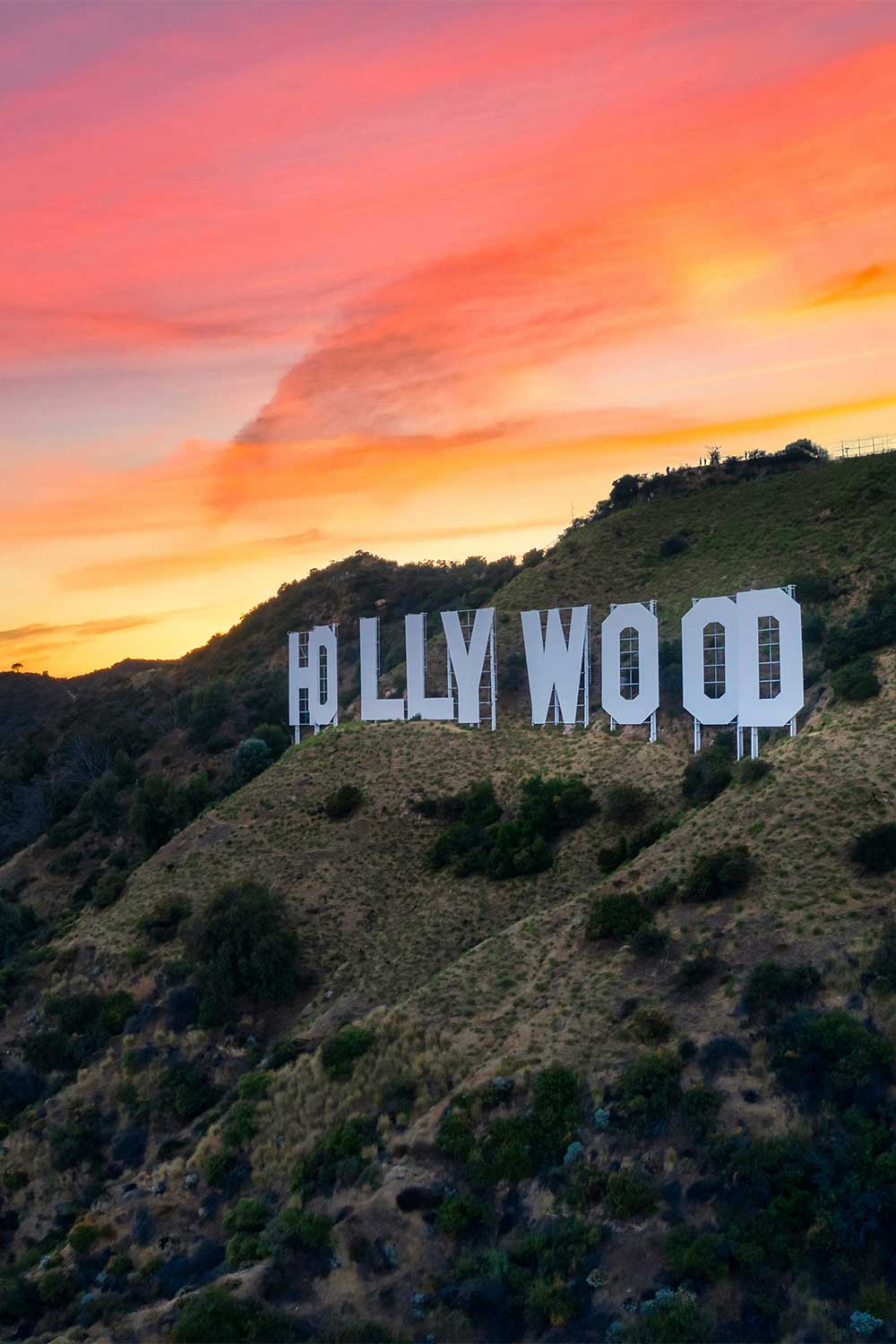 One of the more recent places to get a great photo of the Hollywood Sign is along Wonder View Trail.
Los Angeles acquired Cahuenga Peak on the eastern side of Griffith Park in 2010, and if you're an avid hiker you can challenge yourself on the super steep ridgeline hike.
This Hollywood Sign photo opportunity is really for the die-hard hikers.
Not only is it pretty high up, it mostly offers views of the white letters from the side or back.
ADVERTISEMENT
---
---
8. Hollywood & Highland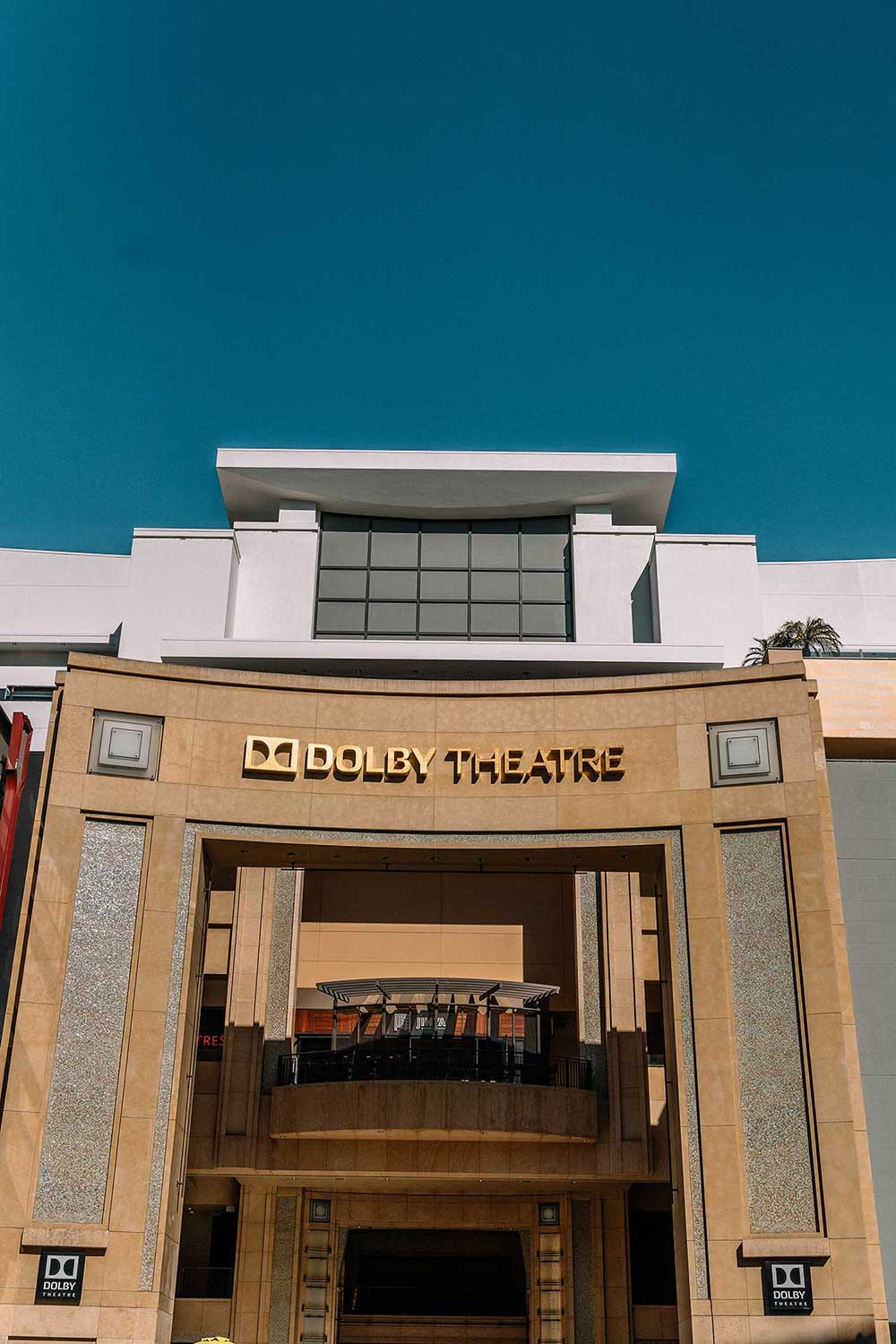 Looking for the absolute easiest place to take a photo of the Hollywood sign?
Follow my 1 day in Los Angeles itinerary and explore Hollywood Boulevard. While you're walking with the stars down the Hollywood Walk of Fame, keep an eye out for the Dolby Theatre.
Behind the theater is a shopping and entertainment complex where you can grab a bite to eat.. and take a cute tourist photo with the Hollywood Sign in the northeast corner.
To get there, plug in the large shopping mall into your GPS and head to the mall terraces. Inside Hollywood and Highland, climb up until you get to the 4th floor viewing deck.
Voila!
A majestically unobstructed (but distant) view of the white letters!
ADVERTISEMENT
---
---
This photo spot is also great for anyone who is mobility impaired or without a car. It's low impact (there are escalators) and located right above the Red Line metro station.
Tip: If you do have a car, park here and validate your parking ticket inside any of the bars, restaurants or stores inside Hollywood and Highland.
They'll let you pay just $2 for parking for up to 2 hours, which is a steal compared to the average LA parking lot rates!
I wish we had known this before our trip to LA, because we parked about a mile away and paid $15!
ADVERTISEMENT
---
---
9. Home Depot
If you're driving to Hollywood Boulevard, I have one more photo recommendation for you.
Nearby, about 2 miles east of Hollywood and Highland, there's a local insider spot for the best view. Drive to the Home Depot parking lot at 5600 Sunset Boulevard and look out over the top of the north side parking garage.
You'll get a direct shot of the 9 letters!
ADVERTISEMENT
---
---
10. Behind the Hollywood Sign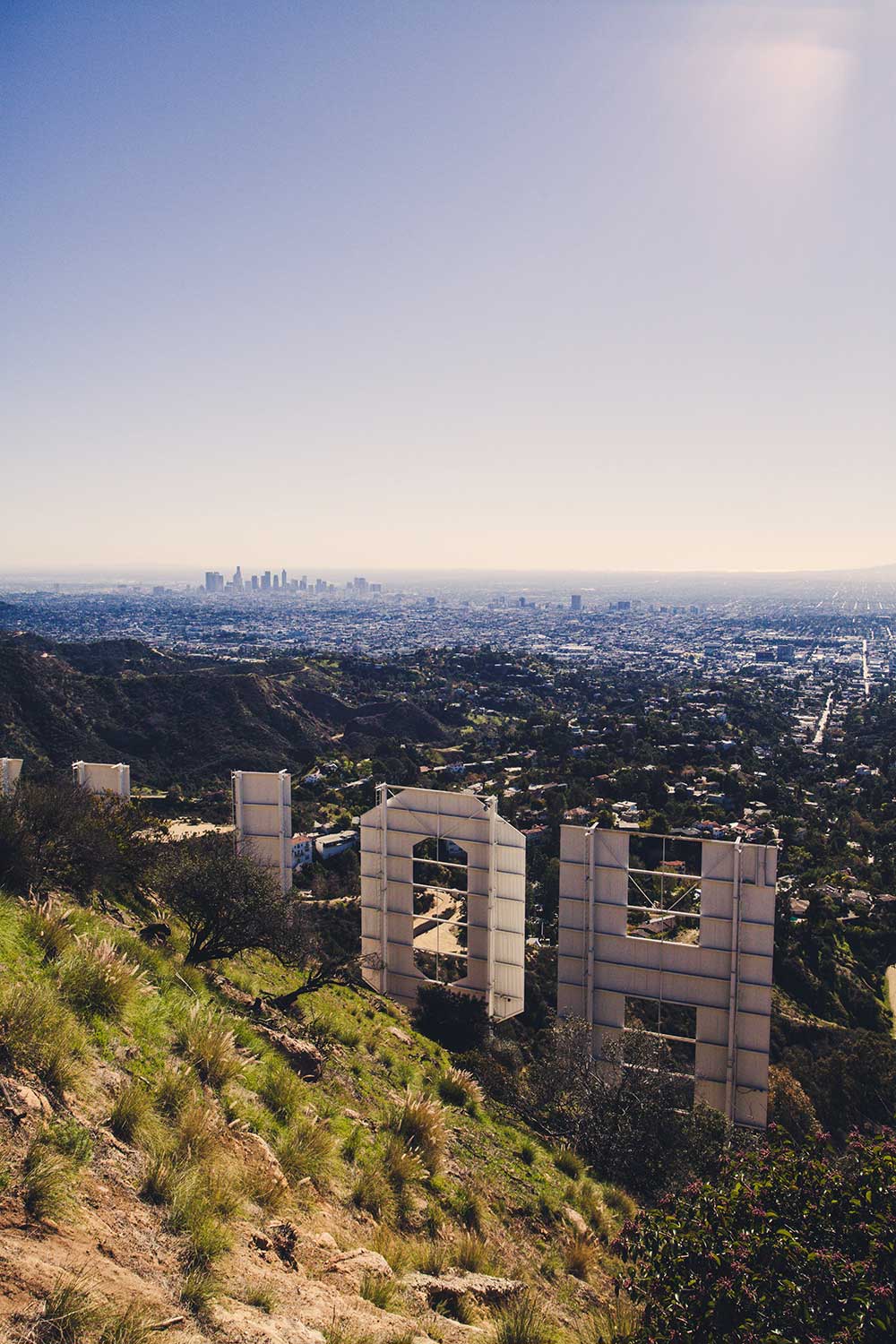 Want a unique photo from behind the 45 foot white Hollywood letters?
Then get prepared to climb!
There are a couple trails that will lead you right behind the Hollywood Sign so you can get a one-of-a-kind shot.
The Hollyridge Trail: 5 miles roundtrip, moderate
End of Mt. Lee to Hollywood Sign: one of the most popular routes that also takes you near the Bronson Caves (used as the Batcave in the 1960s Batman tv show)
ADVERTISEMENT
---
---
11. Hollywood Sign Flanked by Palm Trees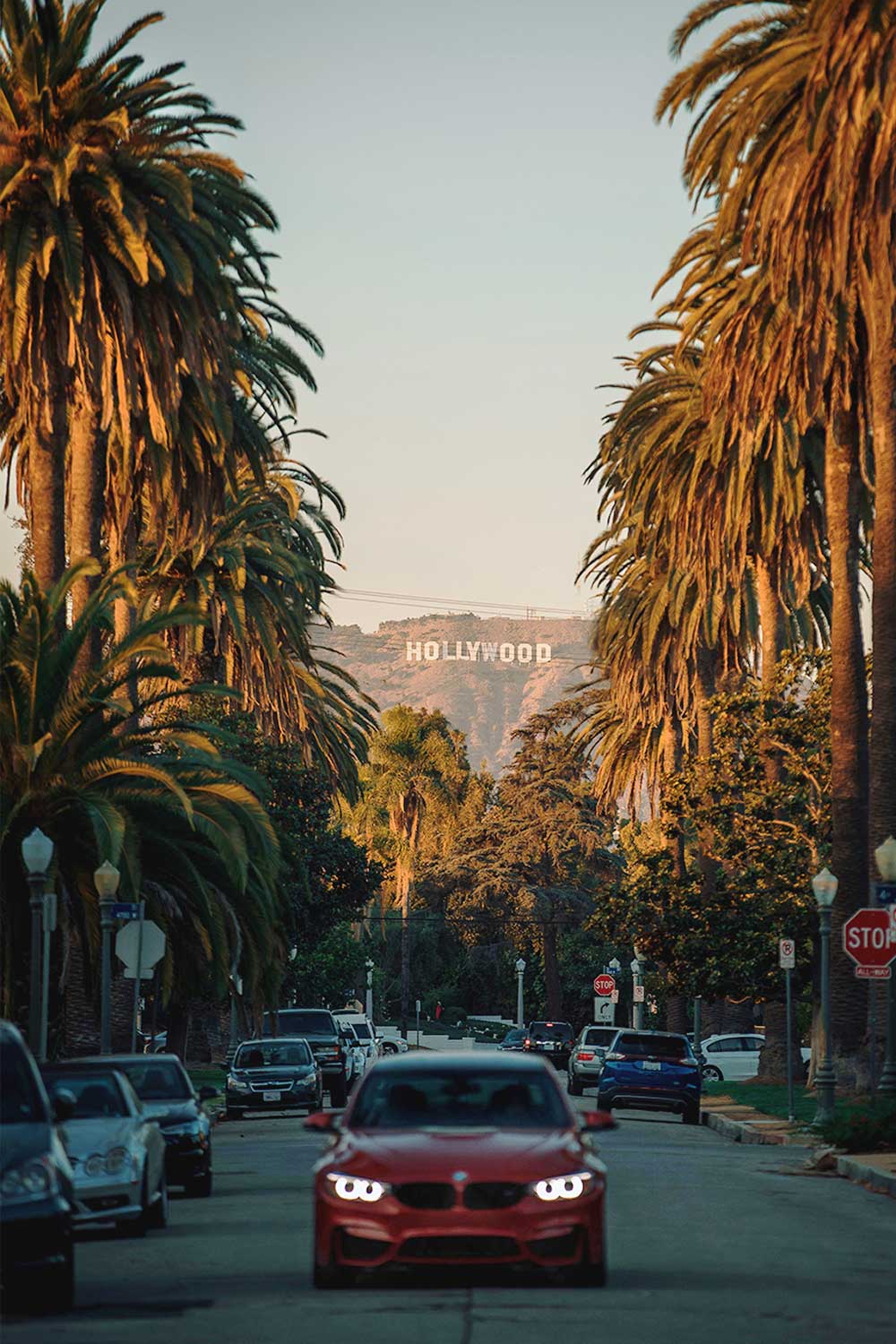 Drive down South Windsor Boulevard for a quintessential California photo, where you can frame the Hollywood Sign between two rows of palm trees.
The letters will be at quite a distance, so you'll need a zoom lens to compress the background and get the best shot.
For people who really love photography, I recommend this Sony camera and a 70-200mm lens.
ADVERTISEMENT
---
---
Planning a Trip to California- Travel Checklist
Flights | California has two main hubs – San Francisco International Airport (SFO) in the north, and Los Angeles International (LAX) in the south.
From New York City, we flew nonstop on United for about $500. Set a fare alert and browse airfare for your dates here.
See + Do | My favorite experience was road tripping the Pacific Coast Highway, one of the most scenic coastal drives in the United States. It's a great way to see San Francisco, Los Angeles and a number of quaint coastal towns in one trip. 
For more on what to see, do and eat on a classic California road trip, check out our PCH itinerary post. 
Accommodation | California has a great range of options, from luxury hotels to family friendly vacation rentals. Accommodation is very expensive, so book in advance to save. Check here for current hotel deals.
If you have a group of people or want more affordable housing browse VRBO. 
Insurance | Lastly, be sure to visit California with travel insurance. Whether your flight is delayed, you get injured and need to be hospitalized, or your phone gets stolen, travel insurance will help when you need it most! Get a quote for your trip here.
You Might Also Enjoy:
California Travel Guides
Pacific Coast Highway
The Ultimate Guide to Planning a Pacific Coast Highway Road Trip
The Perfect 7 Day PCH Itinerary
Road Tripping California's Highway 1: What to Know Before You Go
The Best Pacific Coast Highway Stops You Shouldn't Miss
Is 17 Mile Drive Worth Visiting?
Small Towns
Los Angeles
How to Spend 1 Day in Los Angeles
The Best 3 Day LA Itinerary
The 11 Best Spots to Take a Photo of the Hollywood Sign
The Most Iconic Spots in Hollywood Boulevard
San Francisco
The Best San Francisco Day Trips
The Ferry Building & Embarcadero
Follow me @Sher She Goes on