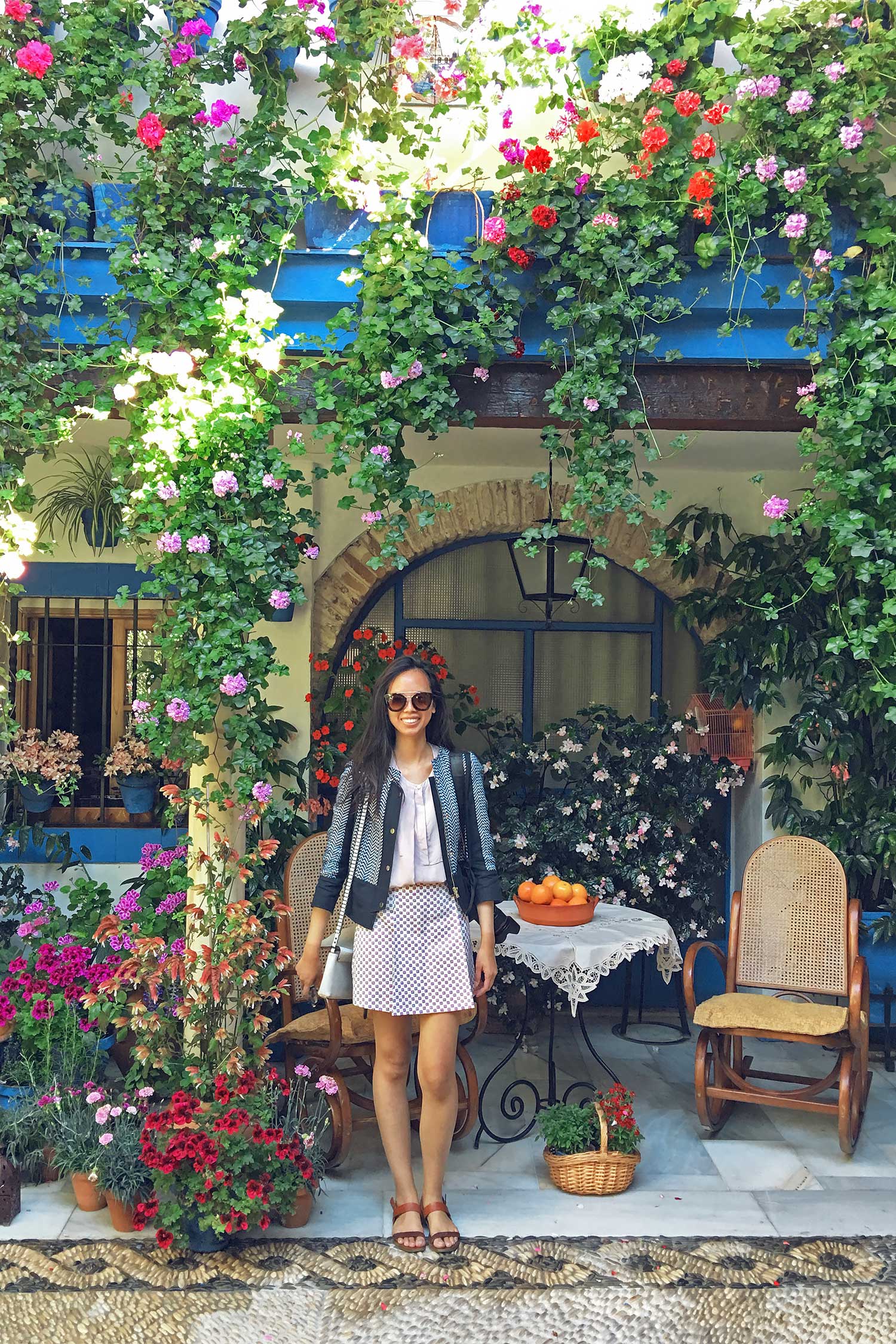 Visiting Cordoba, Spain
Strategically located on the north bank of the Guadalquivir River, Cordoba was Spain's capital during Roman and Moorish times. Today its old quarter and famous Mezquita (mosque) are one of Spain's most beautiful remnants from the Moorish era.
One thing I thought was fascinating was that medieval Cordoba was known for its peaceful religious tolerance. 3 religions and cultures – Islam, Judaism and Christianity all coexisted together.
Out of all the cities in Southern Spain, I fell in love with Cordoba. It's landmark mezquita-cathedral (mosque cathedral), winding, whitewashed Juderia, and jasmine filled patios held so much charm and history that I think it deserves more visitors!
Here's a quick travel guide for visiting Cordoba!
Or save this article to read later by pinning it ⇟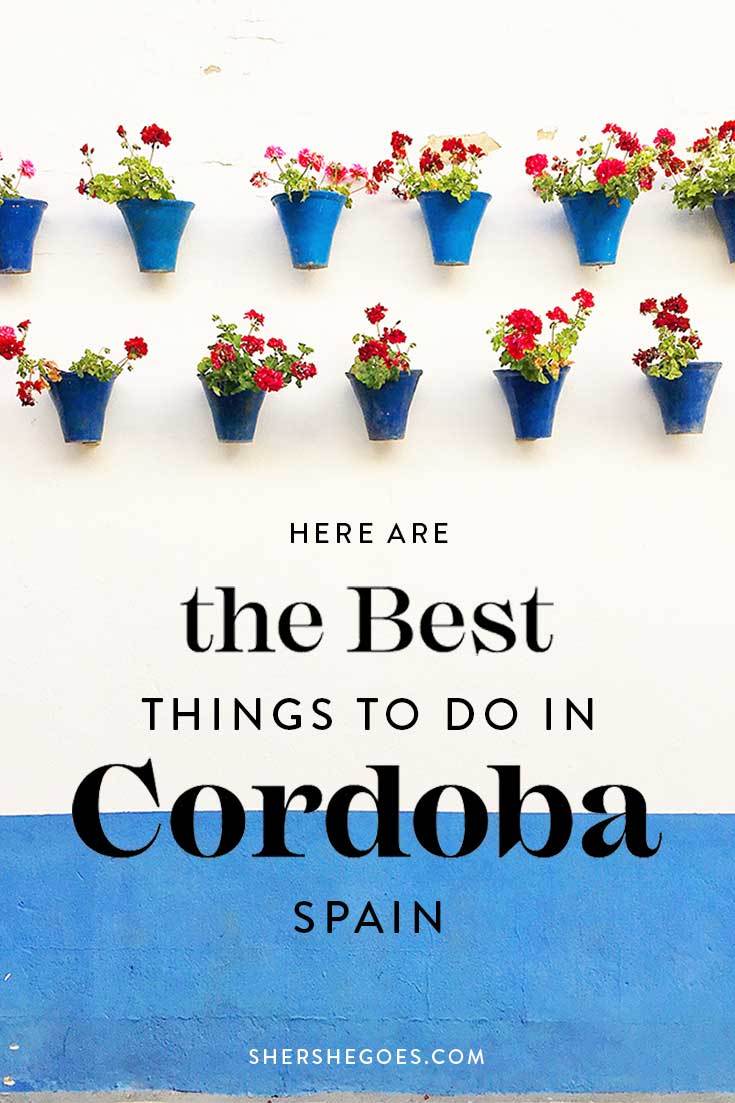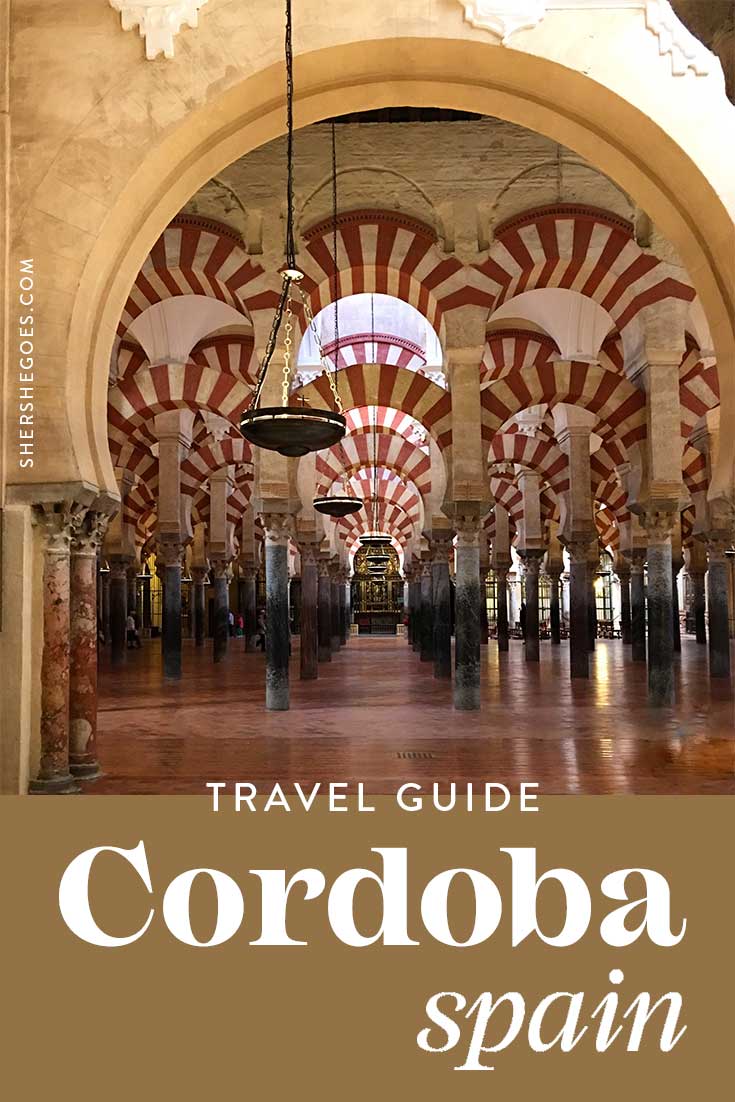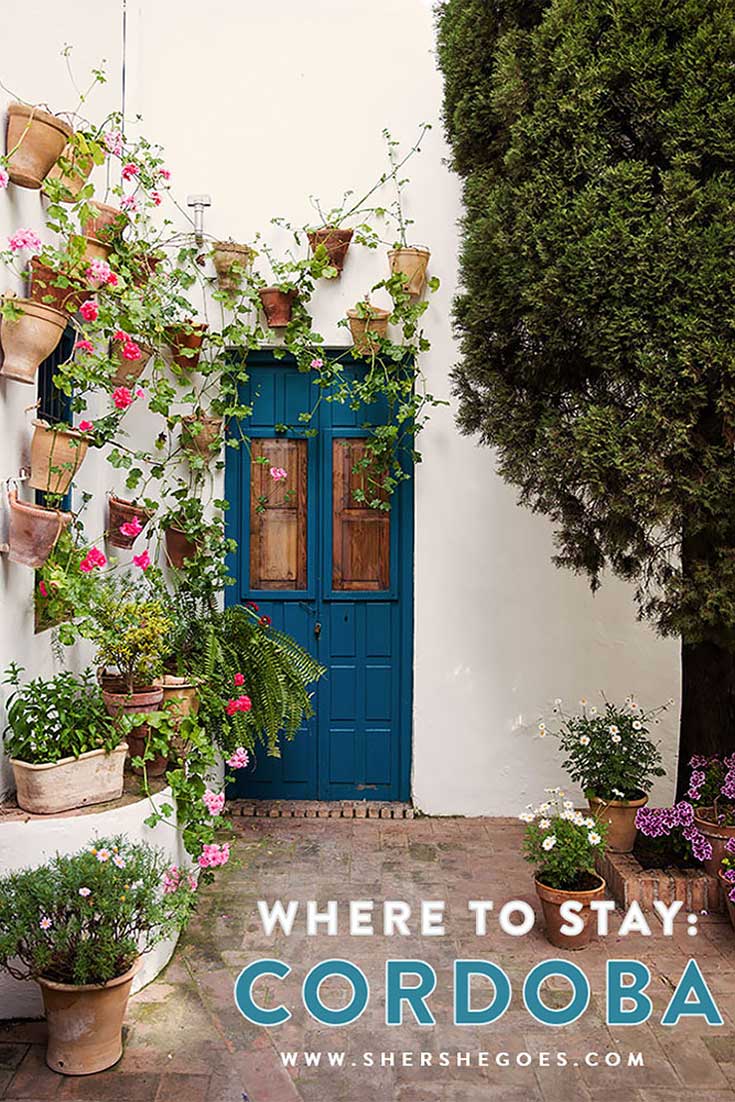 ADVERTISEMENT
How to Get to Cordoba
The easiest way to visit is by taking the high speed train from Madrid's Atocha train station. Trains run frequently, nearly every hour in high season, on the Madrid > Seville line.
The ride was comfortable with luggage and took just under 2 hours. You can book tickets on Omio for convenience.
Book
train tickets here
ADVERTISEMENT
---
---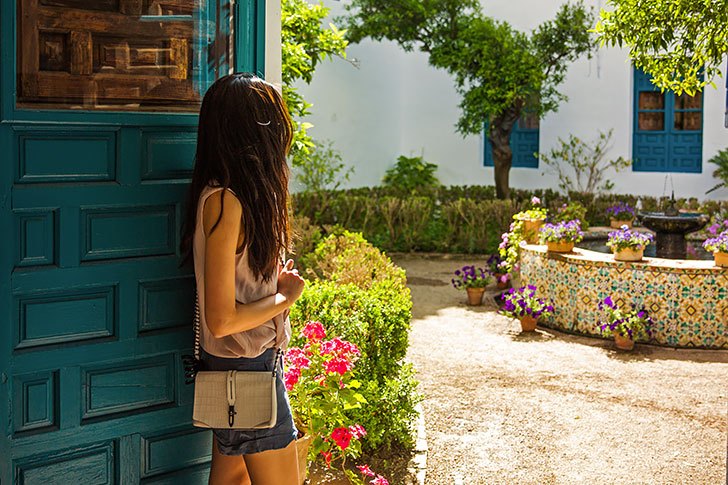 Best Things to Do in Cordoba, Spain
After spending 3 days in the quaint town, I compiled a list of the best things to do in Cordoba, Spain based on my experience! First up are the true standout sights, followed by some options if you have additional time.
There's also my tips for where to eat in Cordoba, including the best tapas bars and restaurants in town!
1. Mezquita
Built between the 8th– 10th century, Cordoba's mosque is one of the earliest and most beautiful examples of Spanish Islamic architecture. Enter through the Puerta de las Palmas (Door of the Palms) where 850 red and white columns rise before you.
While you can visit on your own, I highly suggest this affordable guided tour to understand the significance of the mosque. Our guide pointed out all the tiny architectural details and religiously significant areas that I otherwise wouldn't have noticed! The tour also lets you skip the line!
For example, Al Hakam II built a beautiful mihrab (prayer niche), which is the Mezquita's greatest jewel. There's also the qiblah, the south facing wall in which the sacred prayer niche was hollowed out. In front of the mihrab is the maksoureh, a kind of anteroom for the caliph and his court.
Check
tour availability here
.
ADVERTISEMENT
---
---
2. Calleja de las Flores
This is the textbook cover image of Cordoba found on every guidebook and for good reason! You'd be hard pressed to find prettier patios than those along this tiny street, a few yards off the northeastern corner of the Mezquita.
Patios are central to Cordoba's architecture in the old quarter, an homage to the Moorish rulers of the ancient city, who honored the sanctity of the home and the need to shut out the fierce summer sun.
Sher's Tip: This is a narrow alley that practically every tour group crowds into. Go early or late for an unobstructed view.
ADVERTISEMENT
---
---
3. Alcazar de los Reyes Cristianos
Built by Alfonso XI in 1328, the Alcazar is a Mudejar style palace with splendid gardens. The palace is really more of a fortress, bare bones and built for military usage but the museum is still interesting.
Notably, this is where the Catholic Monarchs (Isabella + Ferdinand) held court in the 15th century and launched their conquest of Granada. The most important sights are the Hall of the Mosaics and a Romans stone sarcophagus from the 2nd or 3rd century.
Personally, I think the gardens are the true highlight here!
This is right behind the Mezquita and fills up with visitors fast. Book tickets online if you want to skip the line! The nice thing is you also get a guide who can explain more of the palace's famous history.
Check
tour availability here
.
ADVERTISEMENT
---
---
4. Palacio de Viana
This 17th century palace is one of Cordoba's most splendid aristocratic homes. Also known as the Museo de los Patios, it contains 12 interior patios, each one different; the patios and gardens are planted with cypresses, orange trees and myrtles. Inside are a carriage museum and library.
You can buy either a ticket for the interior, to tour the 16th century estate, or a combined ticket to see the beautiful flowers in the outdoor patios. The grounds can feel a little disjointed, as the palace was once individual houses that were then combined after a seller bought out his neighbors. The gardens are the true highlight here!
There's also the option of taking a guided tour to some of the patios around town!
Sher's Tip: If you miss the Patio Festival in May, this is a great museum to stop at as it gives you a glimpse of what the beautiful patios and courtyards look like. If you're in town for the Festival, you can skip this museum. You're probably all patio'd out already, ha.
ADVERTISEMENT
---
---
5. Roman Bridge
This ancient bridge still stands on its original first century AD foundation, pointing a direct path to the Mezquita. Although it's a small, relatively unimpressive bridge compared to say, Paris' Pont des Arts, it's worth it's weight in historical significance.
This bridge established Cordoba's strategic importance in Andalusia and one of its fortified gates was converted to hold the Museum of Al-Andalus Life.
Sher's Tip: The bridge was converted in 2009 to a pedestrian walkway. Go for a walk or bike ride at sunset, where you'll mingle with lots of local Cordobans out for their post dinner stroll.
You'll also have an impressive, beautiful view of the Mezquita mosque and cathedral lit up at night!
ADVERTISEMENT
---
---
Other Points of Attraction in Cordoba
The top sights I recommended above are easily doable with just 2 or 3 days in Cordoba. If you love Spain and have more time, here are some smaller but equally beautiful sights to check out while you're in Cordoba.
6. Torre de la Calahorra
The tower on the far side of the Puento Romano (Roman Bridge) was built in 1369 to guard the entrance to Cordoba. It now houses the Museo Vivo de Al-Andalus ( 'Land of the West') with films and guides on Cordoba's history. Climb the narrow staircase to the top of the tower for the view of the Roman bridge and city on the other side of the Guadalquivir.
7. Museo Julio Romero de Torres
Across the courtyard from the Museum of Fine Arts, this museum is devoted to early 20th century artist Julio Romero de Torres who specialized in mildly erotic portraits of demure Andalusian temptresses.
8. Juderia
The lively Plaza Juda Levi, surrounded by a maze of narrow streets and squares, lies at the heart of the Juderia and is for great people watching. Best experienced in the morning with minimal crowds.
Read more:
Visiting Cordoba in Spring: the Flower Patio Festival
ADVERTISEMENT
---
---
9. Madinat Al-Zahra
Built in the foothills of the Sierra Morena by Abd ar-Rahman III for his favorite concubines, al-Zahra, this once spending summer pleasure palace was begun in 936. The Madinat was sacked in 1013 and parts have been reconstructed. No public transportation but a tourist bus runs 2x daily (3x on Saturday) and the tourist office can provide details of stops and schedules.
10. Museo de Bellas Artes
Hard to miss because of its deep pink façade, Cordoba's Museum of Fine Arts, ina courtyard just off the Plaza del Potro, belongs to a former Hospital. The collection includes paintings by Murillo, Goya, Sorolla, etc.
11. Iglesia de San Miguel
Complete with Romanesque doors built around Muedjar horseshoe arches, the San Miguel Church, the square and café terraces around it and its excellent tavern Taberna San Miguel Casa El Pisto, form one of the city's finest combinations of art, history and gastronomy.
Read more:
7 Days in Andalusia: Everything You Need to See
ADVERTISEMENT
---
---
Where to Stay in Cordoba
Cordoba merits at least a day and ideally, 2 days and 1 night. The town is small enough that the main sights are no more than 10 minutes walking distance from practically anywhere in the old town. If you like small towns, Cordoba shouldn't be missed.
Here are a couple suggestions for the best hotels in Cordoba:
1 | NH Amistad Cordoba – a lovely, central hotel known for it's amazing breakfast options. Slightly pricier but the rooms are worth it.
Check rates: Hotels.com, Booking.com | Read reviews: TripAdvisor
2 | Eurostars Patios de Cordoba – perfectly located away from the hustle and crowds in the Jewish Quarter yet within a quick walk to the main sites. This is a unique hotel and perfect for first time visitors to Cordoba, as the Eurostars hotel has beautiful patios for you to relax with a drink during the afternoon siesta.
Check rates: Hotels.com, Booking.com | Read reviews: TripAdvisor
3 | Hotel Riviera – a bare bones, but inexpensive and clean hotel. It's centrally located behind a main street with lots of restaurants and food nearby. Hotel Riviera is slightly farther from the town's center but on the flipside, it's very budget friendly! About a 10 min walk from the Mezquita.
Check rates: Hotels.com, Booking.com | Read reviews: TripAdvisor
ADVERTISEMENT
---
---
Where to Eat in Cordoba
Cordoba is a classic Spanish town, with later lunch and dinner times than you may be used to. Lunch is typically from 1-3pm, with a siesta until 6pm, and dinner from 9-11pm.
Best Restaurants in Cordoba
El Potrillo Español – It'll be you and a handful of boisterous locals in this rustic little tavern run by one-man-band Argimiro. Get a plate of jamón, perhaps some local cheese and throw in an order of grilled garlicky mushrooms | Calle Lucano, 19
Gastrotaberna Macsura – A modern restaurant and bar serving tasty local food. If they're on the menu when you go, try the coquillas (small clams) and ortiguillas (sea anemones) here. They have an outside terrace | Calle Cardenal Gonzalez
Regadera – If you've only got a day (or an afternoon) and you're wondering where to eat in Cordoba: Regadera should be high on your list. The menu mixes tradition with innovation, and everything has a light, modern touch. Delicious | Calle Ronda de Isasa
Garum 2.1 – With its bright and breezy bistro style atmosphere, Garum 2.1 turns out inventive version of Cordoban classics. The salmorejo with sherry and the bull tail stew are excellent. They even do a bull tail churro, if you're feeling post-modern | Calle San Fernando, 120-122
Las Piconeras – tapas bar, everyone likes the paella entree for two at just 11 euros | Calle de Corregidor Luis de la Cerda, 73
ADVERTISEMENT
---
---
Are you headed to Cordoba? What are you most looking forward to?
Visiting Spain – Travel Checklist
To make the most of our time, we booked open jar flights, flying from NY to Madrid and departing from Lisbon. Check flight deals for your dates here.
For getting around within Spain, we recommend the local train system. Both fast and slow options are available, so Spain train travel is easy and effective! The only catch? It's difficult for non Spanish users to book. Instead, book your tickets on Omio, which is much more convenient for English speakers and accepts international credit card holders. Check train schedules for Spain here.
We mixed up our accommodation throughout the trip, alternating between Airbnb and hotels. You can browse last minute Spain hotel deals here. 
Lastly, be sure to visit Spain with travel insurance. Whether you get injured and need to be hospitalized, your phone gets stolen, or a flight delay leaves you with nothing but the clothes on your back, travel insurance will help when you need it most. Get a quote for your trip here.
You Might Also Enjoy:
Spain Vacation Planning Articles
Spain and Portugal: A Perfect Itinerary to Explore Both Countries!
Headed to Andalusia? Check out this 7 day Southern Spain travel guide
Granada
How We Spent 3 Incredible Days in Granada
Insider Tips for Visiting the Alhambra Palace
Seville
The Best Things to Do in Seville
A Spain Food Guide: Important Tapas + Food Names in Spanish!
Cordoba
Spain's Hidden Gem: The Quaint Town of Cordoba
Don't Miss Cordoba's Patio Festival! Here's Why
Follow me @Sher She Goes on