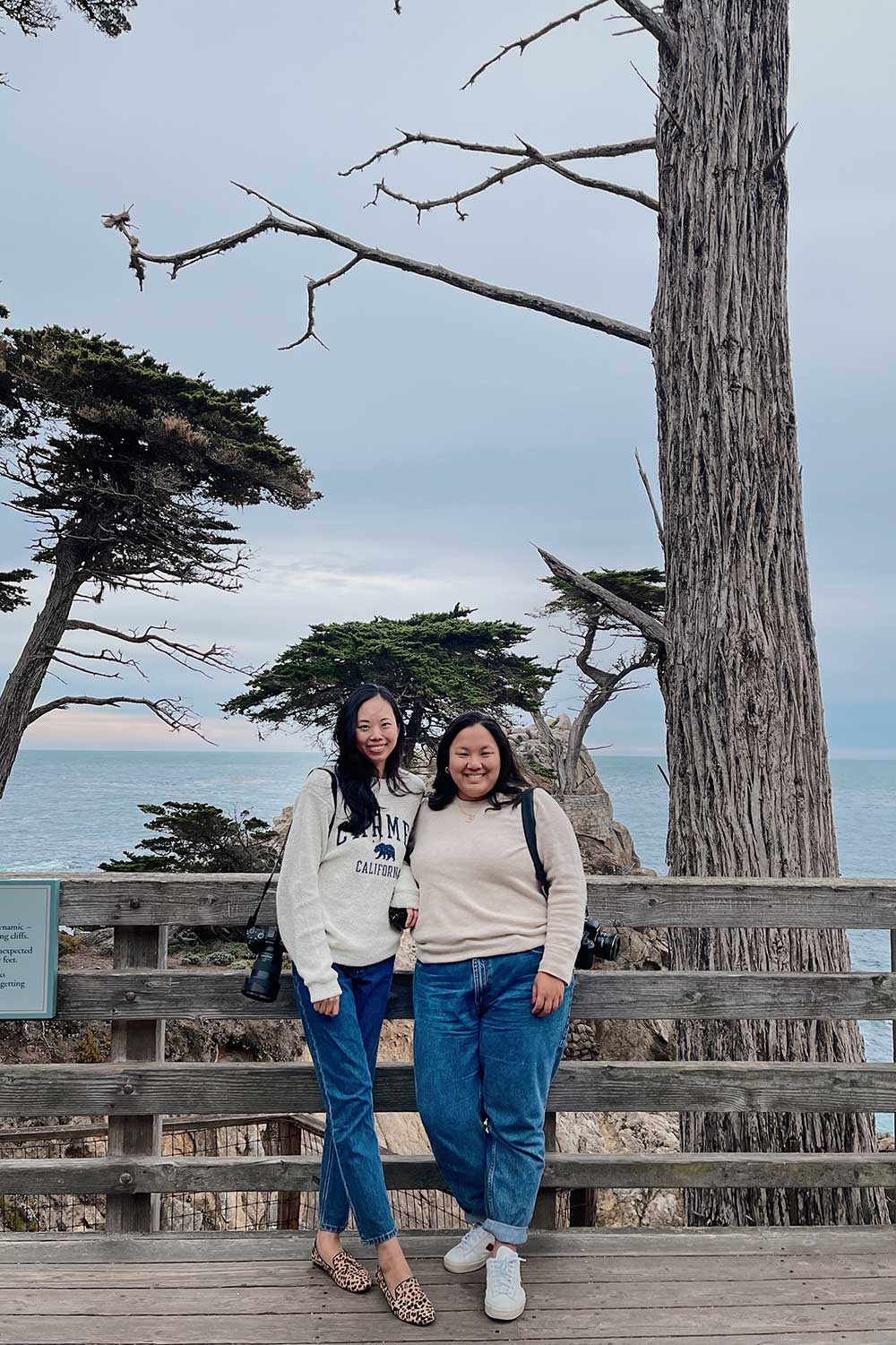 17 Mile Drive
One of the most beautiful parts of the Pacific Coast Highway is driving along the Monterey Peninsula, in California's Central Coast.
The only catch?
It's on a private road. We had such a blast driving through it though, that I highly recommend paying the toll to visit 17 Mile Drive.
ADVERTISEMENT
I wore a comfy oversized sweatshirt, some loose straight leg jeans and leopard flats for our road trip day.
Margaux makes incredible flats.
Not only are they sleek, they're super comfortable! I like the leopard print but they also come in a rainbow of solid colors and other prints.
Shop this look and more winter favorites on Zappos here.
ADVERTISEMENT
---
---
17 Mile Drive
17 Mile Drive is a (you guessed it) seventeen mile long winding road between Monterey and Carmel.
Inside you'll drive through the gated community of Pebble Beach, filled with gorgeous mansions, cypress trees, luxury hotels and scenic attractions like Lone Cypress, Bird Rock and the Del Monte Forest.
The road hugs the Pacific coastline and puts you so close to the ocean that you can roll down the windows and taste the salty air!
Inside is also Pebble Beach golf course, one of the most famous golf courses in the world.
ADVERTISEMENT
---
---
What to Know About 17 Mile Drive
While the drive is a famous tourist route, it actually serves as the main road through Pebble Beach, a gated community.
There are 5 entry gates into Pebble Beach but most likely you'll enter through either California Route 1, Carmel or Pacific Grove.
Residents can drive in for free, but non-residents have to pay a toll. When we visited in 2021, the toll was $10.50 per car and was a one-time day fee, so you could enter and exit as many times as you wished.
Motorcycles aren't allowed inside at all. Bicycles can get in for free by entering the Pacific Grove gate.
You also get a brochure at the toll gate, that has a helpful map listing out scenic sections and historic points of interest on the route. It's a helpful addition to use along with Google Maps!
Make sure to keep your receipt! If you end up shopping or dining at any of the places inside Pebble Beach, you can get the entry fee credited to a bill over $35.
ADVERTISEMENT
---
---
Best Stops in 17 Mile Drive
One you drive through the gates, you'll find easily marked signs to find all the iconic landmarks inside 17 Mile Drive. The road winds through a forested area and by the ocean, so there's a bit of variety in the landscape.
Give yourself plenty of time to enjoy the route! You might even see wildlife – there's everything from deer to sea lions within Pebble Beach.
Here are all the must-see scenic points to stop at while you're road tripping the scenic route:
ADVERTISEMENT
---
---
Spanish Bay
Spanish Bay Beach is a great beach to picnic, play in the sand or sunbathe. We saw surfers here when we visited, but it's not advised as a swimming beach as the current is strong and dangerous.
Spanish Bay was named after explorer Gaspar de Portola, who arrived here with his crew in 1769. It's usually the first stop people see when they arrive in 17 Mile Drive, and luckily has a great parking lot and lots of picnic tables.
Golfers can also golf here! The Links at Spanish Bay is right behind the sand dunes.
ADVERTISEMENT
---
---
Restless Sea
As you continue driving south, you'll see the Restless Sea, a place where the ocean is constantly in motion.
Maybe it's because the current crashes with submerged rocks by the shore, but whatever the reason, it's a beautiful place to pull over and enjoy the view!
As a result of the ocean's restless movement, lots of plankton and food are flushed into the bay to feed the local marine life, so there's a huge kelp forest by the shore.
ADVERTISEMENT
---
---
Point Joe
Next up is Point Joe.
As more European explorers came to the California coast, they often confused Spanish Bay for Monterey Bay, its neighbor up north – to devastating effect.
Tons of ships ended up shipwrecked on the rocks here at Point Joe, including St. Paul, which crashed in 1896 and clung precariously to rocks for 3 months before sinking; and Celia, a steamer ship that got lost at sea and eventually wrecked in 1906.
ADVERTISEMENT
---
---
Bird Rock
As you continue driving south, you'll see a rock off in the distance filled with hundreds of birds.
If you have binoculars, you'll likely spot pelicans and Brandt cormorants sharing the rock. While most sea birds have waterproof feathers, cormorants don't so they have to dry out between dives.
The large rock just off shore is their preferred spot. Stay for a while to see them stretching their wings in the direction of the sun! The birds look a little funny as they try to air out.
While you're here, you also may hear a California sea lion or seal! We kept hearing large barking calls but couldn't actually see any.. they were probably hidden under the rock or just out of eyesight.
Also good to note – the only bathroom in 17 Mile Drive is here at Bird Rock.
ADVERTISEMENT
---
---
Lone Cypress
Lone Cypress is probably the most famous spot in 17 Mile Drive.
It's a serene, 250 year old tree that sits alone just off the shore. There's a wooden set of stairs and large viewing platform so you can get a little closer to the tree after parking your car.
The point itself is off limit to visitors though, as Pebble Beach hopes the tree can live to 300!
In fact, the neighborhood unofficially adopted Lone Cypress as their mascot.
ADVERTISEMENT
---
---
Monterey Cypress
One thing I didn't expect to find was a forest inside Pebble Beach.
Just after Fanshell Overlook, 17 Mile Drive turns into the Del Monte Forest. Here, you can spot Monterey Cypress trees in the distance, a rare type of tree that grows in just two places: here, and at Point Lobos (south of Carmel).
The trees can live for nearly 300 years and grow to be over 70 feet tall.
The tallest recorded tree is nearby in Crocker Grove, a forest named after the man who established 17 Mile Drive in 1881.
ADVERTISEMENT
---
---
And that's it! A leisurely, beautiful drive through Pebble Beach along 17 Mile Drive.
What do you think? Is the road worth the private toll fee?
Planning a Trip to California- Travel Checklist
Flights | California has two main hubs – San Francisco International Airport (SFO) in the north, and Los Angeles International (LAX) in the south.
From New York City, we flew nonstop on United for about $500. Set a fare alert and browse airfare for your dates here.
See + Do | My favorite experience was road tripping the Pacific Coast Highway, one of the most scenic coastal drives in the United States. It's a great way to see San Francisco, Los Angeles and a number of quaint coastal towns in one trip. 
For more on what to see, do and eat on a classic California road trip, check out our PCH itinerary post. 
Accommodation | California has a great range of options, from luxury hotels to family friendly vacation rentals. Accommodation is very expensive, so book in advance to save. Check here for current hotel deals.
If you have a group of people or want more affordable housing browse VRBO. 
Insurance | Lastly, be sure to visit California with travel insurance. Whether your flight is delayed, you get injured and need to be hospitalized, or your phone gets stolen, travel insurance will help when you need it most! Get a quote for your trip here.
You Might Also Enjoy:
California Travel Guides
Pacific Coast Highway
The Ultimate Guide to Planning a Pacific Coast Highway Road Trip
The Perfect 7 Day PCH Itinerary
Road Tripping California's Highway 1: What to Know Before You Go
The Best Pacific Coast Highway Stops You Shouldn't Miss
Is 17 Mile Drive Worth Visiting?
Small Towns
Los Angeles
How to Spend 1 Day in Los Angeles
The Best 3 Day LA Itinerary
The 11 Best Spots to Take a Photo of the Hollywood Sign
The Most Iconic Spots in Hollywood Boulevard
San Francisco
The Best San Francisco Day Trips
The Ferry Building & Embarcadero
Follow me @Sher She Goes on