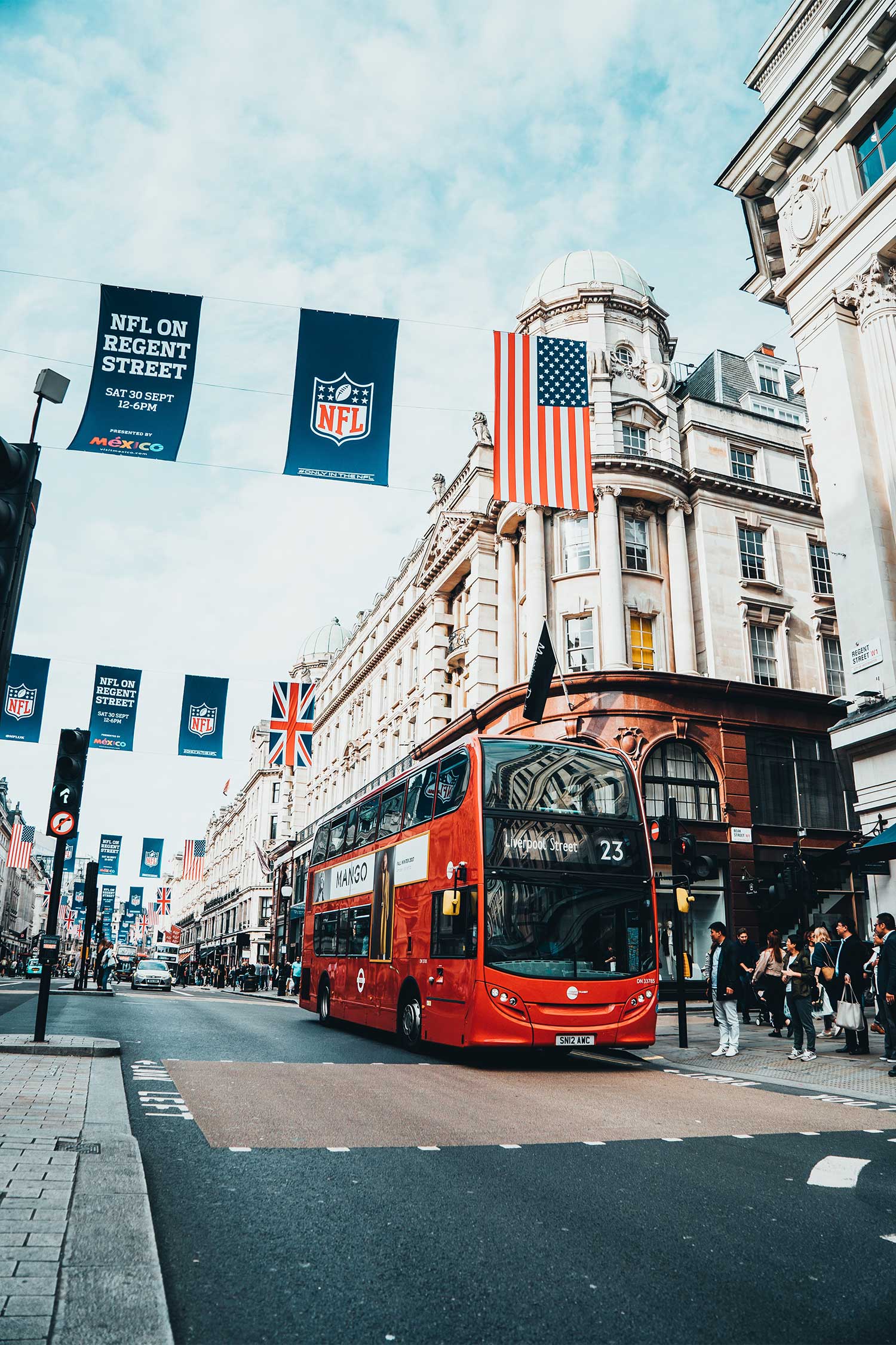 Best London Itinerary for First Time Visitors
When I first visited London, I faced the same vexing issue that many of the world's popular tourist destinations often present.
On one hand, I knew I couldn't spend time in London without seeing the blockbusters: double-decker buses, red telephone boxes, Big Ben. You know, the whole shebang, as it were. On the other hand, however, I'd be disappointed if my visit consisted only of cliché (if classic) tourist traps.
Family and friends that call London home have provided me with several opportunities to explore England's capital over the years, giving me a chance to properly survey both London's treasured landmarks and its hidden gems, so I thought it was time to return the favor and share what I have learned.
Striking that balance between established tourist activities and off-the-beaten-path experiences is always difficult, but if you're lucky enough to find yourself in London for a week or more, achieving this happy medium is imminently possible.
Keep reading for my suggested 5 day itinerary for your week in England!
Or, pin this post to read it later ⇟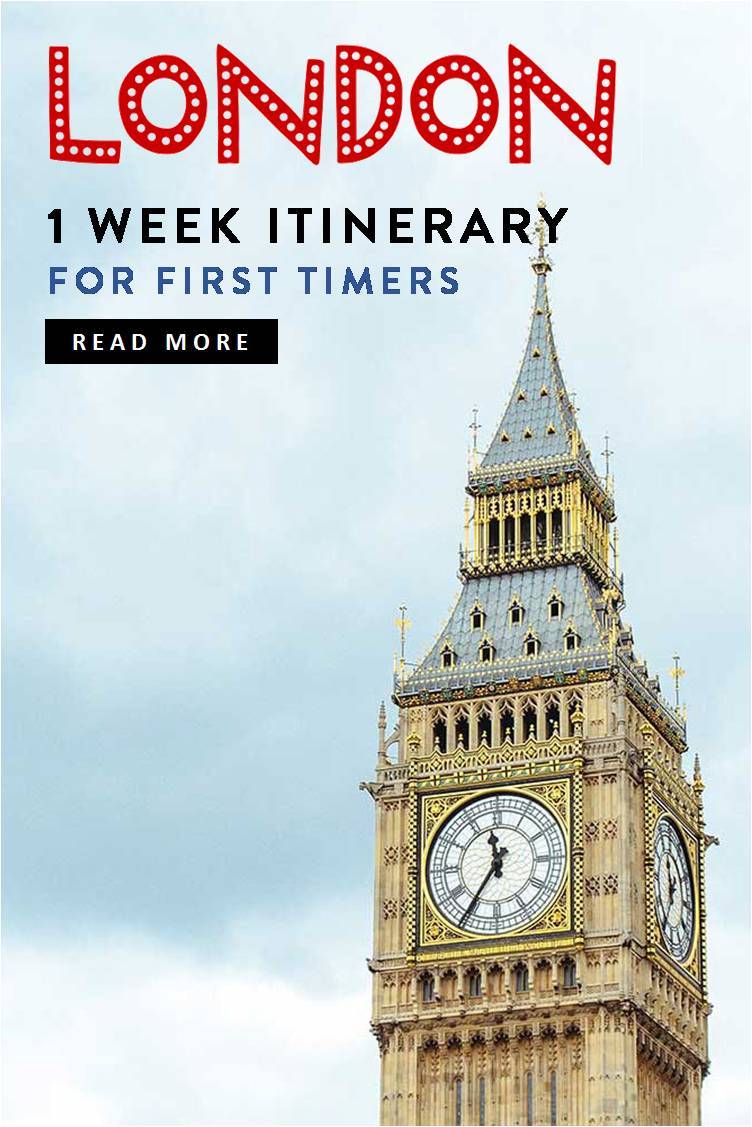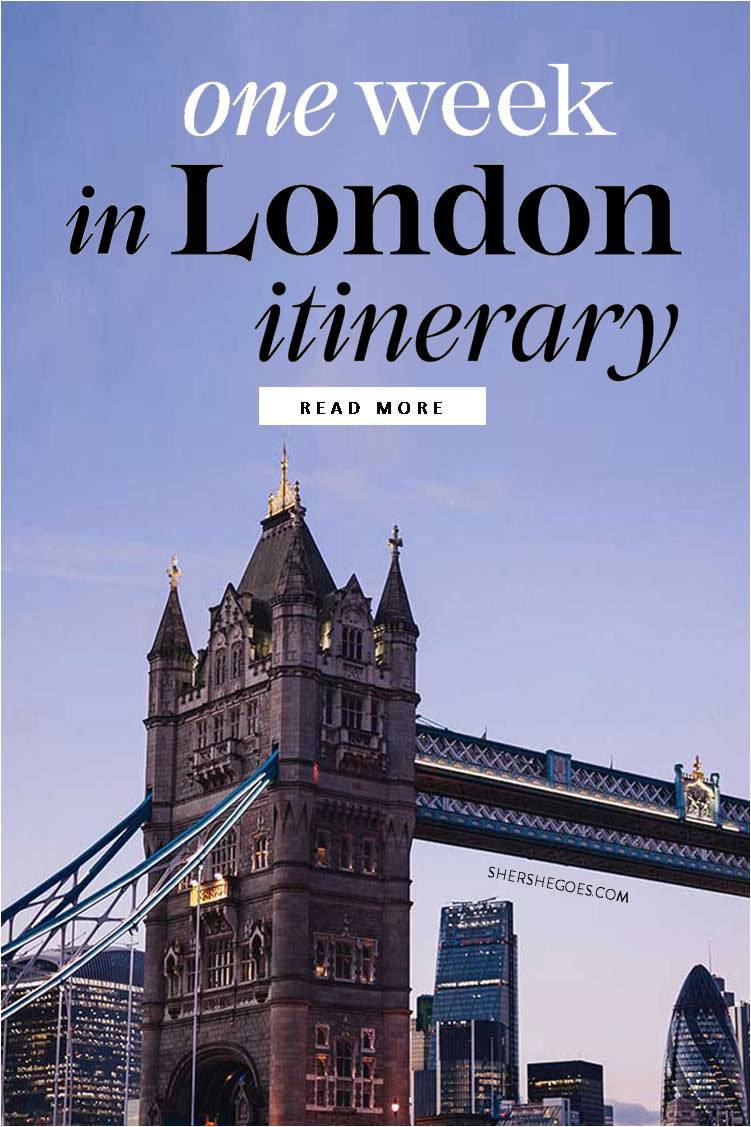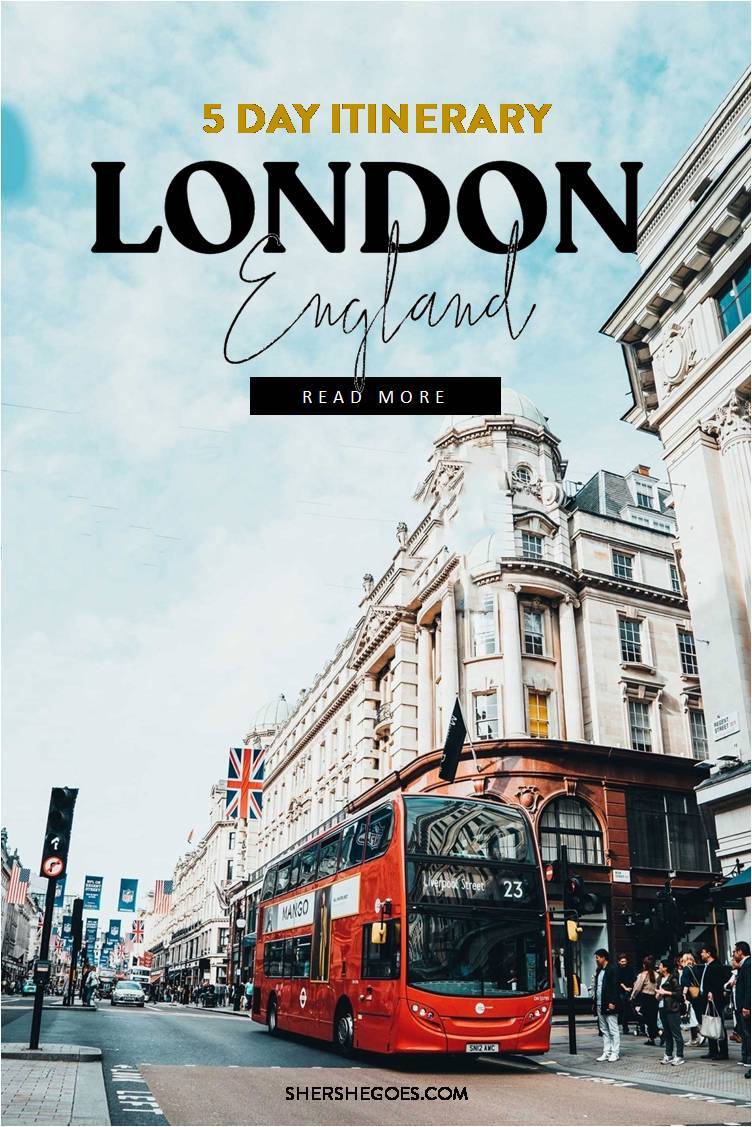 ---
---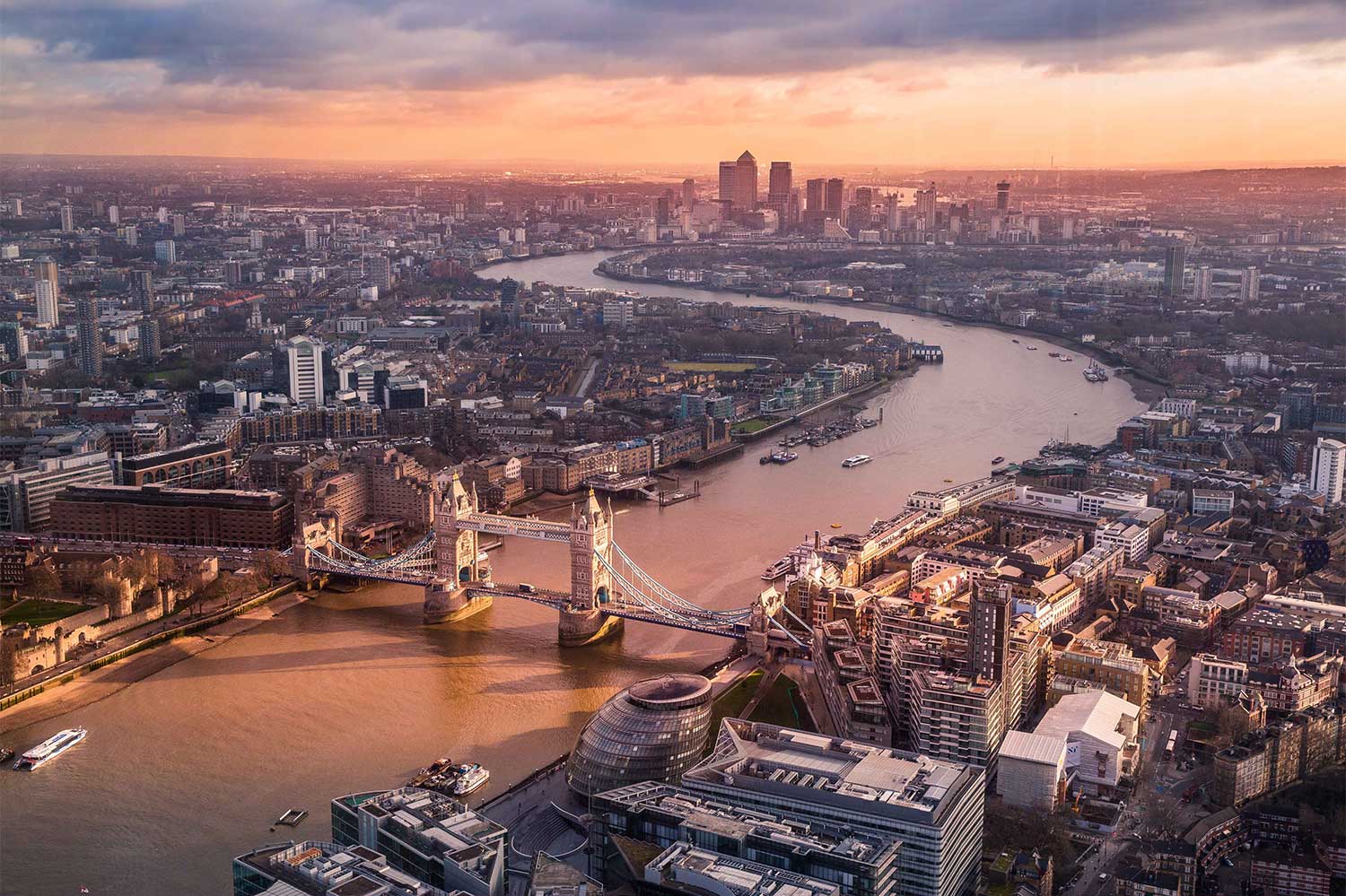 Where to Stay in London
Before getting into the itinerary, let's talk the best London hotels. Like any cosmopolitan city, London has hundreds (if not thousands) of hotels ranging from the absurdly ornate and stuffy to the incredibly cool and modern.
I've written more extensively about where to stay in London here, but, for now, here are 3 quick picks among the best London hotels.
The Connaught
To describe The Connaught in 3 words would be easy. Posh, posh, and even more posh. I guess that was 5 words, but I think you get the point.
Located in the heart of Mayfair, The Connaught is known for its exquisite guest rooms and Michelin-star dining options. What the Connaught is famous for, however, is its butler service that provides de facto personal assistant services (including packing and unpacking!) throughout your entire stay.
Check rates: Booking.com | Hotels.com | Expedia Read reviews: on TripAdvisor
The Montague on the Gardens
Located within a Bloomsbury Georgian townhouse, The Montague on the Gardens provides (besides its gorgeous rooms and suites) several amenities I absolutely love.
These include (but are not limited to), a Hawaiian Beach Bar, live jazz club, cigar terrace (well, this one's more for C), and afternoon tea overlooking the property's eponymous gardens (and that one's more for me!).
Check rates: Booking.com | Hotels.com | Expedia Read reviews: on TripAdvisor
Amba Hotel Charing Cross
For a more modern and economical option, try the Amba Hotel Charing Cross, which provides minimalist yet classy rooms throughout its refurbished property, a historic Victorian London hotel.
Additionally, the Amba just might be the best place to stay in London for walking as numerous attractions – including the National Gallery, Trafalgar Square, 10 Downing Street, and Covent Garden – lie just steps away.
Check rates: Booking.com | Hotels.com | Expedia Read reviews: on TripAdvisor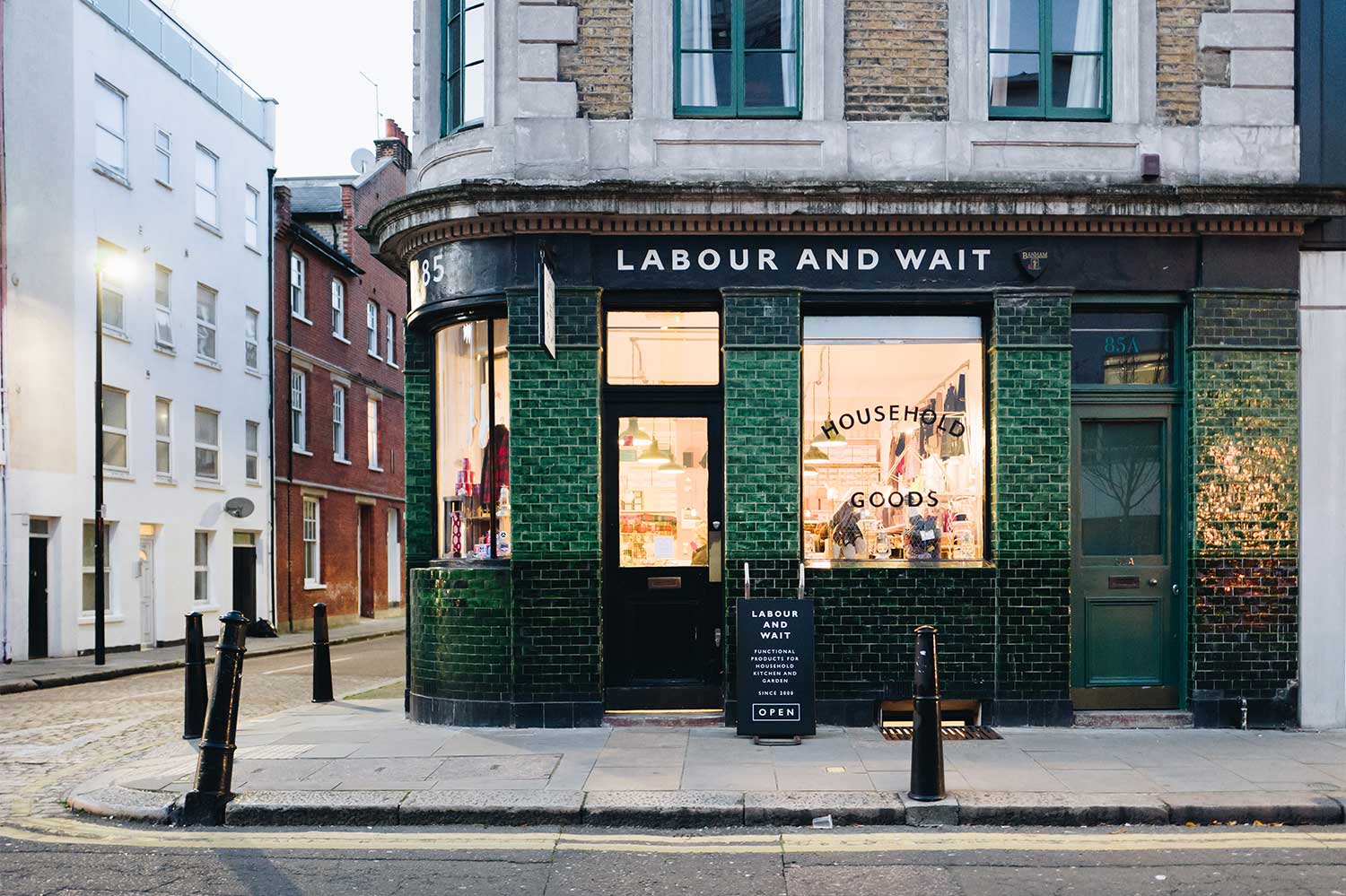 ---
---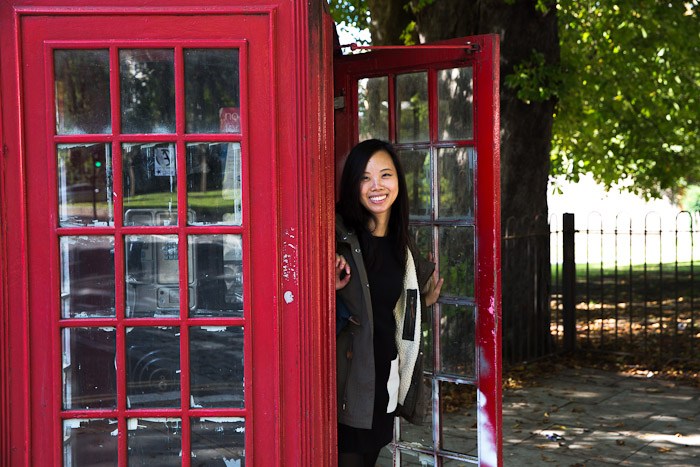 5 Days in London
The London Pass
Although I love designing custom itineraries, I recognize the convenience that city passes and packaged tours can provide. For roughly £70-£240 (depending on the number of days), London Pass provides free entry to over 80 London attractions.
Some of the more notable included attractions include the Tower Bridge, Hop-on Hop-off bus tours, and a Thames River cruise. It's a great savings for first time visitors to London who want to explore the best of the city!
Pick Up
a
London Pass
before your trip!
Day 1: Blockbuster Sights
I love traveling for so many reasons, but chief among them is the unexpected journeys vacations provide. Throughout a vacation, you may decide to spend more time with lovely new friends or revisit a neighborhood you thought was fascinating.
Leaving time for such journeys is important, which is exactly why getting an early start on your itinerary's blockbuster items is so crucial!
The Shard
Just over 5 years old, The Shard, as both the European Union's and United Kingdom's tallest building, has quickly become a London skyline fixture. For unforgettable City of London views, head to the open-air observation tower on the Shard's 72nd floor!
---
---
Tower of London
For a building still significant but just a bit (okay, a lot!) older, walk right across the River Thames to the Tower of London, which, having been founded in 1066, is nearly 1,000 years old! Tours include exploring several different parts of the property – my favorite part of the tour during my visit was checking out the Crown Jewels of the United Kingdom!
St. Paul's Cathedral
From the Tower of London, walk 20 minutes west, up Ludgate Hill, and find yourself at the City of London's highest point – right in the shadow of St. Paul's Cathedral. Whether it's the Cathedral's iconic dome, colonnade-adorned West Front, or glistening interior, there's plenty to leave you speechless during a stroll through St. Paul's.
London Eye
Not unlike the Shard (although, at 18 years old, a tad older), the London Eye is a relatively new addition to London's cityscape that's already become beloved and iconic. As the world's 4th-tallest Ferris wheel, the London Eye offers breathtaking views of the River Thames, Big Ben, and more. For a special treat, try taking a nighttime ride to view the lights of London!
Read more:
A Night Ride on the London Eye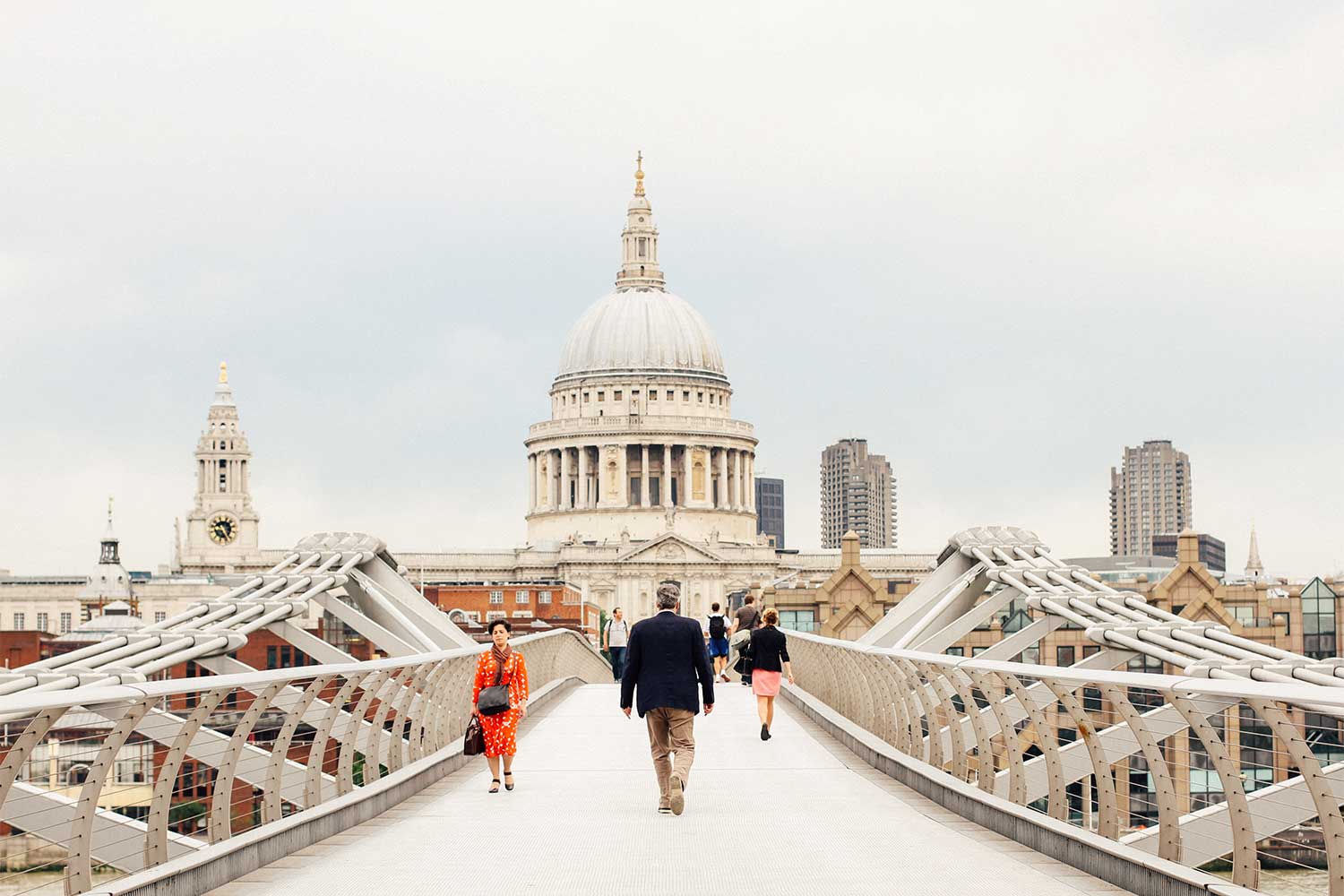 ---
---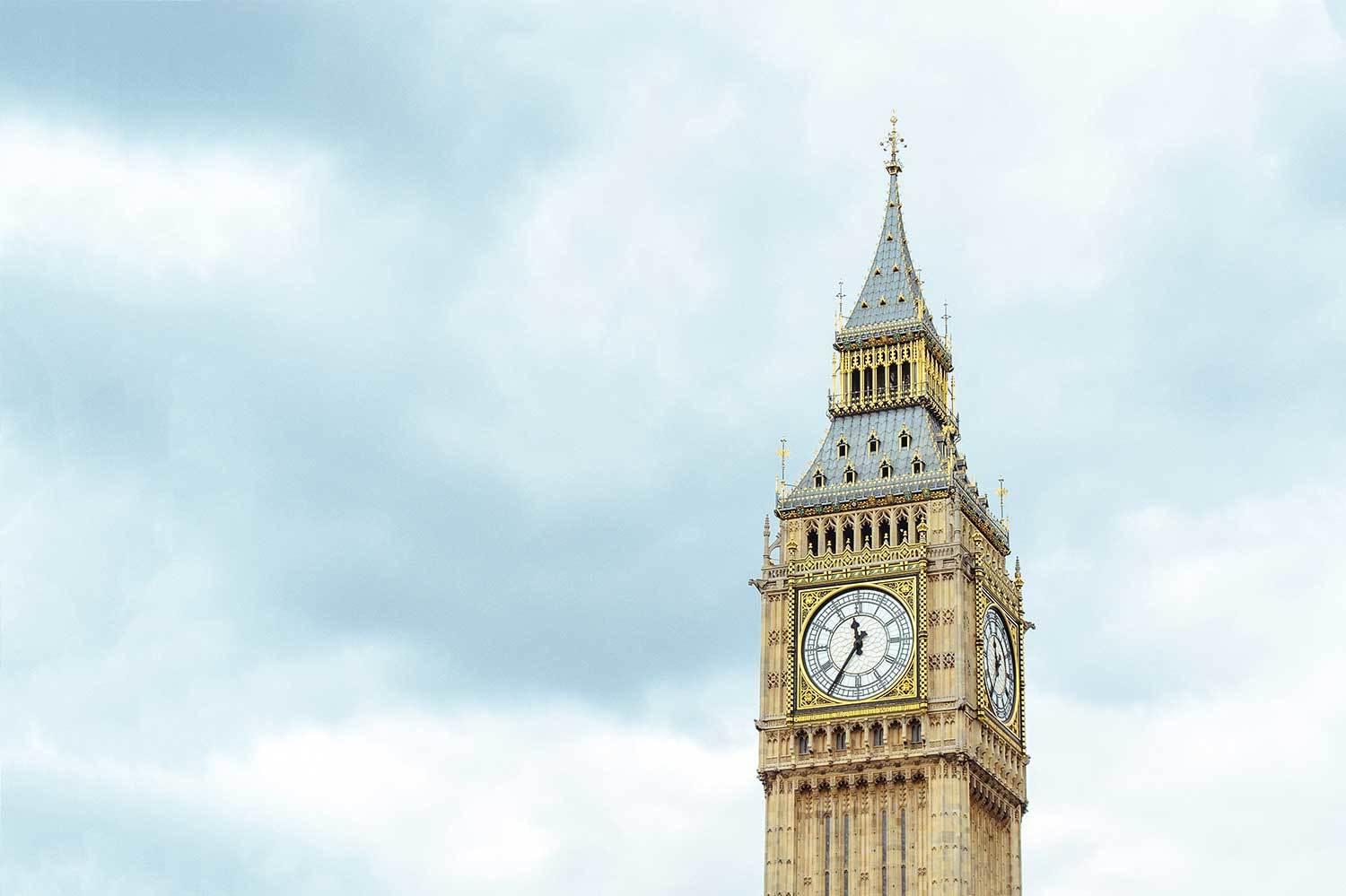 Day 2: More Blockbuster Sights
Surely you didn't think one of the world's largest and most cosmopolitan cities could be surveyed in just a single day, did you? The best London itinerary (aka, this one!) would need to space things out, so, once you've had a rest and are ready for Day 2, here's where you should head!
Houses of Parliament & Big Ben
Like Rome's Colosseum, Paris's Eiffel Tower, or New York's Empire State Building, London's Houses of Parliament & Big Ben are, as they stand sentinel over the River Thames, inextricable symbols of their city. Make sure you get the chance to visit soon, however, as major renovations that will see Parliament temporarily relocate to Whitehall are expected to begin sometime in the next few years.
Westminster Abbey
From the Houses of Parliament, walk around Parliament Square, head south on Abingdon Street for literally no more than 3 minutes, and find yourself face-to-face with Westminster Abbey.
Over 1,000 years old (founded 960), Westminster Abbey is, besides being beautifully preserved, famous as the traditional site of the British monarchy's coronations and funerals.
Buckingham Palace
And speaking of the British monarchy, no London itinerary would be complete without a visit to the residence of Her Majesty the Queen. Aside from viewing the gorgeous estate located on the east end of St. James's Park, visitors to Buckingham Palace can view the Changing of the Guard, one of the most quintessentially British traditions.
Notting Hill
While Notting Hill, located some 3.5 miles east of Buckingham Palace is not quite on the blockbuster level as the London Eye or Westminster Abbey, I just had to include what's become one of my favorite London neighborhoods over the years. Once considered quite sketchy, Notting Hill has developed into an area famous for its affluent residents, gorgeous cobblestone streets, and posh townhomes – perfect for a great Instagram shot!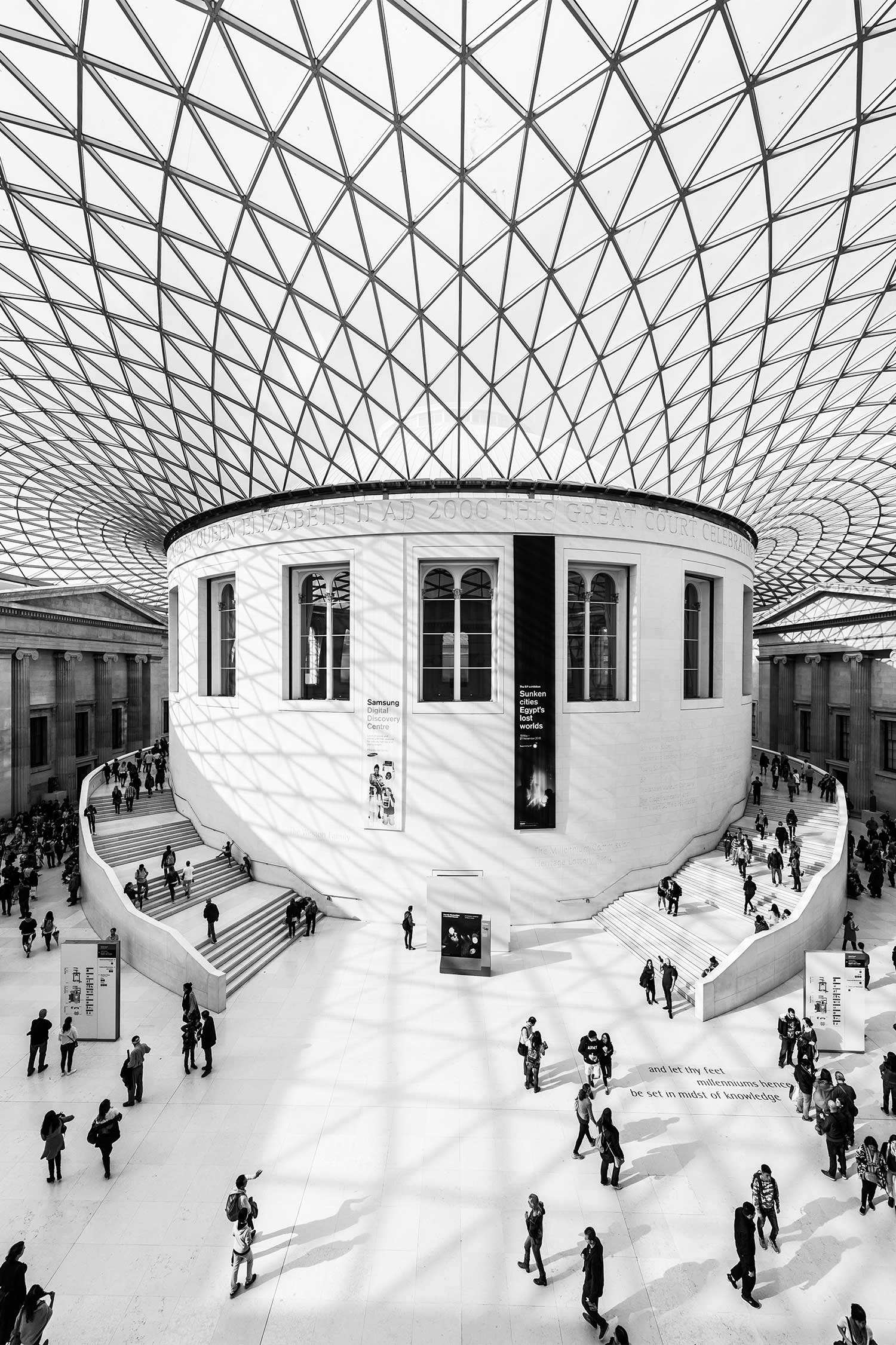 ---
---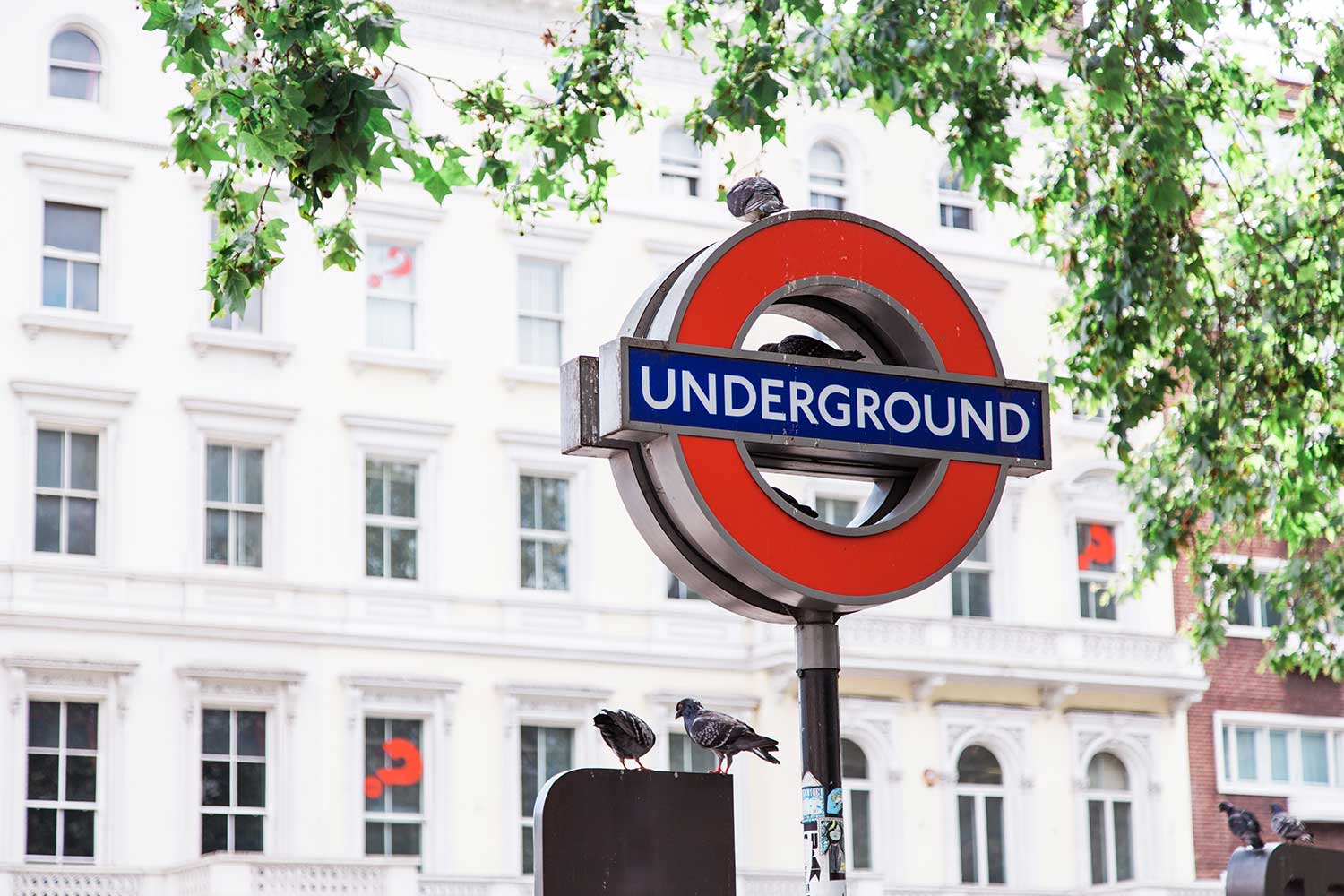 Day 3: Fun in the Sun
I'll readily concede my London visits have mostly occurred during summer, but I've typically received quite good cooperation from Mother Nature while across the pond. As a matter of fact, there's decent evidence that London's reputation as a drizzly city may be overrated. Either way, here are some outdoor activities perfect for a London itinerary first time visitors could use!
South Bank
Generally demarcated as the area between Westminster and Blackfriars Bridges south of the River Thames, South Bank has rapidly developed into an area known for its chic restaurants, vibrant nightlife, and opportunities for incredible strolls alongside England's most famous river!
Trafalgar Square & Piccadilly Circus
Occasionally compared to New York's Times Square (though, to be honest, I think that's a bit unfair to my hometown landmark!), Piccadilly Circus is an intersection known for its wide spaces and bright lights. From Piccadilly, head less than 10 minutes down Waterloo Place and around Pall Mall to enjoy a nice relaxing coffee or break in Trafalgar Square, named to commemorate British victory in the Napoleonic Wars.
St. James's Park
Hyde Park may be nearly 7 times larger, but I've always been partial to St. James's Park, flanked on the east by Buckingham Palace and on the west by Number 10 Downing Street, the British government headquarters. I'm a particular fan of the St. James's Parks lakes as well as the wildlife it supports, which include pelicans, ducks (lots of ducks!) and foxes!
Millennium Bridge & Shakespeare's Globe
After strolling through South Bank, feel free to cross the pedestrian-only Millennium Bridge and visit the world-famous Shakespeare's Globe, lying literally just a few hundred feet south of the Thames. Needing little introduction, Shakespeare's Globe is a modern reconstruction of Shakespeare's Globe Theatre that still produces open-air plays and performances on a daily basis!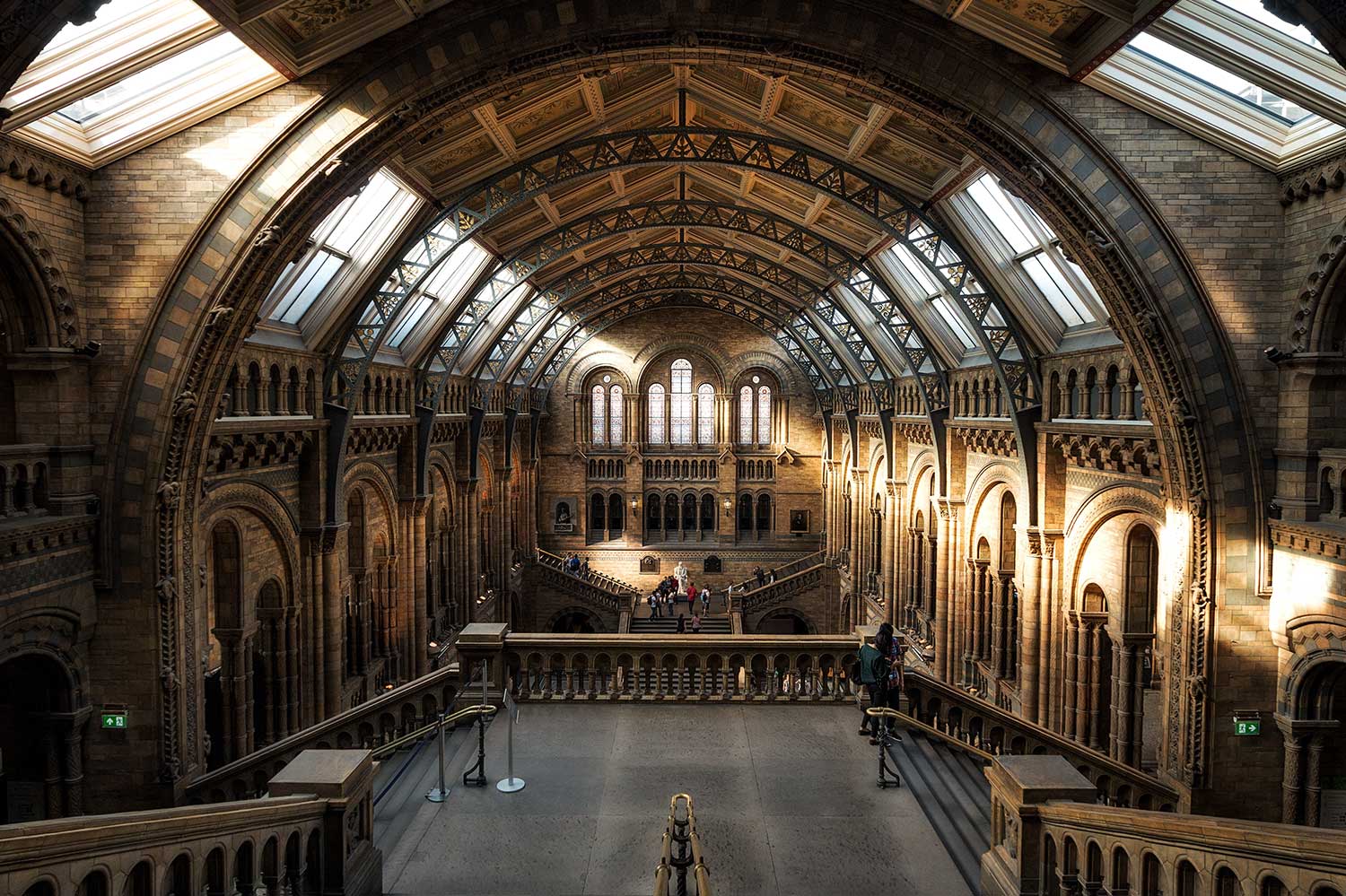 ---
---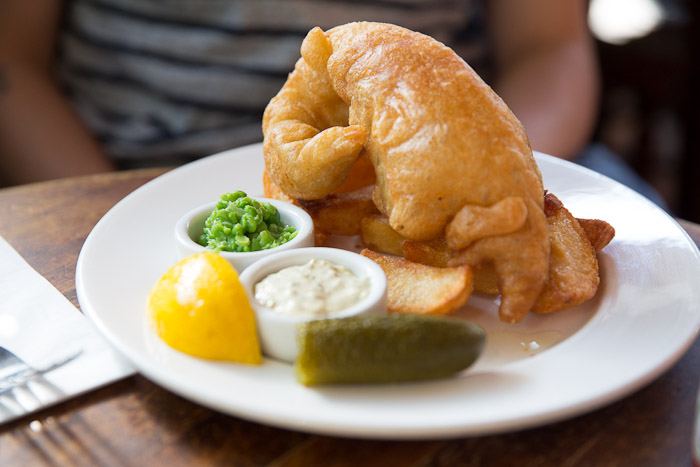 Day 4: Culture & Dining
London is one of the most cosmopolitan cities in the world, meaning there are plenty of delectable opportunities for foodies and museum-lovers alike. Though there are dozens (if not hundreds) more of each, here are my picks for the top 4 museums and restaurants that should be on your London itinerary planner!
The National Gallery
As its name suggests, The National Gallery is a government-sponsored museum that ranks, after The Louvre, The Metropolitan Museum of Art, and the British Museum, as the 4th most visited museum in the world. The National Gallery is particularly known for its encyclopedic art collection, with works from artists including da Vinci, van Gogh, Botticelli, Michelangelo, Raphael, Titian, El Greco, Rembrandt, Goya, Delacroix, Cézanne, Monet, and Renoir.
Read more:
An Afternoon at the British Museum
Saatchi Gallery
While certainly known within London's gallery scene, the Saatchi Gallery, located in London's posh Chelsea neighborhood, is not usually featured among London's top gallery recommendations. However, I absolutely loved this place when I visited on my most recent trip to London. The building itself is gorgeous, and I appreciate that the Saatchi Gallery takes special pride in jump-starting the careers of otherwise little-known modern artists.
Marcus
Lying just a few minutes' walk from Buckingham Palace between Green and Hyde Parks, Marcus is a phenomenal two-Michelin star dining experience. Run by former Gordon Ramsay pupil Marcus Wareing, Marcus offers a delightful tasting menu with a particular emphasis on herbs, unique plants, and traditional English proteins. I was lucky enough to recently visit for lunch, which I think offers incredible value with its £55 five-course tasting menu.
Read more:
Lunch at Marcus Wareing
Sketch
Located in bustling Mayfair, sketch (as its stylized) is an experimental restaurant that offers original art, live music, traditional 18th-century afternoon tea, 2 Michelin-star dining (in the famous Lecture Room & Library section), and a bustling cocktail lounge – essentially, the perfect place to have a lovely dinner that crescendos into a crazy night on the town.
Read more:
Dinner at sketch Gallery!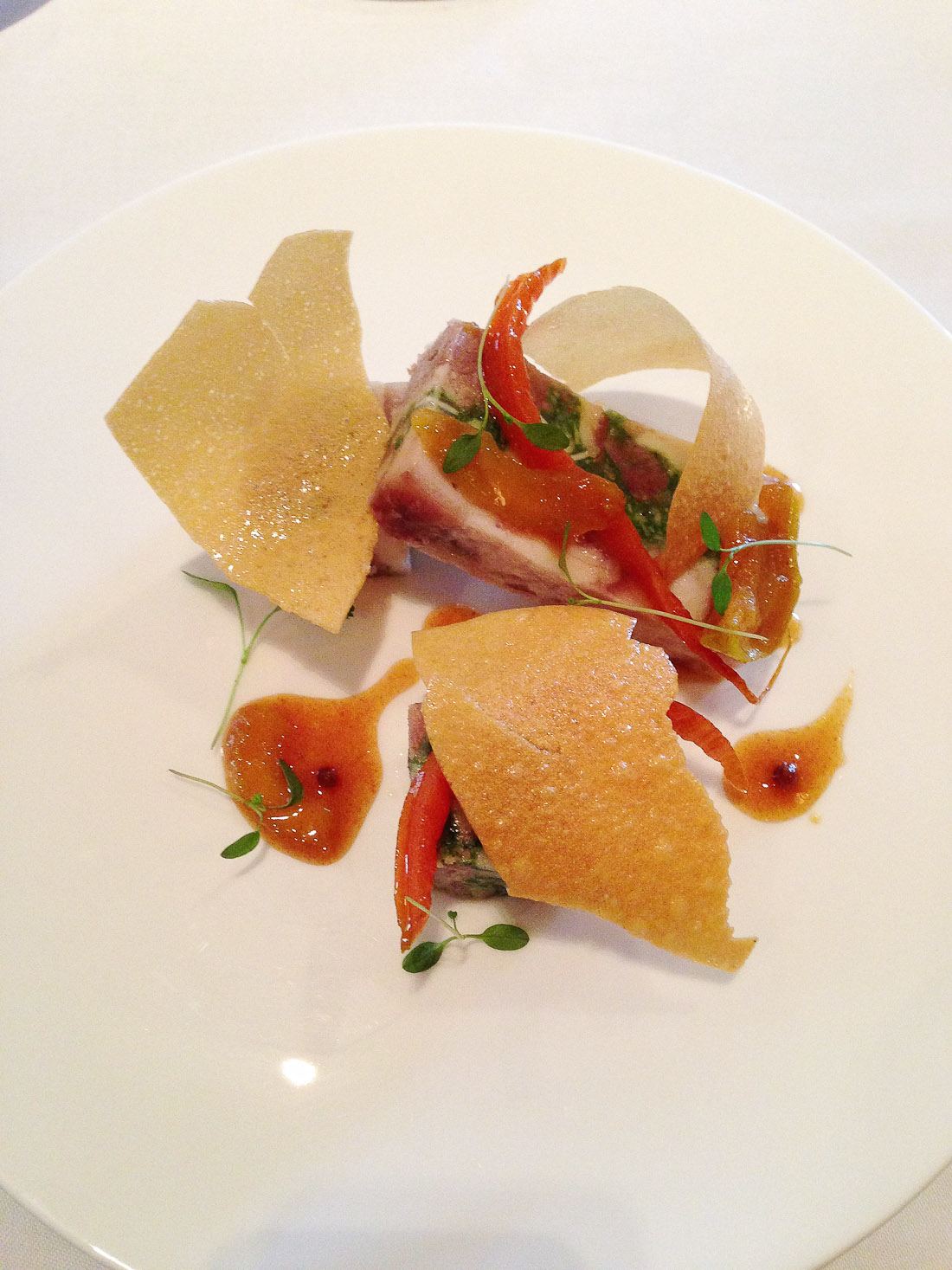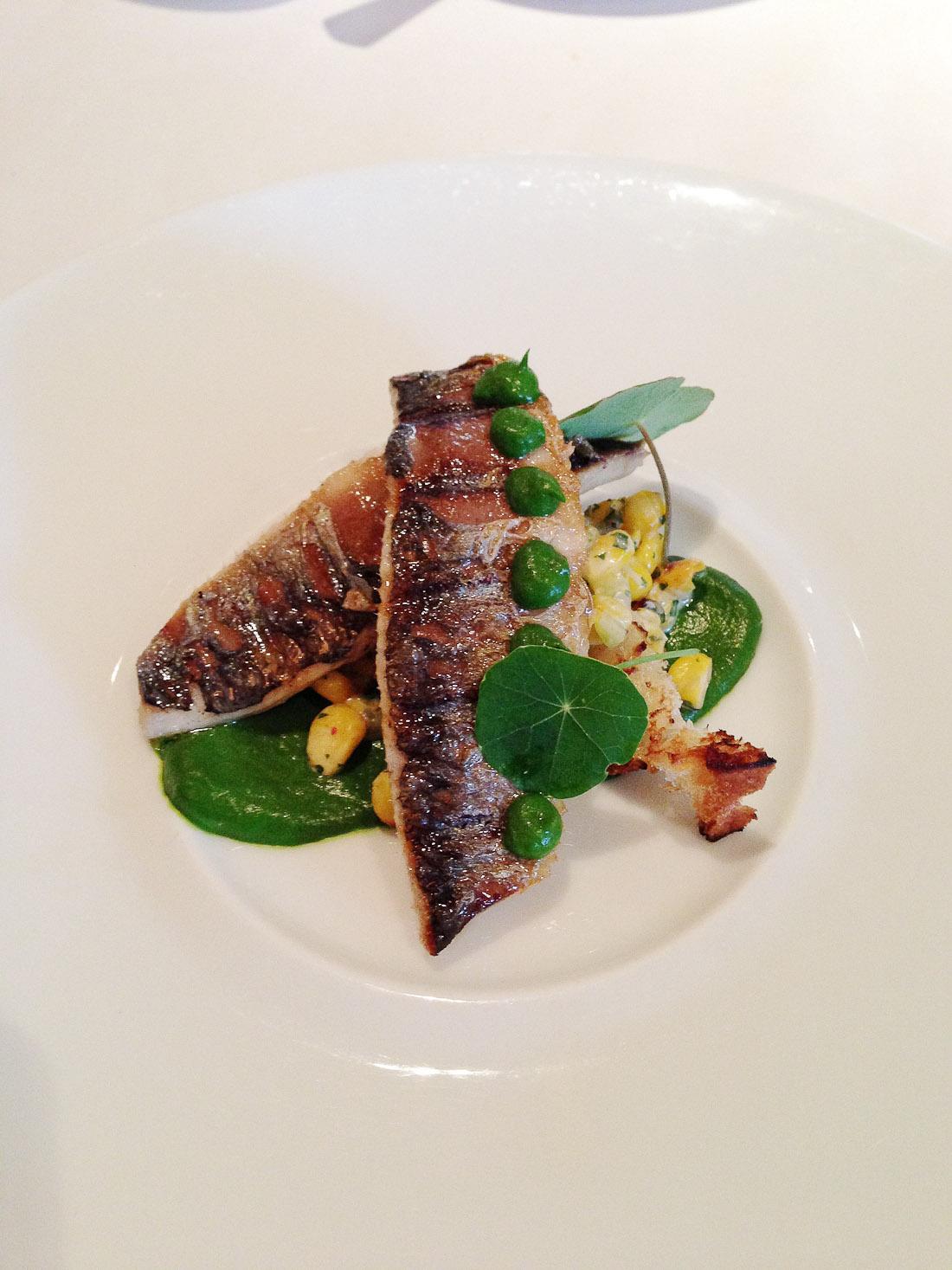 ---
---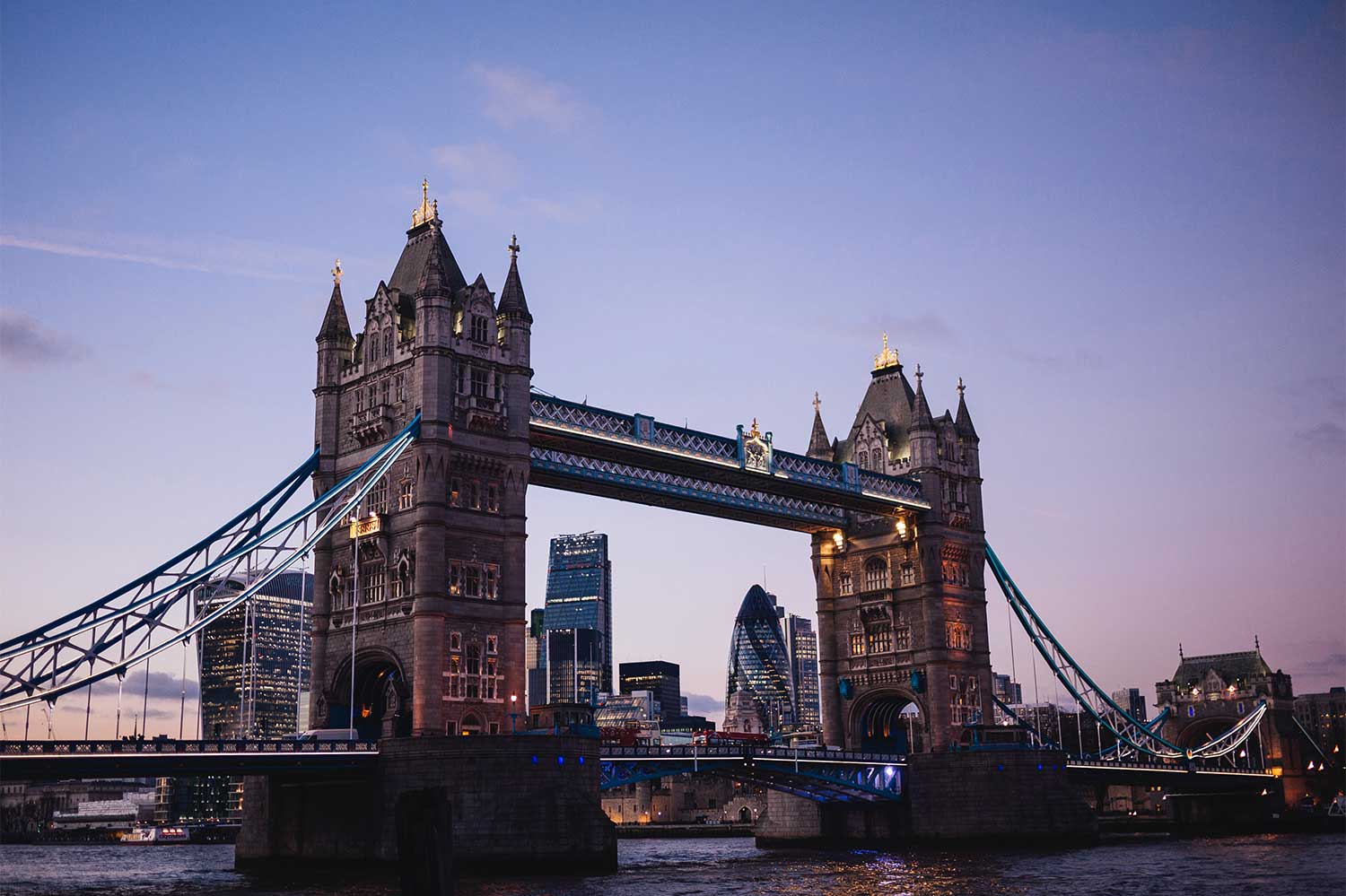 Day 5: Shopping & Nightlife
Speaking of nights out, no one should visit London without affording some time to experience its incredible nightlife.
Before you do that, though, make sure you spend some time shopping for friends and family (as well as yourself!). Remember that everyone can tell when you get lazy and get them a gift from the airport!!
Harrods
Just a few minutes walk from Marcus in Knightsbridge lies Harrods, likely the most famous department store in the world (let alone England). With 1.1 million square feet of shopping space throughout its gorgeous 184-year-old building, Harrods is the perfect place to visit if you have only time for one shopping destination!
Covent Garden
Originally home to one of London's largest fruit and vegetable markets, Covent Garden now broadly refers to the West London district famous for its high-end shopping, theatres, entertainment complexes, and the Royal Opera House of London.
Fabric
If you're an EDM fan, head to Farringdon and check out Fabric, a sprawling nightclub famous for its wild parties and tense relationship with local authorities. Originally closed in 2016, Fabric and its loyal fan base successfully lobbied to reopen the club, which has been named the world's #1 or #2 nightclub by DJ Magazine an incredible total of 5 times since 2007.
Rumpus Room
Located in the heart of South Bank, Rumpus Room is a gorgeous rooftop cocktail lounge emphasizing fine dining, champagne & wine, verdant decor, and, of course, the most fantastic cityscape views London has to offer. Despite its name, Rumpus Room is a bit more relaxed than some other London rooftops, so think of it as a great place for an energetic pregame!
---
---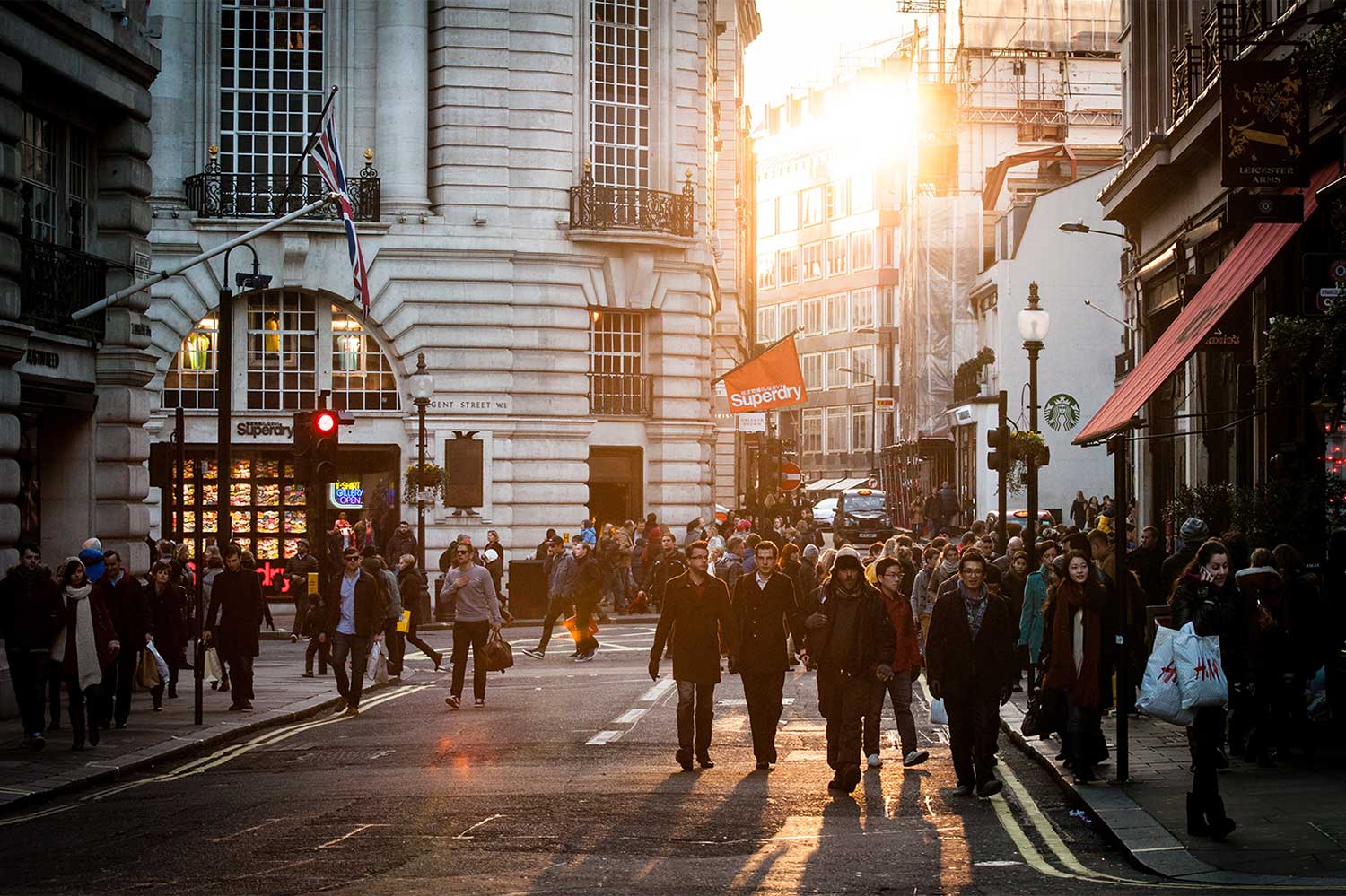 And that's it! London has so much to offer, 5 days can feel like barely enough time. Hopefully our curated 1 week itinerary has proved helpful in planning your own trip to England!
Follow Sher She Goes on