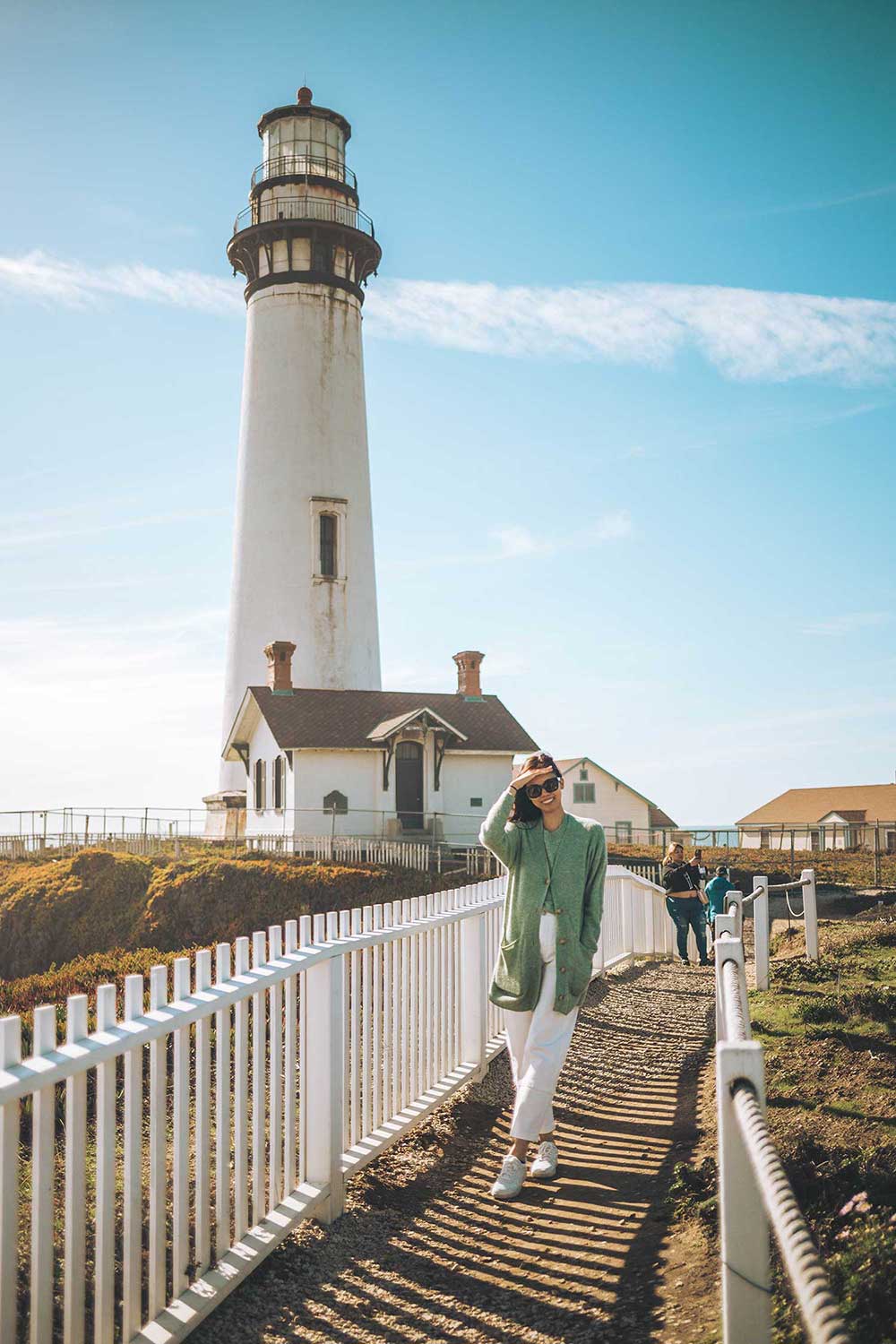 Pigeon Point Lighthouse
On our first day road tripping the Pacific Coast Highway, we took a leisurely path along the California coast, stopping every 30 minutes or so along the way.
It's such a scenic drive and one stop I highly recommend is a visit to Pigeon Point Lighthouse! The charming New England style lighthouse sits right along California's beautiful Highway 1 route.
Here's everything you need to know about visiting Pigeon Point.
ADVERTISEMENT
I wanted to be comfortable on the full day of driving, so I wore this matching sweater set, comfy white Margaux sneakers and loose balloon jeans.
I'm a huge fan of sweater sets, especially in that transitional late fall to early winter season where the temperature fluctuates from 45 to 65 degrees and you never know quite what to expect!
Plus, you never quite know what the weather will be in San Francisco so dressing in layers is key.
This green set consists of a sweater t-shirt and an oversized grandpa cardigan. They're each wearable on their own, and quite cozy to lounge in! Plus, they're made from alpaca so they have a fun texture.
Shop matching sweater sets and more of my winter favorites on Zappos here.
ADVERTISEMENT
---
---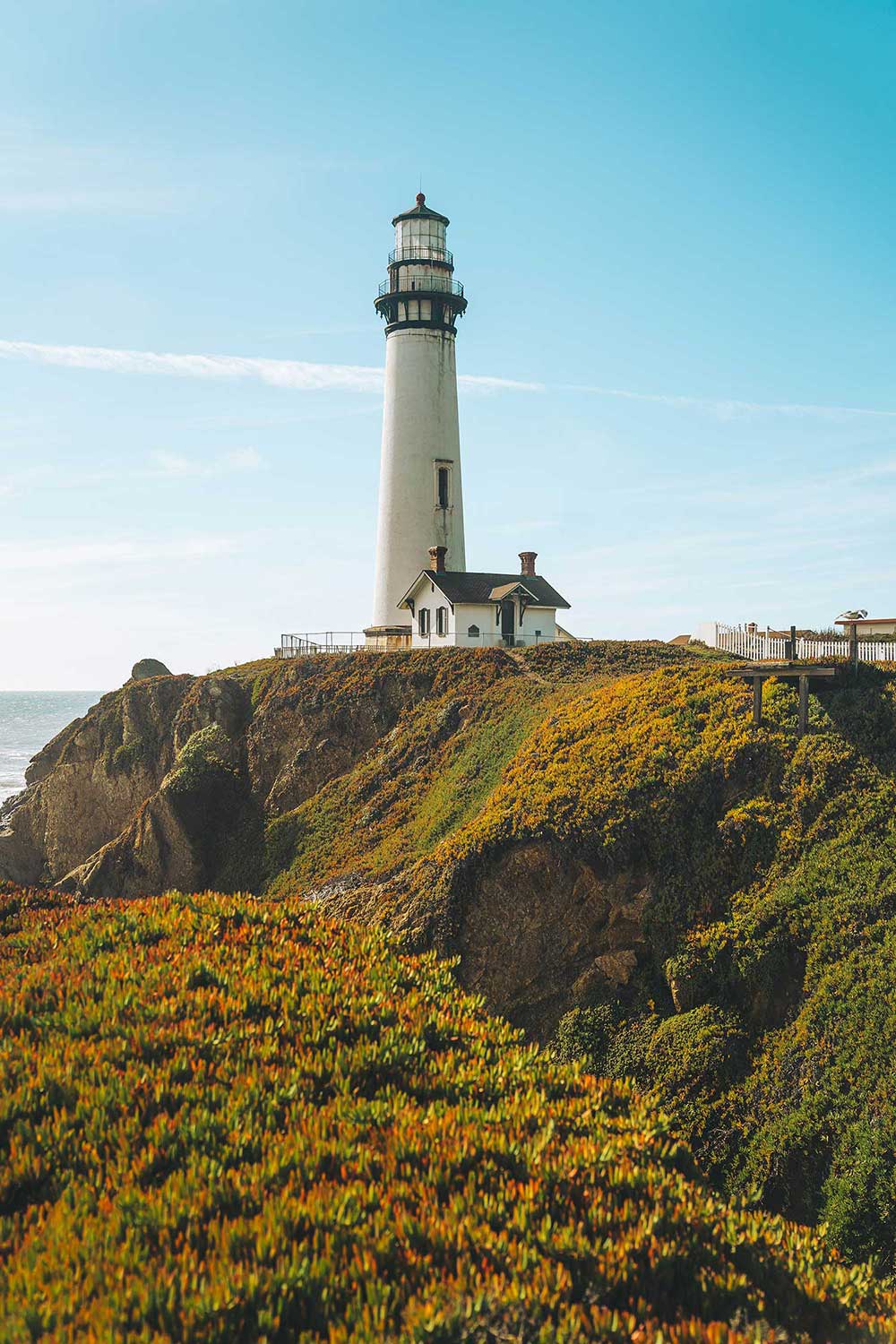 Pigeon Point
Built in 1872
Height: 115 feet
Address: 210 Pigeon Point Rd, Pescadero, CA 94060
Stay here at the On-Site Hostel
ADVERTISEMENT
---
---
Pacific Coast Highway Stops
I recommend starting your Pacific Coast Highway road trip in San Francisco and driving south to Los Angeles. Not only is this the most popular section, it's also chock full of incredibly beautiful landscapes and cute coastal towns.
If you can, don't rush your itinerary.
Build in a leisurely first day so that you tackle a couple short stops on the drive from San Francisco to the Monterey Peninsula.
Every ~30 minutes or so south of SF there are some beautiful spots to pull over right off the highway.
For example, in there are the surfers at Pacifica, this adorable lighthouse at Pigeon Point, kite surfers at Waddell and the boardwalk at Santa Cruz, all right along the main road to Carmel.
Read more:
The Best 1 Week Road Trip on the PCH
(Itinerary)
ADVERTISEMENT
---
---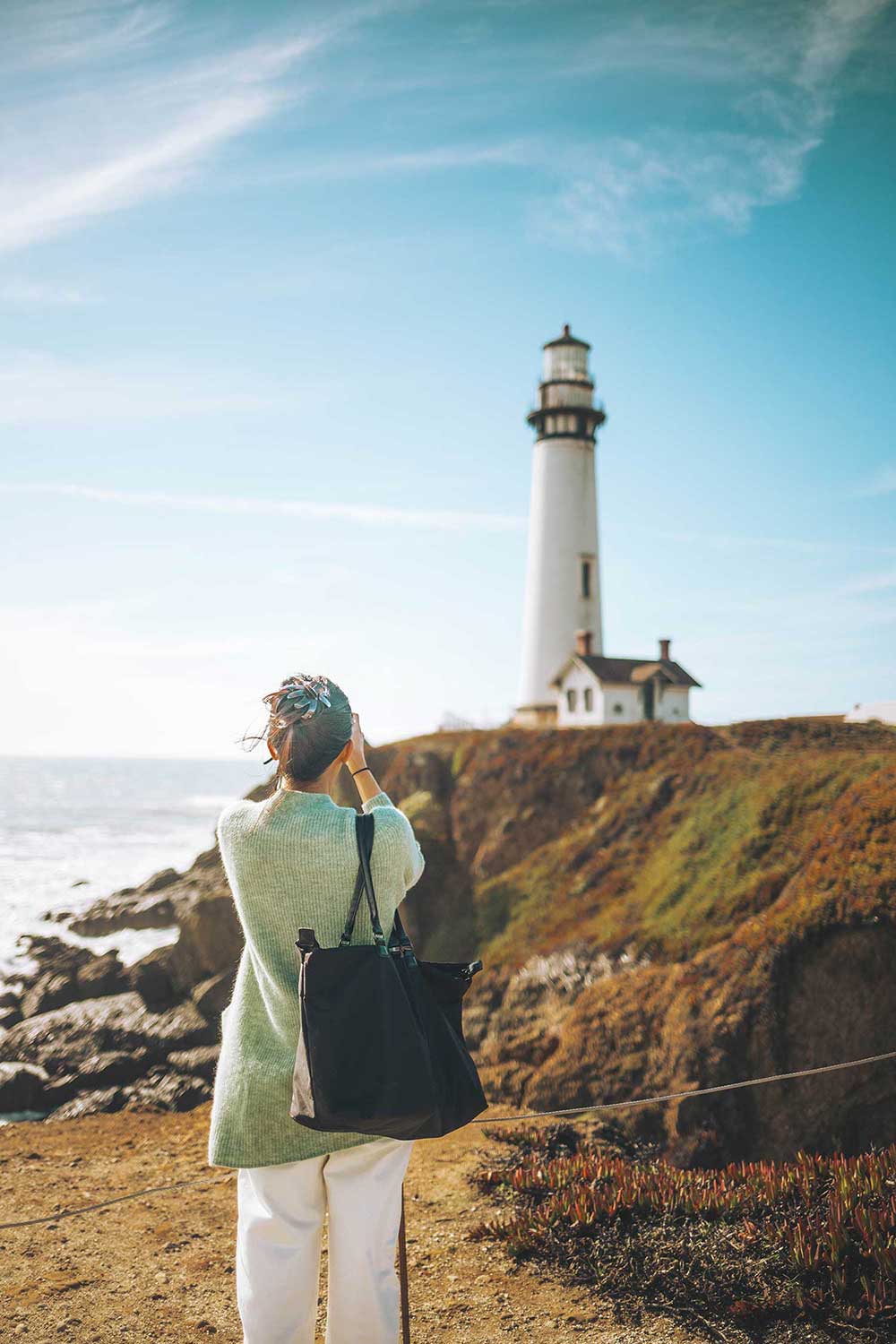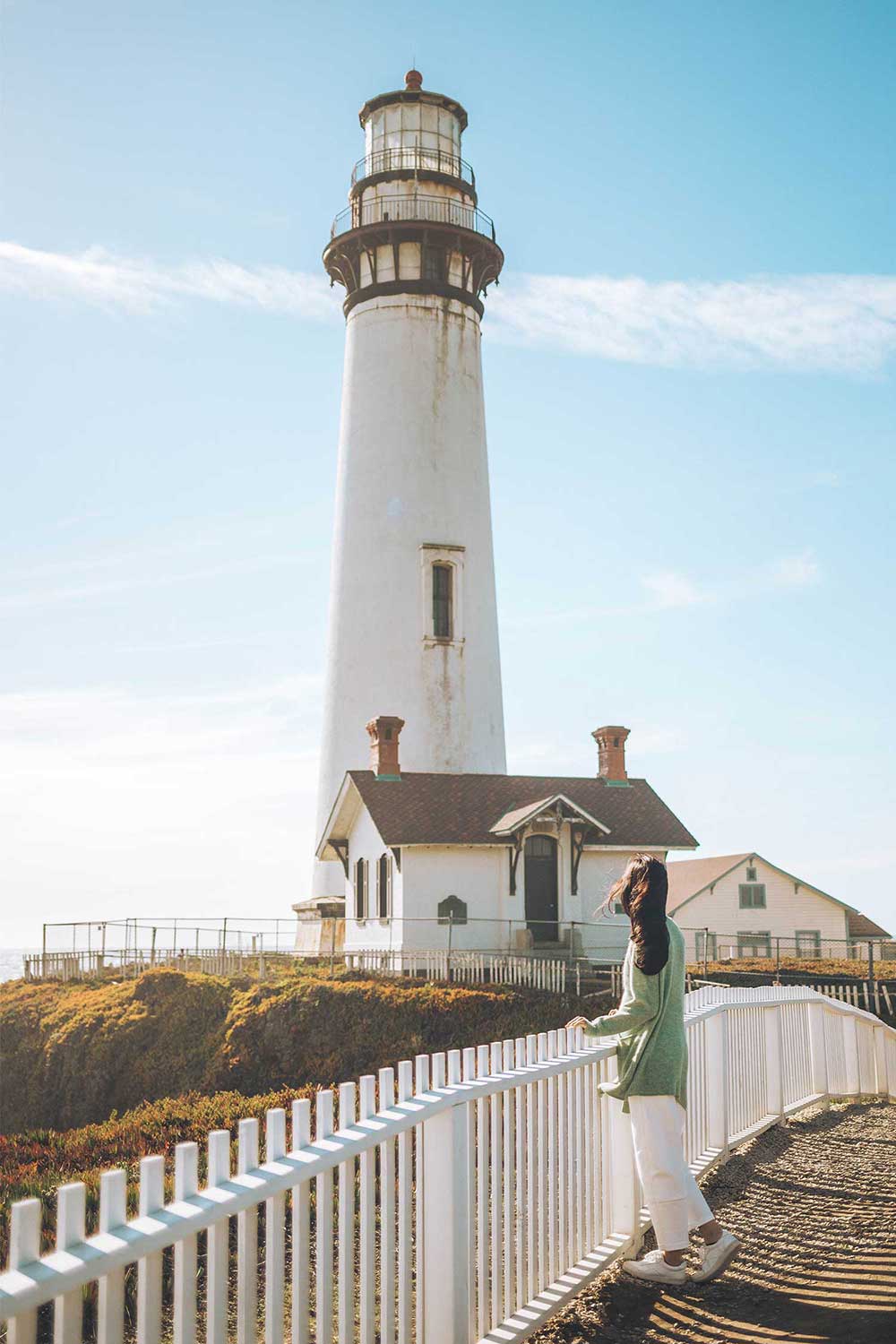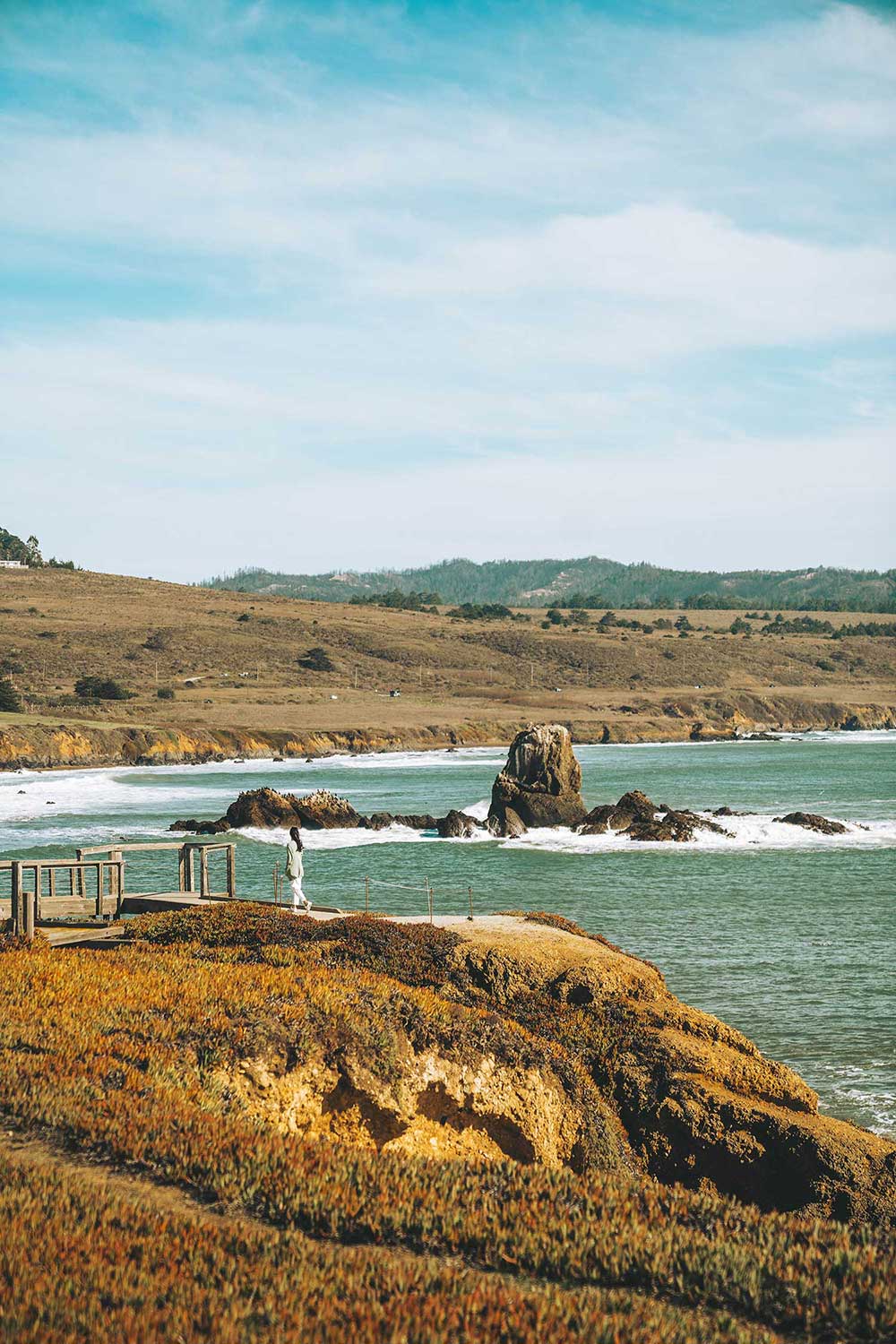 Visiting Pigeon Point Lighthouse
Pigeon Point Lighthouse is right off Highway 1, so it's easy to squeeze in a quick trip to the lighthouse.
Even better, the lighthouse has a small parking lot literally off the main road.
Although it's small (about 20 spaces or so), the lighthouse is just a quick pit stop for most visitors so you should be able to grab a space as people come and go!
ADVERTISEMENT
---
---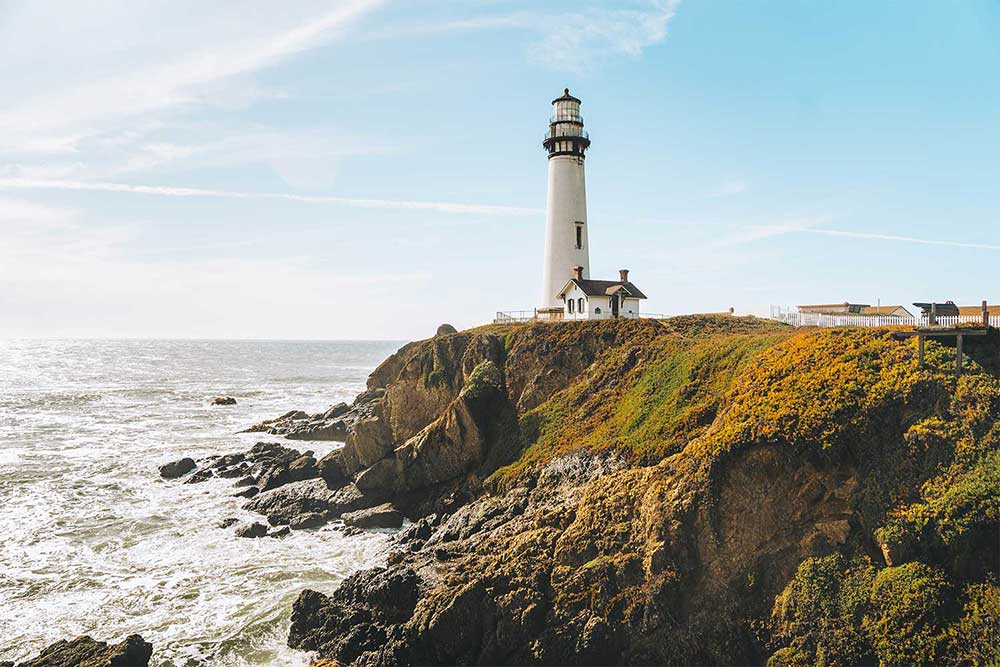 About the Lighthouse
Pigeon Point was built in 1872 atop a rocky cliff.
It's quite windy here, with some pretty strong waves that crash along the rocks, so as you walk around the grounds you can see why the lighthouse was built!
The lighthouse has slowly fallen apart over time. While it's still operational, it's mainly used as a navigational aid for the US Coast Guard during training.
Read more:
How to Plan the Perfect Pacific Coast Highway Road Trip
ADVERTISEMENT
---
---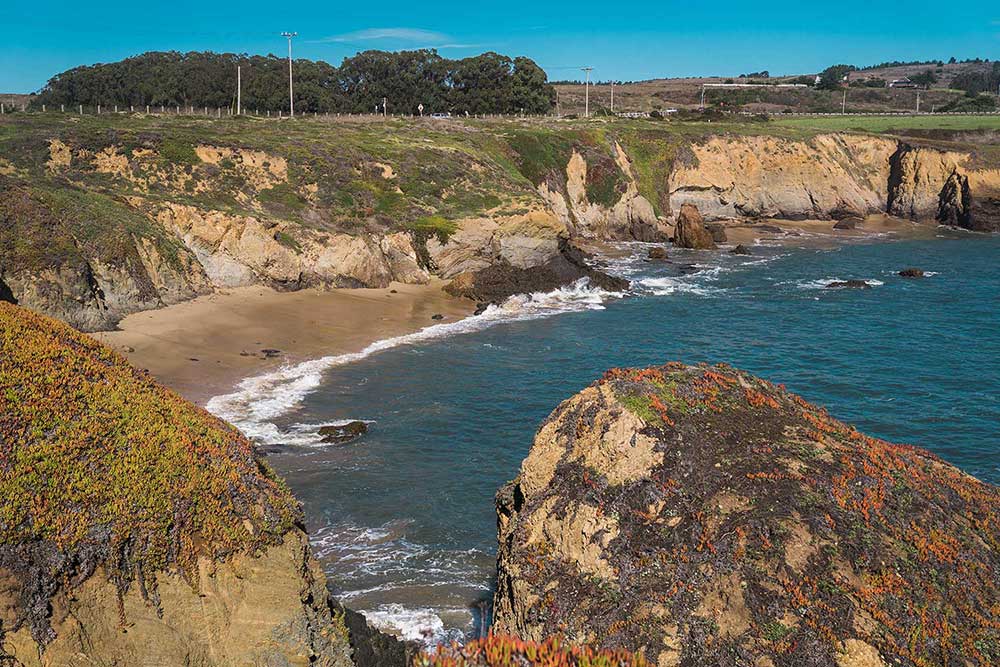 Pescadero
The lighthouse itself is closed off, so you can't actually climb the tower.
There's a large white gate enclosing the entire perimeter as the lighthouse is slowly crumbling.
Recently, the state of California decided to restore Pigeon Point and they're currently soliciting funds for repair, so hopefully in the future you'll actually be able to go inside!
ADVERTISEMENT
---
---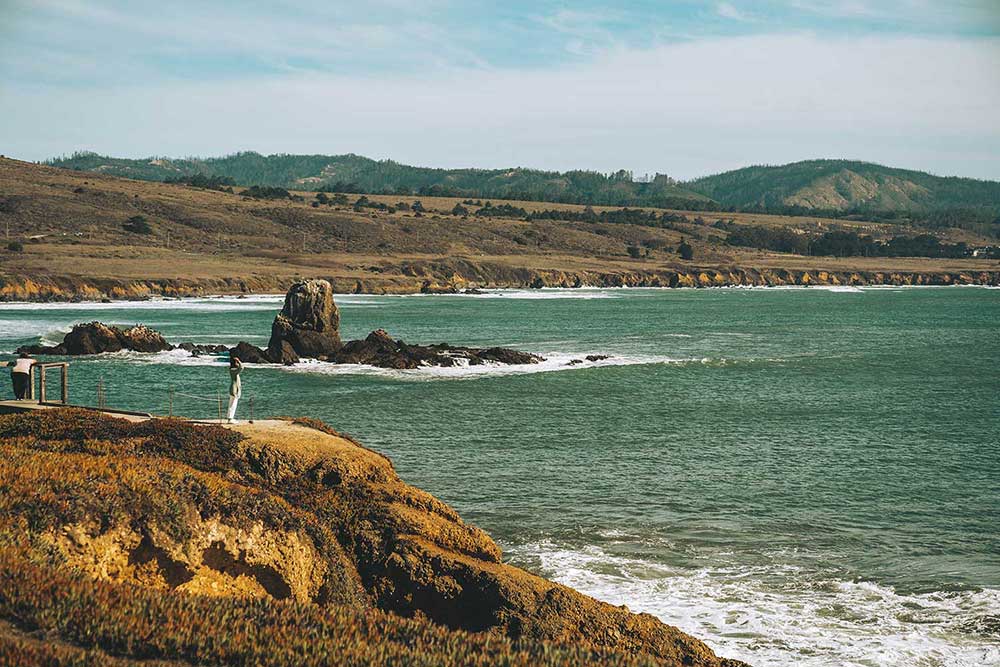 When you visit, there's a wooden deck to view the coastline as well as a small building in the back that houses the lighthouse lens.
Head around back to learn about the lighthouse's history and see the Fresnel lens up close.
There's also another viewing platform hidden behind the lighthouse! Take the stairs down to the lookout for a great view of the ocean and coastline below.
Read more:
Everything You Should Know Before Planning a Coastal California Road Trip
ADVERTISEMENT
---
---
Staying at Pigeon Point
One of the unique things about Pigeon Point Lighthouse is that you can actually stay on the grounds!
The old light keeper grounds have been modernized and converted into a hostel, which you can book here.
Accommodation is no frills but inexpensive and it's pretty unique to be able to stay at the base of a lighthouse!
Nearby, there are lots of great places to explore, like Pacifica, Davenport and Ano Nuevo State Park (famous for its elephant seals).
Check rental rates for your dates here.
ADVERTISEMENT
---
---
Planning a Trip to California- Travel Checklist
Flights | California has two main hubs – San Francisco International Airport (SFO) in the north, and Los Angeles International (LAX) in the south.
From New York City, we flew nonstop on United for about $500. Set a fare alert and browse airfare for your dates here.
See + Do | My favorite experience was road tripping the Pacific Coast Highway, one of the most scenic coastal drives in the United States. It's a great way to see San Francisco, Los Angeles and a number of quaint coastal towns in one trip. 
For more on what to see, do and eat on a classic California road trip, check out our PCH itinerary post. 
Accommodation | California has a great range of options, from luxury hotels to family friendly vacation rentals. Accommodation is very expensive, so book in advance to save. Check here for current hotel deals.
If you have a group of people or want more affordable housing browse VRBO. 
Insurance | Lastly, be sure to visit California with travel insurance. Whether your flight is delayed, you get injured and need to be hospitalized, or your phone gets stolen, travel insurance will help when you need it most! Get a quote for your trip here.
You Might Also Enjoy:
California Travel Guides
Pacific Coast Highway
The Ultimate Guide to Planning a Pacific Coast Highway Road Trip
The Perfect 7 Day PCH Itinerary
Road Tripping California's Highway 1: What to Know Before You Go
The Best Pacific Coast Highway Stops You Shouldn't Miss
Is 17 Mile Drive Worth Visiting?
Small Towns
Los Angeles
How to Spend 1 Day in Los Angeles
The Best 3 Day LA Itinerary
The 11 Best Spots to Take a Photo of the Hollywood Sign
The Most Iconic Spots in Hollywood Boulevard
San Francisco
The Best San Francisco Day Trips
The Ferry Building & Embarcadero
Follow me @Sher She Goes on