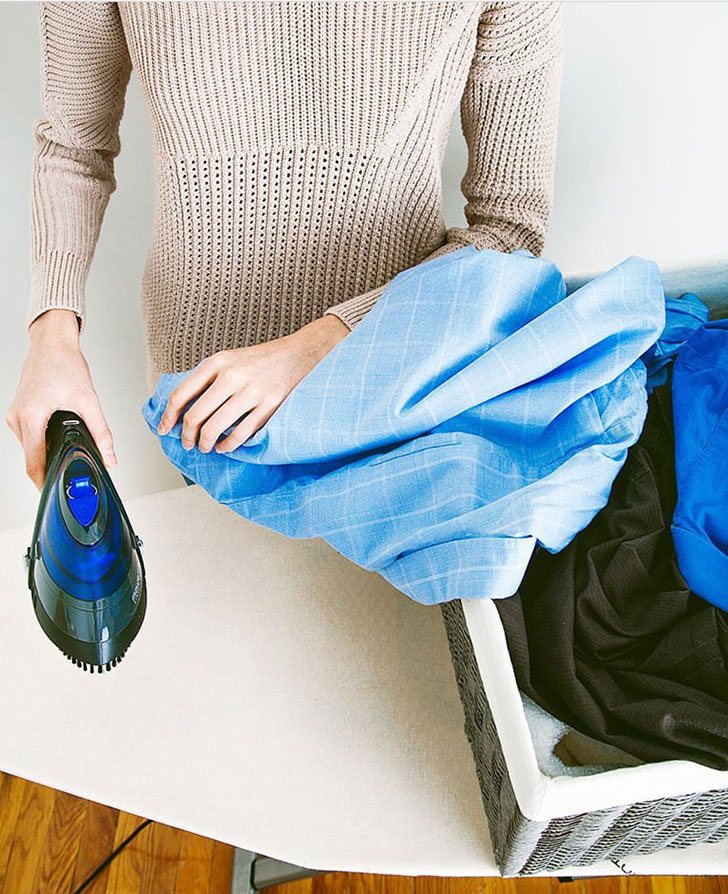 The Best Steamer for Travel
Is there anything worse than buying some new clothes – maybe a great new top or a flowing dress – for a vacation only to land on the other side and realize that your luggage has wrinkled all your clothing?
Yes, garment bags exist, but everyone who's used one knows their limitations, especially when they're being lugged over a long trip.
Hotel irons are another solution, but working with a hotel iron and ironing board inevitably leads to frustration, then loneliness, and then, finally, crippling despair.
Thankfully there are travel steamers, and, over the recent years, technology has done wonders for travel steamers' efficacy and portability.
If you're looking for the best travel steamers for clothes, we've got you covered!
ADVERTISEMENT
Best Garment Steamer Brands
Keep reading below for our reviews of each!
ADVERTISEMENT
---
---
Best Travel Steamers 2020
1. Best Overall Travel Steamer
Hilife Handheld Garment Steamer
ADVERTISEMENT
---
---
2. Most Stylish Travel Steamer
Rowenta Travel Steamer
ADVERTISEMENT
---
---
3. Best Lightweight Travel Steamer
BIZOND Mini Clothing Steamer
ADVERTISEMENT
---
---
4. Most Advanced Travel Steamer
PurSteam Fabric Steamer with Travel Pouch
ADVERTISEMENT
---
---
5. Most Powerful Travel Steamer
URPOWER Portable Handheld Steamer
ADVERTISEMENT
---
---
6. Best Value Clothes Steamer
Travel Smart Conair Steamer
ADVERTISEMENT
---
---
7. Fastest Travel Steamer
Magictec Portable Travel Garment Steamer
ADVERTISEMENT
---
---
8. Most Durable Travel Steamer
Lemontec Portable Travel Garment Steamer
ADVERTISEMENT
---
---
9. Most Versatile Clothes Steamer
Black+Decker Handheld Steamer
Are Steamers Better Than Irons?
While both travel steamers and irons essentially work the same way to remove wrinkles from clothes, I much prefer a garment steamer because, for me, steamers are both easier to use and work faster.
ADVERTISEMENT
---
---
Why do I prefer steamers over irons?
Firstly, you don't need an ironing board, just a clothes hanger (or even a shower rod can work!) to hang your clothing. If you're always traveling on the go, a clothes steamer is way more convenient.
Secondly, you don't have to apply any kind of pressure.
Steam from a clothing steamer is emitted in a cloud or jet that easily forces wrinkles out of the fabric. If you're pressing multiple pieces of an outfit, it's much easier to do so with a steamer than an iron.
Finally, I wear lots of fabrics like silk or polyester – especially for work.
If you wear delicate, lightweight fabrics, a steamer will, importantly, be far less likely to damage your clothing. On the flip side, if you need a sharp crease or wear heavier, thicker clothing, an iron might be right for you!
ADVERTISEMENT
---
---
What to Look for in a Travel Steamer
For me, having something lightweight is the most important factor.
I usually only bring a travel steamer if I have a fancy event or business meeting requiring dresses or a nice blouse. Since it's usually no more than a couple pieces I have to address, I definitely want the lightest travel steamer possible.
Most travel steamers are luckily handheld – the smaller, the better!
ADVERTISEMENT
---
---
Best Garment Steamers for Travel 2020
To summarize, here's a chart summarizing the best garment steamers for travel. These travel steam irons come with impressive steam times, can handle dual voltages and are lightweight & portable.
Which clothes steamer would you pack for traveling?
ADVERTISEMENT
---
---
Let me know in the comments if you have a favorite garment steam iron to add!
Read More   in my travel packing checklist series:
Best Travel Luggage
The Best Carry on Luggage for 2021
The Best Packing Cubes for a Perfectly Organized Bag
The Best Lightweight Luggage for Overpackers
The Best Hard Luggage Sets for Stylish Travelers
The Best Underseat Luggage for Minimalists
The Best Carry On Bags for Men - Rugged + Durable!
Business Travel
The Essential Business Packing List
The Best Business Travel Luggage
The Best Laptop Cases for Working Women
The Best Laptop Bags for Men
Packing Hacks
The Best Travel Wallets for All Your Vacation Essentials
The Best Jewelry Cases Never Untangle a Necklace Again!
The Best Toiletry Bags to Clean Up Quick
Travel Packing Lists
The Best Travel Jackets for All Types of Weather
The Best Duffel Bags for Your Next Weekend Trip
The Best Travel Backpacks to Hold Everything You Need
Follow me @Sher She Goes on