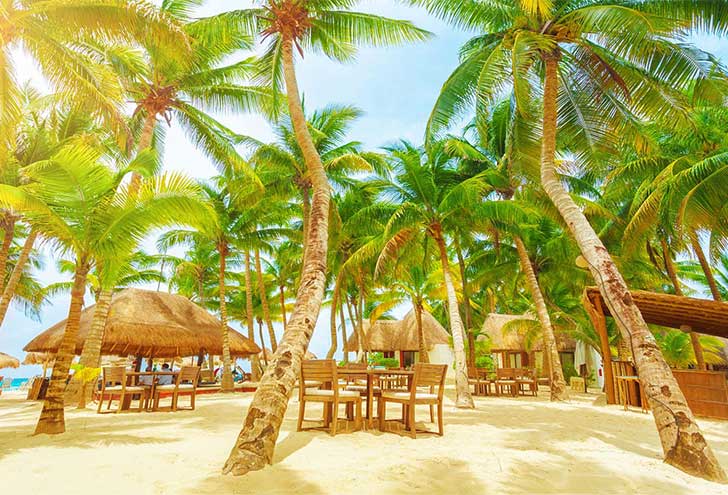 Where to Stay in Playa del Carmen
Vamos a la playa!
Known for its coral reefs, palm tree-lined beaches and gorgeously azure seas, Playa del Carmen is rightfully one of Mexico's most famous tourist destinations. And, unlike many North and Central American tourist meccas, Playa del Carmen offers incredibly convenient access to the city of Tulum and the ancient Mayan temple Chichen Itza.
Well known for its abundance of luxurious all-inclusive resorts, deciding where to stay can be a daunting task for families, couples, and spring break vacationers alike!
Fortunately, we've got you covered – keep reading for our favorite places to stay in Playa del Carmen, Mexico!
ADVERTISEMENT
---
---
Best Hotels in Playa del Carmen
To summarize, here's a handy chart of our recommended Playa del Carmen hotels. All include free wifi and are known for comfort, great locations and great customer service.
Best Playa del Carmen, Mexico Hotels – Summary Comparison Chart
Below is more information about each hotel and why we recommend it!
ADVERTISEMENT
---
---
Rosewood Mayakoba
Nestled in the heart of the Riviera Maya, the Rosewood Mayakoba takes the concepts of luxury, privacy, and peace and elevates them to utterly stratospheric levels.
With 130 suites interspersing lagoons and the Caribbean sea, the Rosewood Mayakoba offers its luxurious guests everything from terraces, outdoor garden showers, plunge pools, private boat docks, and suites that are literally less than twenty feet from the beaches of the Caribbean Sea.
What more could you want!
ADVERTISEMENT
---
---
Belmond Maroma Resort & Spa
Set literally right between the white sand beaches of the Caribbean Sea and a lush jungle filled with everything from exotic parrots to butterflies, the Belmond Maroma Resort & Spa is a true luxury oasis in the Riviera Maya.
With four types of room and suite options featuring everything from garden views, plunge pools, and oceanfront terraces, this all-inclusive gem has the perfect option for all types of vacations!
ADVERTISEMENT
---
---
Banyan Tree Mayakoba
Located in the gated resort development of Mayakoba, the Banyan Tree Mayakoba offers its guests unrestrained access to the sparkling coral reefs, winding lagoons, teeming mangroves, and idyllic beaches of the Riviera Maya region.
With such a picturesque facility and special couples' packages built around the resort's spa and accommodations, come here and see why the Banyan Tree is one the most reputed hotels for honeymoons or really any couples' escape!
ADVERTISEMENT
---
---
Hilton, the Royal Playa del Carmen
Located just a short walk from the famed Fifth Avenue of Playa del Carmen, the Hilton Playa del Carmen epitomizes the classically luxurious Riviera Maya all-inclusive resort.
With all of its suites featuring private balconies, terraces, and whirlpool tubs and some even featuring incredibly lavish features such as swim-up suites or beachfront walkouts, the Royal Playa del Carmen befits its regal name!
ADVERTISEMENT
---
---
The Palm at Playa
Located in the heart of Playa del Carmen, this boutique hotel reflects the fun-loving and bustling culture of the city it calls home.
With 69 rooms featuring a variety of loft and suite options and a restriction on children under 14, the Palm at Playa is perfect for vacationers looming for a romantic getaway or Spring Breakers alike!
ADVERTISEMENT
---
---
And that's it! Our guide to Playa del Carmen's best hotels to make the most of your stay.
Whether you're looking for an all inclusive luxury hotel, a family hotels for kids, or a romantic hotel for couples, these top hotels in Playa del Carmen, Mexico are sure to please.
You Might Also Enjoy:
Mexico Vacation Planning Articles
The Essential Mexico Packing Guide
Quintana Roo, Mexico
Travel Guide: Everything to Know Before Visiting Tulum and Cancun
All the Best Food to Eat in Tulum
Where to Stay in Playa del Carmen for the Best Vacation
Cabo & Puerto Vallarta 
The Essential Puerto Vallarta Travel Guide
Everything You Should Do in Cabo San Lucas
Follow me @Sher She Goes on