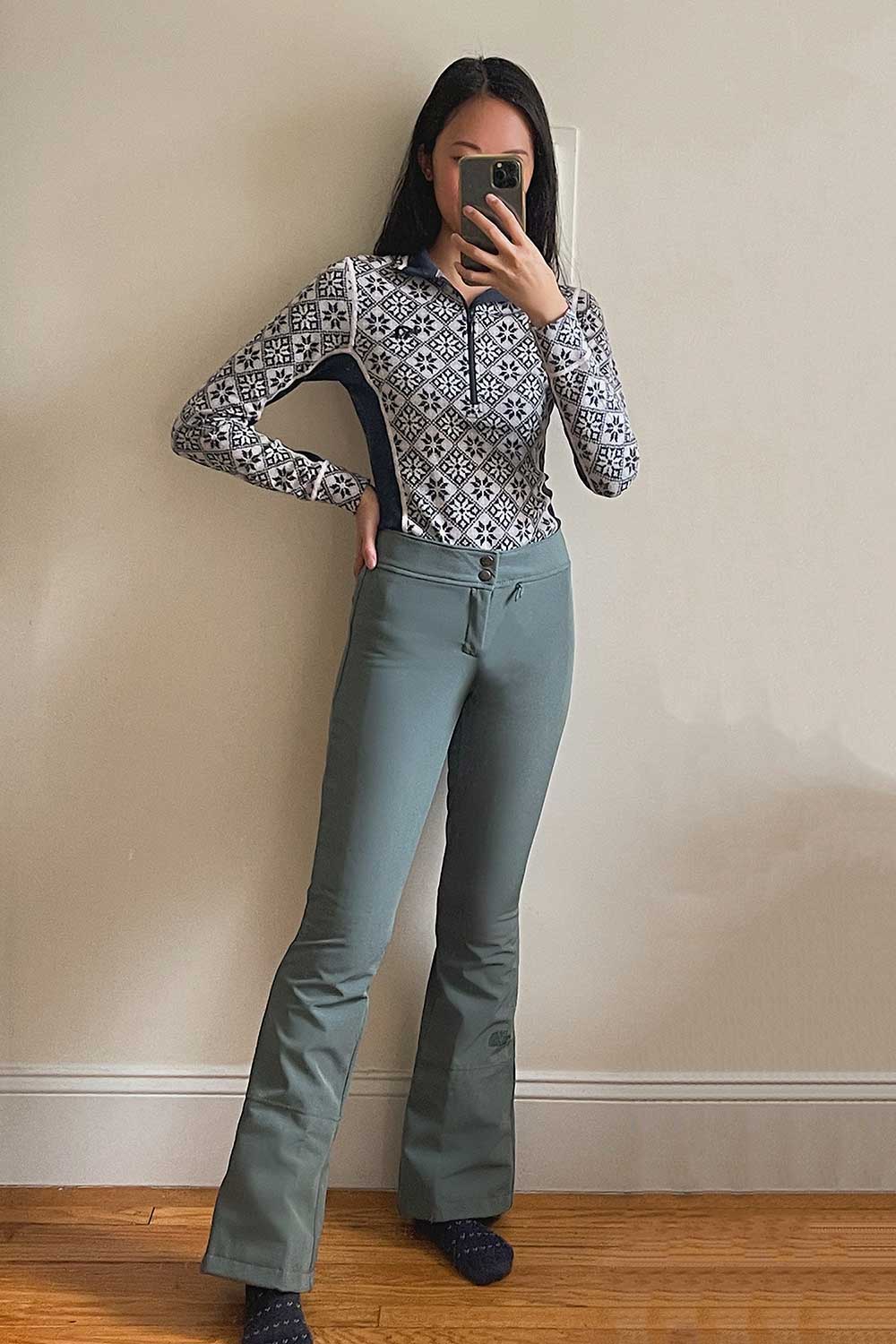 North Face Apex Pants
I've been on the hunt for flattering, functional snow pants and bibs.
Surprisingly, they're hard to find! And… they're not cheap.
So I set out to try ski and snowboard clothes from all sorts of brands.
I tried everything from affordable brands, to popular name brands and even designer ski fashion brands, to see if I could find the perfect pair. Did a cute affordable ski pant exist? Do designer ski pants hold up to actual skiing?
I'm doing quick reviews and first impressions of every ski pant and bib that I try. All the reviews are here if you want to search by brand.
Today's review is of The North Face Apex STH pants.
Keep reading, or pin this article to save it for later ⇟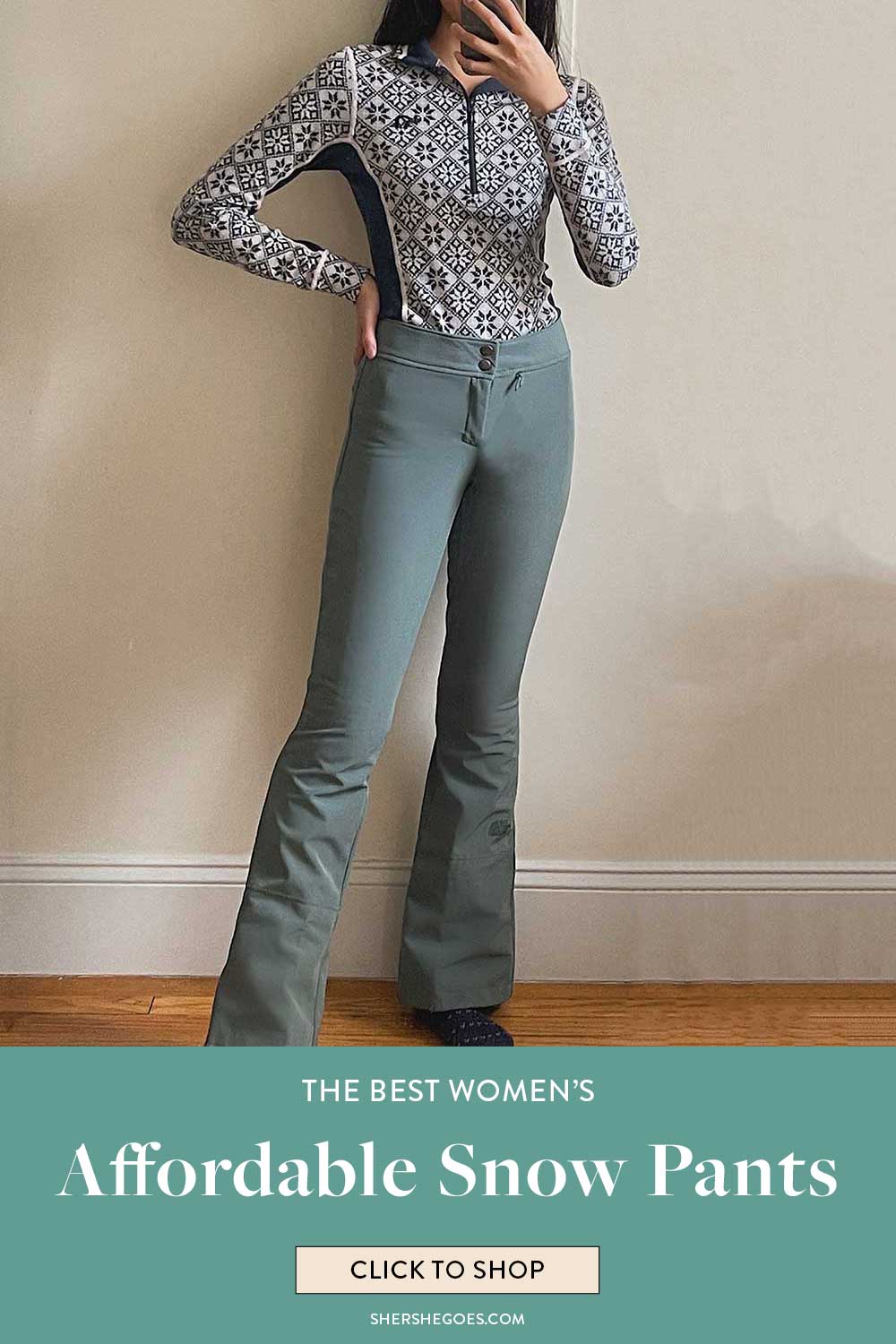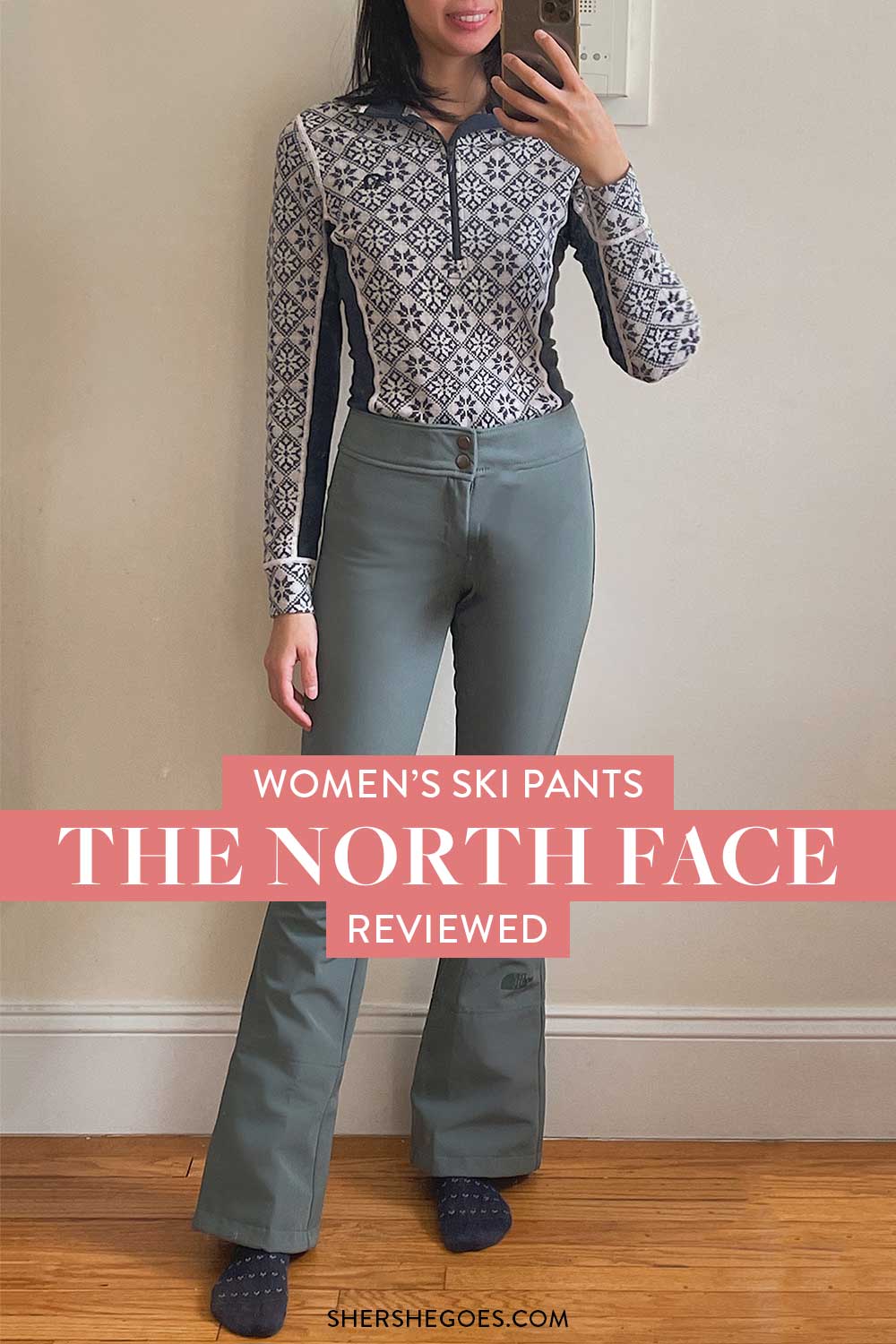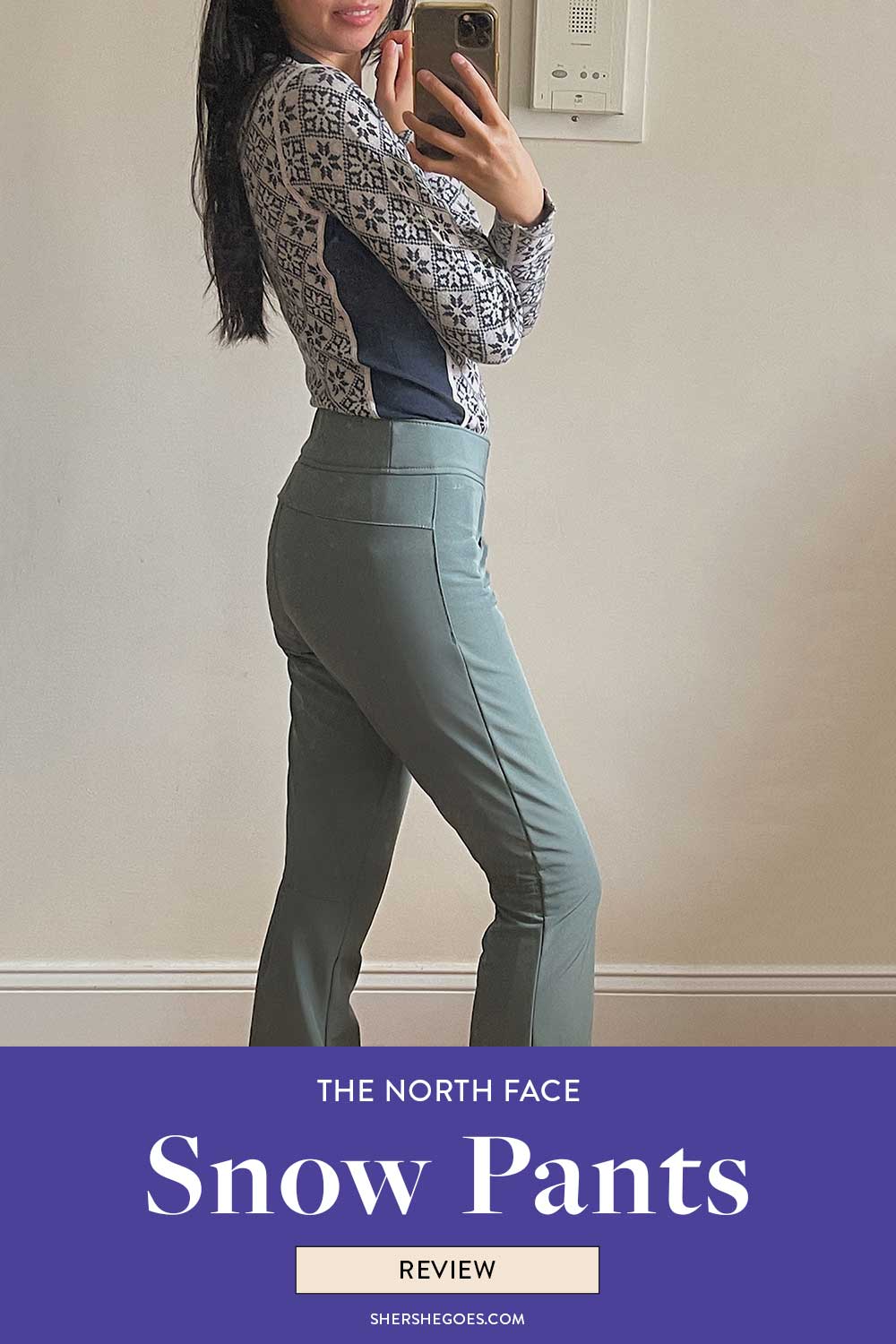 ADVERTISEMENT
---
---
The North Face Ski Pants Review
The North Face is a pretty popular American sporting goods brand.
You've most likely bought a jacket or two from them – I remember when Denali fleece jackets were all the rage as a kid!
In my mind, the company makes outdoor clothes and jackets that people mostly wear as streetwear… so I didn't realize they made proper ski clothes at first.
They have a small but curated collection of snow pants and ski bibs. I picked up two pant styles to try out, one a more relaxed, cargo-style snow pant and one more fitted ski pant.
ADVERTISEMENT
---
---
The North Face Women's Apex Snow Pant
The North Face Apex STH pants are designed to compete with more premium snow pants, so I was really excited to try these.
At around $150, they're quite 'affordable' for snow pants compared to other brands, and they promised a flattering sleek look.
Here's what I thought once I tried them on!
ADVERTISEMENT
---
---
North Face Apex STH Pant Review
Fit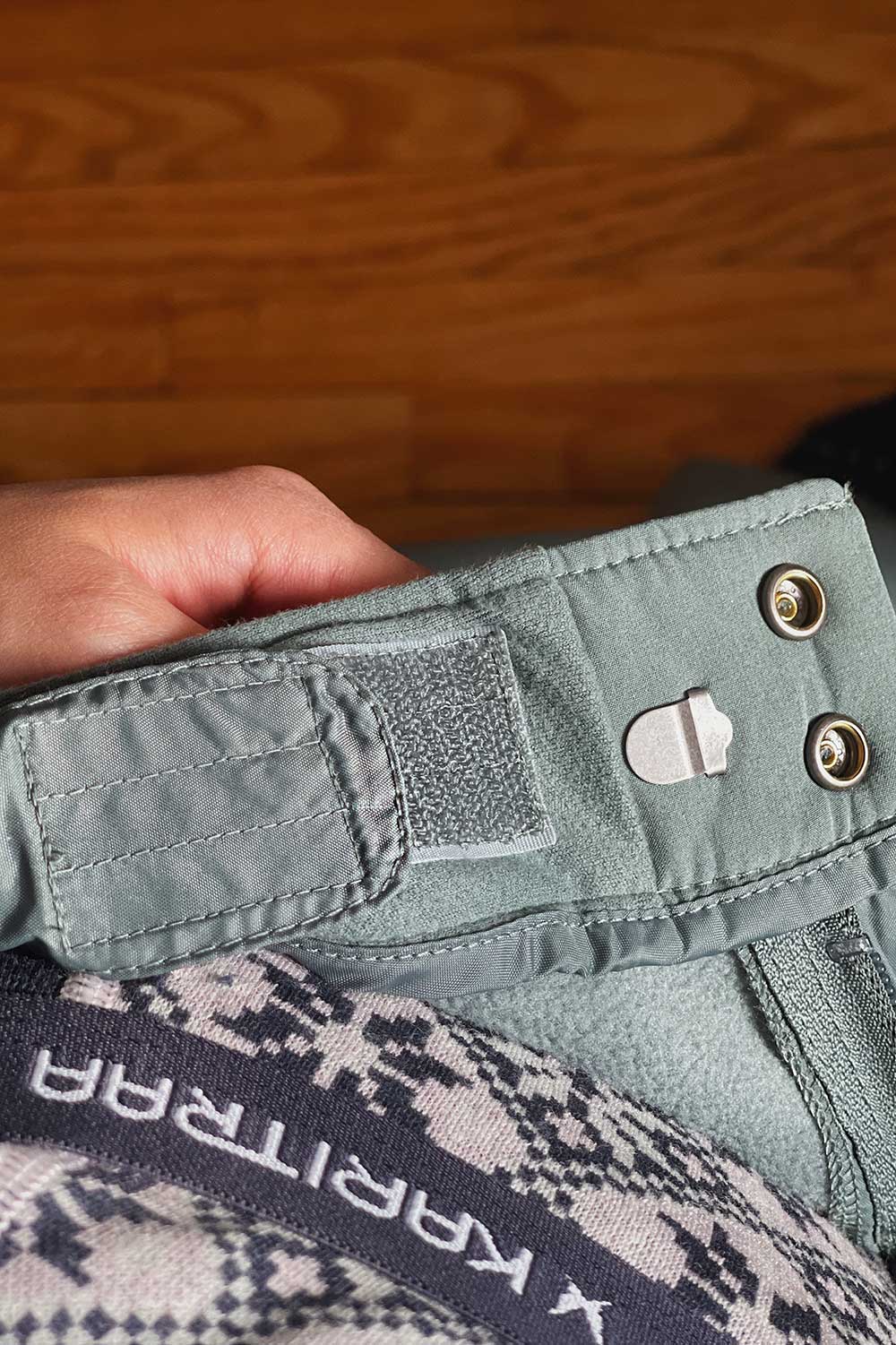 I was really impressed by the Apex pants. They're a streamlined, sleek fitting snow pant designed to look high end, but at a very affordable $150 price point.
The only downside was they run slightly small. I thought they were a little tight in the knees and slightly difficult to get on.
I think it's because the zipper area is very short – the pants don't open wide enough at the waistband to comfortably pull them on over my thighs. I have pretty narrow hips so I was a little surprised to struggle to pull them on.
But, once they were on, they fit securely and looked great.
The Apex pants are high rise, and also have velcro ties hidden on the inside of the waistband. So you can adjust them slightly for a tighter or looser fit.
I really like that design element!
ADVERTISEMENT
---
---
Fabric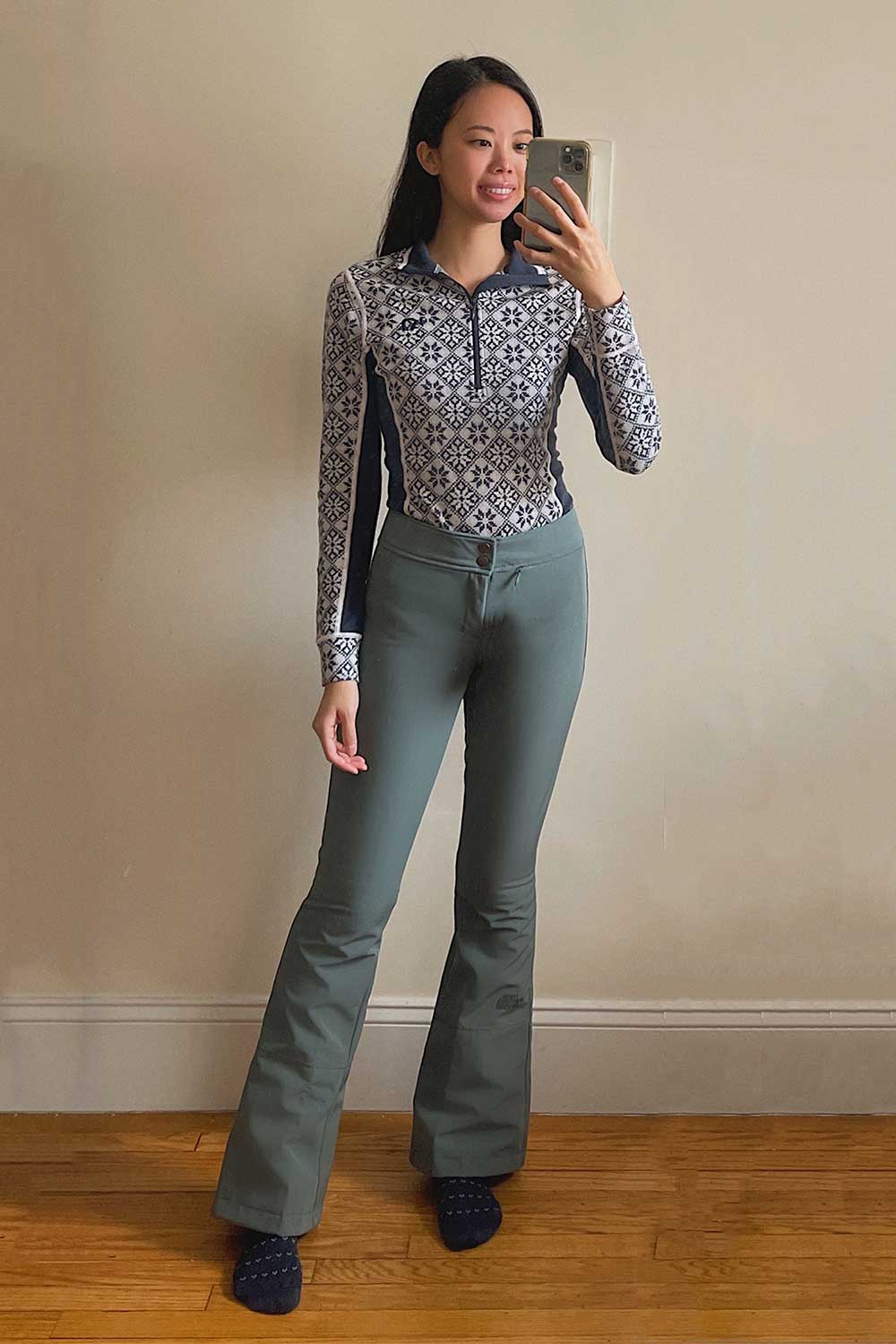 The North Face claims the Apex STH ski pants are designed to take you from the slopes to the ski lodge, with both style, versatility and function – and I think they definitely live up to that!
The pants are made from a water-resistant soft shell fabric and 100% windproof.
The North Face uses a wind-resistant fleece called WindWall to limit external air from permeating the fabric and to ensure you're warm and comfy.
The Apex comes in 2 colors and range in sizing from XS to XL, with 3 different leg lengths.
Inside, the pants are fleece lined, which personally I like.
I'm someone who always runs a little cold, so I usually layer one (or two) pairs of thermal underwear and look for insulated snow pants.
ADVERTISEMENT
---
---
Pockets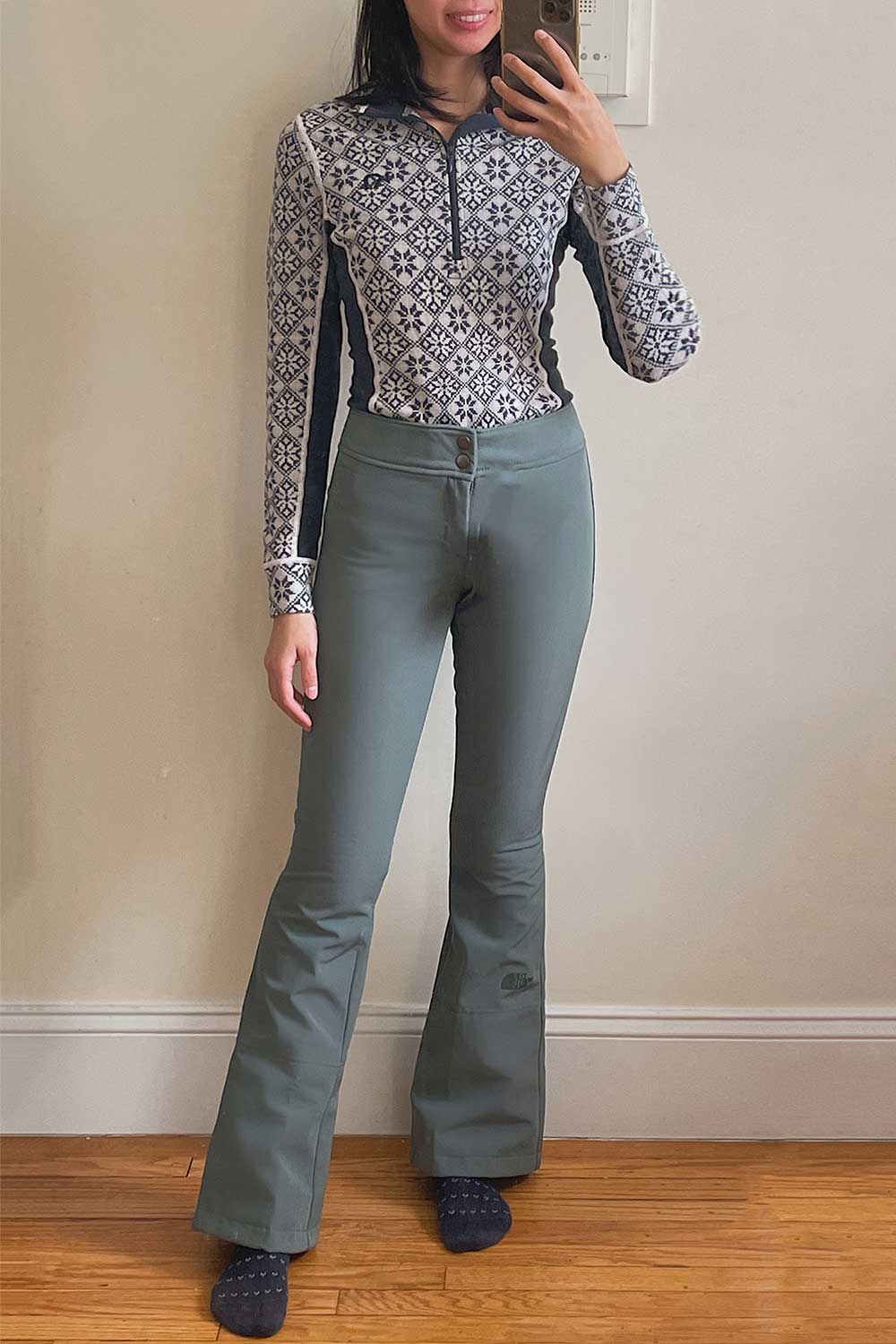 In keeping with the streamlined design, the Apex does not offer many pockets.
There's one small pocket cleverly hidden at the waistband, so that the pants maintain a sleek, long line. The pocket isn't very large unfortunately, but can fit chapstick or small items, and securely zips closed.
I always wear a ski jacket that has tons of pockets, so the lack of pockets on the Apex pants isn't a deal breaker for me!
ADVERTISEMENT
---
---
Legs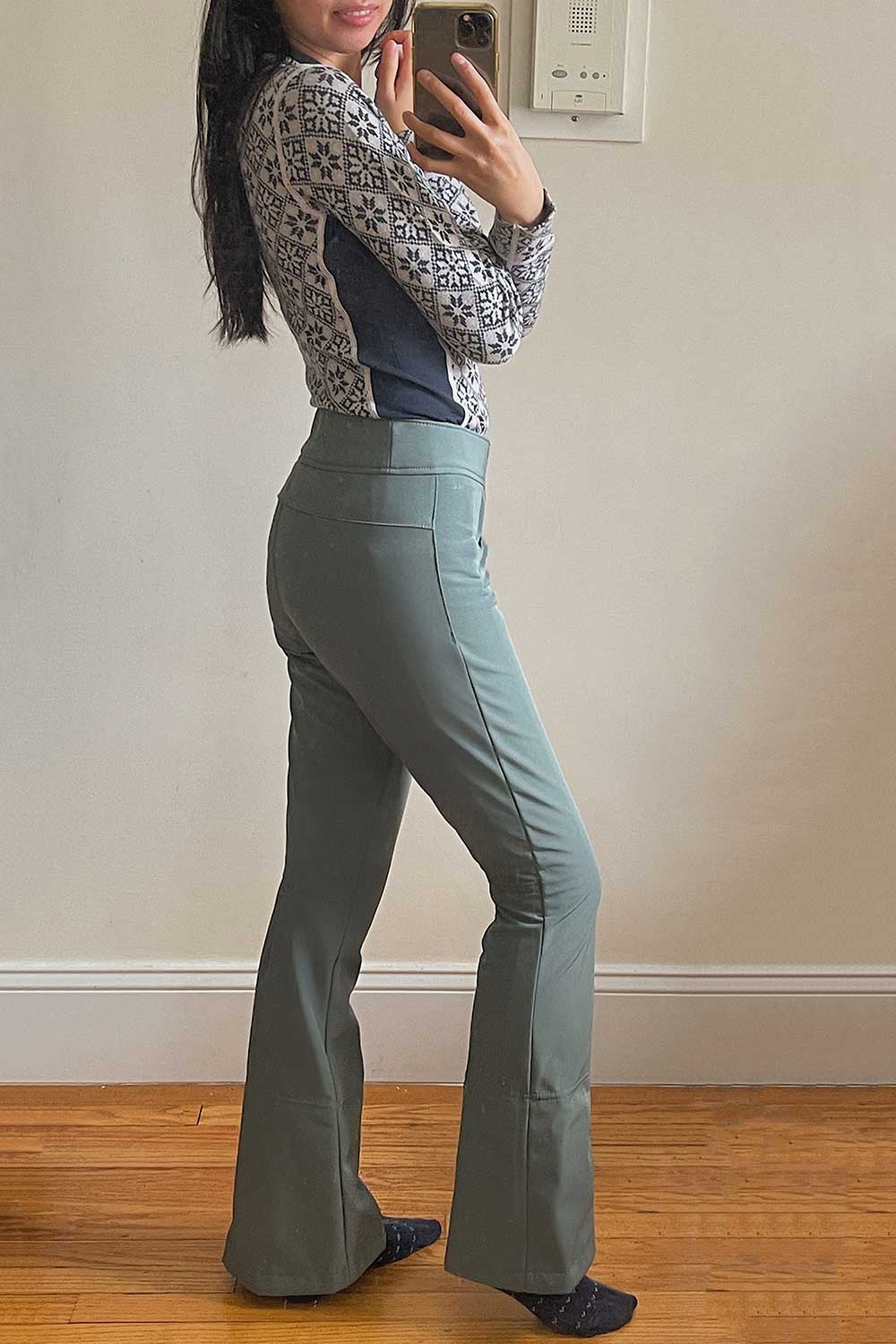 The Apex pants are a really flattering flare leg.
They hug the butt and thighs, then flare out at the bottom. They kind of look like a sleek pair of flared leggings.
These don't have zippers at the hem to further expand, but the flares should be able to stretch a bit to accommodate boots.
Like all great snow pants, the Apex STH snow pants have stretchy gaiters with grip elastic under the legs, to block out snow and water.
Personally, I thought these were a great length.
I'm wearing the Apex pants in a size XS with a 32″ inseam and loved how they were a true full length pant on me. I think the regular inseam would be a great option for anyone 5'5″ to 5'7″.
ADVERTISEMENT
---
---
Shop Women's Ski Pants
---

ADVERTISEMENT
---
---
Ski Wear Haul
SKI CLOTHING TRY-ON HAUL: do cute ski pants exist ?? | women's ski pants + bibs review
ADVERTISEMENT
---
---
ARE DESIGNER SKI PANTS WORTH $$$? | luxury ski pant try-on (bogner, cordova, holden, helly hansen)
I posted a couple try-on hauls of all the ski wear brands that I've tried. You can check them out on my Youtube channel here.
I also did a livestream on Amazon Live chatting all about dressing for the cold.
I talk about winter fashion essentials, ski gear and cute (but affordable) ski clothes that you can shop on Amazon!
Watch a recap of the video here. Make sure to follow my Amazon shop page to join future livestreams!
ADVERTISEMENT
---
---
Ski Wear Haul
I posted a couple try-on hauls of all the ski wear brands that I've tried. You can check them out on my Youtube channel here.
ADVERTISEMENT
---
---
ADVERTISEMENT
---
---
ADVERTISEMENT
---
---
Read More: in our ski style series:
Ski Trip Packing Essentials
What to Wear Skiing: Packing List Must Have's
The Best Ski Pants for Women (Stylish & Functional)
I Found the CUTEST Women's Ski Pants (Video)
Are Designer Ski Pants Worth It? (Try-On Haul)
The Best Ski Sweaters for Apres-Ski 
Planning the Perfect Ski Trip
What to Know Before Skiing in Vermont for the First Time
Ski Trip Recaps + Mountain Guides
Lake Tahoe, California: Heavenly, Kirkwood & Northstar
Montana: Big Sky
Vermont: Stowe
Catskills, New York: Belleayre Mountain
Quebec, Canada: Mont Tremblant
+ More Ski Vlogs on Youtube
Follow me @Sher She Goes on