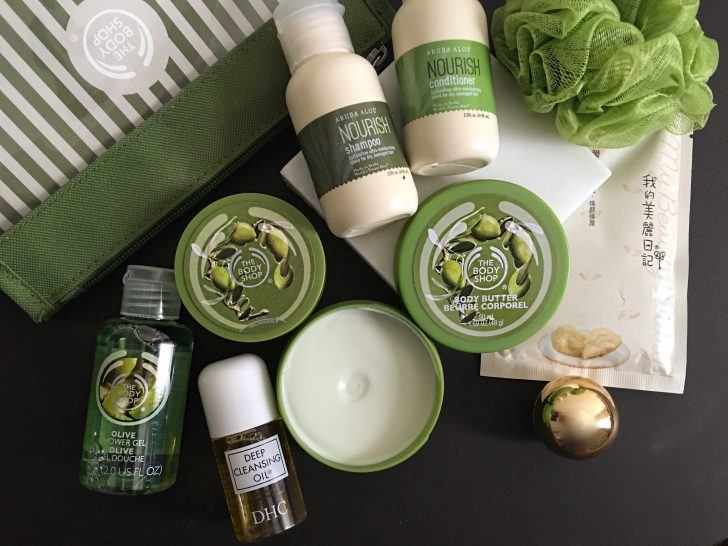 I just got back from a fabulous trip to Spain and Portugal and for the first time used Airbnb for a significant portion of my trip! For some reason I thought I'd be getting an early start on the summer rush and that May would be perfect timing – good weather, good deals. Nah, it turns out… May is the hottest time of the year to go to Spain. I think it's because they have a lot of festivals this month, more on that in a future post.
---
---
I chose Airbnb for the capital cities in Spain and Portugal, reasoning that we were staying longer in these cities and the combination of being a major city and the length of stay made hotels rather pricey. Airbnb was definitely cost effective, especially since we were in Spain during the height of festival season and things got booked out and pricey fast! (Other first timers to Airbnb can get $20 off their first stay by using my special discount link here.)
We also stayed in pretty prime locations right near the main sights, so I can definitely see the advantages and we also got to see local apartments. I love looking at real estate so that was neat. Madrid apartments have these beautiful interior staircases and balconies. Lisbon apartments have fabulous views over the city if you choose a hilly spot.
The experience taught me a lot but the one thing that stood out was the importance of packing some essentials in advance! I went on the trip with my mom, who is probably the most prepared packer and organizer I will ever meet, so I am now summarizing my list of must have beauty items for the airbnb traveler:
---
---
10 Beauty Essentials for the Airbnb Traveler
No. 1 + 2 | The Body Shop Olive Oil Shower Gel + Mini Loofah
I never pre pack bath stuff, since it always just seemed like a waste of space. But, for this trip, I was gifted this amazing shower gel and loofah from the Body Shop and it was a total lifesaver. The olive oil gel smells so refreshing and clean and the little loofah helps a tiny toiletry tube last for a good week! The poof was so tiny that it dried easily and has a little loop for easy hanging right over your towel. I'm so glad I brought along mini-versions of my bath favorites – I usually just rely on whatever the hotel provides.
No. 3 | Aruba Aloe Shampoo & Conditioner Set
I brought along this hydrating hair set from Aruba Aloe that uses aloe extract as the main ingredient. Smoking is widespread in Spain and there was a lot of standing in line at tourist attractions getting smoked on nonstop, so I definitely wanted clean hair every night. I found this super hydrating shampoo from Aruba Aloe to be both moisturizing and weightless. You can definitely feel the aloe ingredient in the shampoo! Texture wise, it's super thick, kind of gloopy (like real aloe) and smells really nice.
I also took the matching conditioner mini bottle and absolutely loved this. I have super long hair now so conditioner has been essential in keeping it shiny and healthy.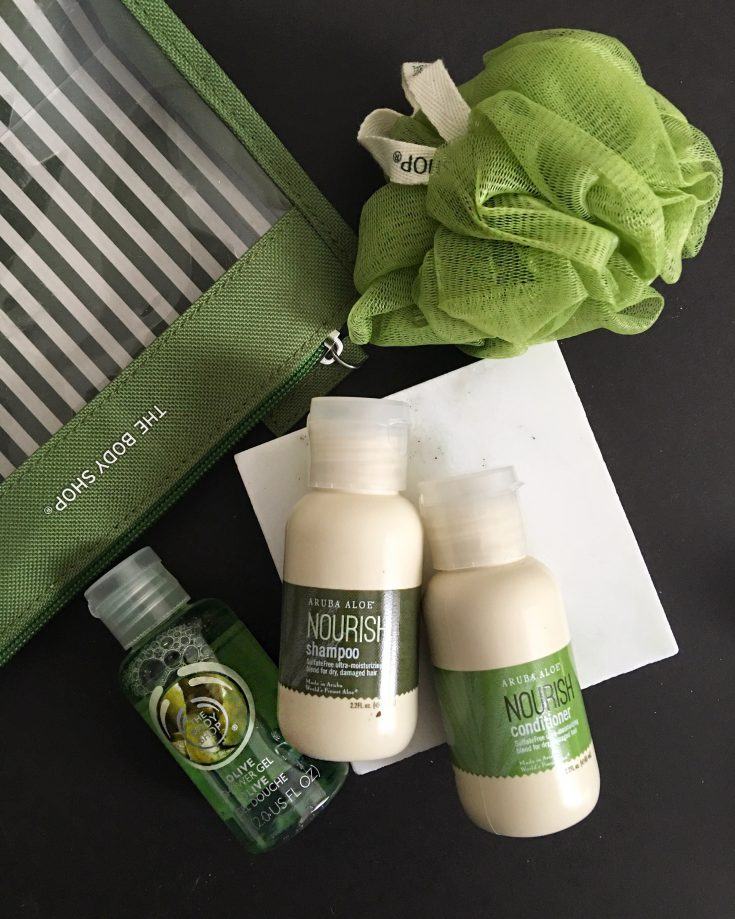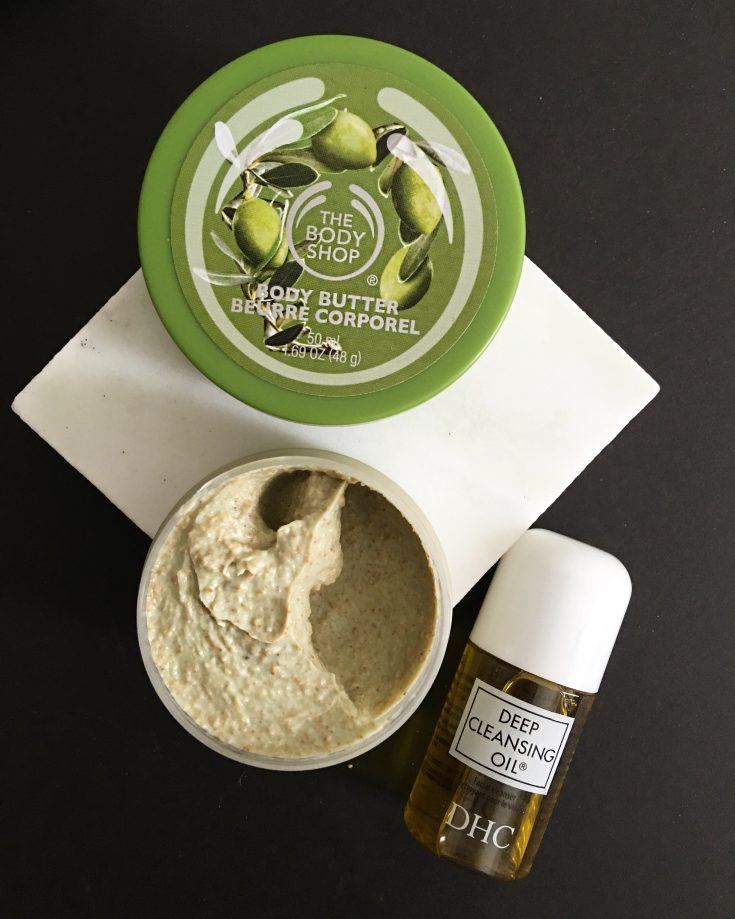 No. 4 + 5 | The Body Shop Body Scrub & DHC Cleansing Oil
I took along a mini tub of the Body Shop body scrub to exfoliate 2-3x per week. This also doubled as my morning facial cleanser since the scent is heavenly and the scrub contains olive oil so it's not drying. I like to use a strong scented cleanser in the morning to help me wake up.
Then at night, I used a mini DHC cleansing oil to get off all the grit and grime. When I travel, I also use a light tinted moisturizer with SPF (this one is my long time favorite because it oxidizes to your face for the perfect match) and double cleansing with a cleansing oil is a must to get everything off at night.
I actually have the fullsize version of the DHC oil at home that I still haven't opened yet – it's a cult favorite in Japan and the original cleansing oil so well worth a try! I stocked up on Japanese skincare when I went to Japan back in 2012. I really should stop doing that.. I have so many backups just sitting on my shelf haha. 2016 is the year I declutter and don't buy any more beauty products.
On a side note – I also really recommend the Elishacoy cleansing oil. It's a korean brand that's not as well known but is incredibly hydrating and ADDS moisture to your skin post cleanse, which is unheard of!
---
---
No. 6 + 7 | The Body Shop Body Butter & Target Lip Cream
Despite it being May, Spain and Portugal felt pretty chilly so I would take super hot showers to warm me up before bed. The Airbnb apartments were old, historic buildings so in one instance there wasn't any heat in the building whatsoever and at night I froze for five straight nights.
Taking super hot showers made me feel better for about 30 minutes but then left my skin dry, itchy and tight so the body butter was amazingly hydrating. It also came in a nice flat jar so I could dip my fingers in without the frustration of squeeze bottles.
I tried out this affordable lip mask from Nugg since the packaging was so pretty and gold. It's creamy, hydrating and compact making for a nice easy add-on to your toiletry bag. They sell the whole Nugg line at Target.
Speaking of, the Body Shop toiletry set came in a cute striped bag. The pouch itself is durable and waterproof, which is necessary as I always keep mine in the bathroom. I like to carry my toiletries with me in my personal bag so that it never gets lost with my luggage and so that I can hydrate on the plane (my fellow blogger friend Emily interviewed me about my in-flight skincare regimen – you can read it here). Since it's clear, it's TSA friendly too!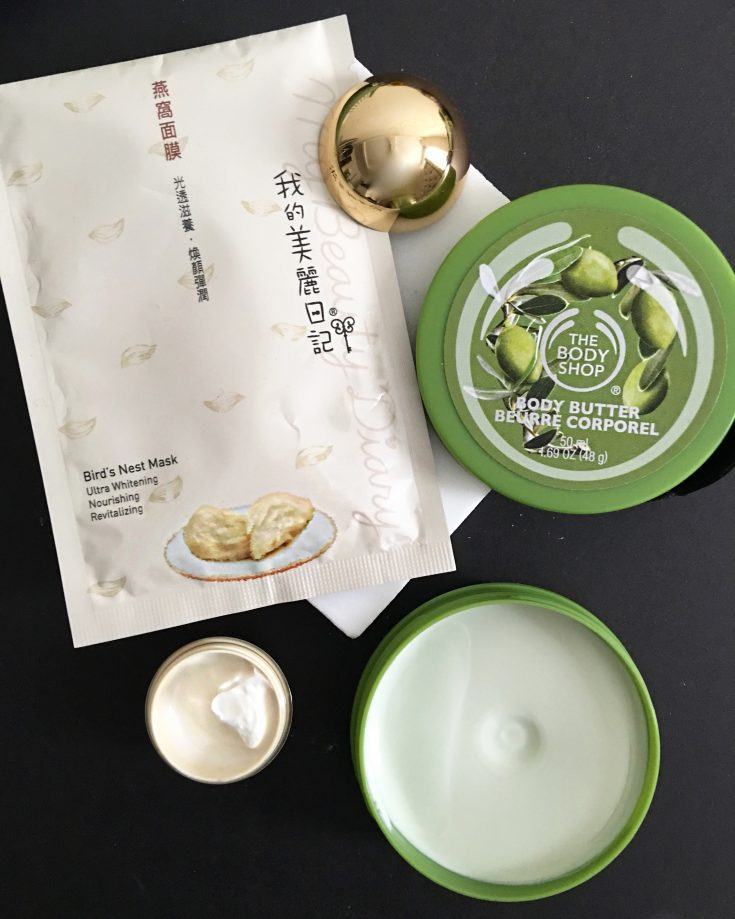 ---
---
No. 8 | Face Masks
For days when I need a little boost, I pack a couple of sheet masks. They're thin and easy to slip into the outer pockets of your luggage and I always use one on flights. I like to try different brands of sheet masks but I usually revert back to my trusty My Beauty Diary ones – currently I'm trying this fun bird nest variety pack.
I also used these gentle DHC revitalizing moisture strips to de-puff my undereye circles during the flight. If you're going to put one mask one, why not just double 'em up. Unfortunately I was so eager to use them I forgot to take a photo to show you but they are gel miracle workers! You can get a couple to try from DHC and they weigh next to nothing.
No. 9 + 10 | Microfiber Towel & Silk Sheet Liner
I definitely felt that Airbnb's weren't quite as clean as hotels. Part of it is obviously the lack of daily maid service but I also saw stains and dirt on the provided linens. I also wasn't quite sure if towels are provided (they were) but I'm so glad I brought along my microfiber towel. It's one of the 'sport' variety kinds that is ultra compact (I managed to squeeze 3 weeks worth of outfits and toiletries into a CARRY ON) and is fast drying. In south Spain, we city hopped and didn't stay more than 2 nights, so fast drying towels are a must. Then in Portugal, it was freezing so we thought about doing laundry but nothing dried except light silk tops and the microfiber towel. I think I might have to start bringing this along on regular hotel stays now! The Airbnb ones just had lots of stains and didn't look clean.
What I neglected to bring, is one of these silk sheet liners. I am a total germaphobe and didn't think to do this at the time, but I kept the plane blanket from the flight over and used it as a barrier between me and the AirBnB provided comforter.
---
---
Another travel blogger friend who mainly backpacks told me about the silk cocoon and it's a much better option. First of all, it's made of silk so it's naturally cooling in the winter / warm in the summer and dries very quickly. It's also extremely light so there's not much added weight. Given the choice between a bulky cotton sheet that never folds properly and an an extra outfit, I'd choose the outfit… but I don't have to make that choice with the cocoon. They come in a bunch of colors and are a small luxurious way to shield yourself from germs!
And there you have it, my Airbnb travel essentials to feel clean and at your best on your travels. Hope you enjoyed! Let me know in the comments below if you have any extra travel essentials that I should pack on my next trip.