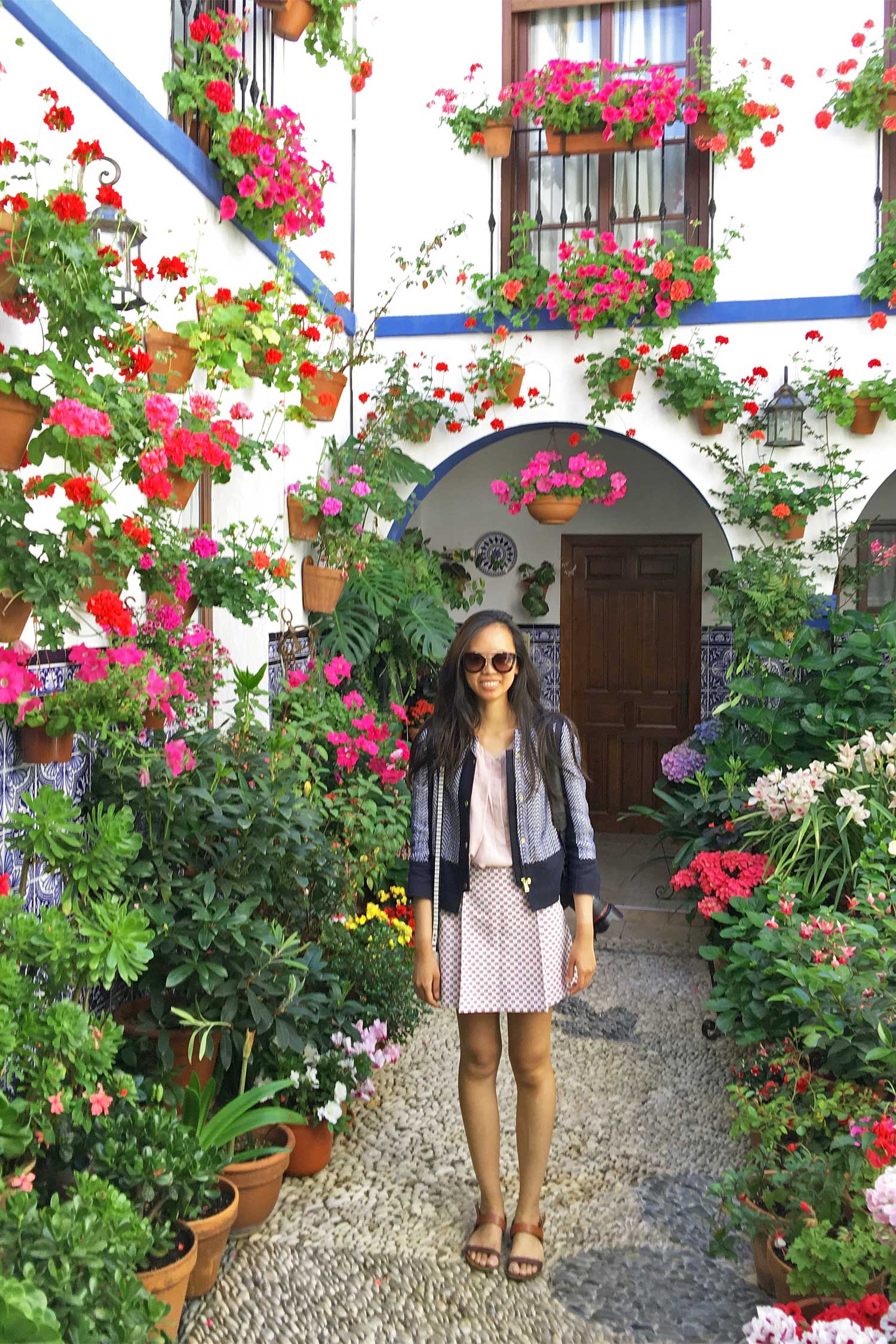 The Cordoba Patio Festival
A Photo Diary of the Prettiest Spring Town in the World
If there's one perfect time to visit Cordoba, it's during the Cordoba Patio Festival. When I was planning my Andalusia itinerary and trying to decide how long to stay in town, I stumbled on an interesting little festival held each year in the beginning of May…
Or save this article to read later by pinning it ⇟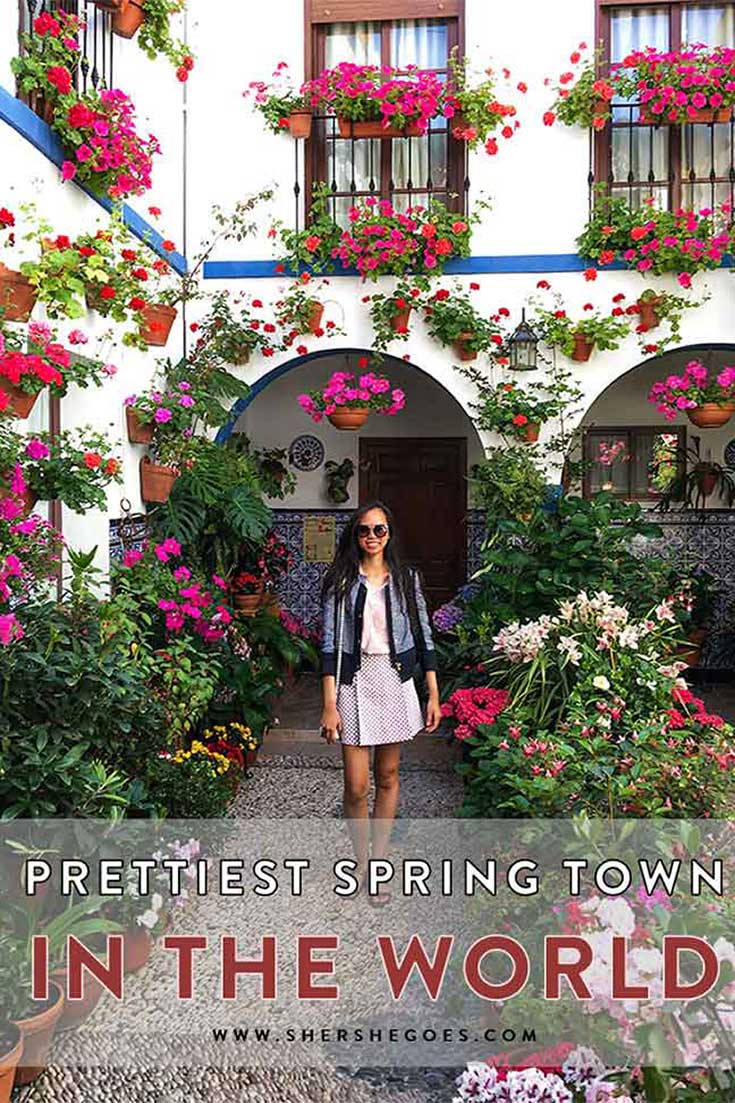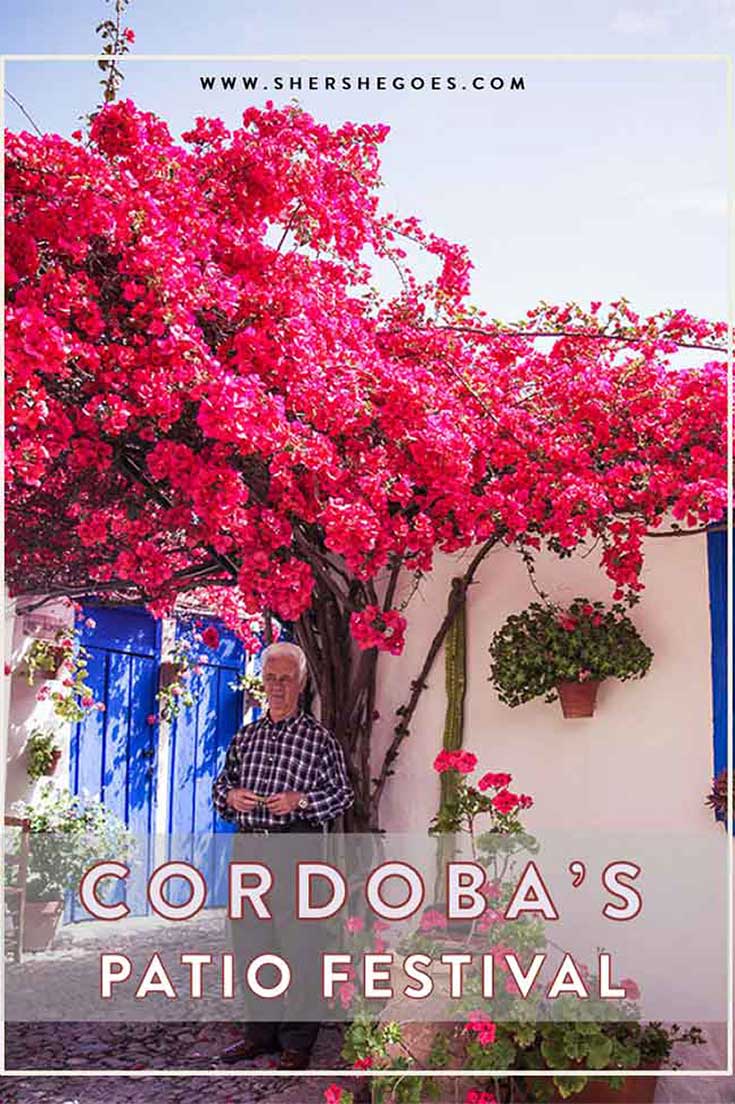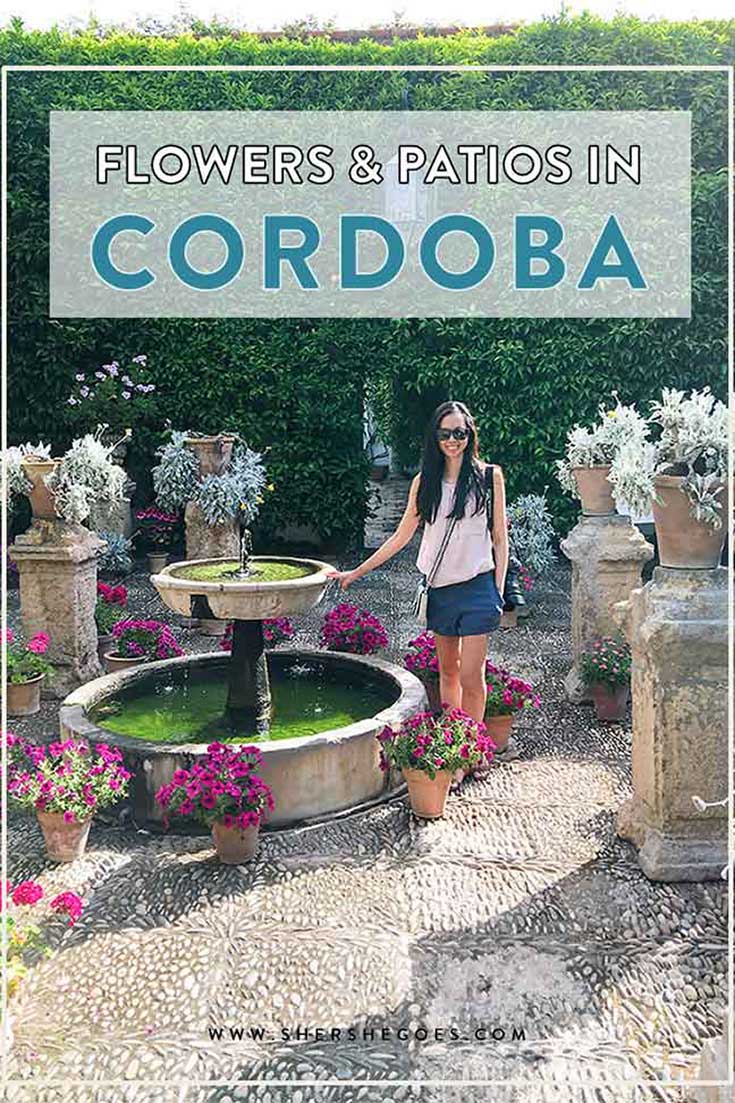 ADVERTISEMENT
---
---
During this month, the town residents compete in the Andalusian version of the All-England Best-Kept Lawn competition and throw open their inner courtyards to judge whose flower bedecked patio is the most beautiful.
Originally, I had planned to visit Spain at the end of May/early June but once I saw how beautiful the Cordoba Flower Festival was, I knew I had to shift everything to make sure I could be there in time!
Where to Stay in Cordoba
Eurostars Palace Hotel – this hotel has a gorgeous inner courtyard and gives travelers a true feel for Cordoba's courtyards, which are usually hidden to outsiders except during the festival.
Check rates: Hotels.com, Booking.com
ADVERTISEMENT
---
---
About the Cordoba Patio Festival
Cordoba's Unique History
Cordoba was first a Roman than a Moorish city and its local architecture was heavily influenced by each. Homes were designed around a central courtyard (patio in Spanish) with a fountain in the middle to collect rainwater and shield against the heat in ancient Roman times. When the Moors conquered Andalusia, the Muslims added an entrance from the patio to the main street and began the practice of adding flower pots to the walls to provide cooling and a sense of beauty.
Types of Patios
There are two main types of courtyards – the more common is a smaller courtyard belonging to a single family, whose rooms surround the patio on all sides.
The second, is a larger communal space called a neighbors house (casa de vecinos) where multiple homes surround the courtyard. These tend to be much larger and more elaborate, with long balconies, a communal wash room with adorable wood scrub boards and perhaps a fountain and decorative cobblestones.
Obviously a private space is nice.. but the casa de vecinos had so much more space and everyone really came together to beautify the patio together so I'd gladly take up residence in either :)
ADVERTISEMENT
---
---
How to See the Cordoba Flower Festival 2019
The 2019 Fiesta of the patios will start Monday, May 6 and end on Sunday, May 19.
The local tourism board organizes the event each year and typically the town wide contest is held the first two weeks of May with judging and prizes awarded at the end of the month.
Zones | Typically different locals enter each year, so you probably won't see the exact same courtyards that I saw. In general, there are around 6 or 7 main "patio zones" each with a slightly different look and feel. I visited 5 of the zones and over 60 patios and no one patio was the same!
Sessions | 2 sessions a day – the afternoon from 11am – 2pm and the evening from 6pm – midnight. If you're in town from Monday through Friday, you can stop by at any home during either session and photograph, wander and breathe in the beauty to your heart's content. Some home owners try to regulate the line of people entering to keep their patios from overcrowding. Funny enough, it was my experience that this ended up leading to longer wait times.
Tickets | If you are in town on the weekend, there used to be a ticketing system where you sign up on the official tourism website to request tickets. They discontinued this in 2016. While I was in Cordoba, the weekends became extremely crowded, as locals from other Spanish cities come to visit as well so be prepared to wait for a bit! I would also recommend visiting in the morning session.
Siesta | If you only have a short time window in Cordoba, there are 3 patios in Cordoba that are open during the siesta: Palacio de Orive (at Plaza de Orive), Zoco Municipal (at C/ Judios) and Rey Heredia (at 22 Espacio cultural). You can visit these three when all the others are closed for afternoon siesta!
ADVERTISEMENT
---
---
Festival of Flowers and Flamenco
The town holds a number of performances and events as well, including evening music and dance performances. These occur simultaneously with the Cordoba Patio Gardens and are mostly free. You can even see some local flamenco dances!
Read more:
Don't Travel to Cordoba Without Seeing These 5 Sights
When to See the Cordoba Patio Festival
The patios are generally open from Sunday to Thursday from 11am to 2pm and from 6pm to 10pm; and Friday and Saturday from 11am to 2pm and from 6pm to midnight.
The festival is open to the public so that tourists can ooh and aah over how beautiful these homes are. It's almost as if the event is a scavenger hunt to find the best kept courtyard – and each one I visited was more charming and aromatic than the next.
ADVERTISEMENT
---
---
Photos from Cordoba's Patio Festival
I took so many photos that I'll let them do the talking! The event goes on for a full two weeks so by the time I left it was still ongoing and I'm not actually sure who "won" the competition but my personal favorite was a family who had a pool in their courtyard.
I didn't get to see the judging so I thought it'd be fun to organize my photos of the patios by (my own designated) categories:
Cordoba Patio Theme 1: Green with Envy
ADVERTISEMENT
---
---
Cordoba Patio Theme 2: Pink n' Pretty
ADVERTISEMENT
---
---
Cordoba Patio Theme 3: Blue Eyed Wonder
ADVERTISEMENT
---
---
Cordoba Patio Theme 4:
A Rainbow of Pots
ADVERTISEMENT
---
---
Cordoba Patio Theme 5:
Fountains of Youth
ADVERTISEMENT
---
---
How to See the Cordoba Patio Festival All Year Long
If you can't make it to see the patios of Cordoba in May, no worries! You can still get an idea and view of Cordoba in flower festival mode by heading to the Palacio de Viana museum, which features a beautiful local home with 12 distinct garden patios.
To check the Cordoba Patio Festival dates for next year, have a look at the official town site. About two weeks before the flower festival, they'll release a map of all the participating homes and zones with a handy screenshot of each interior patio.
Read more:
The Perfect 7-Day Andalusia, Spain Itinerary
ADVERTISEMENT
---
---
Visiting Spain – Travel Checklist
To make the most of our time, we booked open jar flights, flying from NY to Madrid and departing from Lisbon. Check flight deals for your dates here.
For getting around within Spain, we recommend the local train system. Both fast and slow options are available, so Spain train travel is easy and effective! The only catch? It's difficult for non Spanish users to book. Instead, book your tickets on Omio, which is much more convenient for English speakers and accepts international credit card holders. Check train schedules for Spain here.
We mixed up our accommodation throughout the trip, alternating between Airbnb and hotels. You can browse last minute Spain hotel deals here. 
Lastly, be sure to visit Spain with travel insurance. Whether you get injured and need to be hospitalized, your phone gets stolen, or a flight delay leaves you with nothing but the clothes on your back, travel insurance will help when you need it most. Get a quote for your trip here.
You Might Also Enjoy:
Spain Vacation Planning Articles
Spain and Portugal: A Perfect Itinerary to Explore Both Countries!
Headed to Andalusia? Check out this 7 day Southern Spain travel guide
Granada
How We Spent 3 Incredible Days in Granada
Insider Tips for Visiting the Alhambra Palace
Seville
The Best Things to Do in Seville
A Spain Food Guide: Important Tapas + Food Names in Spanish!
Cordoba
Spain's Hidden Gem: The Quaint Town of Cordoba
Don't Miss Cordoba's Patio Festival! Here's Why
Follow me @Sher She Goes on