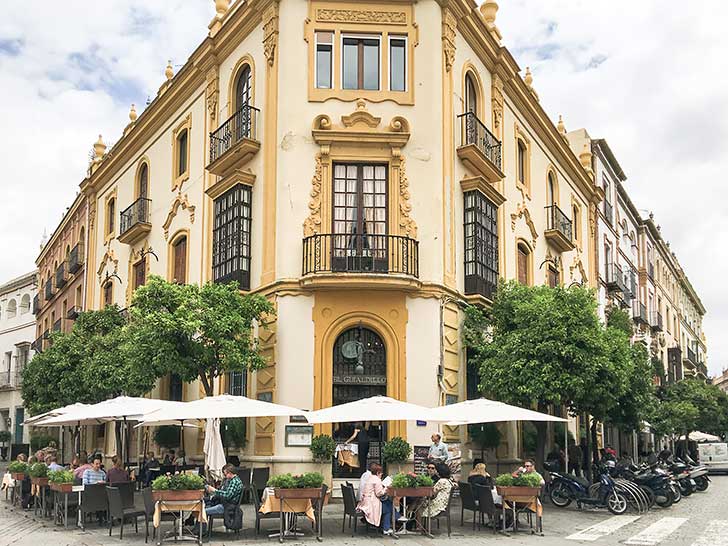 Where to Eat in Seville, Spain
One of the things I most looked forward to before my trip to Spain was heading down south to Seville and trying authentic Spanish food.
Traditional food in Spain always evoked three things in my mind: jambon, manchego and rioja. I soon discovered a whole world of tapas, raciones and pinchos!
Keep reading for some of my favorite tapas restaurants in Seville!
Or save this article to read later by pinning it ⇟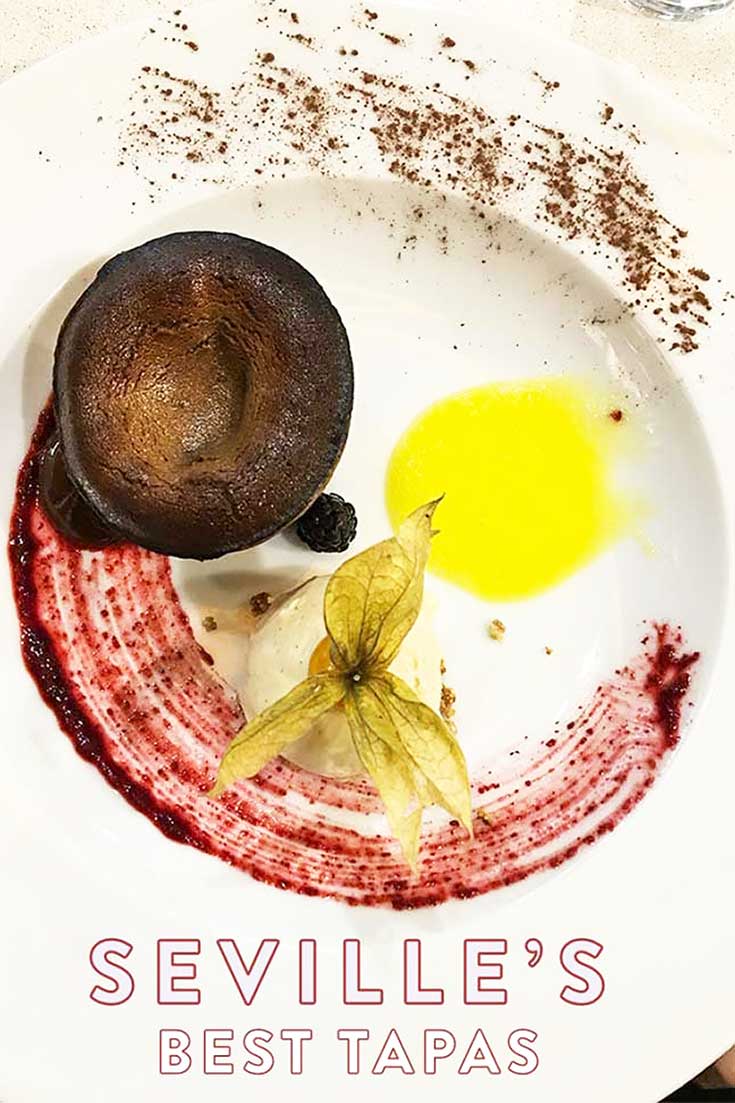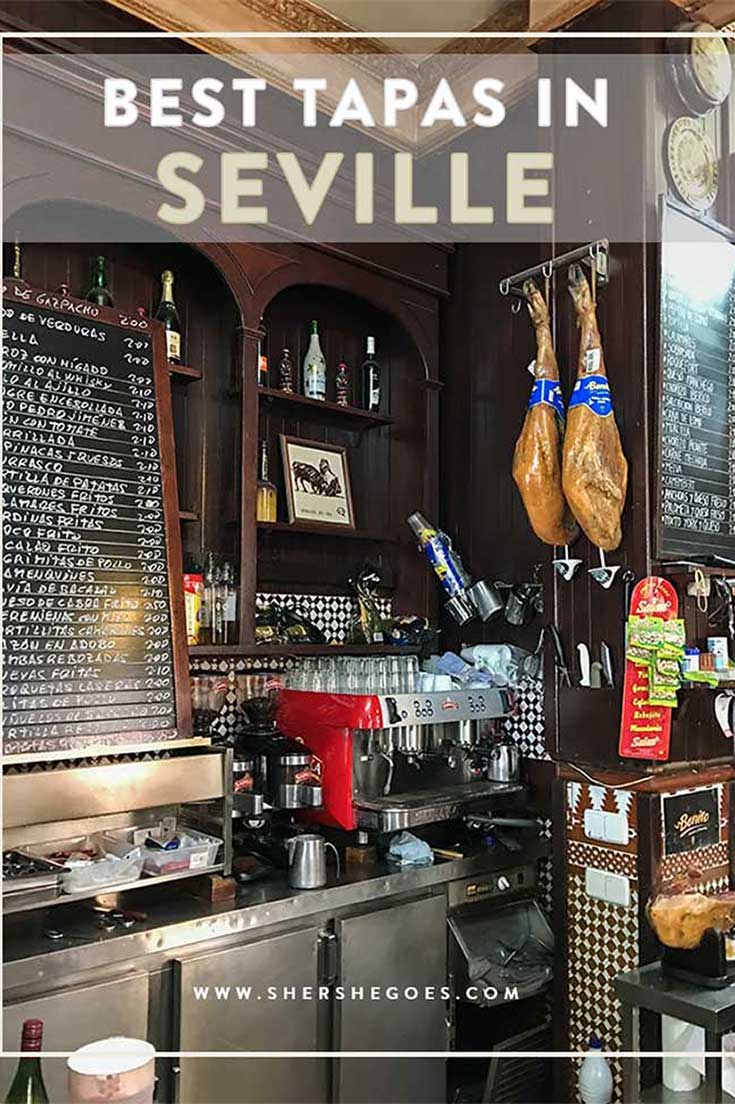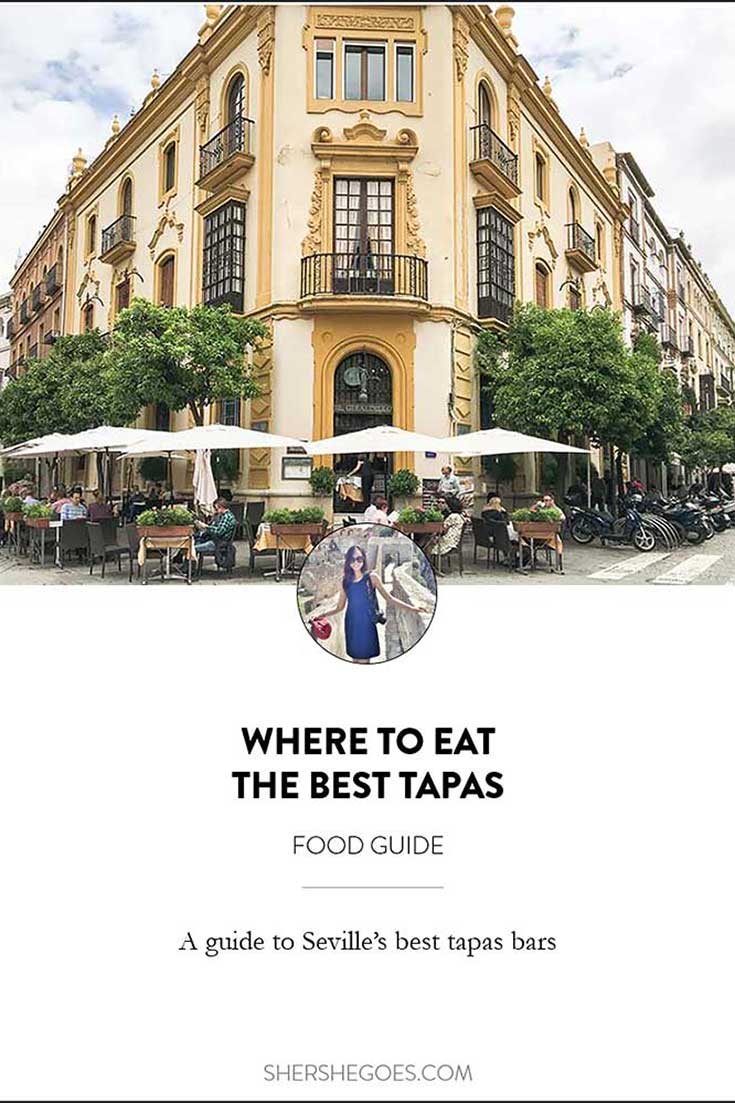 ADVERTISEMENT
---
---
Seville Tapas
Seville had the best tapas scene of any city in Southern Spain so I highly recommend trying the local food when in town and even splurging on a fancier tapas dinner. A great option is a food walking tour to learn both about the cultural and historical aspects to various dishes while ensuring that you visit the best tapas spots in town!
I loved tapas in Seville and Barcelona the most. Seville has more traditional Spanish food while Barcelona has more modern, innovative options. Both are well worth exploring – your stomach will thank you!
The best part about tapas in Seville is that upscale tapas restaurants are very fairly priced (roughly 30-60 euros for dinner for two).
Read more:
A Quick Guide to Seville
The Best Food Tours in Spain
ADVERTISEMENT
---
---
The Best Tapas in Seville
1. Bodega Santa Cruz
This classic local favorite is a great place to grab a quick bite or lunch and has a prime spot in the Barrio Santa Cruz district (about 5 minutes of walking north from the Seville Cathedral)
One quick step inside and you'll immediately know it's a historic taberna from the dark wood counter (where they chalk up your bill) to the tiled walls and stiff staff.
We only saw a menu in Spanish written on the wall, so feel free to point and gesture based on what others are eating or look up phrases using my menu above. With options to stand at the counter and drink outside, Bodega Santa Cruz is both a local and tourist favorite.
Must Try Tapas: pringá, flamenquín, lomo al pedro jimenez, gazpacho (comes in a glass), sangria
Calle Gerona 40
---
---
2. La Azotea
We lined up 15 minutes before opening time to make sure we got a seat at La Azotea, a small seafood focused tapas bar.
The menu is different for the bar vs. table seating so make sure you take a look before you head over and choose whichever seating has the menu you prefer.
While we waited, we struck up a conversation with another friendly American tourist (who we identified via her Rick Steves Spain book ha! I think every American tourist carries this book) who had been to Seville over 5 times and always made a trip to Azotea on her dinner list. We ended up eating together and continuing to chat about our travels throughout Spain!
Must Try Tapas: razor clams, foie gras with toast and jam, 'fair style' octopus (polbo á feira)
Calle Jesús del Gran Poder 31
This is a classy spot that's perfect for dinner. The tapas were good, the wines local and the dessert was heaven sent.
You pretty much can't go wrong with anything on the menu although I wish the same dishes could have been ordered regardless of where you sat. Oh well, just means I need to go back!
ADVERTISEMENT
---
---
3. La Brunilda
Spoken of in hushed tones by local foodies, this place is truly special. From the outside the restaurant is on a small, secluded street but inside, La Brunilda serves up an amazing tapas dinner with reasonable prices.
I'd recommend going in a a group of 4 and ordering half dishes to try – pretty much everything on the menu is superb and the sangria is delicious as well.
Be aware that this spot is incredibly popular and even arriving at opening time at 8pm might mean a wait. Try to go early to stake a claim!
Must-try tapas: squid with egg, grilled octopus, duck confit, fillet of beef with roast potatos
Calle Medalla Milagrosa 3
ADVERTISEMENT
---
---
There you have it, my top three restaurants for where to eat the best tapas in Seville. After Seville, we flew to Lisbon to eat some more!
Read more:
1 Week in Southern Spain Itinerary: Everything You Should See
How to Order at a Tapas Bar
Tapas bars can definitely be a little intimidating for the first timer, since you need to jostle your way to the bar and catch the attention of the bartender/server. Try to know what you want before you make your way to the bar and fake some confidence about your Spanish language skills.
My personal tapas favorites that I ordered everywhere include patatas bravas (essentially french fries) and anything octopus. I also really loved the local spanish wine from the rioja region (pronounced rio-ha), sangria (of course) and gazpacho (really a food but in Spain served in a glass).
Spanish food is very heavy on salt and fried dishes, so make sure to hydrate!
ADVERTISEMENT
---
---
Can You Speak Spanish?
In general, I found Spain to be relatively English unfriendly – it really helps to know basic Spanish phrases. Of course it always helps to make an effort to learn local culture and language before you go, but I naively assumed that my college level French would be "close enough".
Unfortunately, I pretty much butchered the pronunciation of lots of Spanish words on my first attempts and got a lot of scoffs and snorts from Spanish bartenders! Oops.
Most restaurants in Spain do not have English menus (except the touristy ones you want to avoid) so I included a list of the most common Spanish tapas and their English translations below.
ADVERTISEMENT
---
---
Common tapas on the Spanish Menu:
Gambas al Ajillo: garlic shrimp served in sizzling oil
Cazón en Adobo: fried marinated dogfish
Bacalao: salt cod, breaded and fried or stewed in tomato sauce
Calamares: fried squid rings
Chipirones: small squid, usually "a la plancha" on the griddle
Chocos: cuttlefish, usually breaded and deep fried
Tortilla: Spanish potato omelette
Revuelto: scrambled eggs with various fillings
Arroz del Día: rice of the day, the spanish term for paella
Patatas bravas: fried potato wedges with a spicy alioli sauce
Ensaladilla: potato salad with mayonnaise and tuna or prawns
Calamares del Campo: breaded and fried onions and peppers
Gazpacho: cold tomato soup with cucumber and garlic
Salmorejo: a thicker version of gazpacho, usually a sauce
Montaditos: small toasted buns with jamon or various fillings
Espinacas con garbanzos: spinach and chick peas with olive oil and garlic
Cafe Bombon: my favorite, espresso with condensed milk
ADVERTISEMENT
---
---
What's your favorite Spanish tapas?
Visiting Spain – Travel Checklist
To make the most of our time, we booked open jar flights, flying from NY to Madrid and departing from Lisbon. Check flight deals for your dates here.
For getting around within Spain, we recommend the local train system. Both fast and slow options are available, so Spain train travel is easy and effective! The only catch? It's difficult for non Spanish users to book. Instead, book your tickets on Omio, which is much more convenient for English speakers and accepts international credit card holders. Check train schedules for Spain here.
We mixed up our accommodation throughout the trip, alternating between Airbnb and hotels. You can browse last minute Spain hotel deals here. 
Lastly, be sure to visit Spain with travel insurance. Whether you get injured and need to be hospitalized, your phone gets stolen, or a flight delay leaves you with nothing but the clothes on your back, travel insurance will help when you need it most. Get a quote for your trip here.
You Might Also Enjoy:
Spain Vacation Planning Articles
Spain and Portugal: A Perfect Itinerary to Explore Both Countries!
Headed to Andalusia? Check out this 7 day Southern Spain travel guide
Granada
How We Spent 3 Incredible Days in Granada
Insider Tips for Visiting the Alhambra Palace
Seville
The Best Things to Do in Seville
A Spain Food Guide: Important Tapas + Food Names in Spanish!
Cordoba
Spain's Hidden Gem: The Quaint Town of Cordoba
Don't Miss Cordoba's Patio Festival! Here's Why
Follow me @Sher She Goes on