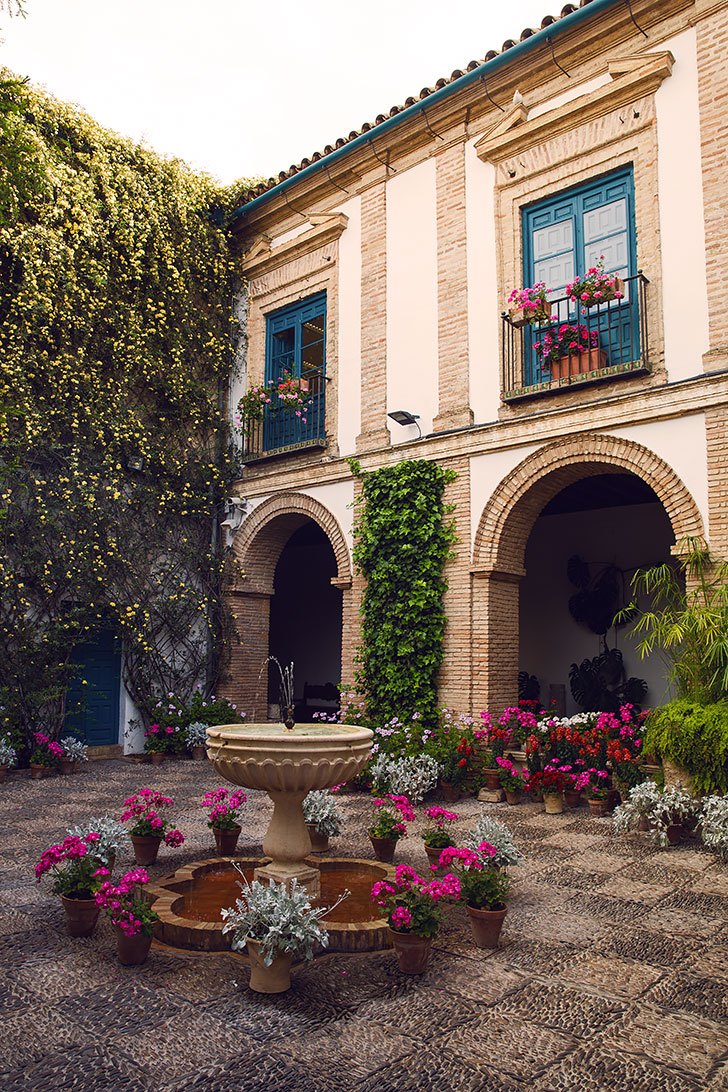 ---
Southern
Spain Itinerary
Cities: Cordoba, Seville, Granada
Length: 7 days, 6 nights
Gypsies, flamenco, horses, bulls – Andalusia is the Spain of story and song. For 781 years the region was a Moorish empire named for Al-Andalus (Arabic for "land of the west") and where the history and character of the Iberian Peninsula is most visibly and aromatically apparent.
On my 2 week trip visiting Spain, the southern cities in Andalusia were my favorite. I spent the days wandering the narrow, white washed alleys, relaxing siesta style from the hot Spanish sun, and emerging once again at night to taste my way through as many tapas bars as humanly possible.
Read on for our 1 week Andalusia itinerary!
Or save this article to read later by pinning it ⇟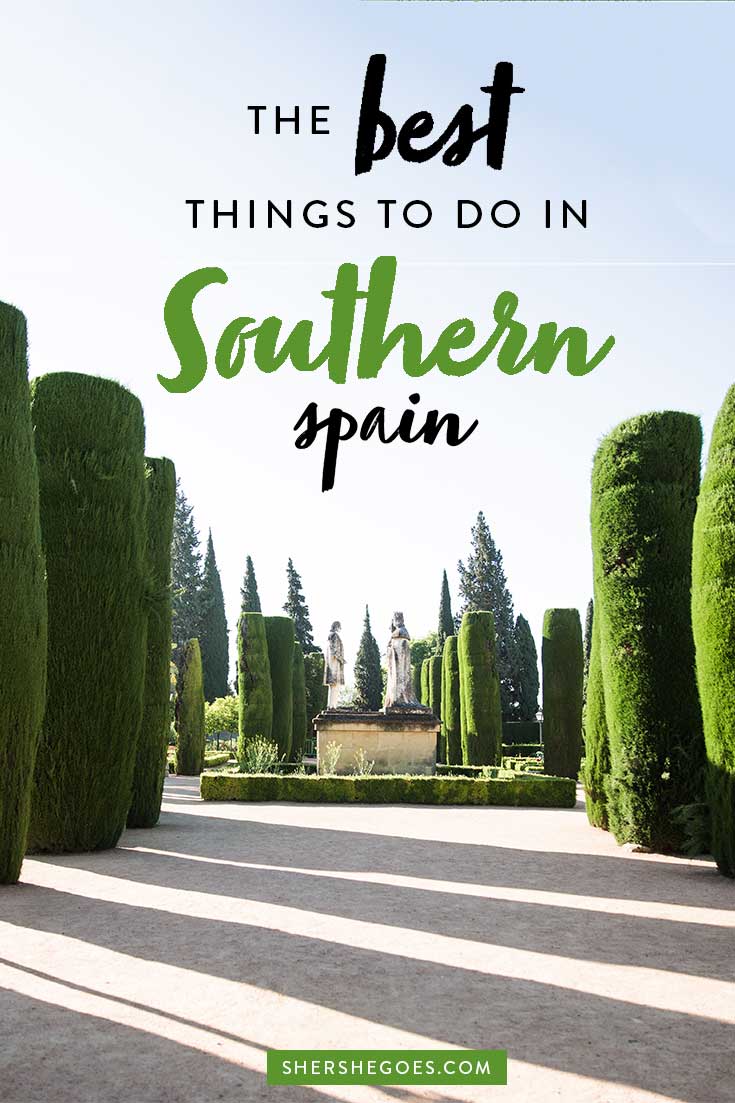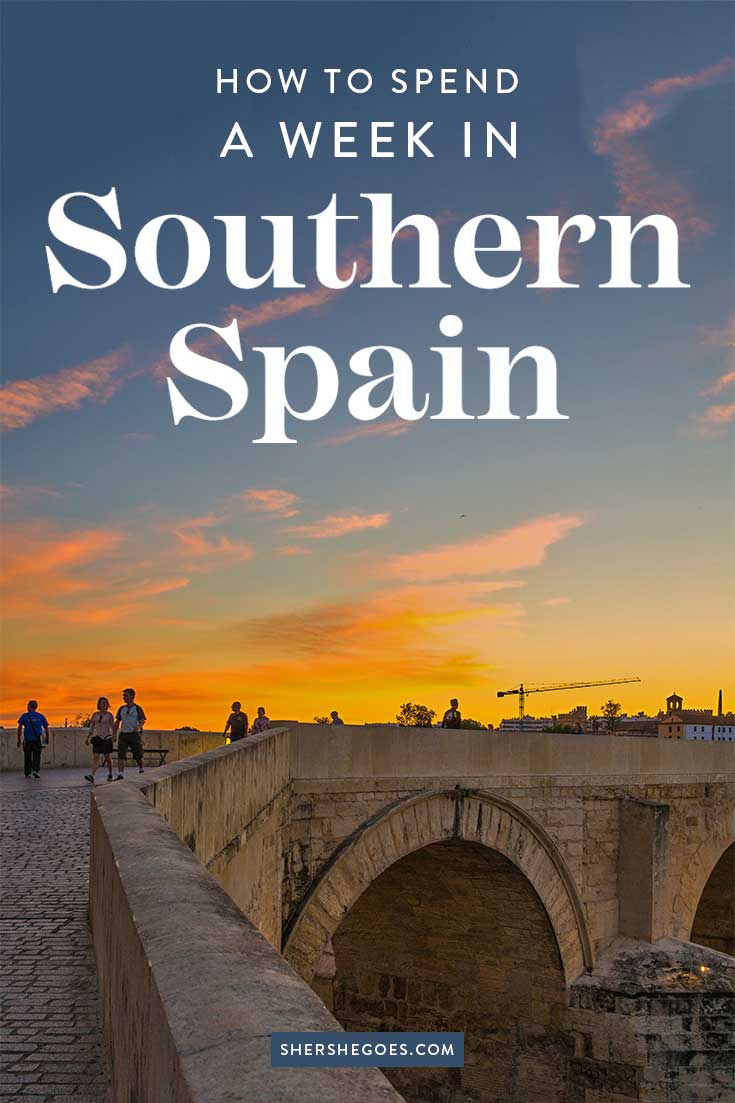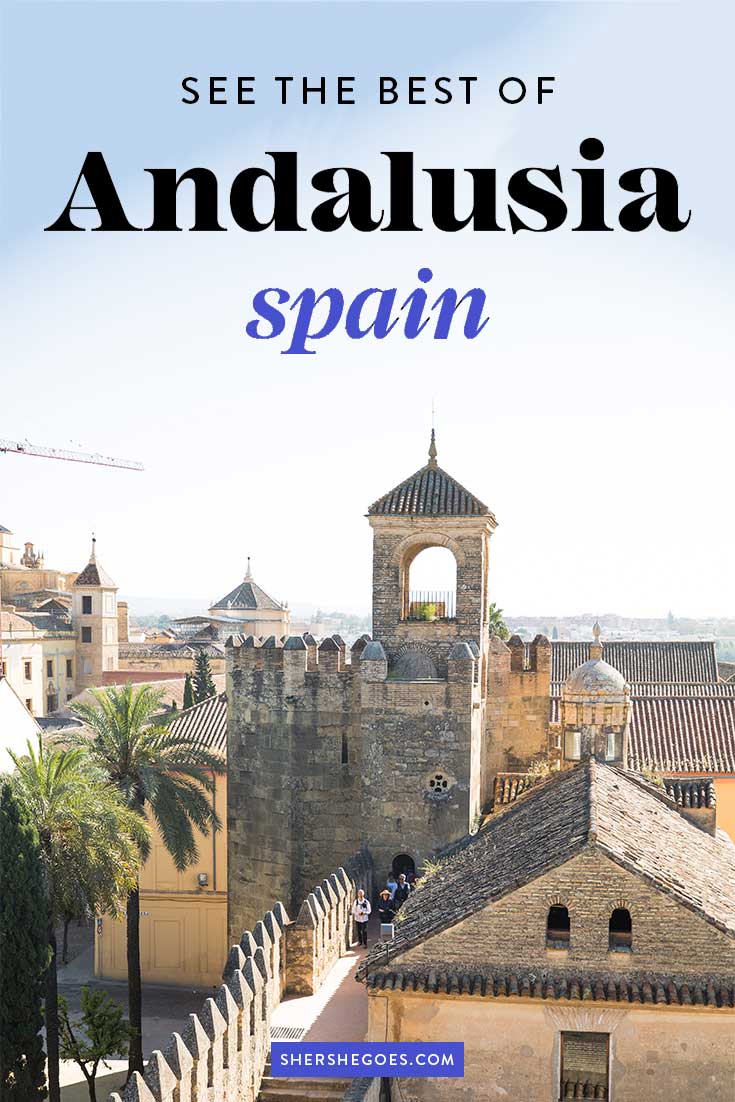 ADVERTISEMENT
---
---
Spanish Cities
Cordoba
---
A must-see destination, featuring one of the world's greatest Moorish buildings, the Mezquita, at its heart.
Seville
---
Seville is the heart of Andalusia, combining gorgeous buildings with a vibrant flamenco and tapas scene.
Granada
---
Overlooked by the seductive Alhambra, the historic city of Granada is one of Spain's most compelling attractions.
The 5 Best Things to Do in Southern Spain
Appreciating the exquisite architecture of Granada's Alhambra and Cordoba's Mezquita
Watch the vibrant dancing of the flamenco
Admiring the Golden Age of Spanish art at Seville's Museo de Bellas Artes
Trying a little bit of everything on an evening tapas crawl
Enjoying the simple beauty of a bygone era by exploring the gleaming pueblos blancos (white villages)
ADVERTISEMENT
---
---
The Best Southern Spain Itinerary
6-8 days (adjustable)
Before You Go:
I found Rick Steve's Spain guidebook invaluable for his in-depth coverage of several museums and sights
Buy your train tickets in advance! Spain's rail system operates on a flexible pricing scale where the farther out you purchase, the more you save. Check ticket fares for your dates here.
Granada's main attraction, the Alhambra, limits the amount of daily visitors so tickets are impossible to buy upon arrival. Instead book far out in advance (ideally 60 days before your trip) to get the best shot of booking the ideal time slot. Tour tickets allow you to skip the line and are convenient as well.
Day 1: Arrive to Cordoba
Morning: Depart Madrid bright and early from Atocha rail station on the high speed AVE train southwards to Cordoba.
The ride takes approximately 2 hours and there's ample luggage rack storage at the ends of each car. Make sure to book your train tickets before you arrive in Spain.
Upon arrival into Cordoba, check into your hotel and freshen up.
Read more:
5 Can't Miss Sights in Cordoba, Spain
ADVERTISEMENT
---
---
Afternoon: Do a walking tour of the Jewish Quarter and stop for lunch at Plaza Juda Levi, a lively square in a maze of narrow streets.
Afterwards, head to the Palacio de Viana, a museum noted for its grand mansion and 12 beautiful outdoor patio gardens. Cordoba's main draw is the charm and beauty of it's flower filled public courtyards.
Evening: Grab dinner and go for an evening stroll on the Roman Bridge. People watch and make sure to snap a photo of the Mezquita lit up at night!
Where to Stay in Cordoba:
Eurostars Palace Hotel – this hotel has a gorgeous inner courtyard and gives travelers a true feel for Cordoba's patios, which are usually hidden to outsiders except during the festival. We recommend at least 1 day in Cordoba, but 2 days if you'd like to take things more leisurely.
Check rates: Hotels.com, Booking.com
Read reviews: TripAdvisor
ADVERTISEMENT
---
---
Day 2: Cordoba Sightseeing
Morning: Get an early start and walk to Cordoba's Mezquita Cathedral by 8:30 – 9:00 am. Built between the 8th- 10th century, Cordoba's mosque is one of the earliest and most beautiful examples of Spanish Islamic architecture. If you arrive early, you might get to hear the organ warming up!
Afternoon: After thoroughly exploring the Mezquita (did you see the contrast between the Islamic and Christian motifs inside?) walk 5 minutes over to the Alcazar de los Reyes Cristianos.
This fortified "palace" is where Queen Isabella and King Ferdinand launched their Catholic campaign against the Muslim rulers of Andalusia. The site is more military fortress than castle but it offers great views of the city.
Take the time to explore the gardens, which are beautifully landscaped.
Don't Miss:
Spring in Cordoba – Visiting the Flower Festival
ADVERTISEMENT
---
---
Evening: Hop on the high speed train to head onward to Seville!
The appeal of Seville, Andalucía's sunny city, lies in its extravagant Moorish architecture and its exuberant street life. There is always plenty going on in Seville's picturesque cobbled streets, from religious processions to fiery flamenco.
Check into you hotel, grab dinner and relax.
Where to Stay in Seville
Seville has a great food scene, with classic tapas bars and more upscale fine dining. Take 2 nights in Seville to fully enjoy both the sights and the local cuisine.
Hotel Casa 1800 Sevilla is a boutique hotel with plenty of comfort: wifi, slippers, in-room safe and more! Definitely my top pick for convenience and comfort as it overlooks the Giralda Tower and is very centrally located.
Check rates: Hotels.com, Booking.com
Read reviews: TripAdvisor
ADVERTISEMENT
---
---
Day 3: Seville
Morning: Head early to the Real Alcazar de Seville to avoid the crowds. This Muedejar palace was built by Pedro I on the site of Seville's former Moorish alcazar and the grand architecture and rooms are an interesting study.
Don't miss the gardens! You might recognize them as the site for the Water Gardens of Dorne in Game of Thrones.
Afterwards, head across the square to explore Seville's cathedral. While the dimly lit interior can be disappointing, look for the tombs on the side of the chapel, the courtyard of orange trees on the church's northern side and the lizard's gate in the corner.
Make time to climb the Giralda, or belltower. It's 40 flights up but ascends via a smooth ramp, so there aren't stairs to climb! I really enjoyed peaking out the windows for views of the city below every 10 or so floors.
Read more:
3 Fantastic Tapas Bars
ADVERTISEMENT
---
---
Afternoon: Head to Barrio Santa Cruz, the old Jewish Quarter for a feast of tapas. One of my favorite spots was Bodega Santa Cruz Las Columnas, an authentic spot frequented by locals, where the bartenders keep track of your order on the counter with chalk.
The medieval Jewish quarter, Barrio de Santa Cruz, is a lovely, whitewashed tangle of alleys. On some streets, bars alternate with antique and souvenir shops but most of the quarter is quiet and residential.
Pause on Plaza Alianza to enjoy the antique shops and outdoor cafes or head back to your hotel for an afternoon siesta.
Evening: Well rested, head to Casa de Pilatos to see the gardens of a 16th century palace. With its fine patio and superb azulejo decorations, the palace is a beautiful blend of Spanish Mudejar and Renaissance architecture and has extensive grounds and vibrant peacocks.
ADVERTISEMENT
---
---
Day 4: Sightseeing in Seville
Morning: Have a traditional Spanish breakfast of cafe con leche (coffee with milk) and a chocolate croissant or two.
Then head to a new addition to Seville's skyline to Las Setas, a modern art structure and canopy. If you'd like an impressive view over the city, head up the Metropol Parasol.
Afternoon: A can't miss sight in Seville is Plaza Espana, a grandiose half-moon of buildings built for the 1929 World's Fair. Each brightly colored azulejo represents a different province of Spain, while the four bridges symbolize the medieval kingdoms of the Iberian Peninsula.
In summer you can rent small boats to row along the arc shape canal. Just next door is Parque de Maria Luisa, a beautiful blend of formal design and wild vegetation.
Or, just book an epic Highlights of Seville tour for convenience!
Read more:
The Best Things to Do in Seville
ADVERTISEMENT
---
---
Evening: Seville is one of the best cities in Spain for authentic, innovative and best of all, affordable tapas. Head to Barrio de San Lorenzo for the best selection of tapas grazing.
If you do not mind sitting at the counter, and you do not mind arriving at opening time (which ranges from 7:30pm to 9pm) you will be almost assured of space at the counter, and might score a table without having reserved in advance.
Have more time in town? Book a gourmet wine and tapas tour and see a flamenco show!
Overnight: Hotel Casa 1800 Sevilla
Did I mention they serve a delicious afternoon tea with sandwiches and pastries? Mhm

ADVERTISEMENT
---
---
Day 5: Depart for Granada
Morning: Wake up early to head to the last and most impressive city on the Andalusia tour: Granada! A convenient option is to take the Alsa bus, about a 3 hour comfortable ride. Upon arrival, check into the hotel, drop off your bags and freshen up.
Afternoon: The highlight of any trip to Granada is a visit to the Alhambra. It is virtually impossible to see the palace without advance reservations.
For more information about times, buying tickets and the best way to tackle the 3 sights of the Alhambra you can check out my Alhambra post.
Read more:
Essential Tips for Visiting the Alhambra
ADVERTISEMENT
---
---
Evening: Get a sense of Granada's history by visiting the Corral del Carbon, a caravanserai where merchants on the Silk Road rested their camels and spent the night. Here you'll find a square with a water fountain and 14th century Moorish brickwork.
From the caravanserai, exit to the main street Calle Reyes Catolicos and walk straight to the Alcaiceria, a recreation of the ancient Moorish silk market with shops selling spices, silver and silk. While you're in the area, stop by the Cathedral and Royal Chapel.
Where to Stay in Granada
Granada is a much larger city than Cordoba or Seville. Ideally, take 3 days to explore it all! Visiting the Alhambra alone easily takes a full day.
Hotel Anacapri Granada – affordable, clean and walking distance from the Alhambra. The Anacapri Granada is located in the heart of Old Town and also conveniently near the local bus stop, should you wish to explore Granada's farther sights.
Check rates: Hotels.com, Booking.com
Read reviews: TripAdvisor
ADVERTISEMENT
---
---
Day 6: Exploring Granada's Alhambra
Morning: Rise bright and early to tour the Alhambra! The Alhambra is a massive complex with 2 entrances: the main entrance and the Gate of Justice. To get to the Alhambra, you can either take the many public buses from Plaza Nueva or walk.
If you have a morning slot booked and tickets in hand (recommended), the Puerta de la Justica is the closer entrance. Walk 15 min uphill (it's a bit of a climb) from Plaza Nueva to enter at the gate and see the Nasrid Palaces before the crowds rush in!
Afterwards, wander through the very impressive and very extensive Generalife gardens and then circle back to wander the Renaissance Palacio de Carlos V (palace of carlos v), the Museo de Bellas Artes upstairs and also check out the ruins of the old fort.
Read more:
The Best Things to Do in Granada
ADVERTISEMENT
---
---
Afternoon: Granada's teahouses, the majority of which are clustered in "Little Morocco" around Calle Caldereria Nueva, are peaceful, atmospheric places to take a break after that exhaustive tour of the Alhambra.
Settle down with a fresh mint tea and a puff of shisha. Prefer the spa?
Another relaxing option is the Hammam Arab baths. Baths played an important role in Muslim life and you can relive the experience at this modern day version. The Hammam is built above the original site and you can relax in multiple bathing pools of different temperatures or get a massage and exfoliation scrub down.
Evening: Mirador de San Nicolas is the spot to be if you want to catch the Alhambra at night. We visited at sunset for a packed but breathtaking view and then ate at a local restaurant in the Albayzin.
Rick Steves cautioned against wandering the district at night in his Spain guidebook, but I personally didn't feel unsafe. Just know that even though one street may be quiet and deserted, you can walk through a tunnel and then emerge onto a bustling busy street with restaurants. Don't be afraid to explore!
Overnight Hotel: Anacapri Granada
ADVERTISEMENT
---
---
Day 7: The Albayzin
Morning: Walk to Plaza Nueva, a large public square with fountains, restaurants and cafes where the local hippie community hangs out. From here, you can people watch and grab breakfast at a sidewalk cafe or tapas bar.
After a jolt of cafe con leche, catch one of the local shuttle buses that serves the Albayzin, or Moorish Quarter. The buses stop every couple minutes along the route up towards the Albayzin.
If you're down to stretch your legs, I recommend walking the first 15 minutes or so to feel the spirit and vibrancy of Granada.
ADVERTISEMENT
---
---
Afternoon: Head north from Plaza Nueva and walk along Paseo de los Tristes, a long road named "walk of the sad ones" as it was originally the route of funeral processions to the cemetery at the edge of town.
Along the walk, you'll see the broken remains of the once grand 11th century bridge over the river that leads to the Alhambra. From here, the road arcs up to the Alhambra – hop on the local shuttle bus now to save your legs the brutal climb!
Or if you've worked up an appetite, you can backtrack slightly to Calle de Gloria to buy cookies and monastic wine from the Convento de San Bernardo.
Evening: Grab one last bite of tapas and pack up to depart Granada for the next stop on your tour. I recommend flying to Madrid or Barcelona and starting my Essential Spain itinerary.
Read more:
How to Plan the Perfect Trip to Spain & Portugal
ADVERTISEMENT
---
---
Transportation in South Spain
Our itinerary went Madrid – Cordoba – Seville – Granada – Barcelona as this was the easiest logistical route.
You can easily do the reverse, but I wouldn't recommend for example, Barcelona to Madrid then south as you'd be stuck south and have to backtrack to one of the major cities anyway, wasting time. Flights from the Andalusia cities typically have a stopover in Madrid or Barcelona before heading international.
Check here
for flight deals
Getting Around by Train
The Southern cities are connected to Madrid via the high speed AVE rail line.
From Madrid's Atocha station, the trip takes approx. 2 hours to Cordoba. Add an extra 75 minutes if heading straight on to Seville. We found the train to be very convenient in Spain. We used it for individual day trips and also to get from city to city.
Check here
for train schedules
ADVERTISEMENT
---
---
Train Class
Spain's train system operates on a tiered pricing schedule where the earlier you buy, the more you save. There are two types of ticket fares available: turista (2nd class) and preferente (1st class) and seats are assigned.
I found the turista tickets to be just fine, with the seats quite comfortable and roomy. Train time tables are released roughly 60 days in advance, but don't be alarmed if the tables aren't out – the site is known for being delayed.
If you're taking the high speed train, buy your tickets well in advance of your trip as they get increasingly more expensive and certain routes and times can sell out, especially in peak season.
How to Buy Tickets for Spain's AVE Train
Spain's national train system is run by Renfe, and you can find the latest schedules and times tables on their Spanish site. But, fair warning – that site is incredibly difficult to navigate for non-locals. It doesn't quite translate things fully to English and has incredible difficulty accepting American bank and credit cards.
We tried and it wouldn't accept our payment.
Instead, we booked our tickets on Omio. It's much more user friendly to navigate, shows you the price in USD and accepts international credit cards. Best of all, you pay pretty much the same rate the locals do with a nominal booking fee.
We recommend planning out your route, finalizing your itinerary, and then booking all the train tickets on Omio in one checkout. That way, you only pay the booking fee once!
Super affordable and stress free.
ADVERTISEMENT
---
---
Buses in Spain
Buses in Spain are quite comfortable and I found them most convenient for day trips. On the Andalusia route, I would recommend the bus only on the Seville – Granada route as the fare is often on sale and the ride is doable at 3 hours.
The local bus company Alsa departs Seville's Plaza de Armas towards Granada. Similar to the train system, bus fares in Spain will vary depending on time of year and how close to your dates that you book.
If you book in advance, you can find deal fares for as low as 5 euros per person! I booked about two weeks prior and still got a steal at 10 euro per person. Regular fare is anywhere from 20 to 30 euro per person.
Book
bus tickets in Spain
ADVERTISEMENT
---
---
Renting a Car in Spain?
In Cordoba and Seville, I got around purely on foot. The towns are small and all the main sites are within walking distance if you stay in the old quarters.
Granada is much larger, it's more of a hustle and bustle city and I used the local bus on occasion – there is a tourist bus that runs in a loop to tackle all the farther sights. We didn't rent a car and found it perfectly fine!
But, if you want to explore the countryside and see some of the famous white towns around Andalusia, you will need a car.
And that's it! Our one week Southern Spain itinerary.
This is a pretty condensed itinerary (roughly 2 days per city) and goes well within a larger trip to Spain if you're also spending another week in Madrid and Barcelona.
If you have more time, I have expanded guides for Cordoba, Seville and Granada covering restaurant recommendations, convenient and affordable hotel options along with a more complete sights list.
ADVERTISEMENT
---
---
Visiting Spain – Travel Checklist
To make the most of our time, we booked open jar flights, flying from NY to Madrid and departing from Lisbon. Check flight deals for your dates here.
For getting around within Spain, we recommend the local train system. Both fast and slow options are available, so Spain train travel is easy and effective! The only catch? It's difficult for non Spanish users to book. Instead, book your tickets on Omio, which is much more convenient for English speakers and accepts international credit card holders. Check train schedules for Spain here.
We mixed up our accommodation throughout the trip, alternating between Airbnb and hotels. You can browse last minute Spain hotel deals here. 
Lastly, be sure to visit Spain with travel insurance. Whether you get injured and need to be hospitalized, your phone gets stolen, or a flight delay leaves you with nothing but the clothes on your back, travel insurance will help when you need it most. Get a quote for your trip here.
You Might Also Enjoy:
Spain Vacation Planning Articles
Spain and Portugal: A Perfect Itinerary to Explore Both Countries!
Headed to Andalusia? Check out this 7 day Southern Spain travel guide
Granada
How We Spent 3 Incredible Days in Granada
Insider Tips for Visiting the Alhambra Palace
Seville
The Best Things to Do in Seville
A Spain Food Guide: Important Tapas + Food Names in Spanish!
Cordoba
Spain's Hidden Gem: The Quaint Town of Cordoba
Don't Miss Cordoba's Patio Festival! Here's Why
Follow me @Sher She Goes on