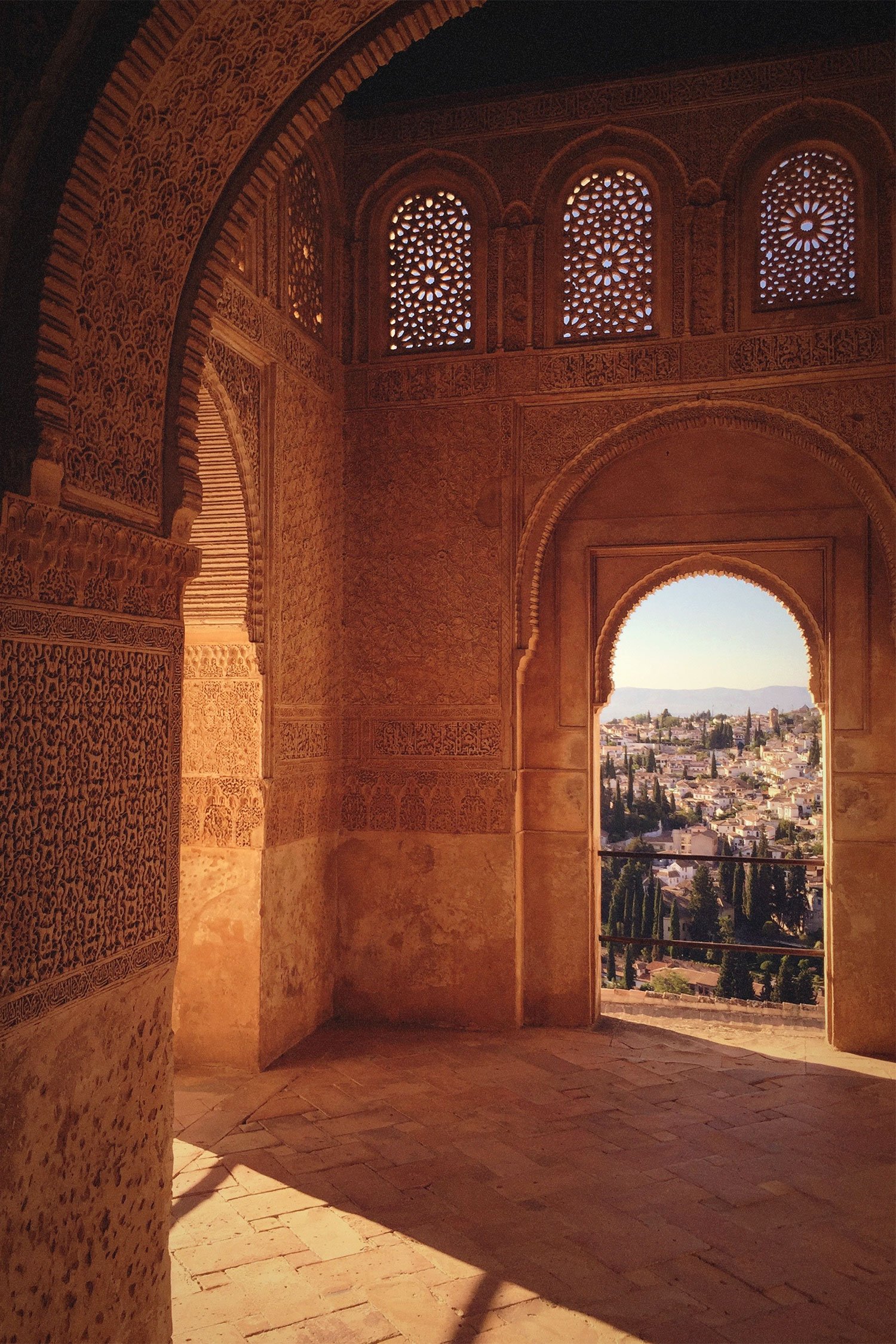 Granada, Spain
Granada is one of the most famous towns in Southern Spain and a must stop on any Andalusian itinerary, if only to visit the Alhambra palace.
We did a loop through Southern Spain from west to east and saved Granada for last. Logistically, this made the most sense and also heightened our anticipation at each stop along the way.
South Spain is noticeably different from Madrid and Barcelona. For one, the weather was at least 10-20 degrees warmer and the cities are smaller with a beautiful old town feel. The Moors held significant sway in Andalusia and their presence is still visible today in the architecture, numerous mosques and local culture.
Keep reading for the best things to do in Granada, Spain!
Or save this article to read later by pinning it ⇟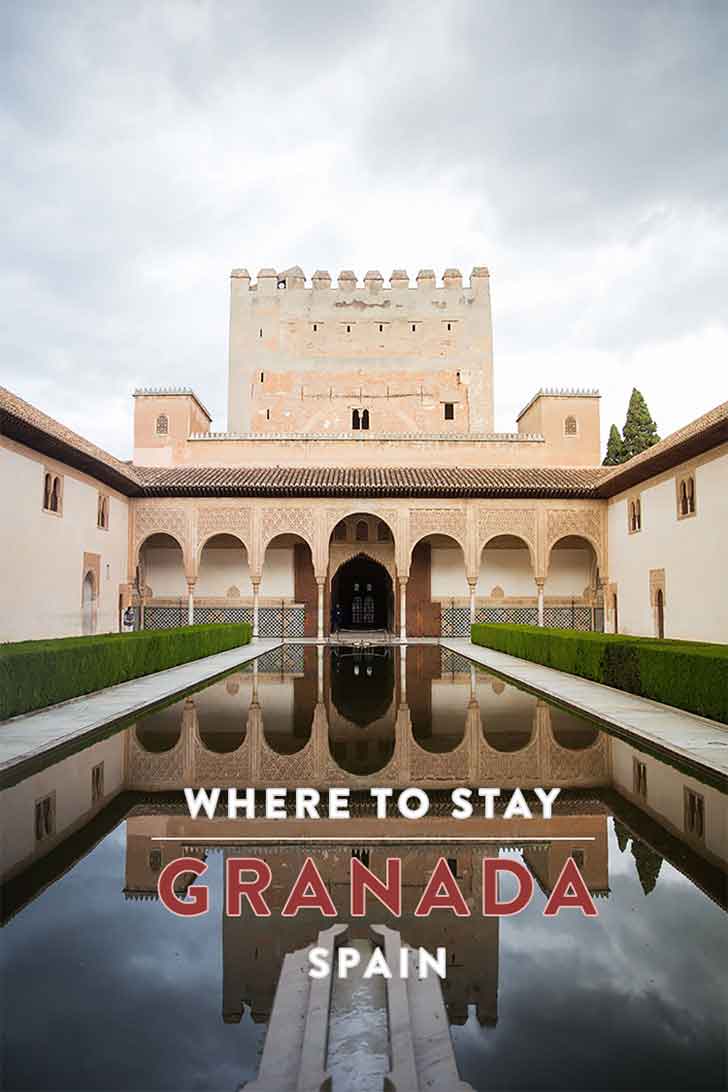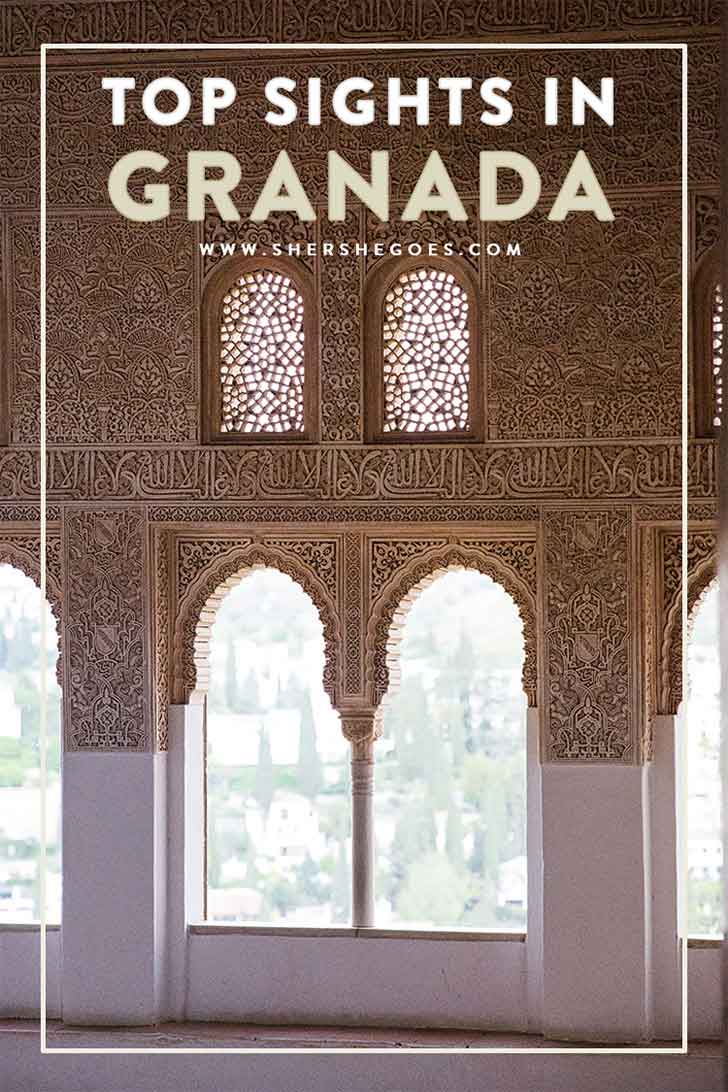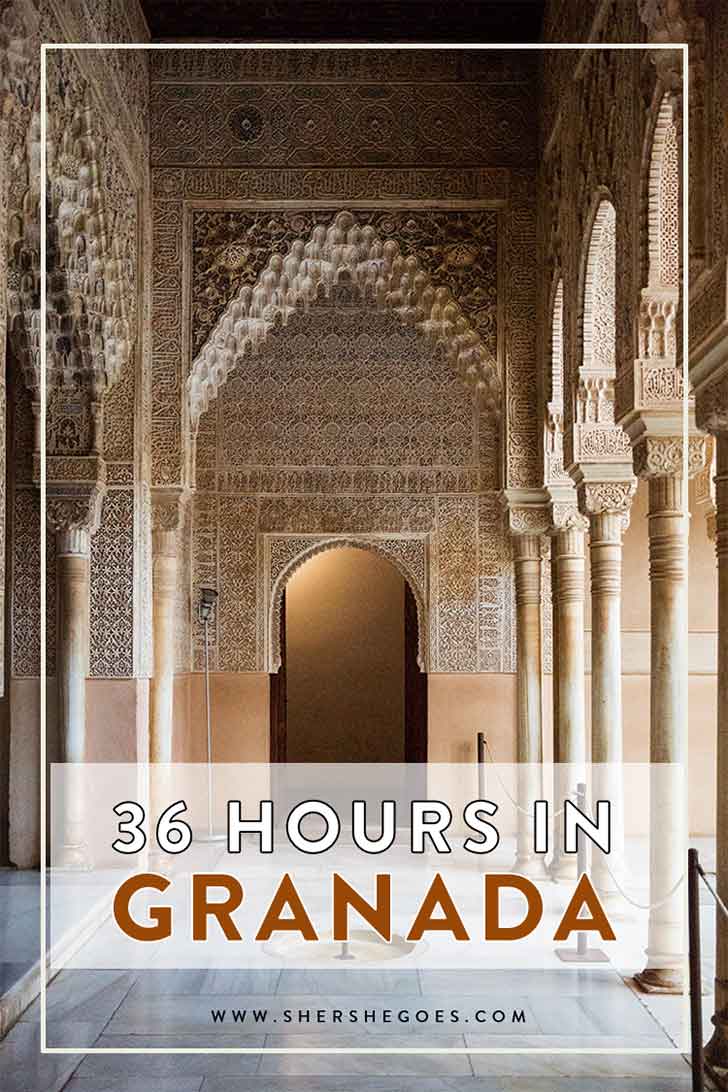 ADVERTISEMENT
---
---
How to Get to Granada
If you're already in Southern Spain, you have the option of taking either the train or bus. Both are convenient and take approximately 3.5 hours.
Just make sure to note the location of the station, as typically in Spain the bus and train stations are located in different parts of town. From Seville, we took the local Alsa bus because we found a great deal on the bus fare. To check bus schedules and purchase tickets, use Omio, Europe's largest transportation website which accepts international credit cards.
If you can't find an inexpensive bus fare, then I'd recommend the train, which is more convenient. You can also book train tickets on Omio.
If you're up north, Granada has a small airport that runs daily flights from Madrid and Barcelona. Check flight prices and set alerts for flight deals!
How Many Days to Spend in Granada?
We budgeted a full 3 nights in Granada but all of the sights listed below could be easily fit in a 2 day Granada itinerary. If you like to take things at a leisurely pace, 3 or 4 days is a treat.
Read more:
Travel Guide: 2 Days in Seville
ADVERTISEMENT
---
---
The Best Things to Do in Granada
The first thing I like to do upon arrival anywhere is to walk around and get my bearings. Key things to look out for in Spain: the best local gelato shop, cute sidewalk cafes and the most crowded tapas restaurants!
Armed with a map from the concierge, we explored the main street of Grand Via, people watched at Plaza Nueva and then headed to the caravanserai or Corral del Carbón to pick up our Alhambra tickets.
The highlight of any visit to Granada is the Alhambra. The site is extremely popular, and entrance is strictly capped at 6,600 visitors per day, so make sure to pre-purchase your tickets online before arriving.
You can read my earlier post here about the best way to buy tickets and the ideal time slot to book. Or avoid the headache and book a guided tour to skip the line!
Read more:
What to Know Before You Buy Alhambra Tickets
---
1. Visit the Alhambra
We booked the first time slot of the day at 8am and left our hotel for the 20 minute uphill climb to arrive at the Alhambra. Watching the morning sun while waiting in line was quite beautiful!
The Alhambra has numerous rooms and pools, which Rick Steves does a great job guiding you through.
Make sure not to step in any of the running water pools! They're right through the center of the floor and I definitely fell in once or twice. The Hall of the Lions is one of the most stunning courtyards.
Sher's Tip: Buy tickets in advance (if you wait till you're in Granada, they will be all sold out!) Here's everything you need to know about purchasing Alhambra tickets internationally.
ADVERTISEMENT
---
---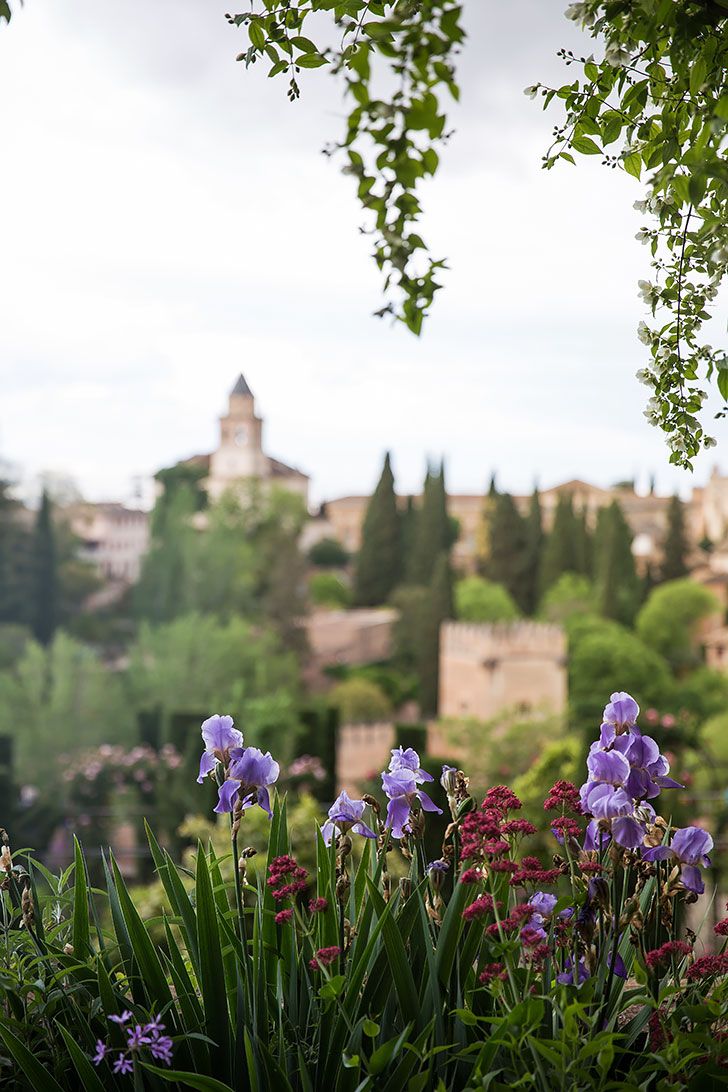 2. Marvel at the Generalife Gardens
After visiting the Alhambra, the palace exits into the gardens of the Generalife. We spent another hour or so walking among the extensive gardens.
If you keep heading northeast towards the main entrance, you'll come across some beautifully landscaped rose gardens and a nice view of the palace.
Then we doubled back to see the ruins of the original fortress, the Alcazaba, and had a quick glimpse into the round amphitheater like fortifications of Charles V's 'palace'.
---
3. Explore the Albayzín Quarter
From Granada's town center at bustling Plaza Nueva, we caught the local No. 1 bus to head up to the hills of the Albayzin, or traditional Muslim quarter.
The streets are hilly, narrow and lines with white buildings for a very charming atmosphere. We walked around the neighborhood for a bit before finding a busy spot for dinner.
Book:
Historical Albayzin & Sacramonte Walking Tour
4. Enjoy Sunset at Mirador de San Nicolás
Mirador de San Nicolas is the spot to be if you want to catch the Alhambra with a view. We visited mid-day and at dawn, both were equally beautiful though dawn or sunset can be very packed.
Book:
4WD Jeep Safari of Andalucia
ADVERTISEMENT
---
---
5. Visit Carmen de los Martires
After a relaxing afternoon siesta back at our hotel, we headed out to see Carmen de los Martires.
For some reason the house itself was closed on the day we visited, but the grounds are extensive and we had a great time exploring the various gardens and watching the peacocks!
Carmen de los Martires is set on a hill (to the right of the Alhambra) and feels miles away from the hustle and bustle of the city. I think it'd make for a great picnic place or an alternative spot to watch the sunset.
Read more:
A Quick Guide to Visiting Cordoba
---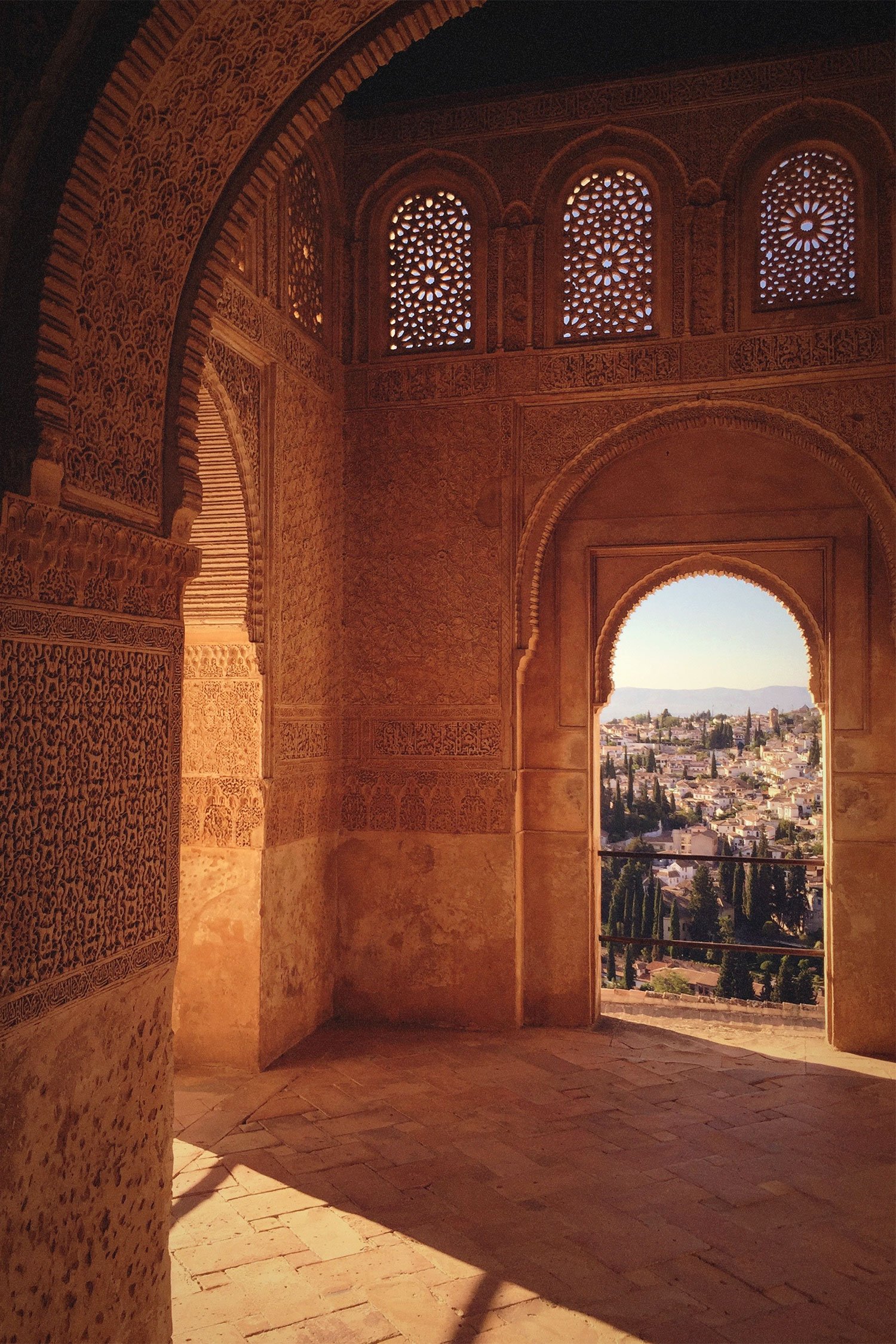 6. Shop at the Alcaiceria Market
This recreation of the Moorish silk market is home to touristy local shops selling salt, silver, spices and silk. The tiny shopping lanes are overpriced but fun to walk through as a step back in time
Read more:
Witnessing the Prettiest Festival in the World in Cordoba
ADVERTISEMENT
---
---
7. Have Dinner in Sacromonte
Afterwards, we walked back down to Plaza Nueva and caught the No. 2 bus to head up to the gypsy caves of Sacromonte.
These hills are even higher up than the Albayzin. It's quite a long, steep walk so we explored for a bit and then settled in for dinner and a flamenco show.
It's also very popular for people to book a tapas walking tour of Sacromonte or the Albayzin as both can be quite windy and a guide helps to point out the best hole in the wall spots!
Read more:
3 Incredible Tapas Spots in Seville!
---
8. Relax at the Ancient Baths
We had a couple hours left to kill before our late evening flight to Barcelona, so we decided to spend a couple hours relaxing at the Hammam Al Andalus, or Arab Baths.
There are a couple places you can try Arab style baths in Spain – I believe Cordoba and Seville also have their own location. In Moorish times, hammams were a social and business gathering place.
The Granada baths are built over the ruins of the ancient baths and about a 5 minute walk off Plaza Nueva. If you're interested in a treatment (they have a kessara!) make sure to book about 2 days in advance. Unfortunately we couldn't grab a massage slot so we settled for a day pass to relax in the numerous bathing pools.
If you've tried Roman style baths in Hungary, I'd say this is very similar but on a much smaller scale and all indoors. It was beautiful inside!
Check rates:
for
treatments here
.
There were about 5 pools, all different temperatures, and the baths themselves are gorgeous. I wish I had taken pictures because the mosaics, Arab lamps and pools were quite pretty but I didn't want to disturb or bother the other people there.
Oh well, you'll just have to try it for yourself!
ADVERTISEMENT
---
---
9. Walk the Carrera del Darro
With an extra half day to kill, we decided to follow Rick Steves' Granada walking tour. Grab his guidebook for the full tour but some of the notable stops include:
Corral del Carbon – this caravanserai is one of the only surviving structures where ancient merchants stopped to rest their camels on the Silk Road. Today, it's the new home to the local Tourism Info center.
Royal Chapel – Right next to the Cathedral is the Royal Chapel of Granada, where famous Catholic Monarchs Joanna of Castille and Philip 1 of Castile are buried.
Plaza de Bib-Rambla – this square was the center of Moorish Granada. This is a good stop for coffee or lunch or if you're game for more sightseeing, head inside to the Cathedral.
Paseo de los Tristes – head back to Plaza Nueva and continue walking north along the River Darro to this pretty but sad 'walk of the sad ones' where ancient funeral processions were held. Be careful of the cars, which drive on the same path!
If you want a handy map with the exact route and relevant history, pick up a copy of his guide book here.
ADVERTISEMENT
---
---
Where to Stay in Granada
Upon arrival, we took a cab from the bus station to our hotel in the center of the old town right off Plaza Nueva.
If you can, stay as close to Plaza Nueva as possible, as it's the center of the tourist zone and where all the buses depart from in order to head up to the Albayzin (Moorish quarter) and Sacremonte (Gypsy caves) up in the hills.
There are numerous sidewalk cafes and restaurants within walking distance and the Alhambra is an easy 15 min walk up the hill. Well, it's a tough walk up, but it's physically close by, ha!
Anacapri Granada
We stayed at this charming boutique hotel with complimentary breakfast and wifi. The best part was its location right on the old town and <5 minutes from the old bazaar and pathway to the Alhambra. If you want an affordable and centrally located hotel, the Anacapri is a great choice.
Check rates: Hotels.com, Booking.com
Read reviews: TripAdvisor
Here are other great hotels in Granada:
Hotel Casa 1800 – close to the main sights, this beautiful hotel is in a restored old building with a gorgeous courtyard. Complimentary tea and breakfast.
Check rates: Hotels.com, Booking.com | Read reviews: TripAdvisor
NH Hotel Victoria – fantastically located in the heart of the city, this minimalist hotel has comfortable rooms and gorgeous decor.
Check rates: Hotels.com, Booking.com | Read reviews: TripAdvisor
ADVERTISEMENT
---
---
And that's it! An easy 3 day Granada itinerary covering all the best things to do in the city!
Visiting Spain – Travel Checklist
To make the most of our time, we booked open jar flights, flying from NY to Madrid and departing from Lisbon. Check flight deals for your dates here.
For getting around within Spain, we recommend the local train system. Both fast and slow options are available, so Spain train travel is easy and effective! The only catch? It's difficult for non Spanish users to book. Instead, book your tickets on Omio, which is much more convenient for English speakers and accepts international credit card holders. Check train schedules for Spain here.
We mixed up our accommodation throughout the trip, alternating between Airbnb and hotels. You can browse last minute Spain hotel deals here. 
Lastly, be sure to visit Spain with travel insurance. Whether you get injured and need to be hospitalized, your phone gets stolen, or a flight delay leaves you with nothing but the clothes on your back, travel insurance will help when you need it most. Get a quote for your trip here.
You Might Also Enjoy:
Spain Vacation Planning Articles
Spain and Portugal: A Perfect Itinerary to Explore Both Countries!
Headed to Andalusia? Check out this 7 day Southern Spain travel guide
Granada
How We Spent 3 Incredible Days in Granada
Insider Tips for Visiting the Alhambra Palace
Seville
The Best Things to Do in Seville
A Spain Food Guide: Important Tapas + Food Names in Spanish!
Cordoba
Spain's Hidden Gem: The Quaint Town of Cordoba
Don't Miss Cordoba's Patio Festival! Here's Why
Follow me @Sher She Goes on