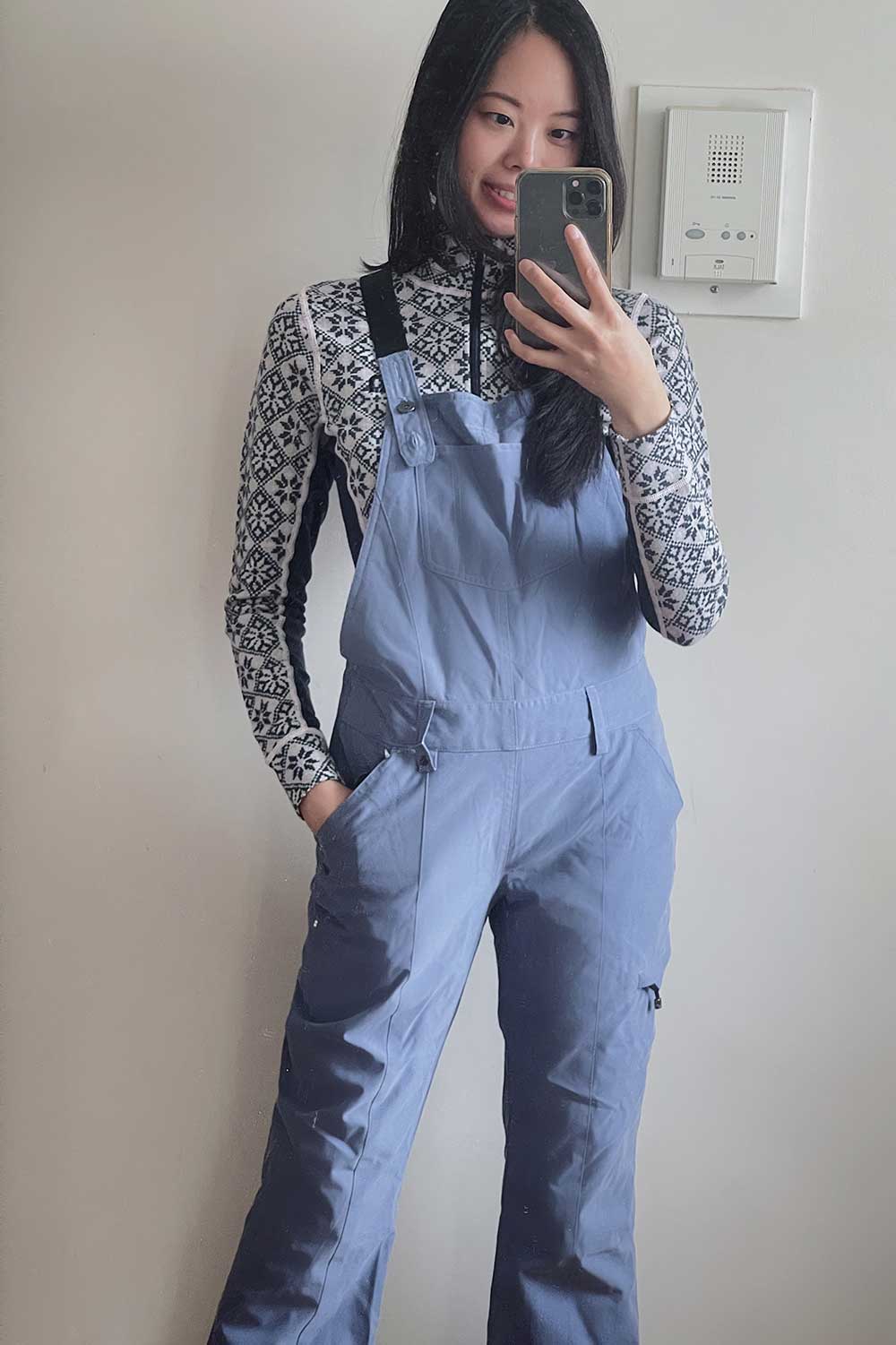 Obermeyer Bibs
I've been on the hunt for flattering, functional ski pants and bibs.
Surprisingly, they're hard to find! And… they're not cheap.
So I set out to try ski clothes from all sorts of brands.
I tried everything from affordable brands, to popular name brands and even designer ski fashion brands, to see if I could find the perfect pair. Did a cute affordable ski pant exist? Do designer ski pants hold up to actual skiing?
I'm doing quick reviews and first impressions of every ski pant and bib that I try. All the reviews are here if you want to search by brand.
Today's review is of the Obermeyer Malta ski bib.
Keep reading, or pin this article to save it for later ⇟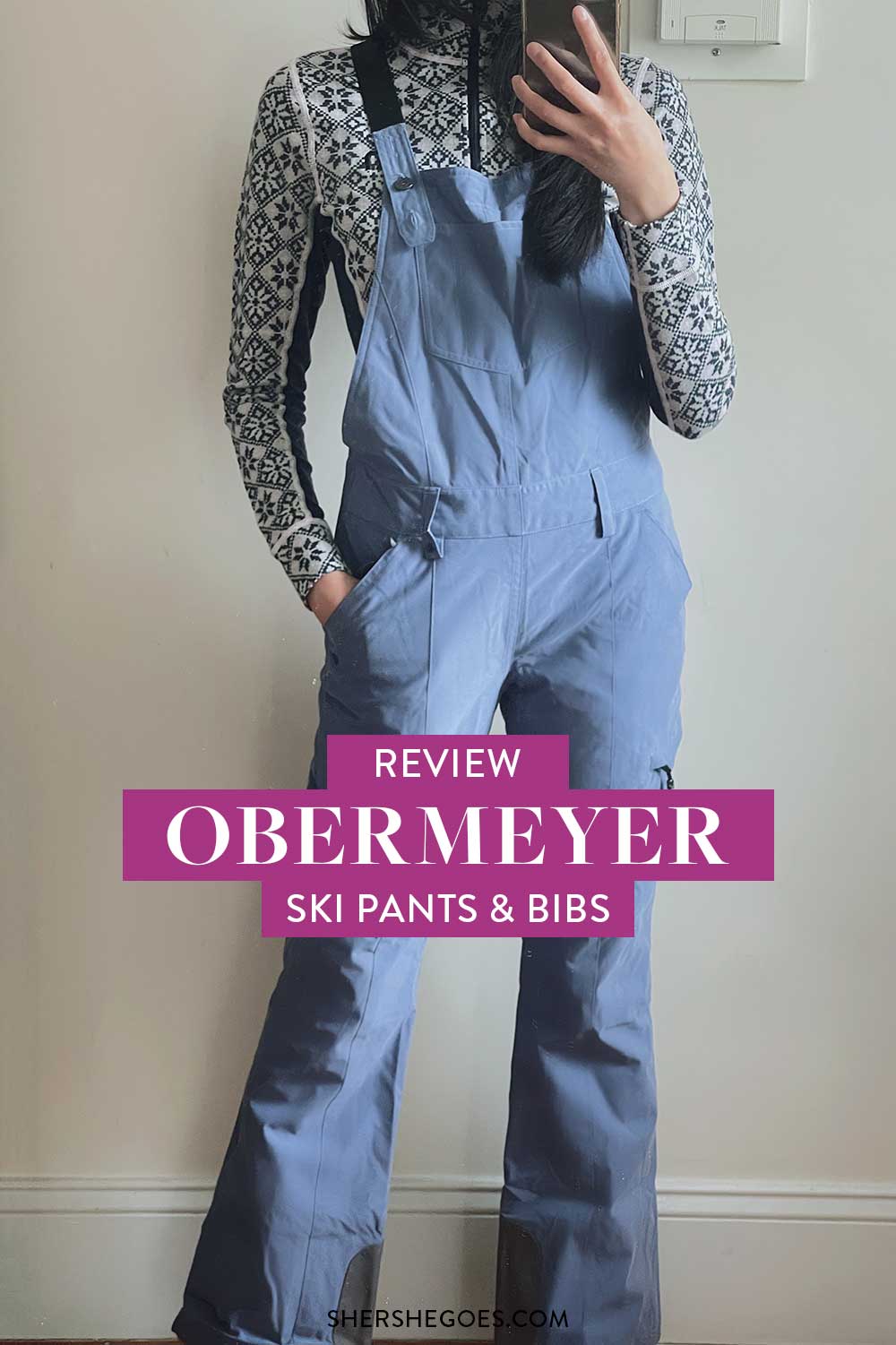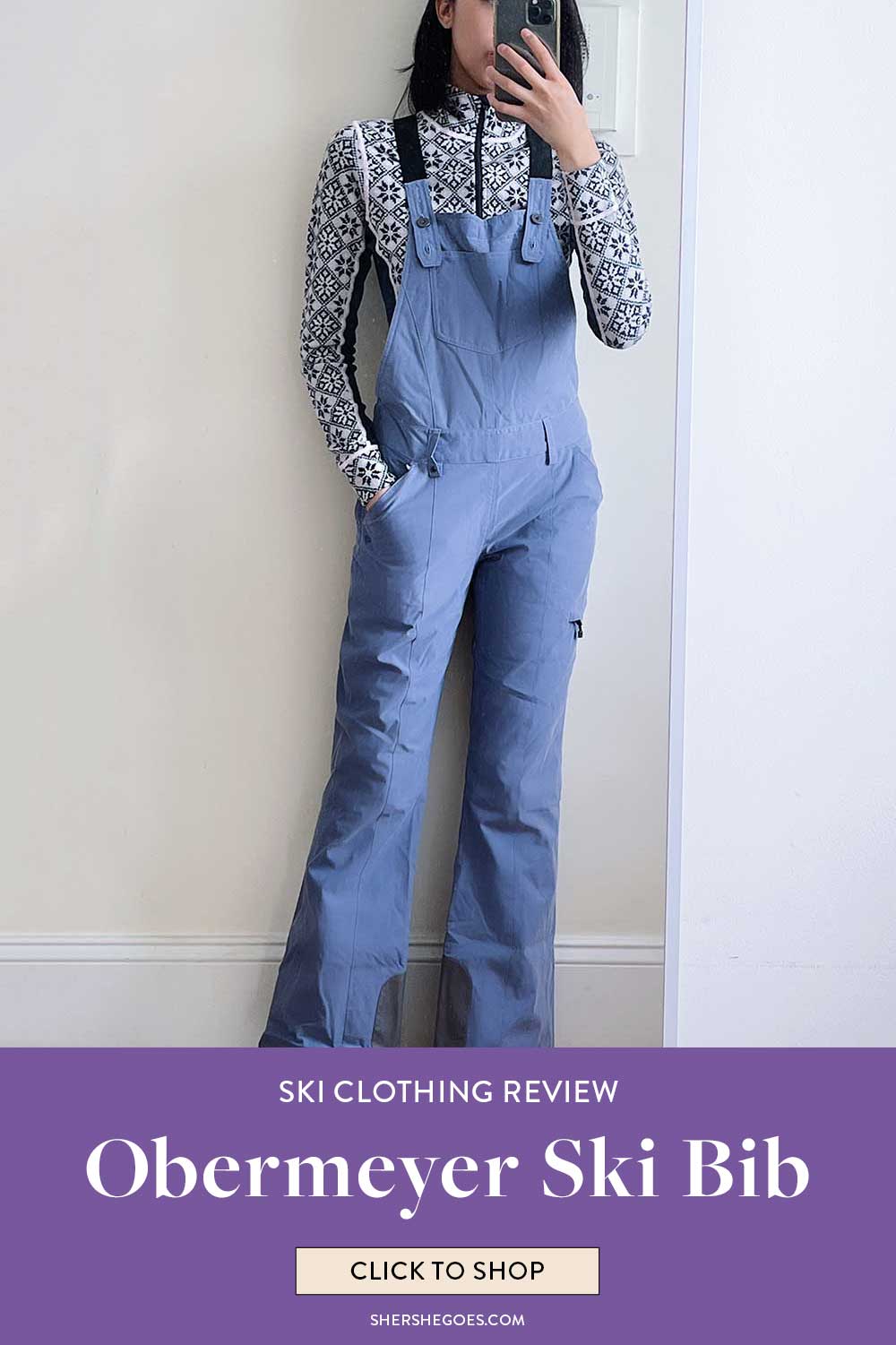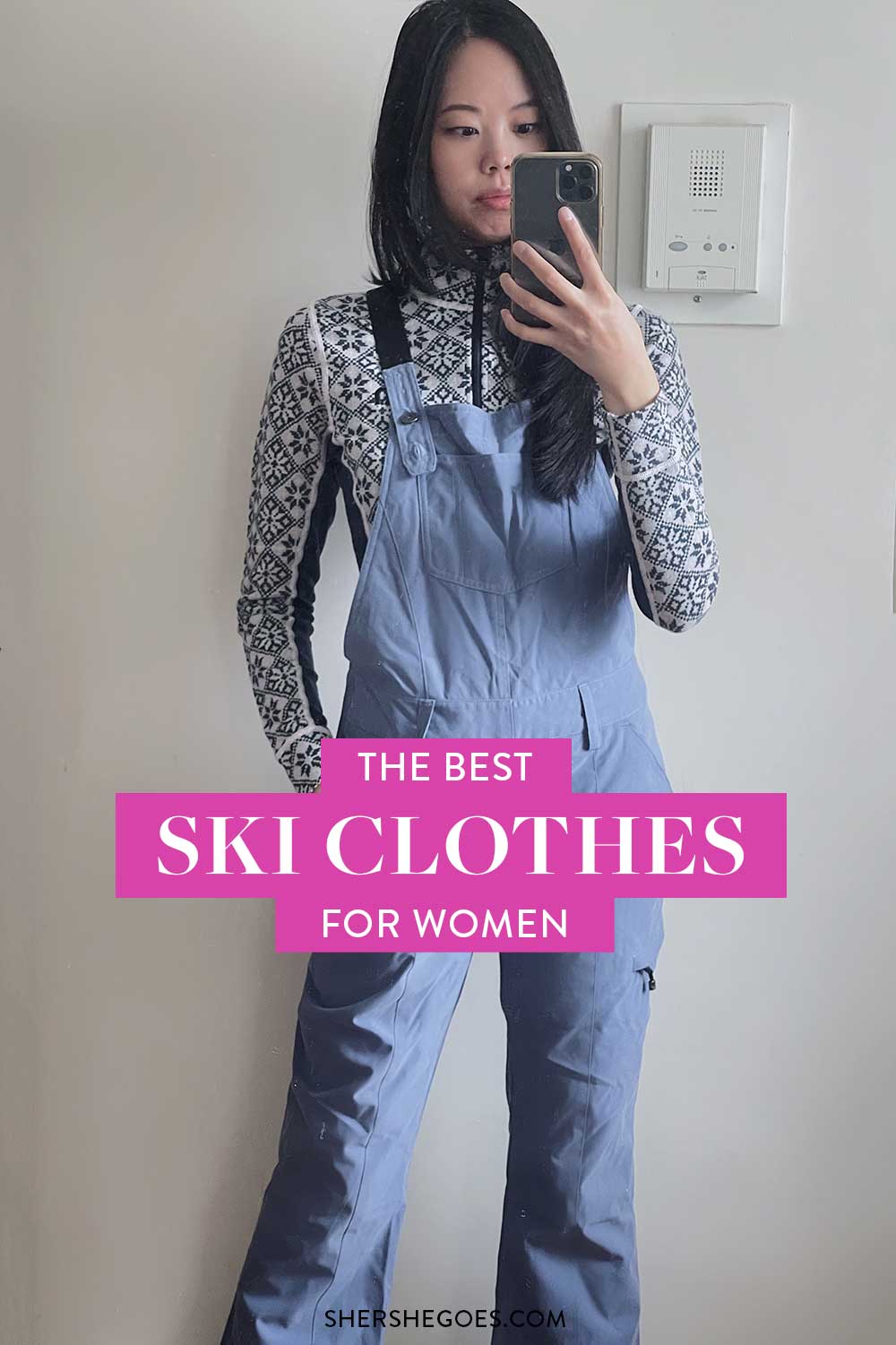 ADVERTISEMENT
---
---
Obermeyer Review
Obermeyer is a ski apparel brand based in Aspen, Colorado.
Founder Klaus Obermeyer started skiing in the Bavarian alps from the early age of 3. He studied to become an aeronautical engineer in Germany before arriving to the states at 27, where he eventually settled in Aspen as a ski instructor.
At the time, skiing was still a new sport and Obermeyer saw a gap in the market for proper ski clothing. He took a down blanket his mother had packed for him when he first left for America, and crafted a jacket out of it, creating an early version of the down ski jackets.
Today the company is still family owned and focuses on high performance ski wear. They make everything from ski jackets to snow pants, base layers and a whole range of winter accessories.
I hadn't heard much about the brand until I picked out a couple of their ski pants to try, but I ended up being happily surprised!
Out of all the brands in the $150-300 price point (which is about 'average' price for snow pants), Obermeyer's fit impressed me the most.
ADVERTISEMENT
---
---
Obermeyer Malta Bib
I've been on the hunt for a ski bib, because I love a onesie.
Technically, you could say pants are more versatile, but ski bibs give added warmth and protection especially if you're skiing in deep fields of powder.
The Obermeyer Malta Bib is a bib version of the brand's best-selling Malta pant.
It comes in several different colors, but I opted for the Blue Ash, a pretty grey-blue shade.
I really like the fabric as it's made from a polyester nylon denim weave that gives it a unique feeling to the touch. It's hard to describe, but feels more like traditional fabric than regular snow pants.
ADVERTISEMENT
---
---
Obermeyer Malta Bib Review
Fit
The Obermeyer Malta bib has a pretty relaxed fit.
I like that the bib sits up high in the front, to provide a little extra coverage in the chest.
It opens on the side, with a long zipper and snap button closure, and is very easy to take on and off. It's also loose in the legs so you can easily fit a base layer (or several layers if you run cold) underneath.
In terms of insulation, the Malta bib offers 40gm of Thermore Classic insulation, which is on the lighter side when it comes to snow bibs.
Some people prefer snow pants with extra insulation and some people prefer just a waterproof fabric so they can layer on their own, so that's just personal preference!
ADVERTISEMENT
---
---
Straps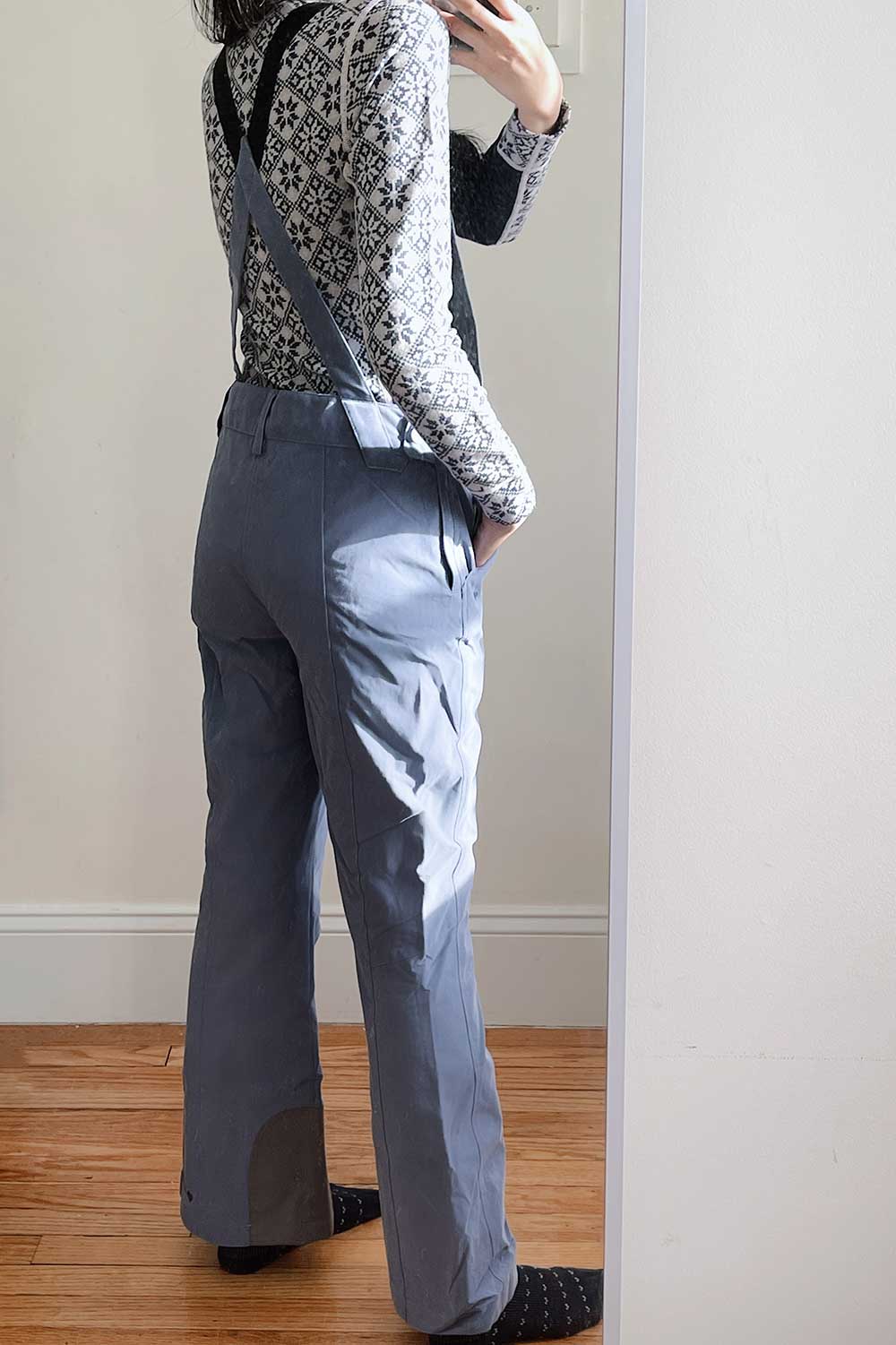 I love a one piece, but I know how hard it can be to find a onesie that fits every body type.
The Obermeyer Malta is moderately flexible.
It has button straps with 3 button adjustment options. The straps crisscross to form an X in the back and have a bit of spandex, so it should have enough give to fit most torso heights.
I did find the buttons slightly hard to get on and off, but it's better to have them securely fastened than to risk the bib coming undone on the mountain!
ADVERTISEMENT
---
---
Pockets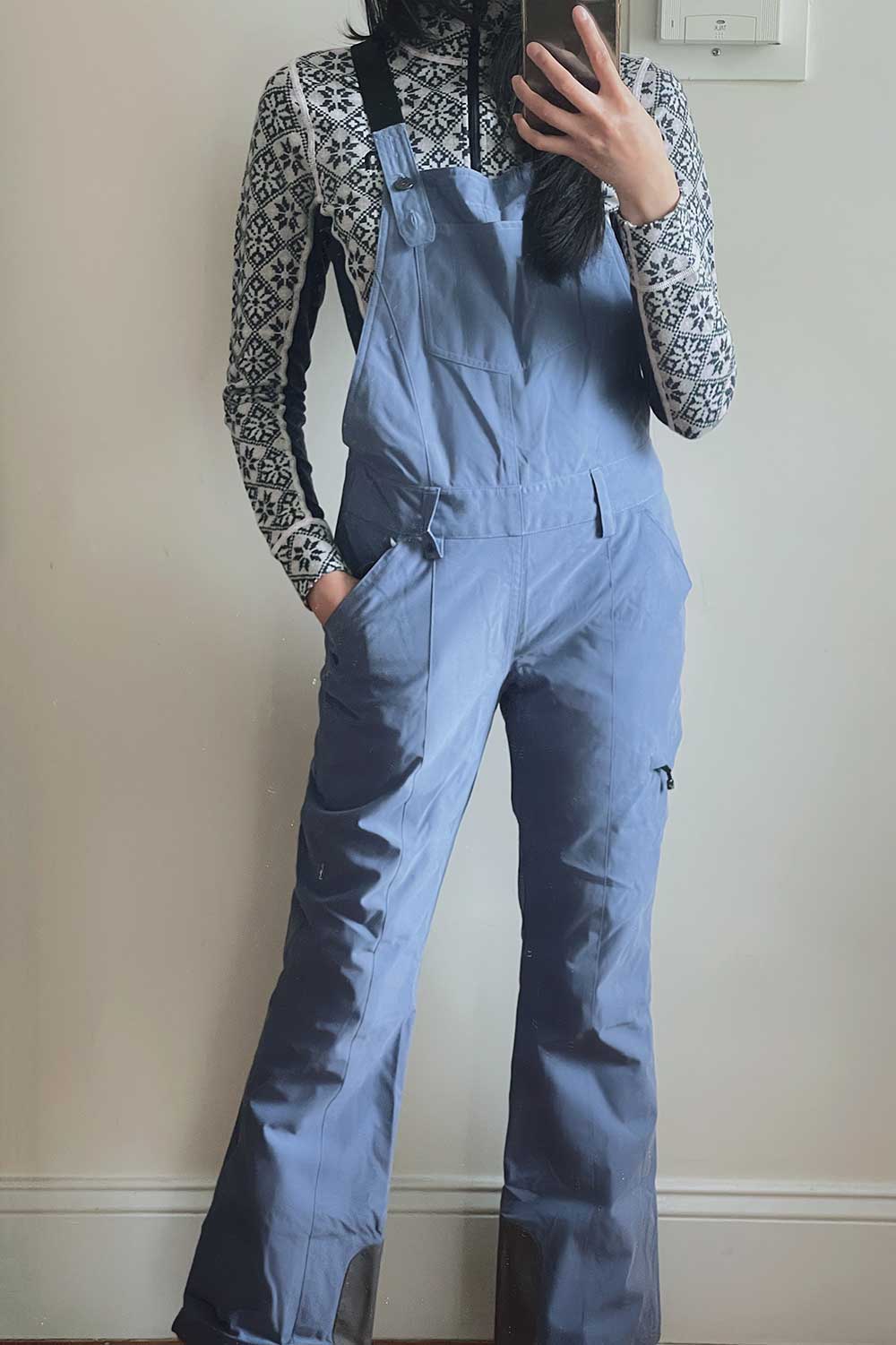 I love pockets and found the Obermeyer bib to be pretty functional!
It has a large front pocket in the chest to hold your phone as well as two deep, fleece lined ('hand warmer') pockets at the hips.
There's also an extra zippered pocket on the side of the leg as well, where you can stick an extra hand warmer or chap stick.
ADVERTISEMENT
---
---
Legs
Like any good ski pant, the legs of the Malta bib feature water resistant powder cuffs with gripper elastic and reinforced hems.
The legs are abrasion resistant and should easily last you for several ski seasons. I really like that Obermeyer offers a size inclusive range, from sizes 2 to 22, and even offers short, regular and long leg lengths.
It's surprisingly uncommon for ski brands to offer ski pants in multiple inseam options, so I like that Obermeyer does!
The bib legs are a pretty relaxed fit with a gentle flare out on the bottom.
I thought the leg length was good, but wouldn't have minded an extra inch in the inseam. I took a size 2 regular for reference and thought the bib fit true to size.
ADVERTISEMENT
---
---
Shop Women's Ski Pants
---

ADVERTISEMENT
---
---
Ski Wear Haul
SKI CLOTHING TRY-ON HAUL: do cute ski pants exist ?? | women's ski pants + bibs review
ADVERTISEMENT
---
---
ARE DESIGNER SKI PANTS WORTH $$$? | luxury ski pant try-on (bogner, cordova, holden, helly hansen)
I posted a couple try-on hauls of all the ski wear brands that I've tried. You can check them out on my Youtube channel here.
I also did a livestream on Amazon Live chatting all about dressing for the cold.
I talk about winter fashion essentials, ski gear and cute (but affordable) ski clothes that you can shop on Amazon!
Watch a recap of the video here. Make sure to follow my Amazon shop page to join future livestreams!
ADVERTISEMENT
---
---
Ski Wear Haul
I posted a couple try-on hauls of all the ski wear brands that I've tried. You can check them out on my Youtube channel here.
ADVERTISEMENT
---
---
ADVERTISEMENT
---
---
ADVERTISEMENT
---
---
Read More: in our ski style series:
Ski Trip Packing Essentials
What to Wear Skiing: Packing List Must Have's
The Best Ski Pants for Women (Stylish & Functional)
I Found the CUTEST Women's Ski Pants (Video)
Are Designer Ski Pants Worth It? (Try-On Haul)
The Best Ski Sweaters for Apres-Ski 
Planning the Perfect Ski Trip
What to Know Before Skiing in Vermont for the First Time
Ski Trip Recaps + Mountain Guides
Lake Tahoe, California: Heavenly, Kirkwood & Northstar
Montana: Big Sky
Vermont: Stowe
Catskills, New York: Belleayre Mountain
Quebec, Canada: Mont Tremblant
+ More Ski Vlogs on Youtube
Follow me @Sher She Goes on