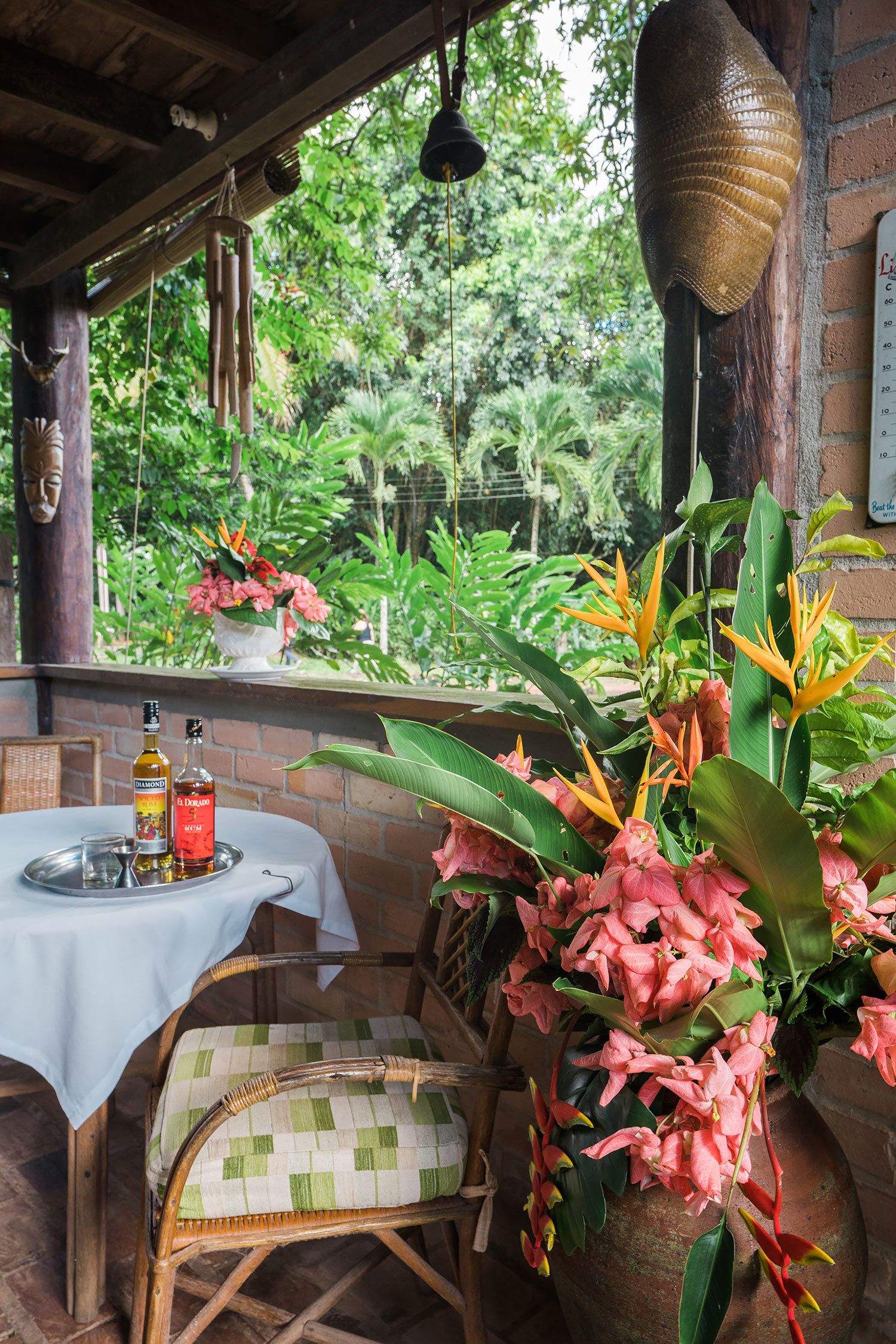 Guyanese Cuisine
One of the best ways to get a know a country and its people is through food. In Guyana, tasting its cuisine and popular dishes was quite the experience!
Where do we start? For one, Guyana is the only English-speaking country in South America yet on the hand, it culturally identifies as Caribbean.
Quite a unique place!
ADVERTISEMENT
Keep reading or save this article for later ⇟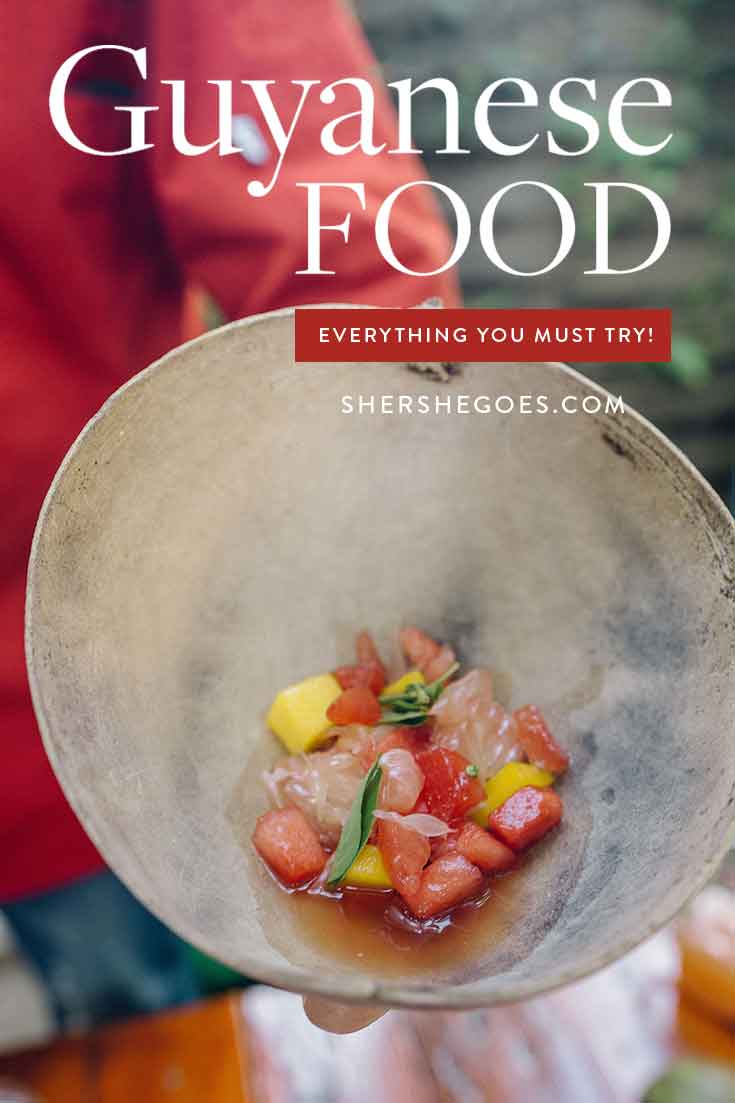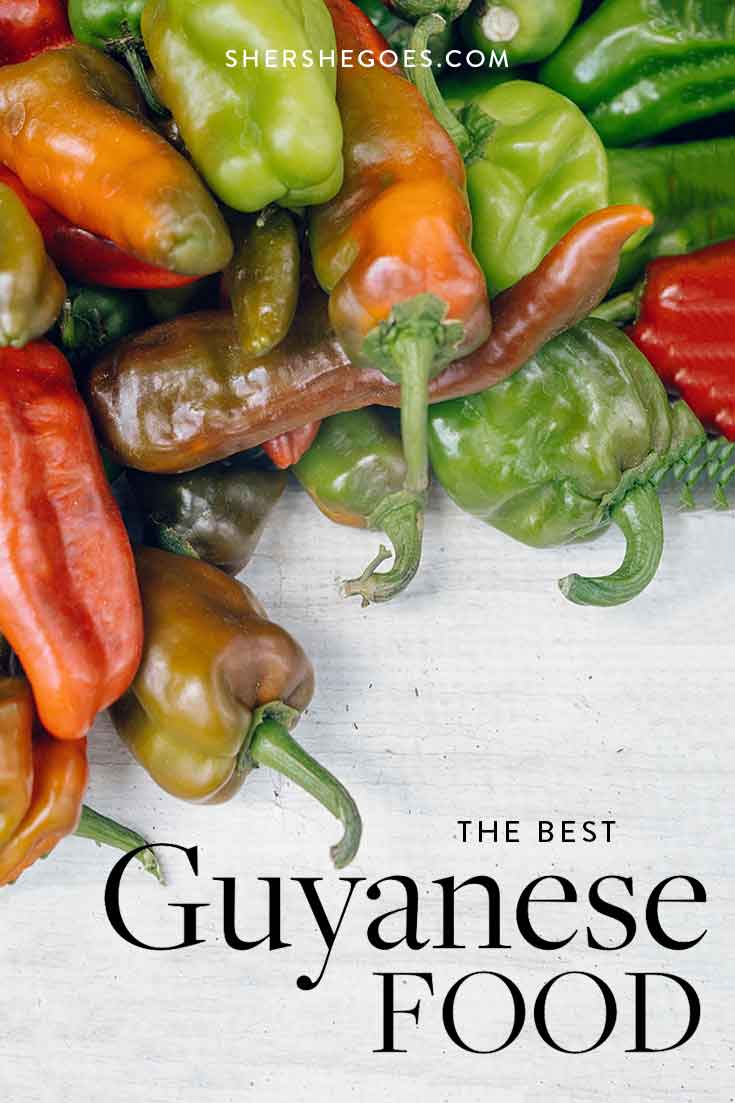 ADVERTISEMENT
---
---
Guyanese Food is a Melting Pot
From the Dutch and British colonial powers who fought to claim it, African slaves imported to work the sugar fields, and indentured servants from Portugal, East India and China shipped in after the abolition of slavery, Guyana is a melting pot of cultures and traditions.
Meanwhile, the original indigenous people in Guyana's rainforest interior maintain some of their own histories and food traditions.
There's no simple way to describe Guyanese food as it's a unique result of its shared South American, European, Asian, Indigenous and Caribbean heritage. Luckily, we had a chance to taste both its international cuisine in Georgetown as well as sample its traditional Amerindian cuisine inland and try it all.
Here are some classic Guyanese foods you can expect to find in Guyana!
Or quickly jump to:
ADVERTISEMENT
---
---
Classic Guyanese Cuisine
If you've ever been curious about the food in Guyana, here are just a couple classic dishes, sides and drinks from the country.
1. Pepperpot
When our local guides mentioned pepper pot, you immediately got a taste for how delicious the dish was by the slow happy grin that appeared on their faces. Pepper pot is a slow cooked stew made with meat, Caribbean peppers, cinnamon and a special local sauce called cassareep, that's derived from the cassava root.
The stew typically takes hours to make, as a small fire slowly carmalize the meat and renders down the juice and spices. Because of the preparation time, it's typically only served on special occasions and is a classic dish on Christmas day in Guyana.
The stew was originally an Amerindian dish. It was a classic in days before modern refrigeration, as the Cassareep slowly preserved the meat and enabled the pepperpot to last for up to a week on the stove. We usually found it made with beef, but heard that pork, lamb or chicken can also be added.
One legend says that the Georgetown Club had a pepper pot going for 75 years!
2. Metemgee
This hearty, Guyanese Creole-style stew is filled with vegetables and hearty starches like yams, plantains and cassava. Everything is mixed together in a hot and fiery coconut milk curry broth. I've also seen it called metagee or metegee.
ADVERTISEMENT
---
---
3. Chicken with Rice and Beans
Stews and curry dishes are very popular, but if you are looking for a simple Guyana dish reflective of the Caribbean food scene, you can't go wrong with chicken served with rice and beans.
4. Cook Up Rice with Fried Fish
Cook-up rice is another one pot meal that's pretty common across Guyana. Instead of plain white or brown rice, cook-up is a savory blend of rice, peas and some time of protein. The end result is a slightly mushy, wet rice that's comforting after a long day – you can think of it as a Guyanese version of fried rice.
The best part about cook-up is that it can be tweaked to suit any preference – instead of black-eyed peas, sometimes people added chickpeas or callaloo. We saw it with chicken but also fried fish as well.
Finally, because the Guyanese love heat, there was usually some scotch bonnet pepper to set our mouths on fire!
ADVERTISEMENT
---
---
5. Fried Bora
As a side, we quite often had a number of roasted and fried veggies. Bora was our favorite. It's essentially a green bean or Chinese long bean, but much longer than the kind we find in the US! Check out the photo above, it almost looks like green hair!
Whether simply fried with salt or drenched in a tasty garlic soy sauce glaze, fried bora was always a welcome addition on our plates.
6. Bake and Saltfish
Bake is a really popular breakfast food in Guyana and we devoured this stuff. It's funny because by the name of it, we never would have guessed that it's essentially fried bread!
Crispy on the outside while fluffy and hollow on the inside, the bread is also nicknamed 'float' since the dough puffs up into a balloon like shape as it's fried in a skillet of hot oil. We still don't quite know why it's called 'bake' when it's not baked, ha! Either way, it's amazing with the local peanut butter than some of the Amerindians make.
Salt fish is usually eaten with bake at breakfast. Imagine a sort of Caribbean fish sandwich if you will.
Fresh Atlantic cod is salted and preserved then soaked to remove the salt and sautéed with onions, thyme and garlic in a tomato based sauce. Stuff the salt fish into the bake and have yourself a more hearty breakfast!
ADVERTISEMENT
---
---
7. Pepper Sauce
At every meal, our local Guyanese guides asked for pepper. At first, we thought they wanted dried black pepper but it turns out that this fiery orange condiment is made from fresh peppers.
Guyanese will add this sauce to almost anything – rice, farine, fish, chicken – you name it.
The sauce is made from peppers blended with cucumber or mango and a bit of vinegar until smooth. Every household makes the hot pepper sauce slightly differently so it's just up to you what you prefer!
8. Plantain Salad
Like other Caribbean nations, plantains are a big part of the local diet. We snacked on crispy plantain chips, gorged on the freshly fried variety and even enjoyed crunchy yellow plantain salad. Seeing the giant plantains in person in a Georgetown market was eye-opening – these vegetables are huge!
ADVERTISEMENT
---
---
9. Cassava bread
The cassava plant is a member of the yucca family and a huge staple of the Amerindian diet. One unique thing that you can't make out of American yams? Bread!
Cassava bread is a triangle-shaped, crispy-thin flat bread. It's made with grated cassava that's dried into a flour and the end result tastes a bit like a rice cracker. While we definitely preferred the taste of bake (who can resist anything fried), cassava bread is a great side for hearty stews and soups!
It's said that the cassava plant is one reason why the Amerindians could survive in such a tough rainforest environment. When the Europeans arrived to conquer South America, they often fueled up on cassava bread as doesn't go stale or moldy in the tropical environment.
10. Chow Main / Lo Mein
Due to the large Chinese population in Guyana, you'll spot some popular Chinese takeout style dishes on lots of local menus. Chow main and lo mein noodles were quite popular!
ADVERTISEMENT
---
---
Guyanese Drinks
11. Lime Juice
At every eco lodge we visited, we were greeted with fresh lime juice. Mhm – this is the perfect refreshing drink in the jungle! Whether you prefer it sweetened or unsweetened, never say no to anyone offering you lime juice.
We also refueled with coconut juice, which is more hydrating than water and great for the humid environment.
12. Fresh Juice
While lime juice is a staple, we occasionally were offered other fresh juices to try at meals. Since Guyana has an abundance of natural fruits, the locals make a delicious juice out of anything. Some favorites were watermelon juice, grapefruit juice, golden apple and even cherry juice!
We're usually not a fan of cherry flavored anything (in the US they always make the grossest cherry vitamins and cherry medicine) but Guyana has its own local cherry, called the West Indian or Surinam Cherry. Give these a try – they're delicious!
ADVERTISEMENT
---
---
13. Soursop
Another interesting fruit? Soursop is a green oblong melon with small spikes. The fruit made a name for itself as an effective agent to ward off cancer – but to get those properties you need to eat some soursop nearly every day!
ADVERTISEMENT
---
---
14. Banks Beer
For the most part, we stuck to water and fresh juice, but Guyana also does make a local beer. Banks was first produced in 1840 and is really refreshing on a hot afternoon!
15. El Dorado Rum
El Dorado is one of the best rums in the world and produced right along Guyana's coast. In fact, you can tour the rum factory while you're in Georgetown!
The defining factor of El Dorado is the sugar it's made with, called Demerara sugar. The rum is a great sipping rum on its own but we loved it mixed in a dark and stormy cocktail with some fresh lime juice!
Read more:
The Best Things to Do in Georgetown
ADVERTISEMENT
---
---
Guyanese Fruits & Veggies
Bourda Market
In downtown Georgetown, we visited this market one afternoon and found fruits and vegetables that we had never seen anywhere else! The open air stalls, wet markets and vendors felt very much like in Asia.
Backyard Cafe
If you want a fun, flavorful Guyanese food experience, call up Backyard Cafe.
The local chef is happy to guide you through local Guyanese ingredients and then whip up a delicious meal in his cafe – a gorgeous garden oasis in his backyard.
From his adorable parrots, fresh appetizers and delicious cheesecakes, it was a day to remember!
ADVERTISEMENT
---
---
Where to Eat in Georgetown
While we didn't have the most time in Georgetown, we managed to pack a lot in 2 days! Here are some local restaurants that offer great meals:
Grand Coastal Hotel – Every Wednesday the hotel offers a huge buffet of local dishes, called their Flavors of Guyana night. We tried pepperpot, local fish, lamb, farine, channa curry, fried roti, cook up and lots more.
Cara Lodge – Our hotel had a great restaurant with both international and local food options. We loved sitting outdoors in their courtyard, which has a bar and tables built around a Guyanese mango tree. Don't forget to try their plantain chicken and load up on onion rings (our guilty pleasure)!
ADVERTISEMENT
---
---
Amerindian Cuisine in Guyana's Interior
That was a sample menu from lunch! Usually in the interior we would have two proteins, chicken and fish, both super fresh and succulent.
We'd often have a couple of sides of different vegetables and at breakfast, the option of eggs, bake and a local Amerindian peanut butter which was stomach licking good.
The most unusual aspect of our meals in the jungle?
Cassava!
ADVERTISEMENT
---
---
Cassava
Finally, we have to talk about cassava! This tuberous root is a staple of the Amerindian diet and we had it nearly every day that we were in Guyana's jungle.
It turns out that the plant is well suited for tropical environments and common across the Caribbean, Africa and Asia – you might recognize it under a different name like tapioca or manioc.
Although we had never heard of it nor tasted it prior to this trip, Cassava is eaten all over the world and particularly in Africa. To give you a sense of this humble root's importance, Nigeria grows the largest source of cassava in the world and calls it a local word meaning "there is life"
ADVERTISEMENT
---
---
So what is it?
Cassava is a member of the yucca family.
It looks similar to yams and sweet potatoes, with a brown root and a pale, almost white or yellow starchy interior. Cassava grows as easily as a weed, so it's a huge part of the diet for local Guyanese.
Above ground, you'll spot it by its green leaves – at first we thought they were marijuana plants, ha!
Cassava can come in sweet or bitter leaf varieties but usually farmers will plant the later, as only the underground root is eaten and bitter leaves can deter pests and animals.
ADVERTISEMENT
---
---
Poisonous Cassava
Cassava is a super food for the local Makushi Amerindians. The plant is packed with starch, and rich in calcium, phosphorus and vitamin c. It can be multi-purposed into so many different types of foods. At every meal we had either cassava bread, farine (a by-product) or cassareep flavoring (the syrup we mentioned earlier that is used to make pepperpot).
What else does cassava have?
ADVERTISEMENT
---
---
Poison!
Cassava roots contain anywhere from 20 to 80 mg of cyanide… and apparently 6 ounces of raw cyanide is enough to kill a man.
In Rewa, we were able to see the Makushi Amerindians prepare cassava the traditional way. Shredded cassava is packed into a matapee, a cylindrical long tube, than squeezed ruthlessly to separate the juice from the fibers.
The remaining grated cassava is turned into a flour that can be cooked into farine, or baked to make cassava bread. Meanwhile, the juice is boiled to remove every last trace of cyanide and then made into cassareep.
ADVERTISEMENT
---
---
Farine
Cassava is an acquired taste.
We usually had it in the form of farine, a yellow like grain that reminded us of quinoa. It takes roughly 100 pounds of cassava tubers to make 50 pounds of farine.
Can you imagine going through all that labor to be left with 50%?!
Farine tastes somewhat "bland" in a similar sense that rice is tasteless. Both starches works best as a hearty side accompanied with spiced vegetables and our favorite, fried chicken!
I often mixed in fried bora, crunchy okra and roasted carrots into my farine. Cassava can even be made into beer, but unfortunately we didn't have a chance to try that!
ADVERTISEMENT
---
---
What do you think of Guyanese cuisine? Does it feel similar to dishes you've had before or something completely new?
Visiting Guyana – Trip Planning Checklist
Flight Deals | Caribbean Airlines offers nonstop flights from New York and Miami to Georgetown. You can set a fare alert here to be notified of discounts.
Getting Around | Book a driver for Georgetown or a tour to handle transportation in the Amazon basin. Most arrangements must be set up in advance, for minimum parties of 4, due to the high cost of gas and overland vehicles as well as the limited internet communication in the jungle.
Accommodation | In Guyana's interior, accommodation is remote and consists of comfortable but simple eco-lodges run by local communities. Many do not have internet access, so it's best to book a tour package that will handle transportation, activities and accommodation for you. Or, you can call to make reservations online. In Georgetown, there are plenty of boutique and international hotels to choose from. 
Insurance | Lastly, be sure to visit Guyana with travel insurance. Hospitals and medical assistance are scarce in the jungle interior and yellow fever vaccinations are strongly recommended. Whether you get injured and need to be hospitalized, or your phone gets stolen, travel insurance will help when you need it most. Get a quote for your trip here.
You Might Also Enjoy:
Guyana Vacation Planning Articles
Quick Guide to Guyana
What to Pack for the Amazon Jungle Clothes + Recommended Gear
2 Weeks in the Guiana Shield: Our Guyana Itinerary
Explore All the Best Things to Do in Guyana
Visiting Georgetown: What to See & Do in Guyana's Capital!
Guyana's Interior: The Amazon Basin
Day Trip to Kaieteur, the World's Longest Free Falling Waterfall
Day Tour: Learning How to Fish for Piranha in the Amazon
Guyanese Food: What to Expect, Where to Eat & More!
Guyanese Culture & It's Amerindians
Photos of Guyana from our trip!
Follow me @Sher She Goes on