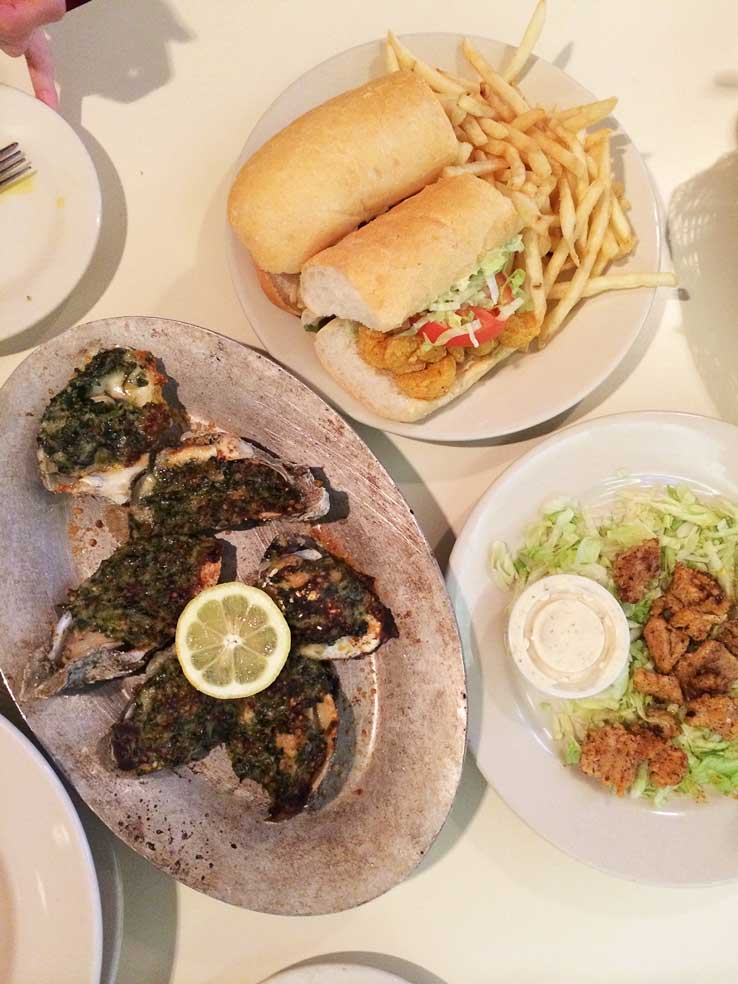 New Orleans Seafood
New Orleans is as much a city of beautiful architecture as it is of decadent food. While in the city, we bookmarked a couple places to try specifically for their oysters. Acme Oysterhouse is the oysterhouse, but the line is always out the door and in the rainy weather, it's not so pleasant, especially as the line is next to a garbage disposal. A stinky wait? No thanks!
We popped over to Felix's (across the street) instead to get our New Orleans oysters fix and tried a dozen each chargrilled and rockefeller. The chargrilled came out first, drenched in a delicious garlicky sauce while the oysters Rockefeller are a New Orleans creation: topped with parsley, green herbs, breadcrumbs, butter and baked. I thought the chargrilled were a little better but both were great! We also tried some grilled alligator and a shrimp po boy. All are definitely not to be missed if you're in town!
Everything was less than a 5 minute walk from our hotel at the Hyatt French Quarter, which was super convenient. Other noted restaurants in the area include Bourbon House, Dickie Brennan's Steakhouse, Arnaud's and SoBou. For something a bit fancier, try GW Fins.
Headed to New Orleans for a long weekend? Check out my city travel guide and 4 day itinerary here.