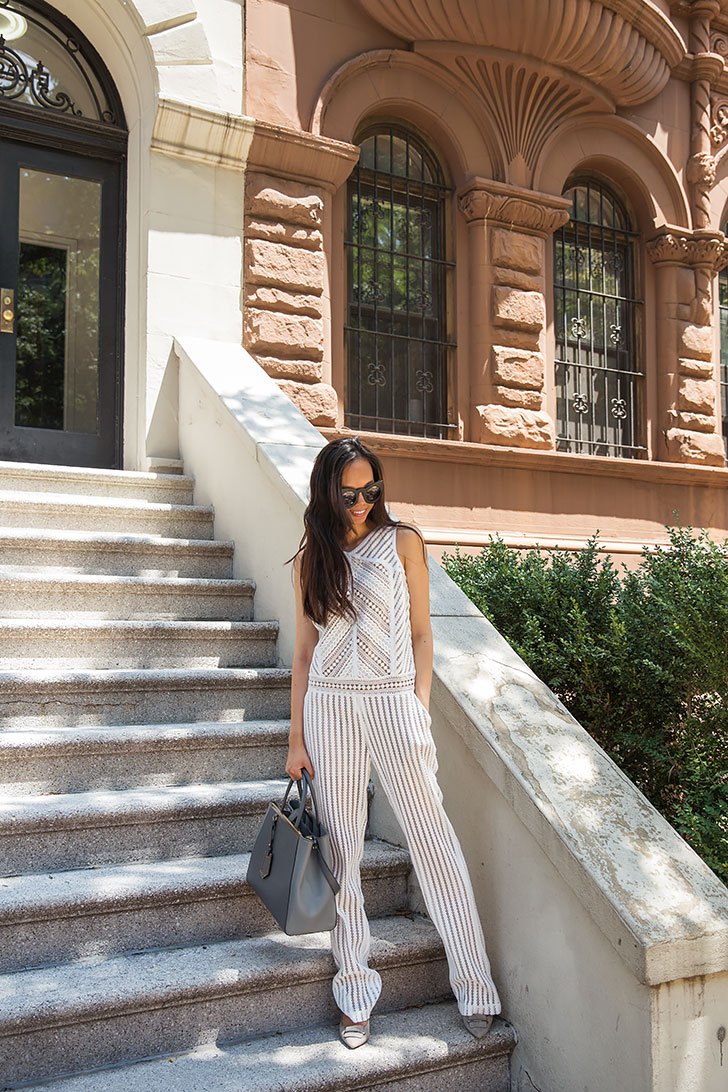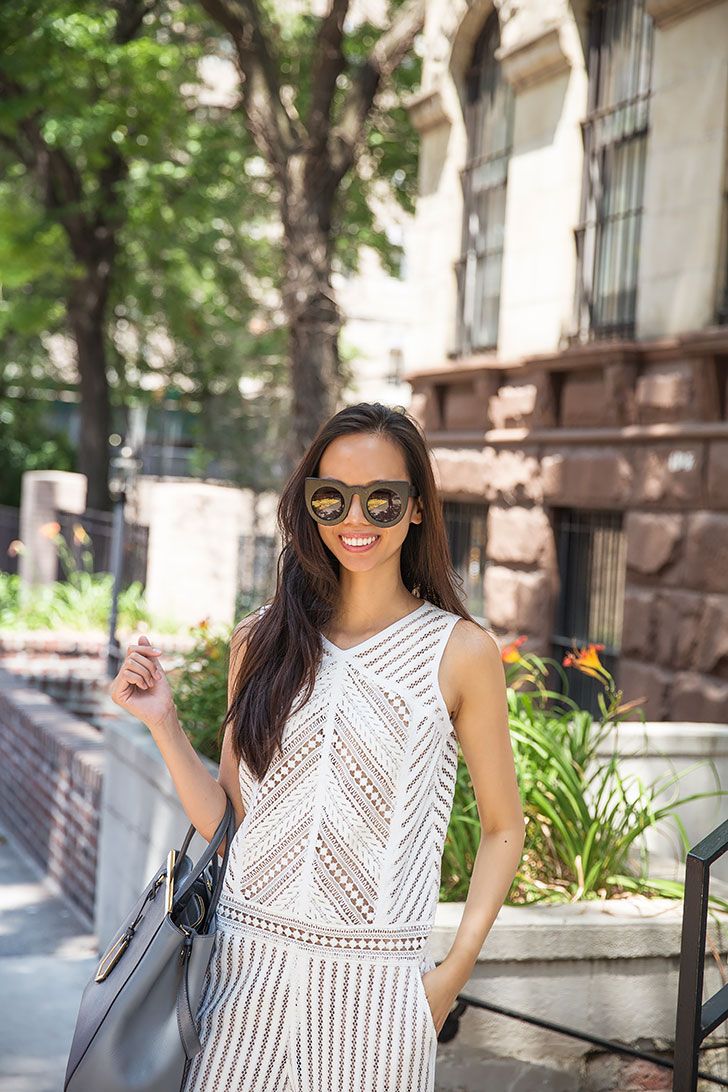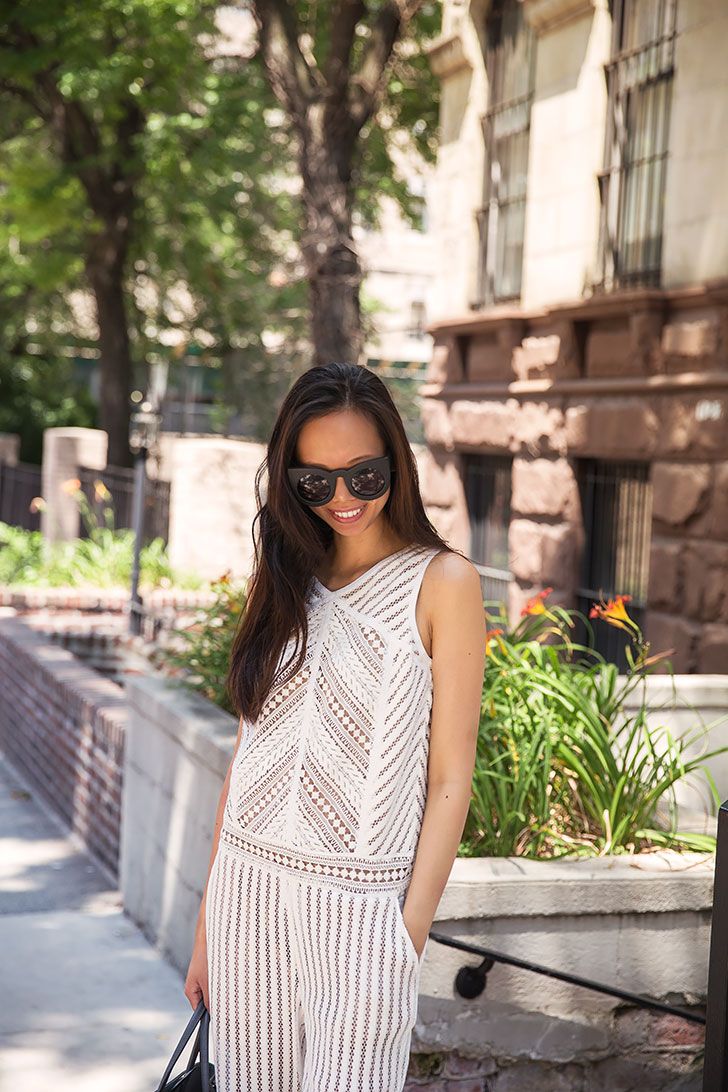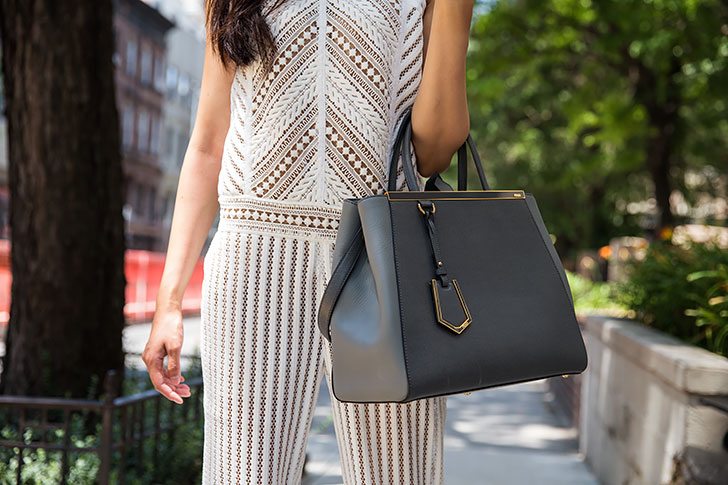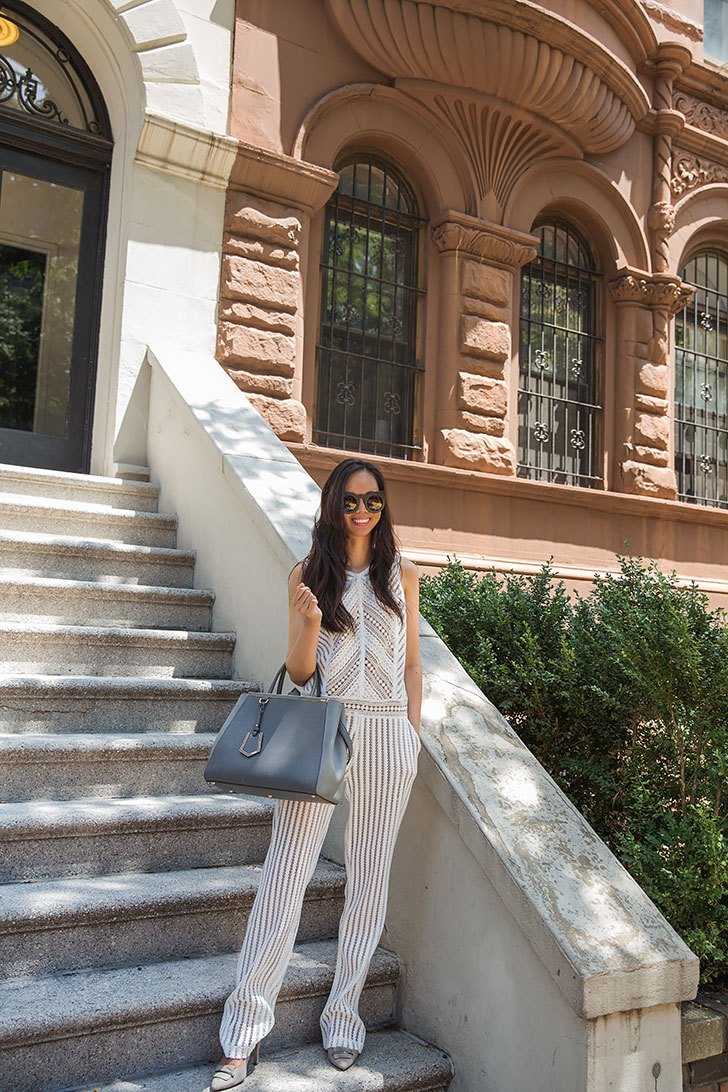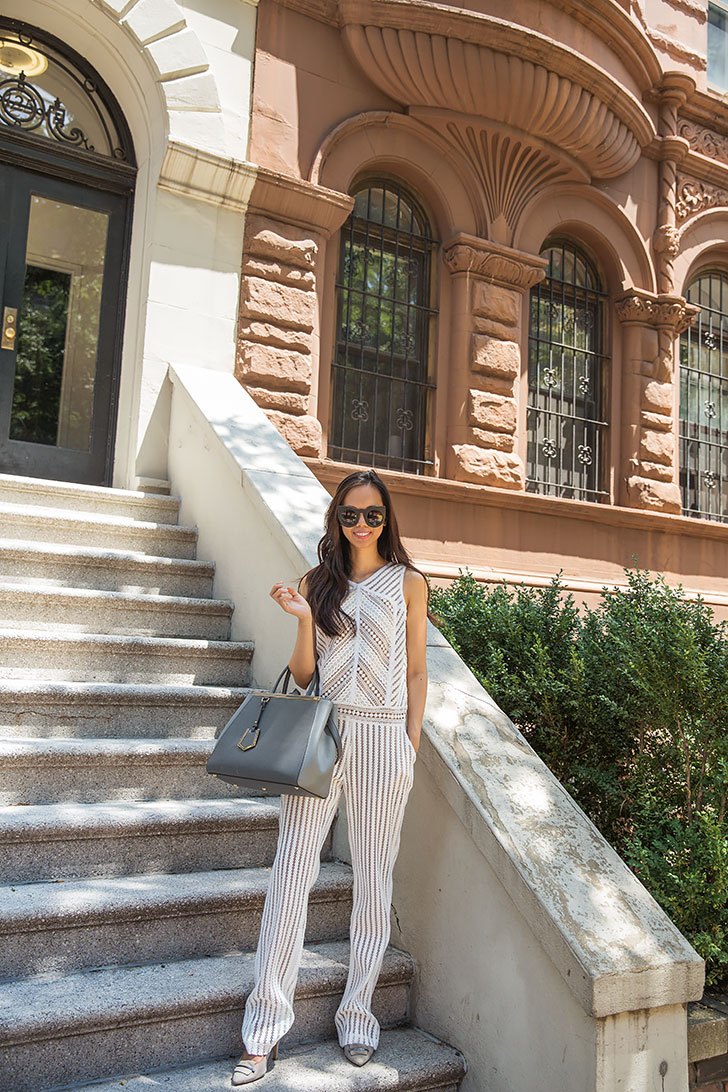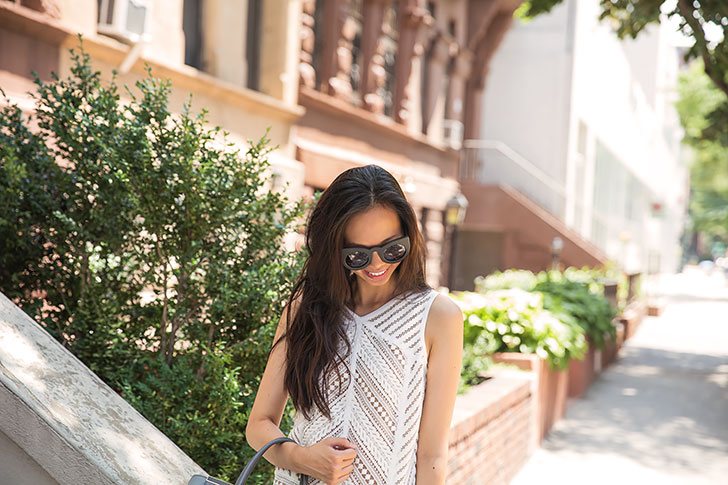 ---
White Lace Jumpsuit (sold out, similar here and here) // Suede Grey Pumps (old, similar here and here) // Fendi Handbag // Cat Eye Sunglasses (rental via Ditto, get your first month free w/ code 'SherSheGoes'
---
Happy Friday everyone!
As we're headed into the weekend, I wanted to share this cute white jumpsuit that I think can transition well for times when you want to look conservative and put together without sacrificing style. The jumpsuit is made of a gorgeous lace and stripe pattern, with the detail visible up close. It comes fully lined and might be a tad bit hot for these 90 degree summer days we've been having, but would be stunning in spring and fall.
This weekend, I've been invited to attend Her Conference, a 2-day weekend conference dedicated to both bloggers and millennial women. It's my first time going to a blog specific conference but I've been to trade shows and conferences for work so I'm really looking forward to meeting more New York City women who share the same passion and love for media, the digital world and blogging! Her Conference 2016 is sponsored by Ulta Beauty, Vera Bradley, Juicy Couture and Amtrak and the line up of speakers is comprised of women working in mid-level and senior PR and marketing positions so I'm very excited to learn more from experts in the industry. There will also be workshops for specific topics like the Business of Blogging and Writing Content that Goes Viral plus keynotes from Rebecca Minkoff and Nastia Lukin!
I was thinking about getting everything ready (the conference starts early at 9:30am) and was stumped for what to wear – when I realized that this jumpsuit would do the trick! It's fully lined so nothing is exposed and comes in a thick, well made fabric. I like how the jumpsuit is conservatively cut yet still chic so I think this is what I'll be wearing for the first day!
For more about the Her Conference, you can view the agenda for Saturday and Sunday here and if you want to join me, grab a ticket! I'll be writing a wrap up and review post after the conference so if you can't make it this year, hopefully it will give you more information to guide your decision for next year!
Have you ever been to a blog conference before? Let me know if you have tips on what to wear and how to mix professional dress with your own personal style!
P.S. Now that I'm obsessed with jumpsuits and one pieces, I can't stop seeing fantastic unique ones everywhere! I also ordered this burgundy cut out version last night and I can't wait to see it in person. It's currently on sale during the Nordstrom Anniversary sale and was a great deal! I have a really great tip for all of you guys next year about accessing the sale early without a card. It's not really worth writing about now since public access opens tomorrow, but I'll remember for next year!
UPDATE: my experience from a weekend at Her Conference 2016 are now live! A huge thank you to Her Conference for inviting me and for all the sponsors (Ulta Beauty, Vera Bradley, Juicy Couture and Amtrak) for my goodies!
Read more: 5 Inspiring Takeaways from My First Blog Conference
Follow Sher She Goes on
Bloglovin | Facebook | Twitter | Instagram | Snapchat
Shop Similar Jumpsuits
---

This post is sponsored by Her Conference and Her Campus Media. All opinions are my own. Thank you for supporting the brands that make Sher She Goes possible!