Cute Roommate Gifts (2021)
Think about it this way.
Either you are already the best roommate ever, and you and your roommate have become super close this year or over the years.
Or you've been super loud, super dirty, and have generally been the worst roommate ever.
Either way, you need to get your roommate a gift this holiday season!
If you're looking for the gift ideas that will make you the best roomie ever, keep reading!
Keep reading, or pin this article to save it for later ⇟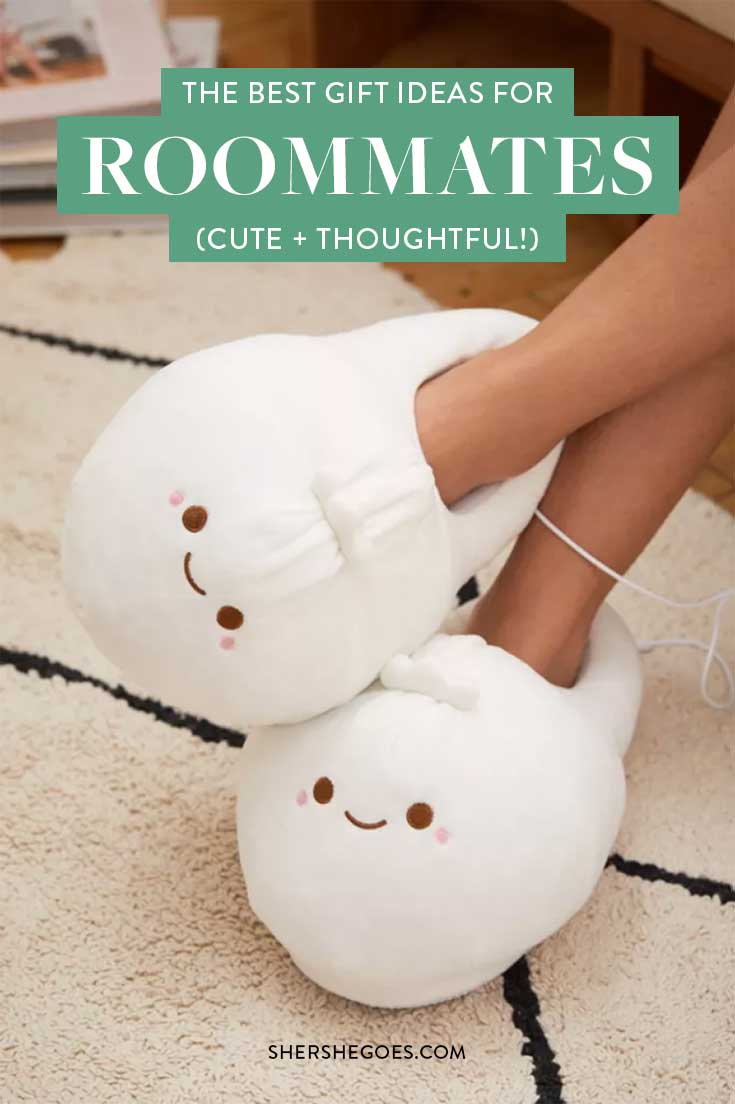 Best Roommate Gift Ideas (2021)
No matter what kind of roommate you have, we have the perfect gift for her outlined below!
Roommate Gift Suggestions
---
---
The Best Roommate Gift Ideas
For the Best Friend Roommate: Personalized Necklace
---
---
For the Newly Graduated Roommate: Card Case
---
---
For the Stressed Out Roomie: Wine Club Subscription
---
---
For the Tech Obsessed Roommate: iPhone Case
---
---
For the Politics Lover Roommate: Feminist Glasses
---
---
For the Type A Roommate: Planner
Okay, fine, 2020 might have been the year where we all took our planners to the river and lit them on fire in a bonfire celebrating a wasted year.
But 2021 is gonna be better, right?
Right?
For the optimists among us, consider getting your roommate this classic leather ruled notebook from Moleskine.
We all probably have things we wished we accomplished this past year, so help be a positive influence on your roommate and get her year started on the right foot with this timeless leather planner!
---
---
For the Creative Roommate: Waterproof Notepad
Is your roommate an aspiring writer or artiste?
Then get them this creative notepad so they can jot down their creative ideas at any moment. Literally!
Since it's waterproof, this notepad works in the shower, in the rain, in the hot tub – you name it. Each sheet is perforated so the notes can easily be taken with you too.
Or, here's another cute notepad idea:
This post-it notepad is perfectly sized for a mobile phone, so they can jot down anything on the go.
---
---
For the Roomie Who Loves Sleeping In: Thermal Mug
Whether it's coffee, espresso, or a more, ahem, adult beverage, who hasn't needed to make theirs a double this year?
Whether it's wild nights out or grumpy mornings, odds are you see your roommate at her best and worst.
You might as well help her get there quicker with this adorable "Make Mine A Double" Thermal Mug from Kate Spade, which stands at 16 ounces, insulates cold and hot beverages, and has a splash proof lid!
---
---
For the Daily Horoscope Reader: Zodiac Glow Sign
---
---
For the Fashionista: Heated Slippers
---
---
For the Girly Girl: Cute Apartment Decor
---
---
For the Roommate You Don't Know Well: Tub Drain Protector
---
---
For the Hipster Roomie: Indoor Garden
---
---
For the Shower Singer: Shower Drink Holder
---
---
For the Roommate Who's Never Home: Amenity Kit
The holidays usually mean travel, so help your roommate get home and back safely with this awesome amenity kit from Herschel Supply Co.
Featuring ear plugs, a sleeping mask, slippers, and an inflatable neck pillow, this amenity kit is the perfect gift to ensure your roommate's travels are smooth sailing – or to ensure she can't hear or see you when you're back together again, that's up to you!
---
---
For the Foodie: Mixology Set
This mixology set is the perfect roommate gift for someone who likes to entertain.
It's a beginner friendly set and so it comes with literally everything you need to make the perfect drink: a shaker, jigger, strainer, mixer spoon, tongs and bottle opener. It doesn't get any nicer than this, especially at this price!
We also love that the shaker set comes with a simple minimalist stand (for display) and a set of cocktail cards. Use the recipe cards to perfect all your drinks!
The cards are double sided so you can easily grab the recipe for your favorite cocktail, or sort by liquor, to get inspiration for a drink using the ingredients you already have in your bar.
---
---
For the Homebody: Chunky Blanket
If you're looking for a statement gift that's also relatively affordable, check out these gorgeous blankets. They're large, chunky and made from soft wool.
If your roommate is a homebody, loves to nap, or wants a pop of color in the new place, this is the perfect gift idea.
You can customize the size, color or even add extra personalization too!
---
---
For the Hostess: Pictionary Air Party Game
Do you guys love to entertain?
Then get your roommate a modern twist on classic Pictionary.
This innovative version of the game uses a tech pen so no one needs paper. Instead, you draw in the air and everyone can use their phone (or the TV) to see the clues as they're drawn!
This would make a great gift idea if you're doing a roommate white elephant swap, and you want a gift that will appeal to everyone.
---
---
For the Athletic Roommate: Mini Golf Game
Can't get outside this winter?
Then gift this indoors mini golf game set to give to your roommates and friends, so everyone can stay active and have fun.
The mini golf game includes all the essentials for an at home setup: holes, obstacles and putters!
---
---
Shop Roommate Gifts
---

---
---
We know how difficult finding the perfect present can be! Browse gift guides for everyone on your list:
Affordable Gift Guides
Secret Santa Gift Ideas for Guys Under $25
The Best White Elephant Gift Ideas - Useful, Funny & Quirky
Gift Guides for Her
Monogram Gift Ideas - Personalized Gifts for Everyone on your List
The Best Beauty Advent Calendars to Count Down Christmas
Gift Guides for Him
The Best Christmas Gifts for Dad
Useful Gifts for The Guy that Has Everything
Gift Guides for Parents
Gift Ideas for Parents (who have everything)
Insanely Good Gift Ideas for your Boyfriend's Mom
The Best Gifts for your Boyfriend's Parents
Black Friday
Black Friday Shopping Tips - retailers DON'T want you to know!
Holiday Parties
The Best Matching Christmas Pajamas - for the whole family!
The Best Christmas Socks - cozy & festive!
The Best Holiday Dresses You Won't Believe are on Amazon
The Best Cute Christmas Sweaters for Classic Winter Style
The Best UGLY Christmas Sweaters for a Holiday Party
Ugly Christmas Sweater Party Invitations
The Best Winter Cocktail for Holiday Parties - Looks Fancy, but Easy to Make!
Decorating for the Home
The Best Amazon Christmas Decorations (Stylish + Affordable!)
Rustic Christmas Tree Decor Ideas
Cozy Chic Christmas Gifts for the Home
Follow Sher She Goes on
Youtube | Instagram | Facebook | Twitter | Pinterest | Bloglovin