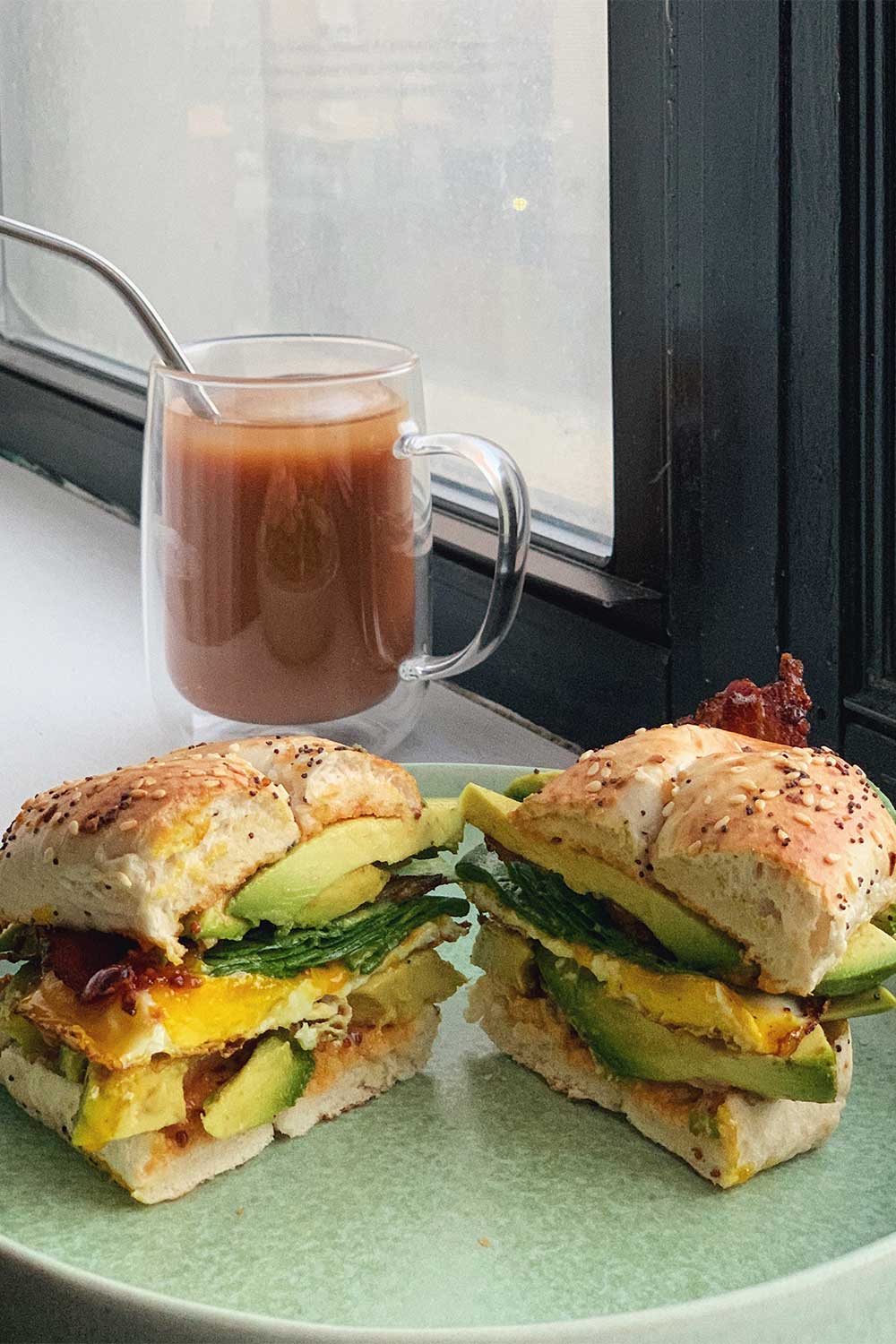 Vietnamese Coffee
When I first started working from home, there was one thing I missed the most.
Coffee runs!
I used to head to the cafe around the corner with coworkers to 'take a break' in the afternoons, but with suddenly no colleagues and no need to leave the house, I had to learn to make my own coffee.
The early experiments were pretty terrible, but eventually I figured out how to make a proper cup of espresso!
In fact, when I finally went to a coffee shop months later, I thought to myself "hm.. I could make this better at home and save the $6 bucks!"
If my mother had heard me, she would have been proud, ha.
ADVERTISEMENT
Anyway, an espresso soon got pretty routine so I experimented with making different types of coffee and more 'fun' drinks like caramel lattes, iced mochas and dalgona coffee.
But my favorite type of coffee to make?
Vietnamese iced coffee! In today's post I'm sharing just how easy it is to make Vietnamese coffee at home.
Keep reading for the recipe and some tips + tricks to making a great, balanced cup!
Keep reading, or pin this article to save it for later ⇟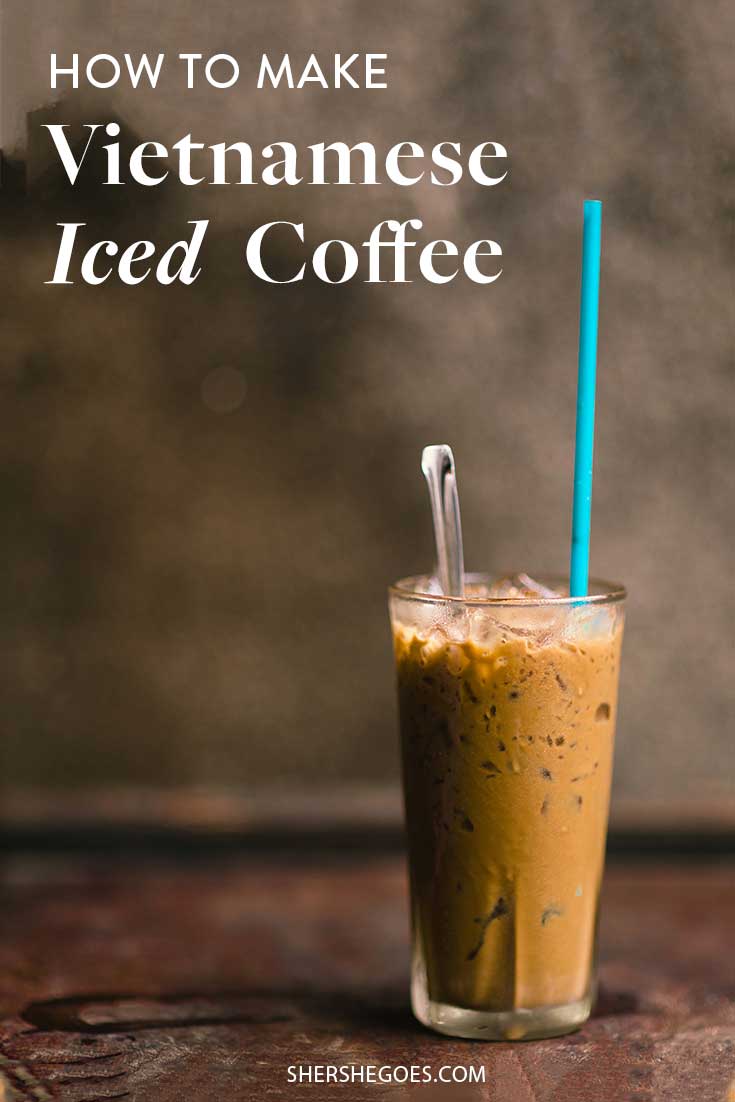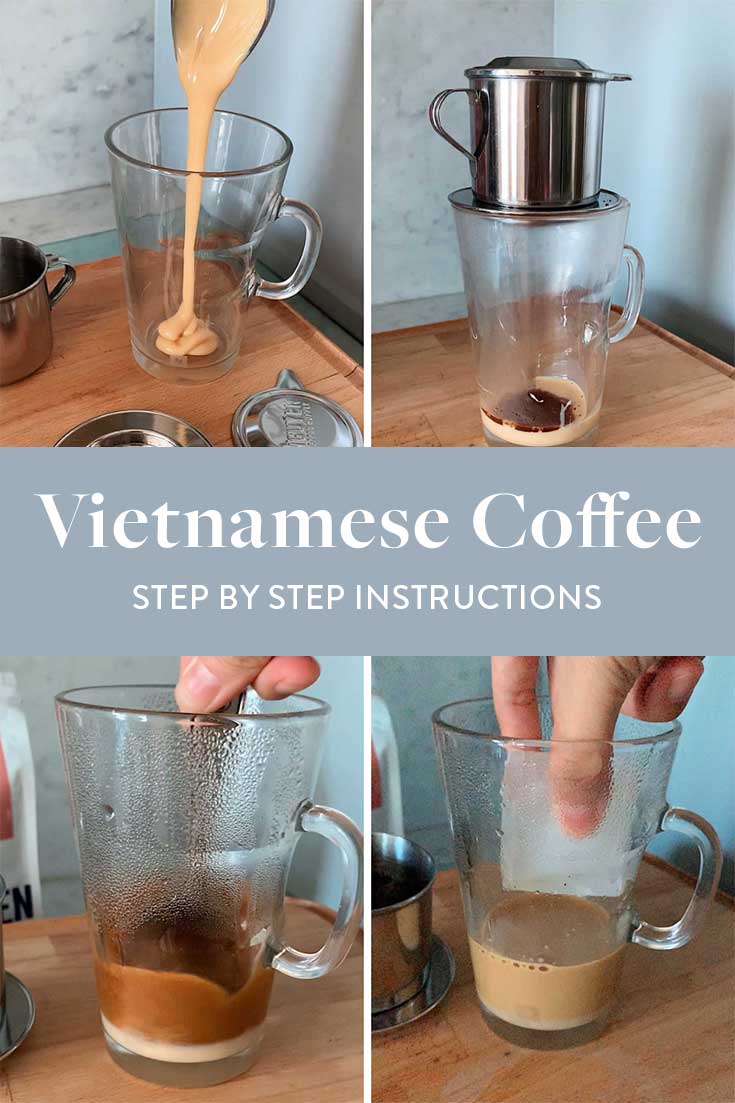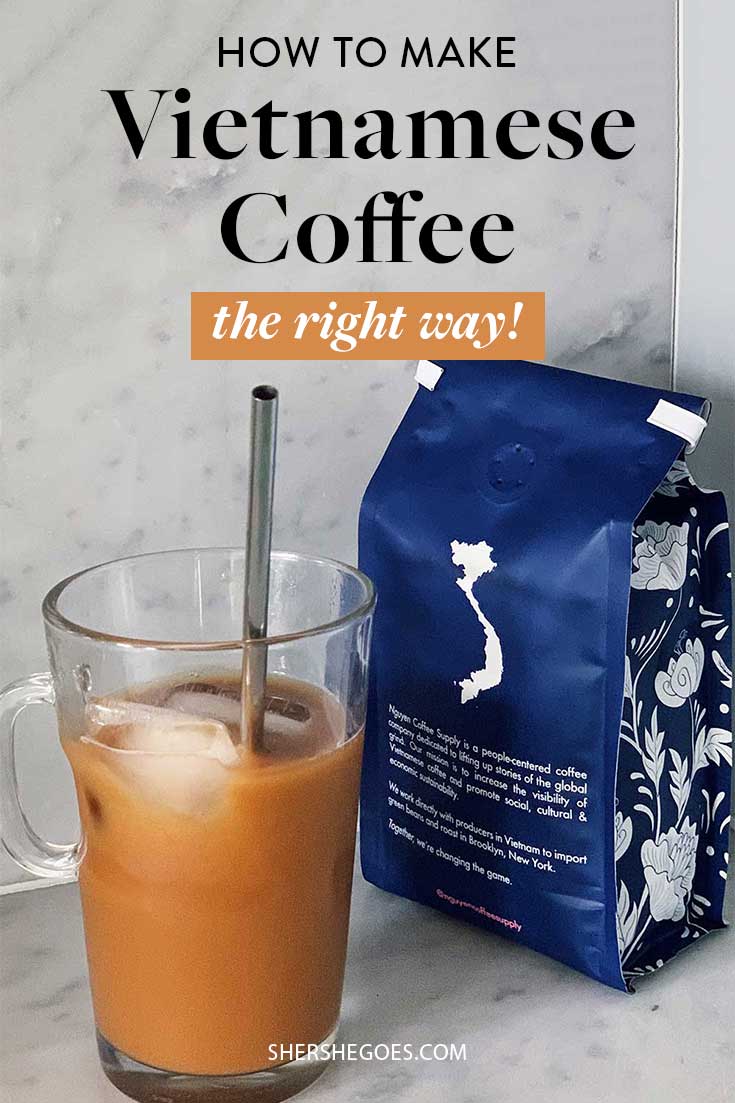 ADVERTISEMENT
---
---
How to Make Vietnamese Coffee
Vietnamese coffee is one of my favorite types of coffee because it strikes the perfect balance between sweet and strong.
Vietnamese coffee (or cà phê sữa in Vietnamese) is strong coffee served with condensed milk.
It's really simple to make.
All you need is a Vietnamese coffee filter (called a phin in Vietnamese), some sweetened condensed milk and hot water.
The process of making it is similar to using a french press or pour over. You place the ground coffee in the filter, pour boiled water through the filter and wait for it to drip.
ADVERTISEMENT
---
---
Where to Buy a Vietnamese Coffee Filter
While you can substitute with a French Press or Pourover, I highly recommend getting a phin, or traditional Vietnamese filter for the most authentic taste.
You can order some on Amazon here, or try the Phin Kit from Nguyen Coffee! The latter is what I have :)
ADVERTISEMENT
---
---
Vietnamese Coffee Recipe
Here's how to make vietnamese coffee at home. The entire process is simple and will take you less than 5 minutes!
1. Add 1 tablespoon of condensed milk into your coffee glass.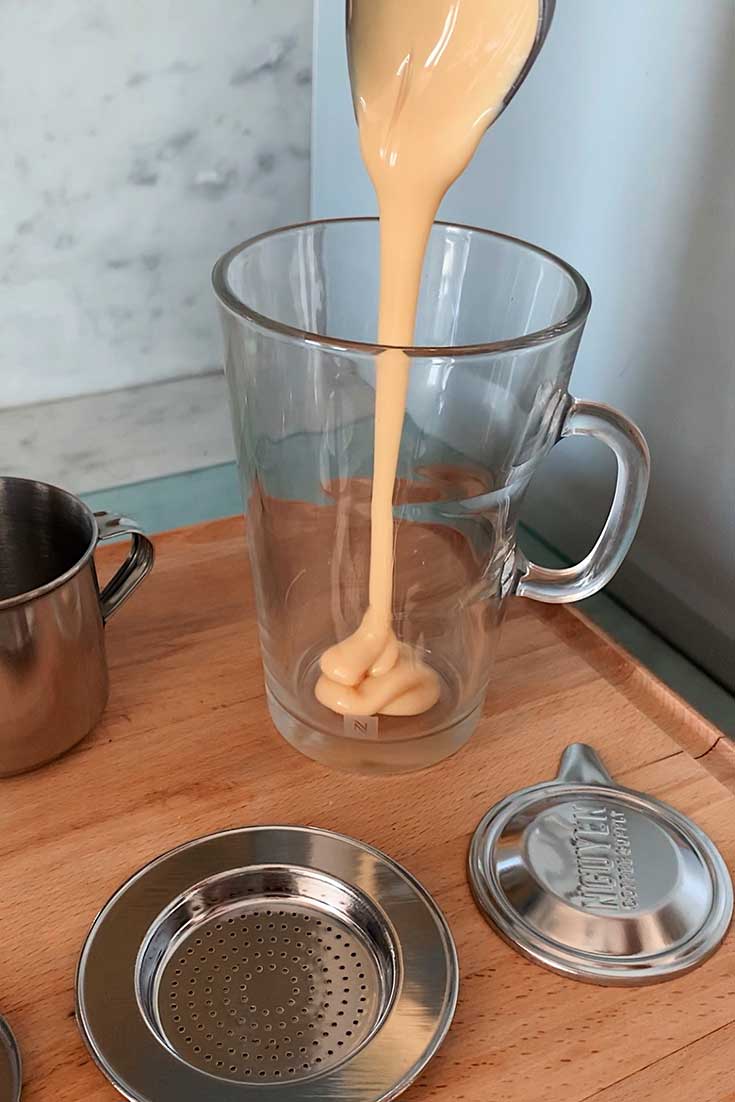 The amount of sweetener is up to your own taste.
I think traditionally one tablespoon is enough (since this stuff is so sweet!) but if you prefer a sweeter drink, you can add 2 tablespoons of condensed milk.
If you have really strong tastebuds and are using extra bitter beans, you could do 3 tablespoons.
Then place the saucer on top of your coffee glass and the coffee brewing chamber on top of the saucer.
I like using these simple double walled glasses which help keep drinks cooler or hotter for longer periods.
ADVERTISEMENT
---
---
2. Place 2 tablespoons of ground coffee into the Vietnamese coffee filter.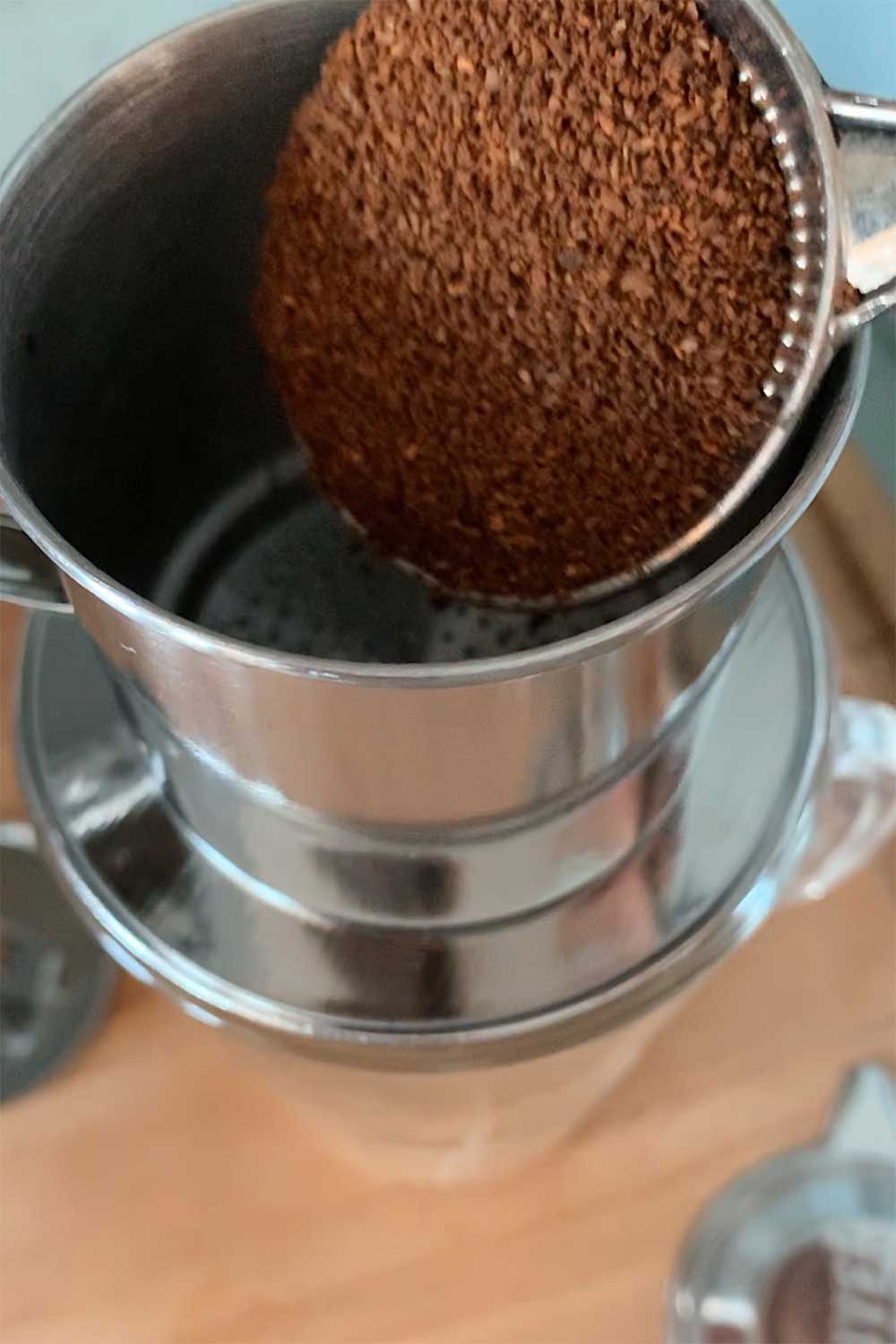 I use a 4 oz phin filter and these robusta coffee beans.
You can buy Vietnamese coffee filters in different sizes. A 4 oz filter is considered the smallest size and equivalent to roughly one espresso drink.
If you need something larger, vietnamese filters go all the way up to 15 ounces!
But if you want to make vietnamese coffee for two people, I recommend buying two filters (or cleaning and re-using one filter) as opposed to doubling the amount of coffee or sizing up to a larger filter.
ADVERTISEMENT
---
---
3. Place the gravity insert gently into the brewing chamber.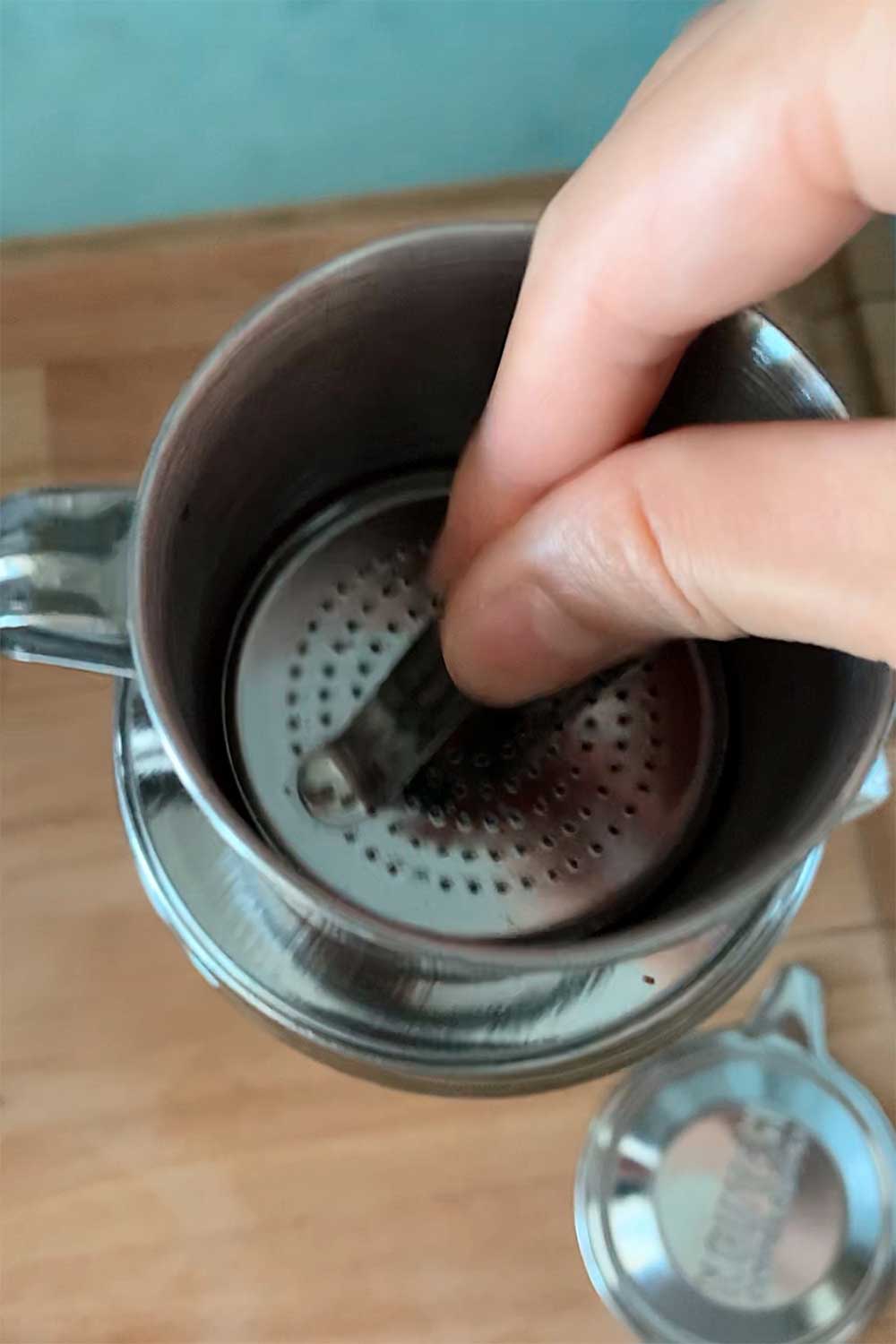 When you poured in the coffee, chances are you made a little hill. The gravity insert helps to evenly distribute the grounds.
Don't press down so hard that the grounds clog the holes of the filter! Just gently press down to create a smooth layer.
ADVERTISEMENT
---
---
4. Pour a small amount of just-boiled hot water into the filter.
Pour about a couple centimeters worth, so that the coffee grounds can bloom and expand. Cover with the filter lid for about 30 seconds, to allow the hot water to soak the coffee grounds.
5. Then pour in the rest of the hot water.
Place the lid back on to keep the water temperature hot, and watch water drip slowly through the filter into your glass.
Hopefully, the coffee drips directly through the center of your cup. If the coffee drips off to one side of the cup, it might be a sign that your grounds weren't evenly distributed.
ADVERTISEMENT
---
---
6. Wait 5 minutes for the coffee to drip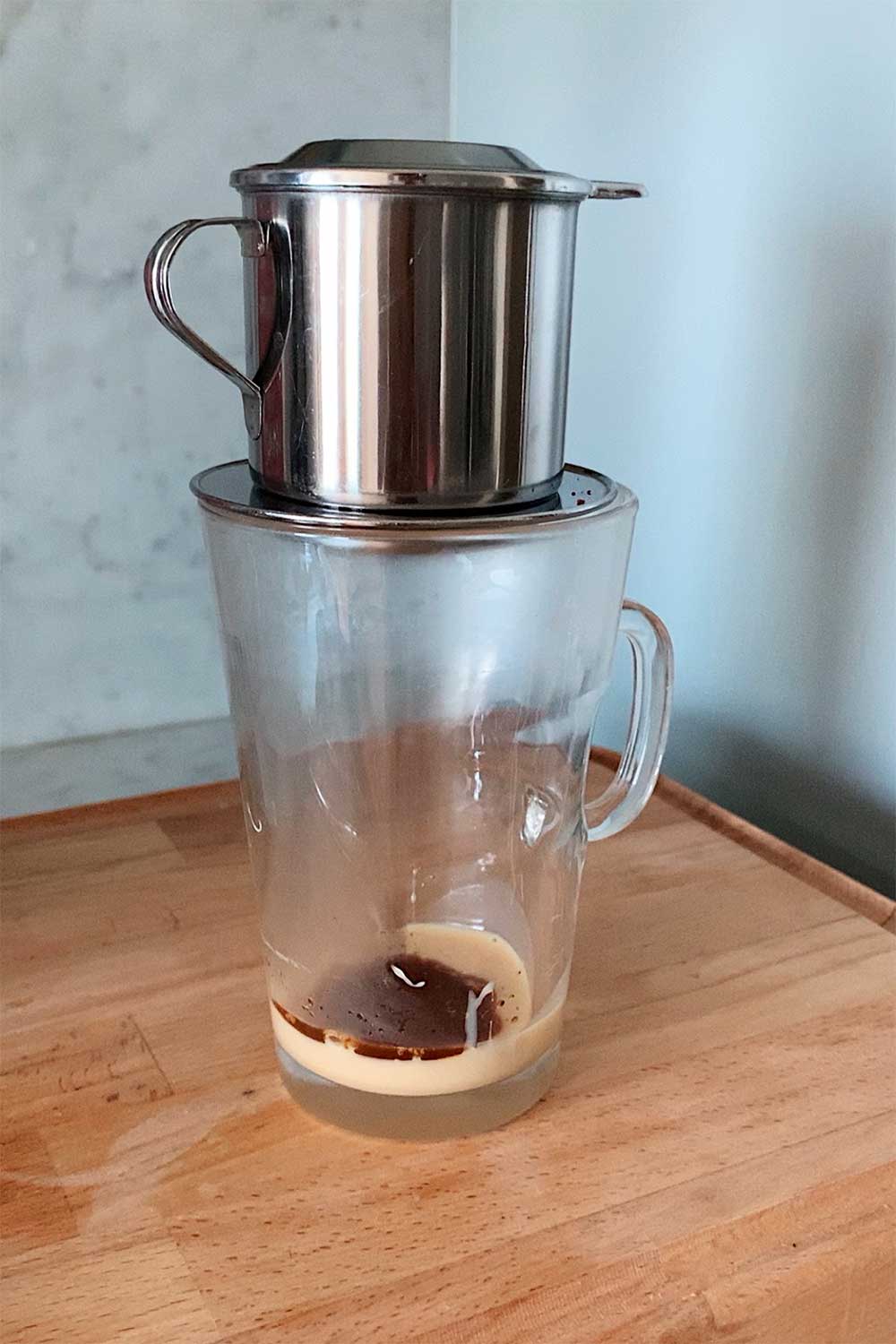 Don't worry – the coffee is meant to slowly drip.
Traditionally Vietnamese coffee is enjoyed in streetside stalls, where people sit and relax, chat or play games.
ADVERTISEMENT
---
---
7. Stir and Enjoy!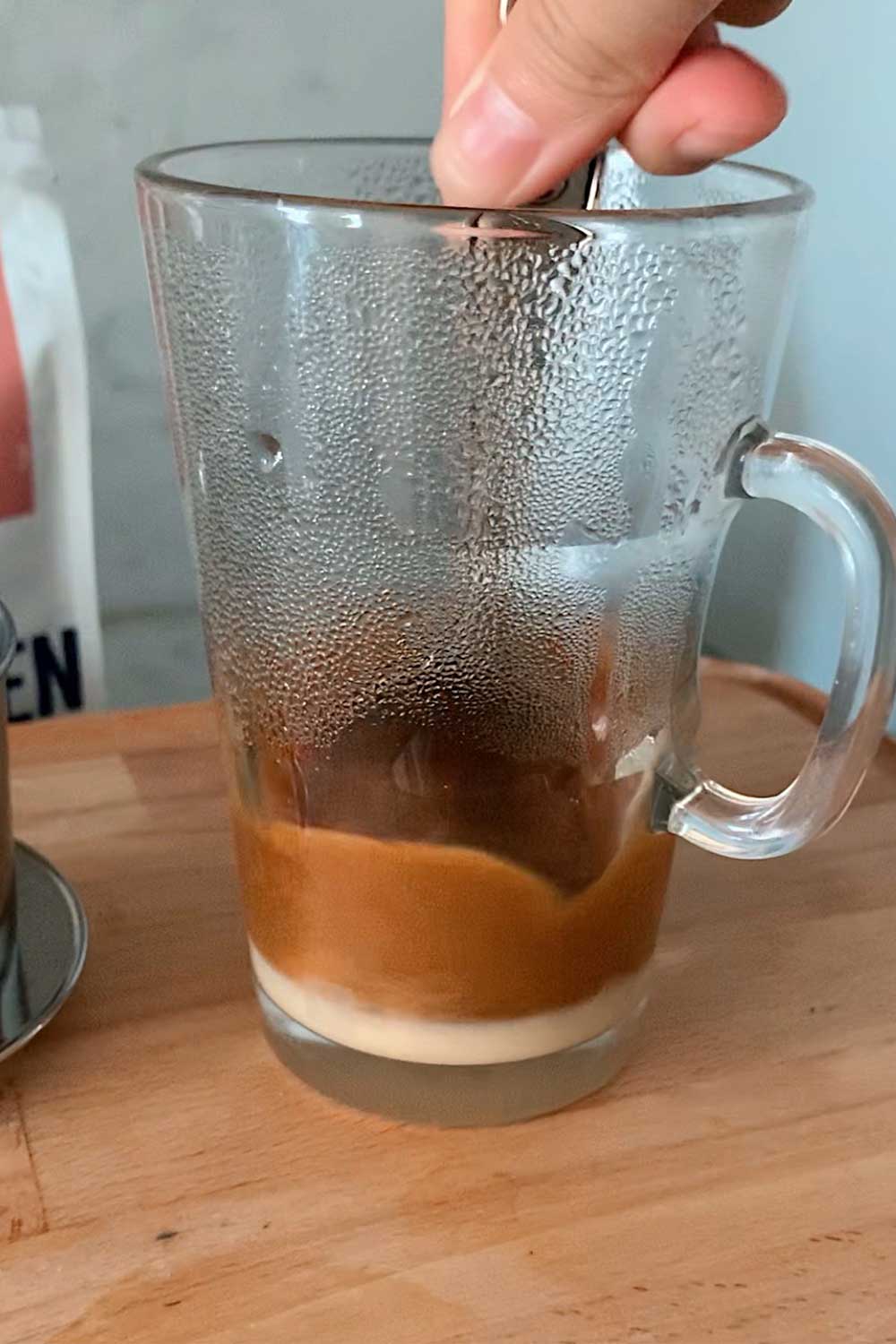 Once all the hot water has passed through the coffee filter, your coffee is ready!
Take off the filter and use the filter lid as a resting saucer for the filter, so you don't stain your table. Use a little spoon to mix the coffee with the sweetened condensed milk and enjoy your cup!
ADVERTISEMENT
---
---
How to Make Vietnamese Iced Coffee
Vietnamese coffee can be prepared in a couple different ways:
Black Coffee: cà phê đá
Coffee with Condensed Milk: cà phê sữa
Hot Coffee with Condensed Milk: cà phê sữa nóng
Iced Coffee with Condensed Milk: cà phê sua dá
If you want to make Vietnamese iced coffee, follow the steps above and then…
8. Just Add Ice!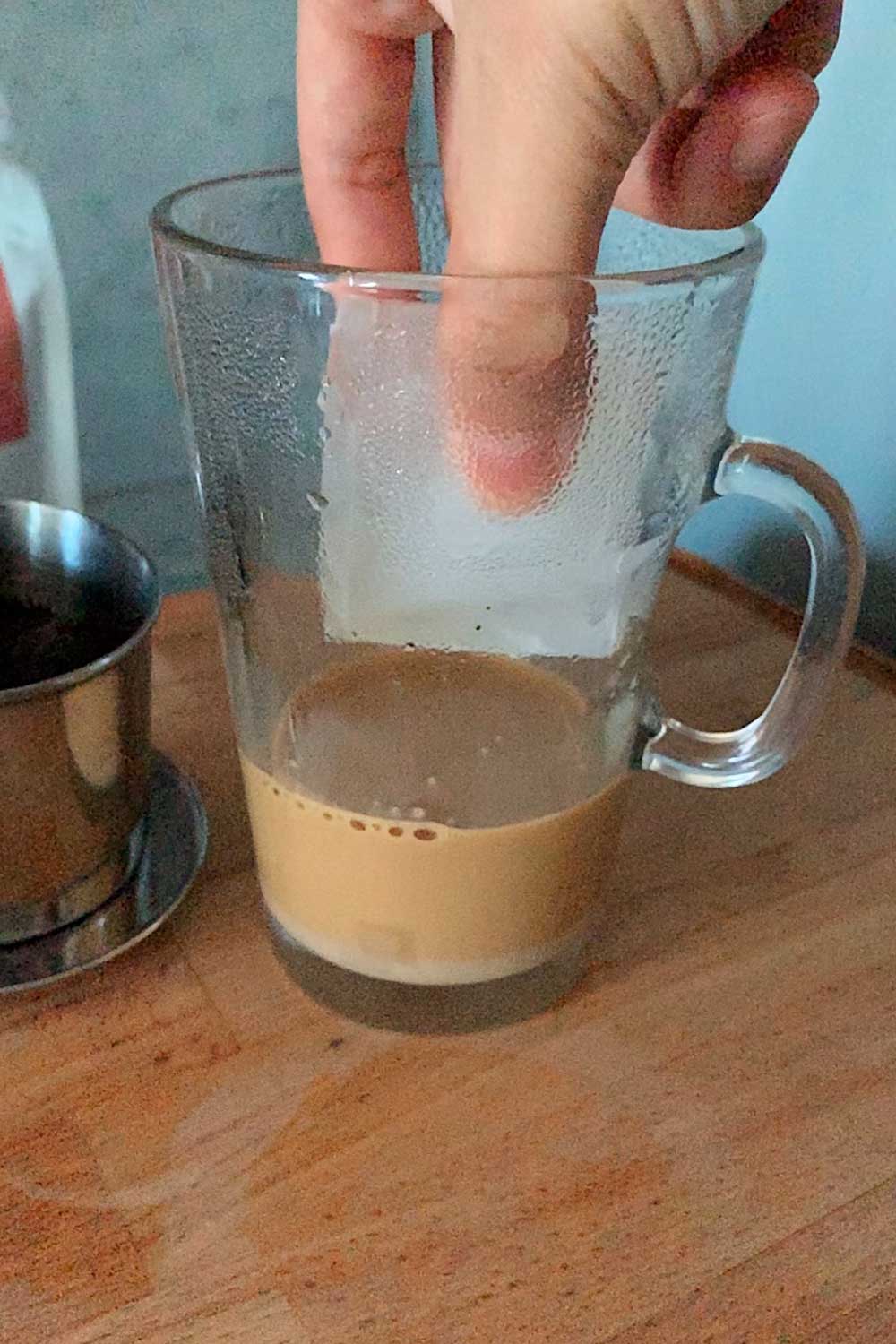 To make it iced, just drop in some large ice cubes and stir!
Since it's only one shot of espresso, a couple large cubes will easily make a glass of Vietnamese coffee cold.
This is my favorite way to drink it :)
Finally, here are a couple more troubleshooting tips to make the perfect cup of Vietnamese coffee:
ADVERTISEMENT
---
---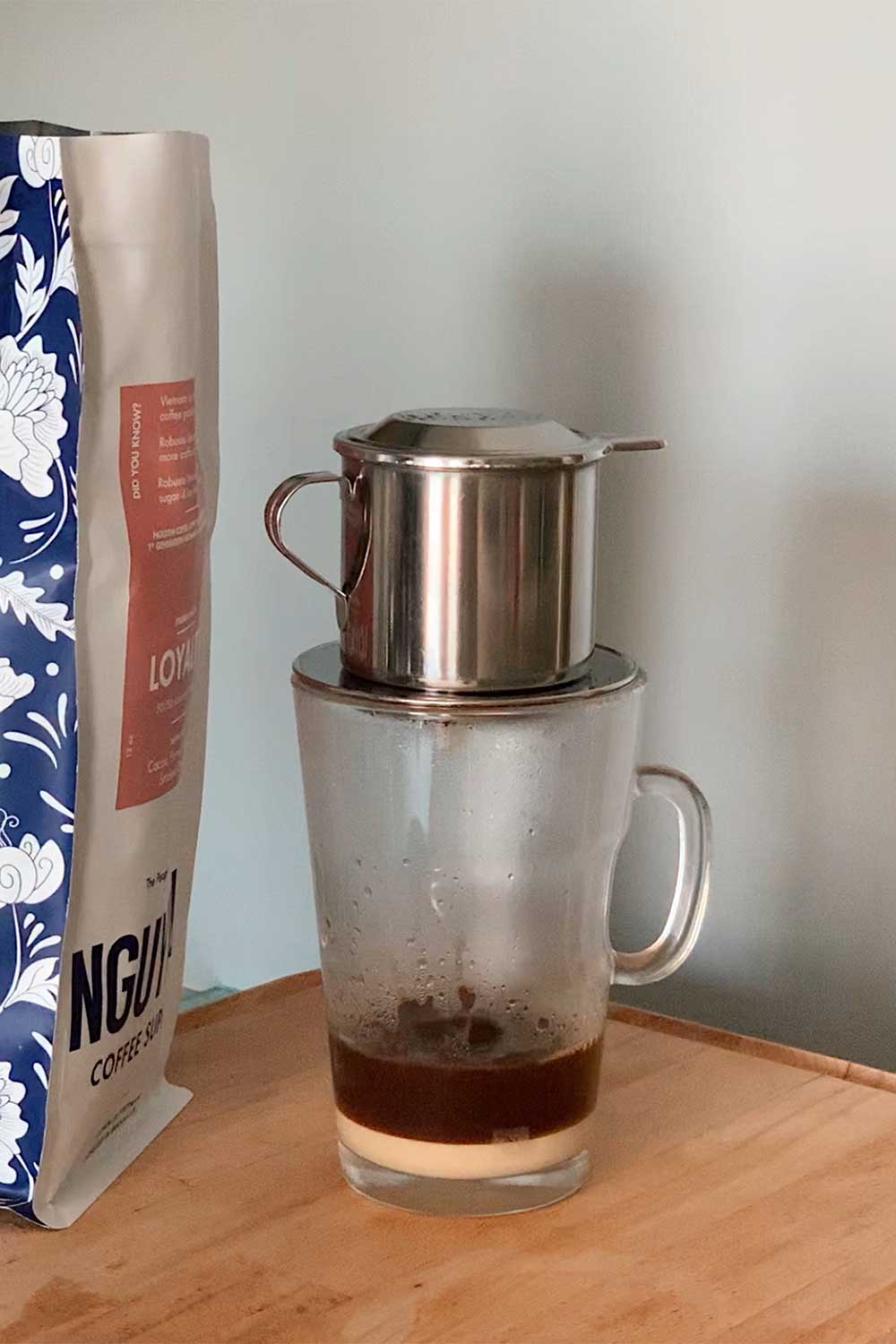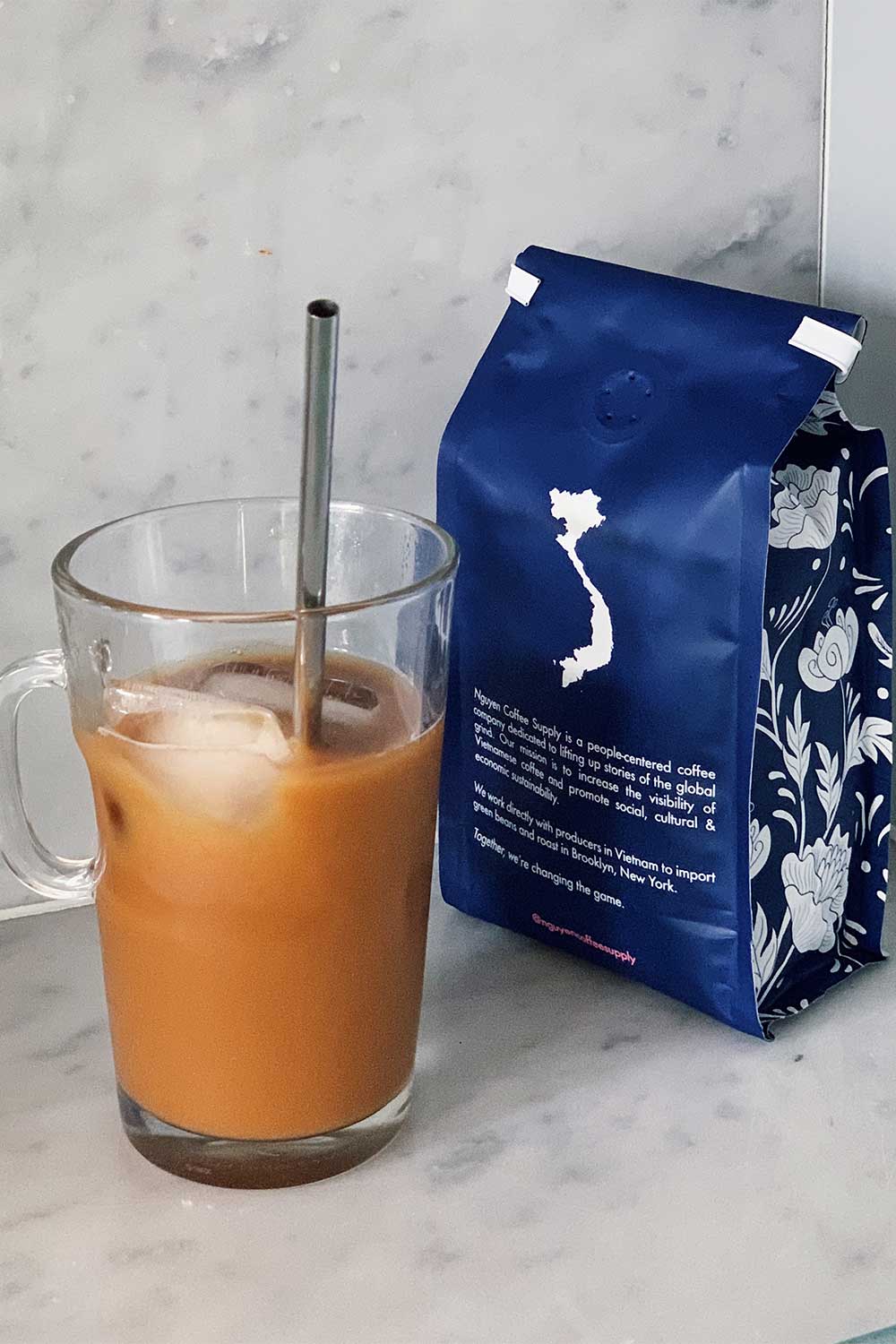 Vietnamese Coffee Beans
For the best results, the type of coffee bean really matters.
Since Vietnamese coffee uses condensed milk as the sweetener (which is really sweet), you need a stronger more robust coffee bean to balance the flavor.
Arabica Beans vs Robusta Beans
There are two main types of coffee beans in the world: arabica and robusta.
Arabica beans are probably what you're used to – they're more popular and traditionally were considered to produce a more nuanced cup of coffee, as arabica beans are lighter, sweeter and fruitier in flavor.
Robusta beans, in contrast, have 60% less sugar and 60% less fat than arabica beans. They also have 2x the caffeine content! A cup of coffee made from robusta beans tends to taste stronger and bolder.
Vietnam is the number 1 producer of robusta beans in the world – so it makes sense that traditional Vietnamese coffee, with its sweeter condensed milk additive, was created to compliment robusta beans.
ADVERTISEMENT
---
---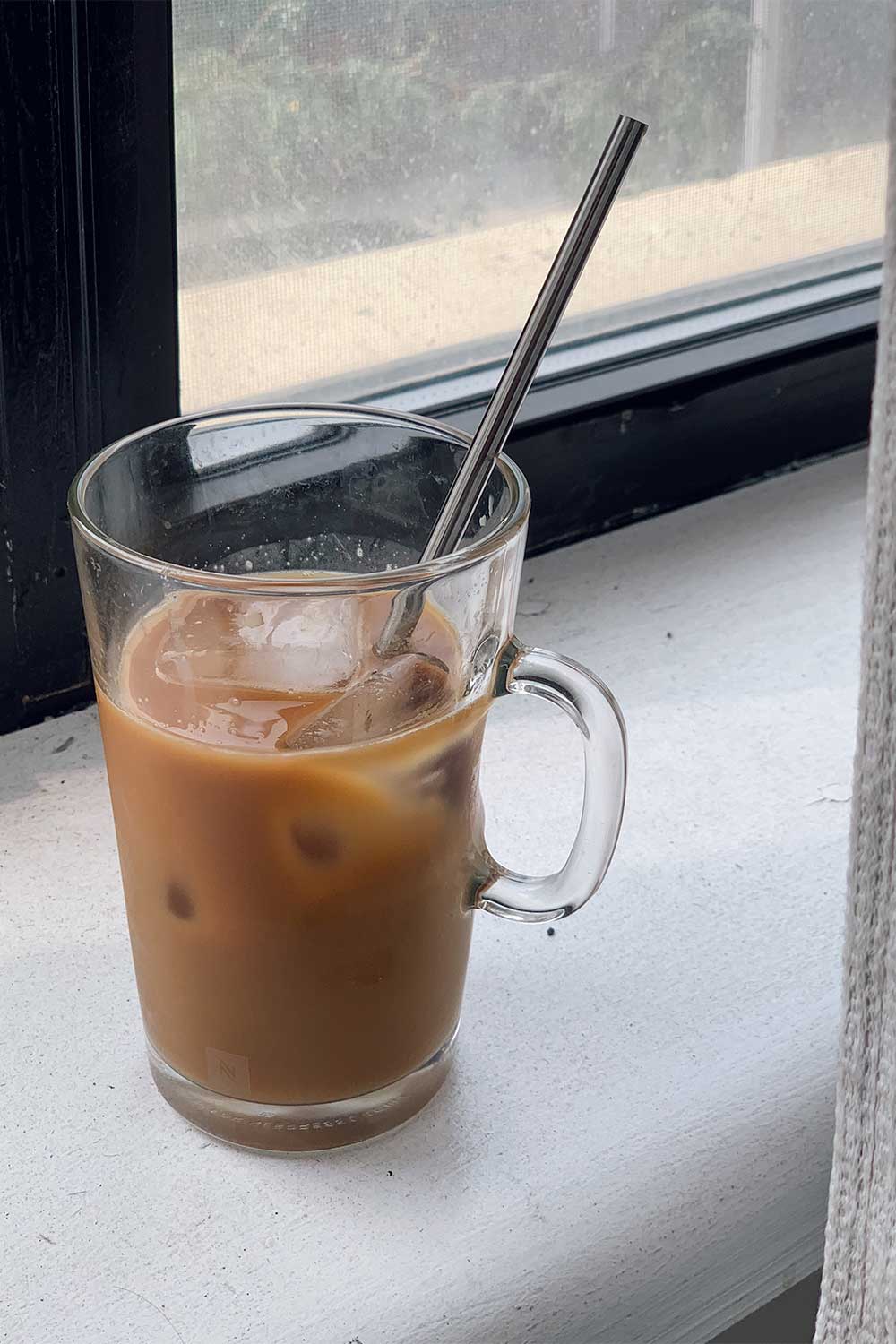 Where to Buy Robusta Beans
Before I knew about the different types of beans, I was making Vietnamese coffee with arabica beans (french roast coffee) and couldn't understand why the coffee didn't taste 'right'.
Arabica beans are sold everywhere – your neighborhood grocery store, Whole Foods or online.
Robusta beans are a little harder to track down.
Here are 3 very popular coffee brands to use for making Vietnamese Coffee.
Nguyen Coffee Supply
I'm using Nguyen Coffee from a local Brooklyn coffee shop.
They're a female founded Vietnamese American company, and they import beans directly from Vietnam, then roast the organic green beens on site in their Brooklyn roasting facility. You can buy their Robusta beans online here.
Trung Nguyen Coffee
Another popular option is Trung Nguyen coffee grinds, which you can buy online here.
I used to love their Instant Coffee packets in college, which are basically pre-made with sweetened condensed milk. It's the lazy way to make Vietnamese coffee at home, since you just have to add hot water!
Cafe du Monde
And finally, a similar substitute is the Cafe du Monde French Roast coffee, from the famous Vietnamese coffee shop in New Orleans.
Technically, Cafe du Monde is not a Vietnamese brand and they're not clear on where they source their beans. Cafe du Monde coffee typically comes already ground and with added chicory to remove some of the bitterness, so if you want the freshest coffee you might prefer buying roasted beans from a different source.
ADVERTISEMENT
---
---
What's your favorite type of coffee? Do you prefer making it at home or going to a cafe?
Read more:
The Best Portable Coffee Mugs for Travel
How to Make Vietnamese Coffee at Home
New York City Coffee Shops
The Best Coffee Shops in New York City
Exploring Aussie Cafes in NYC: Two Hands
Visiting Happy Bones Cafe New York City
A Trek to Hungry Ghost Cafe in Brooklyn
The Coffee Shop Taking Over NYC: Bluestone Lane Cafe
Coffee Around the World
How to Order Coffee in France – French Coffee, Demystified!
10 Reasons to Visit Panama – Trying Geisha Coffee
The Best Things to Do in Jamaica – The Blue Mountains
Visiting the Iconic Cafe du Monde in New Orleans
Battle of the Beignets: Cafe du Monde vs Cafe Beignet
Stopping at Wooly Pig Cafe in San Francisco
Follow me @Sher She Goes on