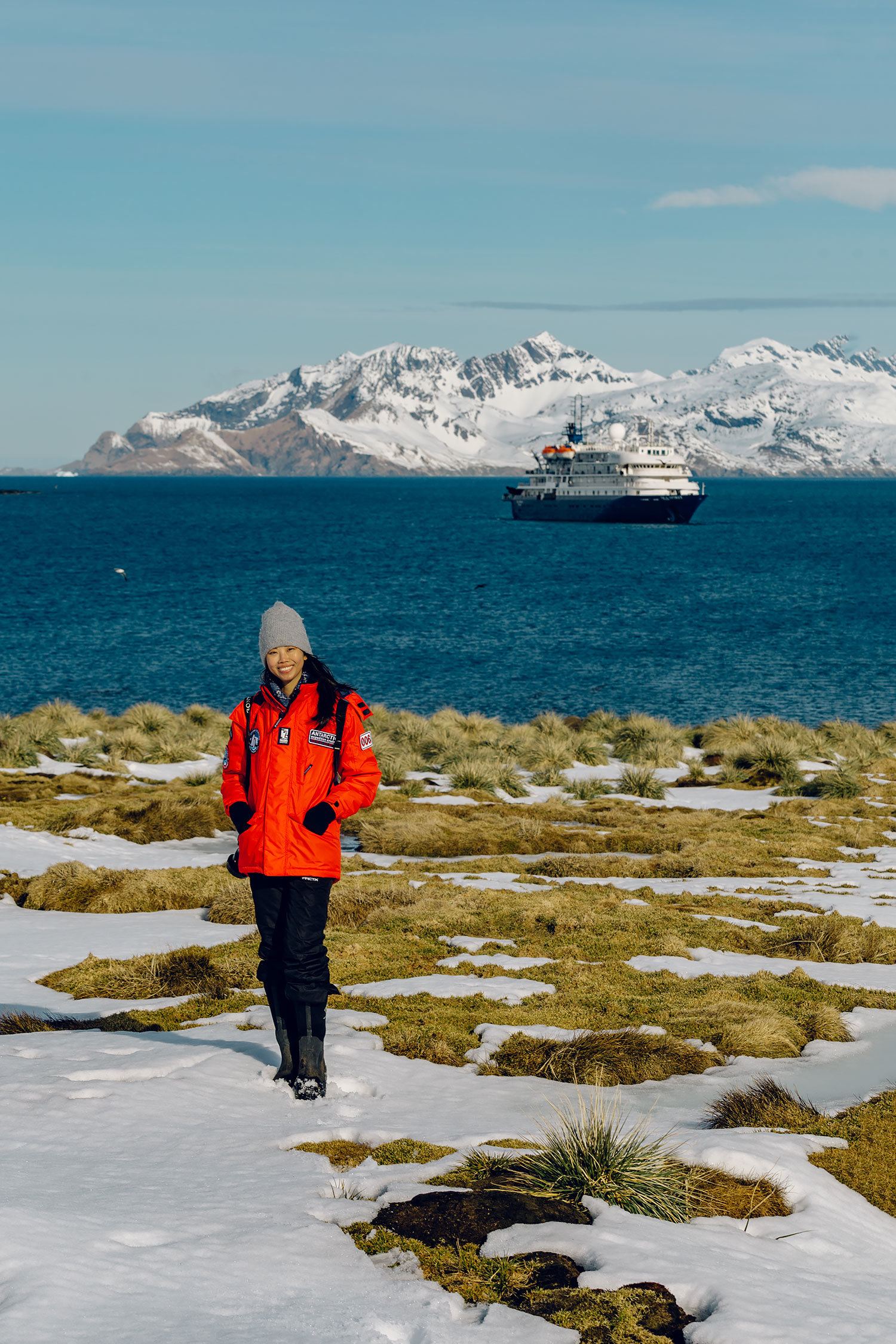 Poseidon Expeditions Review
Aside from C's teenage vacation hopping around Australia and New Zealand for three weeks, our 19 days at sea with Poseidon Expeditions was the longest either of us had been away from home.
New York, we barely missed thee.
During our 19-day voyage spanning Tierra Del Fuego, Argentina, the Falkland Islands, South Georgia, the South Shetland Islands, and the Antarctic Peninsula, our home away from home was with Poseidon Expeditions aboard the M/V Sea Spirit.
The Sea Spirit is a 297-foot vessel registered in the Bahamas, can travel at speeds up to 15 knots, and can accommodate 114 passengers and 72 crew.
While visiting some of Earth's most remote territories was the voyage's indisputable highlight, the Sea Spirit offered plenty to keep us entertained, educated, and comfortable during our days at sea.
Here's a look at what you can expect on a cruise with Poseidon Expeditions!
Quickly jump to:
---
---
M/V Sea Spirit Ship Overview
While Antarctic cruises are rugged affairs, make no mistake – the M/V Sea Spirit is a gallantly luxurious vessel. Like us, many guests aboard the Sea Spirit are enthusiastic photographers, ranging from the avid amateur to the prime professional.
This is what makes the ample outdoor space on Decks 4 and 5 so incredible. While many cruise ships restrict substantial sections of the deck, Poseidon Expeditions offers a completely public Deck 4 that wraps the entire 360 degrees around the Sea Spirit.
This offers guests an incredible opportunity to take stunning photographs of subjects that will invariably be on the vessel's bow, stern, port, or starboard!
The port and starboard sides of Deck 5 are reserved for private cabin decks, but both the aft and bow feature incredibly spacious decks.
The bow features an observatory deck just in front of the bridge, which, also unlike most cruise ships, is completely open to all guests!
On the other side, the aft deck features a Jacuzzi (I must say, there is something even more comfortable than usual about a Jacuzzi when it's freezing outside!) and giant deck space used for photography, group drinks, and the occasional barbecue dinner!
---
---
The Cabins
Every time I first board a cruise ship, I always have that "hold your breath" moment.
Did the website oversell the cabins?
Am I going to be comfortable cooped up here for the next however many days??
Well, when we first opened our cabin door and noticed our suite was bigger than our Buenos Aires hotel room – which wasn't too shabby itself – we knew a luxurious voyage lay ahead.
---
---
The Layout
After first entering the cabin, the bathroom was directly to our right. The bathrooms aboard our Poseidon Expeditions ship contained a toilet, wide sink, shelf space below the sink, shower mat, two bath towels, two hand towels, and a shower that featured a rainfall showerhead, shampoo and liquid body wash.
Overall, the bathrooms were impressively spacious, so much so that – should you know your cabin-mate well enough (!) – you can easily manage two people getting ready at the same time.
---
---
Desk and Full Size Closets
Just left after entering the cabin was a large, double-sided closet that featured a small built-in chest of drawers, hanger space, hangers, and a large shelf stretching across the entire closet's topside.
On the other side of the closet were a gorgeous desk, desk chair, and vanity that featured a large central mirror flanked by mirrored cabinets with ample shelf space. While small, this was a perfect place to read or quietly get some work done!
---
---
Classic Suite Room
Toward the open sea was the bedroom, which contained a queen bed (made of two twins) and two bedside lamps and desks. The linens and pillows were comfortable (perhaps too much so, based on our proclivity for afternoon naps!) and changed daily.
Opposite the bedroom (which can be demarcated with adjustable blackout curtains) stood the sitting room, which contained a small coffee table, large sitting chair, couch, and impressive media center.
Each cabin on Poseidon Expeditions ships contains a flat-screen television that displays movies, documentaries, and important information such as the daily schedules.
Below the television and behind a wood door lies the mini-bar, and both are surrounded by a variety of drawers, glass-door cabinets, and open shelf space.
Besides the elegant finishing and surprising space, the most impressive thing about the Poseidon Expeditions cabins are how economically the spaces are designed.
C and I literally emptied our suitcases and were able to fit everything we brought – clothes, laptops, multiple cameras, and video equipment – into either the closet or multiple shelf spaces. This shrewd design only made a big space feel even larger!
---
---
The Balcony
The crown jewel of our cabin, however, was unquestionably our private sundeck. While only available in cabins on Decks 5 or 6, having a sundeck (not to mention the extra space) is worth every penny.
Offering a roomy view of the open ocean, our private balcony featured a small table, two deck chairs, and a full-size deck bed.
This secluded space is perfect for everything from intimately observing beautiful landmarks to simply unwinding with a glass of wine.
Lastly, as active photographers, our private deck was especially important in capturing unique memories of our Antarctic cruise. While the landings provide everyone an opportunity to immortalize unforgettable moments, our balcony ensured that we were able to record the trip of a lifetime from every angle possible!
---
---
The Food
Now let's talk about the food. In my experience, cruise ships go to great lengths to avoid hungry guests. Poseidon Expeditions is no exception.
Inside the vessel, Deck 2 features the Sea Spirit restaurant, which serves a buffet breakfast and lunch followed by an à la carte three-course dinner.
International Cuisine
Our fellow passengers were extremely diverse – an incredible 21 nationalities were represented among the 114 guests – and I thought the Sea Spirit catered to this brilliantly in the variety of soups, smoked fish, cold cuts, and hot food that was available during both breakfast and lunch.
---
---
Dinner
The dinner menu typically featured four options for each of the appetizer, entrée, and dessert courses. A range of delicious dishes were always on offer along with efficient, friendly service and a menu that catered to vegetarian, vegan, and gluten-free diets.
To avoid any doubt that passengers could go hungry, Poseidon Expeditions offers just a few more options to ensure smiling faces and full stomachs.
---
---
Meals & Afternoon Tea
Each day, an "early bird" breakfast is served in the Deck 4 club lounge. Usually featuring orange juice, coffee, tea, and assorted pastries, pecking at the early bird breakfast doesn't preclude flying to the buffet breakfast later that morning!
And, later each day, "afternoon tea" is served, also in the Deck 4 club lounge.
While the name "afternoon tea" naturally presents itself as a light, elegant affair, afternoon tea with Poseidon Expeditions is anything but – much to me and C's delight! Roast beef sandwiches, cream puffs, chocolate scones, Belgian waffles, and ice cream sundaes were just a sampling of the afternoon tea wares we enjoyed during our Antarctic cruise.
As a result, within mere days of leaving Puerto Madryn, Argentina, I quickly realized gaining 10 pounds – rather than going hungry – was the far greater risk aboard the Sea Spirit.
---
---
Ship Amenities
Gym
Fortunately, there's a gym on Deck 5!
Though modest in size – two elliptical machines, one stationary bike, roughly 40 free weights, two stretching mats, one towel rack, and one water cooler – the Sea Spirit gym is a great way to work off some calories during your Antarctic cruising!
---
---
Lounge
The indisputable Sea Spirit social scene lies on Deck 4, in the vessel's luxurious Club Lounge. The Club offers an espresso machine, tea, and cookies throughout the entire day.
With a morning coffee and daily newsletter (featuring headlines from around the world, printed in multiple languages) in tow, it's common to see other guests starting their day in the Club, eagerly swapping stories and discussing the day that lies ahead.
Afternoon tea is also held in the club, where guests can enjoy live music while sitting either on plush chairs or at the bar, where beer, wine, and cocktails (including the famous "Cocktail of the Day") are served.
My in-house liquor consultant, C, has assured me the bar, which features an impressive beer list and top-shelf liquor brands, stands toe-to-toe with any Manhattan ale house.
---
---
Library
The Club Lounge also features the Polar Library, an impressive collection of Antarctic-themed fiction, nonfiction, and photography that perfectly inspires the explorer's spirit!
Head down one staircase from the Club, and you'll find yourself on Deck 3, the information hub of the Sea Spirit.
Deck 3 houses the Expedition Desk – a place where you can learn about upcoming lectures, workshops, and landing schedules. Additionally, you can ask the super friendly and knowledgeable Expedition Team any questions you have about history, geography, or Antarctic wildlife.
Finally, Deck 3 also houses the regal Oceanus Lounge. Aside from our cabin, we probably spent the most time on board here, as all lectures, landing briefings, landing recaps, and other group discussions are held among the Lounge's swank couches and armchairs.
---
---
Frequently Asked Questions
After sharing our cruise on social media, we got a couple questions about the experience so we thought we'd compile them all here:
Is there internet on board?
Internet is available for purchase on board. It's satellite internet, so don't expect blazing fast wifi, but it gets the job done for checking email and sending texts! It is definitely pricey so try to just unplug for the once in a lifetime experience :)
How many landings did you do per day?
Landings are weather dependent but they made every effort to do 2 landings each day! Some days we did a full landing and some days we did a zodiac cruise.
---
---
Can you go up on the bridge?
Yes! One of the nicest parts of the cruising experience was Poseidon's open bridge policy. You can go visit the bridge anytime, day or night, and get a nice view from the front of the ship!
Are the lectures in English or available in other languages?
Poseidon organizes each cruise according to the passengers on board. For our cruise, there were Americans, Chinese, Russians, Germans and French so expedition guides were available for each of those languages.
The base language is English but translations and activities are conducted separately for the languages as needed.
---
---
Antarctic Cruises Itinerary
For an overview of our landing days and all the stops we made, check out our posts here:
Antarctica Vlog
Watch a day at sea on board the Sea Spirit! Don't forget to subscribe on Youtube :)
Antarctica Cruise: What You NEED to Know! | Vlog
---
---
Are you heading to Antarctica? Let us know any questions in the comments below!
Visiting the Falkland Islands – Trip Planning Checklist
We explored both the Falklands and South Georgia on a cruise with Poseidon Expeditions. Expedition cruising is unique – landings depend on wind and wave levels so every trip is different! On our voyage, we had the opportunity to land at beautiful, remote sites on both East and West Falkland and see penguins, seals and bird life up close.
If you're interested in booking an Antarctic cruise, Poseidon is offering our readers up to a 15% off discount on select voyages. Email us for more info!
Getting Around | The Falklands is a remote place. Since we explored via cruise, our transportation and accommodation were taken care of in style. If exploring on your own, you can book helicopter service or airfare on the national carrier FIGAS.
Insurance | You don't want to risk injury in one of the most remote places of the world! Airlifts to a hospital from the Antarctic can cost a fortune, so it is mandatory to purchase travel insurance of least $200,000 for expedition cruising. Luckily, we didn't have any incidents but better to be safe than sorry! Get a quote for your trip here.
You Might Also Enjoy:
Antarctica Vacation Planning
Antarctica VLOG: A Day at Sea on Board an Expedition Cruise!
Falkland Islands
9 Beautiful Places to Visit in the Remote Falkland Islands
The Best Things to See & Do in Port Stanley
5 Penguins You'll Discover in the Falklands!
South Georgia & the South Sandwich Islands
A Visit to South Georgia: Ice, Isolation & Incredible Wildlife
Visiting the Abandoned Town of Grytviken
Follow me @Sher She Goes on