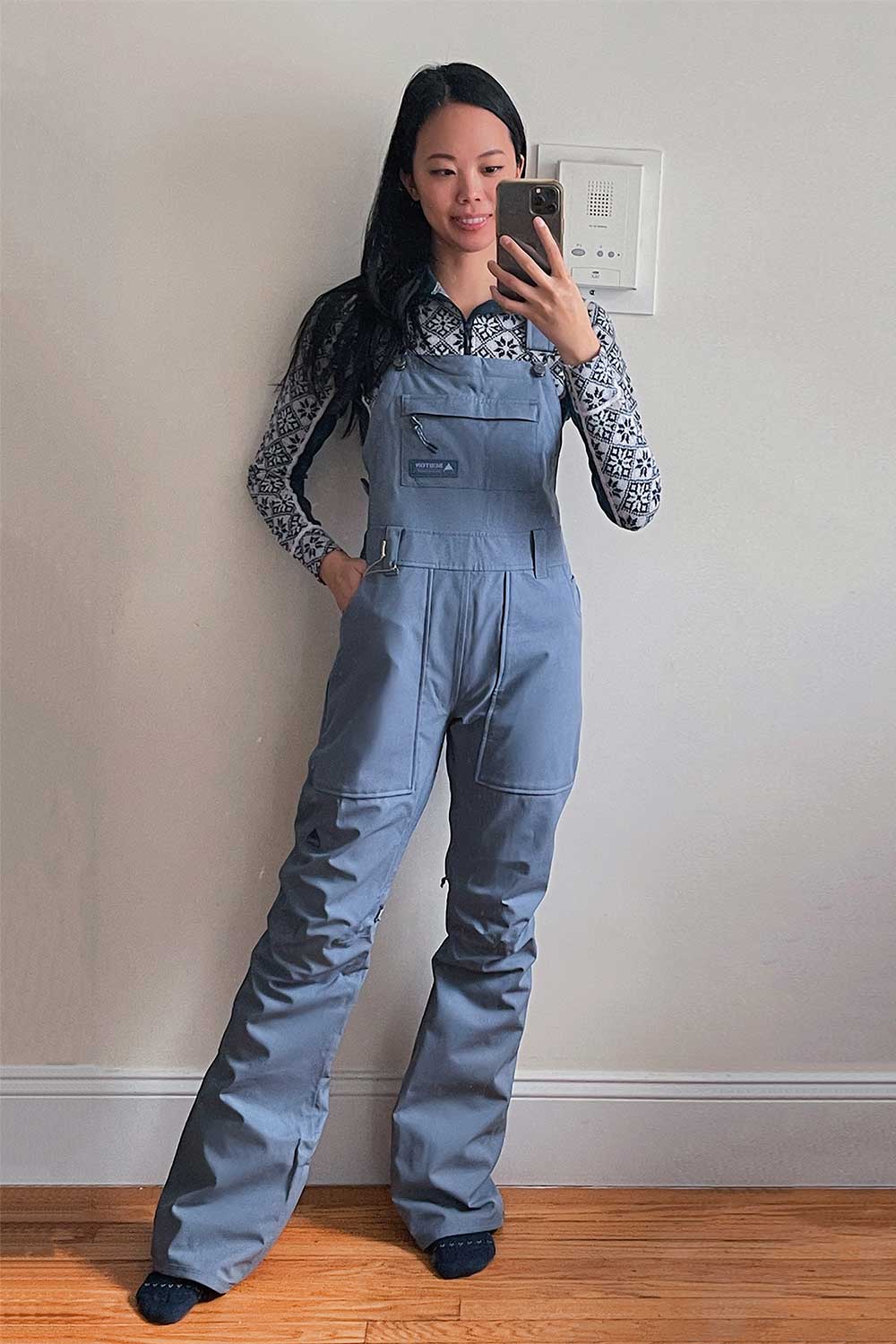 Burton Bibs
I've been on the hunt for flattering, functional snow pants and bibs.
Surprisingly, they're hard to find! And… they're not cheap.
So I set out to try ski and snowboard clothes from all sorts of brands.
I tried everything from affordable brands, to popular name brands and even designer ski fashion brands, to see if I could find the perfect pair. Did a cute affordable ski pant exist? Do designer ski pants hold up to actual skiing?
I'm doing quick reviews of every snow pant and bib that I try. All the reviews are here if you want to search by brand.
Today's review is of the Burton Avalon bib.
Keep reading, or pin this article to save it for later ⇟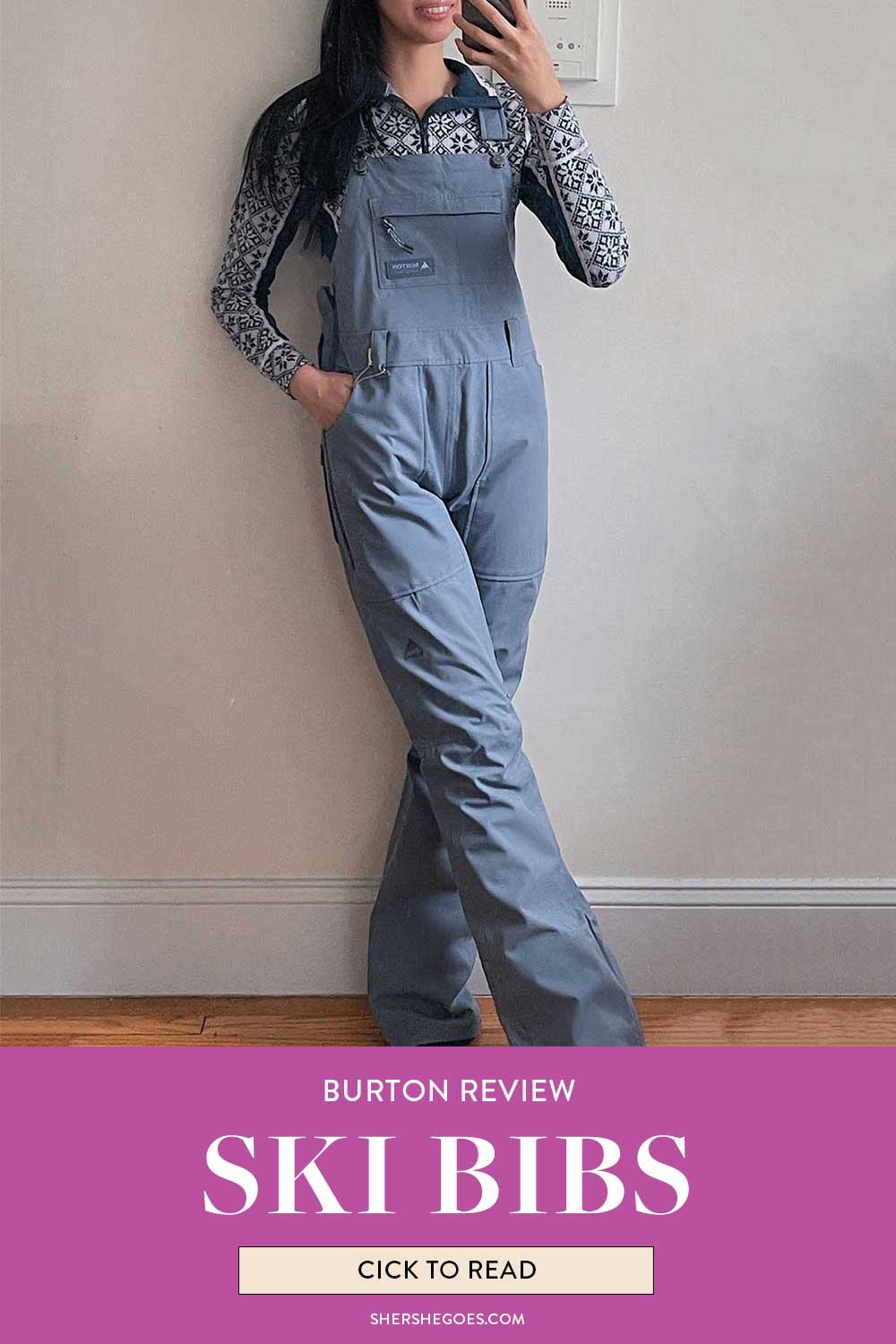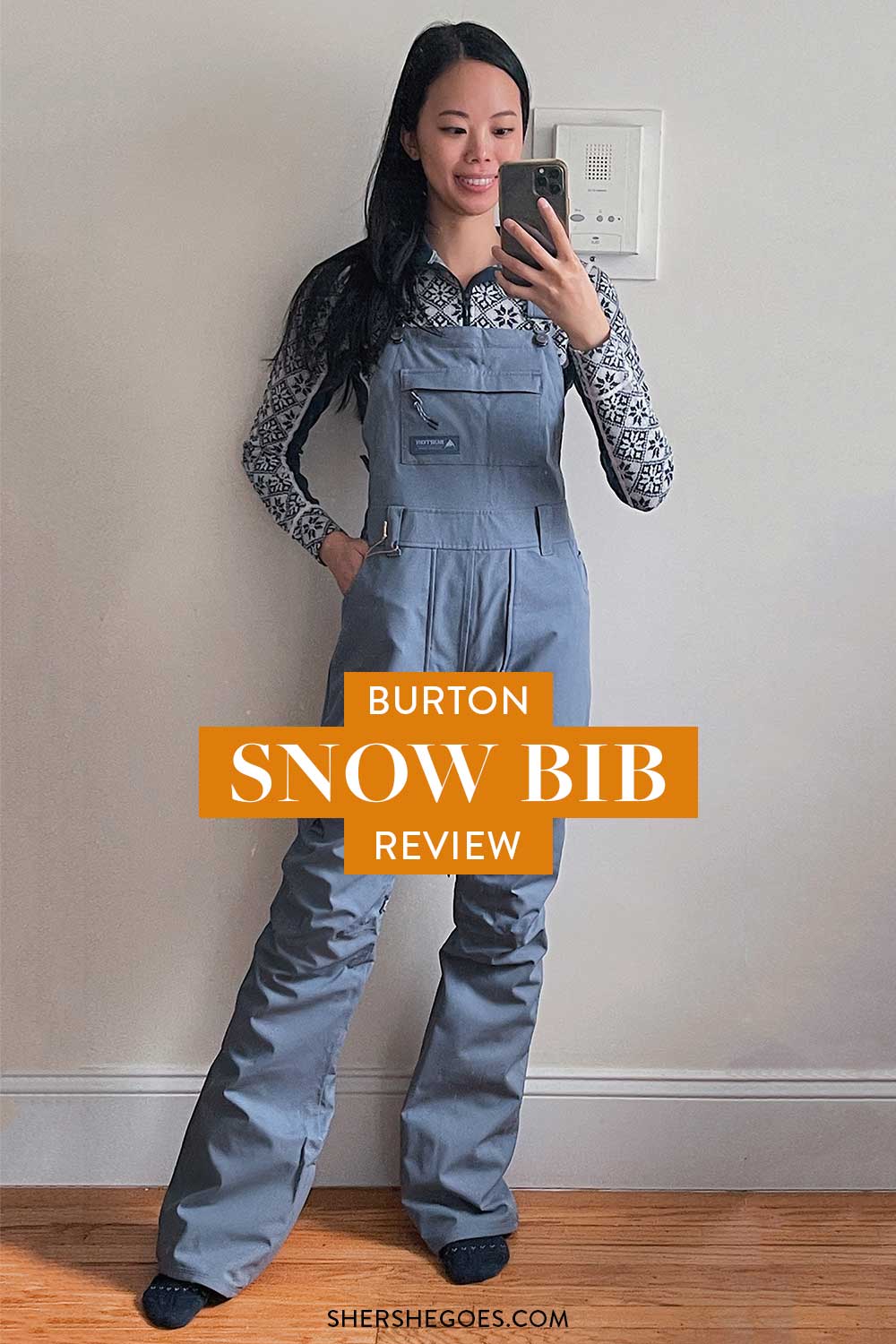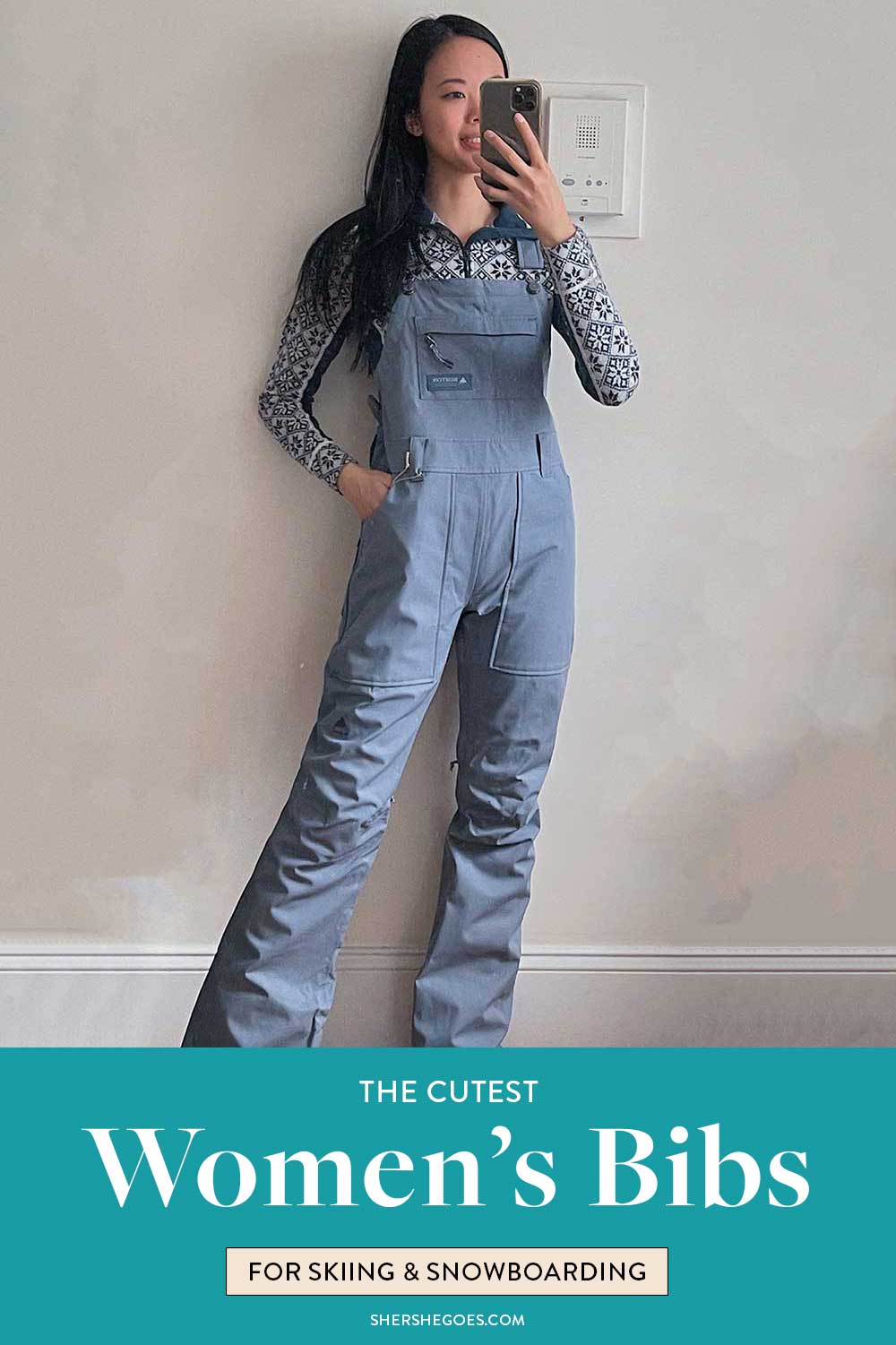 ADVERTISEMENT
---
---
Burton Review
Burton is a snowboarding company created by Jake Burton Carpenter in 1977, out of a barn in Vermont.
He was a huge champion of snowboarding and led the campaign for local ski resorts to open their lifts to snowboard riders. Burton played a monumental role in transforming snowboarding from a backyard hobby to a world-class sport.
Today, Burton makes all sorts of state of the art products for snowboarders – from the boards themselves to boots, bindings and of course clothing and outerwear.
The company dominates the snowboard equipment industry and also owns a number of popular other brands like Anon Optics (snow goggles), Analog (outerwear) and Foursquare (snowboards).
Jake Burton recently passed away in 2019, but if you're interested in learning more about the founder and snowboarding, there's a documentary about his life on HBO Max.
ADVERTISEMENT
---
---
I'm primarily looking for ski clothes, but I was curious about the fit of Burton's bibs and pants. While there are certain features snowboarders might look for in pants compared to skiers, for the most part snow pants are snow pants.
One of the main reasons I was curious about Burton is that they're a sustainable outerwear company and a Certified B Corp.
All their fabrics are Bluesign approved, meaning the fabrics are made in safe work environments, strive for sustainability and are made in facilities that reduce their manufacturing impact on the environment.
I picked up one bib and one snow pant to try.
Here's my fit review and first impressions of the Avalon bib.
ADVERTISEMENT
---
---
Burton Avalon Bib
Burton's Avalon bib is extremely cute.
The material is really soft to the touch, with a lot of stretch, and I liked the classic overall-style design. It has a slightly skinnier, more flattering cut compared to most snowboard bibs, so I was excited to try it out!
I especially like that it comes in a rainbow of colors and has different leg length options!
ADVERTISEMENT
---
---
Burton Avalon Bib Pant Review
Fit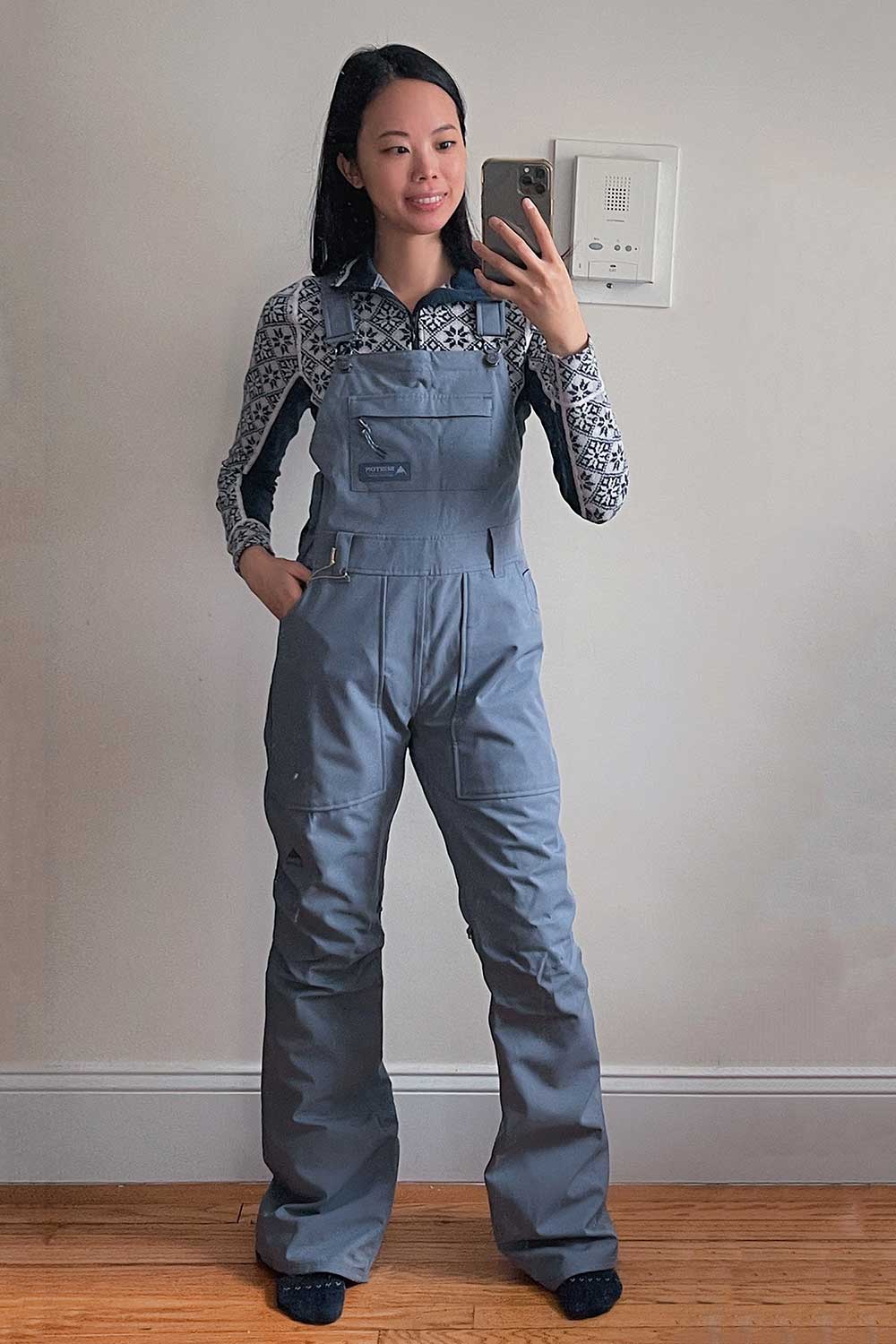 I ordered the bib in Folkstone Grey, a pretty cool-toned blue color that looks almost grey or lavender in certain lights. The bib is designed to be slim fit, and has lots of mobility and stretch in the fabric.
It has deep zippers on the side, so it's very easy to get in and out of the bib. Plus, it's pretty roomy so it fits very comfortably over base layers.
The Avalon is made from Gore-Tex, so it's fully waterproof. It's great if you're a snowboarder and want a bib for deep powder days.
The bib feels mid-weight to me and does not have a fleece lining. It feels like a great in-between bib – lighter than fully insulated bibs but not as thin as waterproof shells.
ADVERTISEMENT
---
---
Straps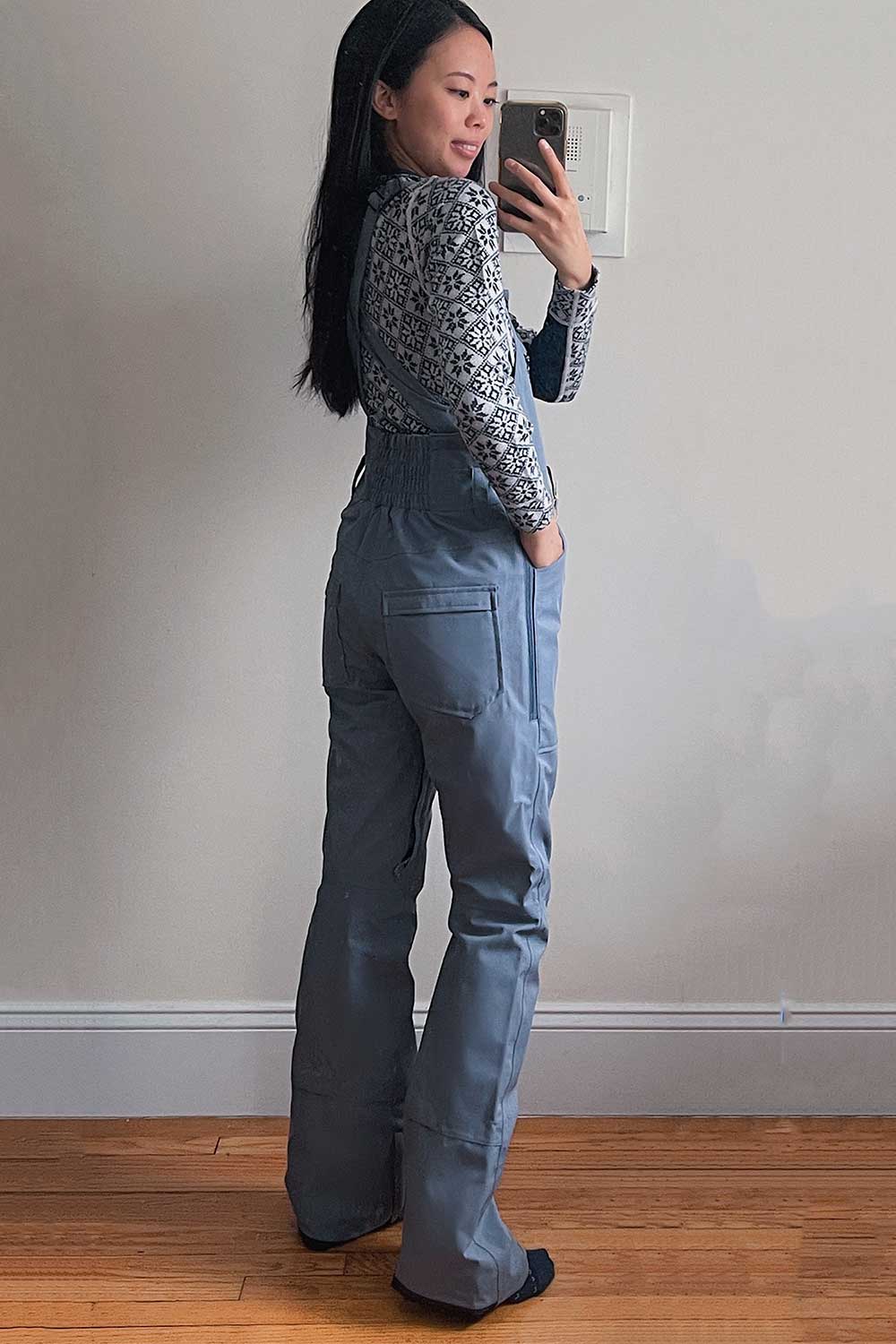 The Avalon bib is designed like a pair of vintage overalls, with suspender straps that crisscross in the back.
The straps are completely adjustable, which is great for anyone with a short or long torso, and there's an elastic back panel to help achieve a better fit.
I shortened the straps almost all the way, but the bib was still a little too big for me unfortunately.
It also has a dual drop seat, meaning deep zippers from the waist to thigh, that allow you to slip in and out of the bib quite easily (especially to use the bathroom).
ADVERTISEMENT
---
---
Pockets
Burton's Avalon bib has a ton of pockets, which is fantastic!
There's a central chest pocket that zips shut, where you can store your phone. There are also 2 extremely deep hand pockets on either thigh for extra storage. These are fleece lined too.
On the back, you have flap close pockets as well!
This is one of the most functional bibs I've tried, thanks to all the storage and Gore-tex fabric.
ADVERTISEMENT
---
---
Legs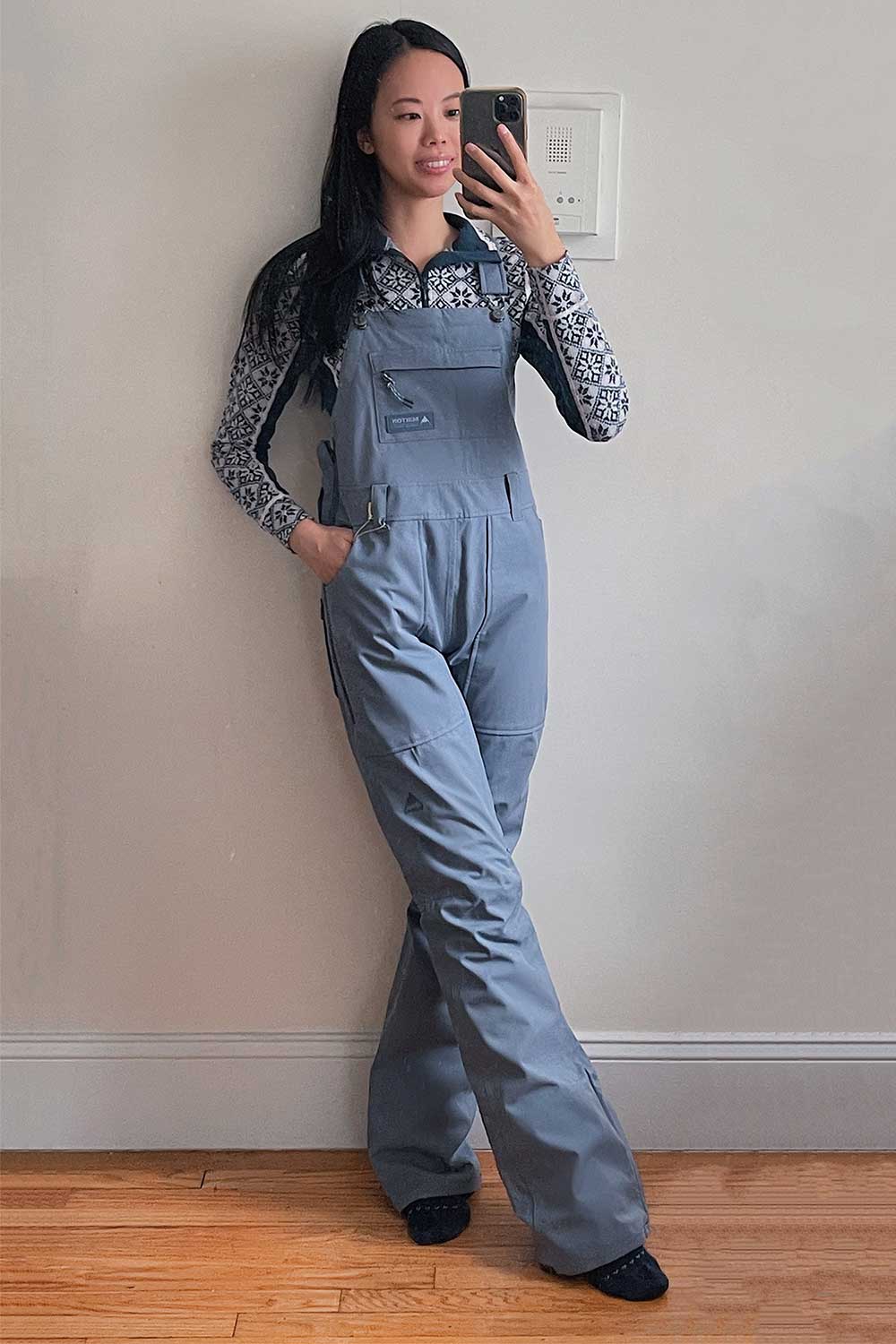 The Avalon has inner thigh zippers with a mesh lining, so if you get hot you can vent out excess heat.
There are zip close gussets on the hem, to easily slip over boots. This bib is especially great for snowboarders, as there's contoured fabric on the back of the leg cuffs to resist abrasion and tears from your board.
Finally, the Avalon comes in 3 inseam lengths, (short, regular and tall) so it's more customizable than most bibs.
For reference I'm wearing the Avalon in a size 2 tall. I think I probably should have taken a size 0 regular as it's a little too loose for me in the waist and too long in the legs.
I'd say the regular inseam would probably be great for anyone between 5'5 and 5'7, while the long would be great for someone 5'8″ or taller.
ADVERTISEMENT
---
---
Shop Women's Ski Bibs
---

ADVERTISEMENT
---
---
Ski Wear Haul
SKI CLOTHING TRY-ON HAUL: do cute ski pants exist ?? | women's ski pants + bibs review
ADVERTISEMENT
---
---
ARE DESIGNER SKI PANTS WORTH $$$? | luxury ski pant try-on (bogner, cordova, holden, helly hansen)
I posted a couple try-on hauls of all the ski wear brands that I've tried. You can check them out on my Youtube channel here.
I also did a livestream on Amazon Live chatting all about dressing for the cold.
I talk about winter fashion essentials, ski gear and cute (but affordable) ski clothes that you can shop on Amazon!
Watch a recap of the video here. Make sure to follow my Amazon shop page to join future livestreams!
ADVERTISEMENT
---
---
Ski Wear Haul
I posted a couple try-on hauls of all the ski wear brands that I've tried. You can check them out on my Youtube channel here.
ADVERTISEMENT
---
---
ADVERTISEMENT
---
---
ADVERTISEMENT
---
---
Read More: in our ski style series:
Ski Trip Packing Essentials
What to Wear Skiing: Packing List Must Have's
The Best Ski Pants for Women (Stylish & Functional)
I Found the CUTEST Women's Ski Pants (Video)
Are Designer Ski Pants Worth It? (Try-On Haul)
The Best Ski Sweaters for Apres-Ski 
Planning the Perfect Ski Trip
What to Know Before Skiing in Vermont for the First Time
Ski Trip Recaps + Mountain Guides
Lake Tahoe, California: Heavenly, Kirkwood & Northstar
Montana: Big Sky
Vermont: Stowe
Catskills, New York: Belleayre Mountain
Quebec, Canada: Mont Tremblant
+ More Ski Vlogs on Youtube
Follow me @Sher She Goes on