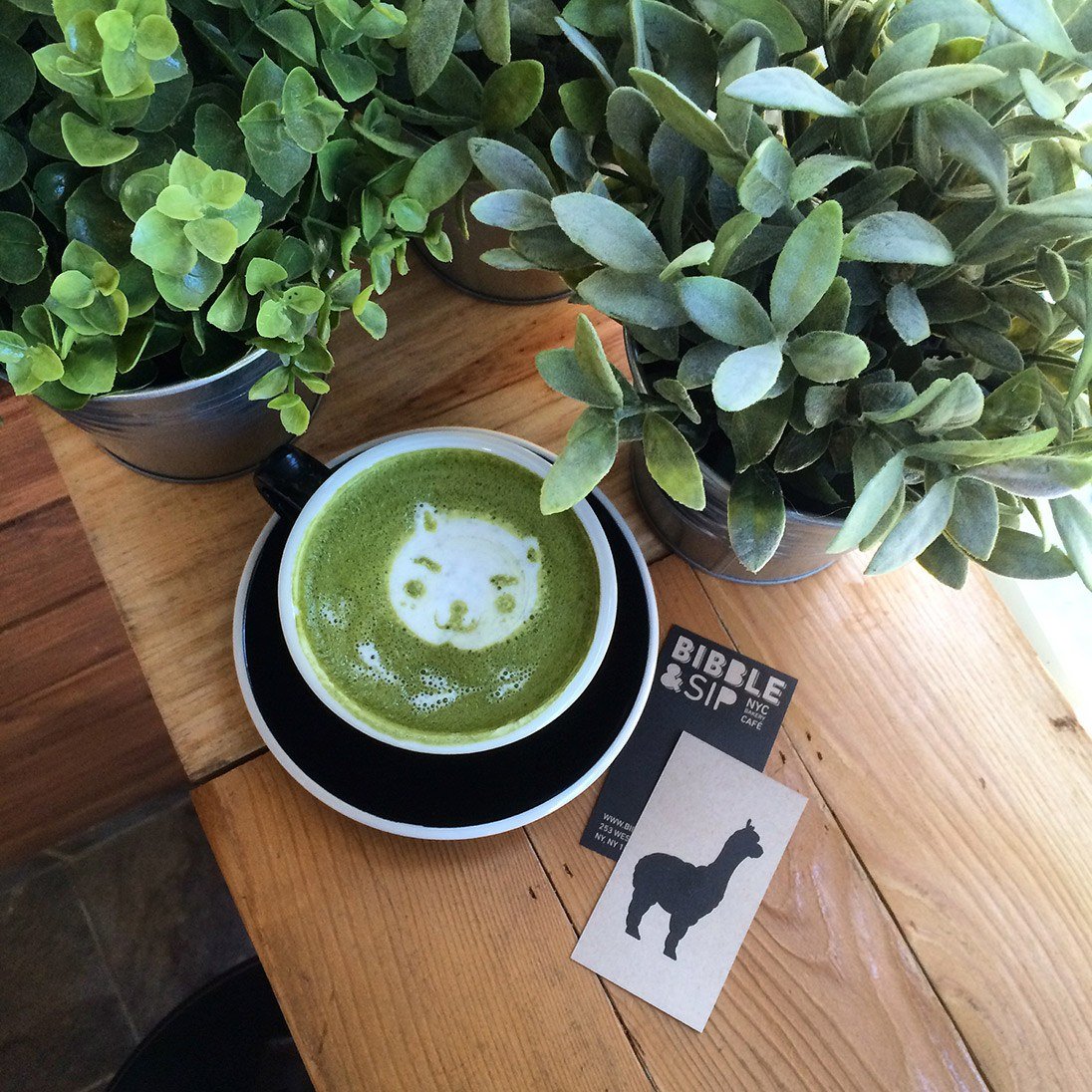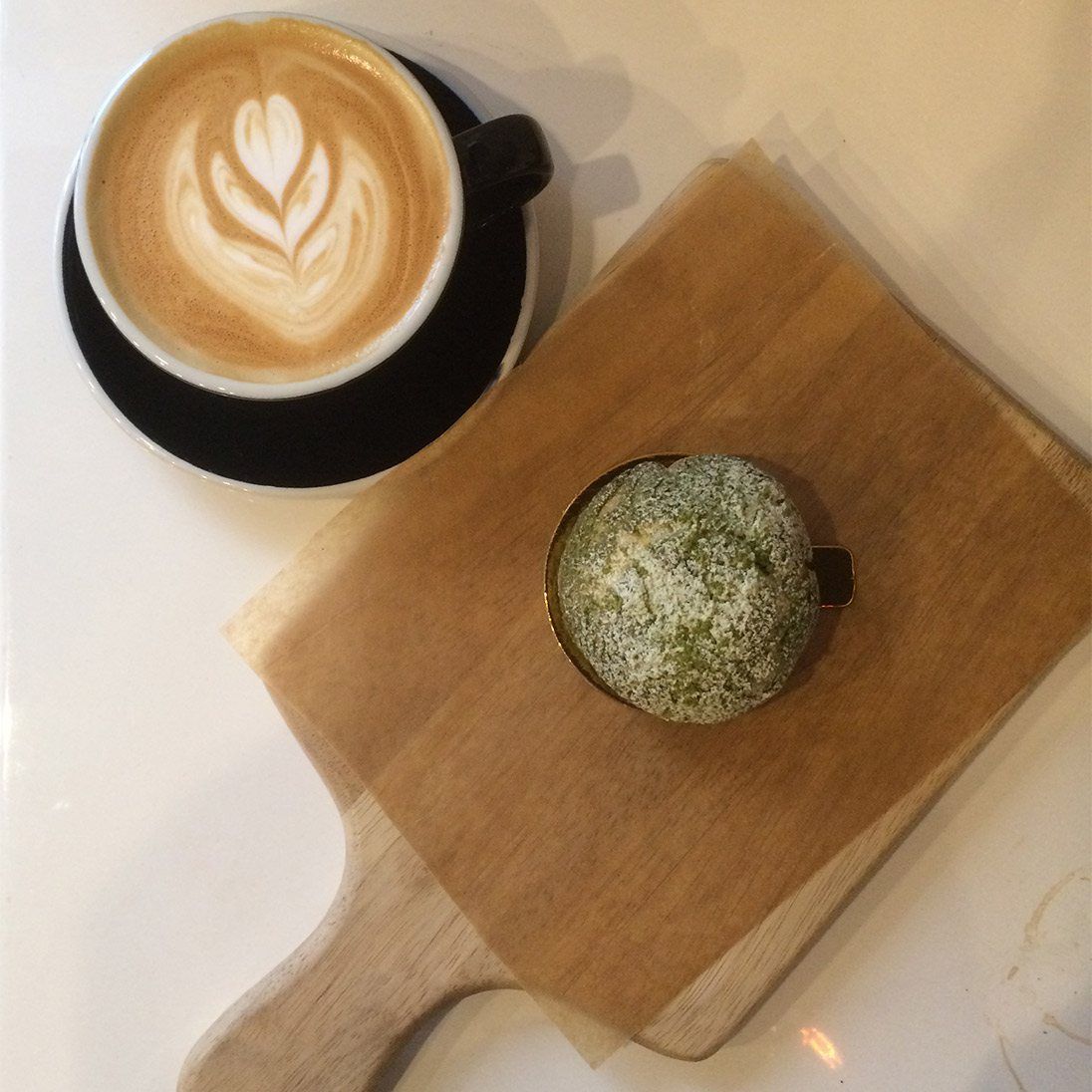 Bibble & Sip Alpaca Cafe
An Interview with Gary Chan
Bibble & Sip, located in Midtown West, is my new neighborhood favorite for it's friendly atmosphere, delectable pastries and adorable alpaca themed decor. Having changed jobs and moved uptown, I was in search of a new local coffee joint for my caffeine fix. Stumbling upon Bibble & Sip and it's adorable alpaca themed decor reminded me instantly of Kaffe 1668, my old workplace favorite!
Bibble & Sip blends both amazing coffee (they do matcha lattes!) and cute pastries (check out their adorable earl grey pots de creme and matcha cream puffs). They're always experimenting with the dessert menu (almond and jasmine poached pear turnovers, cinnamon bourbon salted caramel kouign amanns, etc) and rolling out new flavors and interesting drinks (passionfruit infused teas, lavender lattes).
I had the chance to chat briefly with the owner Gary, and get a little insight into how he created such a unique theme and space! Read on below for the interview
—————————————————————————————————————————————–
1) How did the concept for Bibble & Sip begin and is there a special significance to the alpaca theme?
Bibble means to eat indulgently; sip implies cultured enjoyment. I wanted my cafe to be casual and fancy at the same time, a relaxed environment with sophisticated offerings. As for alpacas, I one day read about its unique characteristics, and somehow the quirky animal sort of stuck with me. On my travels I would pick up alpaca items just for personal collection. So most of its significance was personal liking. I tried really hard to come up with an explanation for it. So hard that at one point it irritated my fiance so she brushed me off by saying "just BS all you want". And that's how it all (sort of) tied together.

2) We love your baked treats! Do you have a background in baking? We noticed many of the items have a tea theme – Can you share how you created the menu and what are some of your signature treats? I know it may sound cliche to say this, but running a bakery has always been my dream career. My family wasn't most fond of the idea when I first brought it up, so I went with my alternative choice of design. But over the years they realize I wasn't happy going their ideal 9-5 route, so they supported me through my continuing education in culinary training. My menu is a good result of my background. I've applied parts of my cultural influences, my design mindset, personal likings, and lots of feedback from all my loved ones.

3) We love that you're located in midtown, as it's one of the few amazing cafes to go to during the work week. What made you decide to open a location here and how did you design the space?
Exactly due to the fact that this area lacked a good cafe that I found it to be a good choice. I find midtown to be a great mishmash of diverse people, which gives me the freedom to offer my mishmash of diverse recipes. Since the way this business is run is very family oriented, the space was very DIY. My father built the hanging garden from scratch. My fiance and I picked out every detail down to the light bulb. Though it seems cohesively put together at the end, there were many things we would do differently if we were to do it all over again. But we're still trying to better our set-up or routine every day.
4) Can you tell us about your signature matcha jasmine lattes? What do you think is the most important part of making good coffee?
Just like how the alpaca came into my life, the scent of jasmine sort of made its way in the same way. I sat next to a jasmine plant one time at the botanical garden some years ago and couldn't forget the satisfaction. How can something natural smell so good? So I ended up wanting to put it in everything! Of course, it doesn't go with everything. But it paired with matcha really well! The most important part of making good coffee…in my opinion, is making it to suit the specific customer's preference. Beans are roasted and selected, it's the "control" of the formula. But how hot, paired with which milk selection, those are the variations of the formula that makes a good result.
5) What's the best part of working at Bibble & Sip! What do you like to do in your free time? The best part is seeing regular customers return day after day.
It gives me so much confidence and gratitude to see the familiar faces. I love the feeling of looking down the line and know exactly what the next person is about to order. We started our rewards card system only a few months ago, and we already have a whole wall covered with fully stamped ones! We patterned them on the wall in a brick-building pattern, because metaphorically, our local regulars are really the foundation and building blocks of our success. I dont have much free time now but I love to dabble in illustrations and design. I own a clothing company called Shirtshimi and I did all of the design and photography much like I do now with Bibble and Sip. Unfortunately the clothing company is on the back burner.
Thanks Gary for the interview! Stop by Bibble & Sip next time you're in town – they're right across from the Wicked Theatre.
Follow Sher She Goes on