A Michelin Star Dinner in Copenhagen
There are so many restaurants in Copenhagen (the city has a fantastic food scene) that we had a hard time choosing which restaurants to try.
Ultimately, we couldn't pass up the chance to try one of Denmark's best restaurants during our trip– Marchal, a one star Michelin restaurant located in Copenhagen's Hotel D'Angleterre.
D'Angleterre is one of the oldest, most luxurious boutique hotels in Copenhagen, founded in 1755 and the stylish restaurant is decorated in a classic black and white motif.
ADVERTISEMENT
Keep reading, or pin this post to read later:
Marchal at D'Angleterre
After a full day of exploring Copenhagen's castles and museums, we arrived hungry and eager to experience the best of Copenhagen's food scene.
Marchal is located on the ground floor of D'Angleterre and tables have a light filled view of bustling Kongens Nyrtov square.
ADVERTISEMENT
---
---
The Kobenhavn restaurant serves modern, Nordic-style cuisine with a classic French undertone and we noted the extensive wine list and caviar collection.
I especially loved the dinnerware, which were a variety of gleaming white, gold and matte black circle-embossed plates.
The menu offers a range of small plates and our waiter recommended choosing 3 to 4 items from the menu.
More on our dinner below!
Read more:
Planning a Trip to Denmark? Here's What You Should Know
ADVERTISEMENT
---
---
Appetizers
To start, we were greeted with an amuse-bouche of truffle-topped, cheese-infused popovers.
They were miniature, piping hot and sumptuously delicious. Next, we had some fresh Nordic nut bread, served with a creamy rich butter.
I loved how they were baked in individual mini loaves!
ADVERTISEMENT
---
---
For our appetizers, we tried the squid and Norwegian scallops.
The dish was served in long squid and cucumber noodles nestled in a champagne butter foam with a heap of caviar to crown the "pasta". It was rich yet light at the same time.
Read more:
A Foodie's Guide to Copenhagen
ADVERTISEMENT
---
---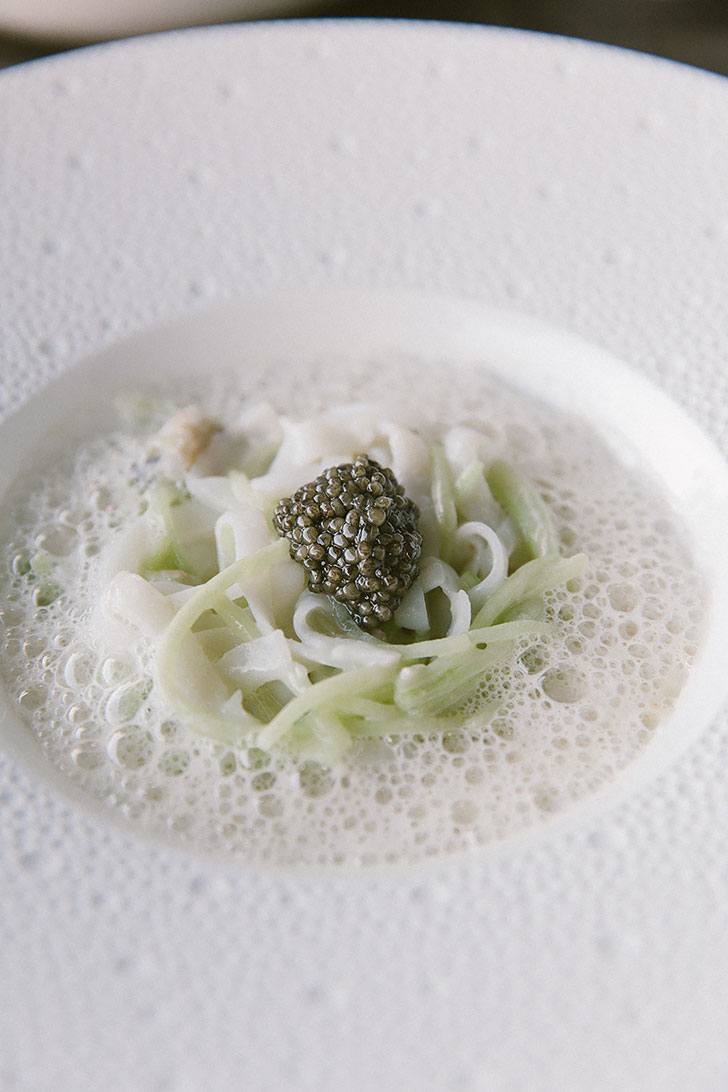 Meanwhile, the scallops were served raw, sashimi style which was unexpected!
The plate was buried in lumpfish roe and wild herbs, accented with sesame. The result was a crunchy and tart burst of seafood in each bite.
ADVERTISEMENT
---
---
Main Courses
The signature dishes at this Copenhagen restaurant feature a strong French influence. For our mains, we ordered Marchal's Chateaubriand steak and fried pigeon.
Read more:
When is the Best Time to Visit Copenhagen?
ADVERTISEMENT
---
---
My tenderloin filet was served in a crouton pastry alongside savory onions and potato puree, drizzled with a pepper sauce.
I really loved how rich and smokey the veggies were!
ADVERTISEMENT
---
---
Our waiter brought out the entire pigeon, showing us the bird's cook and preparation.
Afterwards, he carved the breast and legs table side. The legs confit were crunchy and delectable and the breasts were coated in a sticky rhubarb and lavender sauce alongside crunchy rhubarb.
Overall, the top quality ingredients and rich flavors left us quite satisfied!
ADVERTISEMENT
---
---
If you're looking for a luxurious restaurant in Copenhagen, Denmark reserve a table at Marchal! Have you tried any Michelin starred restaurants in the city?
Planning a Trip to Denmark – Travel Checklist
Go | Many European airlines will offer flights to Denmark with a stopover. Flights from New York weren't cheap, but booking in advance helps. Check for flight deals here.
See | We spent a week in Copenhagen and as it was our first time visiting Denmark, we wanted to see the sights. Purchasing the 5-day Copenhagen Card saved us quite a bit on admission prices but do check their list of included attractions here to make sure that it's worth it for your visit.
Stay | Lastly, we decided to switch hotels to explore Copenhagen's different neighborhoods. The city is quite large so it was nice to base ourselves in different districts! Hotels get quite expensive (well, Copenhagen as a whole is wallet shattering) so check hotel availability and book in advance. Check here for great deals on accommodation.
Or, give Airbnb a go. There are some beautiful Danish apartments available for rent!
Protect | Our bags were left behind for 3 days due to an airport-wide tech issue in Amsterdam. We knew when we pulled up to the airport that something was wrong because the lines were complete chaos and everyone stood still at the baggage drop off. Once they told us to put our bags through baggage drop, we did it and I immediately had a bad feeling about it – wish we had went carry on only! Luckily, we had travel insurance which reimbursed us for out of pocket expenses.
Whether you get injured and need to be hospitalized, your phone gets stolen, or a flight delay leaves you with nothing but the clothes on your back, travel insurance will help when you need it most. Get a quote for your trip here.
You Might Also Enjoy:
Copenhagen Vacation Planning Articles
A First Timer's Guide to Visiting Copenhagen
When Is the Best Time to Visit Copenhagen?
A Neighborhood Guide to Where to Stay in Copenhagen
25 Incredible Things to Do in Copenhagen Before You Die
Denmark for First Timers: Essential Itinerary
Copenhagen Sights, Activities & Tours We Especially Enjoyed:
Will a Copenhagen Card Save You Money? We Weigh the Pros & Cons
Gorgeous Fairy Tale Copenhagen Castles - Don't Skip These!
Cool Copenhagen Museums That Are Worth a Visit
Denmark Restaurant & Hotel Reviews
Danish Food Guide: Best Restaurants in Copenhagen
A Michelin Star Dinner in Copenhagen: Marchal at D'Angleterre
Ibsens Hotel Review: Is This the Best Hotel in Copenhagen?
Follow me @Sher She Goes on