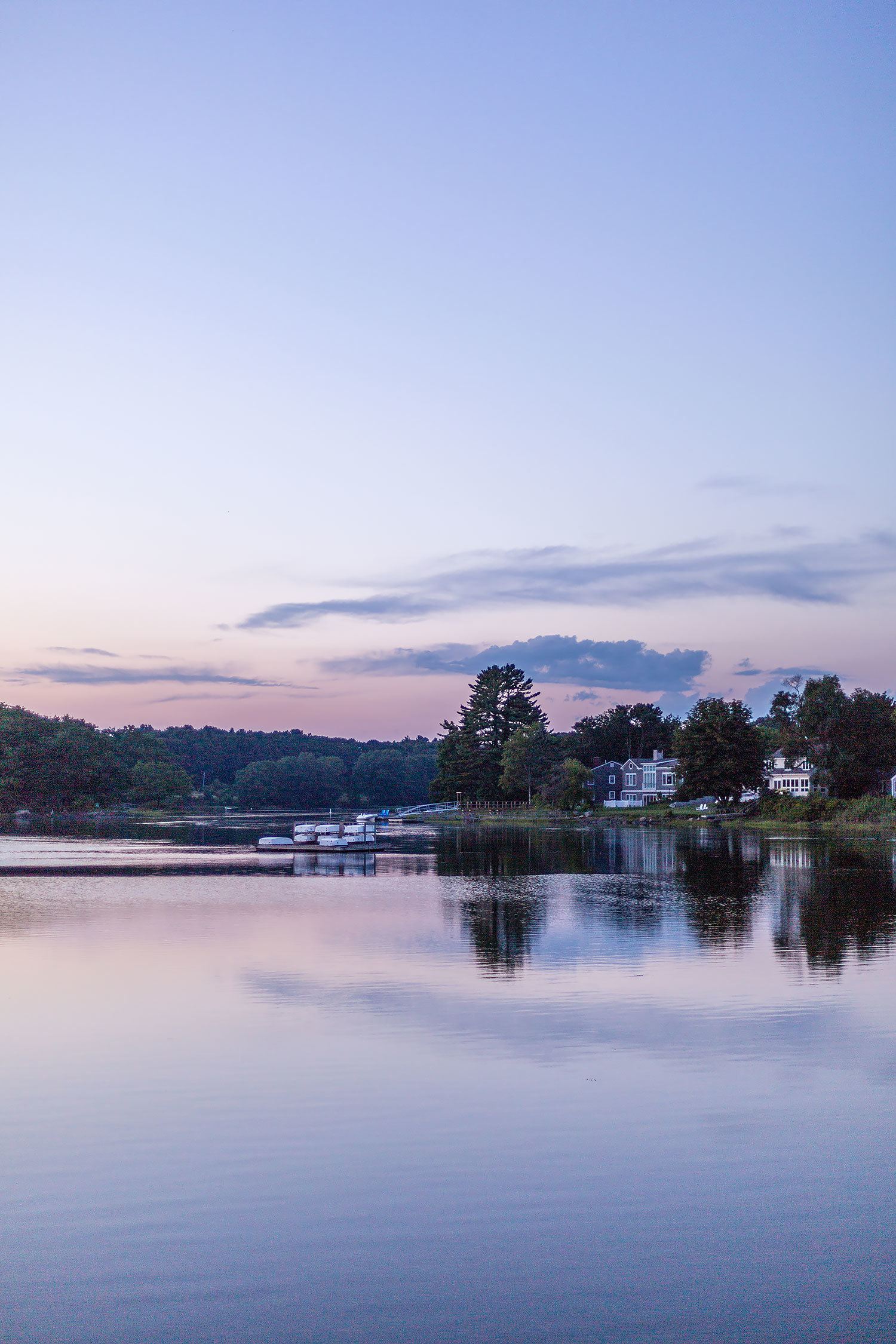 A Coastal Maine Road Trip
There are a couple of classic road trips throughout the US but in the Northeast, I think the route that comes to mind most often would be Maine.
Rugged yet charming, coastal with the backdrop of beautiful mountains, Maine's coast is one of its most attractive destinations that draw big crowds each summer.
We spent just over 10 days in Maine and focused on a trio of cities – Kennebunkport, Portland and Rockland – as well as some leisurely, unplugged time out on the water.
We joined a classic Maine windjammer cruise to sail for 4 days out in the Penobscot Bay, an inlet famous for secluded offshore islands and lobster fishing.
Today we're sharing everything you need to know about road tripping in Maine, along with our itinerary, where we stayed and recommended sights!
ADVERTISEMENT
Keep reading or save this article for later ⇟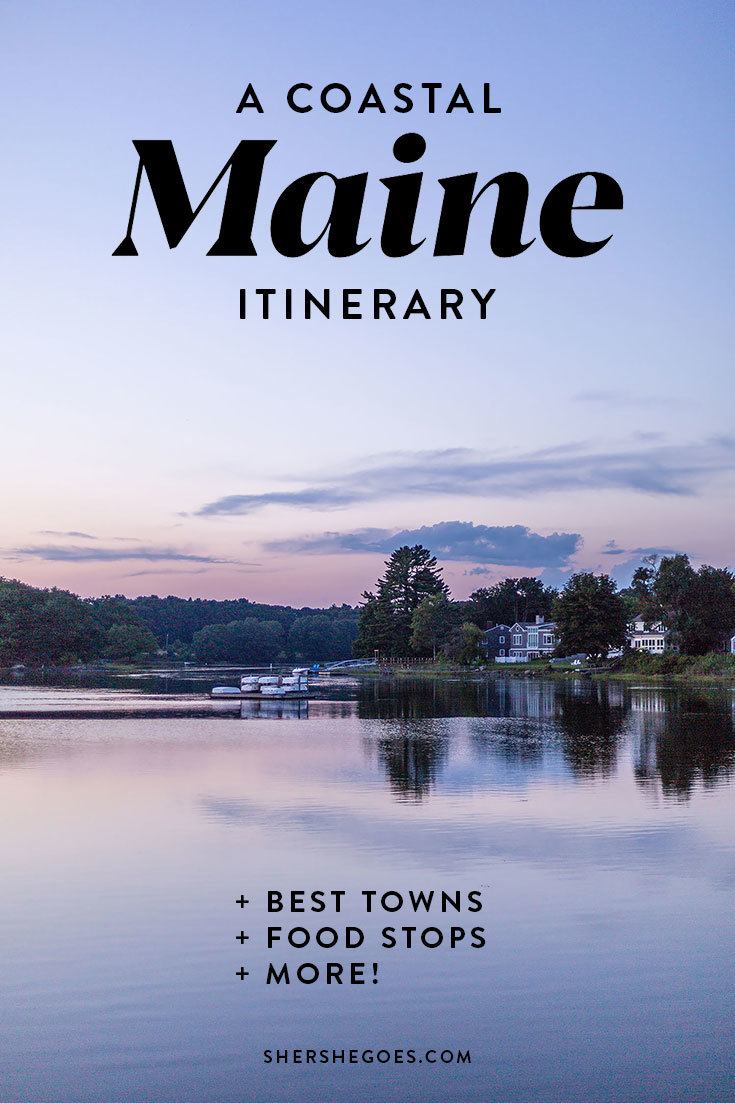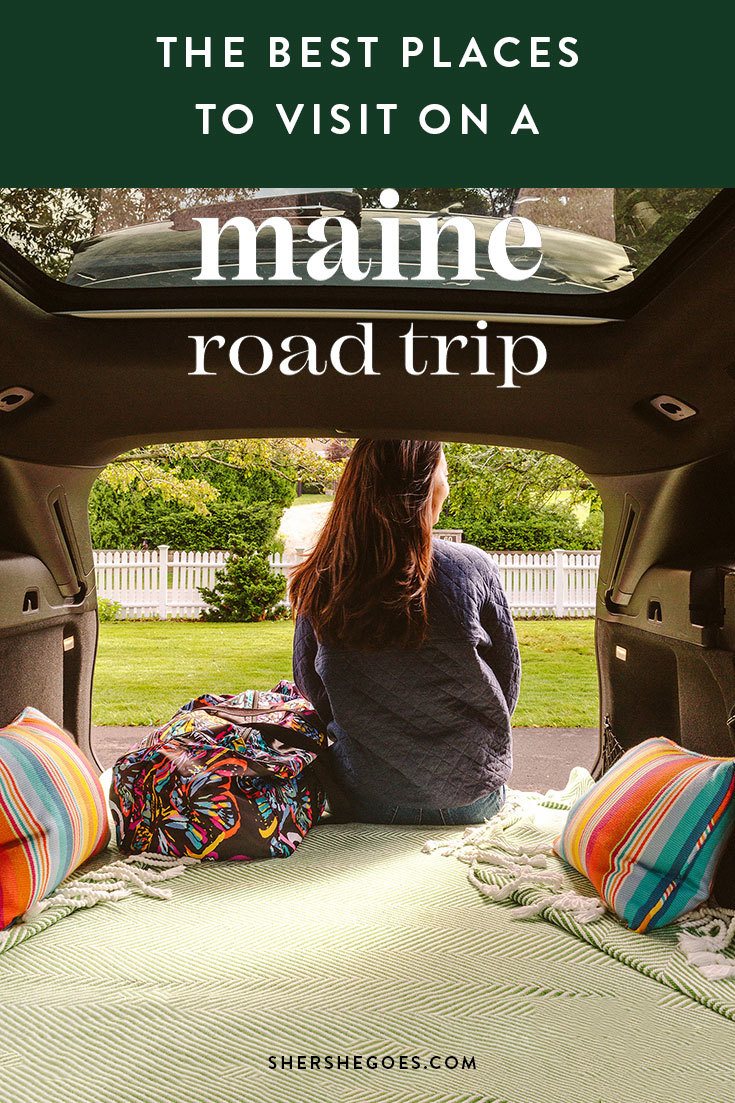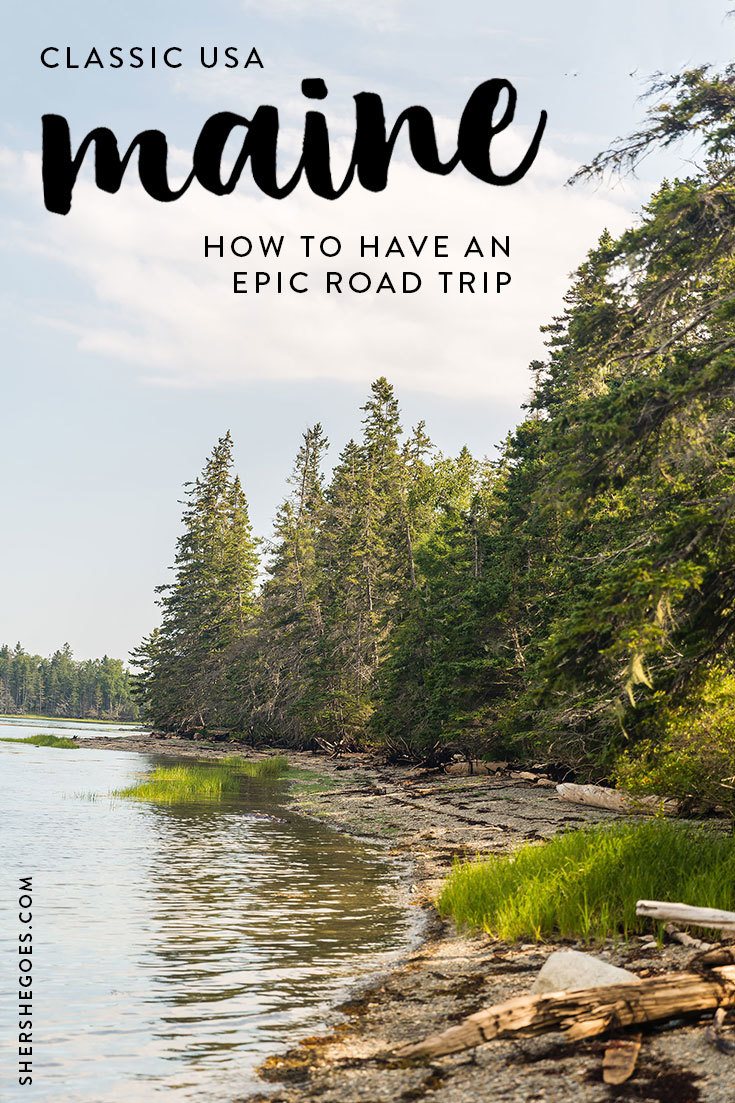 Maine Road Trip Itinerary
If we had 2 weeks in Maine or longer, we would have loved to continue our journey up north and explore Acadia National Park, Bar Harbor and cross over to Canada's Prince Edward Island. Some of the most dramatic lighthouses in Maine are in the very north of the state!
Instead, we opted to do a sailing cruise.
We had heard so many great things about the traditional windjammer boats that sail around Maine's Penobscot Bay so we joined a 4 day cruise aboard the J & E Riggin schooner.
Read more:
Our 4 Day Sailing Cruise on the J&E Riggin
ADVERTISEMENT
---
---
Best Time to Visit Maine
Summer is the warmest season in Maine and when the state comes alive. The Atlantic ocean "heats" to a refreshing 60 degrees, the flora come alive and the nights are breezy.
Another popular time to explore Maine is in the fall, preferably in October during peak fall folliage. Picture it now: deep blue bays dramatically contrasting against 12 million acres of rustic red, yellow and orange forest. A great way to see it all is on a fall folliage specific cruise, like this one.
Read more:
What to Pack for Maine
ADVERTISEMENT
---
---
Maine Itinerary
Days 1-2: Kennebunkport
Kennebunk and Kennebunkport are two picturesque towns right next to each other.
Together, they're commonly called The Kennebunks. There's history, shopping and great restaurants in the area – you could easily spend 4 nights here!
From charming Main Street downtown to the stately mansions on Oceans Drive, we fell in love with Kennebunkport.
The town is most famous for being the summer home of the Bush clan, who have a majestic compound on Walkers Point.
ADVERTISEMENT
---
---
Things to Do in Kennebunkport, Maine
Drive through Oceans Drive for a view of unique homes
Relax at Goose Beach
Try lobster rolls at Mabel's or The Clam Shack
Pick up a 'Maine' t shirt!
Where to Stay in Kennebunkport
Kennebunkport is known for its charming bed-and-breakfasts and a couple of out-of-this-world luxury hotels. We opted to try out 2 hotels in different locations to get a different feel for the town.
We recommend The Yachtsman, a new colorful and comfortable hotel with a prime spot right on the marina (less than a 10 minute walk from Main Street). The hotel was originally a motel, so you park right in front of your room, but there's nothing low budget about this property now!
The interior rooms have been beautifully designed, with walkout back doors that open to the marina. Rooms are incredibly spacious and modernized, with smart TVs, marble bathrooms, wine coolers and sky high ceilings.
Check rates: Hotels.com, Booking.com
Read reviews: TripAdvisor
ADVERTISEMENT
---
---
Hidden Pond Resort
If you're visiting Kennebunkport with family, or want a more secluded experience, try Hidden Pond. This luxury property is about a 15 minute drive outside the bustling downtown, and feels worlds away. In fact, the property is so large that guests get a map at check in!
We stayed here on our drive back down to NY and loved not only the rustic glamping vibe, but the fact that each "room" is its own standalone 1 or 2 bedroom cottage.
We had a huge screened-in porch, stone fireplace, cute kitchenette, king size bed, marble bathroom and even an outdoor shower. This is the hotel to relax in seclusion and style!
Check rates: Hotels.com, Booking.com
Read reviews: TripAdvisor
ADVERTISEMENT
---
---
Day 3: Scarborough
If you want to get some beach time in, stop in Scarborough!
This coastal resort area is just south of Portland with miles of white sand.
We stayed at Higgins Beach hotel, right next to the beach, then did a couple quick trips to check out Cape Elizabeth and its lighthouse as well as Fort Williams Park and the Portland Head lighthouse.
We also noticed Scarborough is very family friendly and a much more affordable place to stop if Portland isn't your thing (they're about 15 minutes driving distance apart)
ADVERTISEMENT
---
---
Things to Do in Scarborough
Surf in the morning at Higgins Beach
Spend the afternoon in sunny Pine Point Beach
Take in the historic homes and pretty seascapes along Prouts Neck Cliff Walk
Kayak at Scarborough Marsh Audubon Center, home to Maine's largest salt marsh
Try some great local beer and food at Sebago Brewery
Where to Stay in Scarborough
Higgins Beach Inn is a quaint Victorian home that's been lovingly restored. A pretty impressive hot breakfast is included and the rooms are clean and comfortable. Best of all, it's not even a 2 minute walk to the beach!
Check rates: Booking.com, Hotels.com
Read reviews: TripAdvisor
ADVERTISEMENT
---
---
Days 4-5: Portland
Portland is Maine's big city and it's primarily known as a foodie city!
Whether you like shopping, dining or more active adventure, Portland offers a bit of it all.
On our drive up we detoured at Portland Head Light, the most iconic and most photographed lighthouse in Maine! It's located within Fort Williams State Park and well worth a visit.
ADVERTISEMENT
---
---
Things to Do in Portland, Maine
Snap a photo at picturesque Portland Head Lighthouse
Get a scenic tour of Portland on a vintage firetruck!
Visit Old Port for quaint cobblestone streets, a food tour & New England architecture
Have seafood and fresh oysters at Eventide Oyster Co
Sip Maine's most famous beers on a fun craft brewery tour
Indulge in some doughnut decadence at Holy Donut
Read more:
Where to Stay in Portland
Where to Stay in Portland
The Press Hotel is a member of Autograph hotels so naturally everything about this place is immaculately designed! Formerly a printing plant, the hotel redesigned the space with spacious rooms, (comfy king size beds and huge bathrooms!).
The location is close to Portland's best restaurants and shops, while the in-house bar serves some great cocktails. Best of all, the service is incredible – staff make every effort here so that your stay is unforgettable!
Check rates: Hotels.com, Booking.com
Read reviews: TripAdvisor
ADVERTISEMENT
---
---
Days 6-7: Rockland
Rockland is a cool, up and coming town in Northern Maine.
It's long been known as the lobster capital of the world but is making a second name for itself due to its incredible art scene.
On our way from Portland to Rockland, we pit stopped through Freeport, a town made famous as the headquarters of L.L. Bean.
Freeport is a shopping mecca – every great all American store has a presence in the outlets here: Patagonia, North Face, Ralph Lauren, Calvin Klein etc!
ADVERTISEMENT
---
---
Things to Do in Rockland
Rockland has a well know art scene. Visit the Farnsworth Art Museum & the Center for Maine Contemporary Art
Explore Rockland Breakwater, a lighthouse nearly a mile into the sea with great views
Take a picturesque windjammer cruise at sunset
Shop for your own art collection on Main Street's boutiques
In August, chow down at the Maine Lobster Festival
Read more:
All About Our Windjammer Cruise
Where to Stay in Rockland
We stayed at 250 Main, probably our favorite hotel from the trip.
It's beautifully modern, with spacious rooms, comfy beds and chic toiletries from Malin and Goetz.
The rooftop is the perfect place to watch the sun rise over the harbor or enjoy a glass before bed. 250 Main offers not only breakfast with your stay, but also a complimentary glass during happy hour so you can also meet other guests!
Check rates: Hotels.com, Booking.com
Read reviews: TripAdvisor
ADVERTISEMENT
---
---
Driving from NYC to Maine
From NYC to Rockland, Maine, the route is roughly 400 miles one way, or about an 7-8 hour drive without stops.
We knew we wanted to focus on Maine's coastline and have the freedom to explore at our own pace, so we opted to rent a car for 10 days and stop only in Maine cities (so we drove straight through Connecticut, New Hampshire and Massachusetts).
Volvo kindly let us test drive the hybrid XC 60 and it was beautiful.
The XC 60 is one of Volvo's most popular models and as a mid-size SUV, it was super roomy for just the two of us! Inside, the luxury car had comfy leather seats and a minimalist Scandinavian design.
I really loved the panoramic roof in particular! My parents cars' have sun roofs, but the Volvo's roof is long enough to cover both the front and rear seats, so that the entire interior is flooded with light.
And if you're like me and avoid the sun like the plague, don't worry – the sunroof is made from a special tinted glass that filters out extra heat and UV radiation.
ADVERTISEMENT
---
---
The first hour getting outside the city is always the most stressful.
As C handled the driving, I started familiarizing myself with the dashboard. I've never seen such a beautiful, completely digitized car – everything was touch screen!
No more scrolling through radio channels trying to find a song you like – the Volvo displayed every channel on air with the song title and artist, and even had genre-specific categories.
Once C found out his favorite ESPN podcast was on air, he made us listen to that for an hour while I groaned. If you prefer your own playlist, the car can sync to your iPhone via bluetooth.
Busy driving?
ADVERTISEMENT
---
---
You can even control all the functions with your voice!
We've been living in NYC for so long without a car that it was so impressive to see how far cars have advanced.
C really liked how the dashboard updated him in real-time with each road's speed limit so we could make sure we were transitioning between Route 1 and the local roads easily.
Meanwhile, I loved the lane keeping aid and parking assist, which especially came in handy for parallel parking once we were back in NYC!
ADVERTISEMENT
---
---
Best of all, the Volvo didn't even need a key to plug-in to an ignition or to open the car.
We just had to have the key in your pocket while standing on the driver side to unlock the Volvo, which is nice if you are forever rummaging in your purse like I am. When you lock the car, the side mirrors automatically turn in.
Best of all, we only had to fill the tank twice on our 10 day trip. The hybrid model we drove uses a combination of a combustion engine and an electrical engine, so it's incredibly fuel-efficient.
We spent just ~$60 on gas for 800+ miles, at about $3.00 a gallon! So impressive.
We also saw many electric charging stations in Maine, which was an unexpected surprise and a bonus for hybrid electric car drivers! (We didn't use the electric charging stations though as we didn't know how lol).
The main highway that runs north to south from NY to Maine is Route 1. We plugged in our destinations on Google Maps, clicked 'avoid tolls', and off we went!
ADVERTISEMENT
---
---
That was our Maine road trip! Let me know in the comments what you're most looking forward to seeing in Maine and where are you starting your Maine vacation?
Visiting Maine – Trip Planning Checklist
Road Trip | We rented a car for our 10 day road trip. It ended up being a great and cost-effective way to explore Maine, as our hybrid Volvo XC 60 really maximized every mile of the 800 mile route. We only had to fill up on gas twice! Check the latest deals on car rentals here.
Accommodation | Maine has some beautiful boutique hotels along its popular coastal towns. Summer is peak season in Maine, so book hotels in advance to save, or check here for last-minute deals. Alternatively, get a fun group together and rent a house on AirBnB for a slightly more budget friendly option.
Insurance | Lastly, be sure to visit Maine with travel insurance. Whether you get injured and need to be hospitalized, or your phone gets stolen, travel insurance will help when you need it most. Get a quote for your trip here.
You Might Also Enjoy:
Maine Vacation Planning Articles
A Classic Maine Road Trip: Lobsters, Lighthouses & Coastal Views
What to Wear in Maine: The Ultimate Packing List
Coastal Maine
Our Windjammer Cruise Sailing Experience: J&E Riggin Review
7 Things to Know Before Joining a Windjammer Cruise
Portland
Follow me @Sher She Goes on