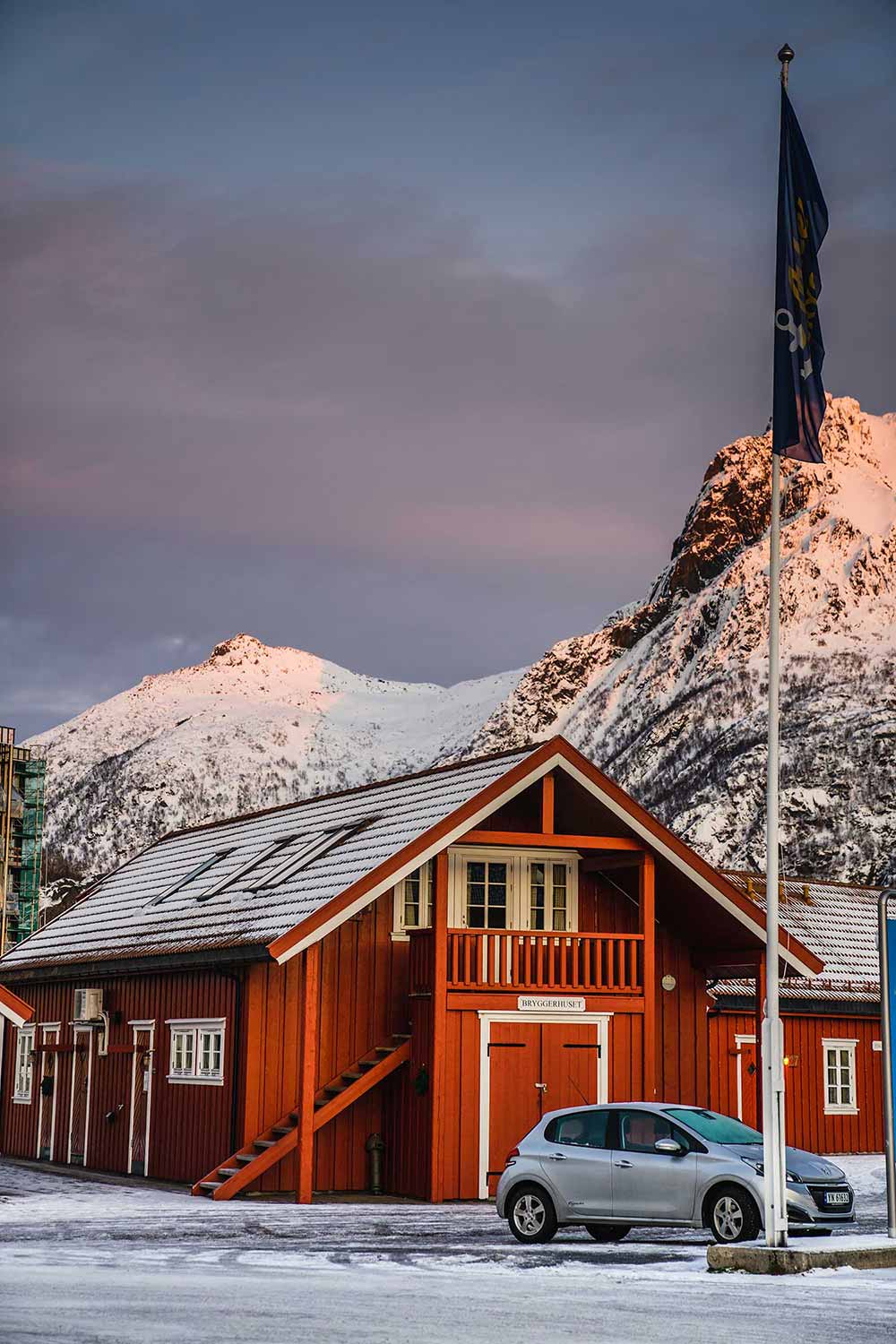 Norway Road Trip
When we first started making plans to visit Norway, I couldn't decide between cruising the coast, or driving. Norway has some of the prettiest coastline in the world, and since I'm not a seasoned driver, I thought a ride along the classic Hurtigruten might be easier to handle.
Silvia convinced me otherwise.
Having lived in Norway for years and currently calling Northern Norway her home, she was expertly familiar with the most beautiful places in the country and her enthusiasm for the Helgeland region in particular was contagious.
So drive we did! (Or rather, she did.)
We spent two amazing weeks in Norway exploring both the Helgeland coastal road and the Lofoten islands. With the freedom to drive through any town and stop anywhere, it was a fantastic way to see the country. If you're thinking about taking a road trip through Norway but want to know more about what it's like, today's post is for you!
Here's everything to know about driving in Norway – tips for foreigners, roads in Norway, the scenic roads and even what it's like driving in winter!
ADVERTISEMENT
Or, jump straight to a section:
Pin this post to read later ⇟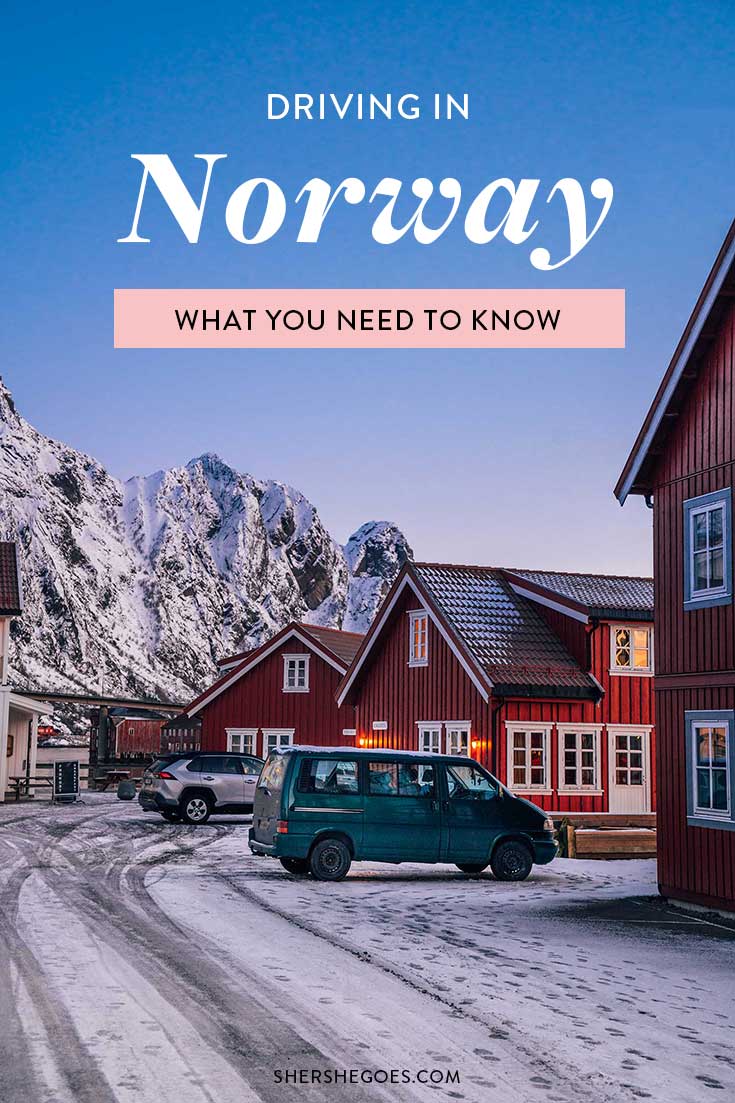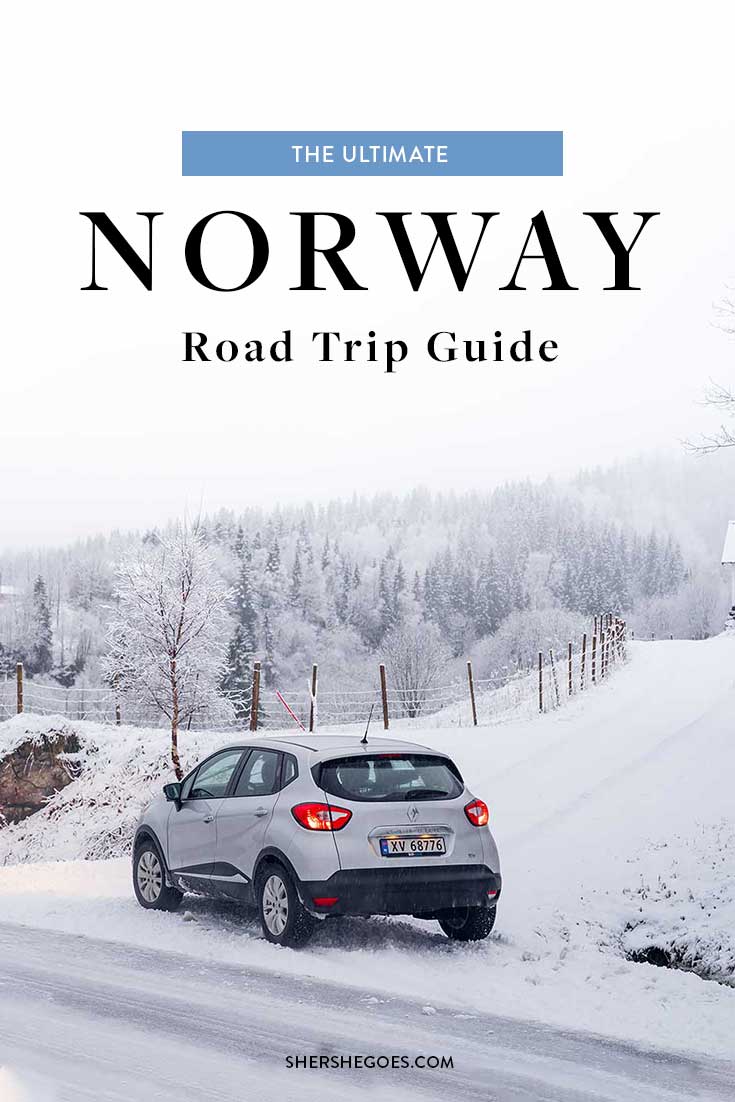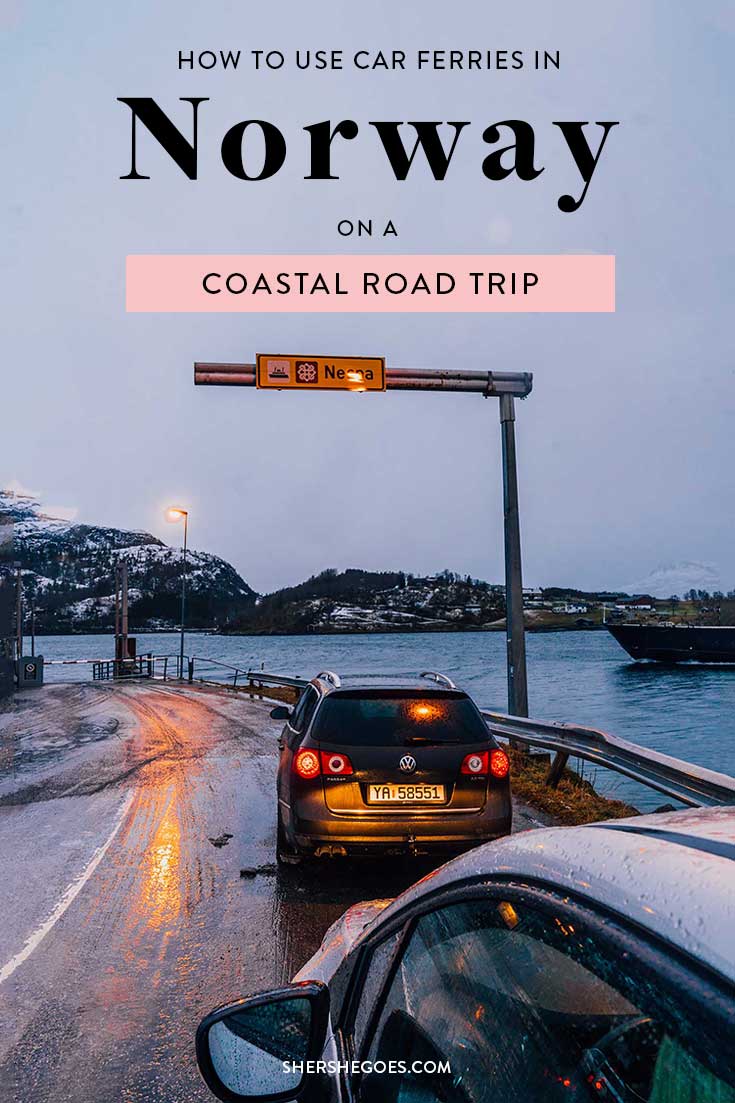 Driving in Norway
If You Have a Foreign License
Driving rules in Norway depend on your country of citizenship.
If your license was issued from a European Union country, you can use it in Norway without any issues. If you have a US license, you can use your own license (so no need to get an international license) for up to three months in Norway.
ADVERTISEMENT
---
---
Renting a Car in Norway
The first thing you'll want to book for a trip to Norway is the car rental.
Consider your pick up and drop off points. If you have enough time to drive a full loop, that will be the best option, as setting different pick up and drop off points for car rentals in Norway is extremely expensive.
Book your Norway car rental as soon as you can, and far in advance if you'll be visiting in peak summer season. Like the rest of Europe, most cars are manual transmission. It should be possible to rent an automatic, but you should look far in advance if this is what you need.
Also double check if your credit card company offers additional collision and liability coverage. If it doesn't, you might want to look into buying the additional CDW insurance for piece of mind.
Norway Car Rental Tip
I recommend using Auto Europe to get an idea of the cost of renting a car in Norway. Auto Europe is a price comparison tool that pulls rates from all the major car rental companies.
And to book, check out Sixt, a rental company known for offering some of the best rental deals in Europe. They often run great sales!
ADVERTISEMENT
---
---
Distances are Long
While Norway looks small on the map… it's quite a long country!
In fact, Norway is the longest country in Europe and to drive from Kristiansand, a city in the southern tip, to Hammerfest, in the north, would take 30 hours of non stop driving.
As a first time visitor to Norway, we definitely underestimated distance.
To help you avoid making the same mistake, here's a summary chart of popular cities in Norway and the driving time between distances.
| | | | | |
| --- | --- | --- | --- | --- |
| To | From | Main Road | Kilometers | Driving Time |
| Oslo | Bergen | E16 | 500 | 8 hours |
| Oslo | Trondheim | E6 | 500 | 8 hours |
| Oslo | Bodø | E6 | 1200 | 18 hours |
| Trondheim | Bodø | E6 | 700 | 12 hours |
| Bodø | Tromsø | E6 | 550 | 10 hours |
| Ålesund | Trondheim | E6 | 300 | 6 hours |
So you might have envisioned a visit to Oslo, Bergen and Trondheim on your first visit, but that journey means 16+ hours of straight driving, plus a couple of car ferries!
Instead, you might want to book flights to get around (the flight from Oslo to Trondheim takes just 1 hour and is affordable) or to base the trip around one region of Norway. You can browse flight schedules and set fare alerts here.
ADVERTISEMENT
---
---
Is It Hard Driving in Norway?
On the flip side, we found the roads pretty clear and empty which puts you a little more at ease.
Roads in Norway are pretty narrow, especially when compared to roads in the U.S. There isn't a center line delineating the road, so that narrow concrete strip is meant for driving in either direction, ha. If you've driven on European roads before, you're likely already used to them!
I also noticed more roundabouts instead of traffic lights, and barely if any street lamps along the road. Instead, there are red markers along the roads which glow in the dark.
Personally, I felt that signs and turns were not well marked – we actually missed a couple turns and had to double back. While I would probably have been too nervous to drive after sunset, Silvia handled the roads in Norway in the dark like a champ.
I guess we're just a bit spoiled in the US, with extra wide roads and giant, gas guzzling cars.
ADVERTISEMENT
---
---
National Road System
Norway has a modern and efficient highway and road system. I'd say for an American, the road rules tend to be similar to what you're already familiar with.
Always drive on the right
Always wear a seat belt
Pedestrians have the right of way
Don't use your phone while driving
What's different is that low beam headlights are required to be on at all times (no matter the time or day).
Like many other European countries, there are several main roads that connect the major cities, regions and countries. You'll notice these by the E designation in front of the number. We mainly drove on the E6, Norway's main highway. It runs south to north, from Sweden to Oslo and is the primary road through Northern Norway.
To give you an idea of how simplified the road network can be, I remember initially being confused when Silvia would plug in our destination into the GPS. Instead of putting in an actual address, she'd usually just enter the name of a town, or the main town before our end point. I thought it was odd at first, until I realized there's basically just one main highway in Northern Norway so we were bound to get to our destination, ha.
In general, you should take the main highways if you want speed, but opt for the Norwegian Scenic Routes if you want a beautiful road trip experience. Norway has 18 designated Scenic Roads across the country, which pass through fjords and mountains, and offer tourist-friendly stopping points along the way.
More on these Scenic Drives below!
ADVERTISEMENT
---
---
Fuel is Expensive
You'd think for a country that made its riches through oil, gas prices would be cheaper. But it's actually the opposite!
For environmental reasons, the government keeps the price of gas pretty high. During our visit in January 2020, gas prices were roughly 17 NOK per liter. I believe that works out to roughly $7 USD a gallon or 1.70 euro per liter (based on our exchange rate at that time).
Gas stations are also few and far between, so don't wait too long to fill up.
At gas stations, you'll need a credit card with both a chip and pin number in order to pay at the pump. Most American credit card companies can set up a pin for you if you organize this before your trip. We hadn't, but it's not too big of a problem. You just have to walk inside the gas station to pay with the attendant at the counter.
ADVERTISEMENT
---
---
Electric Cars are Popular
I was shocked at the number of Teslas and hybrid Volvos that I saw throughout our Norway road trip. I made a comment to Silvia about them and she mentioned that electric cars are very popular among Norwegians.
For one, they can afford them. Coupled with high gas prices and government incentives, electric car ownership in Norway is on the rise.
We saw electric charging stations all throughout our trip, even in the remote regions and at hotel parking lots. Norway has the highest per capita rate of electric car ownership, with over 150,000 electric cars on Norwegian roads since 2018.
What's nice is that the government of Norway has heavily invested in electric car infrastructure and incentives. Talk about a progressive society!
ADVERTISEMENT
---
---
Tolls are Automatic
In keeping with Norwegian society, which seems to favor cashless transactions, tolls are automatically charged to the vehicle license plate via a system called AutoPASS. You might not even notice them, since the tolls are charged as you drive through.
For car rentals, the car is usually pre-registered with AutoPASS and the rental company will simply add the tolls to your final bill.
But something I thought was unique about Norway is that the country only implements tolls to finance roads, tunnels and bridges. The toll fee remains in place until construction has been paid for, and then it's removed!
Some cities (like Trondheim) charge entrance fees in an effort to reduce congestion and encourage public transportation.
ADVERTISEMENT
---
---
Get Used to Car Ferries
We drove through a lot of mountain tunnels, some of which were quite long! We also took lots of car ferries for our drive through Helgeland, where the western coast is dotted with hundreds of tiny islands.
So, ferries are an integral part of the Norwegian road network. Ferry slips are called fergekai in Norwegian and they're pretty easy to drive through!
How to Use the Car Ferry
As you drive up to the slip, there's typically a sign on the right guiding you into one of several lanes, depending on your destination. Just pull up behind the last car and then when the ferry arrives, an attendant will signal you to drive straight onto the ship.
Car ferries run relatively frequently, depending on the season. Double check the ferry schedules for your dates and show up ~15 minutes before departure.
On board, it's standard to exit the car and join the lounge upstairs, where you can sit, look at the view or grab something to eat. Inside is also where you'll pay. The staff will come by with a credit card terminal to collect the fare.
ADVERTISEMENT
---
---
Ferry Fares
Personally, I thought the car ferries were pretty expensive.
Whether the trip was an hour or three hours, the prices seemed roughly the same – approximately 250 NOK for the car and 90 NOK per person. The driver is included with the car fare, so if you're traveling with 3 people the car ferry would cost 430 NOK
The Helgeland ferries raised their prices by 40% in January 2020 (lucky us, just in time for our arrival, ha!). In general, we heard that public transportation in Norway can be a bit more expensive as ridership is low.
Using the Ferries without a Car
You can also walk on the ferry, if you aren't driving. We did that once when we visited the small island of Lovund and left our car in the parking lot.
Overall, I do recommend taking the car ferries as they're a uniquely Norwegian experience and can save a significant amount of driving time!
ADVERTISEMENT
---
---
Driving in Winter
Snowfall in Norway is like nothing I've ever seen.
Light flurries came every couple of hours and would completely blanket the roads. There are snow plows, but because of the remoteness of the Norwegian countryside and the long distances, travelers should be prepared to drive in heavy snow conditions.
Winter Tires
If you're not used to driving in snow and ice, be extra careful! One thing that makes a big difference is winter tires.
In Norway, the cars typically switch to studded tires around November 1st and keep them on until just after Easter Sunday.
ADVERTISEMENT
---
---
Icy Conditions
The other issue is icy roads. With studded tires, we had no problems driving on icy roads but it was a shock to park in a hotel parking lot or at a grocery station and see thick sheets of ice all over the roads.
You will definitely want a sturdy pair of snow shoes so that you don't slide or fall when walking to and from the car! I wore these boots for our entire trip and was fine walking on the slippery ice.
And just in case, you might want to buy a pair of crampons to add over your shoes for extra grip. They're inexpensive and can be worn over your existing boots or hiking shoes.
ADVERTISEMENT
---
---
Salt on the Roads
Perhaps the biggest difference is the use of salt.
In New York City and just generally in America, we liberally salt the roads to death at even the barest hint of snow. Norway, perhaps because of the sheer volume of snow, uses a bare minimum salt strategy.
It was pretty rare to see any local road salted, and we got used to driving on roads that were completely covered in white.
Often the road signs would even be half covered with snow, so they could be difficult to read!
ADVERTISEMENT
---
---
Mountain Tunnel Closures
In the winter, some of the deep mountain passes can close during heavy snowfall. Some of the Scenic Routes are permanently closed and some roads will temporarily close during heavy snowfall.
The latter happened to us when we drove from Nesna to Bognes. Lucky for us, we had Silvia guide us through the process! The local radio will typically announce if roads are closed and when they will re-open (for Norwegian speakers) while this website can also help.
But, Norwegian drivers can't afford to let snow completely disrupt their lives so every now and then kolonnekjoring, column driving, will occur. Drivers wait at the road closure sign for the snow plow to turn up (while the line of cars also accumulates).
We've heard in extreme weather, the process can take up to a day, so double check weather conditions before you head out each morning and stock up supplies in the car (food, drinks, warm clothes, ice pick, shovels, etc).
When the snow plow arrives, the road re-opens for each car to drive carefully behind it. It's a very slow process – there must have been over 100+ cars in the snaking line when we had to do it – so try not to plan extremely long driving distances each day.
Still, I hope these conditions don't put you off from doing a Norway road trip in winter! The landscape is so beautiful with the mountains and trees all covered in snow, and the roads are half empty. It really feels magical!
ADVERTISEMENT
---
---
The Lofoten scenic drive, with a modern cube viewing platform.
Best Panoramic Driving Routes in Norway
Norway has designated 18 of their most scenic roads as National Tourist Routes. These are really unique road trip options, combining classic landscapes, raw nature, modern Nordic design and historic architecture.
What makes them special is how they combine beautiful scenery with modern architecture. Picture hikes with organic viewing platforms, sculptures that greet you at different elevations and modern public restrooms that blend into the landscape at pit stops.
Norway's 18 designed Scenic Routes, from North to South, are:
Any of these beautiful driving routes is worth a full trip to Norway!
Varanger
Havøysund
Senja
Andøya
Lofoten
Helgelandskysten
Atlanterhavsvegen
Geiranger-Trollstigen
Gamle Strynefjellsvegen
Rondane
Sognefjellet
Valdresflye
Gaularfjellet
Aurlandsfjellet
Hardanger
Hardangervidda
Ryfylke
Jæren
For us, we drove two of these, the Lofoten Islands (#5) and the Helgeland coastline (#6). I'd say Lofoten is probably the most popular place to visit in the entire country so it's certainly breathtaking, but also incredibly crowded during summer high season. Our winter road trip allowed us to avoid the tourists but still savor the beauty of the landscape.'
---
Will you be doing a road trip through Norway? If so, which part?
ADVERTISEMENT
---
---
Planning a Trip to Norway – Travel Checklist
Go | We flew from New York to Oslo and then caught a domestic flight to Trondheim. Low cost carrier Norwegian Airlines offers some great deal fares if you book early, but amenities like meals, blankets and luggage cost extra. Wideroe and SAS are other great options. Check here for flight deals.
See | Norway may look small on a map, but it's a huge country! Driving distances are much, much longer than you think so choose a region to base yourself in and budget 1 to 2 weeks to see it all. 
Getting Around | The best way to experience Norway is on a road trip. The country has a number of National Scenic Roads that blend epic landscapes, active adventures and modern art. Book car rentals well in advance to save. Auto Europe is a great comparison tool and Sixt rentals offers lots of great deals.
Stay | From red fishing cabins to glamorous luxury hotels, there are tons of unique lodging options throughout Norway. Best of all, breakfast is typically included and Norwegians know how to offer a fantastic breakfast spread! Check here for great deals on accommodation.
For groups, give Airbnb a go. There are some beautifully renovated cabins and rorbu available for rent!
Protect | Whether you get injured and need to be hospitalized, your phone gets stolen, or a flight delay leaves you with nothing but the clothes on your back, travel insurance will help when you need it most. Get a quote for your trip here.
You Might Also Enjoy:
Norway Vacation Planning Articles
Driving in Norway: Everything You Should Know
What to Pack for Norway in Winter
City Guides
Trondheim Travel Guide
Activity & Hotel Reviews
Britannia Trondheim: A Northern Palace
Follow me @Sher She Goes on