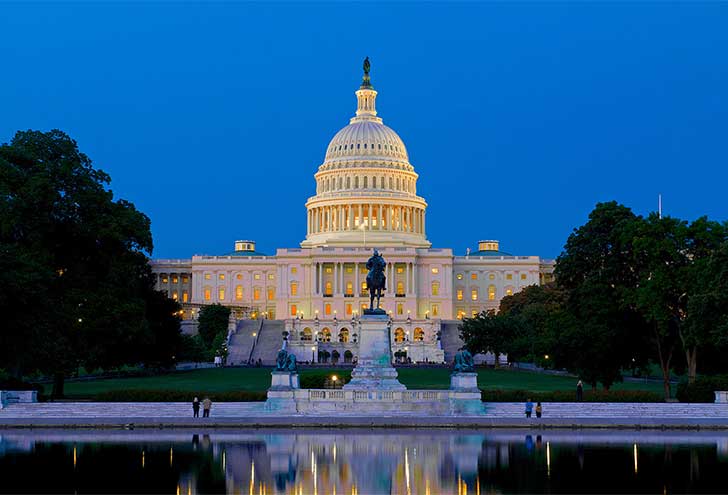 Where to Stay in Washington DC
Though long revered for its treasured tributes to the United States' history and leaders, Washington DC is finding itself amidst a cultural and entertainment renaissance.
Sure, family trips to museums, monuments, and the cherry blossoms have been decades-old District staples, but with a newly released Michelin Guide for D.C. and a burgeoning entertainment scene, Washington is quickly becoming a hot cosmopolitan destination.
Keep reading for our favorite places to stay in Washington, D.C.!
ADVERTISEMENT
---
---
Best Hotels in Washington DC
To summarize, here's a handy chart of our recommended DC hotels. All include free wifi and are known for comfort, good location and great customer service.
Best Washington, DC Hotels – Summary Comparison Chart
Below is more information about each hotel and why we recommend it!
ADVERTISEMENT
---
---
Rosewood Washington, D.C.
Located on the historic C&O Canal, the Rosewood offers guests 49 rooms among 12 suites with amenities such as working fireplaces, museum-quality art and china, rainfall showers (my favorite!) and above-ground bathtubs.
Having opened its doors in 2013, the Rosewood is a baby by D.C. standards, but don't be fooled: the Rosewood offers every last luxurious detail that has made it one of the District's hottest hotel choices!
ADVERTISEMENT
---
---
The Hay-Adams
Nearly a century old, The Hay-Adams holds a prestigious spot in the upper crust of Washington hotels.
The Hay-Adams was originally designed as a residential mansion hotel, and when guests are exposed to the modern version's European sheets, marble bathrooms, and fireplaces, they will see that the present of the Hay-Adams isn't too far removed from its glitzy past!
ADVERTISEMENT
---
---
The Jefferson
Fans of The Jefferson – with tongue firmly in cheek – often claim the hotel has the "second most prestigious address" (behind, of course, 1600 Pennsylvania Avenue).
A few glances around the marbled pavilion floors and silk drapes, however, and it's hard to argue with these fans.
Converted from a luxury residential building in 1955 and fully renovated in 2009, the Jefferson truly deserves its prestige as one of the most luxurious hotels anywhere in the DMV.
ADVERTISEMENT
---
---
The St. Regis Washington, D.C.
As you would come to expect from its name, The St. Regis Washington, D.C., like many hotels on the list, epitomizes old American luxury.
Whether it's the onyx and marble bathrooms, fireplaces, stunning views of the Capitol, or nine different types of rooms and suites (some reaching 2,500 square feet!!), the St. Regis Washington D.C. is one of the District's cannot-miss hotels.
ADVERTISEMENT
---
---
The Mayflower
Tucked onto prestigious Connecticut Avenue in Northwest D.C., The Mayflower Hotel may be the most Washingtonian of all the hotels on this list.
Though upkeep at The Mayflower is famously attentive.
One step into the gorgeous ballroom, Edgar Bar & Kitchen, or any of the ornate guestrooms, and you might think you're stepping back in time to the Roaring Twenties rather than stuck in the 21st Century!
ADVERTISEMENT
---
---
And that's it! Our guide to Washington, DC's top hotels to make the most of your stay.
Whether you're looking for ultra-luxurious comfort, the best location in town, or no-frills budget cheap hotels, these top hotels in our nation's capital are sure to please.
ADVERTISEMENT
---
---
Follow me @Sher She Goes on