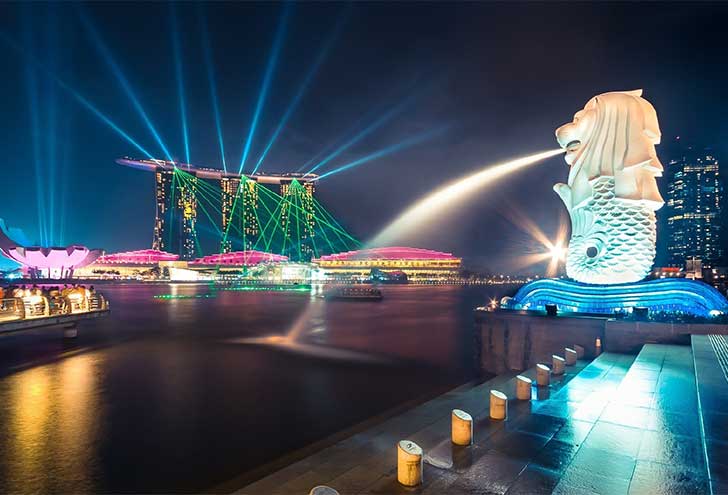 Best Hotels in Singapore
Once nothing but a withering swamp muddied with broken promises and shattered dreams, Singapore quickly established itself as the poster city for modern innovation and city planning after earning independence in the 1960s.
Today, Singapore is without question the southeast Asian focus for finance, shopping, and generally living the good life.
Whatever brings you to the island, keep reading for our recommendations for best places to stay in Singapore!
---
---
Best Hotels in Singapore
To summarize, here's a handy chart of our recommended Singapore hotels. All include free wifi and are known for comfort, great locations and great customer service.
Best Singapore Hotels – Summary Comparison Chart
---
---
Marina Bay Sands
Many of the hotels on this list will redefine your interpretation of the word "swank", and the Marina Bay Sands is better than all of them.
By a lot.
With three towers featuring modern room and suites, a casino, multiple spas, and even a Wolfgang Puck restaurant, the Marina Bay Sands is the zenith when it comes to experiencing Singapore style!
---
---
Raffles Hotel Singapore
Currently celebrating an incredible 130 years as one of Singapore's most upscale hosts, the Raffles Hotel blends classically white colonial architecture, revered Sikh butlers, and a variety of private gardens and hideaways that truly add a sense of unmatched luxury.
Throw a straw in a Singapore Sling at the famous Bar & Billiard Room, and this will be a raffle you feel like you've won in spades!
---
---
Mandarin Oriental Singapore
Shaped like its signature fan, the Mandarin Oriental Singapore is a crash-course in island luxury.
With 11 room and suite options featuring posh amenities including ocean views, Marina Bay views, private balconies, standalone bathtubs, and wood-paneled vanity areas, the MO Singapore is a classic luxury hotel befitting its brand.
---
---
Shangri-La Hotel Singapore
As the world's first Shangri-La, this Singapore hotel has its rich history and immaculate décor secluded among 15 verdant acres just a mile or so away from the main shopping, dining, and business district of Orchard Road.
With a private golf course, on-site spa, multiple restaurants, and plenty of luxuriant rooms set among its three wings, the Shangri-La Hotel is certainly the elder statesman when it comes to Singapore luxury.
---
---
Carlton Hotel Singapore
Located in an elegantly sweeping tower with stunning views of downtown Singapore and Marina Bay, the Carlton Hotel Singapore makes its name in convenience.
Besides its accessible location, the Carlton Hotel offers well-appointed rooms, a great buffet breakfast (can you tell what my favorite meal of the day is?), and even complimentary smartphones which provide mobile data and select international calls.
---
---
And that's it! Our guide to Singapore's best hotels to make the most of your stay. Help plan your trip with this 3 day guide.
Whether you're looking for a luxury hotel in downtown, a boutique hotel for couples or a family friendly hotel for kids, these top hotels in Singapore are sure to please.
Follow Sher She Goes on