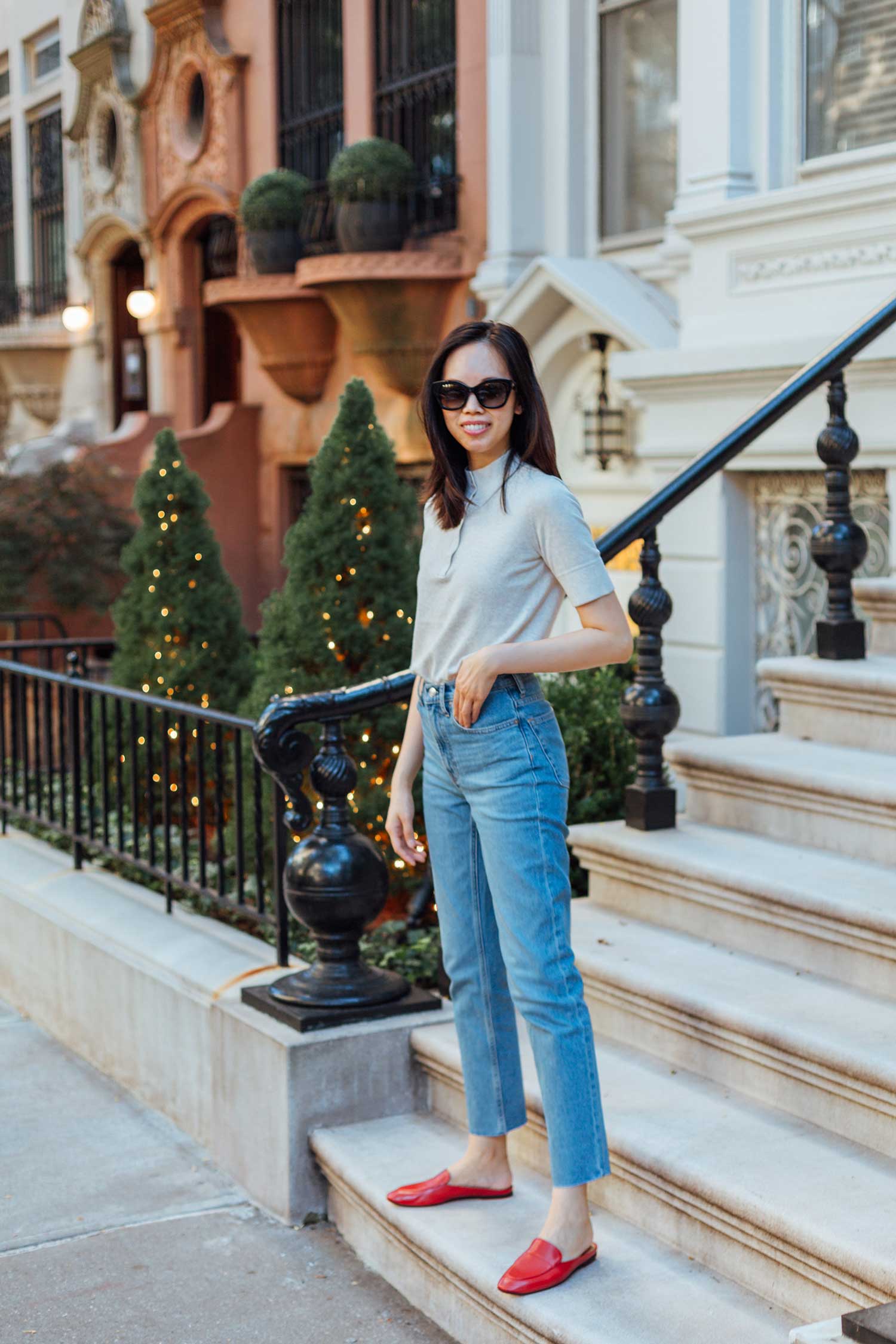 Thank you to Everlane for sponsoring this post.
wearing mockneck top, straight leg jeans & slip on loafers
Happy Labor Day Weekend!
In the city the days are still sunny and hot, but the temperatures cool down quickly once the sun sets. So when Everlane came out with a mockneck shirt, I figured it would be the perfect kind of top to wear right now.
ADVERTISEMENT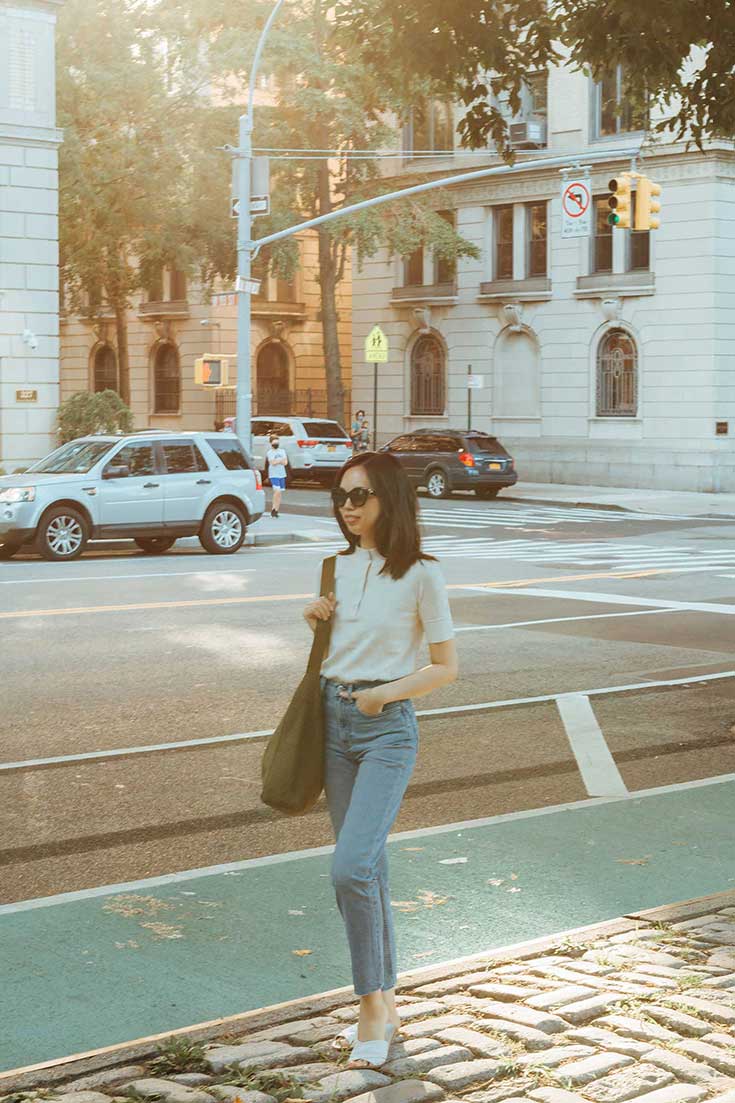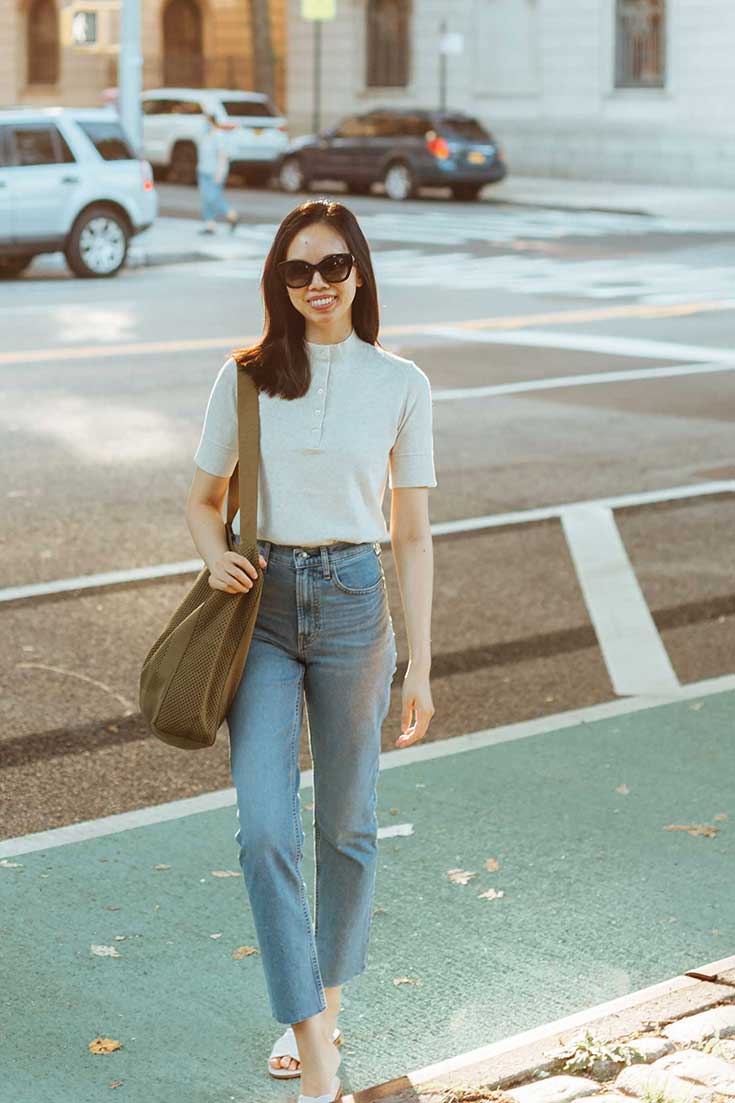 wearing mockneck top, straight leg jeans, tote bag & leather sandals
Everlane Mockneck
I love a good sweater t shirt.
This simple mockneck top is exactly that – part sweater, part shirt.
It has slightly elongated short sleeves and tiny buttons going up the neckline, and it's made from a lightweight organic cotton that's soft, breathable and just the right weight to wear in in-between temperatures.
ADVERTISEMENT
---
---
Everlane Organic Cotton
It's also made from 100% organic cotton!
Everlane says the sweater is certified organic, from seed to shirt, with a certification from the Global Organic Textile Standard.
Everything from the processing of the fibers, to the dye house, cotton mills and production factories adhere to certified organic standards.
My favorite part? It's machine washable!
(Just lie it flat to dry)
ADVERTISEMENT
---
---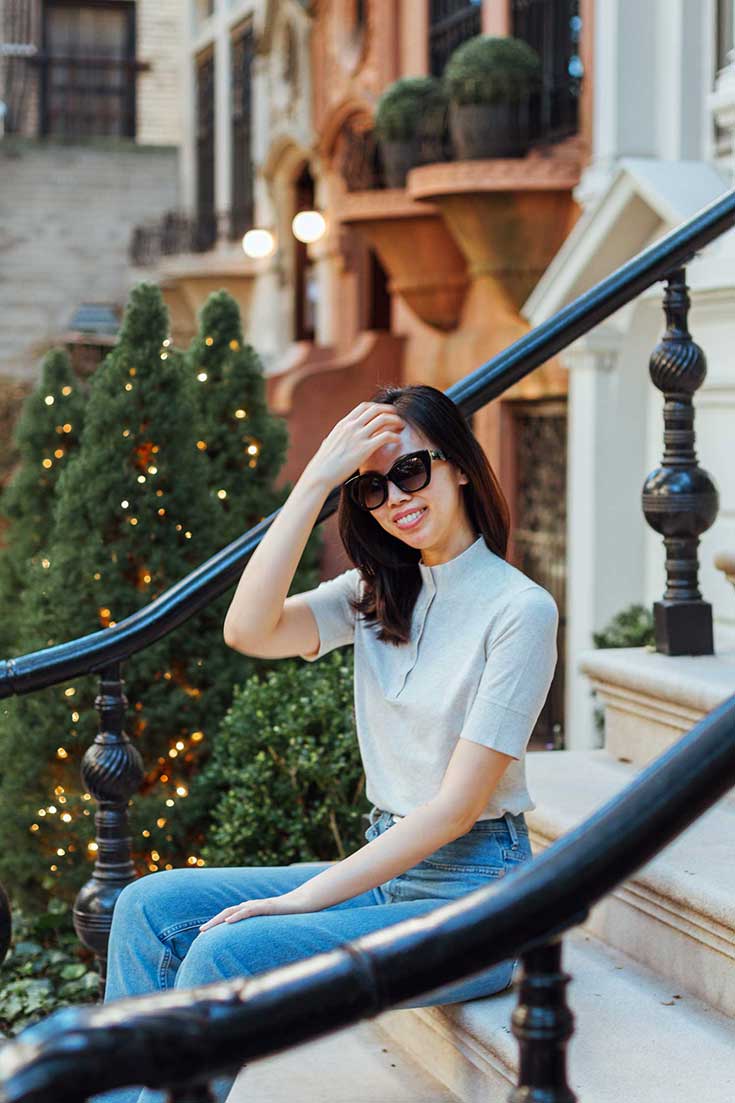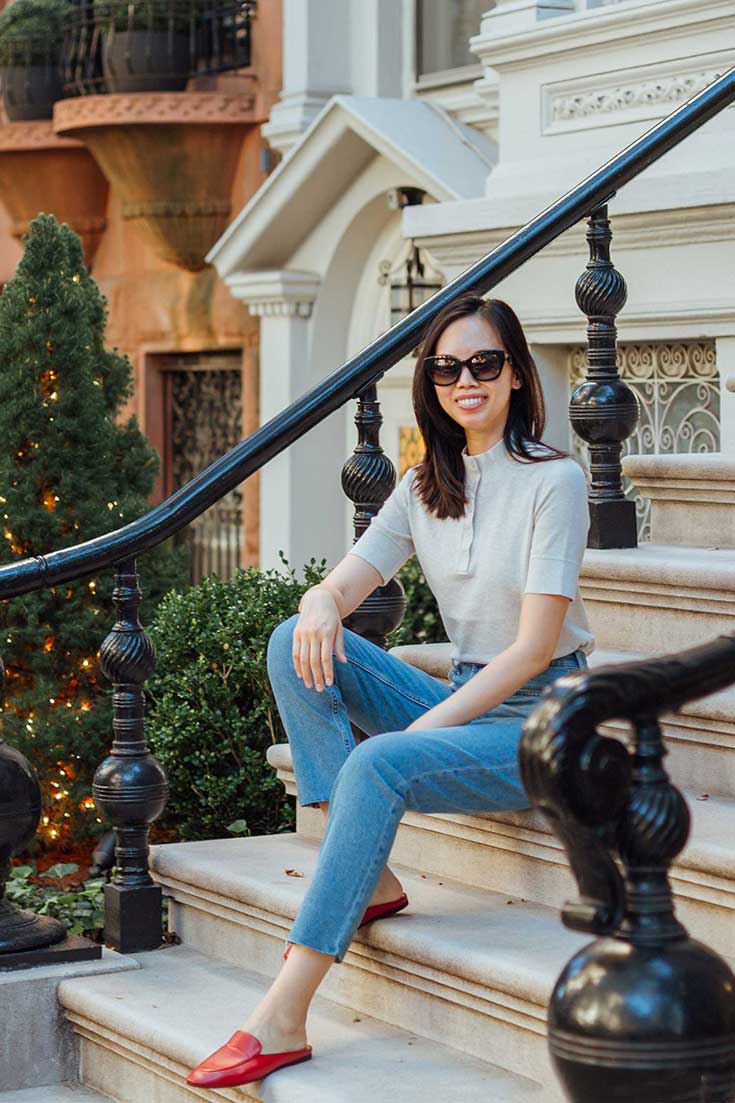 Both times I wore it, I paired it with these straight leg jeans, which are the only pair of denim I seem to reach for these days. The 'mom style' jeans originally came with a finished hem, but I like the look of raw denim so I cut the end of the jeans off.
Luckily they didn't come out too bad! I'll have to give them a wash to see if they fray even more, but so far I like the modified length.
ADVERTISEMENT
---
---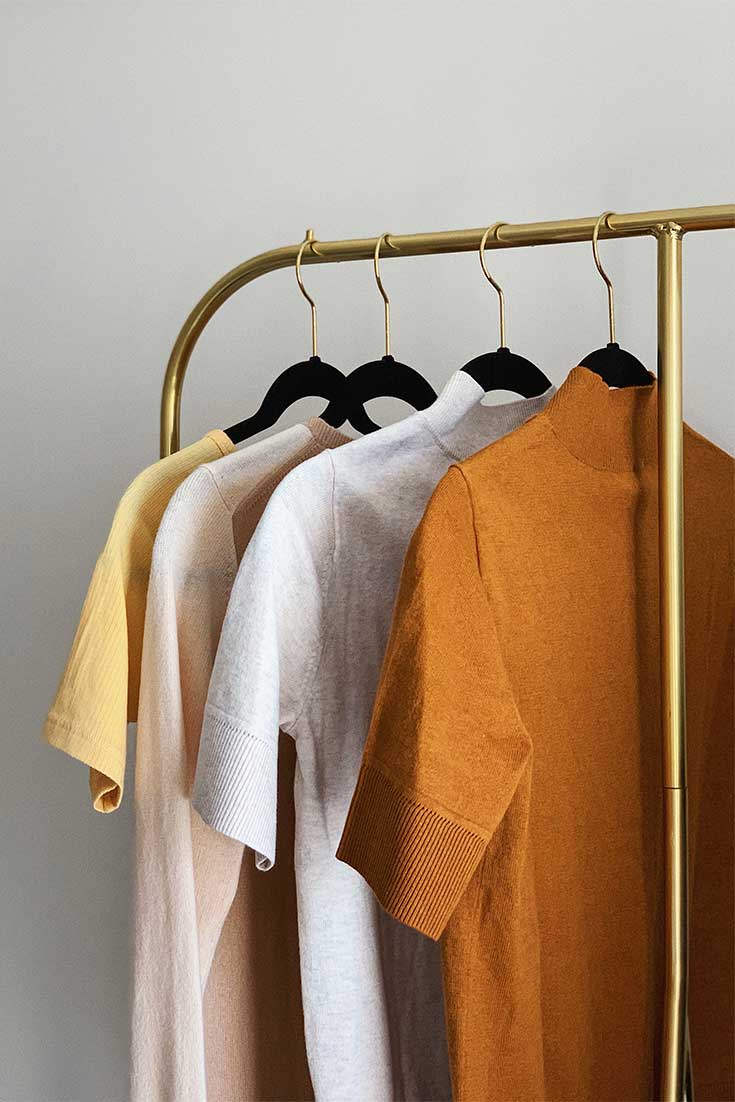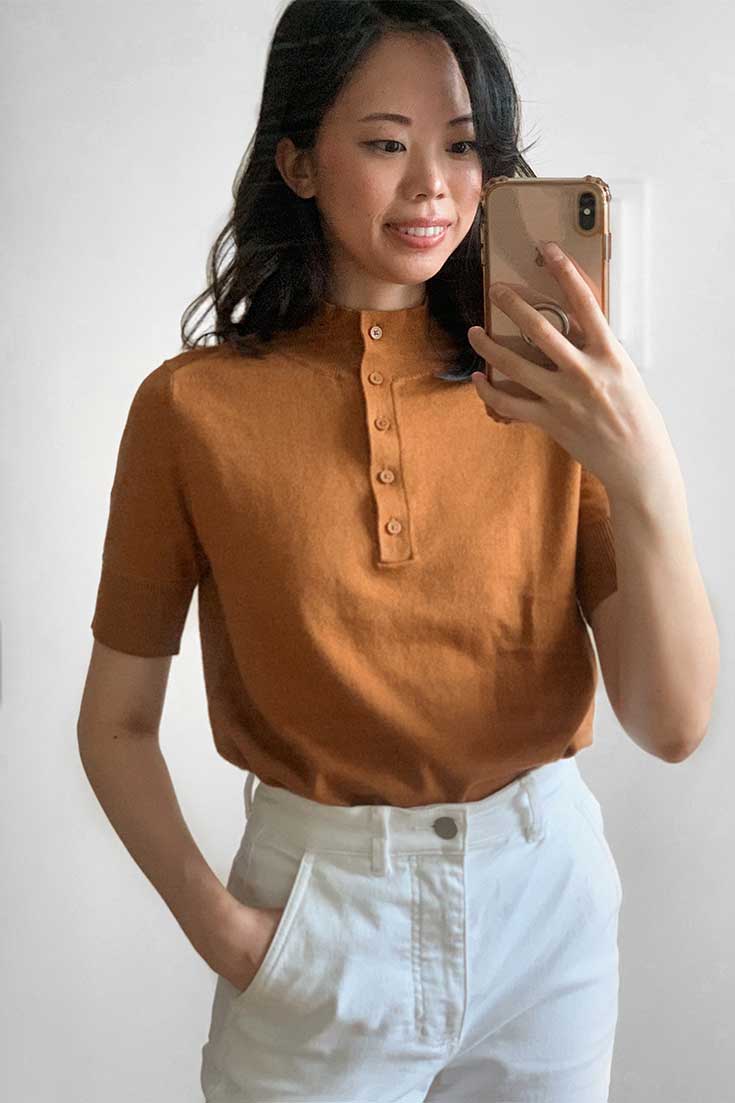 wearing mockneck top & crop white jeans
Everlane Mockneck Review
The mockneck top comes in 3 colors and I tried it out in the classic neutral Marble, a kind of soft ivory shade, and the more fall-esque Burnished Copper.
The copper stands out more, but the marble is probably more versatile.
What do you think?
Shop Everlane
---

ADVERTISEMENT
---
---
Read More: Everlane reviews:
Everlane Reviews
Everlane Brand Review: Hits, Misses & Favorite Pieces
Everlane Flats - These 5 Pairs are Extra Comfortable
Everlane Denim: Thoughts on 3 of the Brand's Best Selling Jeans
Everlane Cashmere: Is It Worth It? (with Outfit Photos)
How do the Everlane Leggings Perform?
Everlane Underwear Review: Bra & Bralettes
Everlane Bodysuits: Reviewing a Wardrobe Staple
Everlane Outfits
10 Work from Home Outfits, featuring Everlane
Everlane Choose What You Pay Sale - Spring Try On Haul
Everlane Try On Haul Videos
Everlane Summer Basics Try On
Follow me @Sher She Goes on