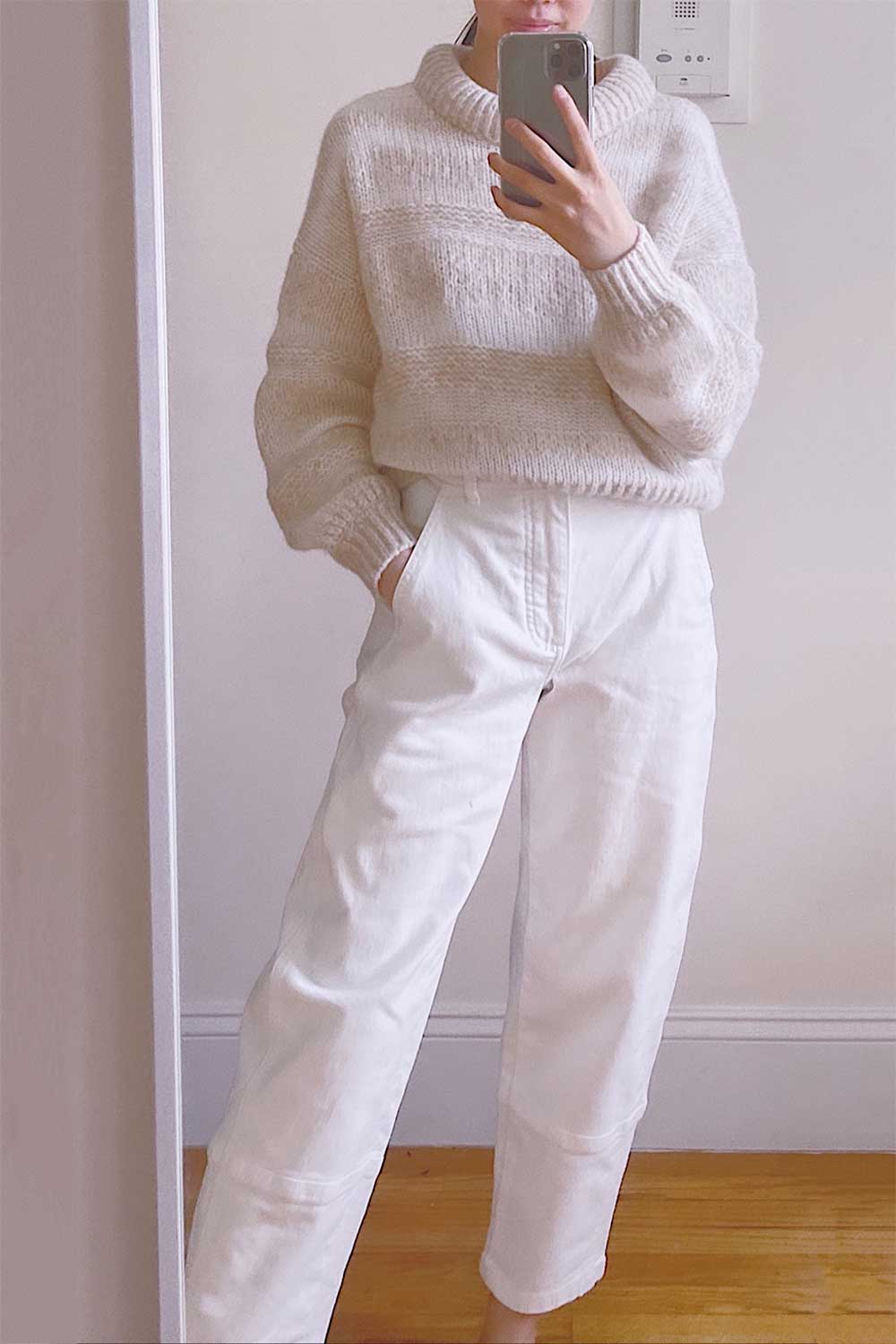 Barrel Pants
I remember the first time I realized mom jeans were in.
It was a couple years ago, when I was working in an office with much younger colleagues, and absolutely none of them wore skinny jeans. They preferred high rise, loose fit 80s and 90s style jeans – the kind, that in my mind, looked rigid, crotchy and dumpy.
I remember wondering why Mom Jeans were so popular when they were so unflattering. Well.. five years later I am now buying said unflattering jeans.
It's funny how things change.
I still don't know that I prefer loose jeans over skinny jeans, but my taste has definitely changed. I totally see the appeal of looser fitting, more relaxed style and I've finally found the perfect pair of loose fit denim – the barrel pant.
Specifically, from Everlane.
Here's my review of the Everlane utility barrel pant and why I think they're worth buying.
Or save this article to read later by pinning it ⇟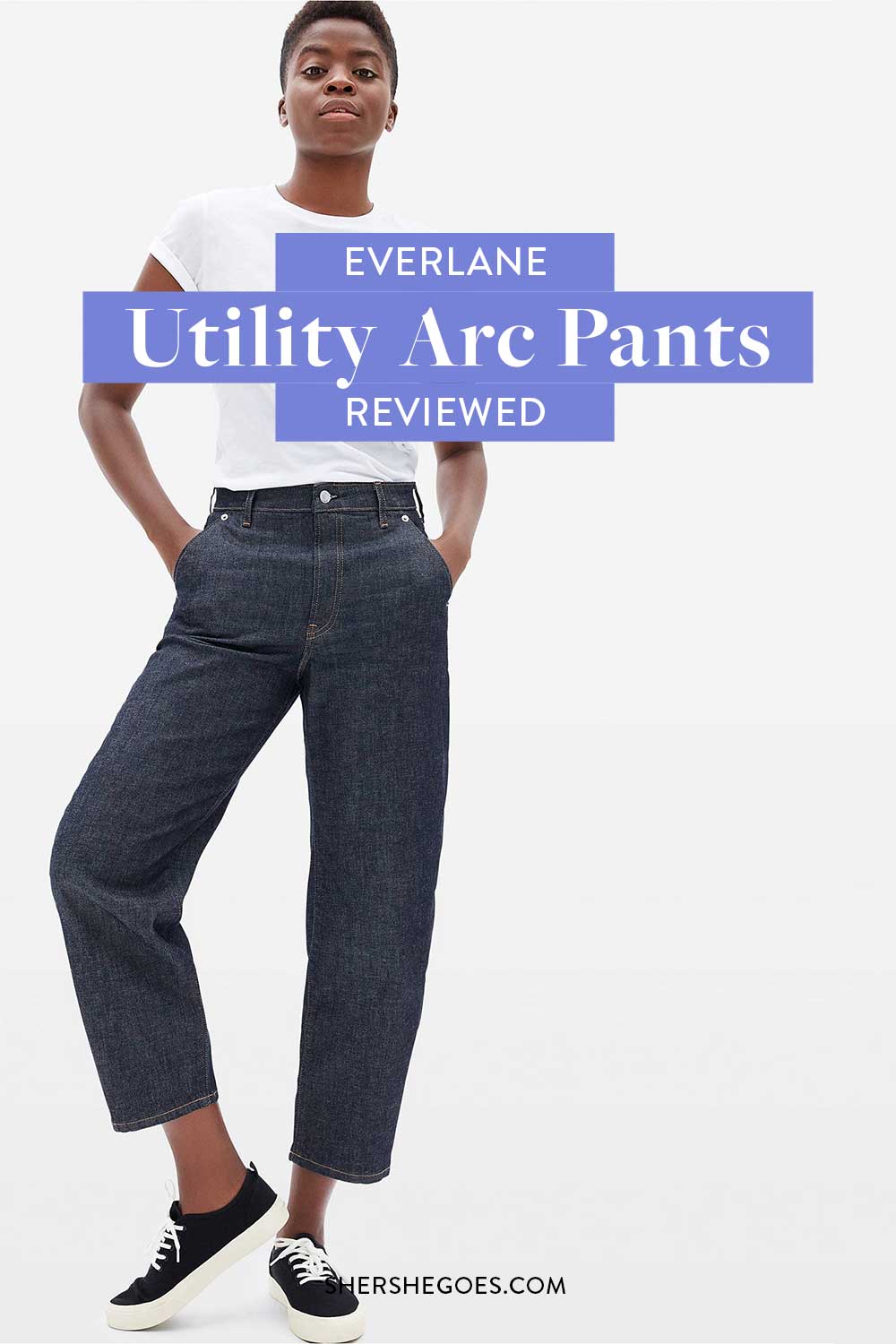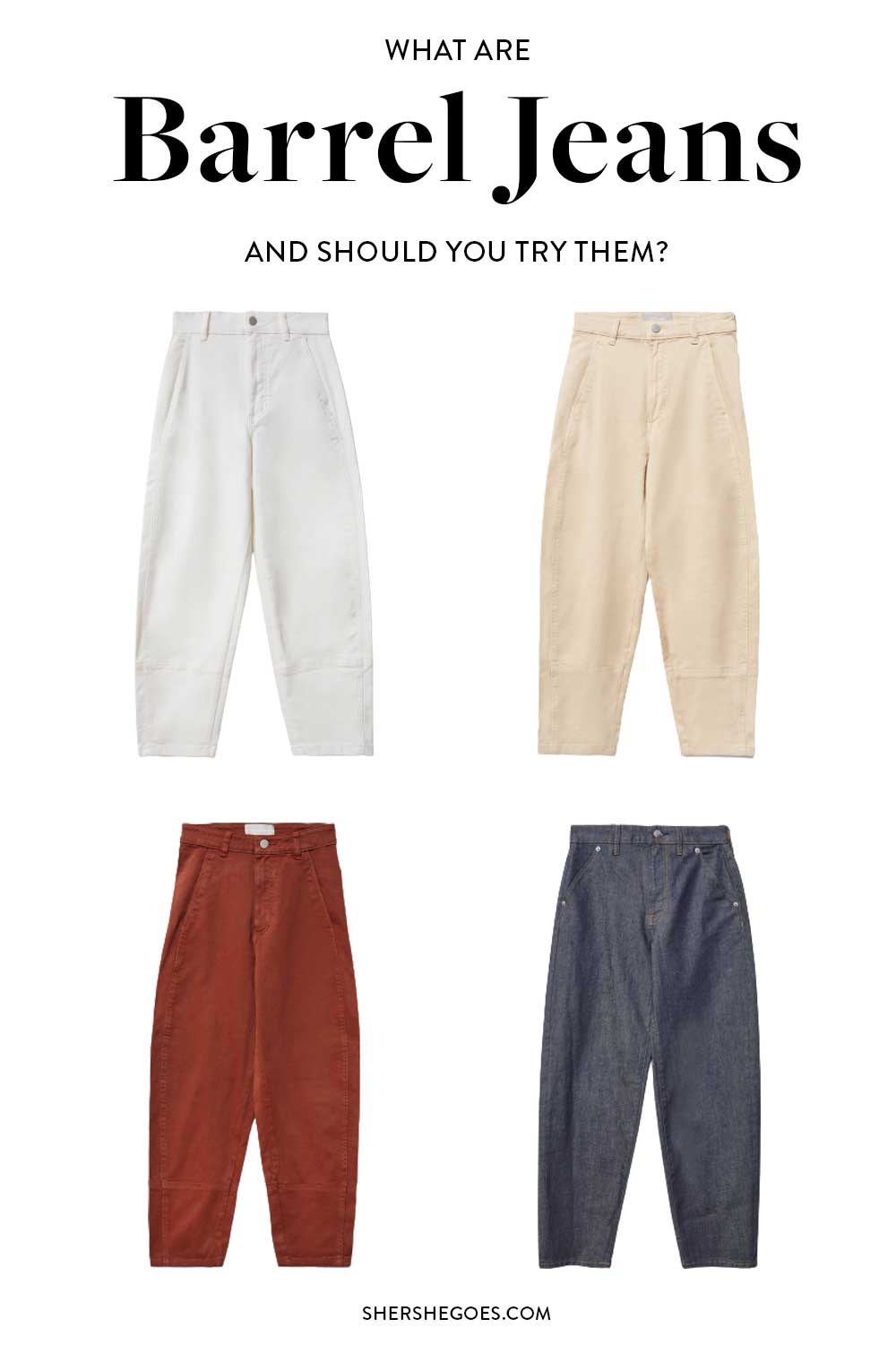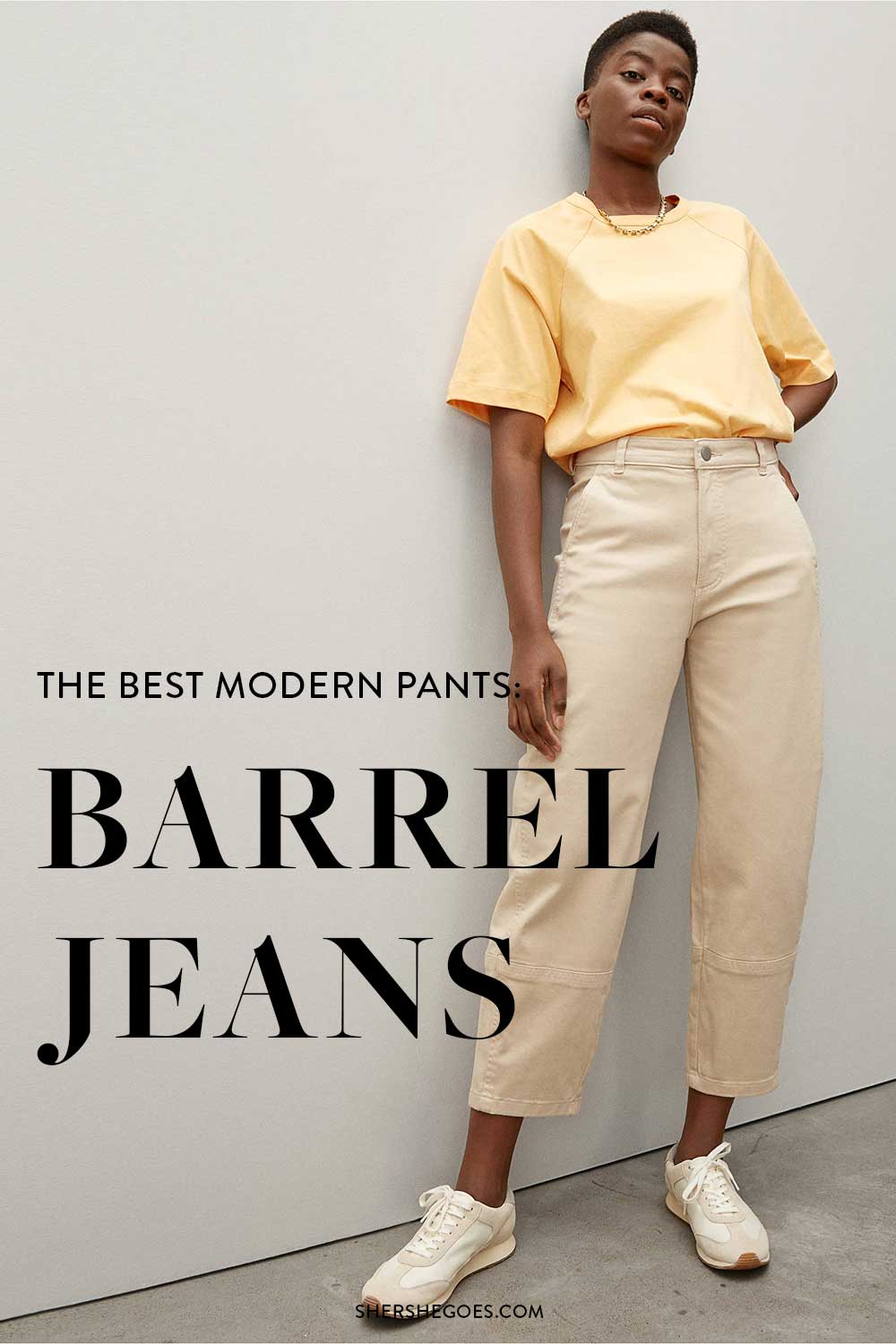 ADVERTISEMENT
---
---
Barrel Jeans
First, what in the world are barrel jeans?
I feel like these are the perfect twist to the vintage 90s loose fit jean. Barrel pants are cinched in and fitted at the waist, but slightly ballooned at the thigh. Then they taper in again towards the calf until they reach a loose fit at the ankle.
The overall effect is a slight arc or barrel shape to the leg!
I'm not sure which brand first invented the barrel jean – it looks like maybe Whistles – but they first entered my radar via Swedish minimalist brand Toteme.
I'm pretty obsessed with Scandinavian style and Toteme's luxe basics always seem to nail it. But, Toteme's $300 something dollar jeans were not in my budget and when I saw the Everlane version (at a much more affordable $75), I figured, why not?
P.S. The Everlane Arc Pant (a very similar barrel jean) is currently on sale for $40.
ADVERTISEMENT
---
---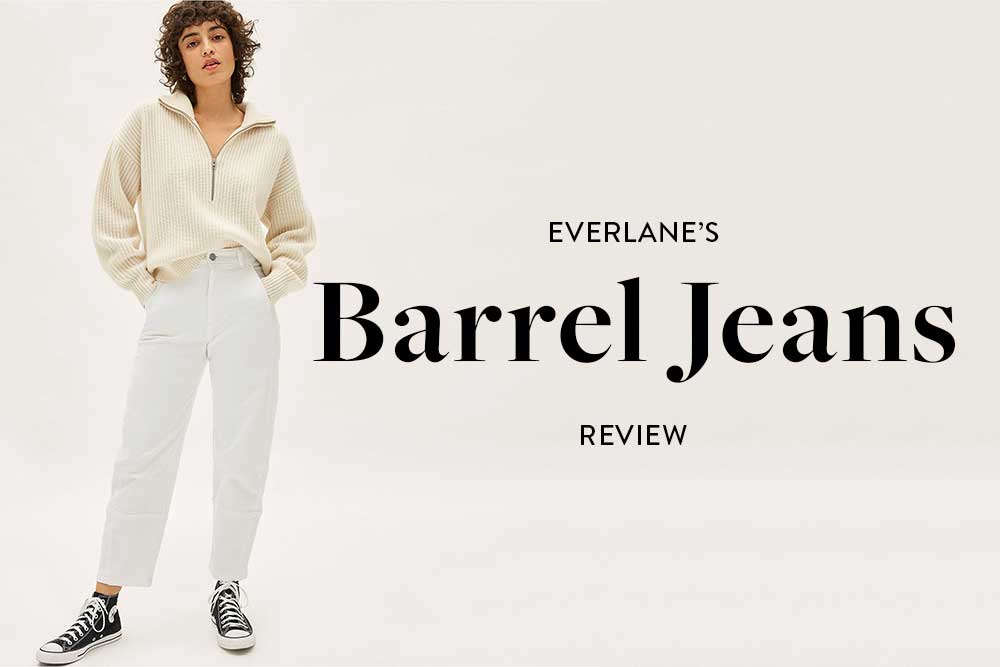 Everlane Utility Arc Pant
First, I have to say the roomy shape of the Everlane utility arc pant is very comfortable.
They feel sucked in at the waist, but the arc of the leg is very subtle. Just wide enough to look casual and 'cool', but not so much fabric that you feel bottom heavy or unbalanced.
I actually would never have thought to try these if I hadn't seen them on someone else. Usually I stay away from jeans that look… costume-y, and at first glance on the website, I thought the Everlane arc pants would be more suited to a pear shaped body type.
But I was pleasantly surprised!
The arc on these pants is very slight, so they're a very wearable pair of pants. They're noticeably curved, but not in a ooma-loompa way.
Just interesting, modern and quite minimalist – all in one outfit.
ADVERTISEMENT
---
---
Everlane Barrel Pants Review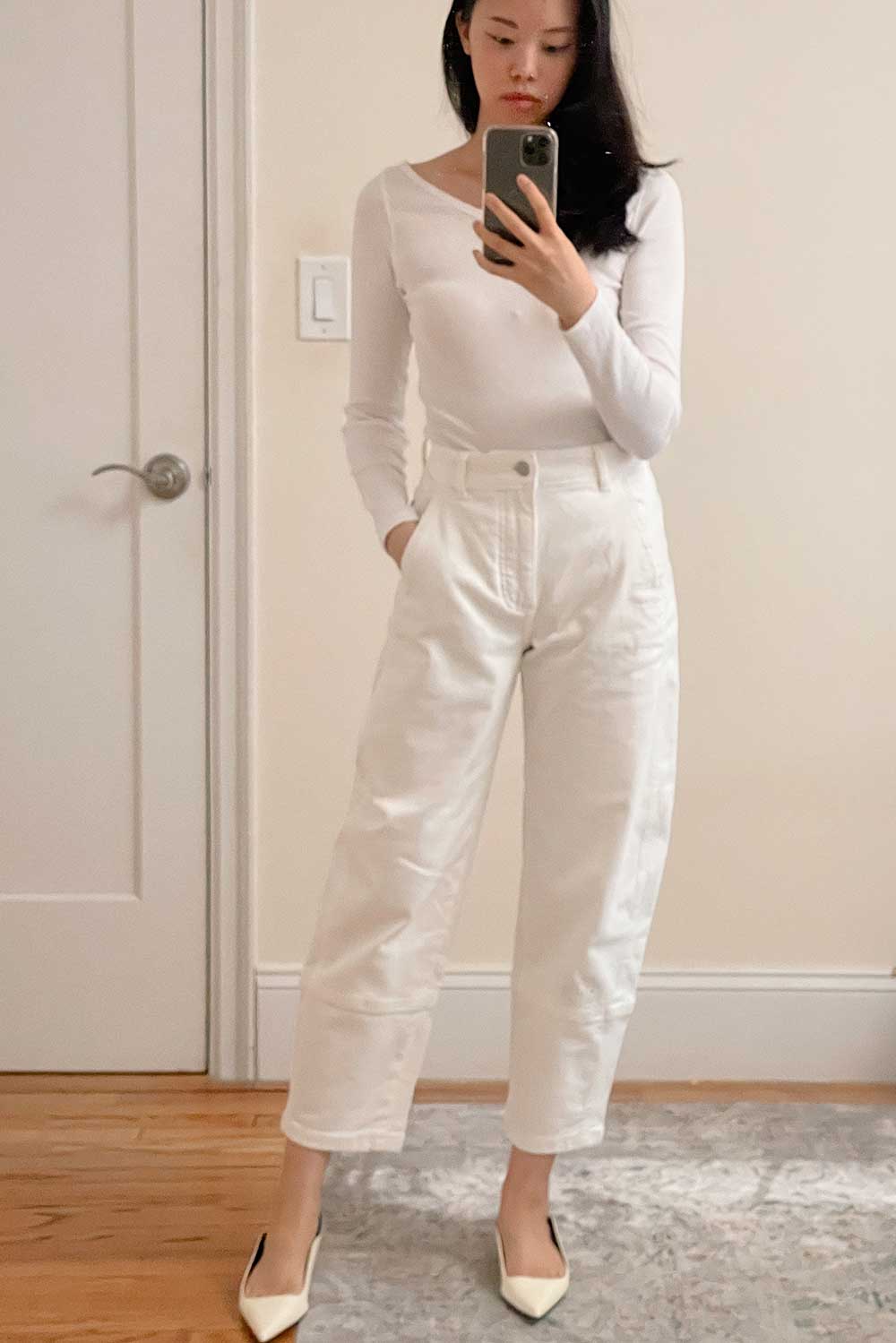 Fabric
Everlane makes these barrel jeans in 98% cotton with 2% elastane.
I'd say these are a mid-weight cotton pant, with just a small touch of stretch. Like most of Everlane's jeans, these are a pretty rigid fabric, which personally I prefer.
They stay in place all day and the denim is soft and thick.
Sizing
I would recommend sizing down one size in these. For reference, I'm usually a size 25 waist but am wearing these in a size 0.
They're also a cropped fit.
I like the length on me (they hit right above the ankle) but if you're petite, they might be too long. So far, Everlane doesn't offer these in different inseams.
ADVERTISEMENT
---
---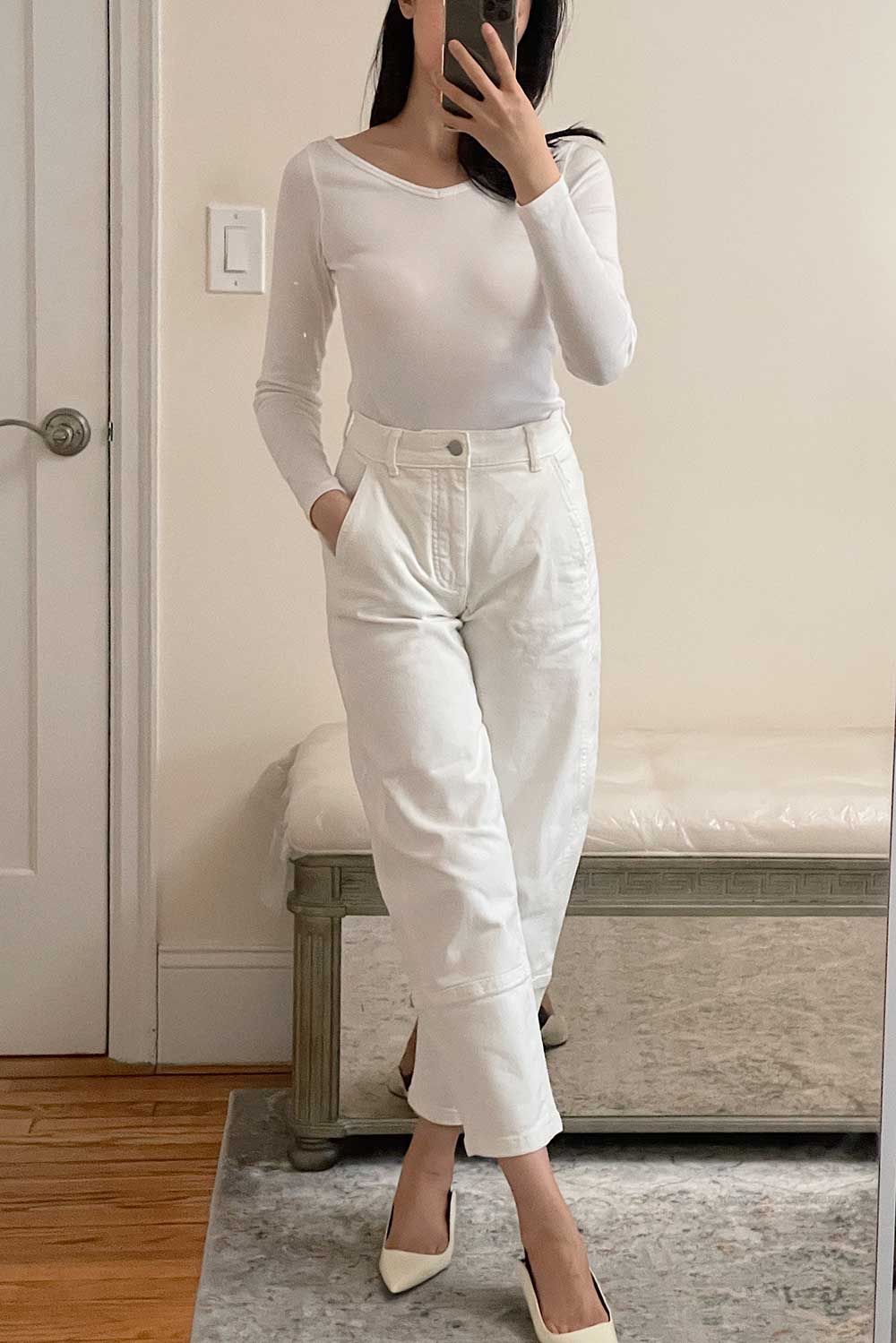 Color & Details
I picked up the Bone color (because I can never get enough of white jeans) but they come in 4 different neutral toned shades.
Overall, the tiny utilitarian details, like accent stitching and patch pockets, differentiate them enough from my other pair of Bone Everlane pants so I decided to keep them.
Barrel Pant Alternatives
If you want a barrel jean, Everlane also offers the Arc Jean which has some cute buttons along the waist and side pockets.
The Arc style is incredibly similar, and comes in both denim and canvas options.
ADVERTISEMENT
---
---
How to Wear Barrel Jeans
Overall, I'd recommend the Everlane Utility Barrel Pants if you're looking to update your wardrobe.
It's still winter in New York City, so I've been wearing these around the house with the ever-so-cozy Everlane puff sweater. As someone who used to always think clothes had to be fitted, I'm really shifting away from that and towards more relaxed, looser fitting styles!
As for how to style them year round…
I think these would look good with a striped long sleeve top and simple white sneakers in the spring and a cropped tank and even dad sandals or tevas in the summer!
I could even see them with some loafers and cashmere sweater for fall.
Shop Barrel Pants
---

ADVERTISEMENT
---
---
Read More: Everlane reviews:
Everlane Reviews
Everlane Brand Review: Hits, Misses & Favorite Pieces
Everlane Flats - These 5 Pairs are Extra Comfortable
Everlane Denim: Thoughts on 3 of the Brand's Best Selling Jeans
Everlane Cashmere: Is It Worth It? (with Outfit Photos)
How do the Everlane Leggings Perform?
Everlane Underwear Review: Bra & Bralettes
Everlane Bodysuits: Reviewing a Wardrobe Staple
Everlane Outfits
10 Work from Home Outfits, featuring Everlane
Everlane Choose What You Pay Sale - Spring Try On Haul
Everlane Try On Haul Videos
Everlane Summer Basics Try On
Follow me @Sher She Goes on