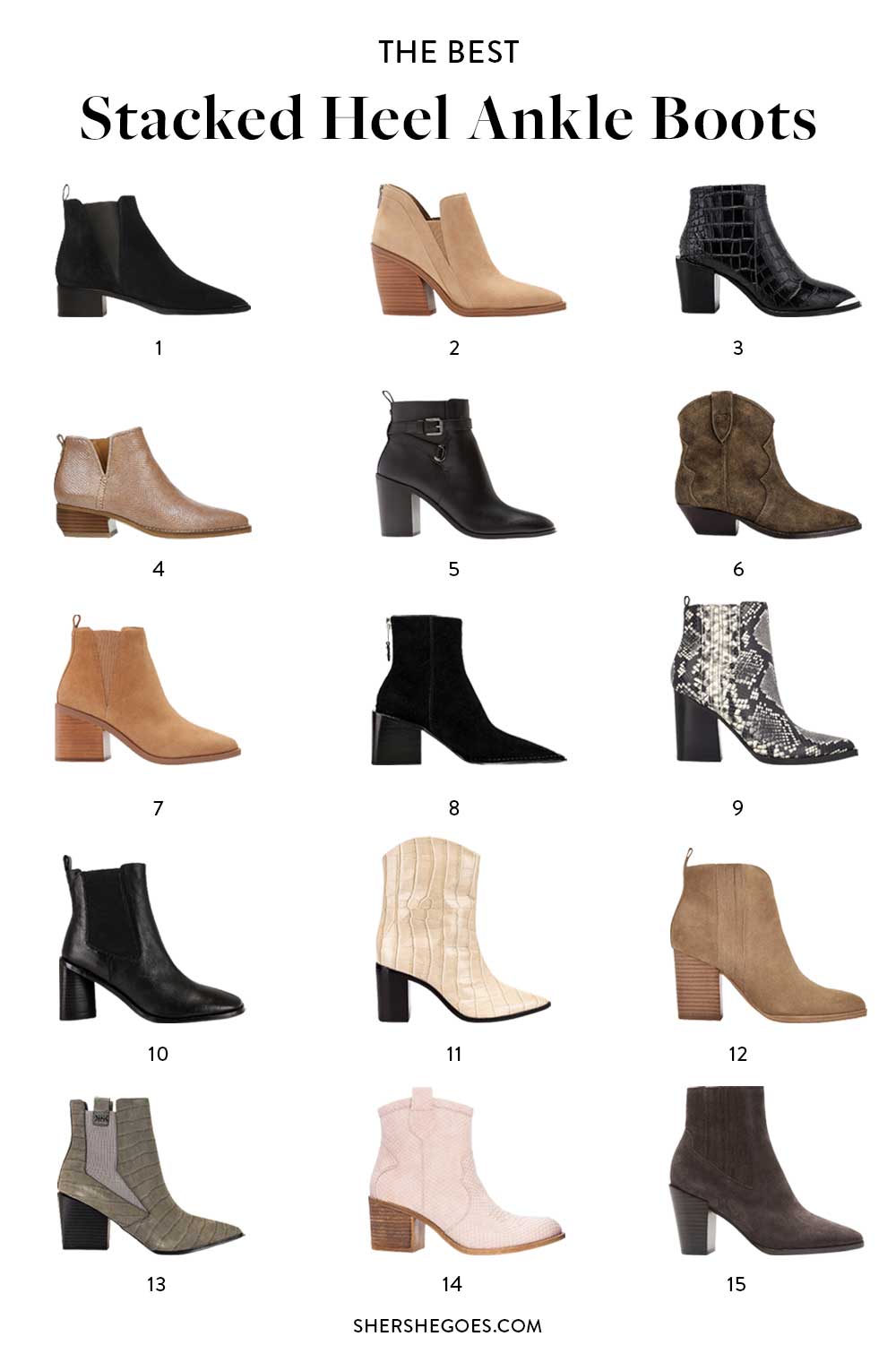 The Best Stacked Heel Boots (2021)
I know what you might be wondering….
So what is a stacked heel anyway?
Basically any shoe with a "stacked heel" is just a regular heeled shoe that has small horizontal etchings or stripes on the heel that give the appearance of multiple thin layers "stacked" together to form the heel?
So what?
Well, it's basically all cosmetic.
But this latest fashion footwear trend does give a trendy look to a classic design. Plus, it can go with any type of heeled shoe, from Chelsea boots to over the knee boots!
Keep reading for our 6 favorite stacked heel boots of the season!
Keep reading, or pin this article to save it for later ⇟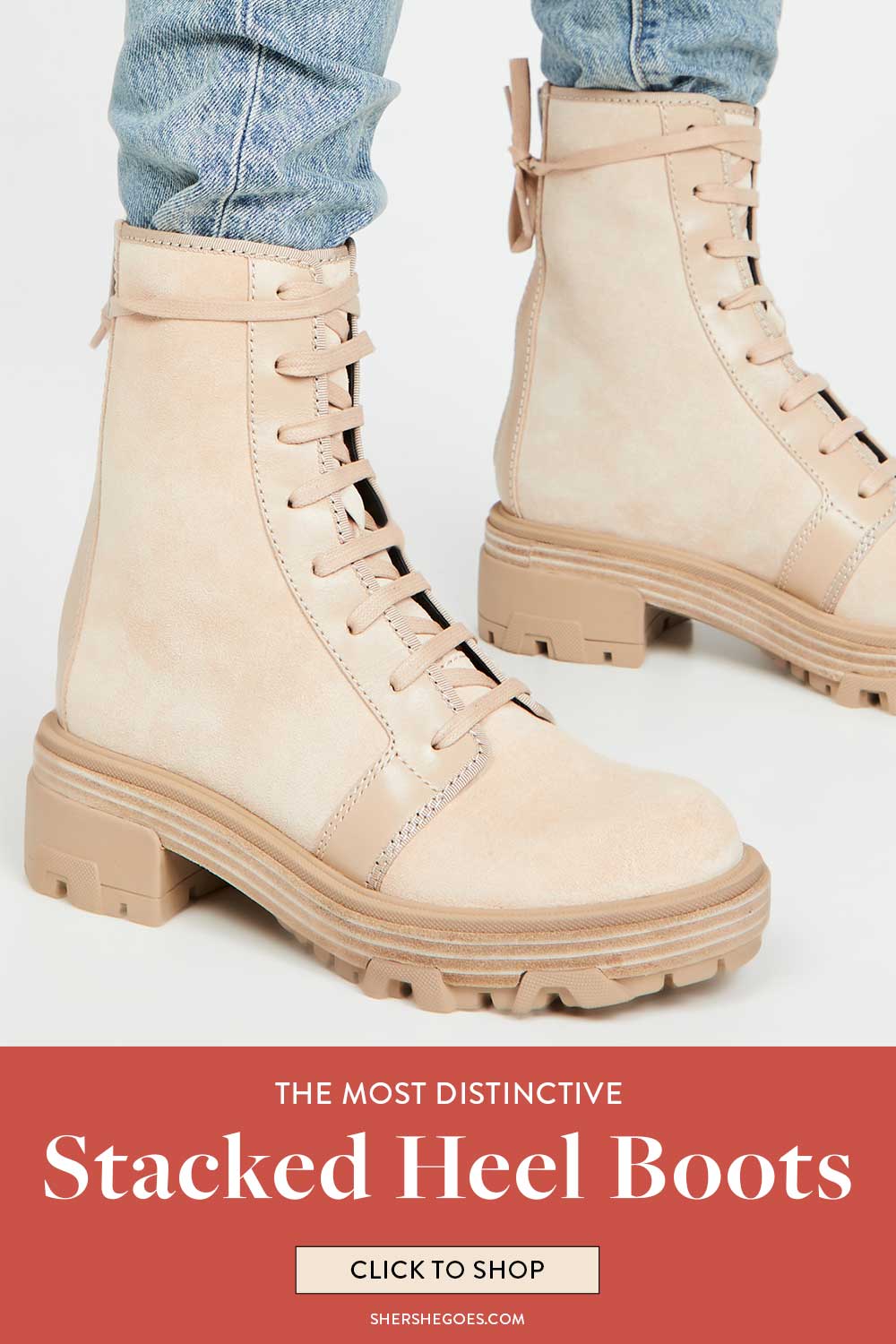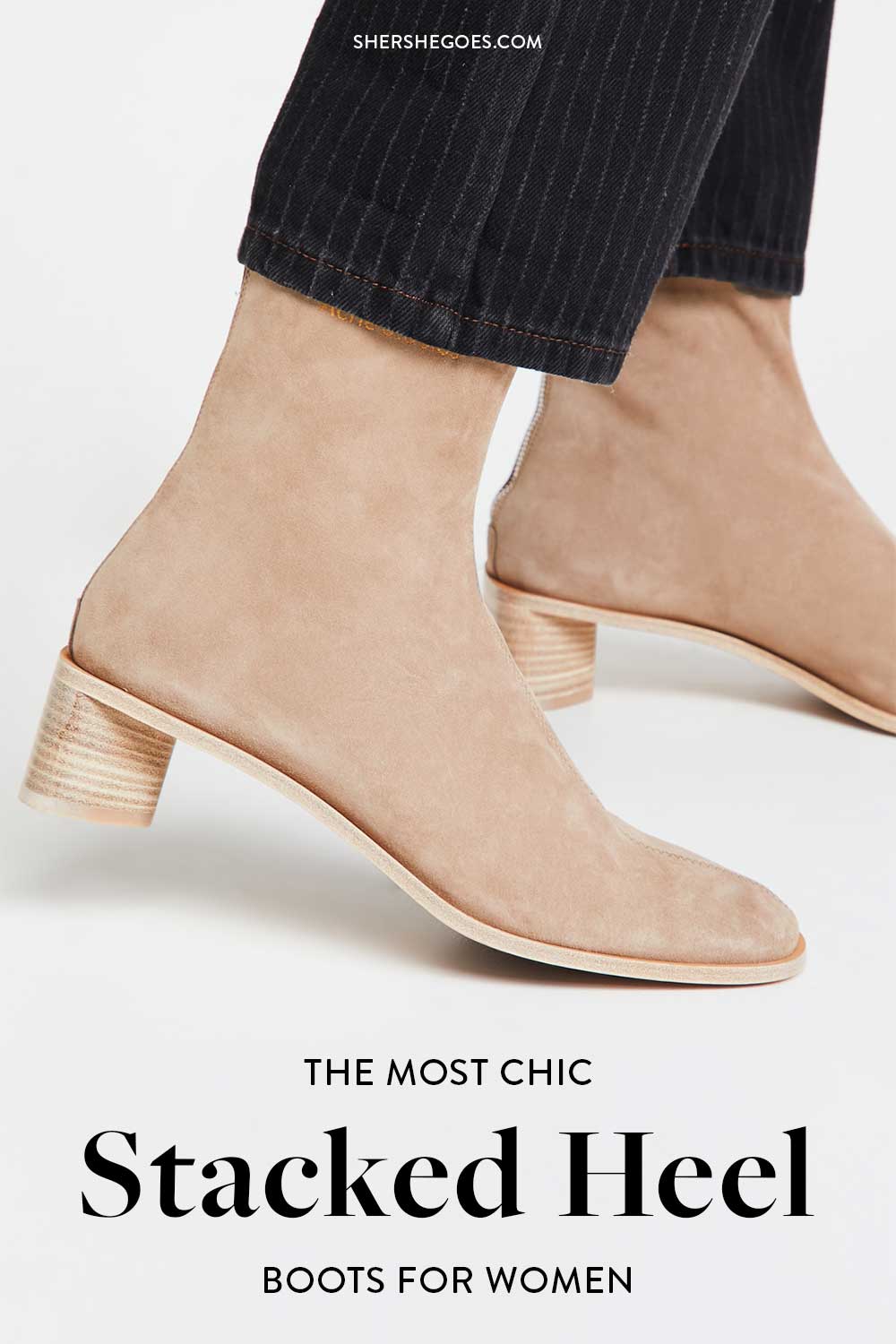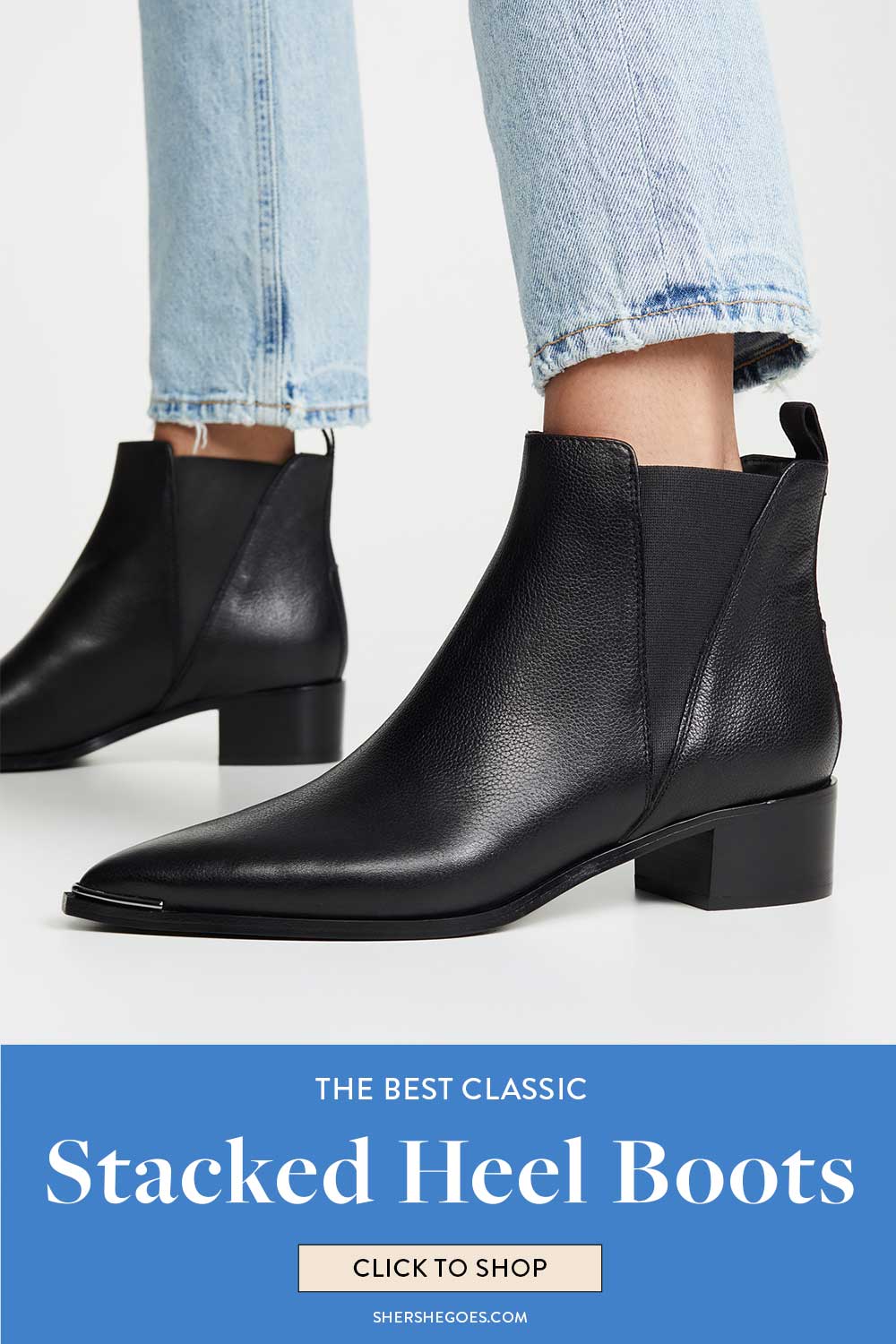 ---
---
The Best Stacked Heel Boots (2021)
Are you ready to get stacked? Come jump on the latest footwear fashion fad and check out our favorite stacked heel boots for women!
Top Stacked Heel Boots
---
---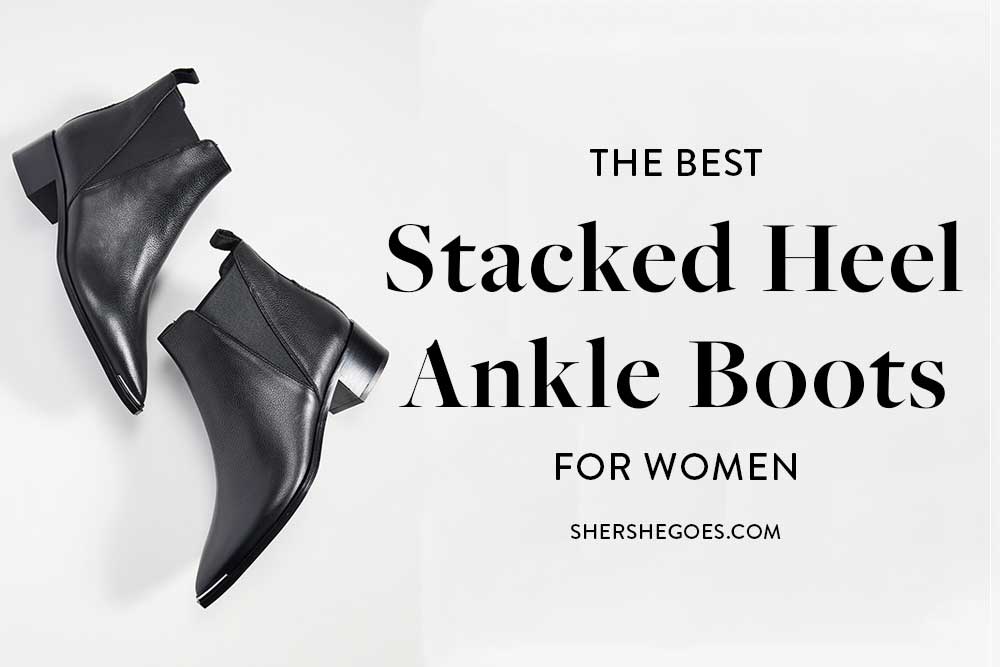 The Best Stacked Heel Boots
Most Affordable Stacked Heel Boots: Fisace
We all know women's shoes can get frightfully expensive, so it's always wise to have some affordable options in tow.
Aside from the unbelievably attractive price point, I love these Fisace stacked heel boots because of their sleek look and cute, open V-cut on the sides!
---
---
Best Stacked Heel Knee High Boots: Cole Haan
Everyone loves a solid pair of over the knee boots (especially during the winter), right?
This pair from Cole Haan puts a smart twist on a classic look thanks to its stacked black heel, genuine leather front half, and woven fabric back half!
---
---
Best Stacked Heel Tall Boots: Sofft
Given how often boots are worn in, um, not great weather, it's always surprising to me how few waterproof options exist.
Thankfully, these stylish boots from Sofft are completely waterproof and feature a leather stacked heel to go along with a super durable, traction-rich rubber outsole!
---
---
–
Best Stacked Heel Chelsea Boots: Sorel
Speaking of waterproof boots, that's kinda the game that made Sorel famous in the first place.
Usually known for its larger-than-life boots, I love this little excursion Sorel makes into the classic Chelsea boot!
Sorel's version is also fully waterproof and features a removable EVA footbed, microfleece top cover, and leather-wrapped stack heel!
---
---
Best Suede Stacked Heel Boots: Vionic
---
---
Best Black Stacked Heel Ankle Boots: Nisolo
I always try getting creative and bold when it comes to shoes, but sometimes the simplest looks are also the most effective.
That's why I adore these black stacked heel boots from Nisolo, which pair an austere aesthetic with a rugged rubber outsole, pointed toe design, and comfortable zipper closure!
---
---
Shop Stacked Heel Boots
---

---
---
Read More in my cozy at home series:
Loungewear
Amazon Fashion Finds: Comfortable Loungewear
The Cutest Matching Loungewear Sets
Comfortable Jumpsuits & Rompers to Work from Home In
The Best Pajamas to Netflix & Chill
Matching Pajama Sets that Still Look Stylish
Cozy & Comfortable Bralettes
Fun Tie Dye Lounge Wear Outfits
10 Work from Home Outfit Ideas
Everlane Bralette Review
Athleisure
The Best Athleisure Outfits You Can Grab on Amazon
6 of the Best At Home Workouts - Currently Free!
Comfy Faux Leather Leggings that Work with Any Outfit
Everlane Legging Review
Comfortable Shoes
The Best Minimalist White Sneakers
Cute Casual Sneakers to Wear Anywhere
Slip on Sneakers for Casual Days
The Best Comfy Slippers for Women
The Best Comfy Mens Slippers
The Most Comfortable Boots to Wear All Winter Long
Cozy Home
How to Program Smart Lights to Act as a Sunrise Clock
The Coziest Home Decor to Create a Sense of Hygge
How to Dress a Bed as Luxuriously as a 5 Star Hotel
Follow Sher She Goes on
Youtube | Instagram | Facebook | Twitter | Pinterest | Bloglovin